From the costumes to the set, from the words of the script to the movements of the actors, everything on stage tells a story. Stage-Inspired Fashion explores ways to add a little dramatic flair to your style.

It's beginning to feel like spring in Boston, and I want to wear lighter clothes again! In this post, I'll focus on spring looks inspired by a musical that always cheers me up.
Behind the Scenes
The Sound of Music, by Rodgers and Hammerstein, focuses on Maria Rainer, a postulant nun who becomes the governess of seven wild children. After some mishaps, she becomes their teacher and friend, and soon falls in love with their father, the gruff widower Captain Von Trapp. As the climate in Austria in 1938 becomes increasingly dangerous, Maria and the Von Trapps take a stand against the Nazi regime.
The musical is loosely based on The Story of the Trapp Family Singers, the memoir of the real Maria. It opened on Broadway in 1959, and in 1965 it became a movie starring Julie Andrews as Maria and Christopher Plummer as Captain Von Trapp. The musical has become a popular production for theatre groups around the country, and the movie has become a classic.
Although I like to focus on the stage versions of the shows I cover in this column, I've seen the Julie Andrews movie so many times that I can't help but think of it. Keep reading to see outfits inspired by three songs from The Sound of Music!
The Sound of Music
I go to the hills when my heart is lonely.
I know I will hear what I've heard before.
My heart will be blessed with the sound of music,
And I'll sing once more.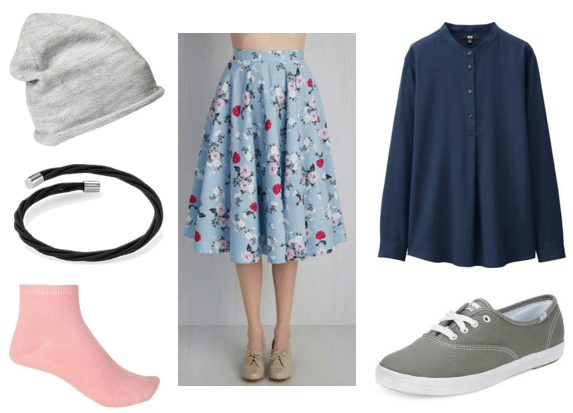 Products: Shirt, Skirt, Socks, Sneakers, Hat, Bracelet
Maria's looks are simple and practical. For an outfit inspired by her opening song, tuck a dark blue blouse into a floral-patterned skirt that evokes the beauty of the Austrian countryside. Get ready to run through the hills with fun pink socks and comfortable sneakers, and add a slub-knit beanie for warmth in the cool spring air. Finally, allude to Maria's musical talents with a bracelet made out of bass strings.
Edelweiss
Blossom of snow may you bloom and grow,
Bloom and grow forever.
Edelweiss, edelweiss,
Bless my homeland forever.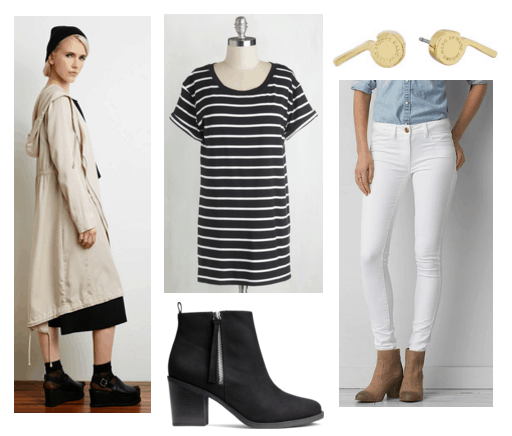 Products: Shirt, Pants, Boots, Coat, Earrings
Captain Von Trapp's performance of "Edelweiss," a sweet song celebrating Austria, is one of the first glimpses of his gentler side. This look combines classic nautical-inspired pieces with more casual items to represent the two sides of his character.
Start with crisp white pants and tough black ankle boots. For a more relaxed look, put on a striped top and a long hooded trench coat. Finish the outfit with golden earrings that represent the Captain's infamous whistle.
My Favorite Things
When the dog bites, when the bee stings, when I'm feeling sad,
I simply remember my favorite things,
And then I don't feel so bad!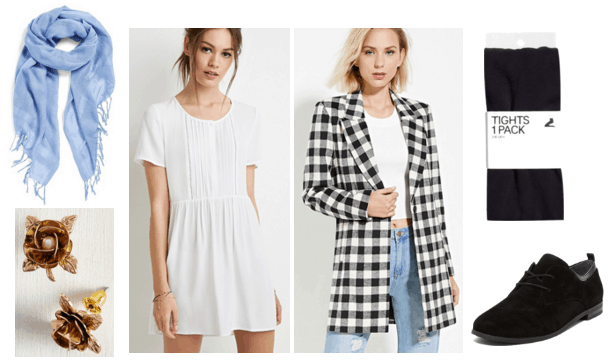 Products: Dress, Tights, Shoes, Coat, Scarf, Earrings
In this song, Maria comforts the children during a thunderstorm. She tells them that she stops herself from being scared by thinking about her favorite things.
To reference this song, put on a simple white smock dress and replace the blue satin sash with a lightweight blue scarf. Accessorize with rose-shaped earrings embellished with pearl raindrops. As silver-white winter melts into spring, stay warm with black tights, sturdy oxfords, and a quirky checkered coat.
Epilogue
Maria is a breath of fresh air in the strict Von Trapp household, and she helps the family reconnect with each other. She represents pure love and genuine fun, and that's why her story has remained in our public consciousness. As spring approaches, let's bring her attitude into our wardrobes and our lives.
Your Thoughts?
Do you have memories of watching The Sound of Music as a kid? How are you getting ready for spring? Are there any plays or musicals you would love to see covered in this column? Let us know what you think in the comments below!