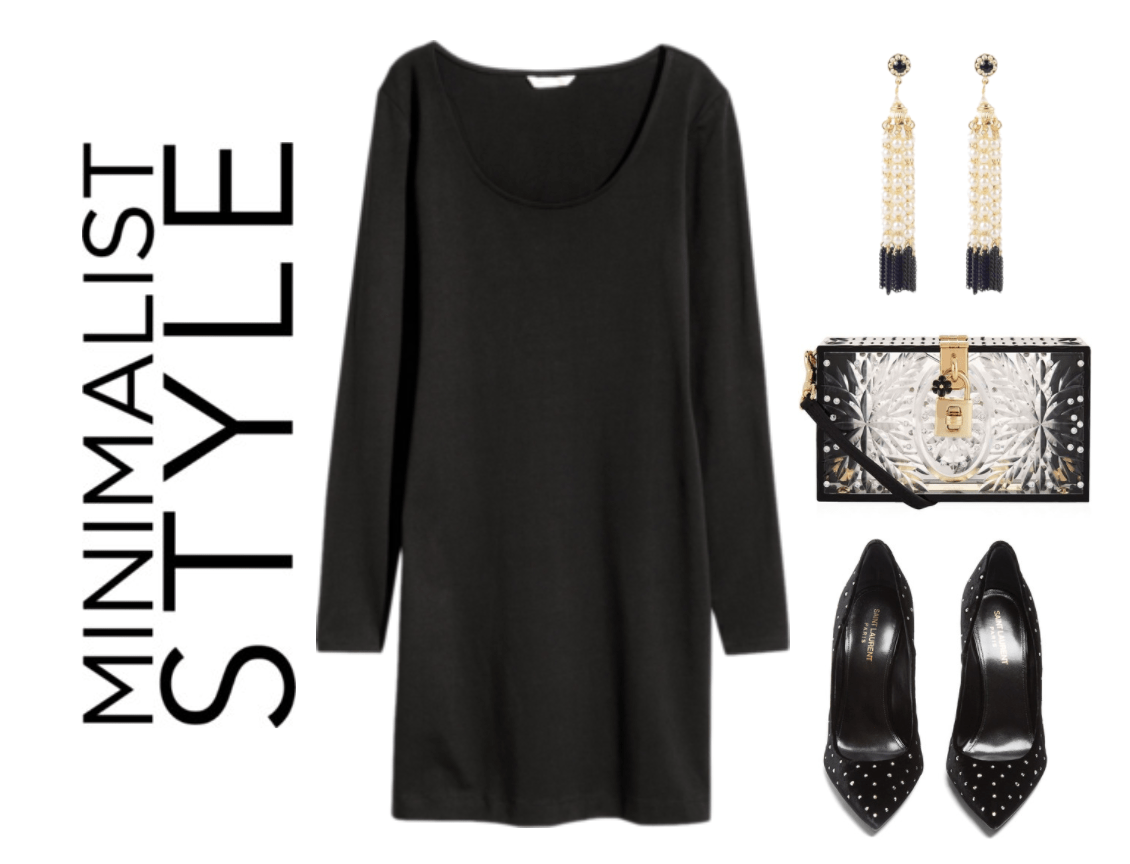 Products: Dress, Clutch, Earrings, Pumps
The "Fabulous Find of the Week" column brings you a new style steal weekly that will both keep some cash in your wallet and keep you looking, well, fabulous.
LBDs (a.k.a little black dress(es)) are an absolute staple in any fashion-forward gal's wardrobe. They quite literally can go with anything in your closet: leggings, tights, fur jackets, leather jackets, dress them up, dress them down . . . I could go on.
With that said, you've got to find an LBD that perfectly suits your needs and wants — are you looking for something bodycon, lace, or A-line? There's a dress for that.
In my wardrobe, my favorite LBD came in the form of a spaghetti-strapped, A-line dress that got so much use – and so many runs through the washing machine – that it shrunk itself to oblivion (and now lives in my sister's closet). I am now on the hunt myself for that perfect, versatile, goes-well-with-everything LBD.
Thankfully, I've found it. This short jersey dress from H&M is the perfect addition to my (and your!) fall/winter wardrobe. The long sleeves will keep out the winter chill and the scoop neckline gives it a sweet, feminine look. Since its material isn't too thick, you can layer it up with sweaters and tights, and easily cool down as soon as you enter your heated apartment.
Scroll down for 3 ways to wear this week's Fab Find, including a last-minute Thanksgiving outfit, an internship/workday approved look, and a night out with the gal-pals.
LBD Look 1: Clubbin' With Your Girls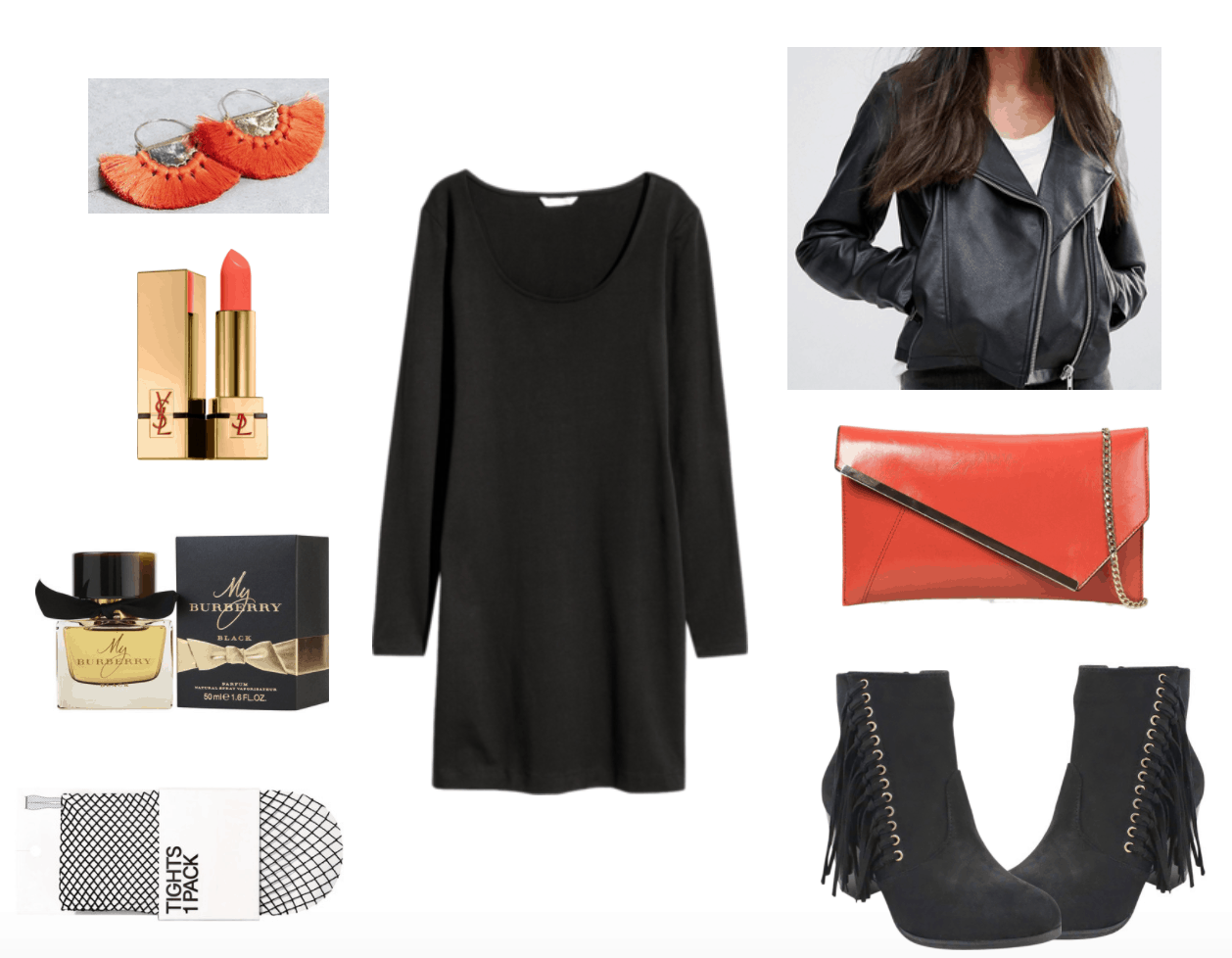 Products: Dress – H&M, Jacket – ASOS, Booties – Walmart, Clutch – Amazon, Earrings – ALDO, Perfume – FragranceNet, Lipstick – Barney's, Tights – H&M
Okiedoke, for our first look with this LBD, I chose orange accessories. Orange is not a color you see frequently (though it's been spotted more and more often on fashion week streets). But, since it's the color of pumpkins – and Thanksgiving is practically here – we will use it to fall-ify this look.
Carry all your necessities for the night out in an orange clutch, and pop in some bright orange and gold earrings to really stand out. If you're feeling really bold, swipe on some orange lipstick (and make sure you take tons of selfies).
Pair your LBD with fun fishnets and black fringey booties. Throw on a (faux) leather biker jacket to stay warm, and spritz yourself with your favorite scent before you head out the door. Have fun, be safe, turn heads.
LBD Look 2: Thanksgiving Time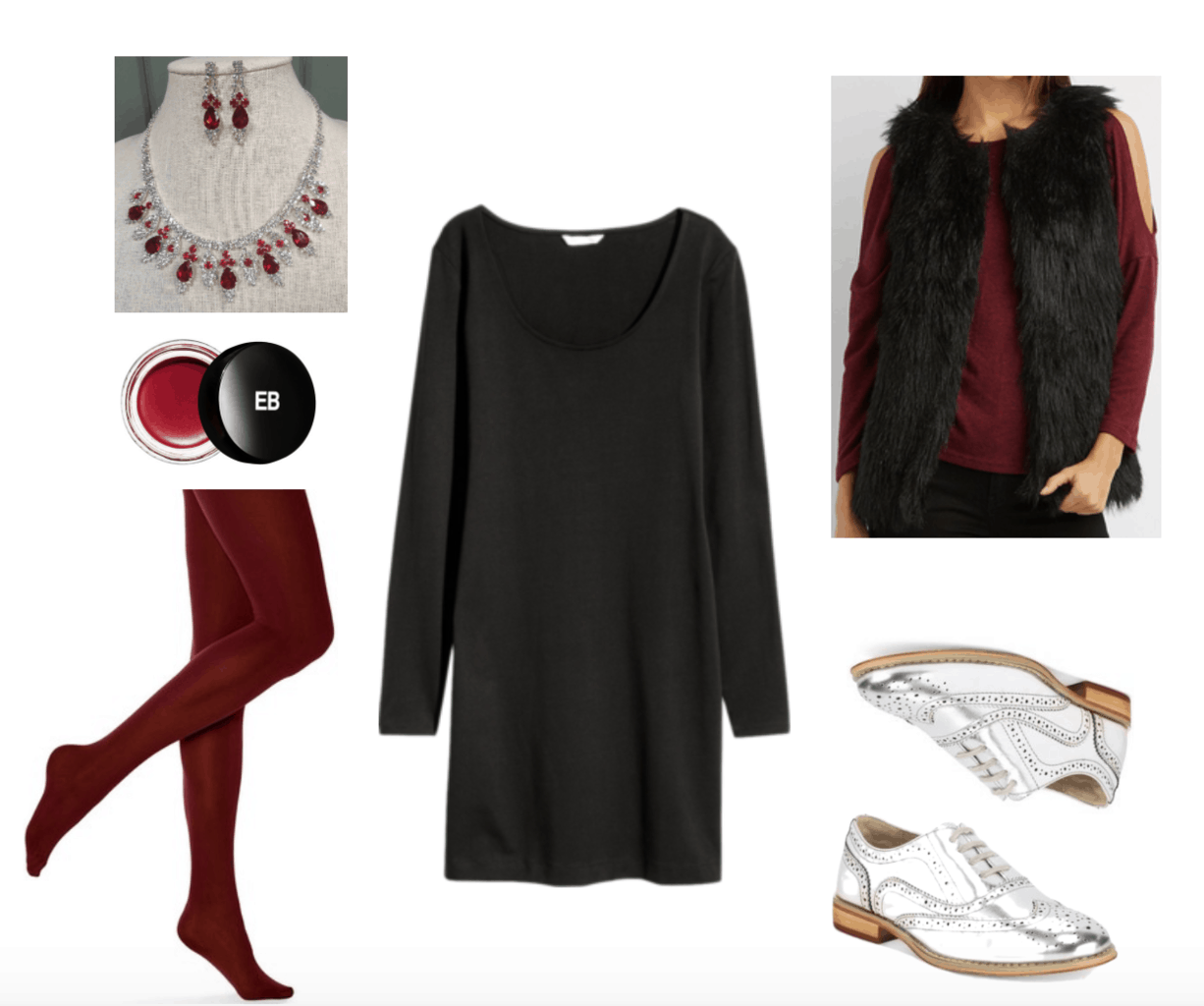 Products: Dress – H&M, Oxfords – Macy's, Tights – Macy's, Vest – Charlotte Russe, Necklace + Earring Set – Etsy, Rouge – Revolve
Ladies — Thanksgiving is just around the corner and we are so excited. We've already laid out 3 outfit ideas here, and 3 more here (under $100!), a turtleneck that will handle all of your T-giving events combined, and a guide on how to prep (and survive). But, just in case all of that is still not enough, this LBD outfit will be perfect for making Thanksgiving dinner and eating it too.
Pair your LBD with red accessories this time around: nutmeg-colored tights and red drop earrings and statement necklace come first. Then slip on these adorable silver oxfords. Grab a (faux) fur vest next and adorn your cheeks and lips with some ruby red rouge. Get ready to eat.
LBD Look 3: Work + Internship Prepared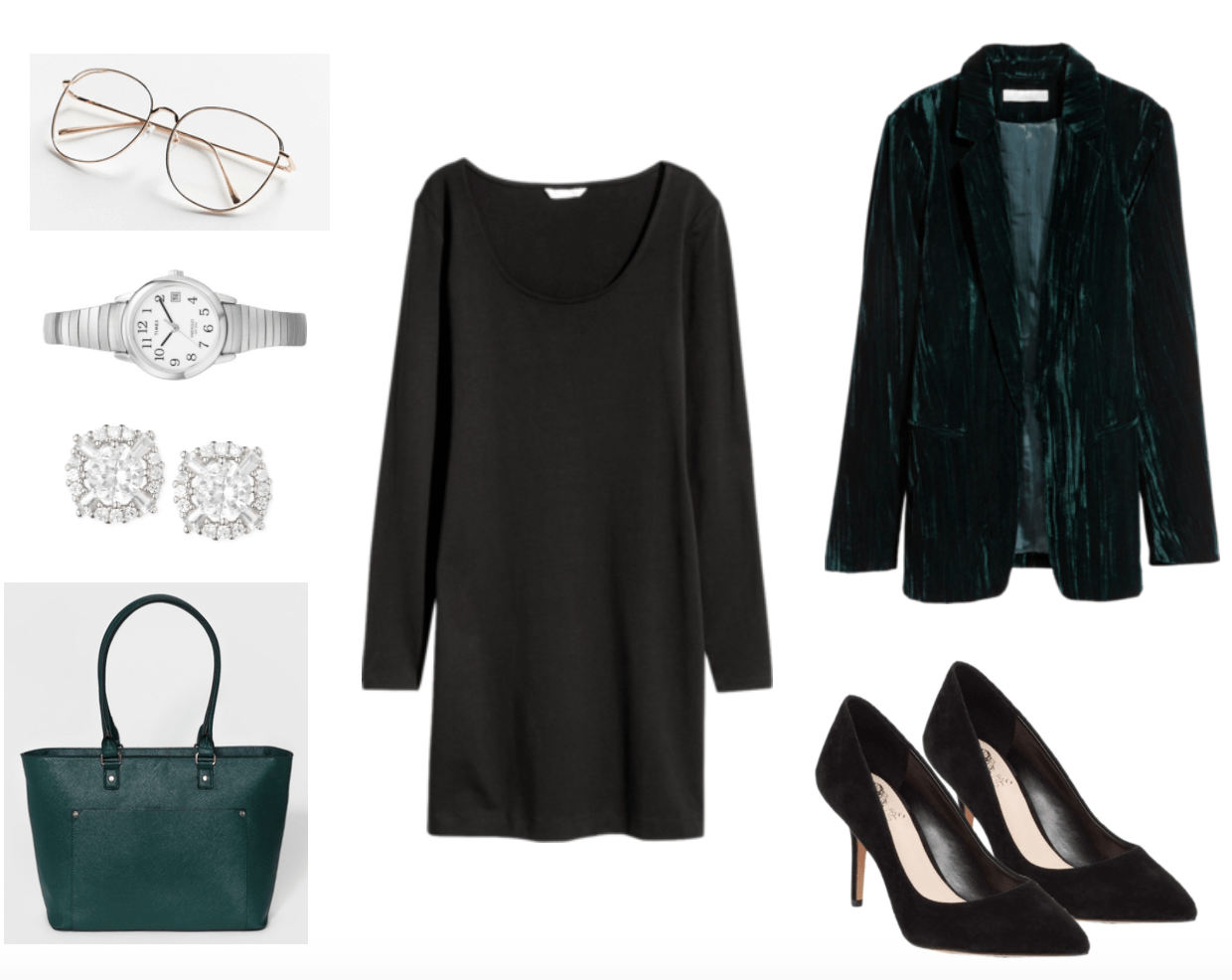 Products: Dress – H&M, Jacket – H&M, Readers – Urban Outfitters, Pumps – Amazon, Handbag – Target, Watch – Target, Earrings – Macy's
Alright ladies, for our third and final look with this LBD, we're gonna get fancy with teal accessories. This teal in particular is a perfect color for an interview, internship day, or workday because it is not too bright or in-your-face, but it has enough color and spunk to make you stand out.
Start off with this super chic teal crushed velvet jacket to throw on over your dress, and carry your résumé, notebook, etc. in this teal tote. Slide on your trusty black pumps for added height and confidence. If necessary (or if you just want to look extra smart), add a pair of oversized readers to the mix.
A silver watch and silver stud earrings will keep you looking classy and put-together, while perfectly completing the look. You'll rock this day (and slay in that LBD).
Are you an LBD lover?
How do you feel about this week's Fab Find? Do you like LBD's? How would you style one? Let me know down below!