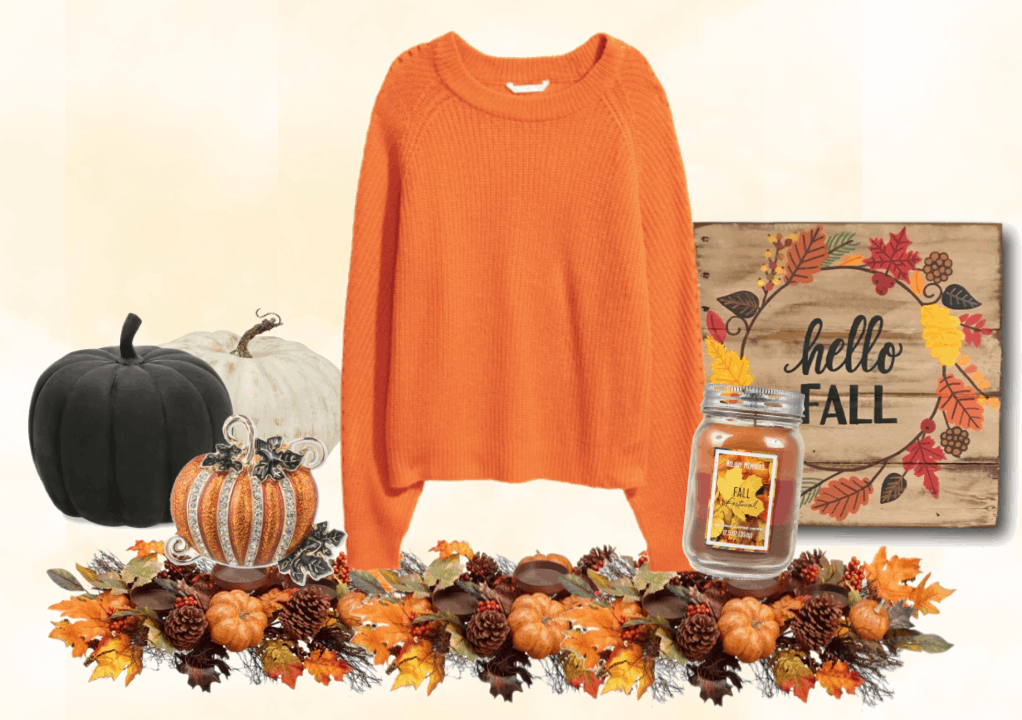 Sweater, Black Pumpkin, Ivory Pumpkin, Pumpkin Pin, Candle, Sign, Candle Holder
The "Fabulous Find of the Week" column brings you a new style steal weekly that will both keep some cash in your wallet and keep you looking, well, fabulous.
If you're like me, you stick to a certain color palette for clothing. Maybe you're a monochromatic minimalist who likes her blacks, greys, and whites. Maybe you're a pastel girl or a neon lover. I am a blend of all of the above depending on the day, however you will not find a single picture of me wearing orange in all my life. Not one.
Honestly, I don't know why this is. My mom didn't force me to wear it as a kid or anything. I think I'm just blind to the color. When I walk through stores, the orange pieces just don't jump out at me (though they should since they're so bright…).
So when I perused the best street looks from Paris Fashion Week, I was (pleasantly) surprised to see orange poppin' up all over the place! Orange jumpsuits, dresses, even an orangefit (orange outfit — clever, I know). The bright fall pumpkin color finally caught my eye…
…which led me to this bright orange rib-knit sweater from H&M.
This sweater is that perfect mix between neon in-your-face orange and the autumnal hue of the changing leaves. It is made in a soft knit with long sleeves, perfect for rolling up and sticking over a flannel or cuddling up in on a chilly day. Plus, it's budget-friendly!
If you want to add some orange in your life (maybe for the first time!), keep scrolling for 3 orange sweater outfit ideas.
Orange Sweater Outfit 1: For Errand Running & Coffee Grabbing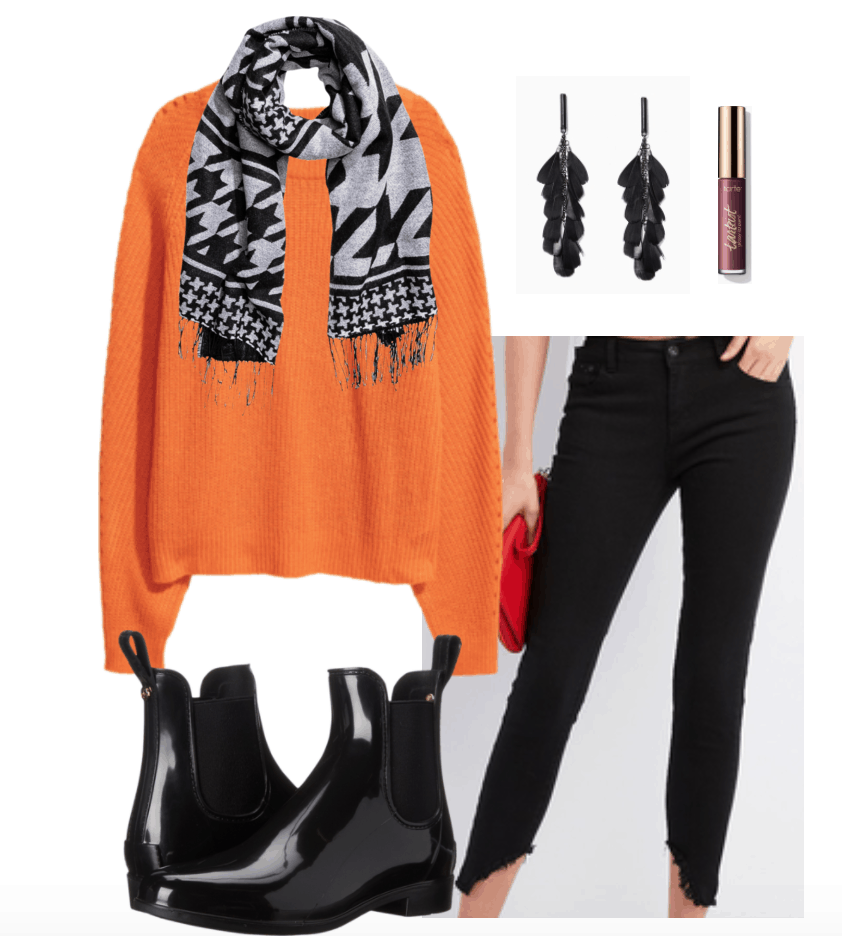 Products: Sweater – H&M, Jeans – Charlotte Russe, Booties – Amazon, Lip Paint – Tarte, Scarf – H&M, Earrings – Charming Charlie
For my first look with this spectacular sweater, I went for a casual vibe. This sweater pairs effortlessly with black frayed jeans and black Sam Edelman rain boots (so cute!). Not to mention, orange may be the new black as far as sweater colors go – but orange and black is still a wicked combo.
It's getting to be a bit chilly out, so wrap a patterned scarf around your neck and grab your most cheerful earrings – like these black feathery ones. Um, yes please.
Throw your hair into a messy bun or pony and swipe some plum lip paint on your lips. Head off to class or a coffee date or anywhere else your day presents you with in this casual look. You lovely lady, you.
Orange Sweater Outfit 2: For That Business Casual Class Presentation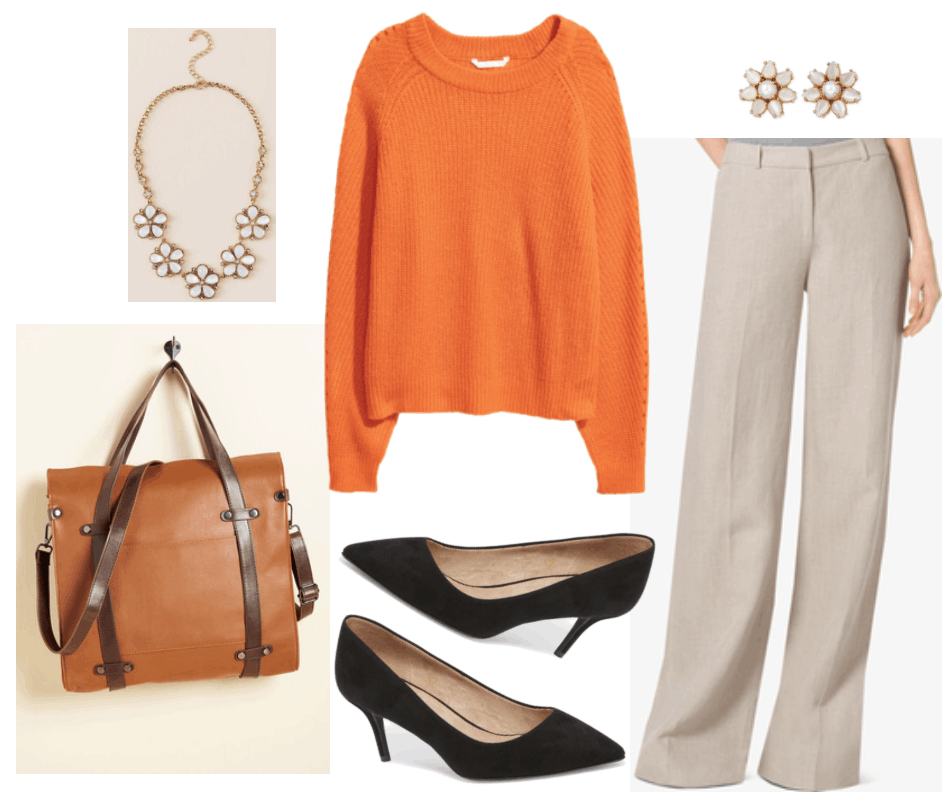 Products: Sweater – H&M, Trousers – Michael Kors, Pumps – Old Navy, Earrings – Macy's, Necklace – Francesca's, Tote – Modcloth
Heading to an interview, a career fair, or a class presentation and you just don't know what to wear? No worries, I gotchu!
Stand out from the crowd in this bright orange sweater and wide leg trousers. Because your events are business casual, don't forget to add a pair of pumps (they'll make you look more professional and feel more confident).
Stuff your folders and your résumé into this adorable leather tote and accessorize with ivory poppy earrings and a statement necklace. Keep your hair out of your face by wrapping it in a ballerina bun — you don't want to play with your hair while you're presenting or interviewing!
Voila. You exude confidence. You got this, girl!
Orange Sweater Outfit 3: For the Bold Trendsetters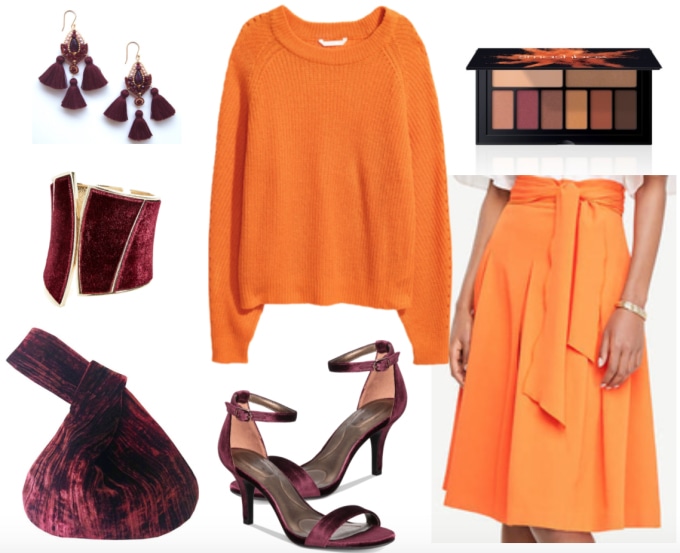 Products: Sweater – H&M, Skirt – Ann Taylor, Sandals – Macy's, Bracelet – Guess by Marciano, Bag – Etsy, Eye Palette – Smashbox, Earrings – Etsy
Alright everyone, so this is what I was talking about: the orangefit.
This look is reserved for those girls that love fashion, love taking risks, and/or love being the center of attention – 'cause trust me, all eyes will be on you in this getup.
Tuck the sweater into this lovely tie waist orange skirt from Ann Taylor. As for accessories, I stuck with maroon colored ones because maroon offsets the orange brightness beautifully – not to mention the color combo screams fall.
Slide your feet into these elegant velvet maroon sandals and throw your phone and makeup bag in this equally fun velvet hobo bag. Maroon tassel earrings and a gold bracelet come next to glam up the look. Finally, slick your hair back into a tight ponytail and give your eyes that autumnal glow with maroon and brown shadow colors. You are a walking vision (and bold trendsetter, too!).
What are your thoughts?
For more looks like these, be sure to see our guide to our favorite fall sweater outfits.
Do you like this weeks Fab Find? Are you gonna rock an orangefit anytime soon? How does orange fit into your wardrobe? Comment below!