Welcome back, CF readers! Thank you for tuning in once again for our High Fashion series. Last week I delved into the springtime suits trend – a fun, fresh fashion statement for spring.
The week before that we looked at a popular color trend, pale blue. This week, we will be exploring another color trend: bold orange.
HIGH FASHION TREND: Bold Orange
Bold orange is a great way to jump into spring with an attention-grabbing color. Because it is such a strong color, you can add it into your closet in small accessories or pieces and still make a statement.
Orange is a great color to boost your confidence and energy. It also is a positive and energetic color.
Not sold yet? Let's see some runway examples and who's wearing the trend!
Runway Examples
Quite a few designers incorporated bold orange into their collections for Spring/Summer 2019.
Oscar de la Renta embraced orange this season. This design shows a loose-fitted, off-the-shoulder, orange sweater paired with a printed skirt and orange handbag.
Lastly, Prabal Gurung, known for his love of colors and patterns, showed orange in his latest collection.
He used orange in color-block style for this dress:
Influencers in Bold Orange:
We did a whole post on how celebrities are wearing bright orange right now, but here are some more examples:
How fitting for Jennifer Lopez to be right on-trend as she received her Fashion Icon Award from The Council of Fashion Designers of America, Inc. (CFDA). Take a peek at her custom orange look from Ralph Lauren:
Carrie Rad is a style and lifestyle influencer who also is on board with this bold orange trend. She rocks this orange sweetheart mini-dress with another hot trend: a basket bag. Scroll to the right to see the whole look.
Shailene Woodley is another hot name to be rocking the look in quite a few ways. She merges the orange and spring suit trends together here:
How to Buy the Bold Orange Trend on a Budget:
Orange is naturally a serious pop of color, so a little goes a long way.
You can center your outfit around a statement orange piece or use small orange pieces to add pops of color to your outfit. You don't have to rock head-to-toe orange (unless you feel like going bold).
Keep reading to see where to get the best affordable bold orange pieces for your wardrobe.
Affordable Bold Orange #1: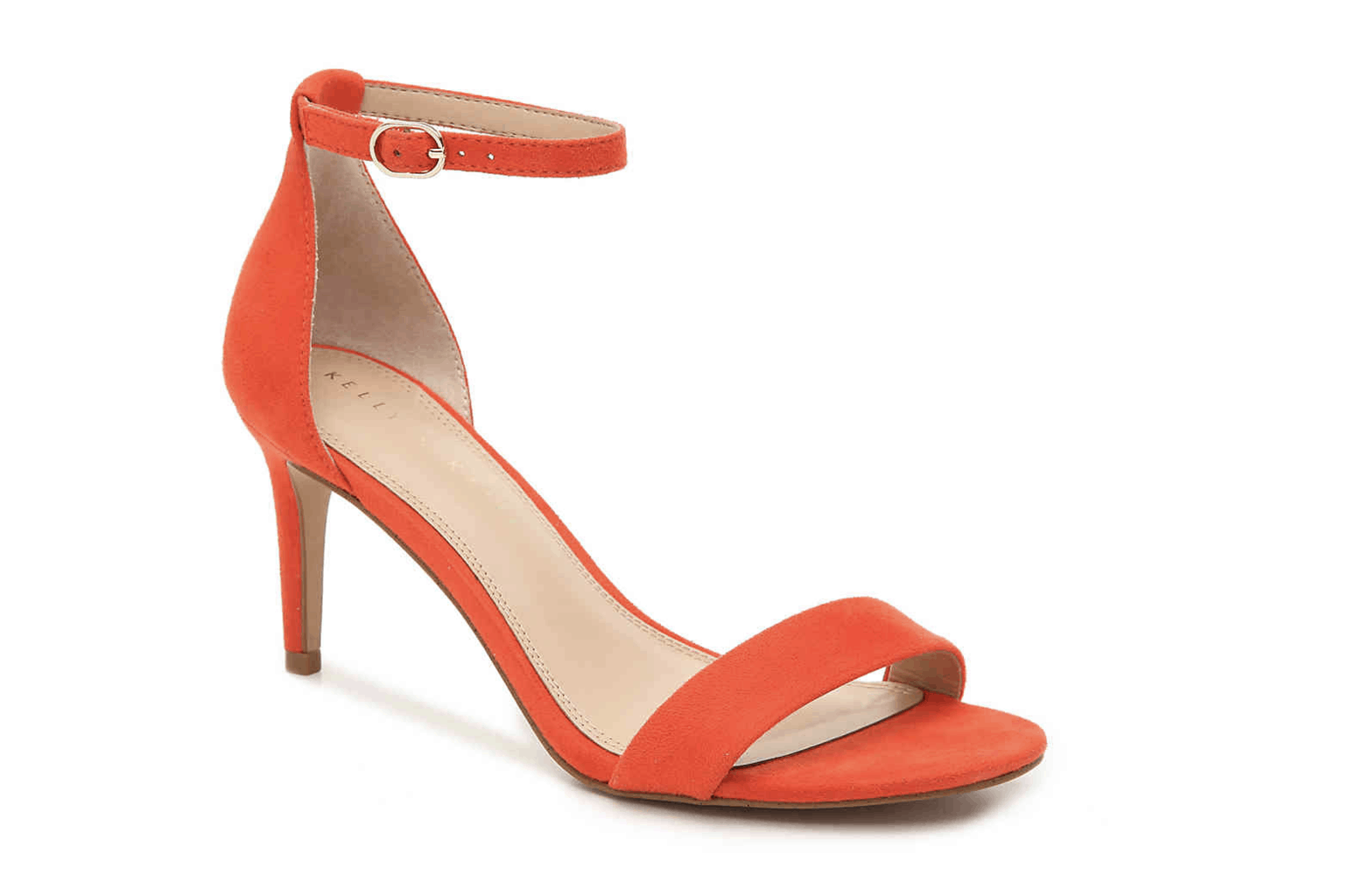 Product: Katie & Kelly Kirsty Sandal; $35 – DSW
Bold orange sandals like these are arguably an essential for your spring/summer wardrobe. Imagine these bold heels with a white sundress or romper!
You can also work these heels into your professional ensemble by pairing them with a neutral outfit like all-black, white, or khaki. They would look amazing at any office with a casual or fashion-forward dress code.
Affordable Bold Orange #2: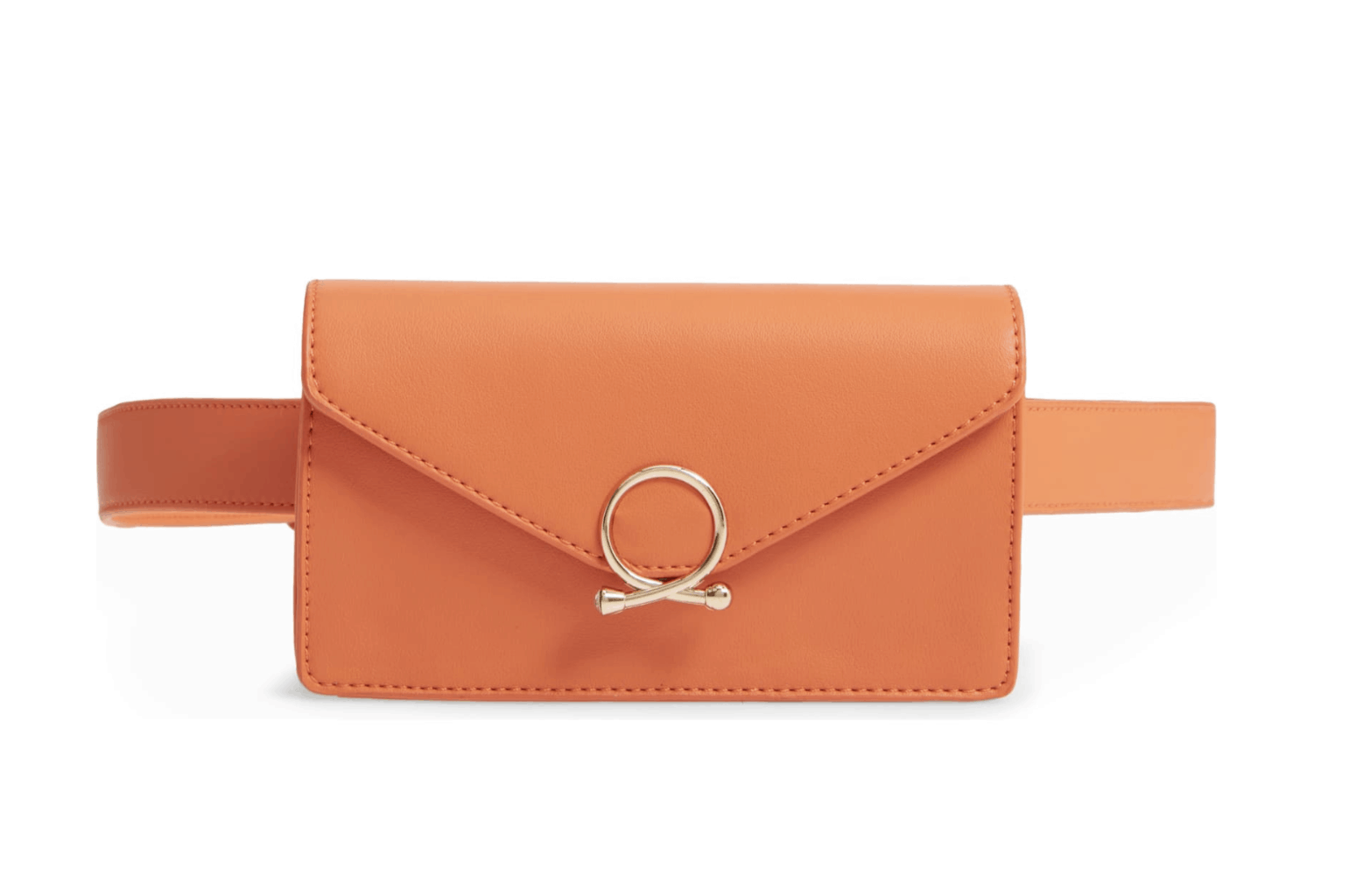 Product: Like Dreams Faux Leather Belt Bag; $45 – Nordstrom
Another subtle pop of color can be found in a belt bag! This little bag lies right at the waist and draws attention — meaning, this can accentuate your waistline and curves.
For maximum style points, pair this belt bag with a jumpsuit or romper. You could also layer over a form-fitting safari jacket for an extra utility-vibe.
Affordable Bold Orange #3: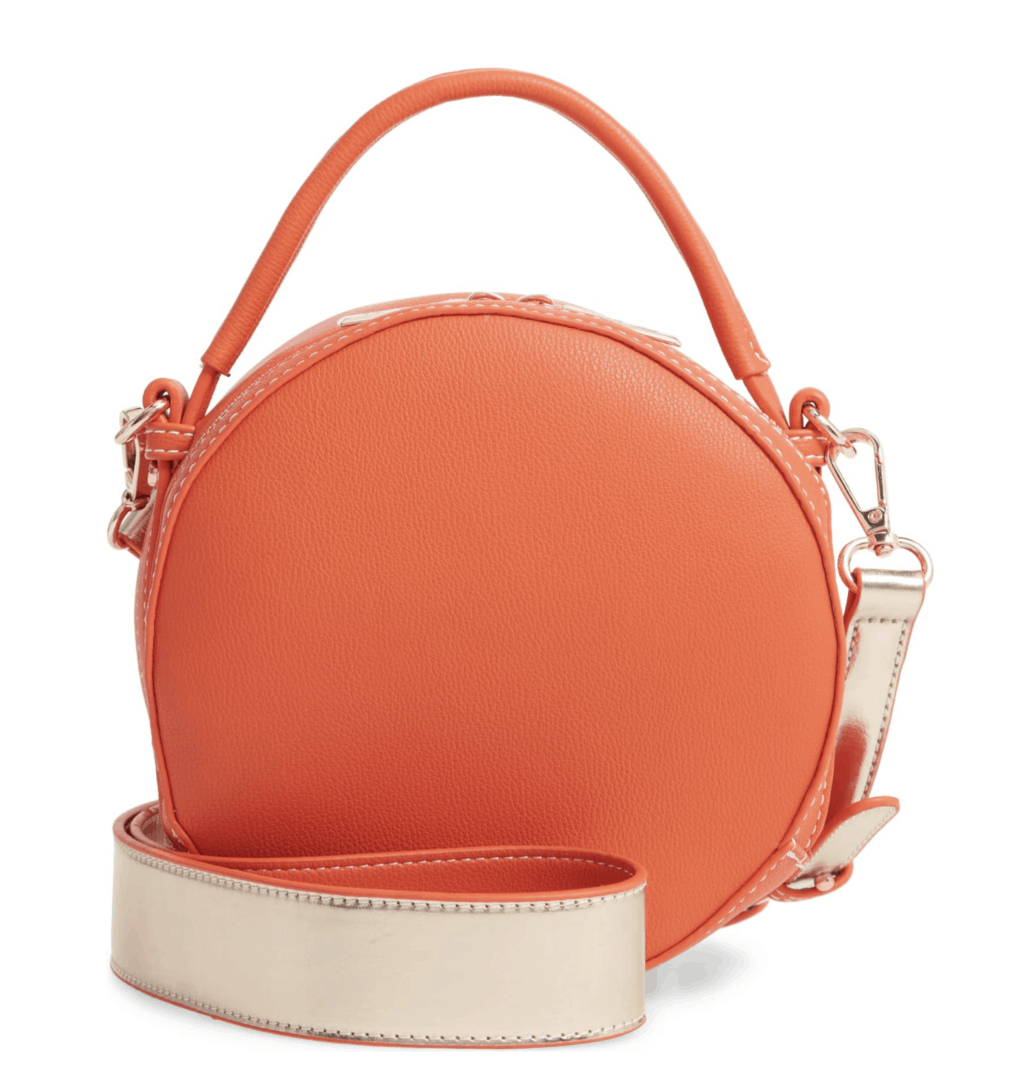 Product: Mali & Lili Leather Crossbody; $58 – Nordstrom
Here is another cute example for a bold orange bag. This crossbody can be worn as a top-handle bag, as well.
This would be a great addition to your work outfit or with your LBD on a date night. Alternatively, it's a chic quick-grab for your coffee date with friends.
You could also dress up a simple jeans-and-tee ensemble with this little stylish bag.
Affordable Bold Orange #4: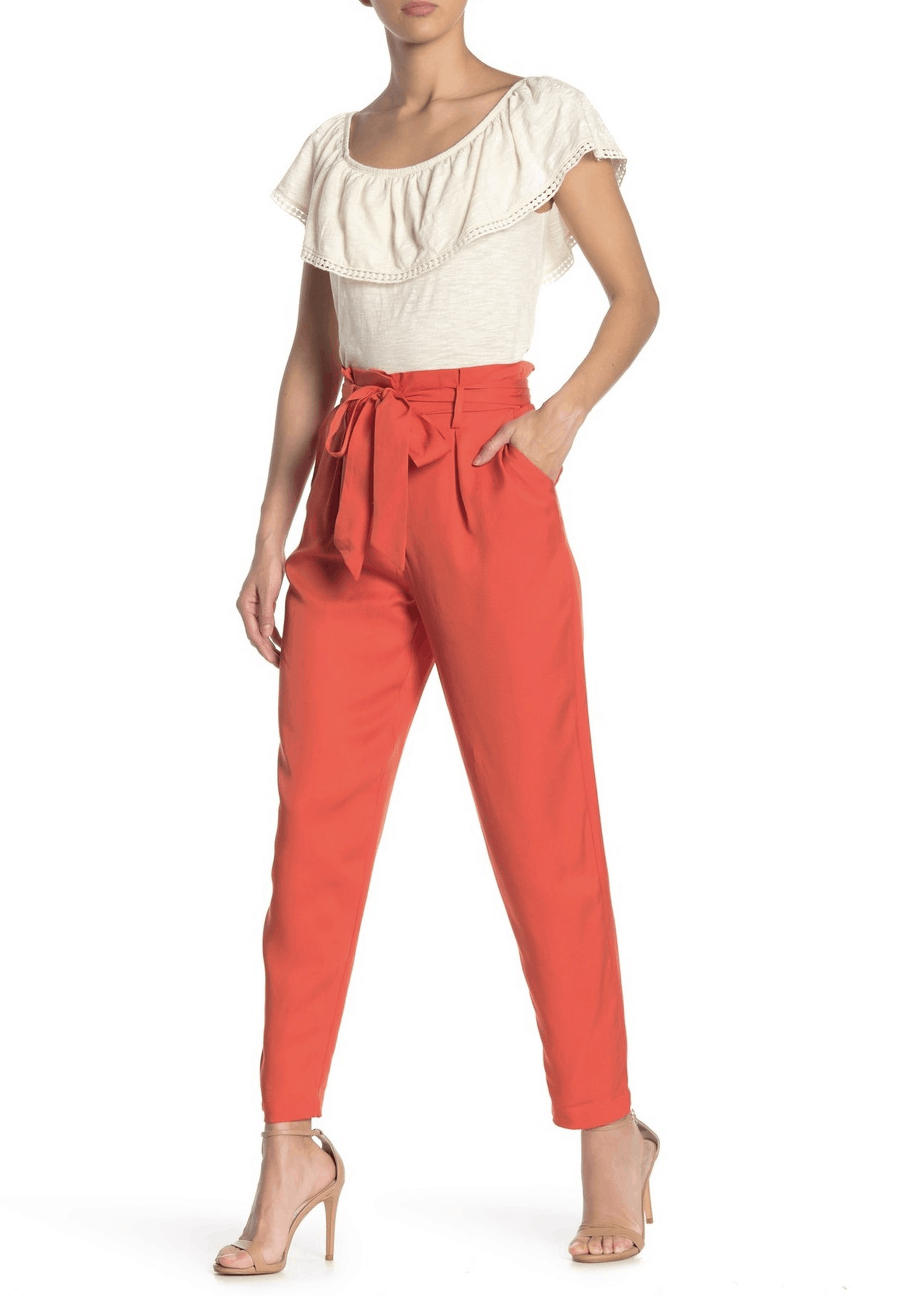 Product: Socialite Paperbag Trousers; $32 – Nordstrom Rack
Paper bag waist trousers and bodysuits are a match made in heaven! Crop tops look great with them, too.
These pants are a statement piece in this bold orange color. So, be sure to create your outfit around them. Even out the palette with neutral tones, as shown on the model, for a balanced feel.
If you have your heart set on a loud ensemble, pair with other bold colors in similar warm tones — think magenta and yellow!
Affordable Bold Orange #5: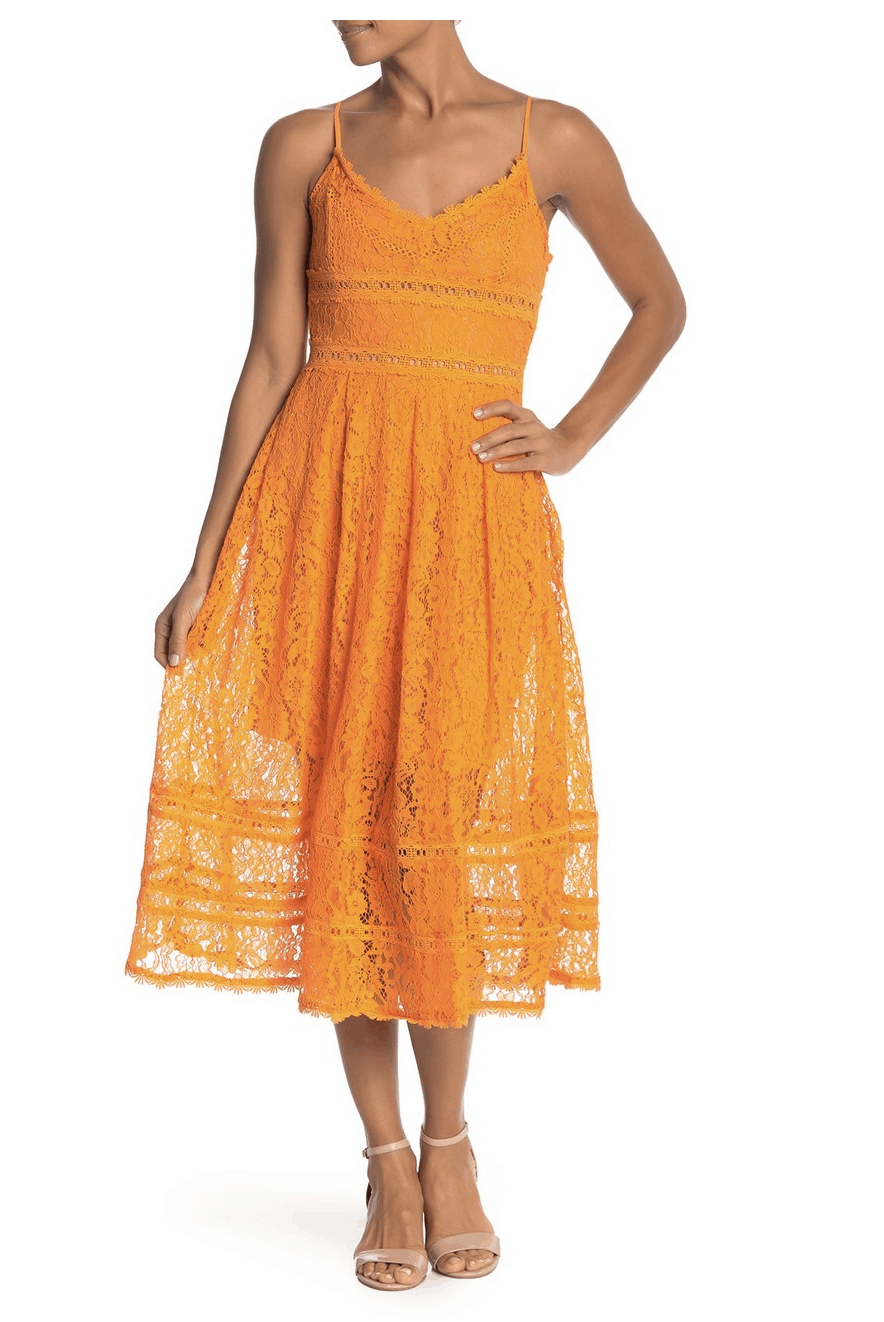 Product: NSR Lacy Midi Dress; $28 – Nordstrom Rack
This orange lacy dress is another example of a statement piece that should be the center of your ensemble. This detailed dress doesn't require much styling, so keep accessories to a minimum, and dainty, if possible.
You could add a chic belt or bold stilettos to take the look a little further. A light cardigan could also go a long way, as well, for a sweet, summery look.
Affordable Bold Orange #6: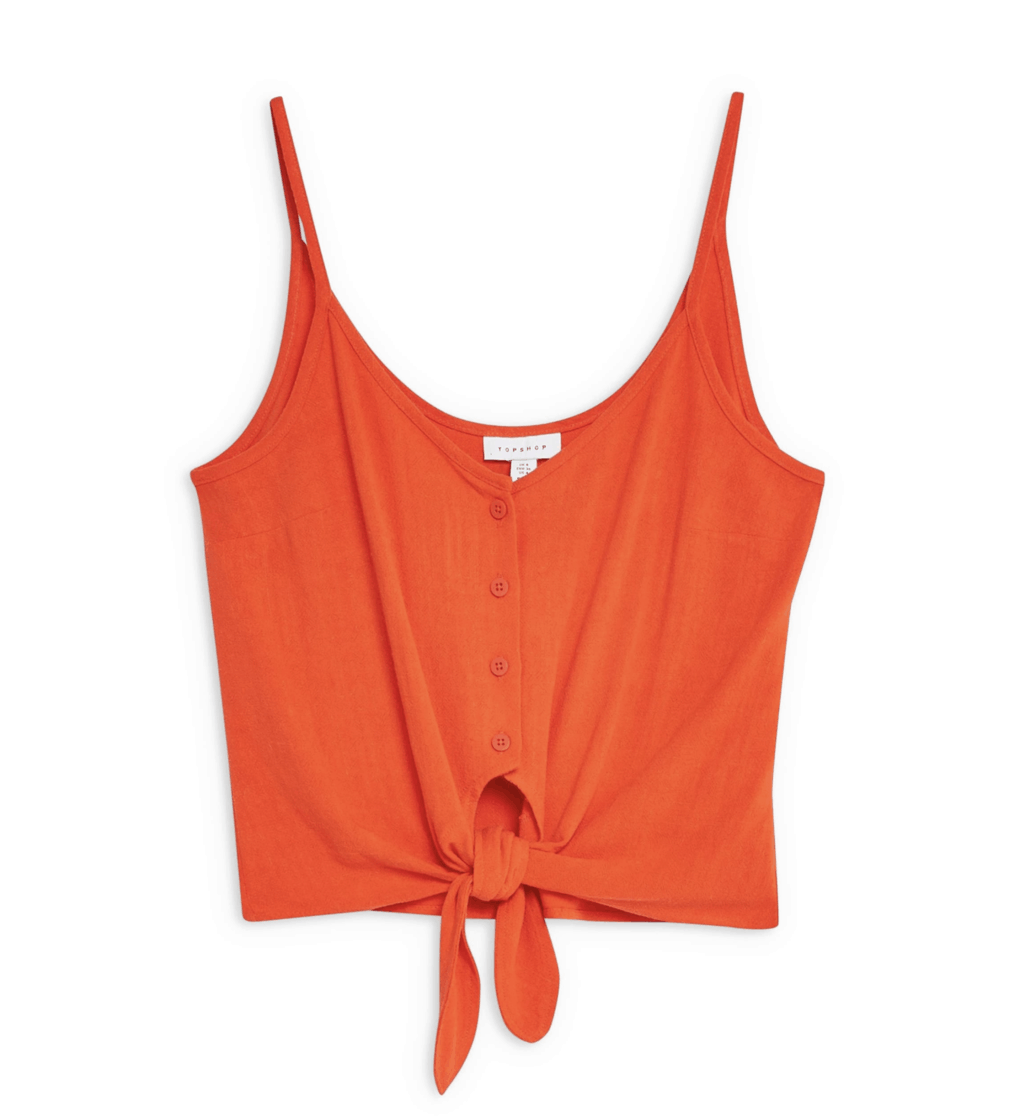 Product: Polly Tie Front Tank Top; $35 – Nordstrom
I love this bold, yet simple, orange crop top! It's perfect for the season and can be worn in many ways.
For a casual look, wear this top with high-waisted jean shorts, Keds or Converse, bangles, sunglasses, and a sporty hair accessory.
To dress it up slightly, wear with a maxi skirt, sandals, and a chic clutch.
Also consider fitting something like this into your nighttime wear. You could pair this with a white mini skirt, platform heels, and decked out accessories.
Are you a fan of the bold orange trend?
Which high fashion trend would you like to see next? Share with us in the comments below!