This post may contain affiliate links, which means we may receive a commission if you purchase through our links. Please
read our full disclosure here
.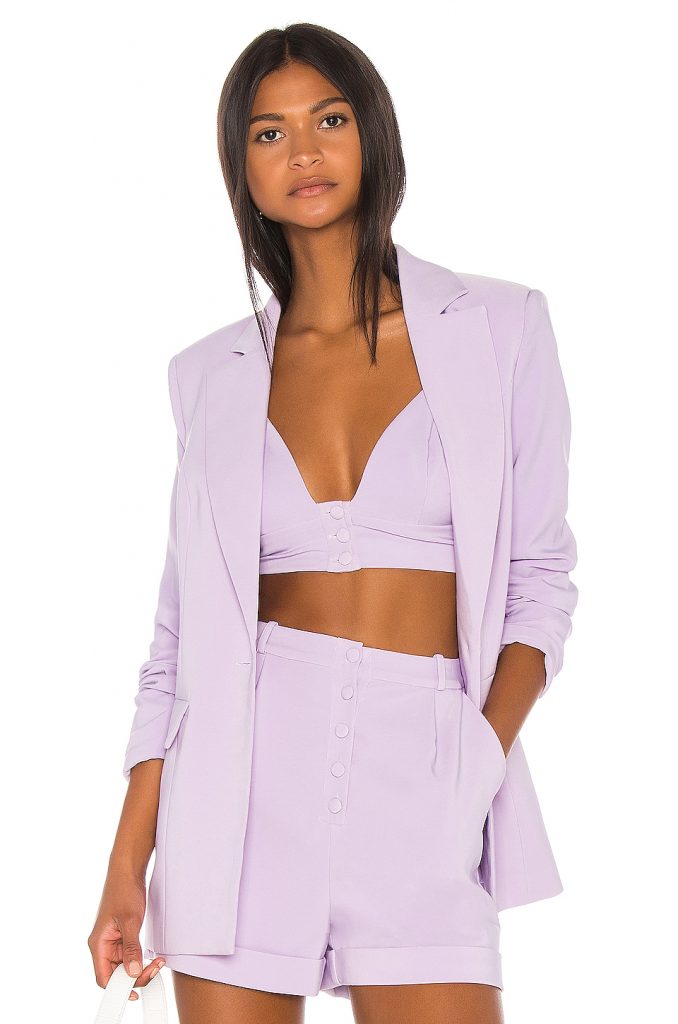 Welcome back, CF readers! Thank you for tuning in once again for our High Fashion series. Last week I talked about the baby blue trend, one of the sweetest looks for spring. This week, we will be looking at another very on-season trend: Springtime suits.
As I was researching the monochromatic neutral trend in the previous weeks, I noticed a lot of spring suits! What are spring suits? Well these suits are feminine, casual, and come with many spring details like pastels, skirts, crop tops, dresses, and shorts.
Usually, these spring suits are lightweight for the warm weather but very translatable to a night out or even a professional setting.
So let's see some runway examples and who's wearing the trend!
Runway Examples
Springy suits were popular on the Spring/Summer 2019 runways. Some major labels were on board with this look. Let's take a look at a few examples:
First up we have Tory Burch. Known for her classy designs, she displayed a tasteful quilted skirt suit complete with a collarless blazer and midi circle skirt. She layered the look over a lacy white blouse, complete with a shiny textured handbag and booties – a subtle nod to the glitter boot trend we covered back in January.
Chanel is another classy fashion house to make the list. The first look is a simple, but polished, white shirt dress layered with a stripe and sequin-detailed blazer. This look also comes with a statement handbag and booties.
This second look by Chanel has a more professional vibe with an iconic Chanel jacket and skirt pairing. The jacket comes with beautiful pocket detailing and is styled with a springtime floral-detailed blouse and flats.
Alberta Feretti's design reminds me of the monochromatic neutrals trend we went over a few weeks ago. The look is a deep navy all-over with gold accessories. I love the minimalistic pocket on the skirt and the length is perfect with the blazer. The suit is layered on top of a simple navy t-shirt.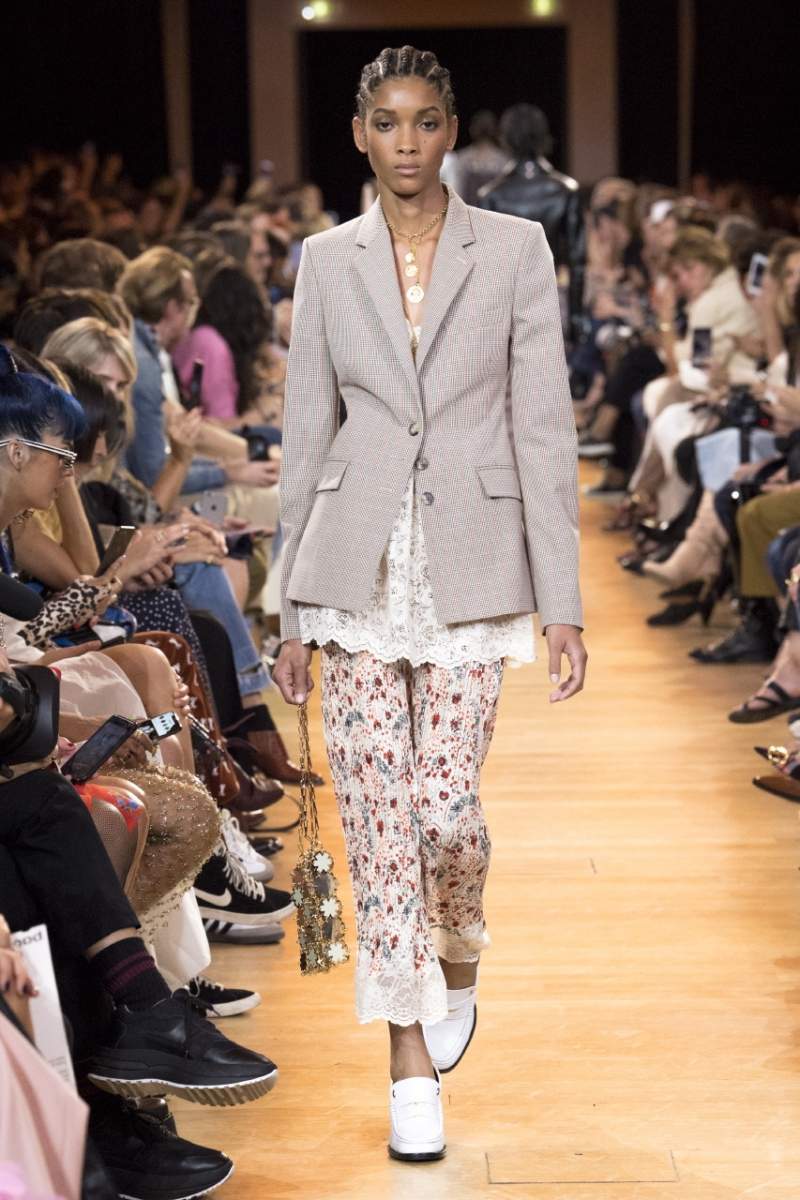 Paco Rabanne is one of my favorite designers with a unique take on trends each season. This season, he's paired a lightweight linen traditional blazer atop a tunic-length lace top and floral printed pants. The bottoms of the pants have the same lace detailing of the top. It's such a fresh and unexpected take on a spring suit.
Influencers in Springtime Suits
If the influencers are rocking the trend, then we need to pay attention! Let's look at some of the hottest looks from these fashion influencers:
Matila Djerf
I absolutely love the styling of this spring time suit by Matilda Djerf. The matching lilac blazer and crop top is balanced by the deep hue of her dark grey pants. She also pairs a pastel pink clutch with the look.
Kat Collings
These are two great looks for the warm weather by Kat Collings, wearing the new Song of Style collection by Aimee Song (who we'll get to below). In addition to the matching skirt and cropped short-sleeve jacket combo, Kat styles the soft yellow skirt with a black bandeau and gridded blazer. To top off the chic look, she rocks her glam sunglasses and adds a short-length gold necklace.
Aimee Song
Aimee Song has been the queen of springtime suits this season, releasing quite a few in her Song of Style clothing line! Let's take a look at many of her looks:
Clearly Aimee knows how to rock a springtime suit! I love her use of pastels and natural colors mixed with chic accessories. Her use of blazer dresses is genius for this season. These looks can transition from the office to a night out.
Danielle Bernstein
This style queen absolutely rocked this pastel lilac suit. Danielle Bernstein paired her blazer and bandeau with a pair of midi-length shorts, all in a matching lilac hue.
Danielle nailed the springtime suit trend again; this time with a classy striped blazer complete with shoulder pads and puff sleeves. She went the edgy route with this look, pairing her blazer with cutoff shorts and black below-the-knee boots.
How to Buy the Springtime Suit Trend on a Budget:
Putting together a springtime suit doesn't have to be difficult. As you can see, you can mix and match pieces for infinite style variations!
Affordable Springtime Suit #1 – Mix & Match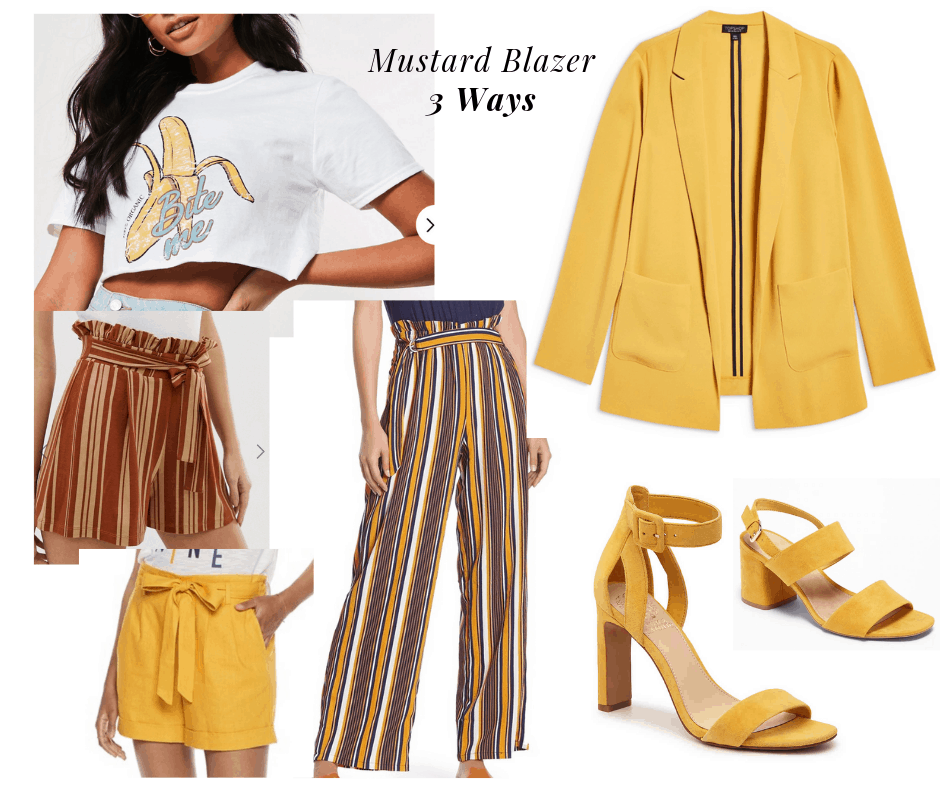 Product: Blazer – Topshop, T-Shirt – Missguided, Multi Shorts – ASOS, Mustard Shorts – Kohl's, Multi Pants – Nordstrom Rack, Tall Heels – DSW, Short Heels – Old Navy
First, pick a spring colored blazer like this mustard piece from Topshop. Mix it with a casual cropped top.
Then, for bottoms, you can take a few approaches here. I'll detail three:
For a casual option, you can go for a striped paper-bag short (top left) to add some print and various colors to your look. Altogether, this is a very retro, mid-tone look.
Alternatively, for a more monochromatic approach, you can pair the blazer with a like-colored bottom like the mustard shorts (lower left).
Lastly, to make the look slightly more professional, you could add a pair of long pants (middle).
The choice of bottoms is up to you and your style!
Finally, pick your shoe. Here we have two pairs of mustard heels – the first is taller and sleeker (great for a date!); the next has a shorter heel and a more comfortable look to it.
Affordable Springtime Suit #2 – Blazer Dresses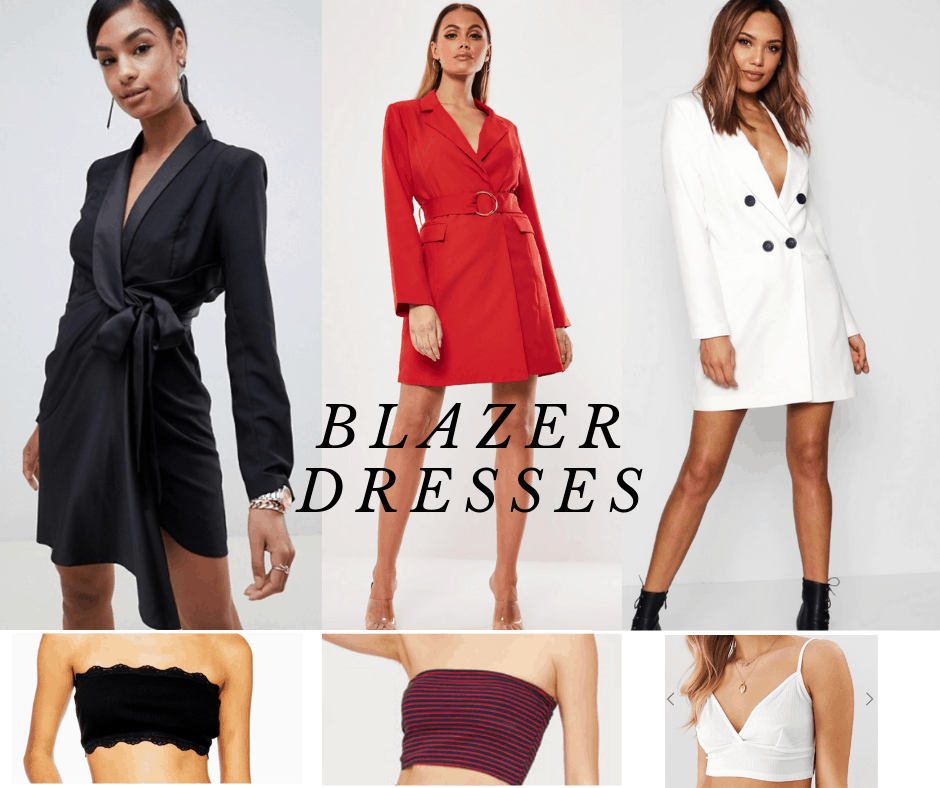 Product: Black Blazer Dress – ASOS, Black Bandeau – Topshop, Red Blazer Dress – MissGuided, Red and Navy Bandeau – Ardene, White Blazer Dress – boohoo, White Bandeau – ASOS
Blazer dresses are in and totally sexy! You can easily pair them with bandeaus, as shown above, for a professional look.
For a sporty look, layer the dress over a pair of biker shorts and wear with edgy booties.
Alternatively, for a date-night outfit, consider wearing the blazer dress low-cut, add heeled sandals, and wear a statement necklace. A clutch and sunglasses can tie the cool look together, as well.
Affordable Springtime Suit #3: Blazer + Spring Dress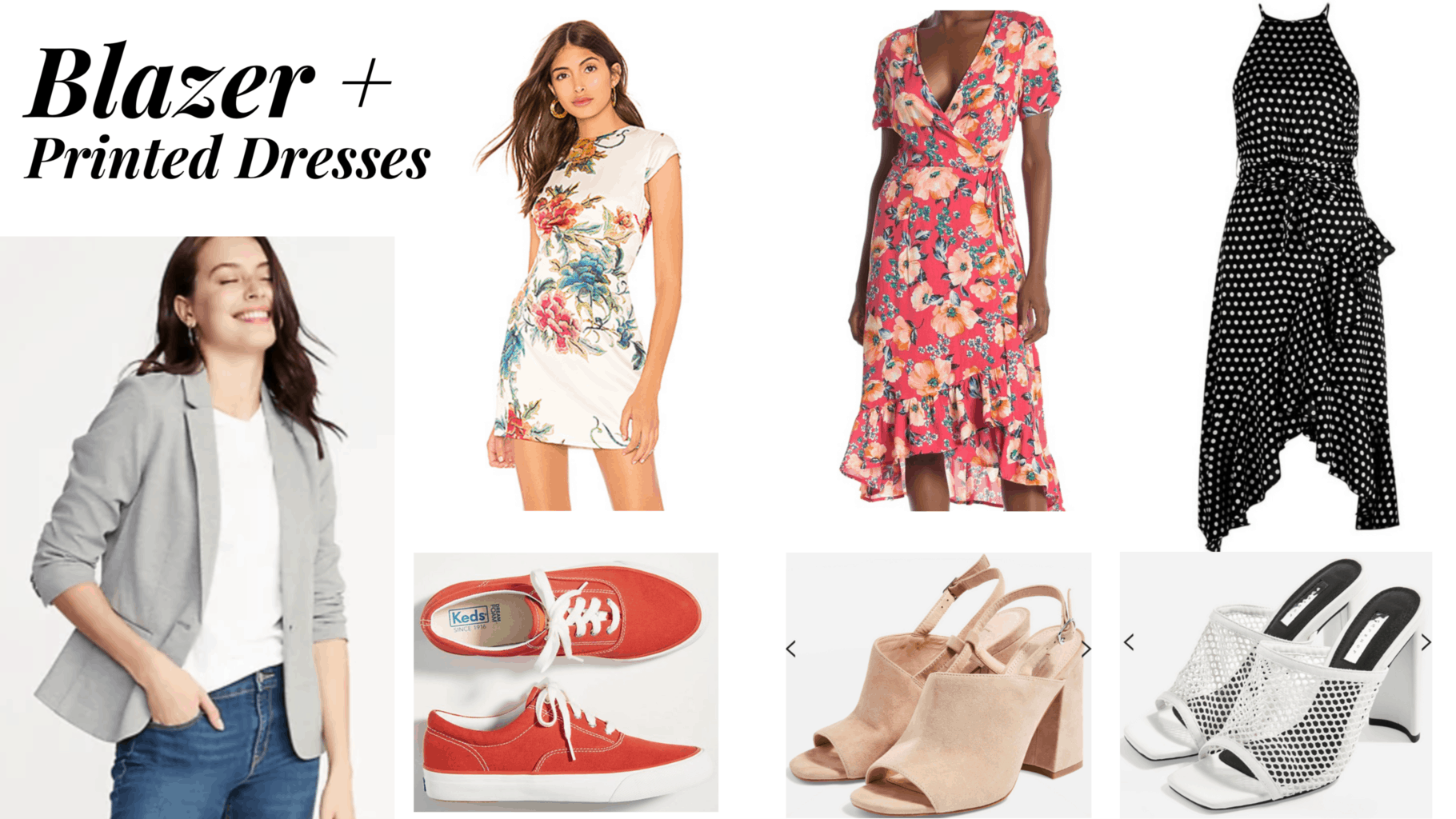 Product: Grey Blazer – Old Navy, Mini Dress – Revolve, Red Keds – Anthropologie, Floral Dress – Nordstrom Rack, Nude Heels – Topshop, Polka Dot Dress – Boohoo, White Heels – Topshop
Here, you can see the merging of two big Spring trends: suiting and printed dresses. I've put together three ways to get this trend right for different occasions. All three start with this simple gray blazer.
From the left to right we have casual, flirty, and dressy looks.
For the first look, pair a mini dress with your blazer, and roll up the sleeves to emphasize your laid-back look. Wear some comfortable shoes like Keds or Converse for a sporty accent.
For the second, pair your blazer with a wrap dress and nude heels for a flirty, or even professional, look. Add some simple accessories like bangles or dangly earrings.
For the third outfit, a dressy or date-night look, wear a nice dress like this polka dot satin midi dress. Pair with some fun heels like these perforated, open-toe, mule shoes.
Affordable Springtime Suit #4: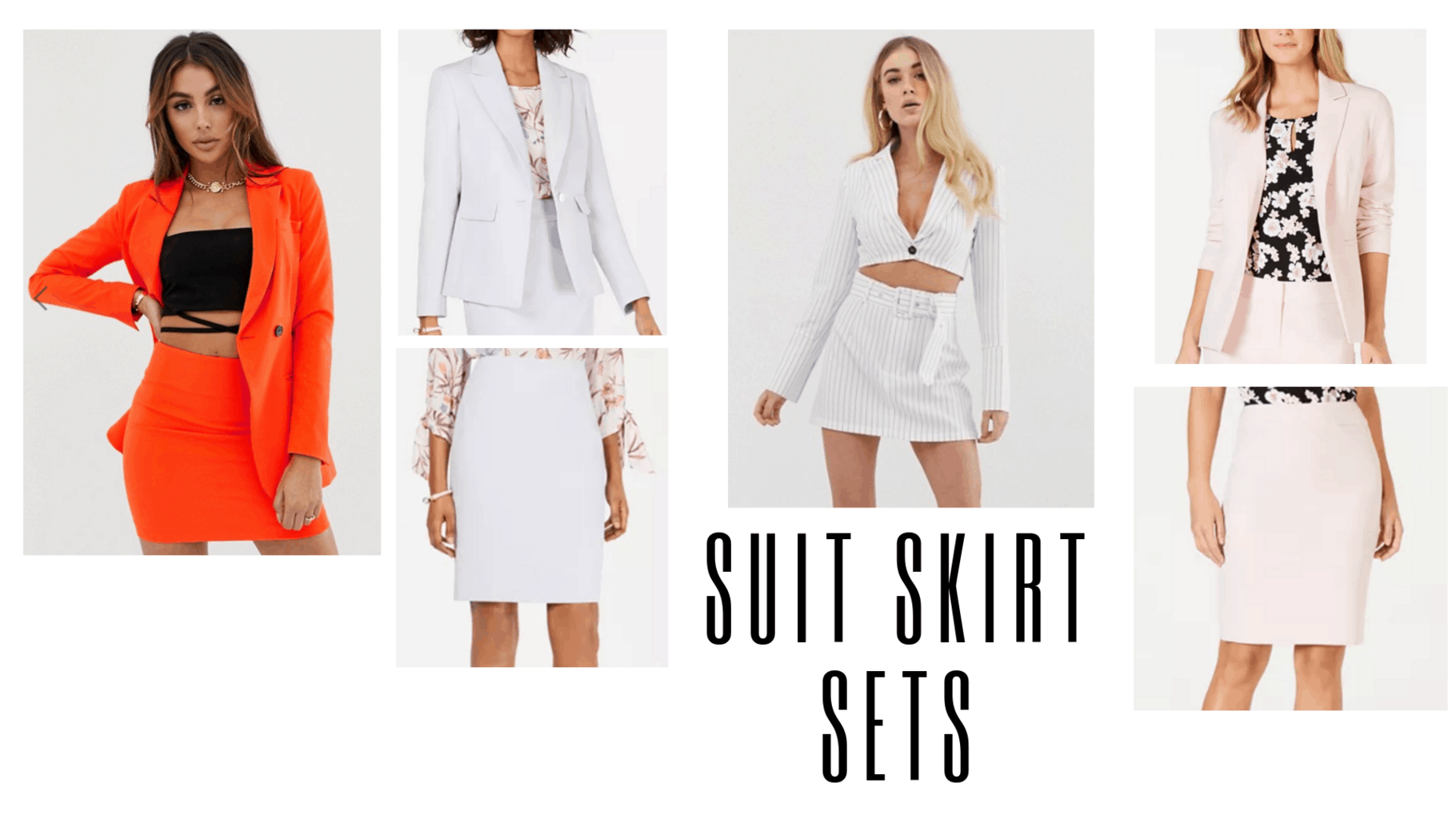 Product: Orange Suit Blazer – ASOS, Orange Skirt – ASOS, Lilac Suit Blazer – Macy's, Lilac Skirt – Macy's, White Suit Jacket – ASOS, White Skirt – ASOS, Pink Suit Jacket – Macy's, Pink Skirt – Macy's
These sets are perfect for mixing and matching! All these colors are great for the spring season, as well. You can pair each of these sets together with a printed bandeau, body suit, cropped tee, or blouse for a polished outfit.
Alternatively, you can pair the blazers with jeans, flats, and a v-neck or camisole for a casual look.
Match the skirt with a bold top for another easy spring look.
Are you a fan of the springtime suit trend?
Which high fashion trend would you like to see next? Share with us in the comments below!