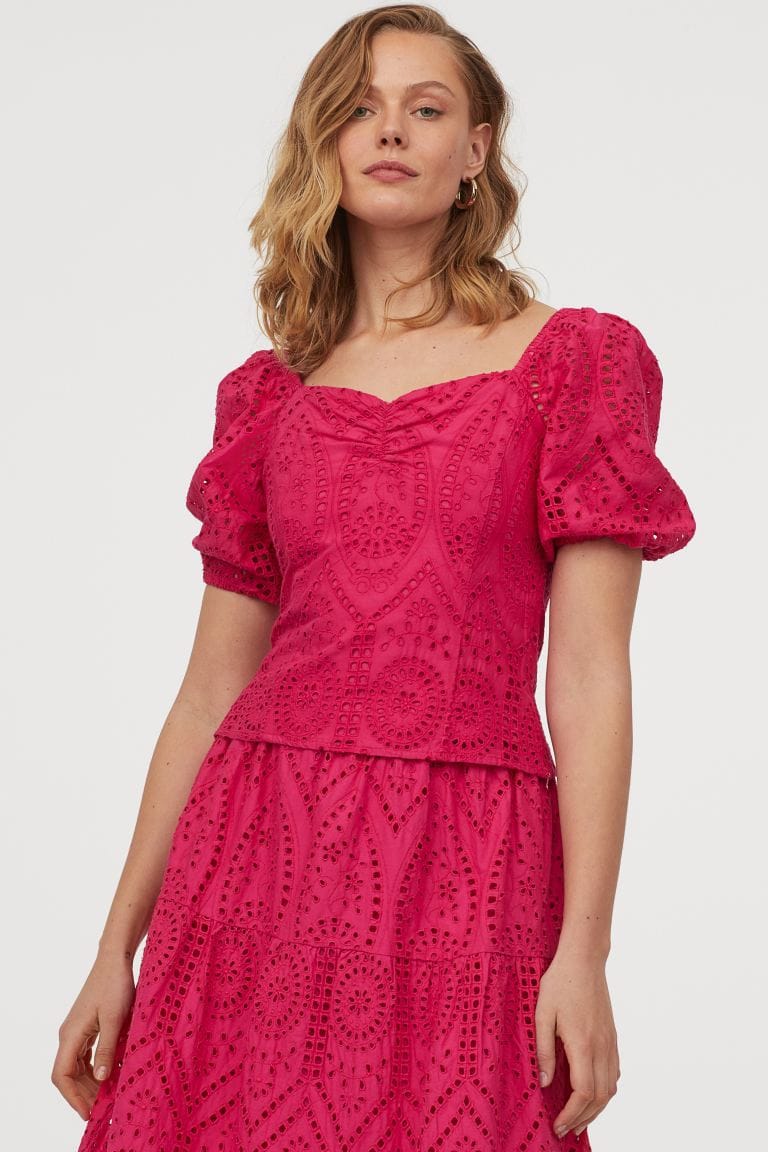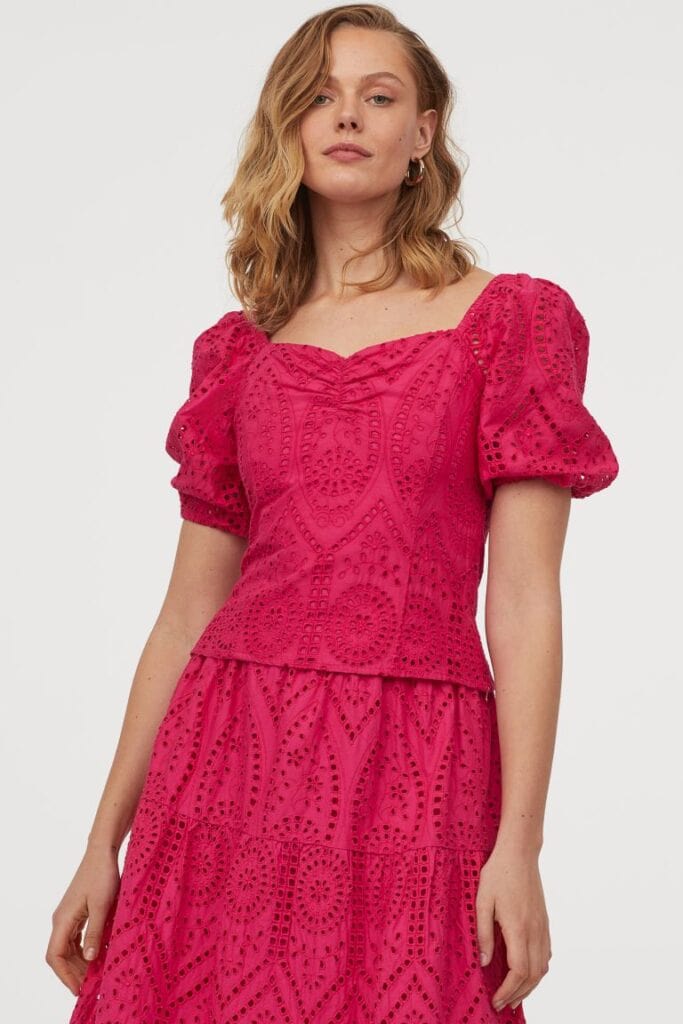 Although it might not feel like it, thanks to the current global situation, we're now well into Spring. (Crazy, right?!) That's why I thought it'd be a fun little challenge to put together three chic and wearable monochrome outfits for Spring. Of course, you can also wear them in the Summer — we definitely will be.
The monochrome trend is already everywhere — so it's time that you learn how to wear it yourself!
So, keep scrolling to see the looks I've created: one yellow, one blue, and one pink. Hopefully, they'll inspire you to put together a monochrome outfit of your own!
Monochrome Outfit #1: Yellow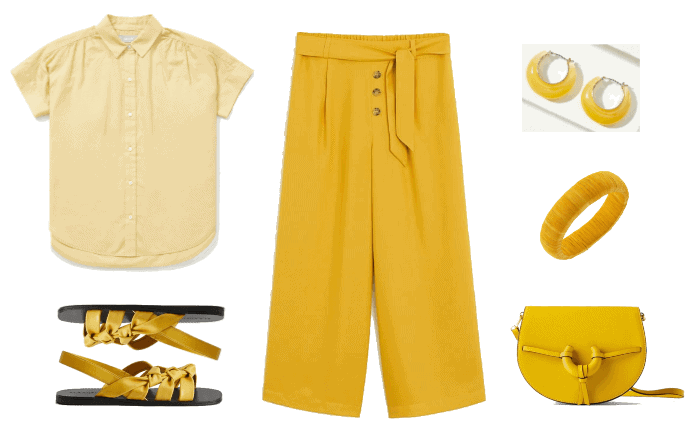 Products: Shirt – Everlane, Sandals – Mango, Culottes – Mango, Earrings – Loft, Bracelet – Nordstrom, Bag – Zara
When it comes to wearing monochrome looks, variety is your friend–especially when it comes to trickier colors such as yellow.
By selecting pieces in a bunch of different silhouettes, materials, and/or shade variations, your outfit will look intentional and put-together, as opposed to haphazard.
So, to get this look, begin by tucking a loose-fitting light yellow shirt into a pair of bright yellow culottes.
Next, put on a some cheery yellow hoop earrings, as well as an artful raffia-wrapped bangle.
These cool knotted sandals ground this quirky look perfectly, and would look so chic paired with many different looks in various colors.
To complete this bright and fun ensemble, grab a fashion-forward bright yellow crossbody bag.
Monochrome Outfit #2: Blue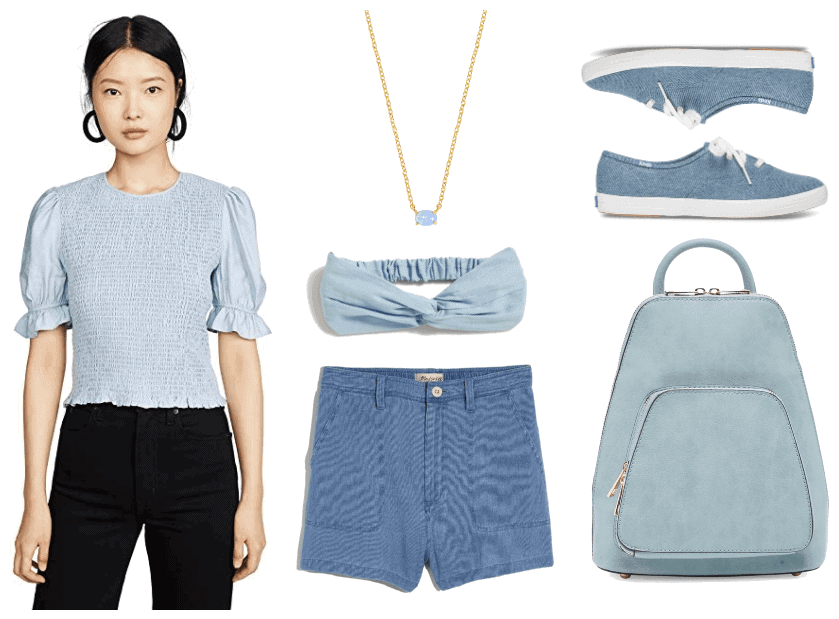 Products: Top – Shopbop, Necklace – Nordstrom, Headband – Old Navy, Shorts – Nordstrom, Sneakers – DSW, Backpack – Nordstrom
Perhaps your style is more mellow, and you're looking for a monochrome look that's a bit more subdued. That's where this cool monochrome blue outfit comes in!
To copy it for yourself, start off by styling a trendy pale blue top with a super-cute pair of retro-inspired blue denim shorts.
After that, don a simple-yet-attention-grabbing blue opal necklace, which is bound to reel in a ton of compliments!
As far as I'm concerned, you can't go wrong with a classic hair accessory. And, this chambray headband not only fits the bill perfectly; its soft blue shade would look amazing on pretty much everyone!
Speaking of "classic," these blue Keds make for a lighthearted and comfortable footwear choice. Moreover, these sneakers are perfect for days when it's not quite sandal weather, but you still want to get away from heavier footwear.
To complete this casual-chic look, pick up a faux-leather powder blue backpack.
Monochrome Outfit #3: Pink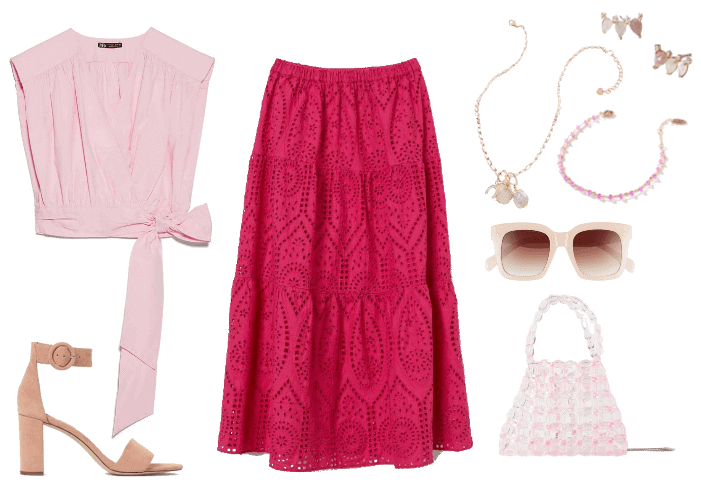 Products: Top – Zara, Heeled Sandals – H&M, Skirt – H&M, Necklace – Anthropologie, Earrings – Anthropologie, Bracelet – Anthropologie, Sunglasses – Nordstrom, Bag – Zara
For the third and final look, I decided to put together something a little dressier that can be worn both during the day and at night.
To get this fun and feminine look, begin by putting on this pretty pale pink poplin top.
After that, add a gorgeous dark pink eyelet embroidered midi skirt.
Add some lighthearted and dainty pink jewelry, such as these cute climber earrings, this vintage-meets-modern charm necklace, and a classy double-layer beaded bracelet.
A pair of oversized pale pink sunnies makes for the perfect way to accessorize this sweet ensemble.
And, as far as shoes go, you can never go wrong with timeless pinky-beige heeled sandals!
To complete this girly and glam outfit, reach for a vintage-inspired pale pink beaded bag.
What do you think?
Would you wear a monochrome outfit? Which of these monochrome looks best suits your style? Do you have any other advice for putting together a fashion-forward monochrome outfit?
Let me know in the comments!