This post will show you tons of monochrome fashion ideas.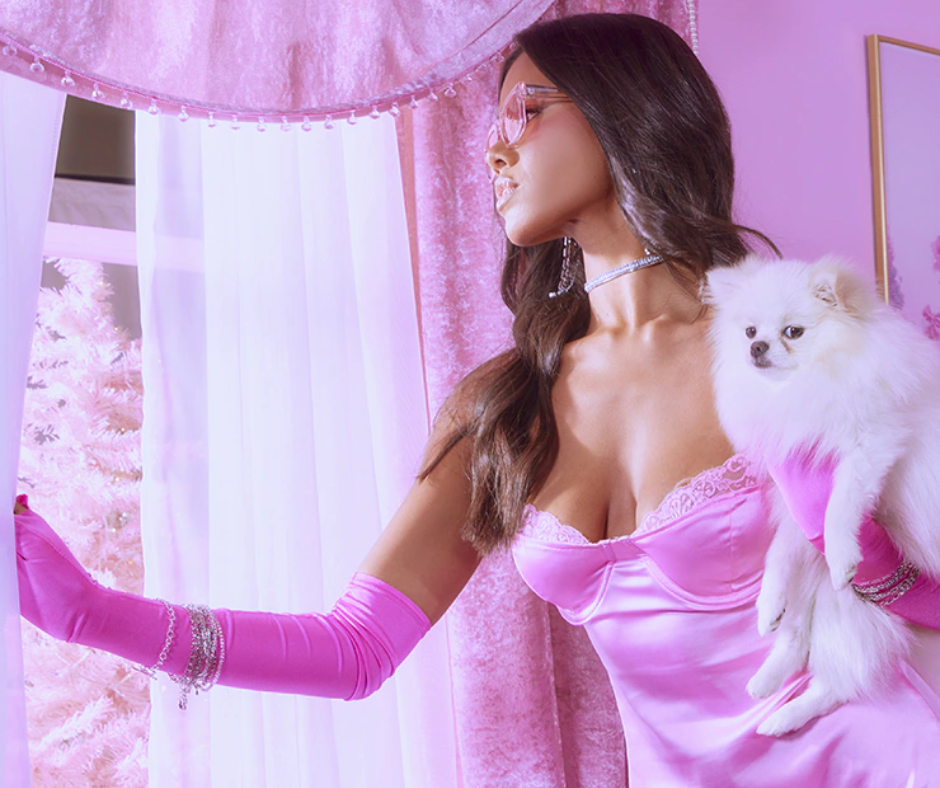 The monochrome trend has been super popular over the past few seasons, and for a good reason! Monochromatic outfits are an easy way to look well put together and classy without too much effort.
Though it seems simple, monochrome is an incredibly versatile trend because, depending on your personal style, you can make this trend minimalist or elaborate.
Read on to see all of our favorite monochrome fashion ideas, plus tons and tons of tips to create your own monochrome outfits!
Related reading: Classy Outfits for Women: How to Dress Classy & Elegant
What is a monochromatic outfit?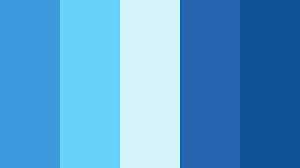 Monochromatic means "one color". And monochromatic color schemes come from a single base hue (e.g., blue) and are extended using this hue's shades, tones, and tints (e.g., pastel blue and navy blue).
In fashion, this means that we create and style an outfit using shades of a single color. While you can stick to just one hue, you can balance it by using different shades and tints. The best part of a monochromatic look is that it's an easy way to create a cohesive and put-together outfit.
A monochromatic outfit can be both unexpected and fashion-forward when worn with style. (The monochrome trend is everywhere right now!) It might seem challenging to pull off, but I promise it's easier than it looks.
Simple Monochrome Outfit Ideas:
Here are some more monochrome outfit examples that work great this year, all based on hot fashion colors that are trending right now:
Hot Pink Monochrome Outfit
AD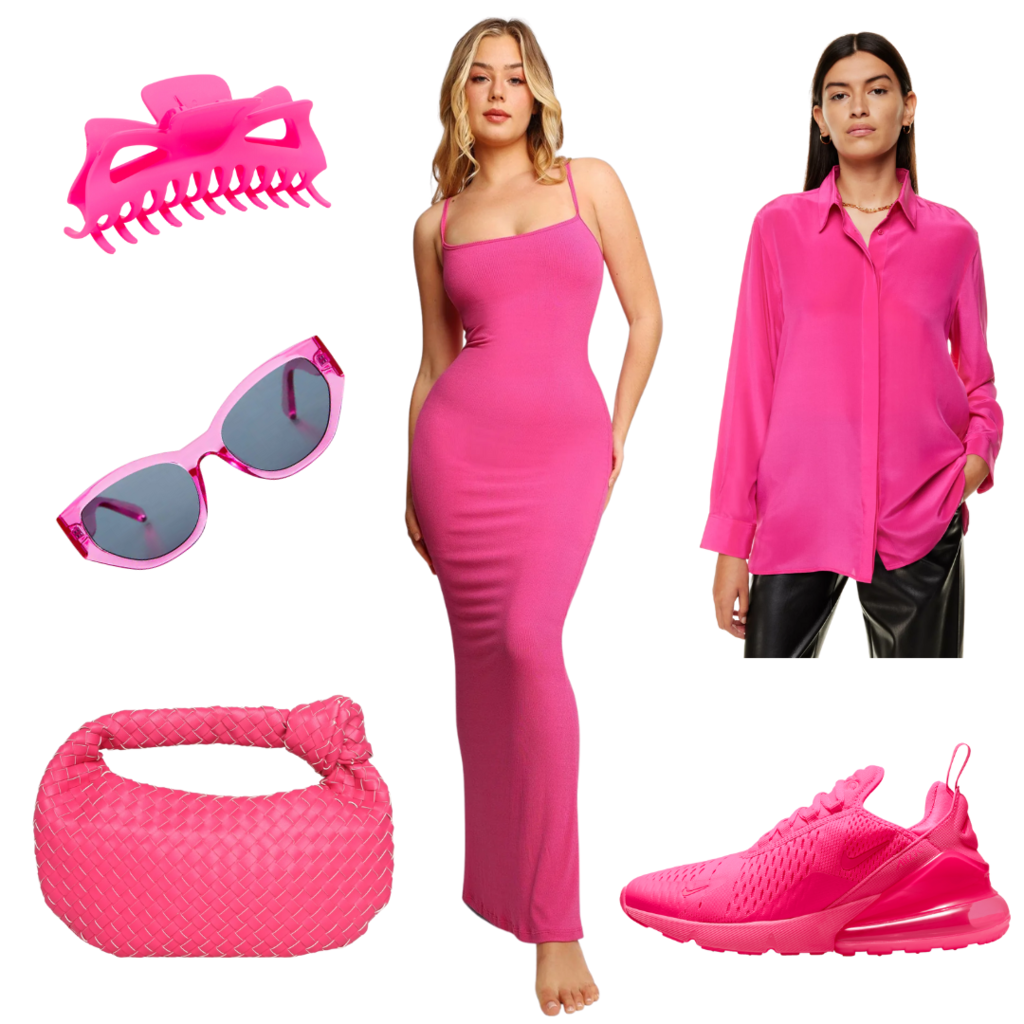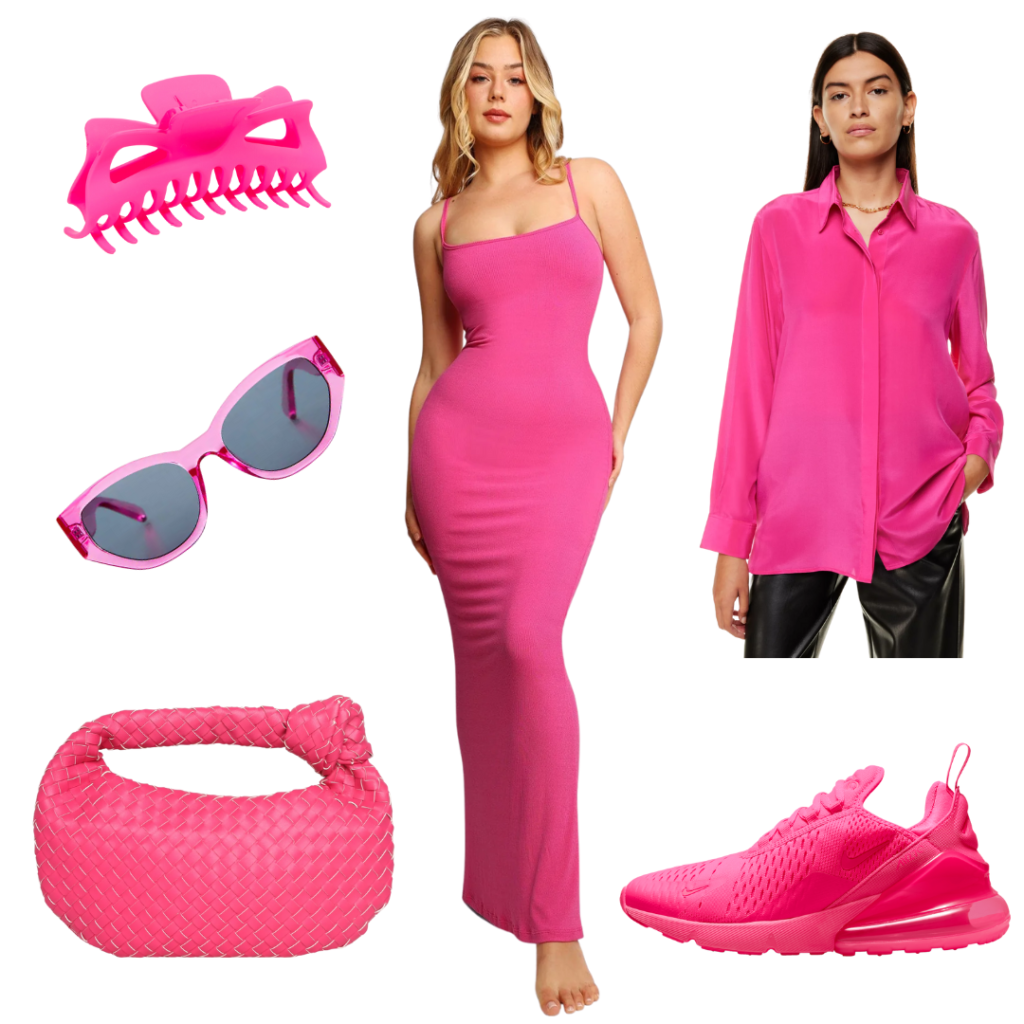 Products:
This first outfit focuses on one of the season's hottest colors (literally) – hot pink!
This outfit is based around this incredible hot pink maxi dress that comes with built-in shapewear to snatch you in all the right places. Add a breezy hot pink button-down shirt over top (this one is silk and so comfortable) for a little coverage.
To accessorize, add a claw clip, sunglasses, and a woven mini bag, all in pink. Finish with hot pink sneakers for a model-off-duty vibe.
Black Monochrome Outfit
AD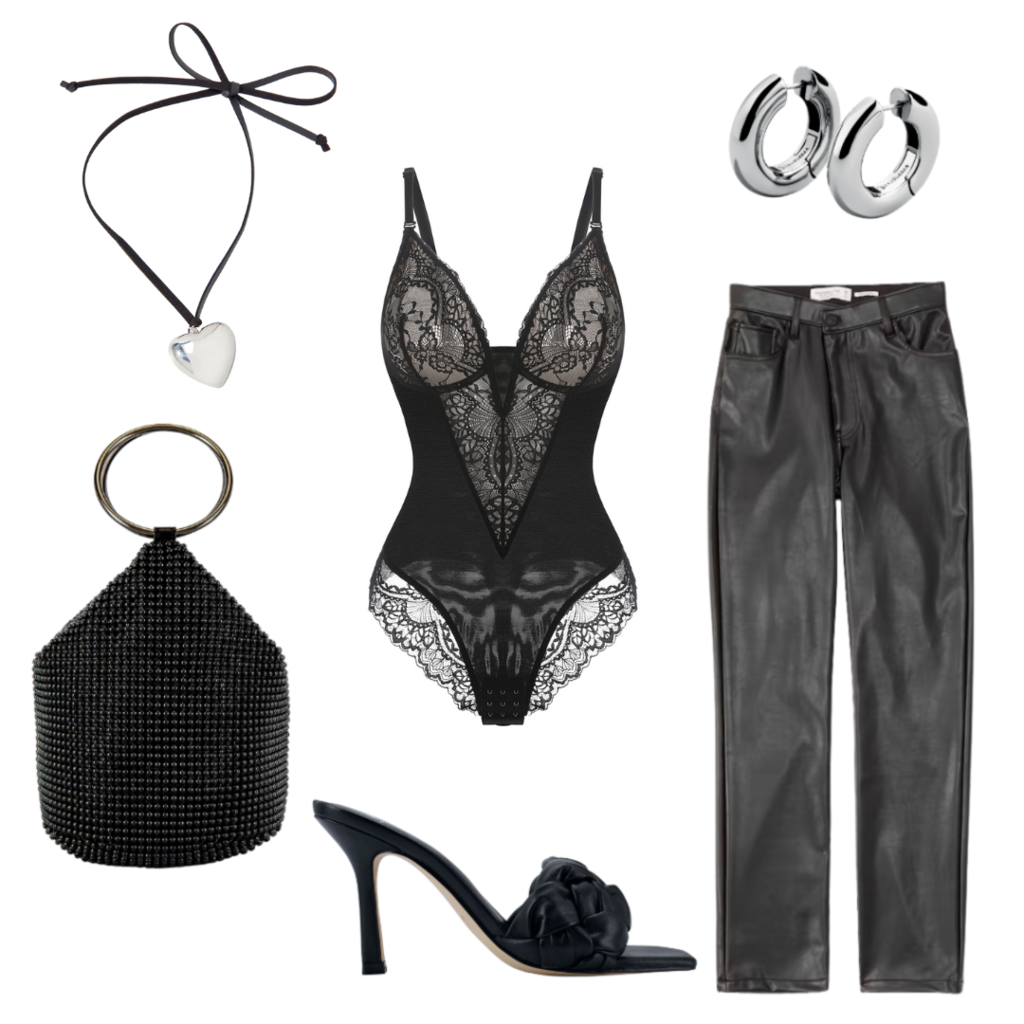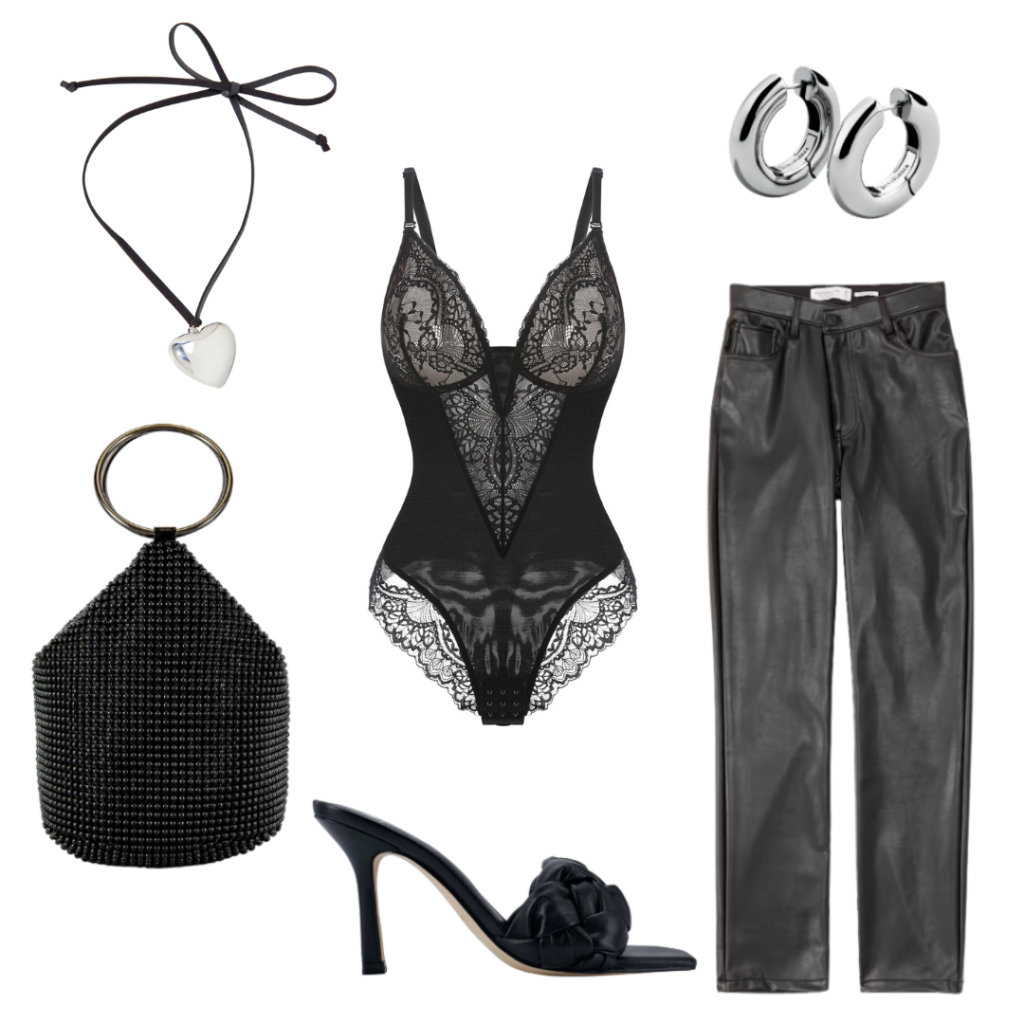 Products:
There's nothing we love more than an all-black monochrome outfit, especially for a night out.
This would be the perfect going-out outfit for college. It starts with a stunning plunging black lace bodysuit that snatches your waist and gives you a boost up top for that corset effect. Next, add high-waisted leather trousers and heels. Finish with a trendy crystal bag, corded heart necklace, and chunky silver hoops and you're ready to hit the bars.
Orange Monochrome Outfit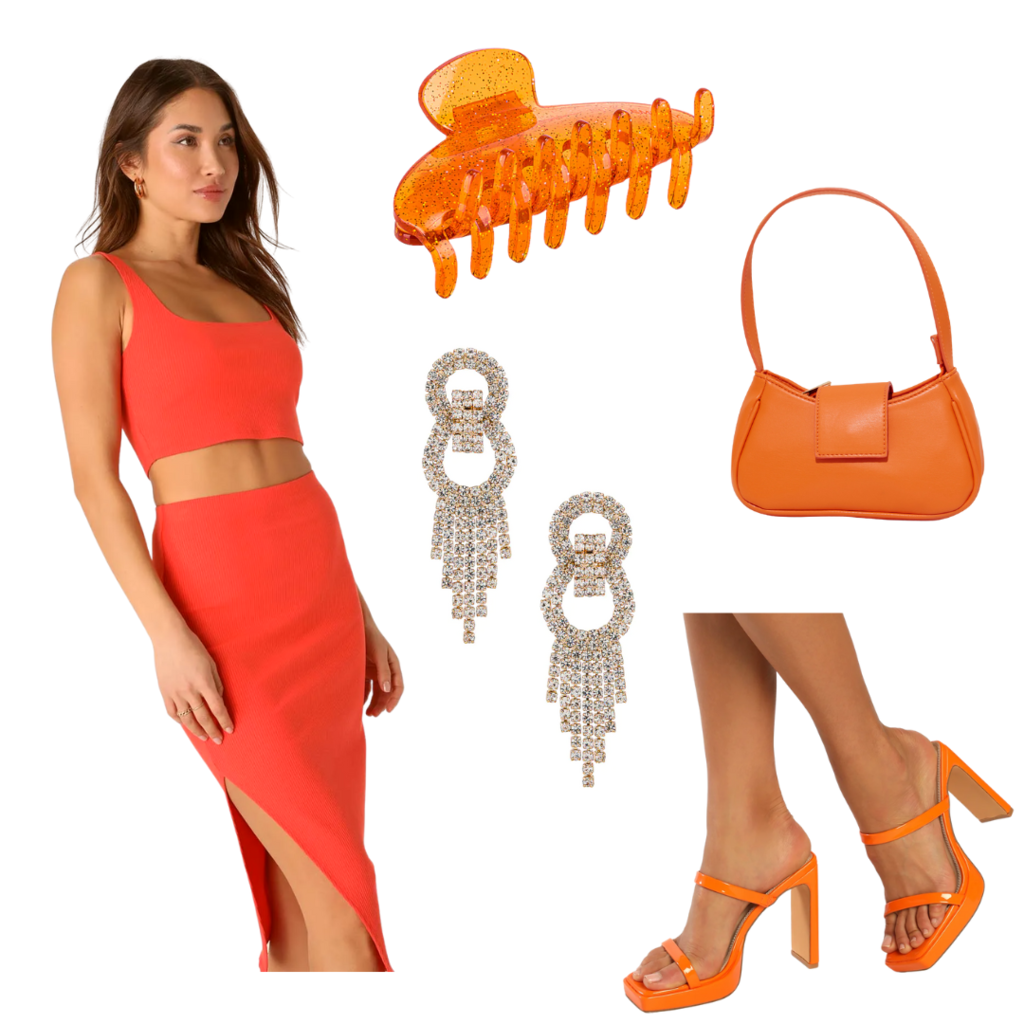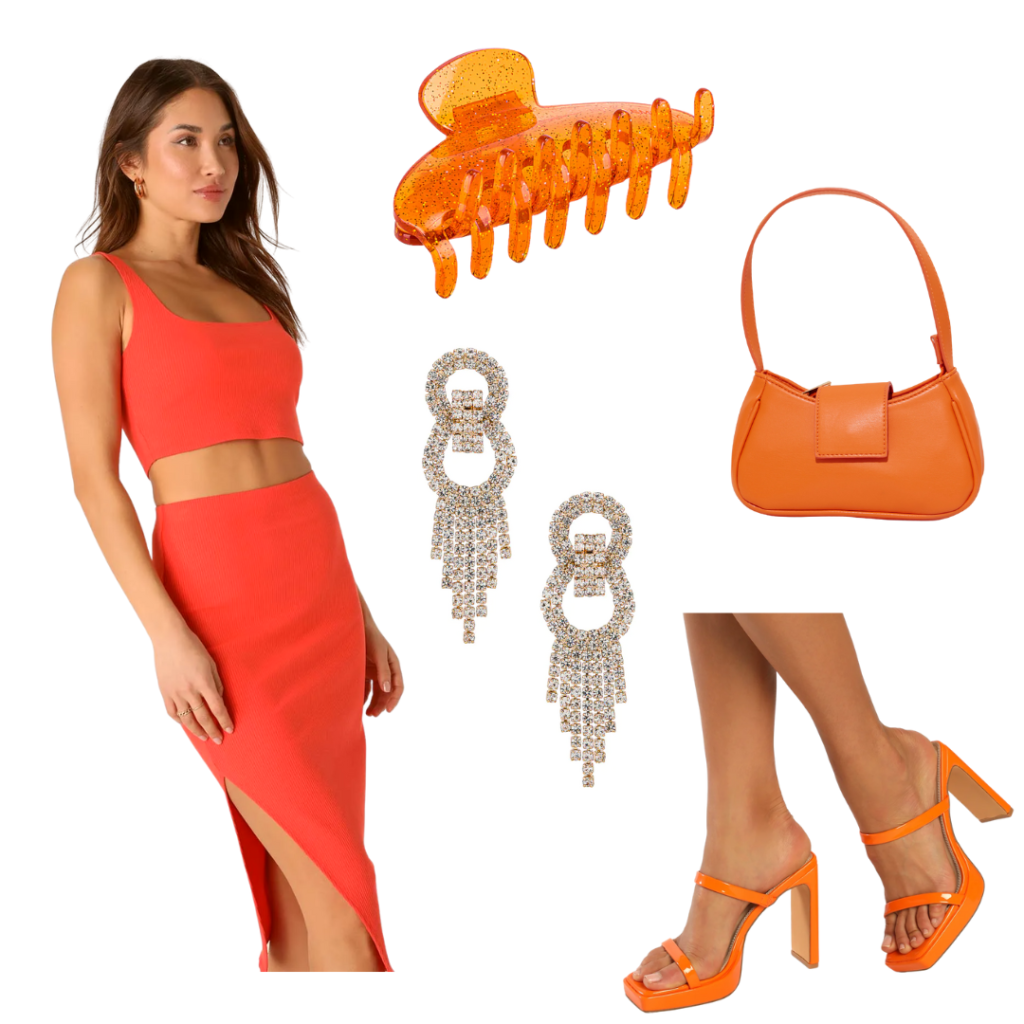 Products:
Orange is another hot color this season, a favorite of It Girl Alix Earl, and a great color to wear if you want to stand out, especially in the summer months.
This would be a perfect outfit for summer or any spring break vacations you have coming up! It's just an orange two-piece set paired with orange accessories, namely heels, a claw clip, and an orange mini bag, then finished up with stunning crystal statement earrings. Alix herself would approve.
Monochrome Outfit Styling Tips & Examples:
Tips, Tricks, & Hacks for Wearing Monochrome Outfits:
If you want to get started with monochrome fashion, it helps to own lots of colorful pieces, but it's not absolutely essential.
Look, I love color. Especially in my closet. I literally have a rainbow rack in my bedroom (see below). This makes it so much easier when I want to do a monochromatic outfit.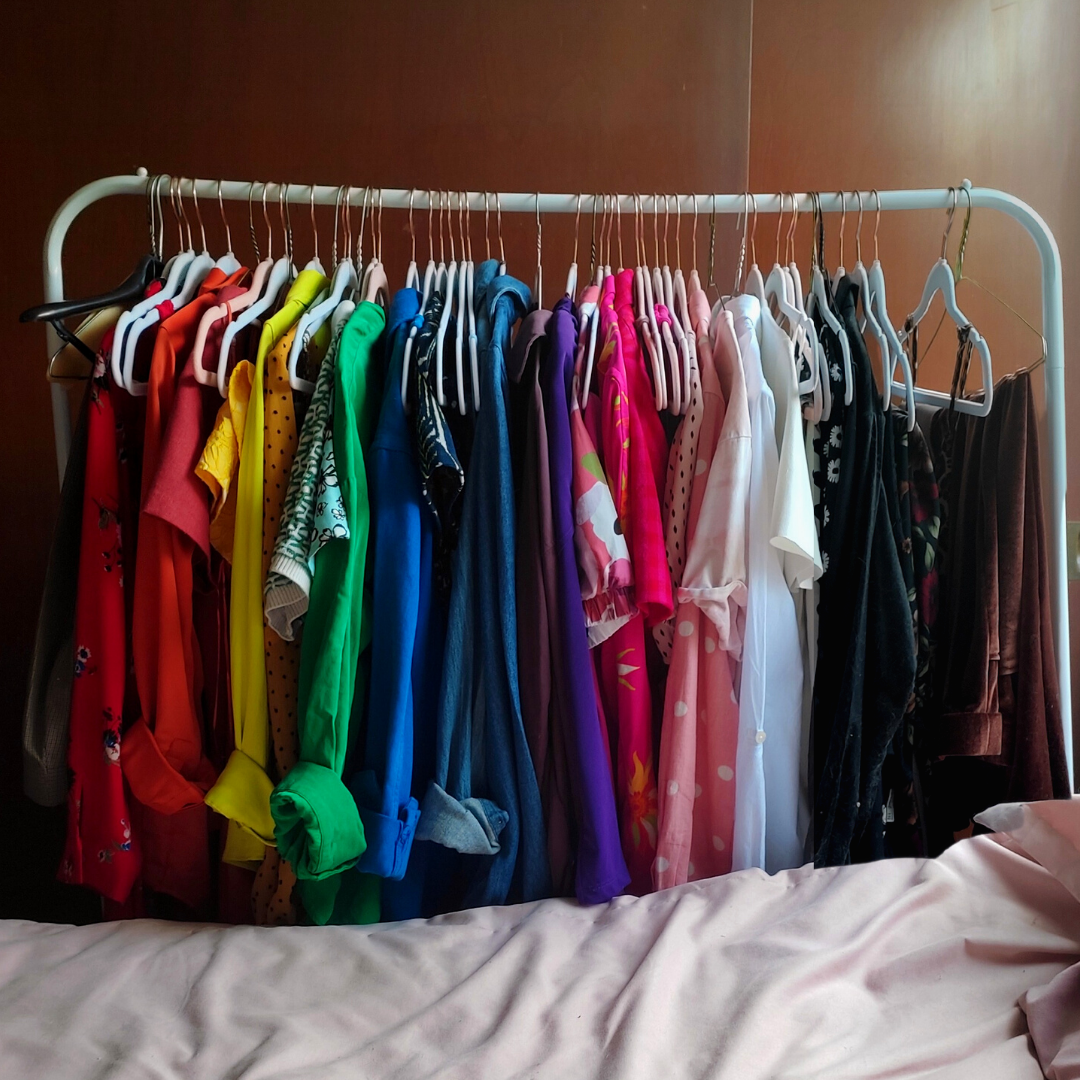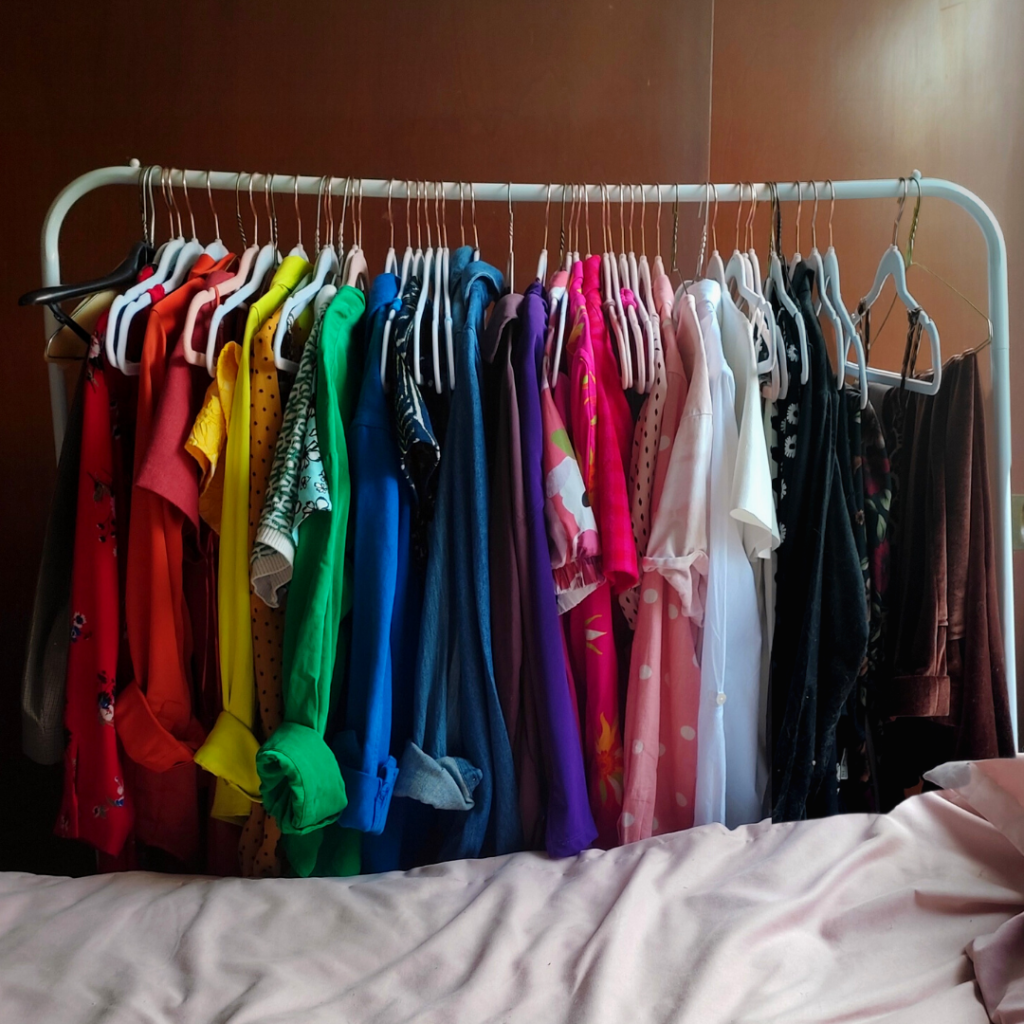 Having many things in the same color is super helpful, but I know not everybody has that type of closet. The good news is that having a colorful closet is not essential if you employ the right styling rules.
Before going monochromatic, you need to know a couple of things. These tips and tricks will help you create a monochromatic look without breaking the bank.
Be comfortable. Start off with a color that makes you love and feel comfortable. If black is that color, go for an all-black ensemble. If it is green, go green. Also, if you love that color and you feel comfortable wearing it, chances are you have more items in that color.
Black and white shoes get a pass. Maybe you are trying an all-orange outfit. There's only one problem: you don't have orange shoes. Relax; it's not the end of your monochromatic outfit. Just wear your white or black shoes; I promise they will still look great.
Patterns and textured fabrics are your best friends. Textured fabrics add depth and make the outfit look interesting. Patterns usually come in more than one color, but that's okay as long as the predominant color is the one you chose to match the rest of the outfit.
Makeup and hair are also accessories. Maybe you only have a dress in that color and you want to add more things to it to *make* it a monochromatic look. try matching your makeup and hair accessories as well.
Now that you have these tips, it's time to style an outfit. If nothing else, rocking a single shade will make you look at your wardrobe with fresh eyes and help you see new clothing combinations that you would never have thought of otherwise.
I've got tons of monochrome fashion ideas and examples below. So pick your favorite color, and let's get going!
1. Easy Mode – Jeans & Neutrals Monochrome Outfit
Let's start with no fuss and no complications. Something easy. We all have a perfectly good monochromatic look waiting inside our closets and most of us don't even realize it. That look? Your jeans and a plain, neutral top.
Blue denim is a staple in everyone's closet. For my easy-mode monochromatic outfit, I grabbed a pair of wide-leg blue jeans and a navy blue sweatshirt. Then, for shoes, I just put on a classic pair of blue Converse. I had a bit of trouble accessorizing until I remembered I had this blue neck scarf.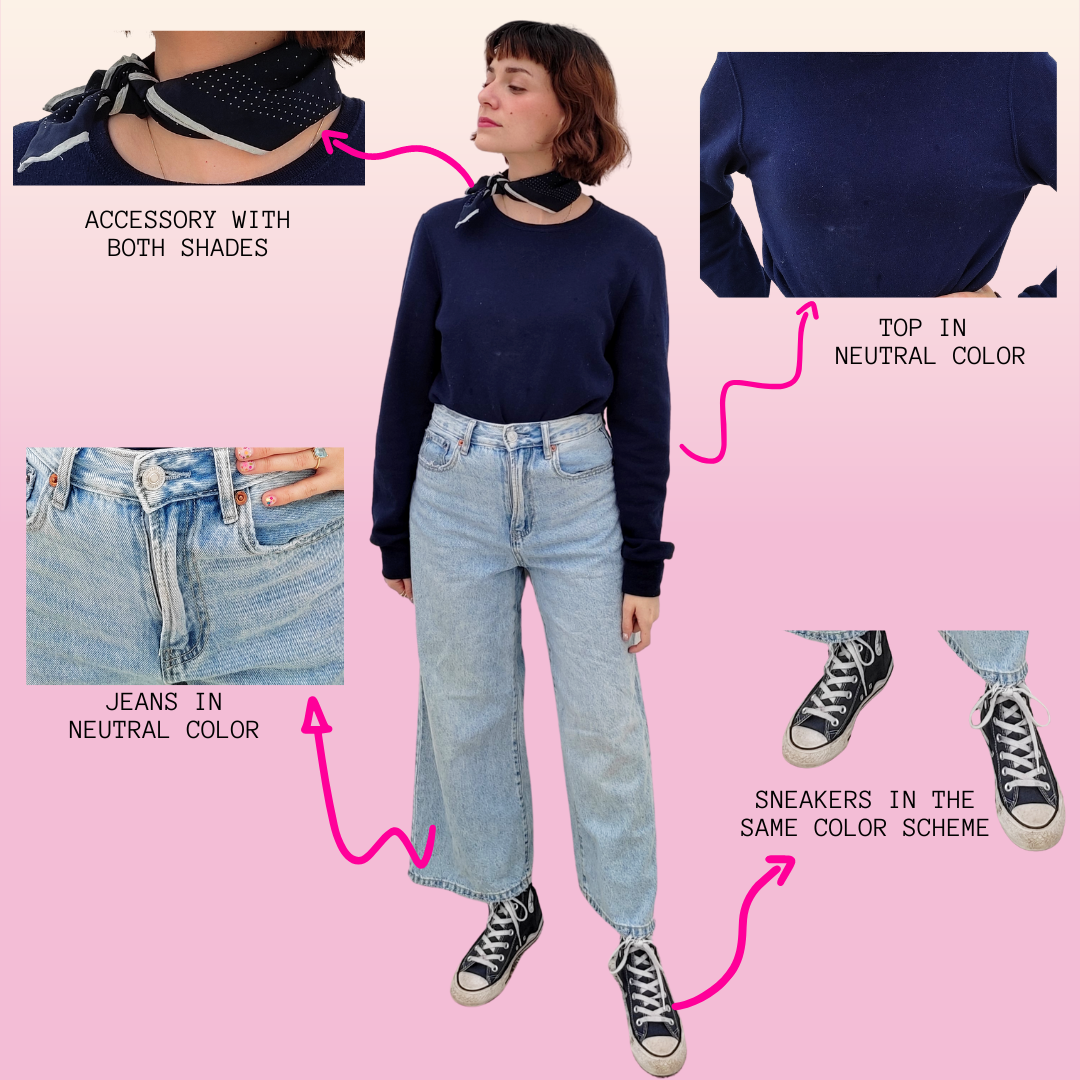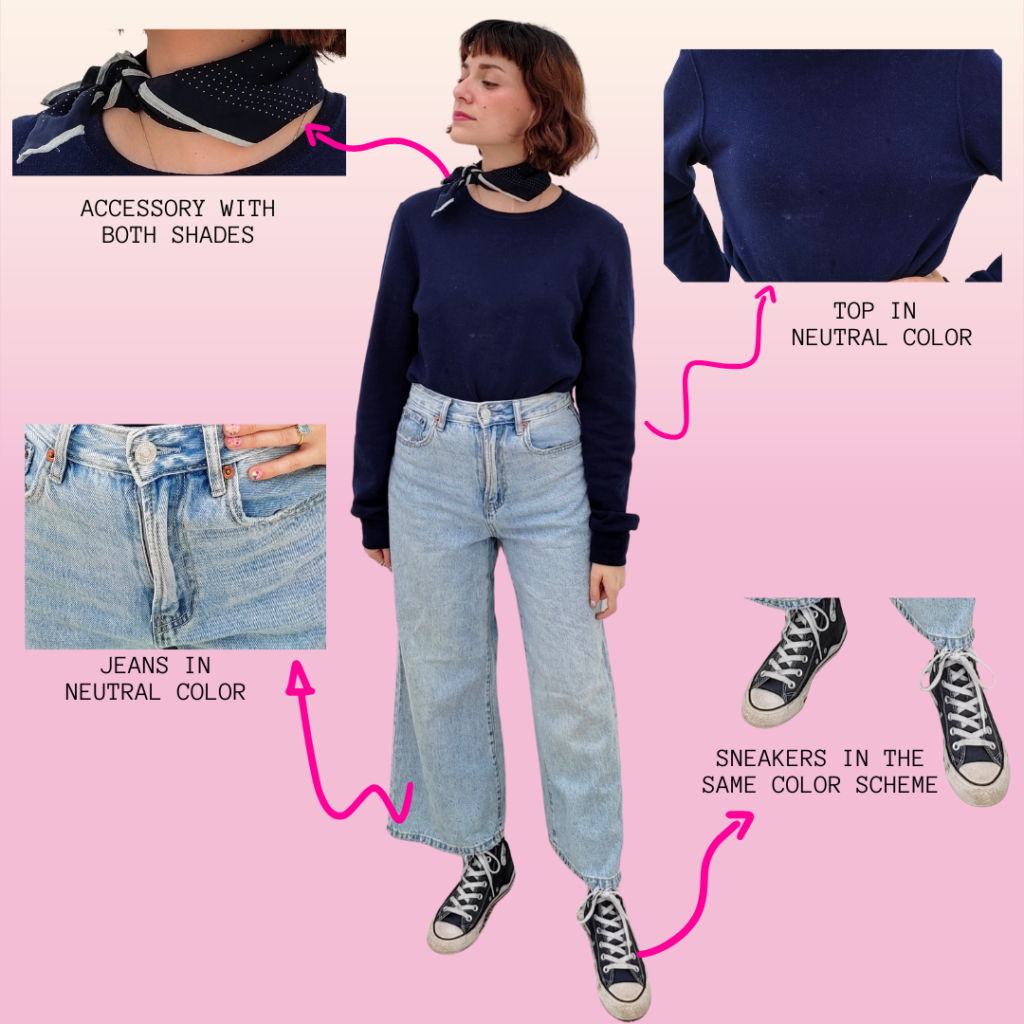 Taking this look as an example, you can try a monochromatic outfit with your favorite pair of jeans as a base. They can be blue, white, off-white, beige, or black jeans, paired with a top in the same color family.
If you're styling blue or off-white, try to balance lighter and darker tones together instead of going for just one hue. This way creating a cohesive look will be easier. (I did this above with a dark blue top and light blue jeans.)
Since these are neutrals, shoes and accessories shouldn't be a problem. But, if you are still not sure, my recommendation is to stick to similar hues. For lighter outfits (white, off-white, or beige), stick to lighter shoes and accessories. For darker outfits (blue, grey, or black), stick to darker shades.
2. Medium Mode – Orange Monochrome Outfit with Patterns & Textured Fabrics
Now, let's kick it up a notch. For this one, I'll add patterns and more texture. Patterns can be difficult to tackle, but the easiest way to make them work is to include them in a monochromatic look. Just remember: focus on the predominant color of the pattern.
For my medium-level outfit, I decided to do an orange look. For the base of the outfit, I paired a basic orange tank top with patterned cropped pants.
The pattern on my pants has pink and white, but the print is mostly orange, so the pants still work. To add some depth and layer it up, I threw on an orange silk shirt. Finally, went with a pair of white chunky sneakers that have the tiniest orange detail on the sole.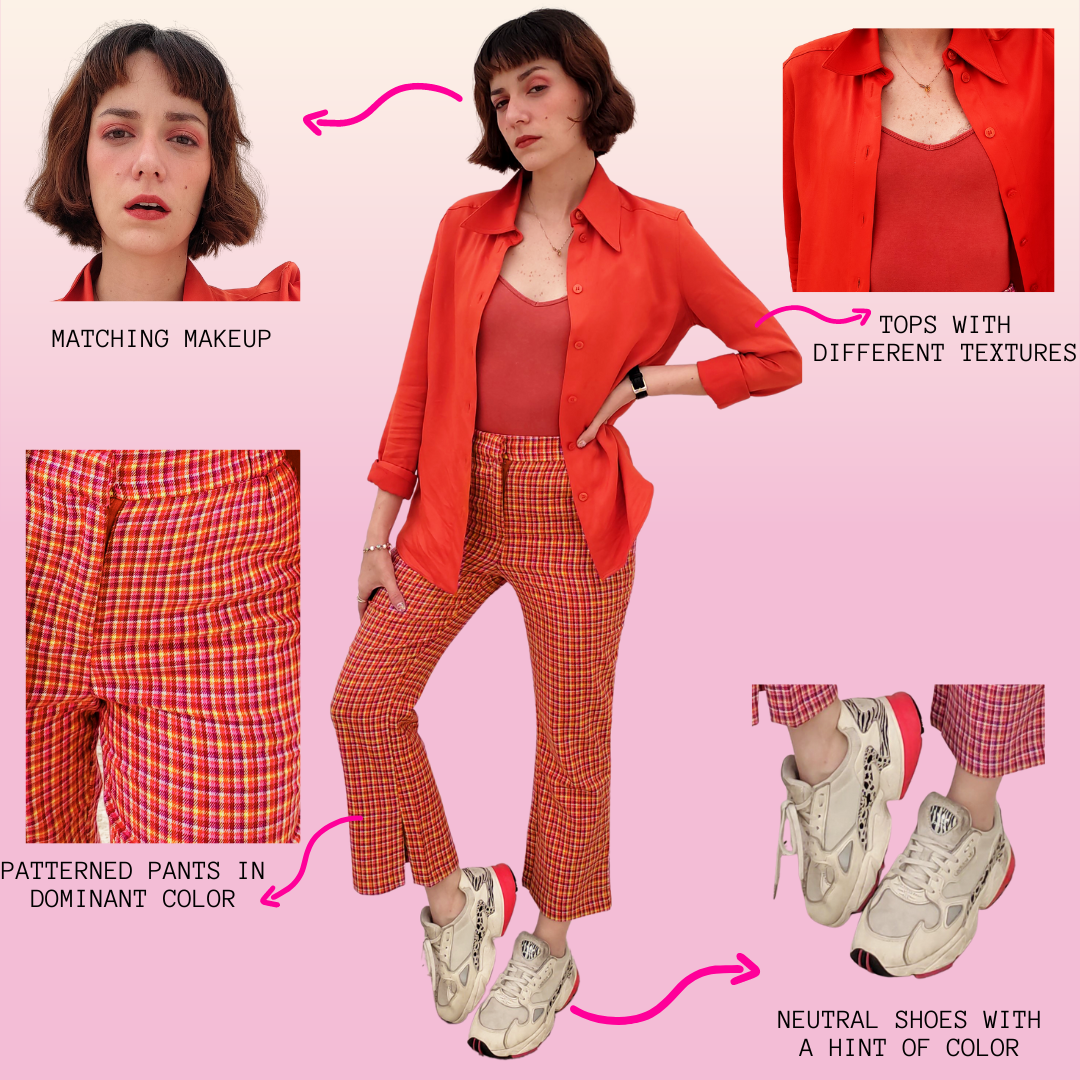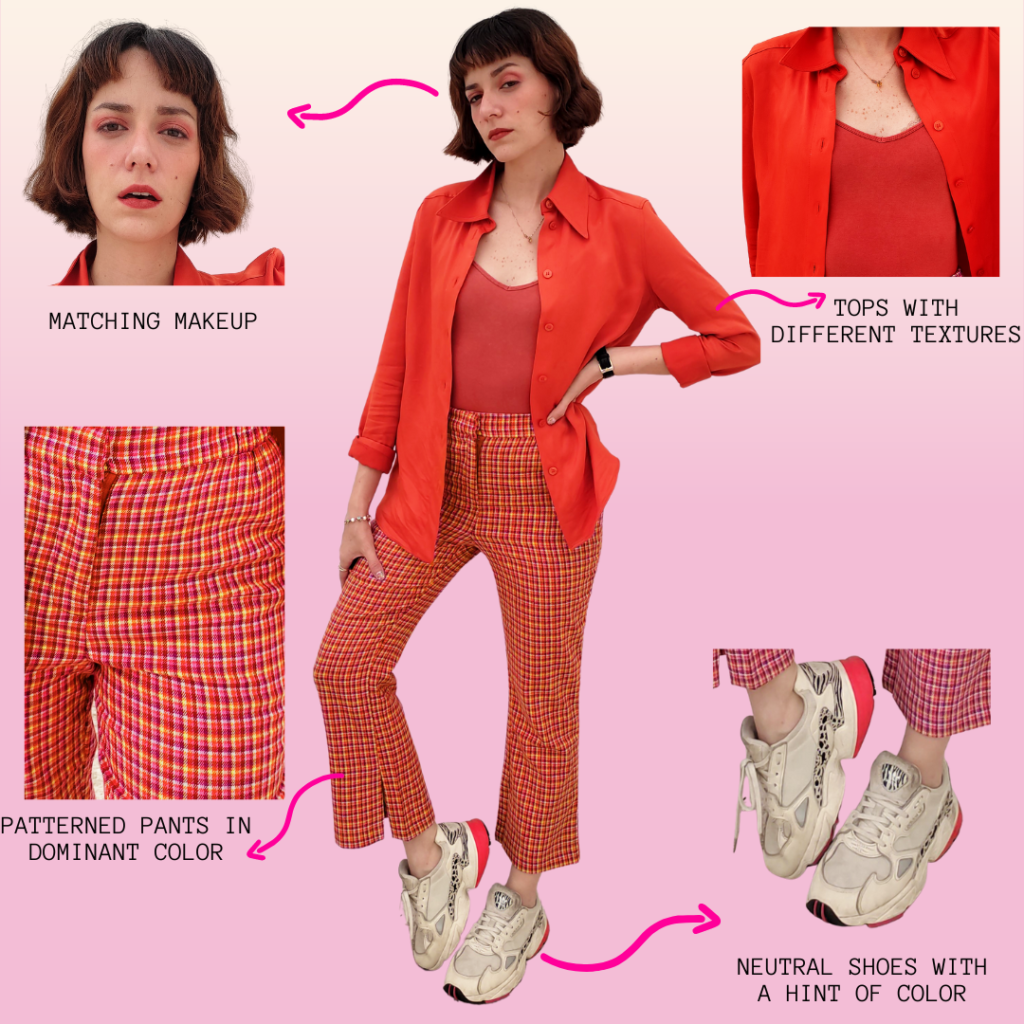 Patterns and fabrics can make a monochromatic outfit so much fun! The most important piece of advice I have is: don't be scared to play with pattern and texture, especially if you are going to try a very colorful monochromatic look.
If you are scared of mixing too much pattern with too much texture, try a patterned item with a simple texture (silk, linen). This can be tricky, but with experimentation, you'll see what works best with what is in your closet.
For this type of look, I fully recommend using your makeup as an extra accessory. You don't have to do full eye makeup as I did above, but a coordinating lipstick or blush could be good.
3. Hard Mode – Pink Monochrome Outfit
Now, let's apply all of our tips to create one outfit.
When you're getting advanced, it helps to take a deep look into your closet and ask yourself, what is the dominant color you see? This color is probably the best one to create a full-on monochromatic look. When you are adding all these elements together, you need a variety of pieces to create a cohesive look.
For my difficult-level monochromatic outfit, I wore a basic, cropped, light-pink top. For bottoms, I added a pair of tie-dye pink mom jeans. To layer, I put on my fluffy pink coat. Finally, my shoes are a pair of pink Vans and my bag is a light-pink color.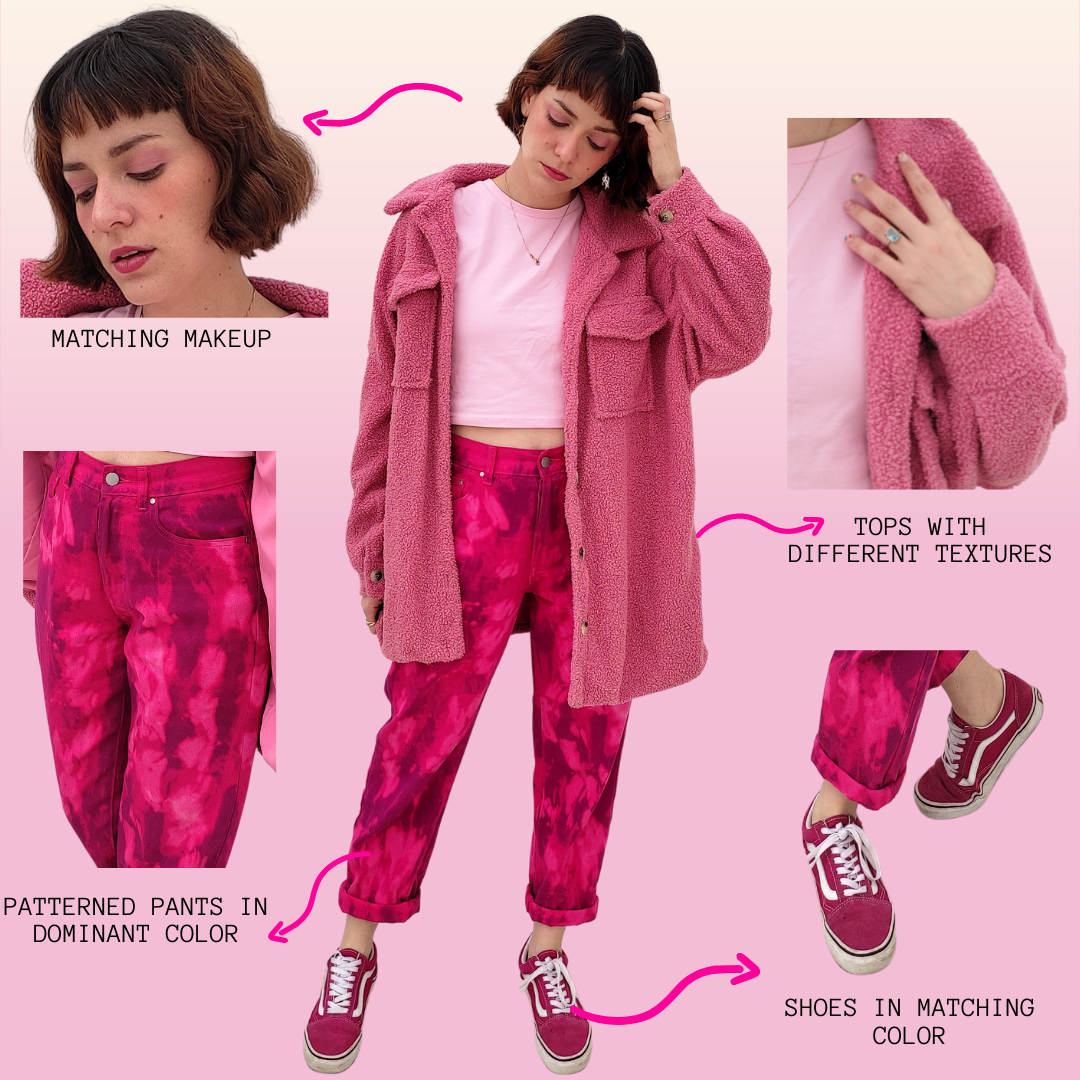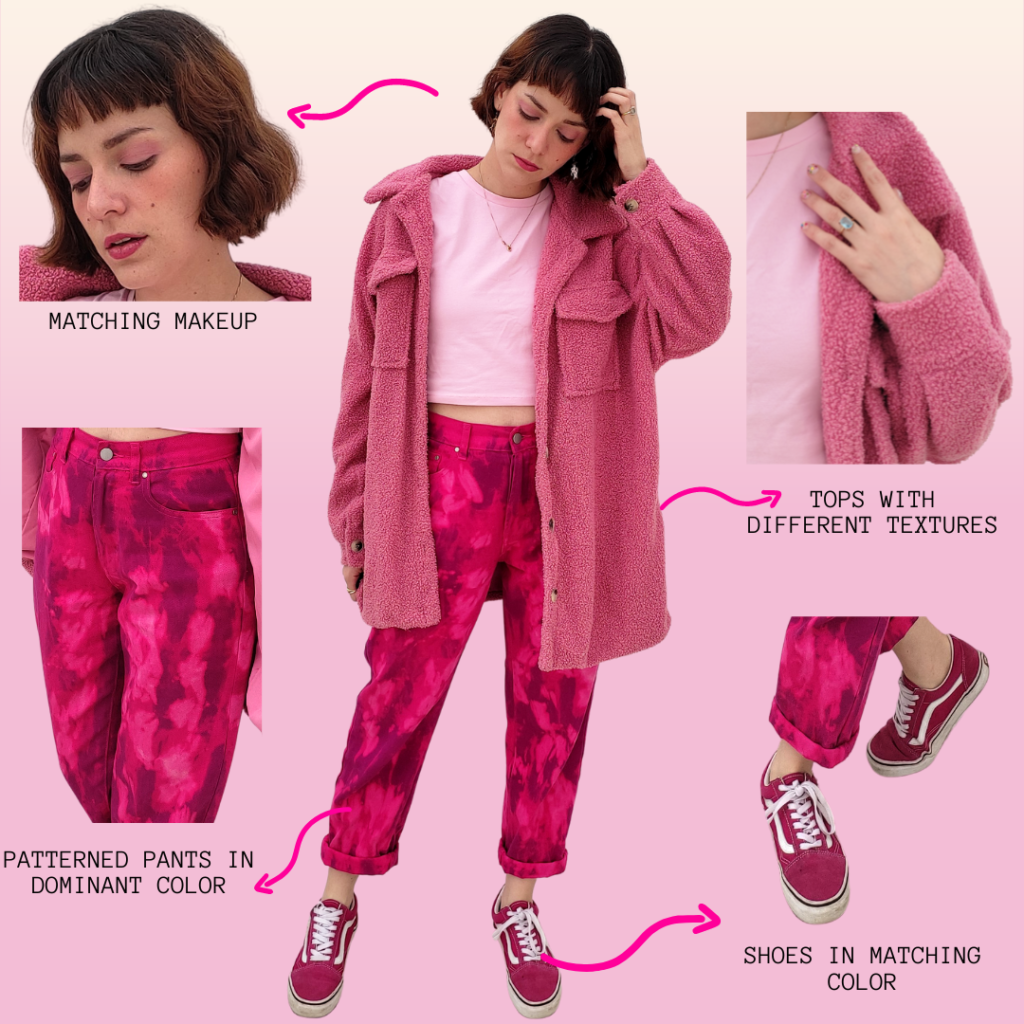 This type of look exemplifies all of my tips at once: It's a full-on monochromatic look in a color I feel comfortable in and love wearing. For me, pink is the color that features most in my wardrobe. That doesn't mean that all of my pink items work together, but I got to this specific combination after experimenting a bunch.
This look checks all the boxes. The tie-dye pattern has different shades of pink, the coat's texture adds depth, and the accessory and shoes reference different items in the look. They all work together to create a bold monochrome look.
How To Master The Monochromatic Outfit?
Play with texture or pattern. Mix up the textures or patterns in your outfit if your monochrome colors feel boring. Add depth and dimension by mixing stripes, spots, or textures like velvet and silk into your monotone outfit.
Don't be afraid of color. If you're not comfortable in monochrome yet, try introducing color into your monotone look through monochromatic accessories.
Layer it up. Add depth to your monochromatic outfit by layering your pieces. Add a monochromatic blazer to match a dress, or wear monochrome pants with a shirt under a coordinating outerwear piece.
Final Thoughts on Monochrome Fashion:
Creating a one-hundred percent monochromatic outfit is tough. Even with the type of closet I have, I ran into some hiccups. But it is a type of look that is really satisfying to master. Borrow from your siblings' closets, your parents, even your S/O. Switch and match fabrics, patterns, and items to find the right combination for you and the look you have envisioned.
Give monochromatic a try! Especially if you have a lot of neutrals in your closet. Instead of going the contrasting route, going monochromatic can open a door of endless possibilities for neutral closets.
What do you think of these monochrome fashion ideas?
Would you wear a monochromatic outfit? Which of these looks do you like the most? Do you have any styling questions you'd like me to cover? Let us know in the comments!