This post may contain affiliate links, which means we may receive a commission if you purchase through our links. Please
read our full disclosure here
.
If you grew up in the '90s and still have a strong appreciation for all that is Geek Chic, chances are that you were a huge Pokémon nerd as a kid. (Admit it!) Between the anime show, the Nintendo games, and the ubiquitous trading cards, Pokémon definitely took the elementary and middle school set by storm.
It's pretty clear that there were two kinds of Pokémon fans: the diehards who really did wanna be the very best and could list off any Pokémon's stats and powers at the drop of the hat; and the casual fans who just watched the show and really only cared about the Pokémon that were "cute." (I fell squarely in the second camp.) But no matter which category you're in, we can agree on one thing: Pokémon. Was. Awesome.
For more Geek Chic, check out previous articles: The Amazing Spider-Man-inspired fashion, Dr. Horrible's Sing-along Blog-inspired fashion, Star Wars Prequel-inspired fashion, Lost-inspired fashion, The Avengers-inspired fashion,Sailor Moon-inspired fashion, Doctor Who inspired fashion (plus Part 2 and Part 3), Sherlock-inspired fashion,Star Wars Original Trilogy-inspired fashion, The Hunger Games-inspired fashion, The Big Bang Theory-inspired fashion, the Lord of the Rings-inspired fashion, and Star Trek-inspired fashion.
Know Your Geek: About Pokémon
The Nintendo-owned Pokémon franchise was created by Satoshi Tajiri in 1996. What started out as a Game Boy role-playing game developed into the second most successful video-game-based media franchise ever (second only to the Mario franchise). The name "Pokémon" is an abbreviation of "Poketto Monsuta," Japanese for "Pocket Monsters."
This post focuses on the original anime TV series, which premiered in 1997 and is still being produced today.
In the world of Pokémon, people known as Trainers attempt to first capture and then train wild Pokémon. The trainer then pits his or her team of Pokemon against other teams at competitions held in special arenas, which are called Gyms.
Although many species have since been added to the Pokédex, there were originally 150 Pokémon, which were categorized by element/type. Once a Pokémon reached a certain skill level, it could evolve to become a more powerful version of itself. (For example, Bulbasaur evolves to Ivysaur, then to Venusaur.)
Outfits Inspired by Pokémon
Who wouldn't choose you in these outfits inspired by the world of Pokémon? Gotta wear 'em all!
Ash Ketchum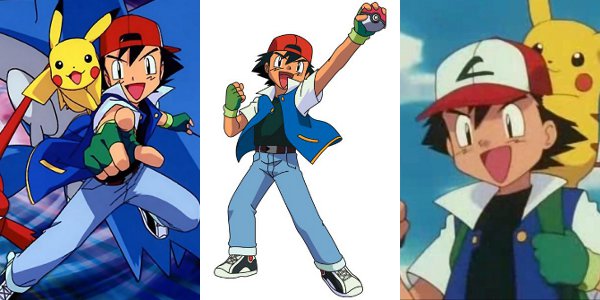 Ash Ketchum, known as Satoshi in the Japanese series, is a ten year old boy who dreams of becoming the greatest Pokémon Trainer in the world. He gets off to an unconventional start: the day he is set to receive his first, or "starter," Pokémon, he oversleeps. By the time he gets to his appointment, all of the typical starter Pokémon (Bulbasaur, Charmander, and Squirtle) have been taken. Ash subsequently chooses a Pikachu. Though the two get off to a rough start, they eventually become a powerful and inseparable duo.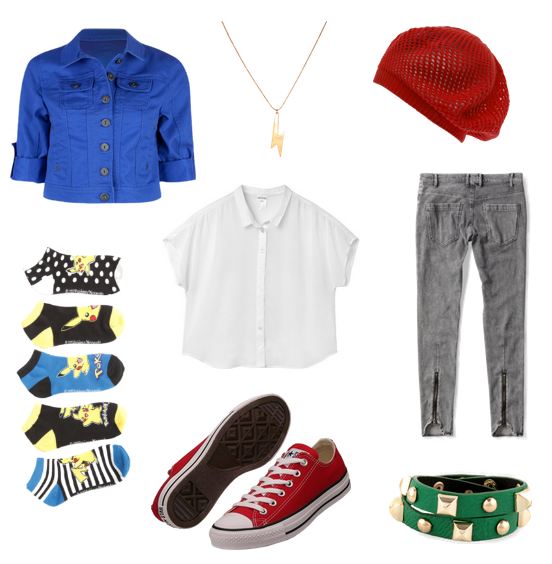 Product information: Jacket, Top, Jeans, Sneakers, Necklace, Hat, Socks, Bracelet
Ash is ready to spring to action in a sporty ensemble of jeans, sneakers, a hoodie, and a baseball cap. While you might never get to be BFF with a Pikachu, you can definitely snag Ash's style with this laid-back look. A cobalt denim jacket is a fun update to his short-sleeved jacket, while a billowy blouse and skinny jeans are always a winning combination.
Add colorful accents in the form of a red slouchy beanie, classic Converse shoes, and a green wrap bracelet that references Ash's gloves. Finally, pay tribute to everyone's favorite electric mouse with a lightning bolt charm necklace and whimsical socks. (Hey, no one's gonna see them!)
Misty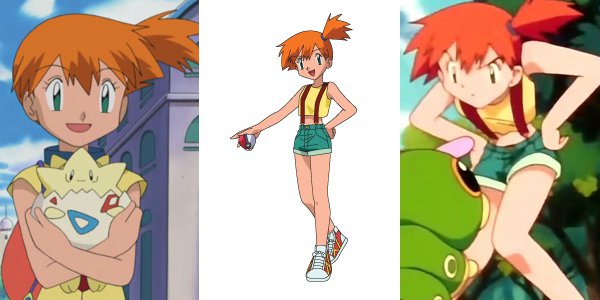 Misty, known as Kasumi in the original Japanese version, is a flighty ten year old girl from Cerulean City who specializes in Water-type Pokémon. Although she initially joins Ash on his journey to harangue him for accidentally destroying her bike, they eventually become friends. Misty has always lived in the shadow of her three condescending sisters, who serve as the Gym Leaders of Cerulean City, but she's determined to prove them wrong and become a great Water Pokémon master.
Product Information: Top, Shorts, Shoes, Scarf, Necklace, Earrings
Misty's signature look features a yellow crop top, bold red suspenders, and a fantastic orange side ponytail. Her breezy look is perfect for the blistering tail end of summer: stay cool in a sunny tie-waist top and teal high-waisted shorts. If you're not feeling up to the sartorial challenge of suspenders, swap in a cute red scarf that will come in handy if you enter a building with over-enthusiastic AC.
Marine details like scarlet boat shoes reference Misty's specialty in Water-type Pokémon, as do the jewelry picks: a starfish necklace resembles her Staryu, while these cute earrings look remarkably like Misty's Goldeen.
Brock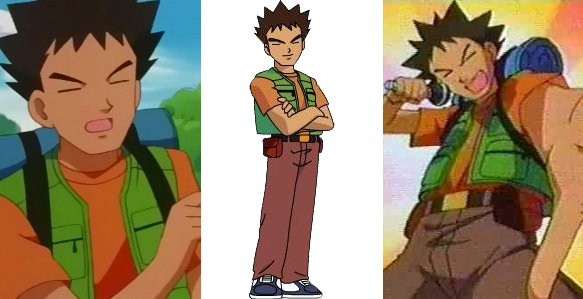 Brock, called Takeshi in the original Japanese, is the oldest of the three friends, at 17. He is the leader of the Pewter City Gym and specializes in Rock-type Pokemon. As the oldest, he often serves as a father figure of sorts for his friends, as he is more mature and intelligent. However, Brock is still a teenager, and he totally loses it whenever he encounters pretty women, like Officer Jenny or Nurse Joy.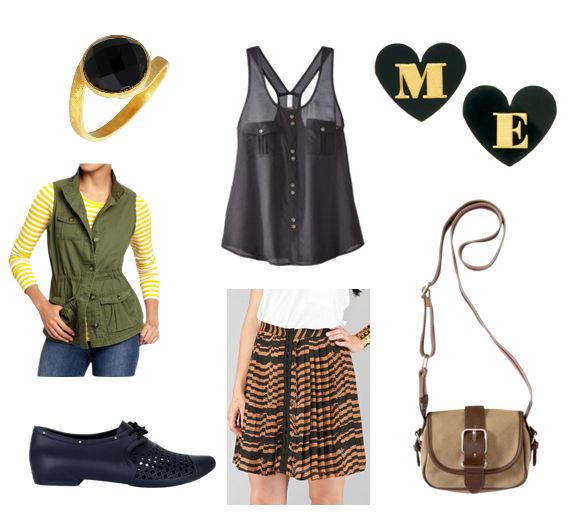 Product Information: Tank, Vest, Skirt, Oxfords, Earrings, Ring, Bag
Brock is a fairly fashion-oblivious teenage boy — he definitely dresses for comfort, not for style — so I've taken some liberties with this Brock-inspired outfit. Keep the cargo vest for a super-popular-right-now military look, but make it more feminine by pairing it with a pretty pleated skirt.
A onyx stone ring references both Brock's beloved Onix and his specialty in Rock-type Pokemon, while cute heart earrings represent his amorous side. Finish the look with menswear-inspired oxfords and a stylish but functional crossbody bag.
Team Rocket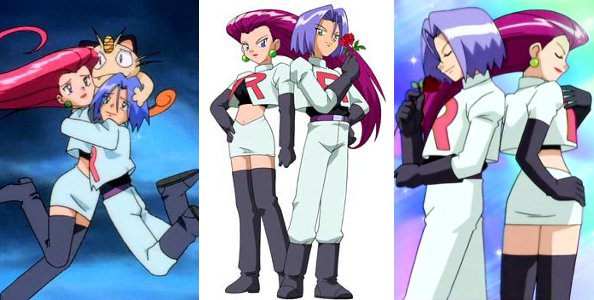 The villainous Team Rocket trio is comprised of Jessie, James, and Meowth. The hapless three have been assigned the task of capturing Ash's Pikachu for their boss, Giovanni, who is the leader of the Team Rocket crime ring, which specializes in stealing Pokemon for profit. Though they sometimes do manage to get ahold of Pikachu, they are almost always foiled in their evil plots and sent, quite literally, "blasting off at the speed of light."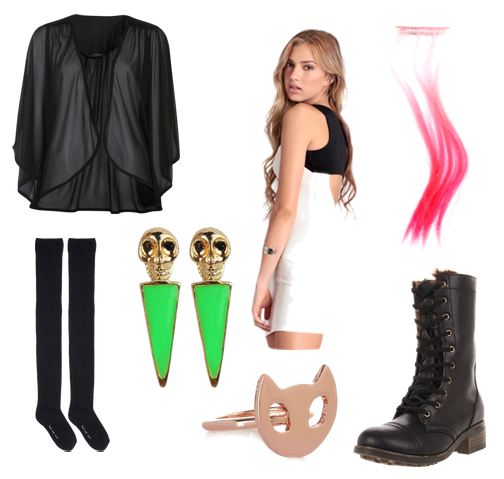 Product Information: Dress, Jacket, Boots, Stockings, Ring, Earrings, Hair Extension
While Team Rocket's nefarious schemes need some work, they definitely have some wicked fashion sense! Mimic their sleek two-tone uniforms with a daring cutout dress and sheer jacket. Accessorize with tough pieces like lace-up combat boots and fluorescent skull earrings, then reference wisecracking sidekick Meowth with a fun cat ring.
If you're feeling extra daring, slip on a pair of thigh-high stockings, or literally show off your rebellious streak with a clip-in magenta hair extension.
Officer Jenny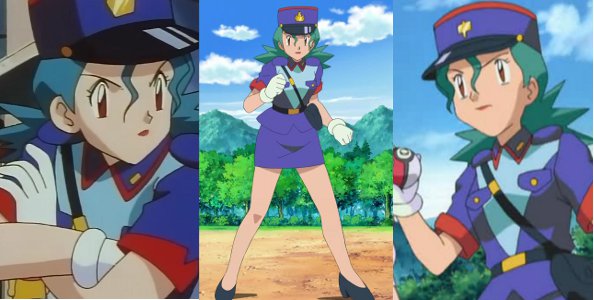 There are many Officer Jennys: members of the Jenny family serve as the primary law enforcement in various towns and cities. They all look similar and wear the same uniform (the only difference in attire being the symbol on her hat, which corresponds to the town she works in). Many Officer Jennys work alongside a Growlithe in their fight against crime.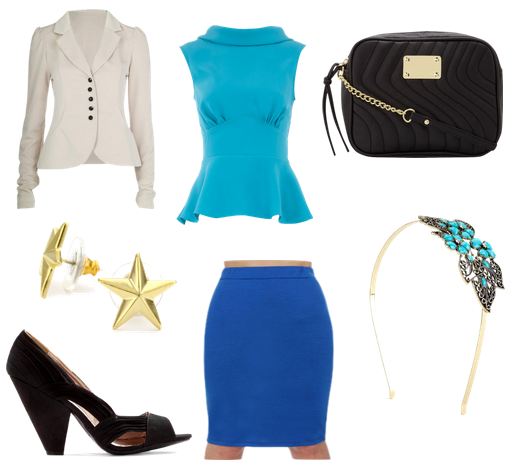 Product Information: Jacket, Top, Skirt, Heels, Bag, Headband, Earrings
Officer Jenny has a seriously cute police uniform that incorporates one of 2012's hottest trends: the peplum! Mix in another hot look — colorblocking — by pairing a teal peplum top with a cobalt pencil skirt . Top off the tailored ensemble with a sleek ivory blazer and elegant peep toe pumps. Next, accessorize with pretty star earrings reminiscent of the metal details on Jenny's uniform and a spangled headband the same hue as her hair.
What did you think?
Would you wear these outfits? Were you a huge Pokémon fan? Did you have a favorite Pokémon? And what other geeky inspirations would you like to see? (Next time, we'll be heeding the Bat-Signal and heading to Gotham City!) Let me know in the comments!