Here at CF, we are major fans of all things geek chic, particularly the Star Wars saga. With this in mind, we're kicking off a new series, Outfits Inspired by the Women of Star Wars. Over the weeks to come, we'll be gaining style inspiration from the many kick-ass women of this beloved franchise.
Today, we're beginning our series with the most iconic Star Wars woman of all, Princess Leia. We've covered Leia Organa's style on CF before, but for such an amazing character, we thought it was only right that we do an updated outfit guide for our new series.
From her strong mind to her oh-so snarky personality, Leia is the kind of woman we all want to be. Though she may be a damsel in distress at times, she is just as often the one rescuing her male counterparts and talking back to the villains. We should all hope to be as brave and intelligent as this hot-headed princess.
Style-wise, Leia definitely has some world-famous outfits. I mean, who could ever forget the space buns or the gold and red bikini?
In this post, I'll take Leia's iconic looks and make them suitable for you to wear in your every day life in 2020. After all, who doesn't want to look like a space princess on their way to class?
The Space Princess
Back in 1977, we were blessed with Carrie Fisher as Princess Leia for the first time in Star Wars: A New Hope.
When we first meet the princess, she has been captured by Darth Vader, however she doesn't act like the typical damsel in distress. She stands her ground and doesn't let anyone, not even the Dark Lord, treat her like she is weak.
When we first meet Leia, she is wearing her most famous look. Her hooded white dress and white boots combo has become a legend in fashion history. And that's not to mention that she sports the most iconic hairstyle known to man, her trademark cinnamon roll space buns.
To capture Princess Leia's style from A New Hope in a 2020 way, start with a white hoodie dress that gives off a Princess Leia feel. Next, add a white bag and white boots to keep up the monochrome look. Finish the outfit with star earrings and a black headband, to show off your very own galactic princess style.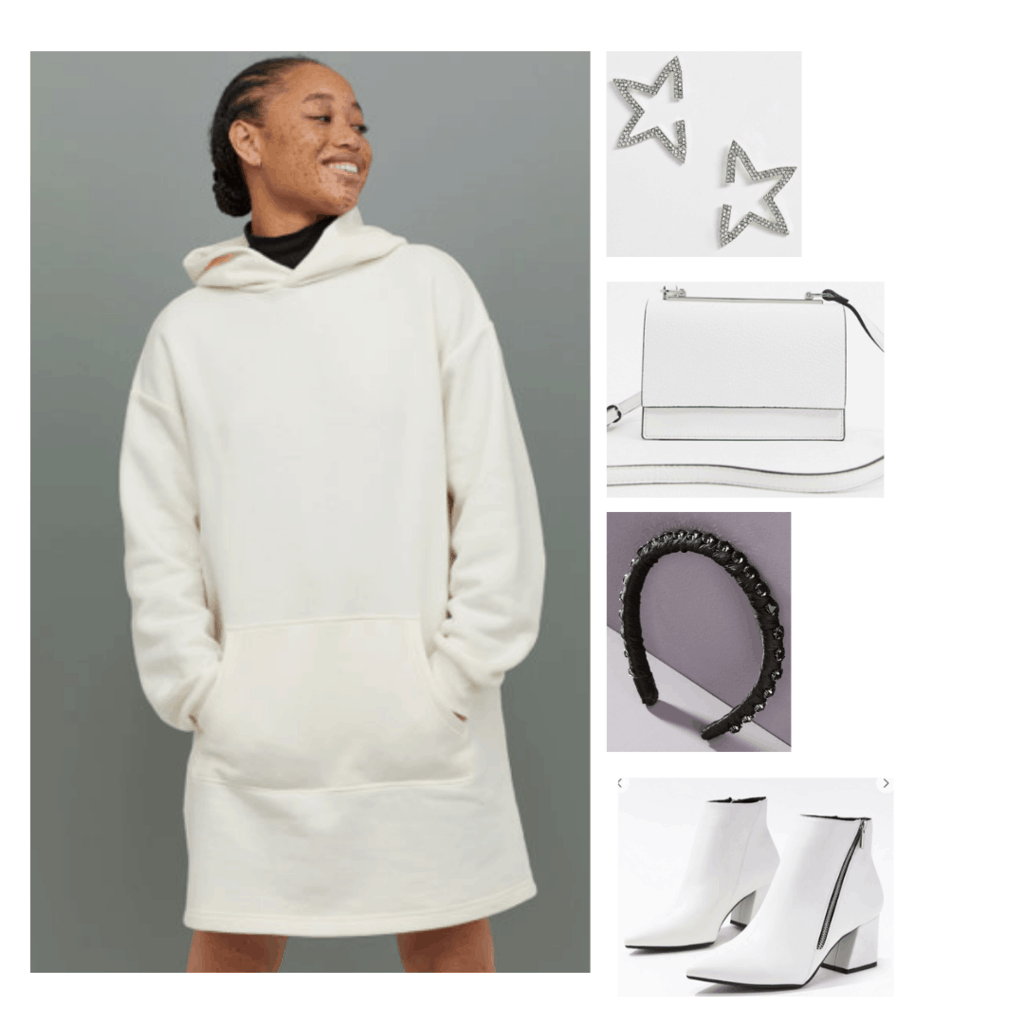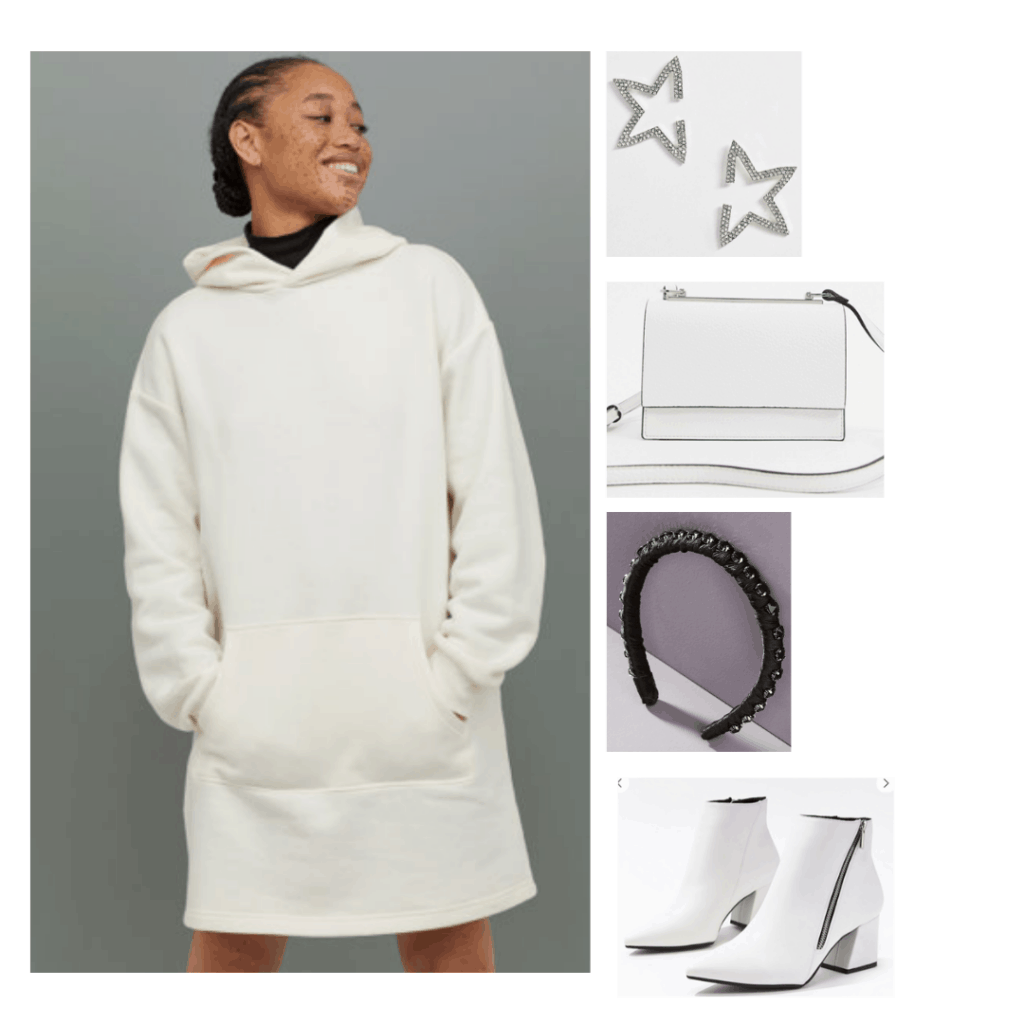 Products: Dress – H&M, Boots – Forever 21, Earrings – ASOS, Headband – Anthropologie, Purse – ASOS
Falling in Love
In The Empire Strikes Back, Leia gets to take part in more of the action of the film and establishes herself as an accomplished leader. At this point, we start to see her let down her guard as she unwillingly falls for the smuggler, Han Solo. Though she tries to stay serious and not let her feelings show, she can't help but fall in love with the series' bad boy.
In Empire, Princess Leia's style is a bit more functional than it was in the first film. We see her rock a white snowsuit while she is on the planet Hoth, and a short rust colored dress with a white vest while she is in Cloud City. These looks are easier than you'd think to copy today.
To get Leia's looks from the second installment of the series, mix a rust-colored sweater dress and a futuristic cream coat. Knee-high boots add a bit of extra glamor. Finally, accessorize with a gold necklace, headband, and a practical bag.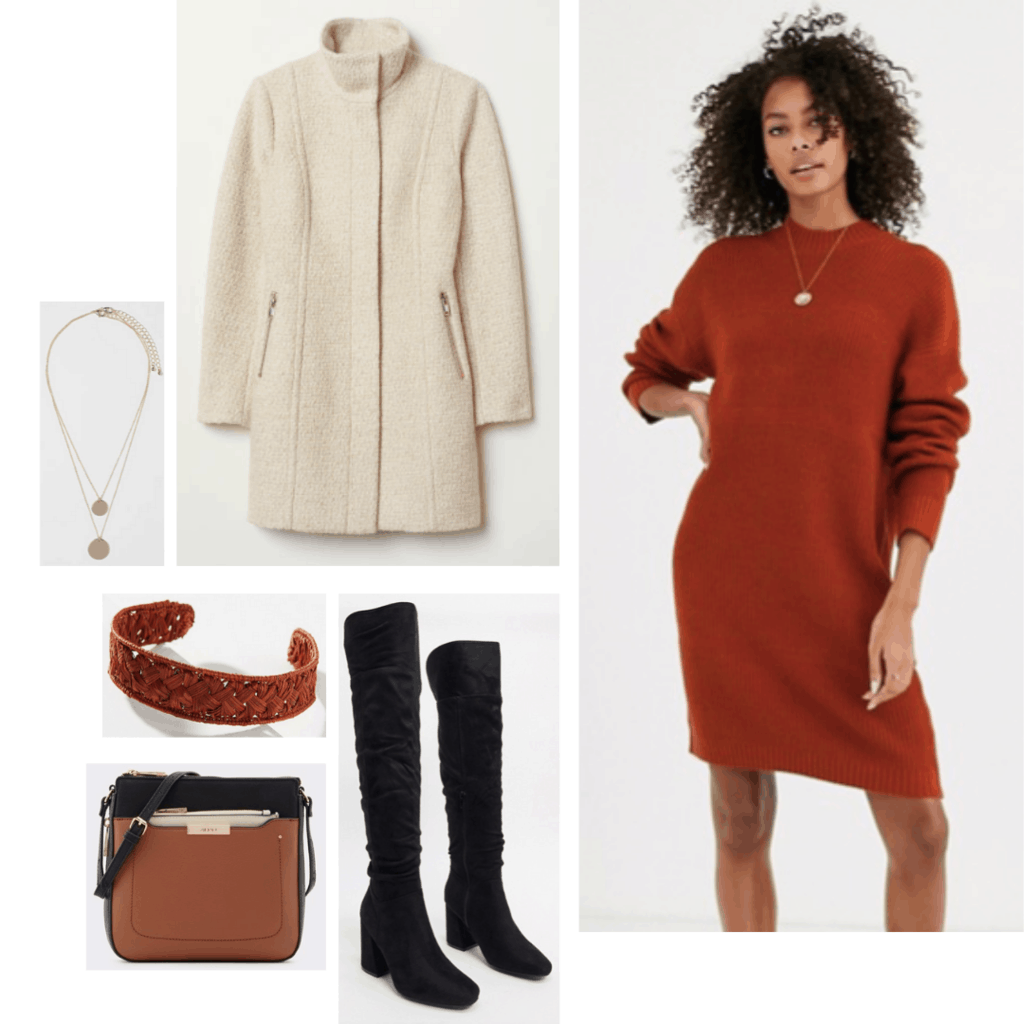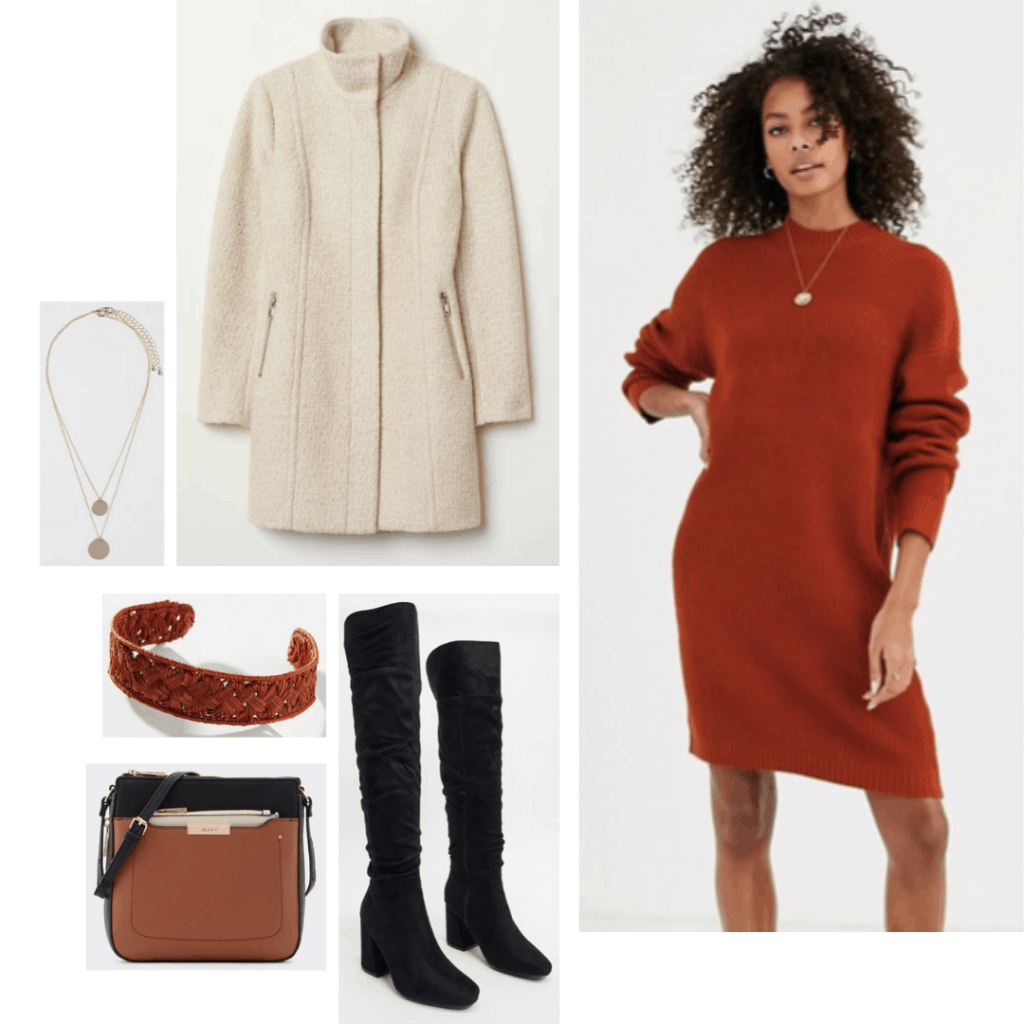 Products: Coat – H&M, Dress – ASOS, Boots – ASOS, Purse – Aldo, Headband – Anthropologie, Necklace – H&M
"I Don't Need Rescuing"
The final film of the original Star Wars series sees Princess Leia take on her biggest share of screen time. From befriending Ewoks to fighting off Stormtroopers, and killing Jabba the Hut, Leia does it all in Jedi.
Fashion-wise, Leia wears quite a few outfits in this movie. But we all know which one is the most memorable. How could anyone forget the controversial bikini the princess wears as a slave to Jabba?
Okay, so we can all agree that "slave Leia" is problematic and downright weird by today's standards. However, from a fashion perspective, Leia's slave bikini is incredible. The gold and maroon colors combined with the metal details make this '80s space opera perfection. This costume is so iconic, it even has its own Wikipedia page!
For a look inspired by this famous costume, mix a one-shoulder crop top and gold pleated skirt for the perfect girls night ensemble. It's subtly inspired by Leia but infinitely more wearable than a chain-embellished swimsuit. For accessories, finish the look with basic black heels. If you want to be extra, add a statement necklace and/or bracelet.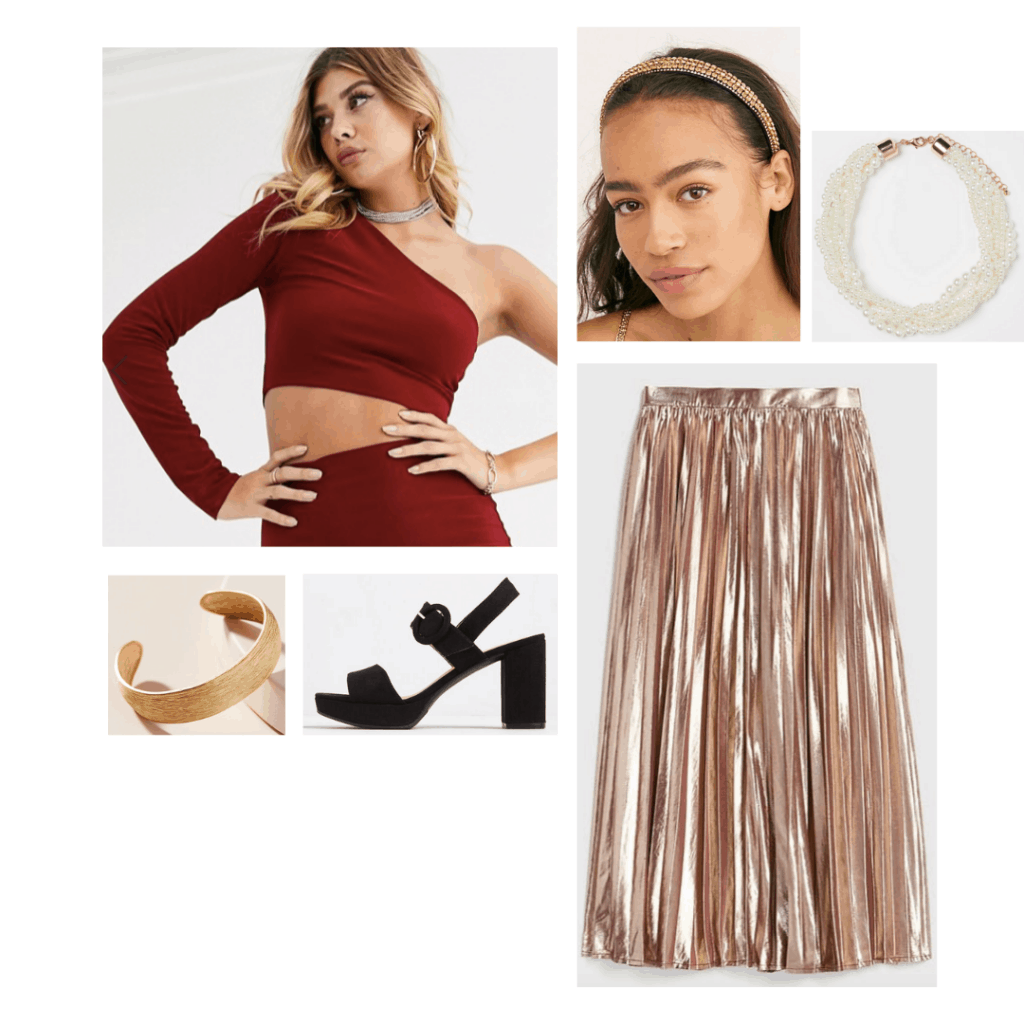 Products: Skirt – GAP, Top – ASOS, Shoe – Modcloth, Choker – H&M, Headband – Free People, Bracelet – Anthropologie
What do you think of Princess Leia's style?
Are you in love with her as much as we are? Tell us which look was your favorite in the comments and come back for more looks inspired by the women of Star Wars.