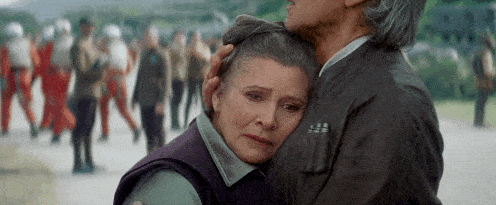 Even before I chose the topic, I knew this wouldn't be an easy post to write, as this is my last Geek Chic article. After five incredible years writing for College Fashion, I'm saying goodbye to focus on medical school and preparing for the boards. This has been a truly rewarding experience, and I can't begin to express how much I have appreciated all of the readers and comments throughout the years. If anyone is considering writing for CF, I highly encourage you to apply, even if you're not pursuing a career in journalism or fashion.
As for the subject of today's article, well, I'm sure most of you have heard by now that Carrie Fisher passed away. For those who grew up watching Star Wars, so indelibly etched is Fisher in our collective minds as Princess Leia that it's hard to draw the line between art and reality. Leia was a feisty, headstrong princess who did just as much rescuing as being rescued, and inspired multiple generations of girls to stand up for themselves. In real life, Carrie Fisher's tremendous talent as an actress and writer and her honest discussion of her struggles with addiction and mental illness made her a figure just as worthy of admiration as her fictional counterpart from Alderaan.
I'm sure I'm not the only one having a hard time coping with the idea that such a force of nature could ever be gone, so I felt it would be fitting to use this last Geek Chic article to pay tribute to both Carrie and Leia.
Death is a natural part of life. Rejoice for those around you who transform into the Force. Mourn them do not. Miss them do not. – Master Yoda
Fashion Inspired By Leia Organa
Princess. Diplomat. Revolutionary. Inspiration.
Princess Leia/Senator Leia
Aren't you a little short for a stormtrooper?
This is surely what springs to mind for most people when they hear "Princess Leia": what could be more iconic than that flowing white gown and pair of ear buns? While she gets her royal title from her adoptive mother, Leia follows in the footsteps of her adoptive father and becomes the youngest elected senator in the Imperial Senate.
For a minimalist take on Leia's memorable look, start with a bell-sleeve top (for that '70s flair) and a faux leather skirt that alludes to her dark family past. Add some galactic touches with metallic boots and some earrings reminiscent of her twisted hair buns. Last but not least, a delicate "hope" bracelet refers to Leia's famous plea to an old Jedi Master: "Help me Obi-wan Kenobi. You're my only hope."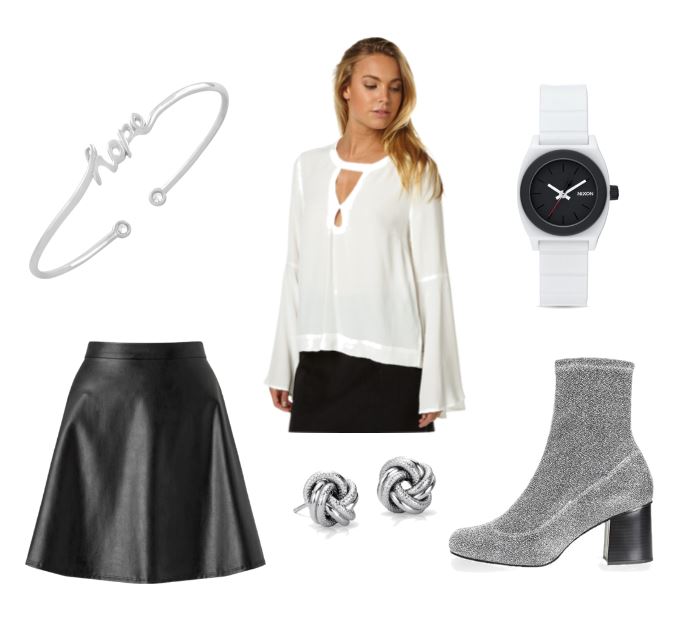 Products: Top – Surfstitch, Skirt – Miss Selfridge, Bracelet – Overstock, Earrings – Blue Nile, Boots – Topshop, Watch – Bloomingdales
Rebel Leia
Why you stuck up, half-witted, scruffy-looking nerf-herder!
While Han Solo initially writes Leia off as a spoiled, useless brat, she quickly proves herself to be more than capable. (That's not to say that she isn't incredibly stubborn!) Her intelligence, diplomacy, and fearlessness are instrumental to the success of the Rebel Alliance.
Combine elements from the outfits Leia wears on Hoth and Endor for a casual and versatile look. A trendy lace-up sweater is reminiscent of what Leia wears in the Ewok village, while white ponte pants and gray boots recall the snowy conditions on Hoth. Be prepared for even the rainiest of planets with a stylish waterproof cape, and stow your blaster in a quilted leather backpack. Finally, show your allegiance with a pair of Rebel earrings and a watch emblazoned with everyone's favorite astromech droid!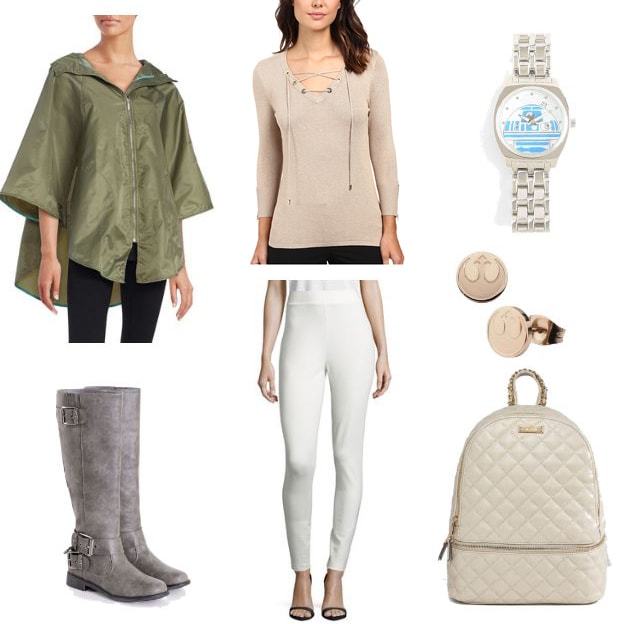 Products: Poncho – Lord & Taylor, Sweater – 6PM, Leggings – Lord & Taylor, Boots – JustFab, Watch – Torrid, Earrings – JCPenney, Backpack – Aldo
General Organa
May the Force be with you.
After more than thirty years, it was amazing to see Leia back on screen in The Force Awakens. However, it was really no surprise to find out that despite tremendous personal loss, she'd continued her life of public service and ascended the ranks to become General Organa of the Resistance.
While I can't guarantee that this outfit will grant you Leia's indomitable spirit, even a small fraction would pack quite a punch! Pair a chambray top with comfortable pants and riding boots. Next, slip on a plum-colored quilted vest and a constellation-emblazoned scarf. Last but not least, a Kylo Ren watch alludes to her wayward offspring.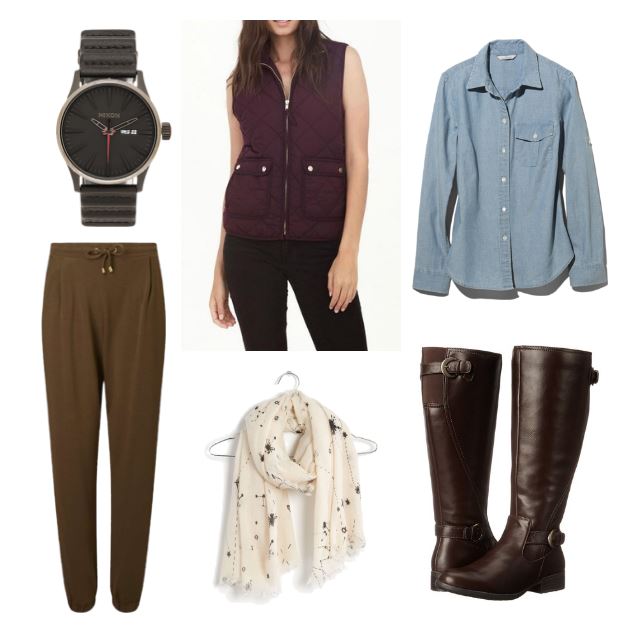 Products: Top – L.L. Bean, Vest – Shoptiques, Joggers – Miss Selfridge, Boots – 6PM, Watch – Revolve, Scarf – Madewell
What did you think?
What are your favorite memories of Carrie Fisher? What is your favorite "version" of Leia?
Let us know in the comments!