Here at CF, we are major fans of all things geek chic, particularly the Star Wars saga. With this in mind, we'reBelow I have created three galactic nighttime looks inspired by Padme Amidala's outfits. kicking off a new series, Outfits Inspired by the Women of Star Wars. Over the weeks to come, we'll be gaining style inspiration from the many kick-ass women of this beloved franchise.
Last time, I covered Princess Leia's style. Today's article will cover Leia's mother, senator Padme Amidala, who is played by Natalie Portman in the franchise.
About Padme Amidala and Her Style
As much as the infamous prequels are about the rise of Anakin Skywalker, so too do they follow Padme's coming of age story. In the three films, we see her grow from teenage queen of Naboo, to a head senator in the Galactic Republic, to mother of Luke and Leia.
Padme has a quiet, reserved strength about her. She shows us that you don't need a lightsaber or a blaster to be the most powerful woman in the room. (Although, she does often find that a blaster can come in handy.)
It must also be said that Padme's character is often considered the most romantic of the Star Wars women. After all, much of her story revolves around her relationship with Anakin Skywalker, who will eventually become the fearsome Darth Vader.
Style wise, Padme's looks are often quite flashy and over the top, befitting a high-profile woman in power. This is especially true when she is performing her duties as Queen of Naboo and hoping to command respect as a young monarch.
Padme's outfits, though literally out of this world, can lend themselves to some great occasion wear looks. Below I have created three galactic nighttime looks inspired by Padme Amidala's outfits. They're sure to make you the center of attention and the talk of the Galaxy.
Padme Amidala Outfits: Queen Amidala
In Star Wars: The Phantom Menace, Padme is known as Queen Amidala. As a queen, Padme is often dressed head to toe in over the top costumes, that include creative makeup and gigantic wigs.
Though we also get to see her wear some toned-down looks while she is in disguise, Padme's royal garments are the standout looks of the film. So naturally, I had to use them as inspiration for our first look.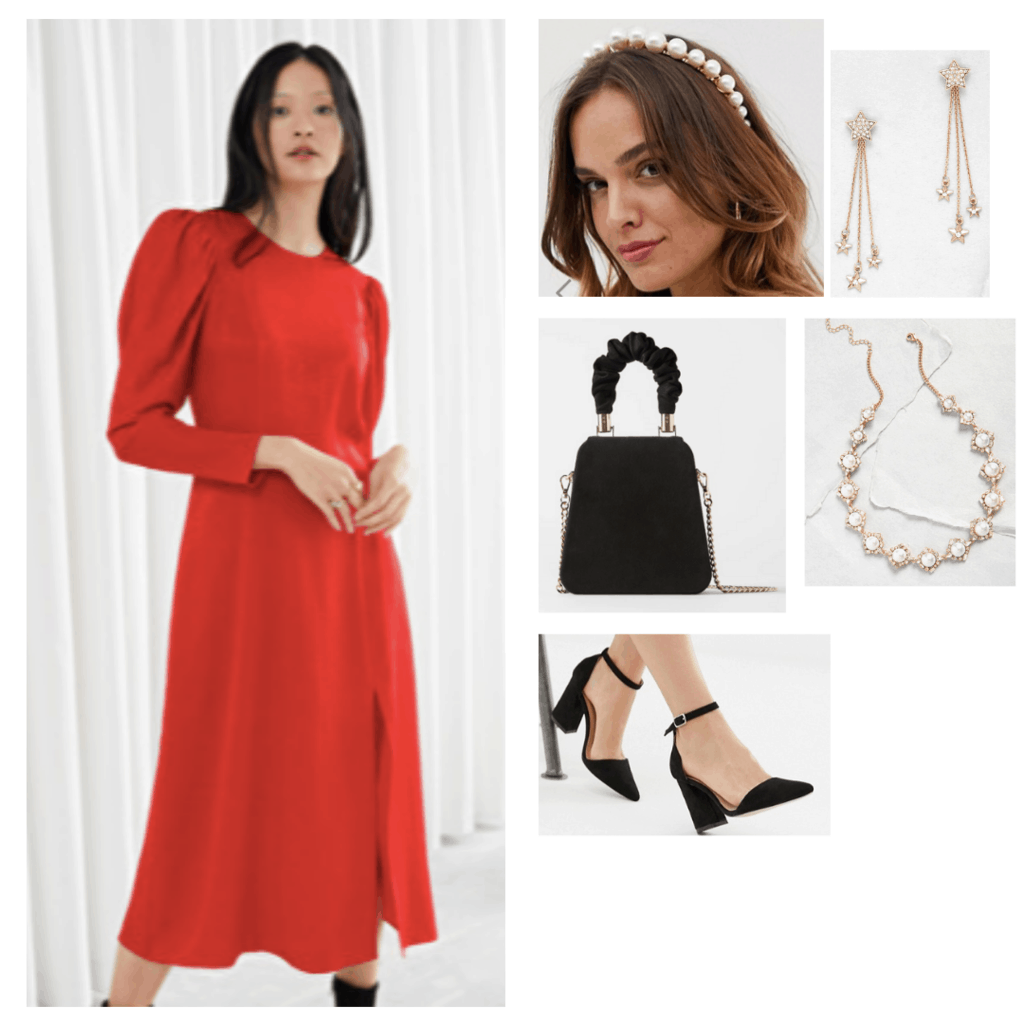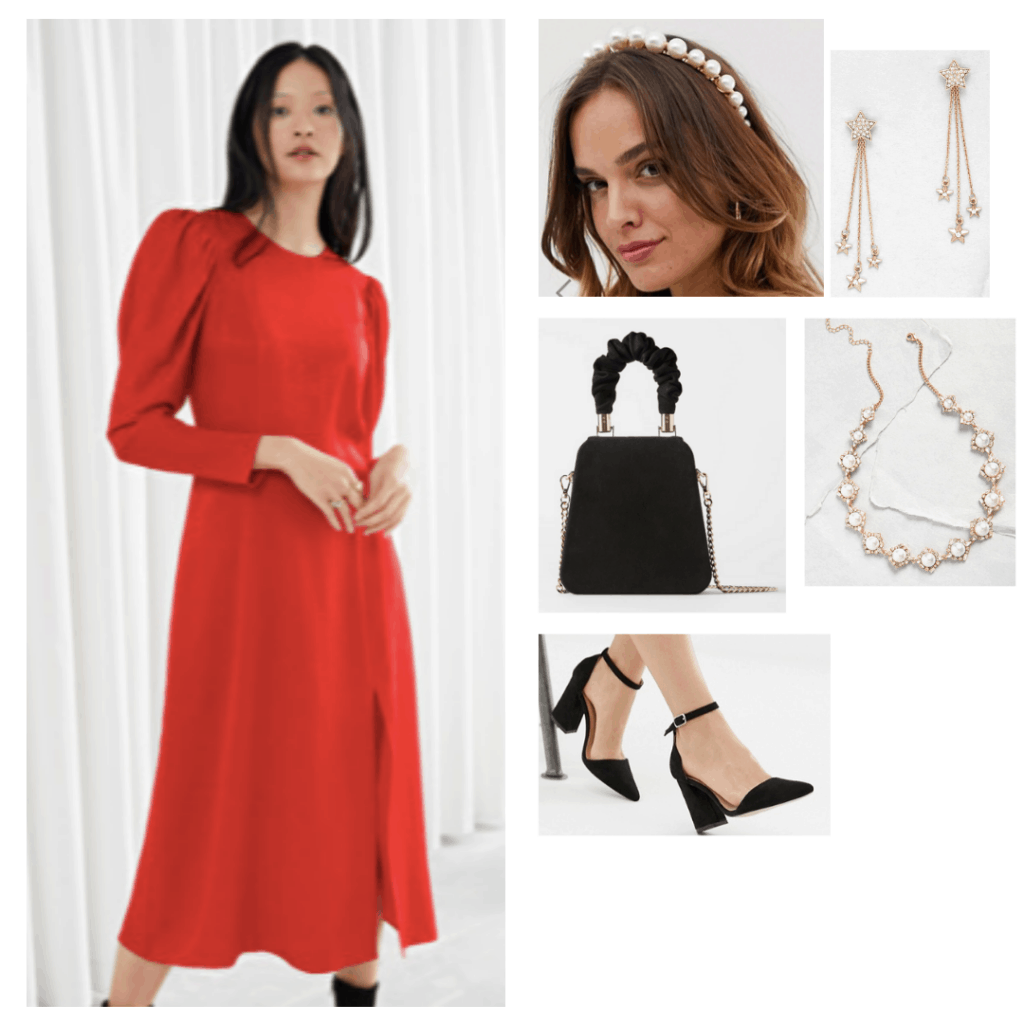 Products: Dress – & Other Stories, Shoes – ASOS, Necklace – Modcloth, Purse – ZARA, Headband – ASOS, Earrings – Modcloth
To get Padme's queen aesthetic in a modern way, stick with a color palette of red, black, and gold.
To recreate her vibe, pick out a statement red dress and then accessorize it with black and gold accessories. For my example outfit, I chose a pearl-embellished headband for a royal feel. Then, I added a necklace and earrings with a regal, celestial feel. Finish off the look with a basic pair of black pumps and a simple black bag that feels like something a queen would carry.
Now you will be ready to gaze at the stars as you and your girlfriends party all night long.
The Girl from Naboo
In Attack of the Clones, Padme is no longer Queen, but she remains an important senator for the Republic. In this film we start to see romance blossom between her and the young Jedi, Anakin Skywalker, as he is charged with watching over her as she conducts business on Naboo.
Since Padme's storyline takes place mostly on the planet of Naboo, she is often seen wearing garments inspired by her home. Naboo is an idyllic planet that feels more at home in a fairytale than in a space epic. This is why Padme's outfits in Clones have a storybook princess vibe, while still being quite celestial.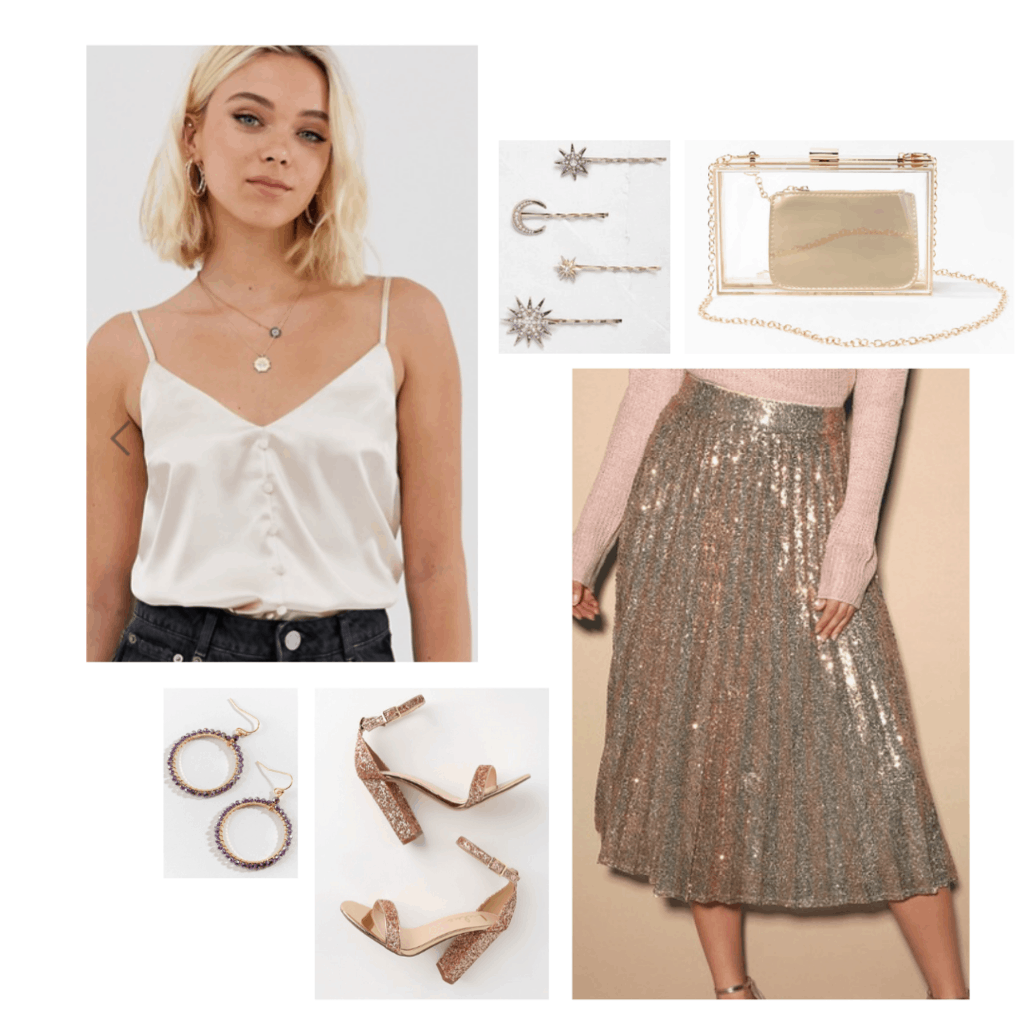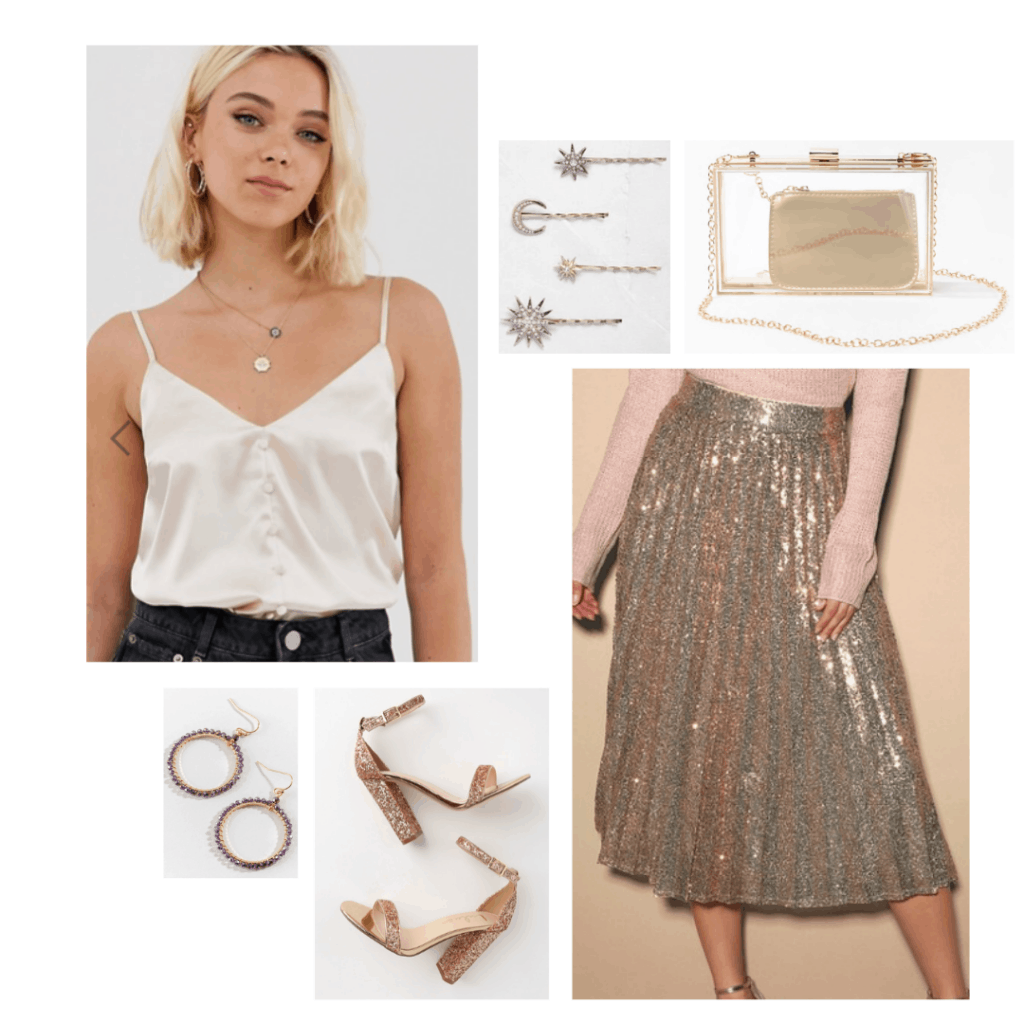 Products: Skirt – Lulu's, Top – ASOS, Shoes – Lulu's, Bobby Pins – Modcloth, Purse – Forever 21, Earrings – Francesca's
This Padme outfit would be great to wear on a night out while on vacation. (Spring break, anyone?)
To copy Padme's naboo wardrobe, I paired a princess style sequin skirt and a basic satin cami for the base of the look. Then I added a few glitzy accessories, such as glitter heels and star hair clips. In this outfit, you'll look straight out of a futuristic fairy tale.
Senator Padme
In Revenge of the Sith, the third film of the prequel series, we see Padme navigate her darkest time yet. As one of the top senators of the galaxy, she must hide her love for Anakin, as well as her pregnancy, from the republic. She struggles to remain hopeful as she watches the love of her life turn towards the dark side, while the Sith shatter the peace she's brought to the galaxy.
In this film, Padme's outfits start to become more toned down and natural. She often wears loose princess styled garments to cover her ever-growing stomach. And she starts to wear her hair in loose curls, unlike the previous films. With her look becoming more subtle and dreamlike, I created a date night look with her style in mind.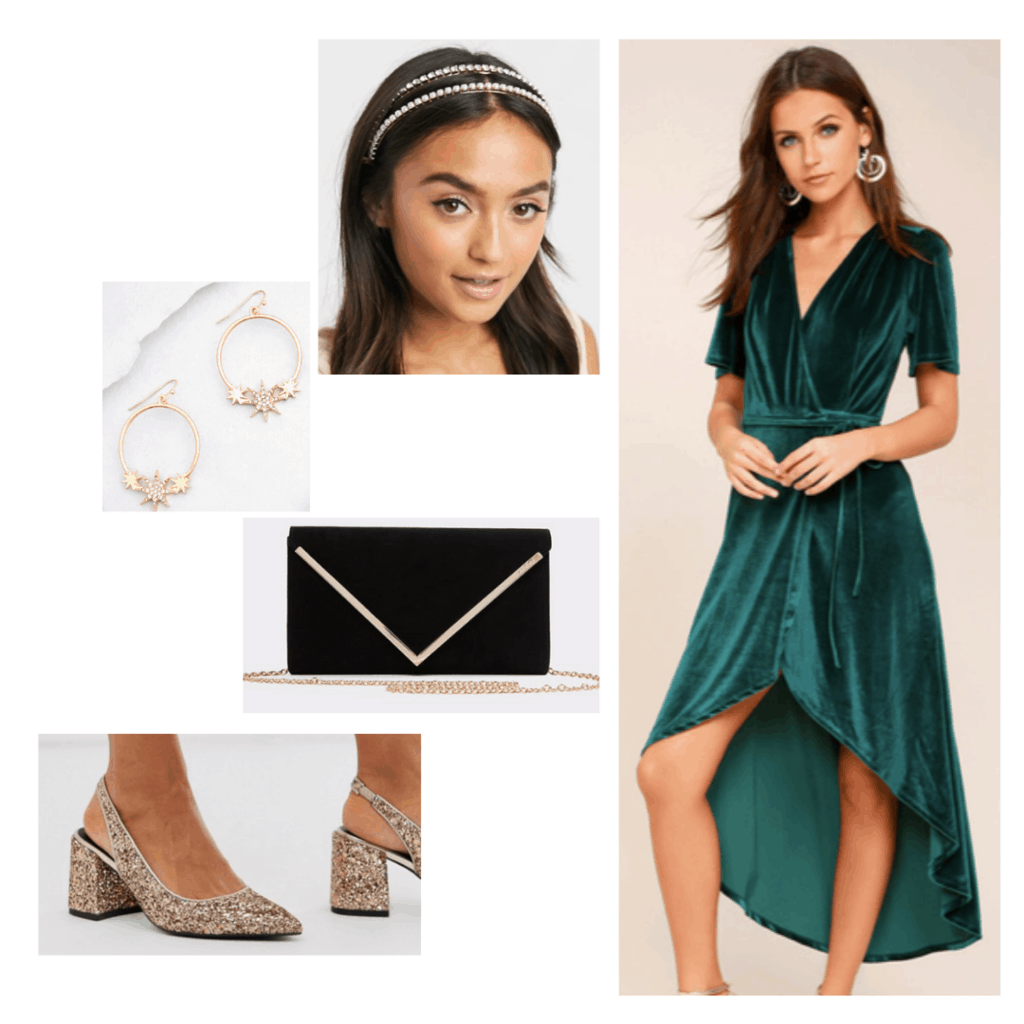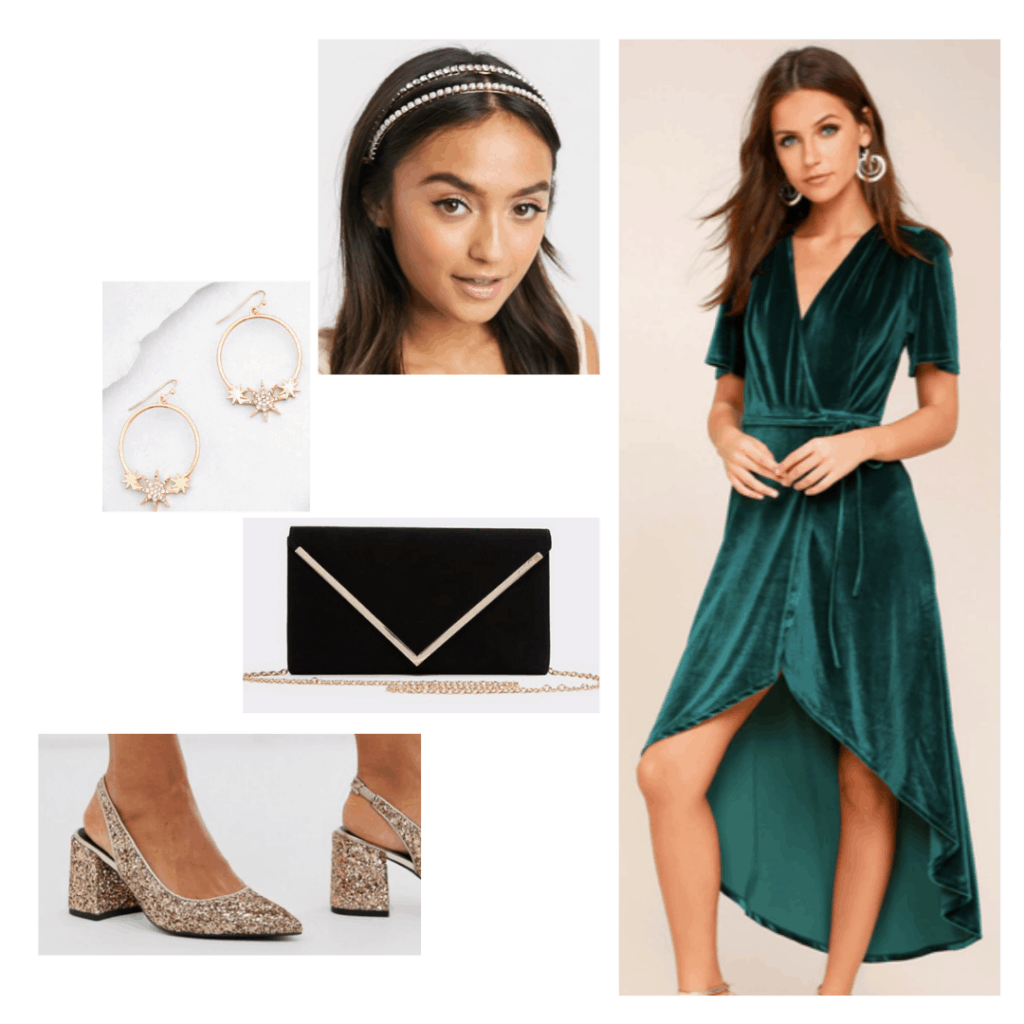 Products: Dress – Lulu's, Earrings – Modcloth, Shoes – ASOS, Clutch – ALDO, Headband – ASOS
I started this Padme outfit off with a simple green wrap dress, made a bit more magical thanks to its velvet fabric. To add a bit of space to the look, I choose a pair of star earrings and some princess-y glitter pumps. A gemstone headband is a glam substitute for the hood that Padme wears in the photo above.
What do think of Padme Amidala's outfits?
Which of Padme's looks was your favorite? Do you love her royal space fashion vibe? Please tell us in the comments and be sure to stay tuned for the next installment of our Women of Star Wars series.