Welcome to our third and final post in our Outfits Inspired by the Women of Star Wars series. We have already tackled the fearless Princess Leia and the diplomatic Padme Amidala, and now it is time to be inspired by the heroic Rey.
Rey might not be as snarky as Leia, and not as political as Padme, but she is an all-around badass. She is a kindhearted scavenger, a kickass Jedi in training, and a loyal friend. Though she feels a pull to the dark side, she never lets it overcome her. She is the type of woman we should all strive to be in our daily lives, as she teaches people to fight back and be kind to all.
Rey's style is a bit simpler than Leia's and Padme's. But it still has a fashionable flair that can easily be translated into looks you could wear today.
In this post, I will be taking three of Rey's galactic looks and making them wearable for every day on campus.
Rey Outfits: The Scavenger
Rey first made her grand appearance in Star Wars: The Force Awakens, the first woman to lead a major Star Wars film.
At the beginning of her story, we see Rey as a lonely, orphaned scavenger just trying to survive on the planet of Jakku. That is, until she meets BB8 and former stormtrooper Finn. And from there, she embarks on a journey through space that will change her life forever.
Throughout the entirety of the first film, Rey is seen sporting her now-iconic desert look. The look consists of tan draped fabrics as her top, cargo pants, and, of course, her trusty staff. Not to mention, her fun hairstyle, which could be made to work for any occasion today.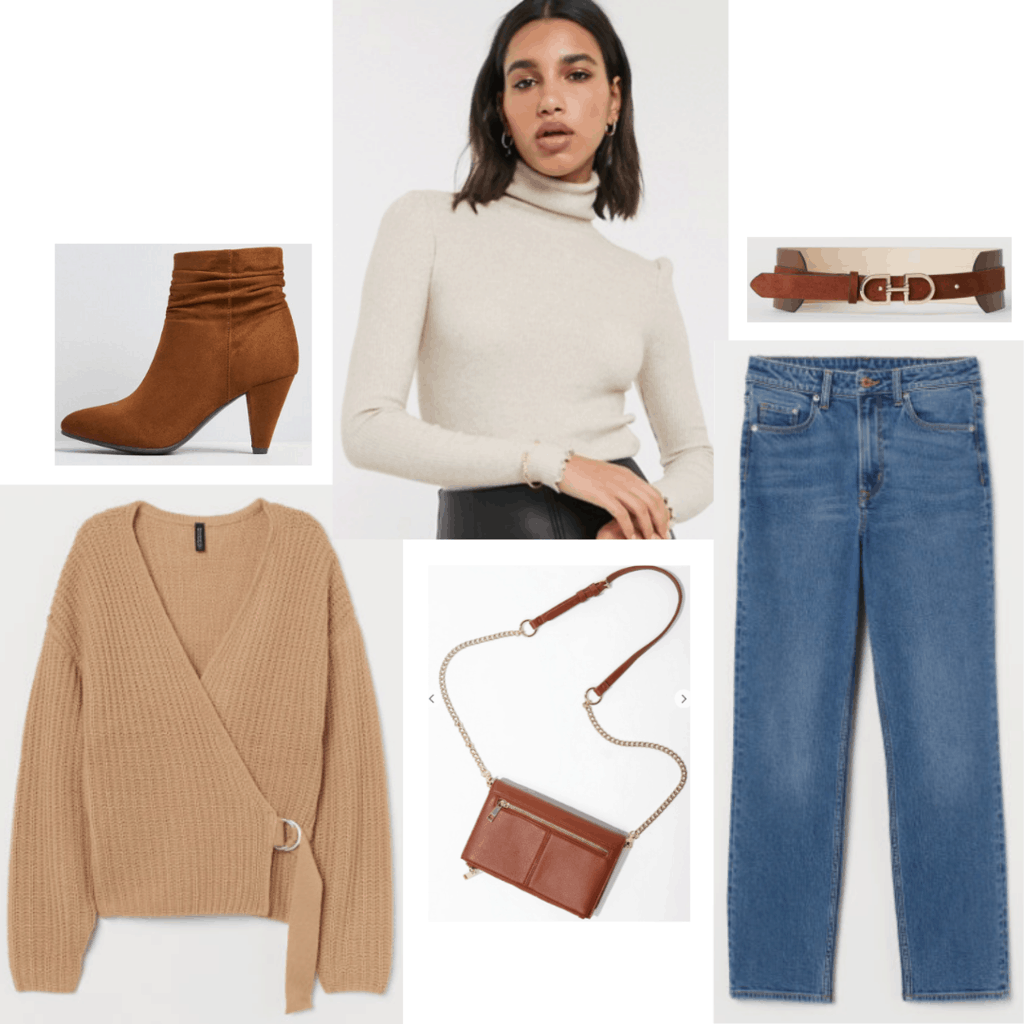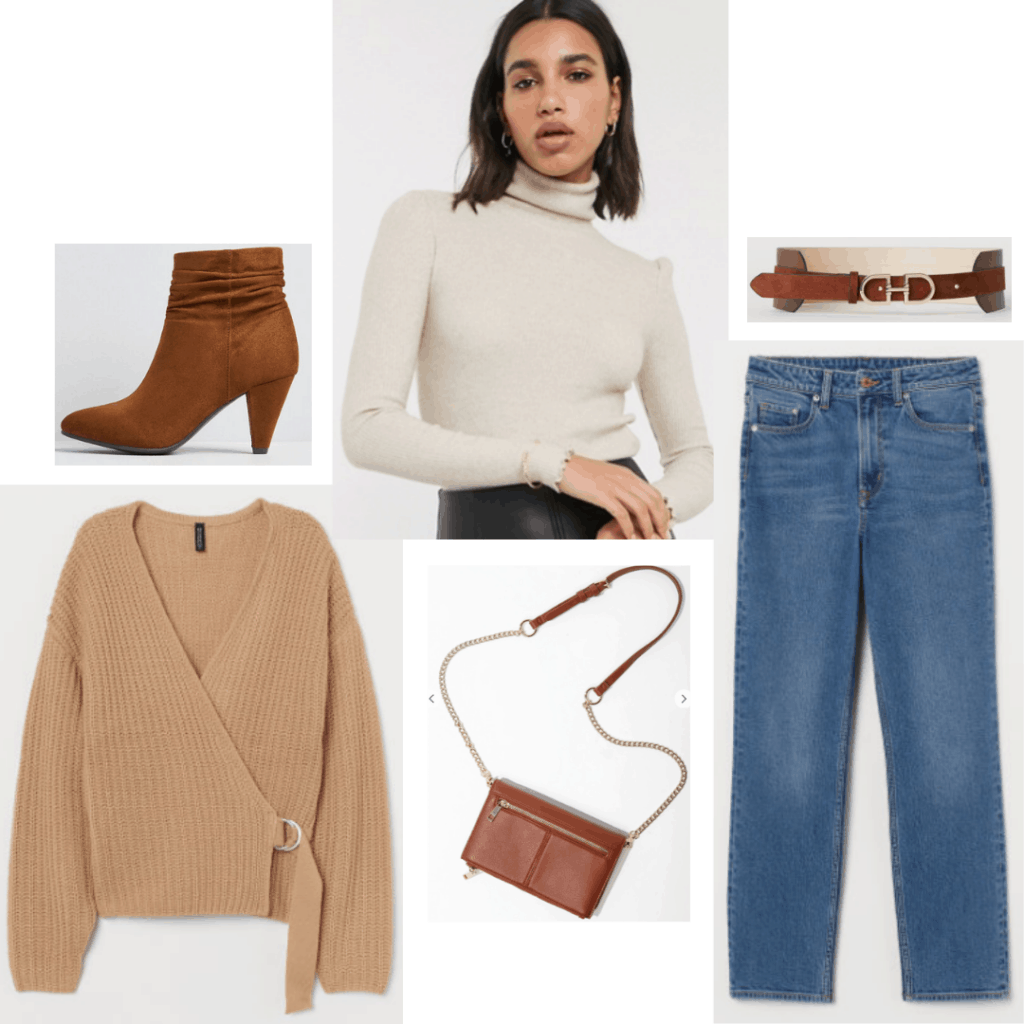 Products: Cardigan – H&M, Top – ASOS, Jean – H&M, Boots – Modcloth, Bag – Forever 21, Belt – H&M
To get Rey's scavenger look, stick with neutral tones, which are very on-trend for 2020.
First, layer a tan cardigan with a cream sweater to get the feel of Rey's layered outfit. Next, choose some practical jeans and a stylish pair of heeled boots. Finish off the look with a basic belt and shoulder bag, to make the look perfect for hanging out with friends or going to school.
Jedi in Training
Rey starts to face a major struggle in The Last Jedi, as she starts to feel a pull to the dark side. She faces hardships as she trains to be a Jedi with the now-cynical Luke Skywalker, and begins to feel lost as her connection to the evil Kylo Ren begins to grow. Yet, throughout all the hardships, she still manages to be a complete badass and kick some serious dark side butt.
Though it mimics her vibe in The Force Awakens, Rey's style does see a change in this film. Her clothes become darker, and she trades her signature desert hues for shades of grey. Her garments also become more fitted to her body, to better enable her training.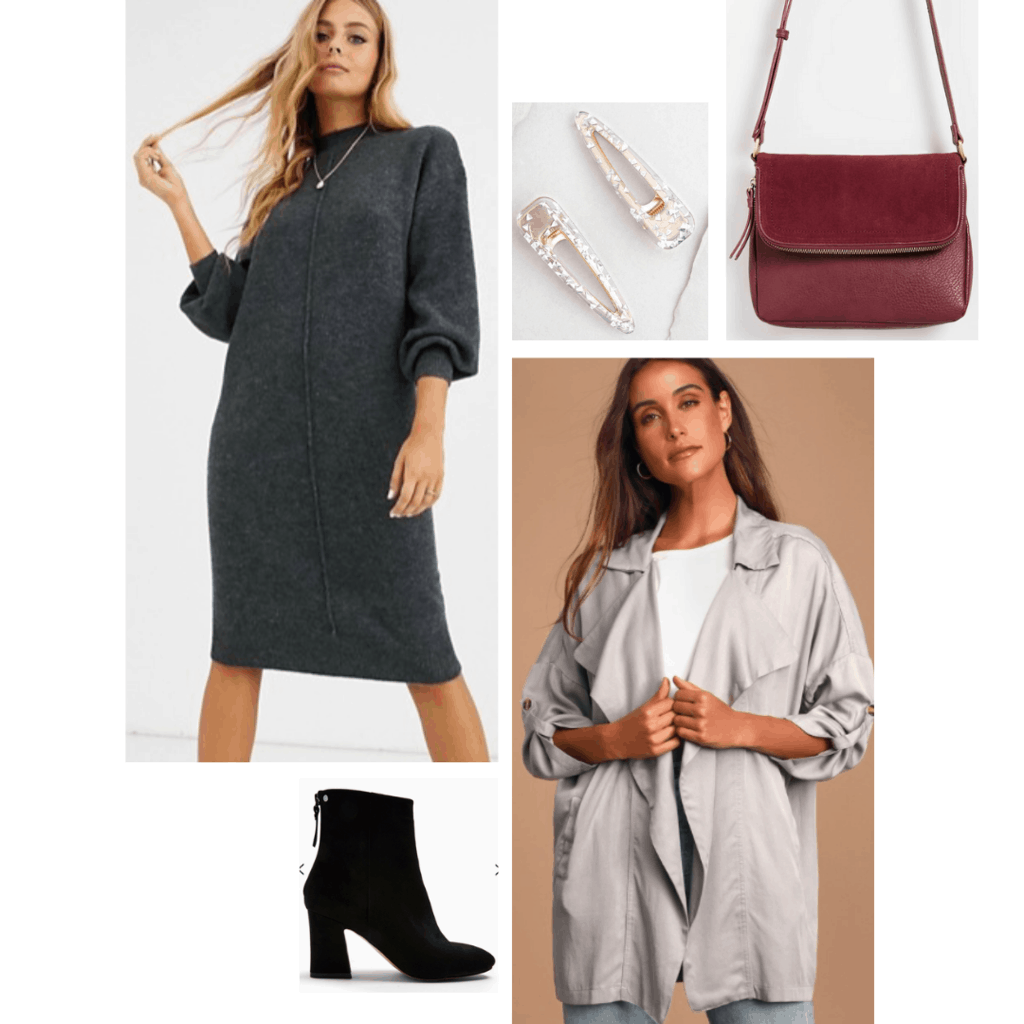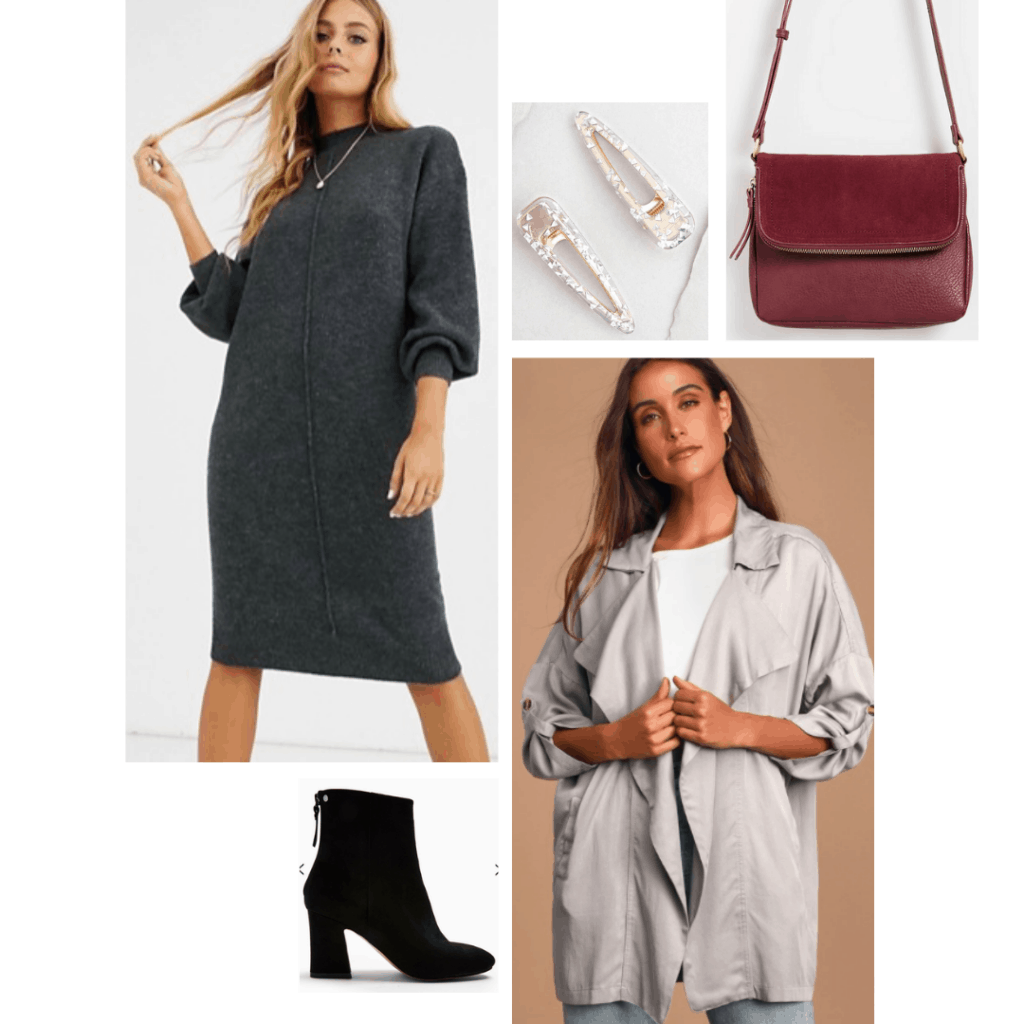 Products: Dress – ASOS, Boots – Topshop, Jacket – Lulu's, Hair Clips – Modcloth, Bag – Modcloth
For Rey's Last Jedi look, I wanted to create a look that was comfy but would be a good, versatile outfit to wear to both work and dinner out.
To get Rey's Last Jedi vibe, stick to darker colors with a grey sweater dress and black boots. Next, add a light grey coat and hair clips that have a slight outer space feel. Finish the look with a red bag to represent Rey's pull to the dark side.
A True Hero
The final time we get to see Rey in her full glory is in the most recent Star Wars film, The Rise of Skywalker. In this film, we learn Rey's true identity and see her fully hone the powers of a Jedi. She becomes the ultimate hero — along with her friends and the once-evil Kylo — by saving the Resistance as well as the entire Galaxy from the dark side.
Rey's fashion in The Rise of Skywalker shows similarities to her outfits in the previous films but is much more heroic. She wears cream-colored garments including a hooded wrap style top, slim-fitting pants, arm cuffs, and a practical belt. All of these pieces come together nicely, and believe it or not, they could totally be translated into looks for the year 2020.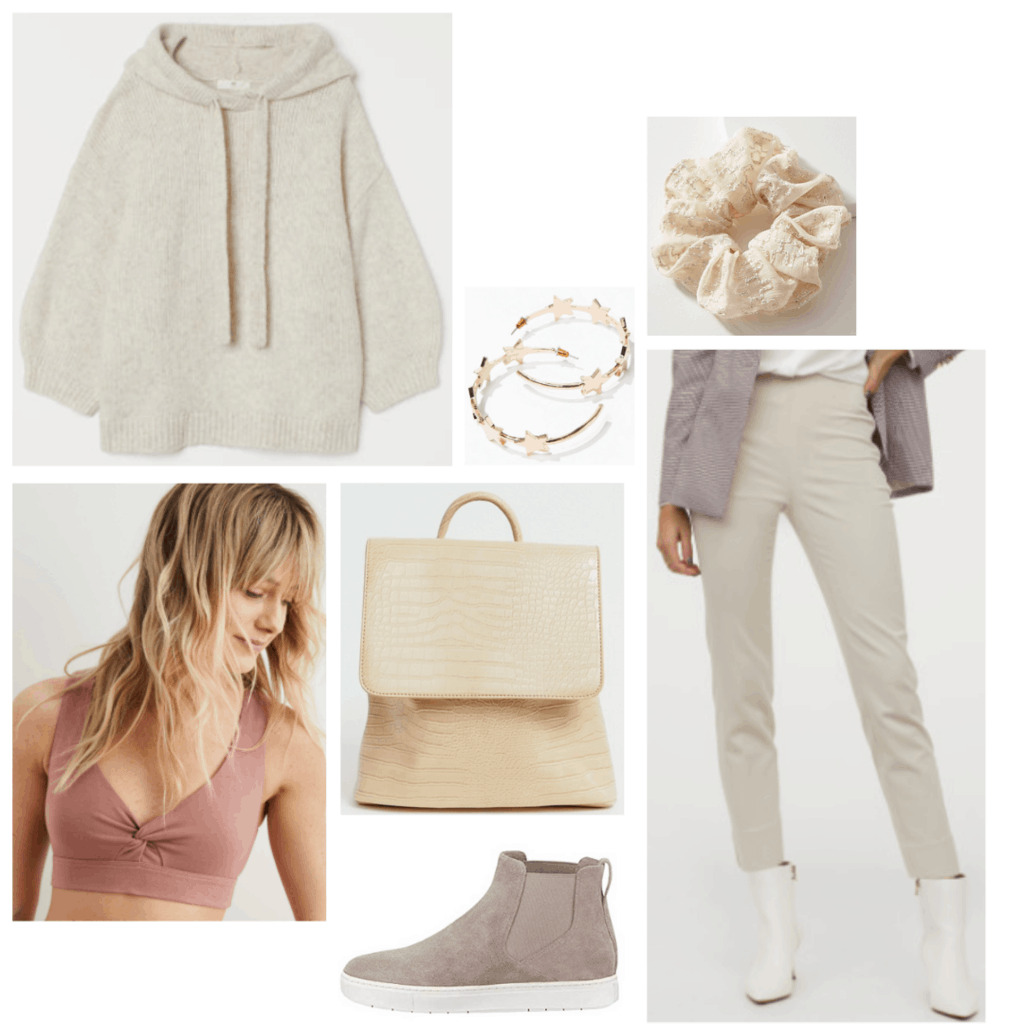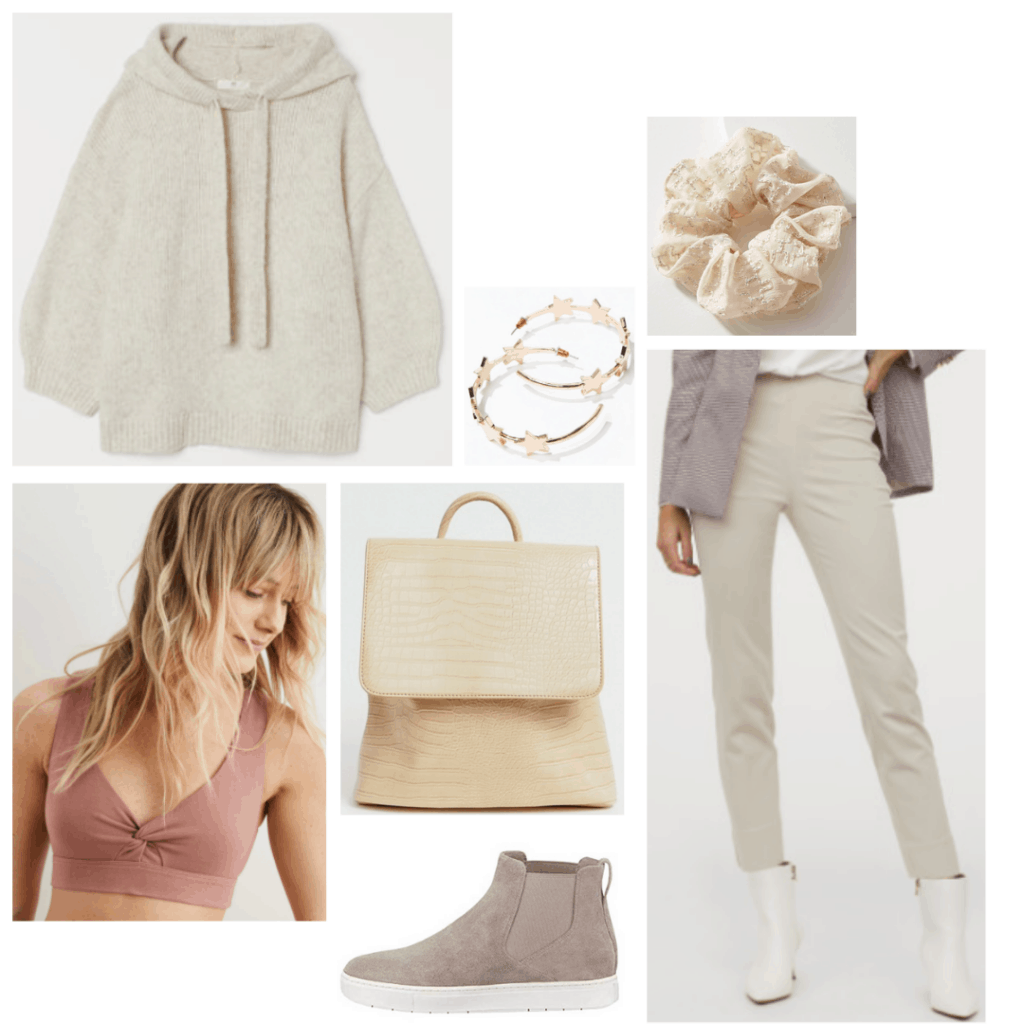 Products: Hoodie – H&M, Pants – H&M, Boots – Amazon, Sports Bra – Aerie, Scrunchie – Anthropologie, Backpack – ASOS, Earrings – Forever 21
For this Rey outfit, I went for an athleisure-inspired look to capture Rey's heroic spirit.
To create this look, start with a light beige hoodie and a pair of beige pants for ultimate comfort. Next, add a comfy sports bra, a pair of slip-on sneakers, and a cream backpack to add to the athleisure ensemble. With all the pieces paired together, you get a look that is perfect for a day on the go or just lounging around the house.
What do you think of Rey's outfits?
Do you love her heroic fashion? Which one of the Star Wars women has been your favorite? Tells us in the comments and look out for more geek chic fashion coming your way.