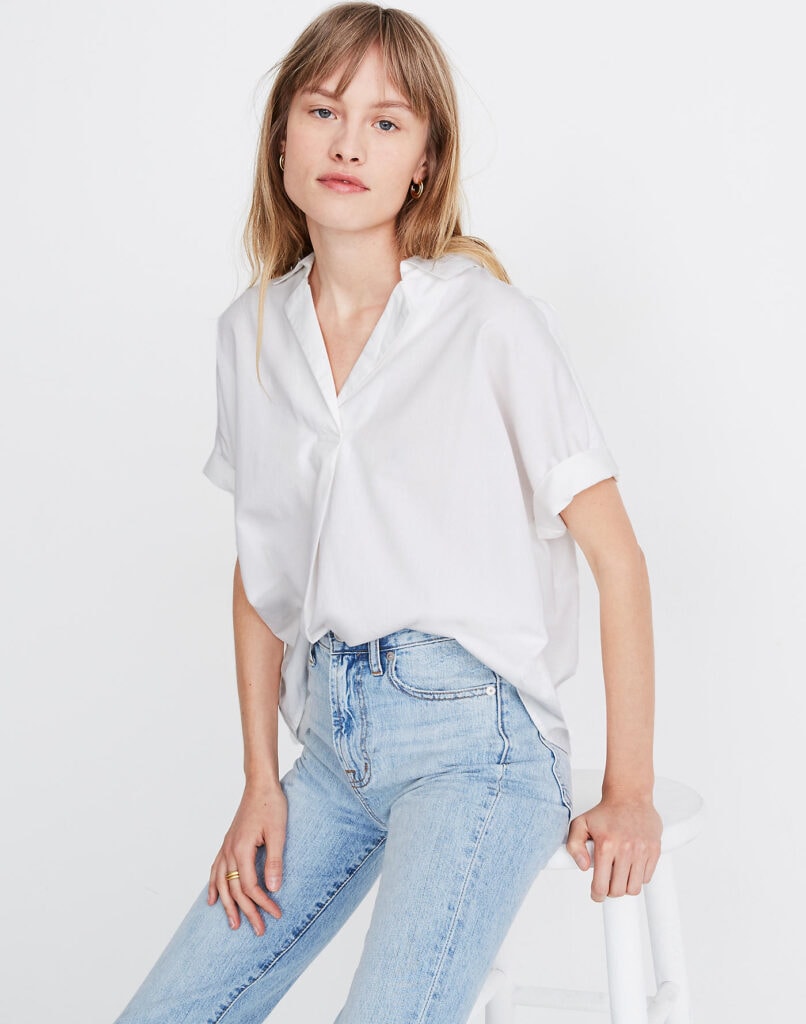 I know V-Day was a week ago, but I still think it's time for another love letter (check out my previous ones here, here, and here).
This time, instead of proclaiming my devotion to a particular type of clothing, I'm celebrating what is possibly the easiest and yet most life-changing styling trick there is: the half-tuck.
Also called a front tuck, a half-tuck is what it sounds like: tucking just part of your top in. This can be done in several ways: tucking in most of the front but not the back for a high-low effect, tucking in one side but not the other for an effortless feel, or, best of all, just tucking in the front middle of your top. Often, you'll need to play around with the untucked material to make sure it hangs in the way you want it to, but the fashion payoff is totally worth it.
The half-tuck magically makes an outfit chicer. It bridges the gap between sloppy (an oversized, untucked top with boyfriend jeans) and stuffy (a blouse tucked all the way into pants). It allows you to wear long tops with tons of different things. It looks killer under jackets. With a belt, it takes a button-up and jeans from blah to street style chic. Need I go on?
Half Tuck Outfit Ideas
Want a little more half-tuck 101? The three outfits below work best with one. Read on to find out why.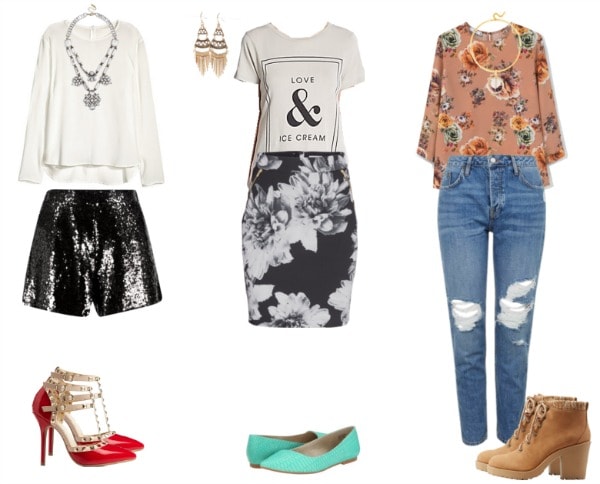 Product Info (L to R): Outfit 1 — Top, Shorts, Necklace, Heels. Outfit 2 — Top, Skirt, Earrings, Flats. Outfit 3 — Top, Jeans, Necklace, Booties.
Outfit 1: This top is already longer in the back than the front, so a half-tuck into high-waisted shorts should be super easy. The black and white color combo plus the tailored bottoms have an almost menswear vibe, so a half-tuck helps to show off your shape and keep the look fresh. Whereas a full tuck would look contrived and no tuck would look unfinished, a half-tuck here is just right.
Outfit 2: I love this look for a casual dinner out or for giving a presentation in class. A partial tuck is in keeping with the outfit's mix of relaxed (message tee) and polished (pencil skirt, pointy-toe flats). This outfit just wouldn't work without some sort of tuck, but that soft tee would be way less comfy pulled all the way into the skirt.
Outfit 3: Boyfriend jeans were basically made for the half-tuck. Especially high-waisted ones like these — the front tuck keeps them from heading into mom jeans territory and really highlights your waist. Keep the tuck loose-ish to maintain the feminine vibe of a floral top.
What do you think?
Do you ever do the half-tuck? Has this post inspired you to start? Would you rock any of the outfits above? Let me know in the comments!