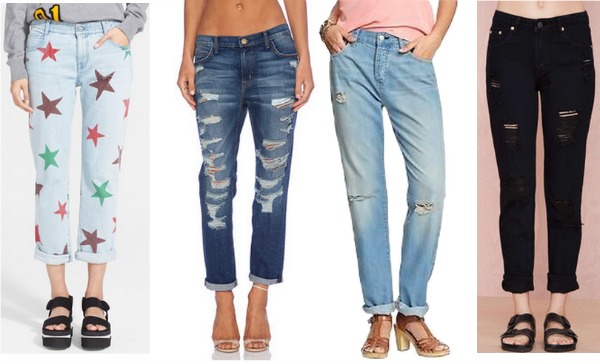 Jeans (left to right): Stella McCartney, Current/Elliott, Old Navy, Nasty Gal
I am in a committed relationship with denim.
When boyfriend jeans were first introduced, I didn't see the appeal of anything so baggy and sloppy. But the BF jeans of today are just loose enough, and when worn with a belt, have just the right amount of slouch. They're what classic jeans are supposed to be– sexy and flattering but relaxed and effortless.
Boyfriend jeans instantly take an outfit into high-fashion territory, and they are perfect starting points for creating outfits based on cool contrasts and contradictions. For example, a shredded pair looks amazing with your most feminine blouse, and the slouch offsets a body-hugging crop top perfectly.
I prefer my BF jeans with rips, or in the killer prints that have come out lately. I am particularly addicted to Current/Elliott's selection, and the plaids, stripes, stars, and polka dots on their jeans. They have two awesome styles, the classic Boyfriend and the slightly slimmer Fling (if you don't want to commit to a full boyfriend, LOL).
BF jeans can be super-casual (think a half-tucked tee and Converse), ready for a night on the town (blazer, button-down, strappy heels), or somewhere in-between (pastel blouse and ballet flats or a flowy tank and wedges). You'll generally want to tuck in your shirt, cuff the bottoms, and wear a belt.
So if you haven't already, add a pair of BF jeans to your wardrobe this summer (they're more warm-weather friendly than skinnies)– and then wear them year-round. Whether you go for of-the-moment prints and embellishments or classic faded rips, I have a feeling this comfy cut is a staple that's here to stay.
Need some help finding your perfect match? As always, when looking for something specific I recommend searching ShopStyle. But first, check out this list of stores and brands at every price range where I've seen swoon-worthy boyfriends. Get ready to fall in love.
Budget: $
Gap, Charlotte Russe, Old Navy
Budget: $$
Topshop, Nasty Gal, Wildfox, The Outnet, One Teaspoon, J. Crew, KUT from the Kloth
Budget:$$$
Current/Elliott, Stella McCartney, Rag & Bone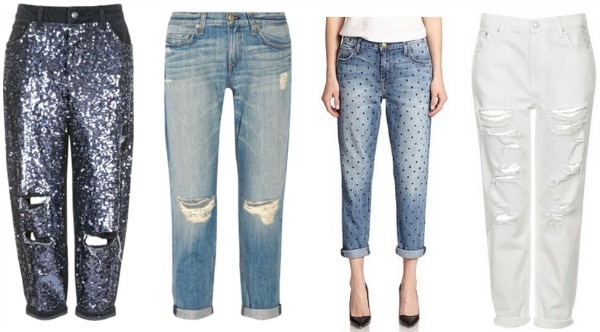 Jeans (left to right): Topshop, Rag & Bone, Current/Elliott, Topshop
What do you think?
Do you love boyfriend jeans? Where'd you find your favorite pair? How do you wear them? Let me know in the comments!