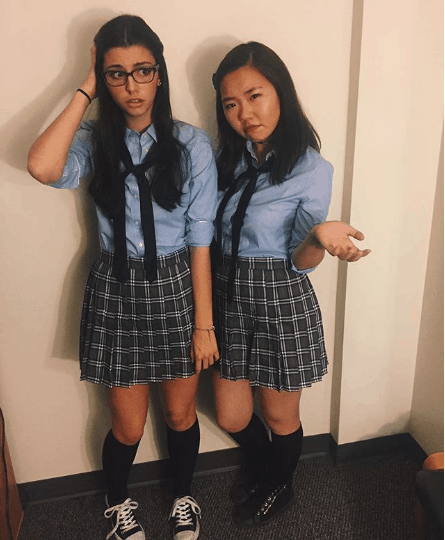 Halloween is practically upon us! This is (sadly) the last installment of my Halloween costume series for CF this year, but fear not. I've compiled all of my posts for Halloween below:
Halloween is a time to become anyone you wish to, and for some of us, that doesn't necessarily mean showing a lot of skin. If you fear the cold, or are afraid that your extended family members (who spend a little bit *too* much time on social media) may find your posts, there are lots of great options for you too!
Without further ado, here are 5 of my favorite classy Halloween costume ideas:
Audrey Hepburn in Breakfast at Tiffany's
Audrey Hepburn is the classic epitome of grace and beauty; her acting and work in iconic films like Breakfast At Tiffany's have earned her a permanent spot in the heart of American culture. Channel her classic look by throwing on your classic LBD, a sock bun, black pumps, and a string of pearls. Don't forget your tiara!
Bonus: Check out how cute this little girl looks! Clearly, this is a costume that works at any age.
Rosie the Riveter
Rosie the Riveter is an iconic symbol of American pride and feminism; although World War II was not a happy time, Rosie embodies the strength that American women display in hardship.
Her look is also incredibly easy to recreate. Whether you throw on a chambray button down with jeans, overalls, or a denim-inspired jumpsuit, the options are endless and likely already in your closet! Don't forget a stellar red lip and a red bandanna.
Mia and Lilly from The Princess Diaries
Blair and Serena are the classic prep school icons from the '00s, but if you're looking to mix things up, channel your inner Genovian with your best friend and dress up as BFFs Mia Thermopolis and Lilly Moscovitz! With a plaid mini skirt, a necktie, knee socks, and a pair of glasses, you too can be a princess.
Related reading: Classy Outfits for Women: How to Dress Classy & Elegant
Minnie Mouse
DIY DISNEY/PIXAR HALLOWEEN COSTUMES: Baymax, Minnie & Monsters Inc. | LaurDIY
Minnie Mouse is a sweetheart, and easy to emulate for Halloween with a red skirt and mouse ears. Check out this YouTube tutorial from LaurDIY for inspiration for the fashion.
As for the makeup, check out this quick Instagram tutorial. We love a quality look incorporating beauty items you might already have.
Alessandra Ambrosio-Inspired Devil
Devil costumes are typically associated with the laced-up corset tops you can find at Party City, but this toned-down version is still fuego and Victoria's Secret Angel approved. Throw on a red body suit, your favorite jean shorts, and buy a pair of red tights. Don't forget a pair of sneakers so you'll be able to run around town all night!
What will you be for Halloween? Do you have a personal favorite from the Halloween series from CF this year? Comment down below and feel free to share pics on Instagram with #CFSquad; you may just get featured on our Instagram!