Sometimes your Halloween costumes just need to deviate from the typical BFF costumes, cute DIY costumes, or the basic costumes that every girl tends to wear. Funny college Halloween costumes tend to make a huge splash at parties, and they also usually happen to be warmer and more practical for a night out; huge win!
Here are my top picks for fun, funny, and punny Halloween costumes:
Onesie/Banana Suit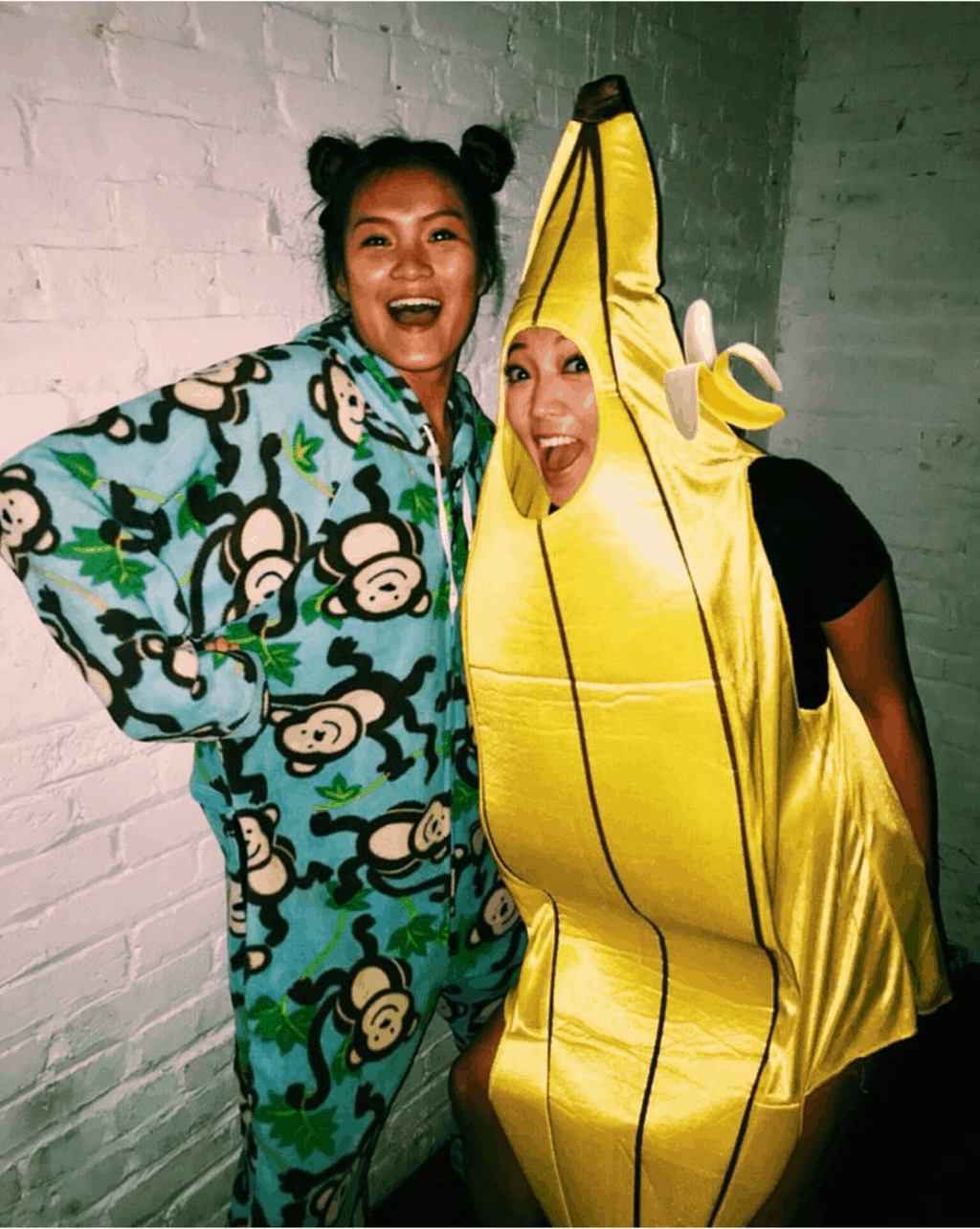 A onesie is a classic pick for funny Halloween costumes simply because they're the right mix of slightly ridiculous and fun. They are also incredibly warm, which is a major win for a Halloween that falls on a cold autumn night! It's not worth being freezing for all of Halloweekend; this costume is very much focused upon the wearer, a.k.a. you!
Here's a monkey onesie off of Amazon and a banana suit if you want to complete your best friend costume like Katie and Emily did!
(We highly recommend listening to "Hollaback Girl" or referencing the "B-A-N-A-N-A-S" bridge in the song for Insta captions for all banana and monkey-friendly costumes!)
T-Rex Blow Up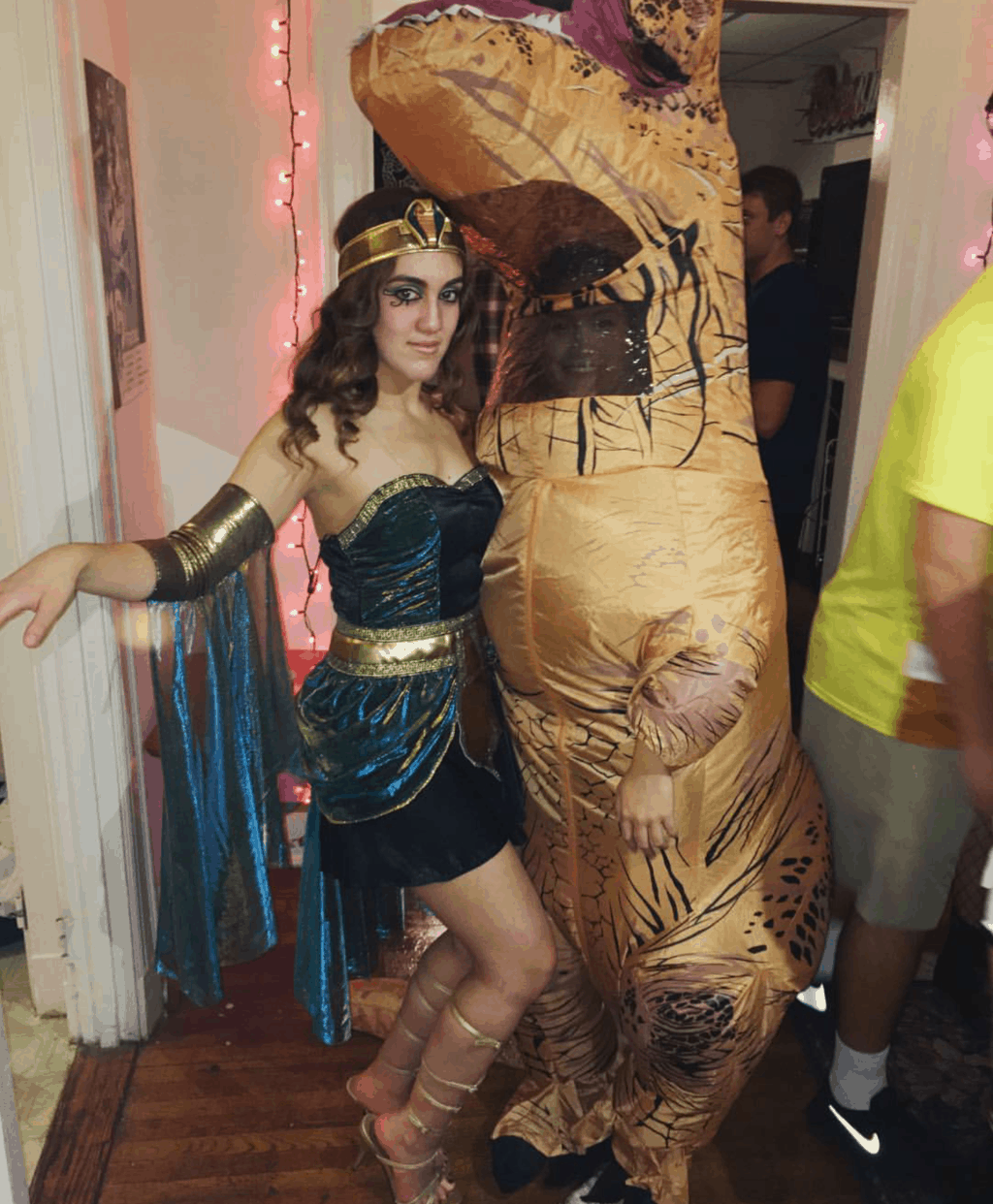 If you want to truly be an icon and run around all night waving your tiny arms, do I have the costume for you. This is one of the funniest costumes I've seen in recent years on the Hopkins campus, and it's pretty great. Watch as your friends wonder who is inside the giant T-rex costume and get tagged in every Snapchat and Instagram story of the night.
Bonus: You're also unlikely to get cold in this costume as well!
Frat Bois

This is the easiest costume to recreate on this list, but it's still super fun! Just wear a button-down shirt, Nike tube socks, a backwards hat, and borrow a tie from one of your guy friends. Don't forget your Solo cup and to continuously call everyone "bro".
Make sure you get a friend or group in on this costume as well; where there's one frat boy there has to be another!
Orange is the New Black
OITNB is an iconic series that marked a huge turning point for Netflix in the creation of their original series and movies; bring back prison garb to 2018 by wearing orange scrubs, chunky mom-sneakers, and throwing a jump rope around your neck! You're sure to be comfortable, Insta-worthy, and turning heads all night!
French Kiss
If you're a fan of puns (who isn't?!), then a punny Halloween costume, like this "French Kiss", is sure to be a hit. Just grab a striped tee out of your closet, buy a beret, then use Halloween makeup to paint your face like a member of the rock band KISS.
Want more punny costume ideas? Check out this list from Good Housekeeping.
Hijab Heroes
This final one is so much fun! If you wear a Hijab, this costume is perfect for you. (And if Marvel and Comic-Con approve, you know this costume is a clear winner!!) Pick your favorite Avenger, maybe Captain America because you know he's probably leaving the franchise soon (ugh), and then go wild with accessories and makeup.
What do you think of these Halloween costumes?
What's the most iconic costume you've seen around your campus? Let me know in the comments below, and keep an eye out for the final installment of the CF Halloween costume series next week!