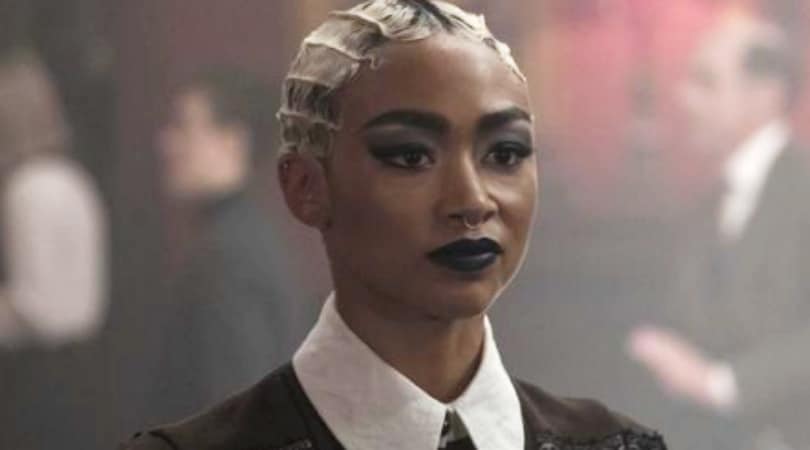 In the last few months, Netflix's hit series, "The Chilling Adventures of Sabrina," has become the talk of the internet. It's a "chillingly" dark and dramatic take on "Sabrina The Teenage Witch" that centers around new witch Sabrina Spellman and her attempts to balance her lives as a witch and a human.
While Sabrina Spellman's style is cute (and that's why we did a whole post on it, and a second one for her season 4 outfits), she's not the fashion queen of this series.
To continue on with our Bad Girl Inspiration series, which started with Regina George from "Mean Girls," we are going to focus on Greendale's resident bad witch, Prudence Night.
Prudence Night is the head of the mean girl witch trio, the Weird Sisters, alongside sidekicks Dorcas and Agatha. The Weird Sisters are often seen plotting to make Sabrina's life a living nightmare, as they only see her as a half breed who does not long in the witch world. But, apart from being Sabrina's constant frenemies, they are also known for the way they torture mortal boys — and for always looking fierce as they cast deadly spells.
As the head of the group, Prudence is the brains behind the wicked acts the sisters commit throughout the show, and she is of course the most fashionable of the group. Whether she is rocking a simple collared mini dress or a full on festive gown, Prudence can make anything look magically stunning.
To follow in Prudence's fashion footsteps, please be inspired by these three wicked looks: 
Weird Sister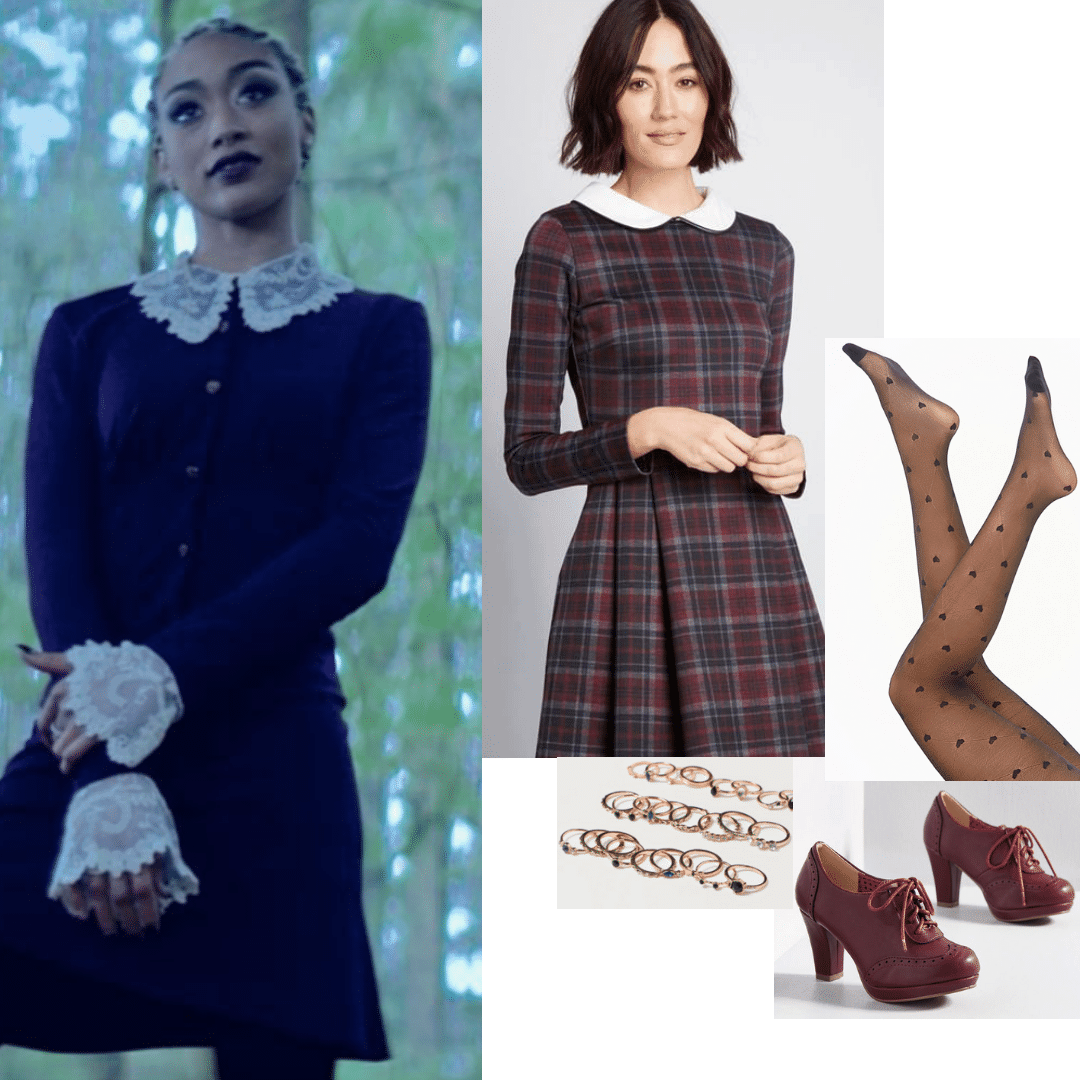 Products: Dress – Modcloth, Shoes – Modcloth, Tights – Forever 21, Rings – H&M
One of the most iconic looks from the series is the school girl meets classic Salem witch look that the Weird Sisters and Sabrina each wear with their own little twists. Prudence rocks the look with a beautiful dark purple button-down mini dress with a white lace collar and cuffs, paired with her signature dramatic lip.
To get the unforgettable and classic look, it is best to channel your inner school girl and then make the look a bit more grown up. To do this, I suggest mixing a collared mini dress and oxford heels. To jazz the look up a bit, throw on a pair of unique patterned tights or socks, and some dainty rings. Add a dark lip to channel Prudence's bad girl vibes.
"You Had Me at Boys to Torment"
Products: Skirt – Madewell, Top – H&M, Jacket – Topshop, Boots – H&M, Tights – H&M
When Prudence is not in her school attire, she is quite the modern fashionista. Most of her everyday looks consist of popular current trends such as mini skirts, cropped jackets, and lace-up ankle boots. But how Prudence sets her looks apart from the rest of the teens of Greendale is by sporting them in her signature dark color palette of dark purple and red wine shades, accented by black and silver.
Get this Prudence look for yourself by mixing a black denim mini skirt, a simple black top, black ankle boots, and a statement cropped leather or bomber jacket. Again, add dark lipstick or a statement eye (maybe not both at once, unless you have the attitude to pull it off like Prudence).
The Feast of the Night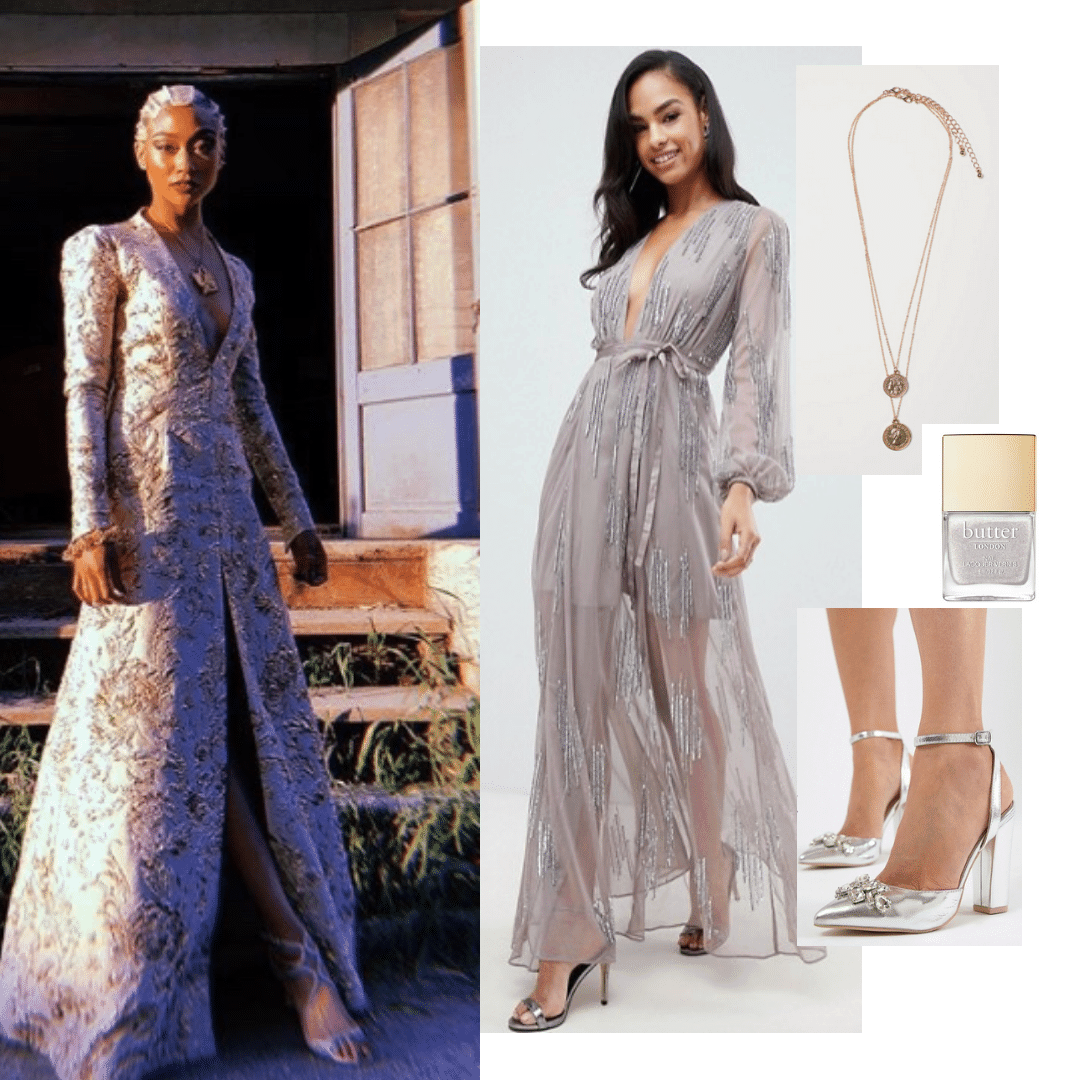 Products: Dress – ASOS, Necklace – H&M, Shoes – ASOS, Nail Polish – Ulta
In the Thanksgiving episode of the show, Prudence is given the honor, or as some might view it, the dishonor, of becoming "Queen of the Feast." If you have watched the series, you know what being Queen of the Feast entails, and I won't go into the horrifying details here.
While the feast is not something many people would call glamorous or alluring, it does give viewers a chance to see Prudence in her most elegant look of the series, which is her silver gown, a cross between a Victorian ball gown and Angelina Jolie at the Oscars. To recreate this look, you need a dress that does all the talking. Start with a metallic dress, then add simple accessories for an extra hint of sparkle.
Is Prudence your fashion inspiration?
I hope these looks have inspired you to channel your inner bad witch. After all, being wicked isn't all bad.
Are you inspired by Prudence's style on The Chilling Adventures of Sabrina? What other bad girls should I cover next? Tell me your thoughts in the comments section below.