'The Chilling Adventures of Sabrina' has come to an end with its final season released on December 31, 2020.
The series finale didn't disappoint and I promise not to spoil anything from season 4 for you except a few of Sabrina Spellman's marvelous outfits!
What's not to swoon over? Kiernan Shipka's stellar performance, cute boys at every turn, and of course, Sabrina's headband-to-toe perfect wardrobe. It's one of the few shows where I notice the characters wearing the same clothes more than once, which I appreciate.
This show has really made an impact, not only for its spooky vibes and intriguing witch world, but also for its Gen Z attitude and leading female heroine.
In the world of comic books, there are few female heroines, and they usually tend to fit a very specific mold. Sabrina is fearless and refreshing, and she's just one of the female characters that is pushing boundaries.
Sabrina isn't the only style star or badass woman on the show; there's Prudence, Aunt Zelda, and Aunt Hilda.
We're definitely going to miss the boys, the dark aesthetic, and the sass, but the thing I'll miss the most? The outfits, of course!
So how exactly do you get Sabrina Spellman's style? Here are a few things to keep in mind before we dive into some of this season's best looks.
Turtlenecks and sweaters: I assume it's rather chilly in 'The *Chilling* Adventures of Sabrina,' because she is always wearing a turtleneck or a sweater. Her most used turtlenecks are black and red, but don't forget about turtlenecks with short sleeves.
Headbands: While Blair Waldorf has had a monopoly on headbands since 2007, Sabrina definitely holds her own. She's a busy girl; she can't have her hair getting in the way.
Miniskirts and tights: The 1960's college girl would be proud of Sabrina's style.
Red: Sabrina's power color is red and has been since the first season.
Part 4 had all this and more, so here are my favorite outfits from the latest season of 'The Chilling Adventures of Sabrina.'
Outfit 1: Sabrina Spellman in Class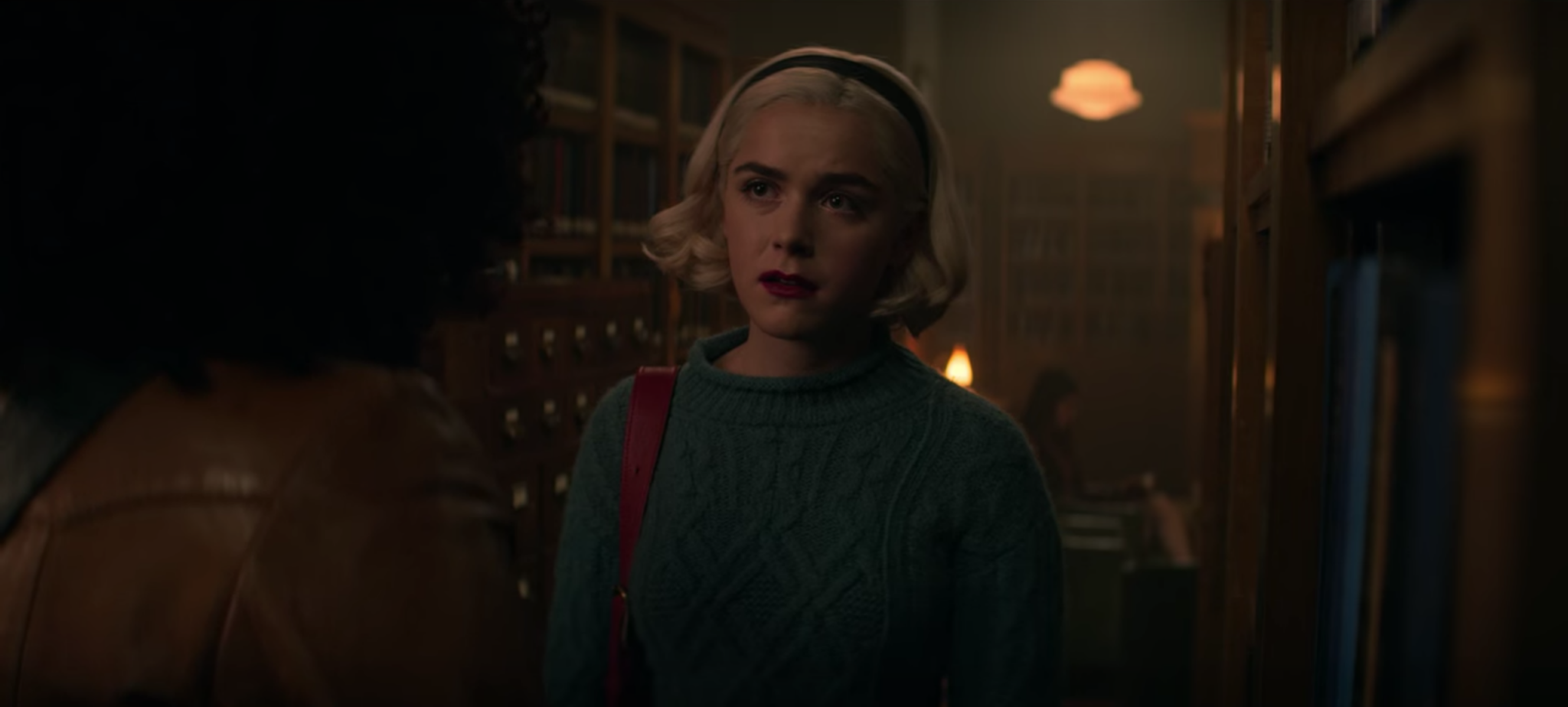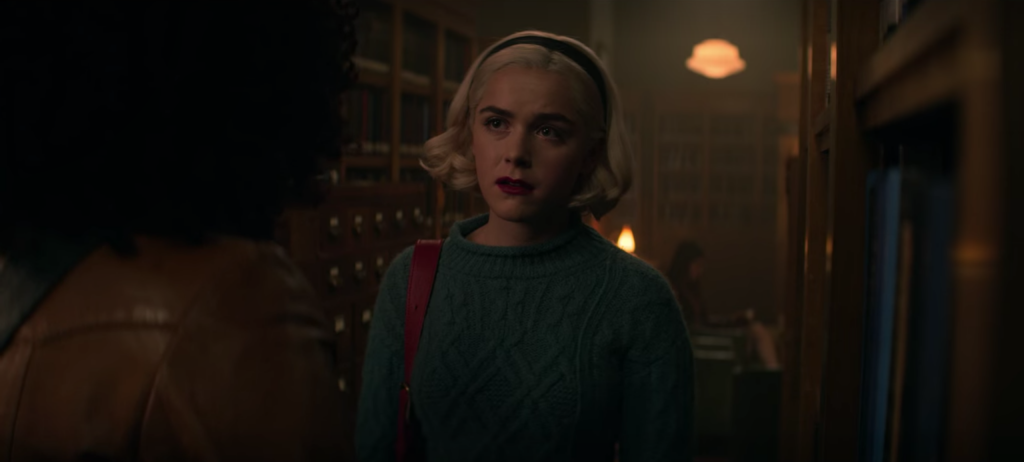 When I saw Sabrina wearing this outfit at the start of Season 4, I knew it was going to be a great season for fashion. There's nothing too complicated about this outfit and it would be cute to wear to class. 
Plaid skirts have been all the rage this past year. Pair it with a cable knit sweater in a deep green tone like this one.
While the color of the sweater is already stunning, adding a pop of color with a pink bag looks really on point.
Don't forget your headband for the full Sabrina look!
Outfit 2: After School Style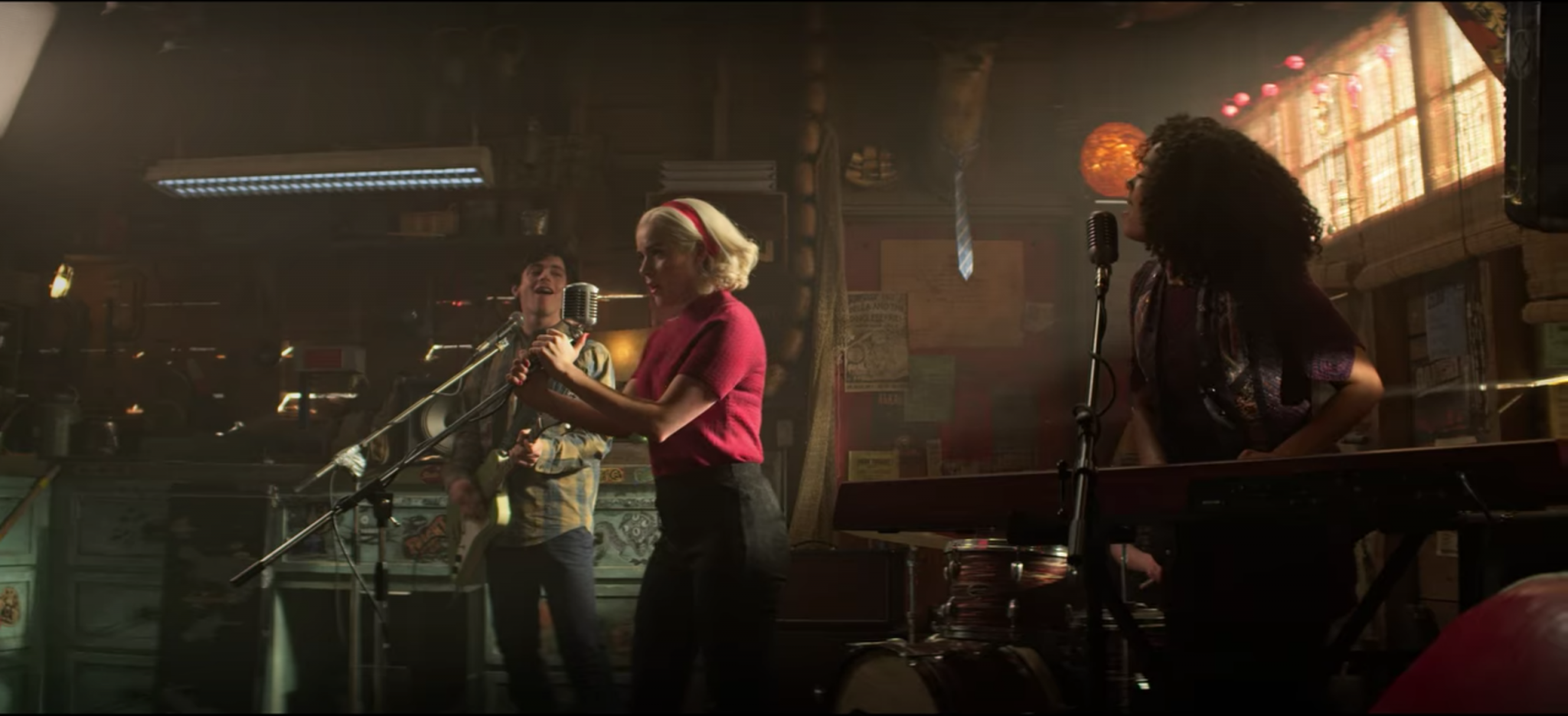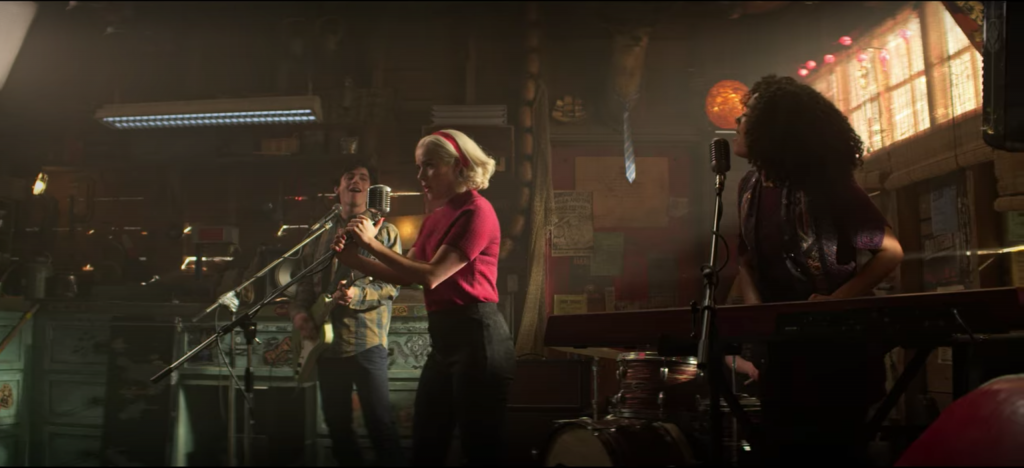 Teeny spoiler: this isn't exactly the Sabrina we know that stays in Greendale, it's the Sabrina that decides to live with her other family… can't you tell from the red headband?
Sabrina Morningstar loves red and she looks great in it. Try this 1960's inspired outfit (which is giving me total Beth Harmon vibes from The Queen's Gambit) for yourself!
Pair a red, short sleeve turtleneck with matching lipstick and nail polish.
Balance out the colors with animal print black pants for your own take on this season 4 outfit.
Outfit 3: Sabrina in Concert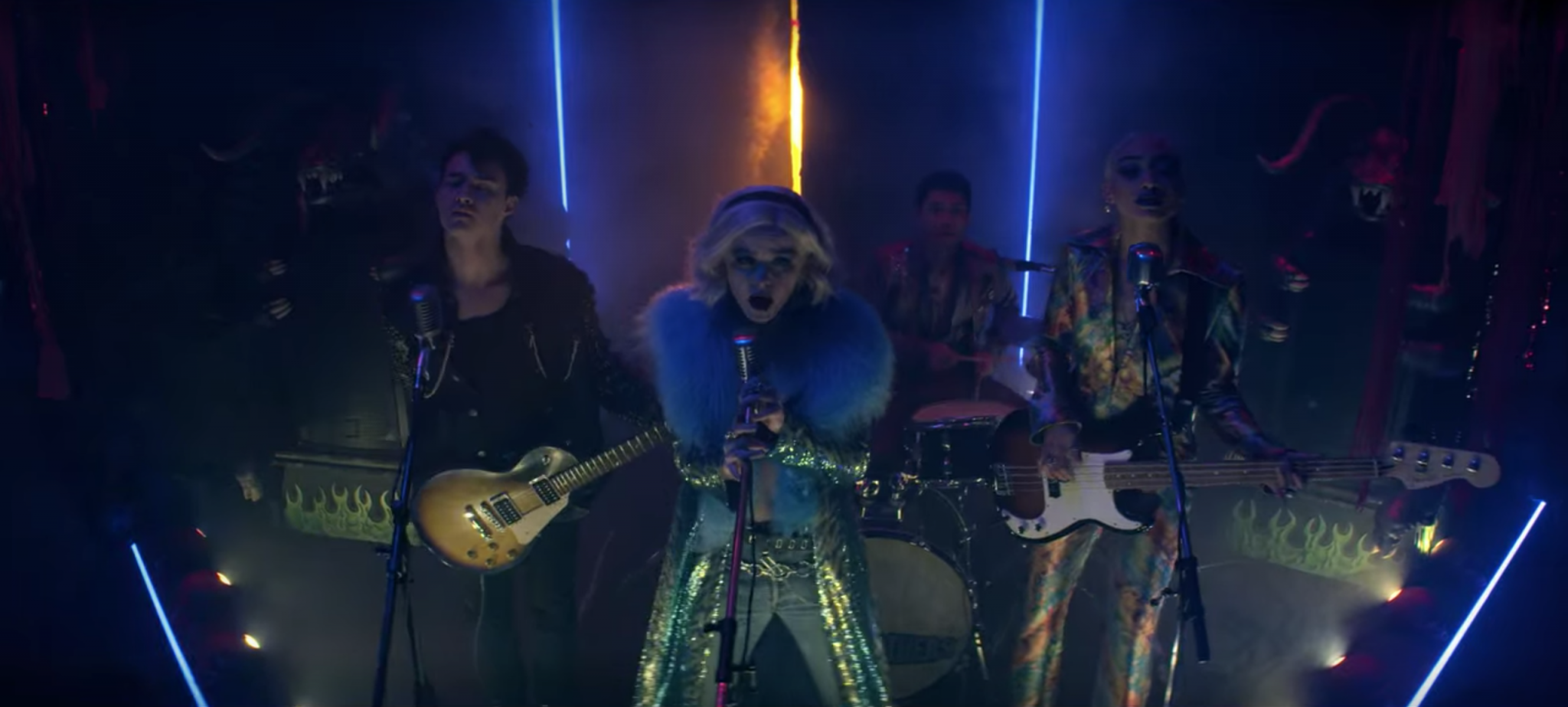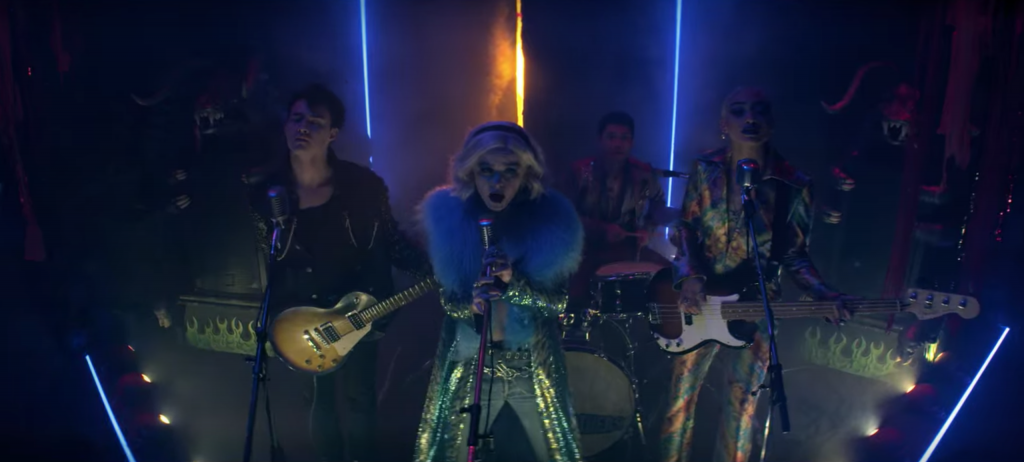 When I saw this look, I was instantly reminded of early 2000's Christina Aguilera style. 
What's not on trend? Metallics? Check. Bra tops? Check. Loose jeans? Check!
Besides, it's time to get your hands on a bold coat to liven up your winter. To finish of the rockstar look, add some chains to your loose jeans, some funky booties, and an edgy crop top.
Of course, Sabrina manages to make a headband look rock 'n roll.
Outfit 4: Sabrina Spellman at the Museum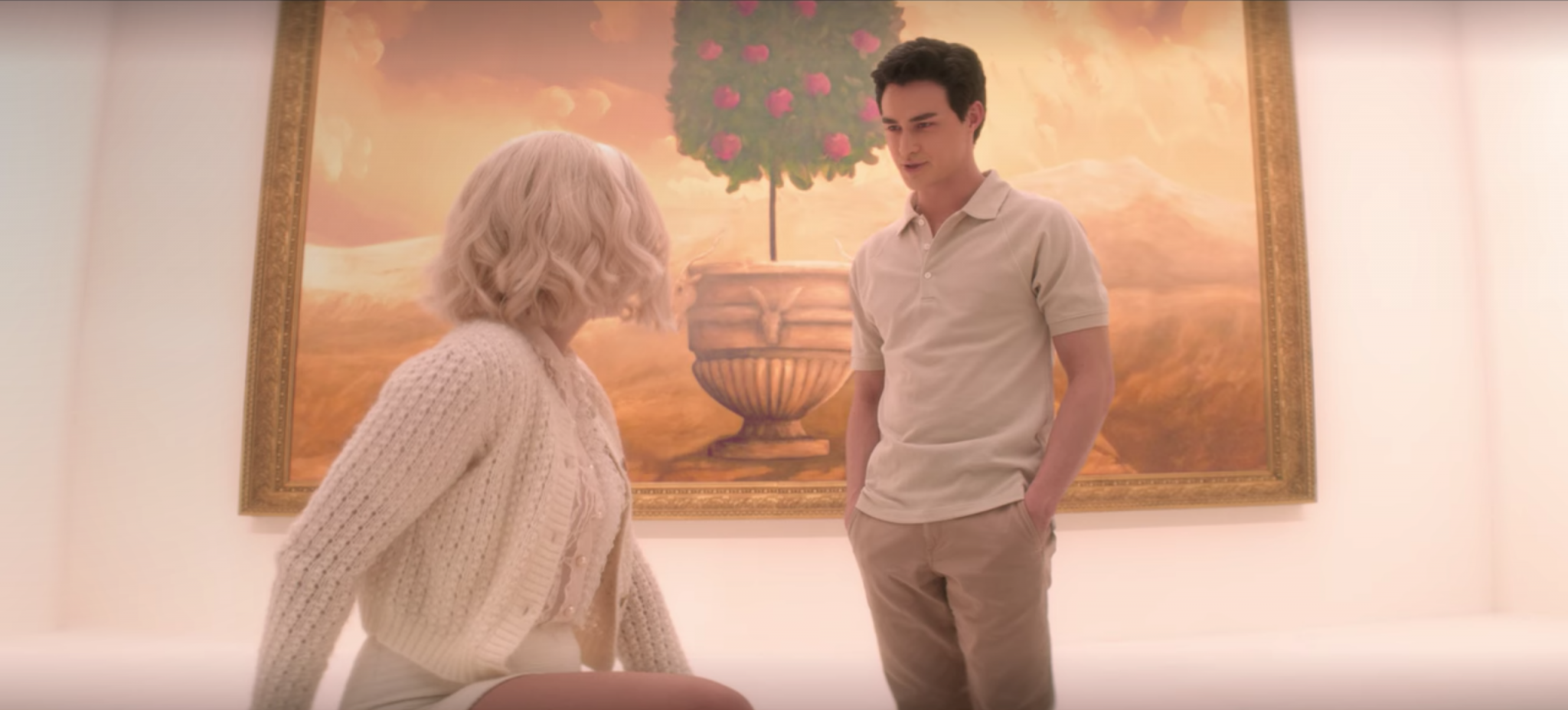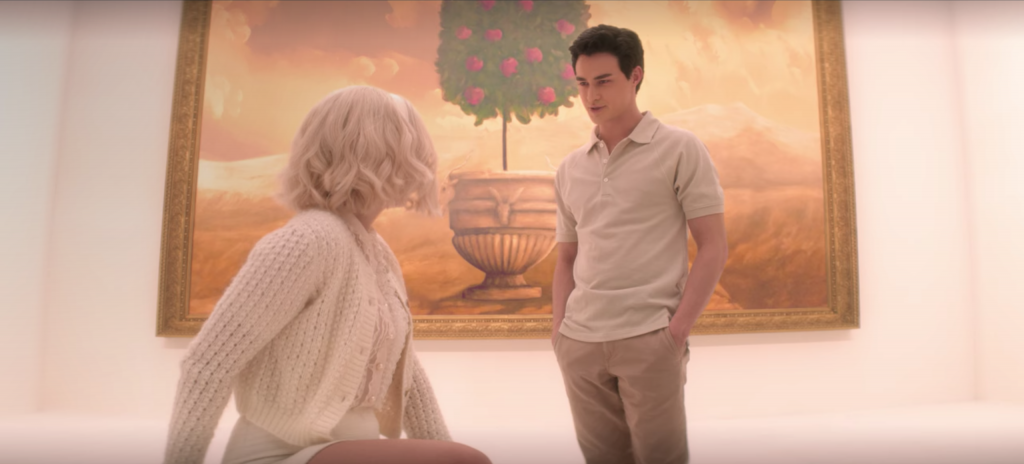 This look from season 4 is the perfect museum outfit, or for a fancy event (wouldn't it be nice to have an event to attend this year?).
Sabrina's outfit is a huge change of pace from her usually darker clothing choices and overall spookier aesthetic, and that's why it was such an awe-inspiring fashion moment.
Pair a ruffled blouse and white cardigan with a white miniskirt.
White knee-high boots will give your look more of a youthful edge. For your headband choice, opt for a white, knotted number.
While this is the final season of 'The Chilling Adventures of Sabrina,' I actually felt at peace with the finale partly due to all the fabulous outfits. I'm still holding out for a Prudence and Rosalind spinoff!
Was Season 4 of 'The Chilling Adventures of Sabrina' your favorite?
What's your favorite outfit from season 4? Who is your style icon from the show? Let me know in the comments section below!