This post may contain affiliate links, which means we may receive a commission if you purchase through our links. Please
read our full disclosure here
.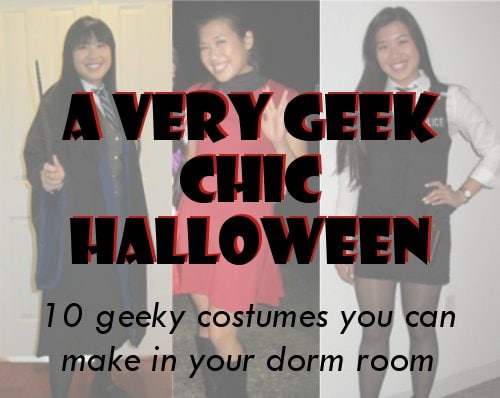 Here on the Geek Chic column, we've given Marvel characters a lot of love (See: The Avengers and The Amazing Spider-Man), so it's only fair that DC Comics gets some, too! Unless you're allergic to summer blockbusters, you've likely seen at least one of the films in Christopher Nolan's Batman trilogy: Batman Begins, The Dark Knight, and The Dark Knight Rises, starring Christian Bale, Michael Caine, Morgan Freeman, and Gary Oldman.
For more Geek Chic, check out previous articles: The Amazing Spider-Man-inspired fashion, Dr. Horrible's Sing-along Blog-inspired fashion, Star Wars Prequel-inspired fashion, Lost-inspired fashion, The Avengers-inspired fashion,Sailor Moon-inspired fashion, Doctor Who inspired fashion (plus Part 2 and Part 3), Sherlock-inspired fashion,Star Wars Original Trilogy-inspired fashion, The Hunger Games-inspired fashion, The Big Bang Theory-inspired fashion, the Lord of the Rings-inspired fashion, and Star Trek-inspired fashion.
Know Your Geek: About Batman
Batman was created by Bob Kane and Bill Finger of DC Comics in 1939 and has become one of the world's most beloved superheroes. Beyond comics, the Batman franchise includes several movies and television shows (both live-action and animated).
Christopher Nolan's gritty, dark reboot of the franchise is the most successful of all Batman productions:Batman Begins, The Dark Knight, and The Dark Knight Rises have grossed $372 million, $1 billion, and $745 million, respectively.
You probably know the story: Batman is the second identity of billionaire Bruce Wayne, who fights evil in the fictional Gotham City (which is basically New York City). As the title suggests, Batman Begins explores his origins, while The Dark Knight and The Dark Knight Rises depict Batman's continued struggle for justice.
Outfits Inspired by the Dark Knight Trilogy
Ready to channel Gotham City inhabitants, both good and bad? All righty then, CF Readers…To the Bat-wardrobe!
Bruce Wayne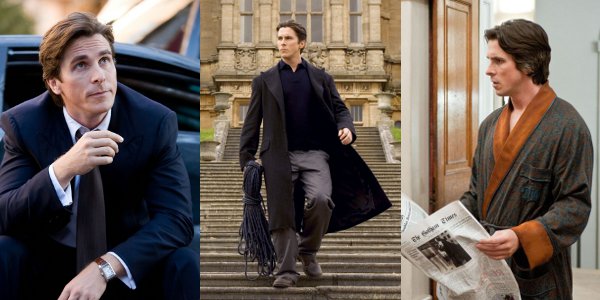 Bruce Wayne, played by Christian Bale, is the billionaire owner of Wayne Enterprises and a resident of Gotham City. He was orphaned at a young age when his parents were murdered in front of him by a small-time criminal. He was subsequently raised by his faithful butler, Alfred Pennyworth (played by Michael Caine). Bruce is tormented by lingering feelings of guilt over his parents' death.
After receiving both a formal education and intensive martial arts training, he returns to Gotham City. Horrified by the rampant corruption plaguing his home, he recruits his business manager, Lucius Fox (Morgan Freeman), to help him harness the technology of Wayne Enterprises to fight crime and restore justice.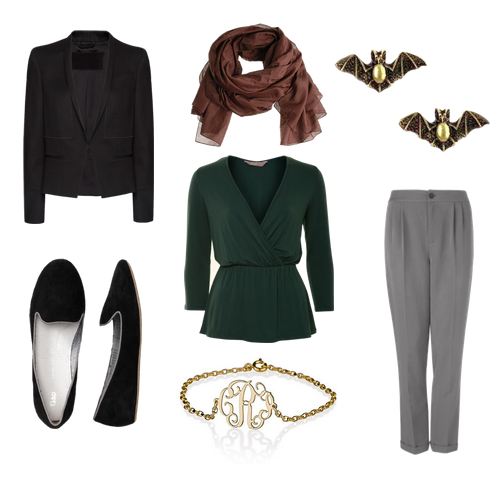 Product Information: Jacket, Top, Trousers, Loafers, Bracelet, Scarf, Earrings
When Bruce Wayne suits up, he suits up. I mean, we're talking bespoke Giorgio Armani suits here, people! Costume designer Lindy Hemming collaborated with the Italian designer for all of Bruce's snazzy, super-sharp suits. However, this outfit takes inspiration more from Bruce's softer side, and the clothes that he wears at home or around the people he cares about most.
When he's not in the public eye, Bruce wears simple but well-tailored pieces that still look luxe. Even if you're not a billionaire (and if you are, call me, let's be BFFs), you can pull off Wayne's understated elegance with pieces like a draped top and crisp trousers. A great suit jacket will take you places, so make sure you find one that fits you perfectly. (This is one case where it's worthwhile to spend a little more for quality.) Suede loafers and a monogram bracelet convey that old-money feel.
Batman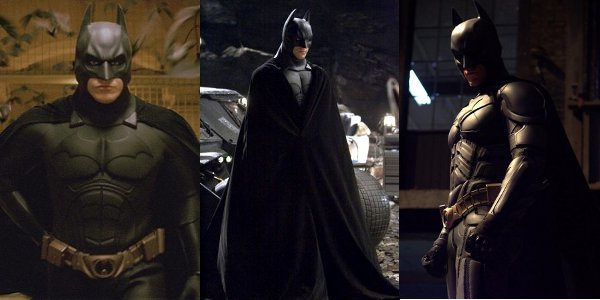 Batman is Gotham City's resident caped crusader, a dark knight who lurks in the shadows. Woe to those who worship evil's might and cross his path! Although he does not have any inherent superpowers, he relies on his vast intelligence and technological prowess to defeat his enemies.
Unfortunately, as is the case with many masked vigilantes, Batman is eventually declared a threat by public officials. Lt. James Gordon says it best: "He's the hero Gotham deserves, but not the one it needs right now. So we'll hunt him. Because he can take it. Because he's not our hero. He's a silent guardian, a watchful protector. A dark knight."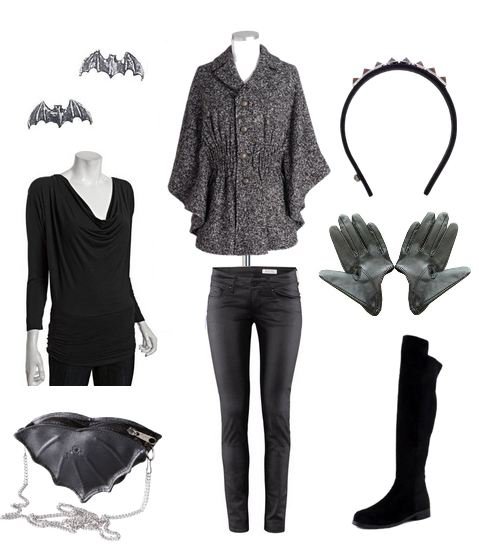 Product Information: Cape, Top, Jeans, Boots, Earrings, Bag, Headband, Gloves
He's not called a caped crusader for nothing: Batman's billowing cape and bat-shaped cowl are iconic pieces. Since his getup is so recognizable, I kept the outfit subtle to avoid having it look costume-y. Batman is always clad entirely in black, which can get a bit boring in real life. A great way to keep a monochromatic outfit interesting is to play with various textures. Here, the soft jersey material of a cowl-neck top tempers the hard sheen of waxed jeans, while knee-high boots in suede also contrast with the leather look of the pants.
Now it's time for the finishing touches. Luckily, cape-style coats like this charcoal tweed one are still a hot trend this year. Add some fun details with cool half-gloves, a spiked headband, stud earrings, and an adorable bat-shaped bag.
Rachel Dawes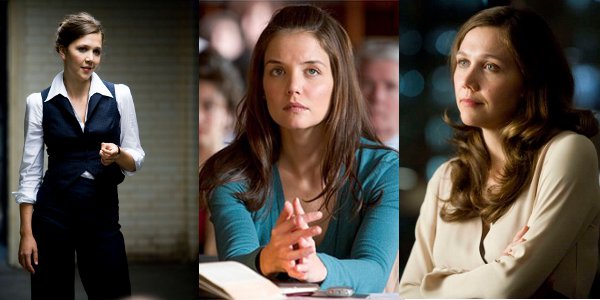 Rachel Dawes, played by Katie Holmes in Batman Begins and Maggie Gyllenhaal in The Dark Knight, is Bruce Wayne's childhood friend and primary love interest. She eventually becomes an Assistant District Attorney, dedicating her career to eradicating the crime and corruption in Gotham City. Before she discovers Batman's true identity, she is upset with Bruce, whose public persona is that of a carefree playboy. Rachel is frequently targeted by crime lords due to her job as well as her connections to Batman and Harvey Dent.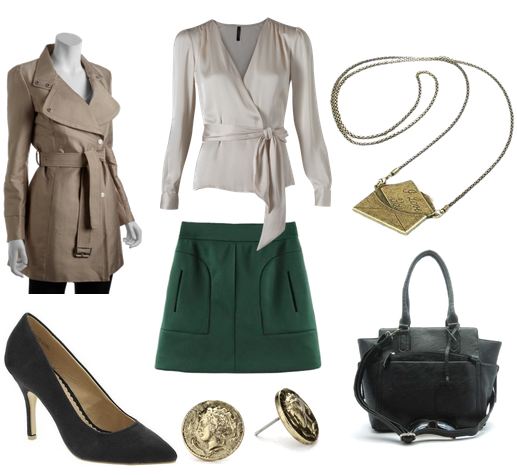 Product Information: Trench, Top, Skirt, Shoes, Purse, Earrings, Necklace
Rachel is an up-and-coming attorney fighting the good fight. She needs to be taken seriously, so she's typically seen in courtroom-appropriate business wear. Nevertheless, her wardrobe always maintains a feminine aura, heavily featuring silk blouses and tailored pencil skirts.
Get Rachel's authoritative but pretty look with a silky wrap top and hunter green (big fall trend!) skirt. Suede pointy-toe pumps with a mid-height heel and a structured satchel always look professional, as does a classic trench coat. Coin earrings represent her relationship with Harvey Dent, who later goes on to become the villainous Two-Face. Finally, a delicate envelope charm necklace refers to the sealed letter that Rachel gives to Alfred for Bruce.
The Joker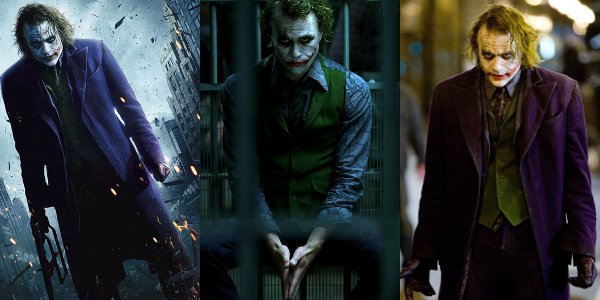 The Joker, played by the late Heath Ledger, is the terrifying villain of The Dark Knight. Unlike most big bads, he isn't really motivated by power or money. Instead, he revels in creating chaos and anarchy in Gotham. The Joker also takes immense pleasure in tormenting Batman with difficult morality judgments.
As portrayed in the Nolan trilogy, The Joker is whimsically demented and highly unpredictable. This psychopathic baddie doesn't discriminate when it comes to choosing his victims: he'll murder anyone, even his own henchmen.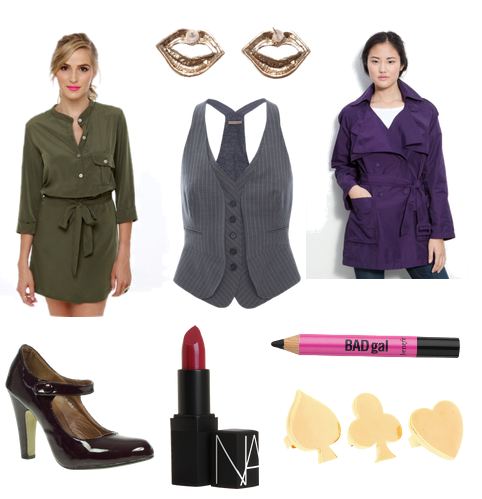 Product Information: Dress, Coat, Vest, Shoes, Earrings, Rings, Lipstick, Eyeliner
The Joker wears an eccentric mix of pinstriped pants, gray patterned shirt, chartreuse vest, and violet overcoat. Get his bold fashion sense without all the crazy by pairing an olive shirtdress with a menswear-inspired vest and patent Mary Jane pumps. Then throw on a bright purple trench coat that will make you stand out in a crowd of black and navy.
While I wouldn't recommend Joker's full clown makeup and Glasgow smile as an everyday look, kohl-lined eyes and red lips are always in. (This particular eyeliner and lipstick are named BadGal and Funny Face, respectively. Quite appropriate, no?) Complete the look with Joker-inspired jewelry like playing card rings and lip-shaped earrings. You'll have folks asking "Why so serious…ly well dressed?"
Selina Kyle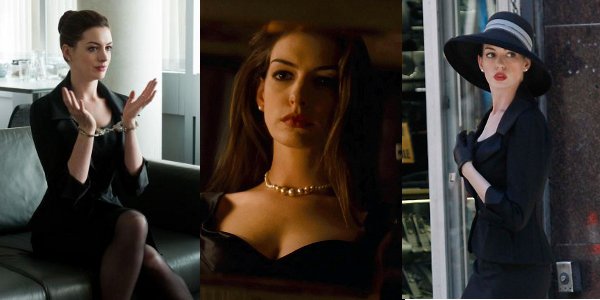 Selina Kyle, played by Anne Hathaway, is a master jewel thief nicknamed "The Cat" and a major player in The Dark Knight Rises. Although she is never actually called "Catwoman" in the film, it seems pretty safe to refer to her as such. The popular character was developed as a sort of sparring partner/sexy foil for Batman: although she's a criminal, she's not really interested in killing or in evil for evil's sake.
While she may be under the occasional employment of truly evil people, in the end, Selina's loyalties are to one person: herself. (She's like the Irene Adler to Batman's Sherlock Holmes. And I rather suspect that Gwen Raiden from Angel was meant to be a play on Catwoman.)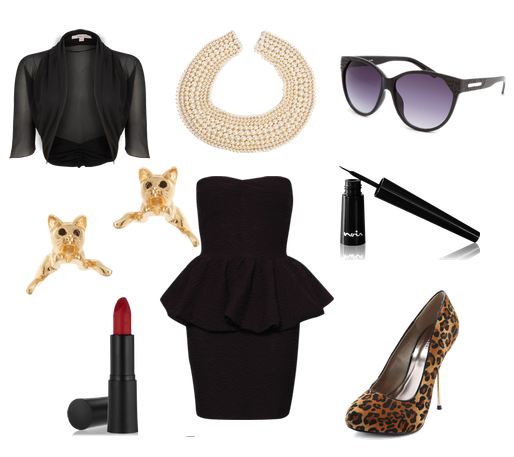 Product Information: Jacket, Dress, Shoes, Earrings, Necklace, Lipstick, Eyeliner, Sunglasses
Selina Kyle is the quintessential femme fatale. Dangerous curves, smoldering gaze, seductive red pout, snappy repartee: you name it, she's got it. Make like Selina and steal some of her style (please note that College Fashion does not advocate jewel thievery) with a formalwear look that's classic but definitely not stuffy.
Shimmy into an LBD with a strapless neckline that shows off a great necklace: in this case, the intricate pearl collar references the Wayne family heirloom that Selina steals. Add feline details like cat-eye sunglasses, leopard print pumps, and fierce earrings for a look that's positively purr-fect. (Yes, I went there with the awful puns.)
Selina as the Cat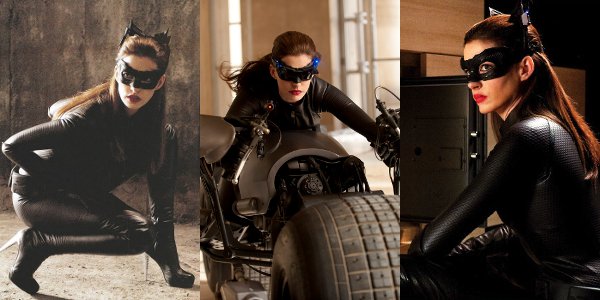 Ah, the infamous catsuit! As with the Batman-inspired outfit, there's a thin line here between inspiration and imitation. Look chic, not costumey, by keeping the sleek lines of the catsuit but losing some of the spandexy goodness. For a classy night out on the town, pair an understated ponte top with opulent velvet pants, then slip on a quilted leather jacket that's glamorous but not in-your-face.
Although I have no idea how Catwoman can kick butt in those dizzying stilettos, you probably won't need to fight off any evil henchmen/minions, so go for a pair of classic black ankle boots. Accessorize with a geometric necklace that's reminiscent of cat ears and a pair of cobalt studs to add a pop of color. Finally, no Catwoman-inspired look would be complete without a winged cat-eye. A thick marker-like liner is ideal for foolproof application.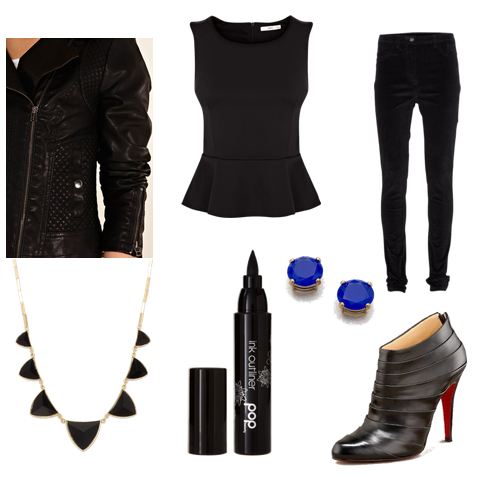 Product Information: Jacket, Top, Pants, Shoes, Necklace, Earrings, Eyeliner
What did you think?
Would you wear these outfits? Are you a fan of Nolanverse Batman? And did you have incredible difficulty understanding anything that Bane said in TDKR? (Please tell me I'm not the only one! I caught maybe 40% of his lines. Plus his mouth was covered so I couldn't even guess.)
What other geeky inspirations would you like to see? (Next time we'll be heading to my home state of California to visit a Sunnydale girl who saved the world. A lot.) As always, let me know in the comments!