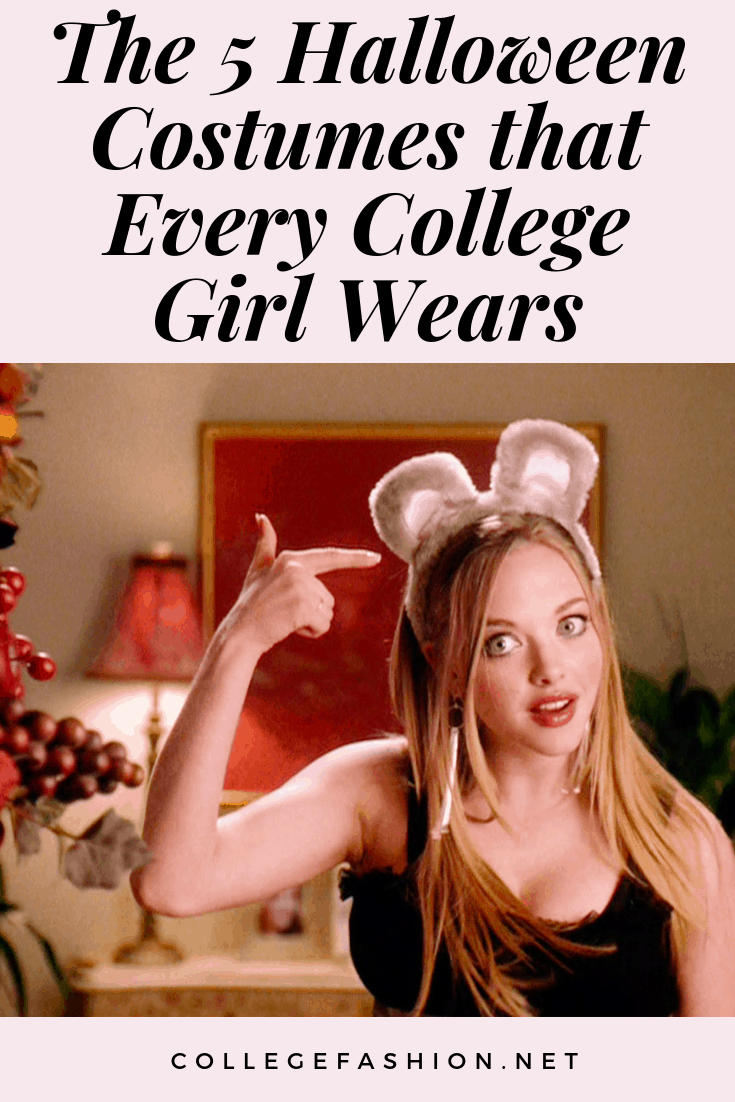 There are those Halloween costumes that get a ridiculous amount of grief for being "basic", but let's face it, it's fun to try at least one (or all) of the costumes that every college girl wears once.
These simple costumes are quick, easy, fun, and guaranteed to save you from a night of questions where people ask you who or what you're dressed as. Scroll down to see our top 5 picks.
1. Cat, Bunny, & Any Other Animal that Involves Throwing on a Pair of Ears
We're all guilty of throwing on a pair of cat ears, bunny ears, or in recent years, a unicorn horn when we've been running short on time. It's as easy as putting on your black leggings, a body suit, or holographic leggings depending on the animal of your choice, and heading out the door!
This is a great "filler" costume for the many nights you'll be heading out over Halloweekend. After all, some of us just don't want to be seen in the same costume twice! For a cheap pair of ears, head over to Amazon or Forever 21 if you're inclined to shop in stores.
In the spirit of Halloween and cat costumes, here is an actual cat in costume!
2. Boxer
The typical college boxer costume consists of a robe and faux boxing gloves, again probably bought off of Amazon, paired with a sports bra and running spandex, usually Nike Pro.
Dutch braids are optional but highly recommended! Here's a quick tutorial on Dutch braiding below:
How to Dutch Braid | Braiding 101
3. Sexy Cop, Firewoman, Doctor, Etc.
We love a woman in uniform, and this definitely extends to Halloween. Given the current social climate we live in, I recommend not toting around faux weapons to avoid any accidental scares; no one wants to carry around a prop for the entire night anyway.
A convenient place to look for these costumes can be your college's Free and for Sale Facebook page; you'll find them at a deep discount, and with a quick spin through your washing machine, you'll also be able to enjoy your costume for the night.
4. Alien
Aliens have become a popular costume in the past few years, thanks to the rise of galaxy prints and holographic makeup; put all of the unicorn highlighters you bought over the past summer to use this fall!
There are many variations and possibilities for this look, but we really like the YouTube tutorial below for a quick and fun look! Add on some space buns to complete your look.
HALLOWEEN ALIEN MAKEUP TUTORIAL // Kenya Janely
5. Skeleton
Skeletons are synonymous with Halloween, and there are many feminine twists on your average, glow-in-the-dark, skeletal morph suit that you can incorporate into your look.
Sugar skull looks, inspired by Día de los Muertos, have definitely become popular in recent years. We think this is a great look that incorporates elements from another culture without being offensive! Here is a fun tutorial below:
Easy Sugar Skull Halloween Tutorial
6. White Claw
Why not go as your hard seltzer of choice for Halloween? Just grab a few cans of the popular hard seltzer and you're all set. Dress up as a can of White Claw or Truly, or go as a group and be a six-pack. Either way, you're sure to stand out from the crowd. And who knows, you might even get free drinks all night long!
7. Hot Cowgirls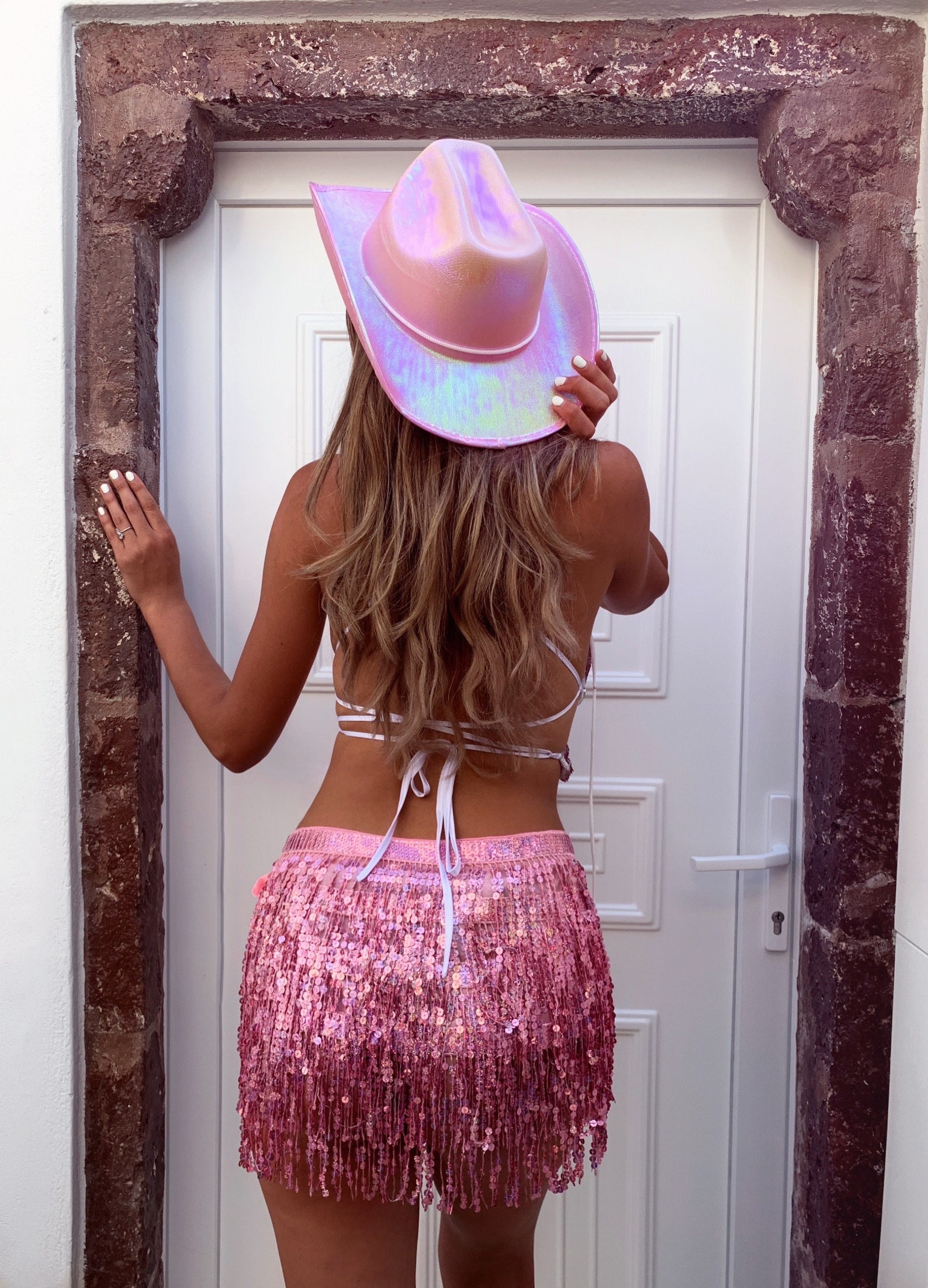 At every college party (especially in the South), you'll see hot cowgirls! With their sexy Western looks, they're sure to turn heads at any Halloween party. So saddle up and get ready for some fun.
8. The Sexy Cave Girl
This costume is perfect for those who want to show a little skin without being too revealing. A short skirt or shorts, a crop top, and some furry leg warmers are all you need to create this look. Add some smoky eye makeup and wild hair, and you're good to go.
9. Girl Gangsters
This is a super popular college Halloween costume. To get the look, start with a black or white fitted tee. Then, add some ripped jeans or a mini skirt. Layer on a blazer or leather jacket. And don't forget the accessories! A beanie, some sunnies, and some statement jewelry will complete the look.
10. Hippie Look
To get the perfect hippie look, start with a flowy dress or shirt and add some flared pants. You can also add a headband or scarf, and don't forget the peace sign necklace.
For shoes, sandals or boots work well. And of course, no hippie costume is complete without long, wavy hair. If you don't have naturally curly hair, you can use a curling iron or rollers to get the look.
11. Maid Costume
This is a classic college Halloween costume that is sure to get you noticed. Whether you are looking for something sexy or cute, a maid costume is a perfect way to get some attention on Halloween night.
12. Prisoners
This look is perfect for bad girls who want to stand out from the crowd and make a statement. There are so many ways you can go with this one, whether you channel Harley Quinn in an orange jumpsuit or rock some cute stripes for a classic vibe. So, if you're looking to make a jailbreak this Halloween, this is a super popular choice.
13. Pirate
Pirate costumes are always popular and they're so cute! You can go the traditional route and dress up in all black with a bandana and eye patch, or get creative and put your own spin on the costume.
There are also plenty of group college Halloween costume ideas that revolve around pirates. If you want to dress up as a sexy pirate, for instance, you can bring your whole crew of pirates around with you!
14. Cotton Candy
I've seen cotton candy costumes on campus pretty much every year because they're super cute and girly, and they're an easy DIY. All you need is some pink or blue tulle, a white t-shirt, and some ribbon or streamers.
Just attach the tulle to the shirt in a skirt-like fashion, add some streamers or ribbon to the waist, and you're good to go! Cotton candy is a classic sweet treat, and this costume is sure to be a hit at any Halloween party.
15. Sexy Devil
Devils are always all over my college campus! You can honestly buy this costume just about anywhere since it's so popular, but don't be scared to DIY your own. You really just need a cute red outfit (bonus points for incorporating leather or vinyl) and some devil horns. So simple and easy!
For more college Halloween costumes, you might want to consider our related posts below –
We've already covered best friend costumes and easy DIY costumes, but we want to hear from our CF fam about what costumes we should write about next. What kinds of costumes do you want to see? Do you know what you'll be this year? Let me know in the comments below!