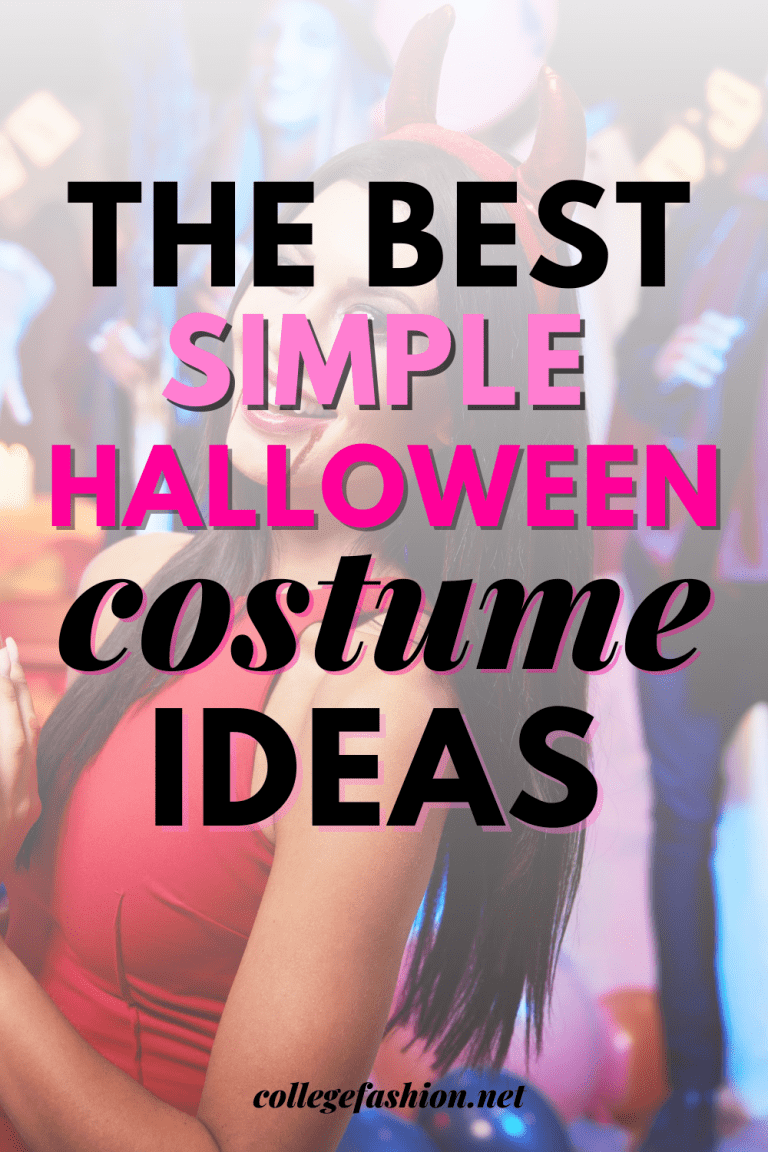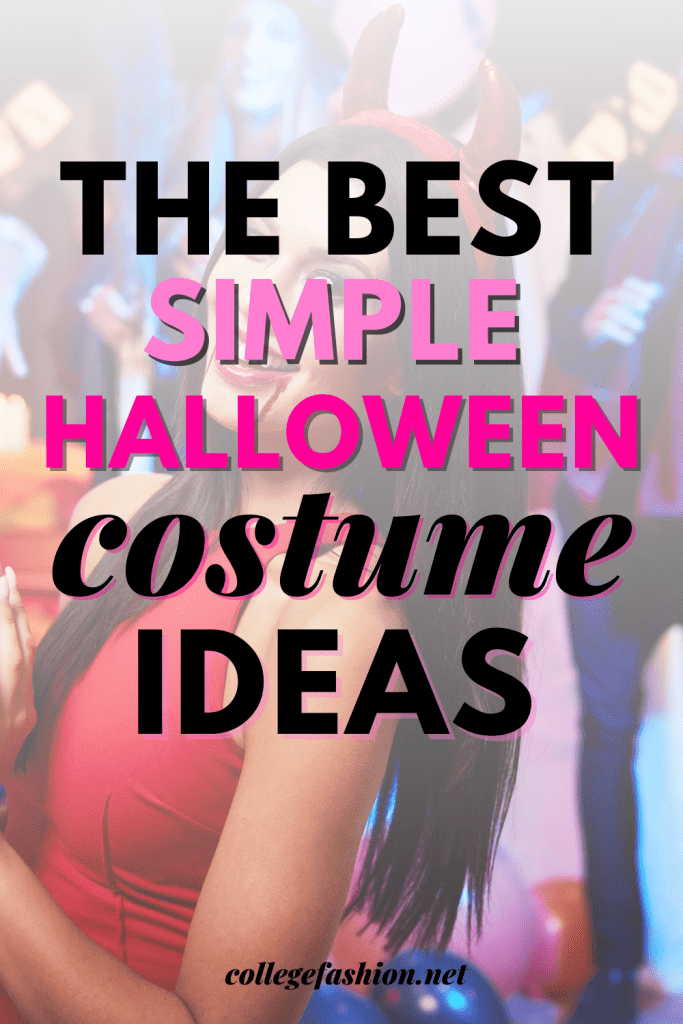 This post is about simple Halloween costumes that are incredibly cute but don't require tons of effort.
Halloween is coming up faster than you think, which means it's about time to start prepping for what you are going to wear!
As a little kid, you may have always bought an actual costume to wear on Halloween, which you can still do as an adult. However, if you want to switch it up, a popular trend for college girls on Halloween is making their own costumes using regular clothing and a few costume accessories.
We've already shared a bunch of easy Halloween costumes and Halloween makeup ideas on CF, but today I'm sharing a few simple go-tos that you're definitely going to be seeing this year. These are guaranteed to have you looking cute without needing to go buy a pre-made costume.
Below, I'll show you six classic and simple Halloween costumes you can make using clothing items and a few extra accessories. Let's get to it!
Simple Halloween Costume Idea #1 – Black Cat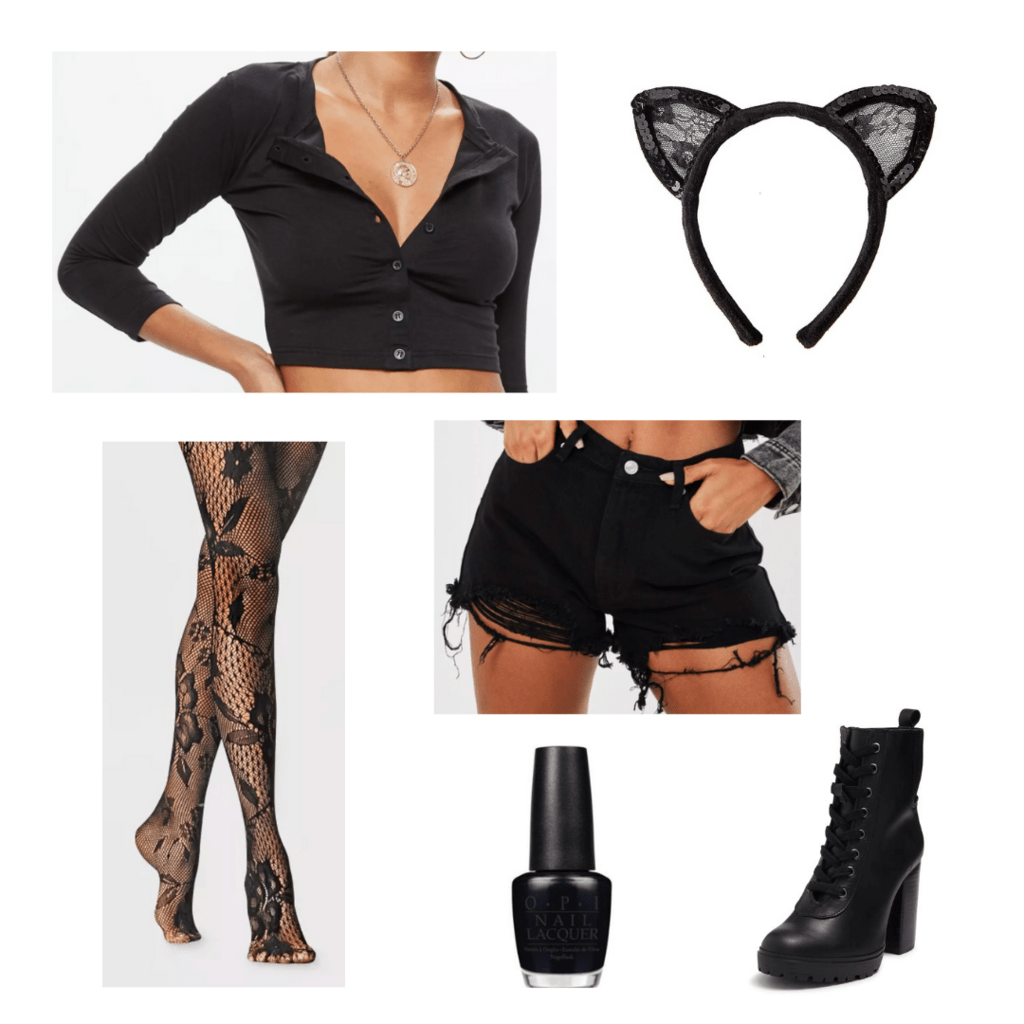 Products: Top, Shorts, Shoes, Tights, Headband, Nail Polish
The black cat is one of the classic Halloween costumes that you can totally put together using regular clothing items!
This simple costume idea has always been popular and is a perfect Halloween costume for college girls.
All you have to do to get put together this costume is find all black clothing items and accessories, as well as a cute headband with cat ears.
For this costume, I mixed a super cute black long-sleeve crop top with black ripped high-waisted shorts as well as some fun high-heeled boots. (This would also be a great little black dress costume idea, if you preferred a dress!)
Also, to add to the costume even more, you can wear black lace tights to match with a lace cat ears headband and if you want to do your nails, you can paint them using black nail polish to really add detail to the look.
Costume Idea #2 – Devil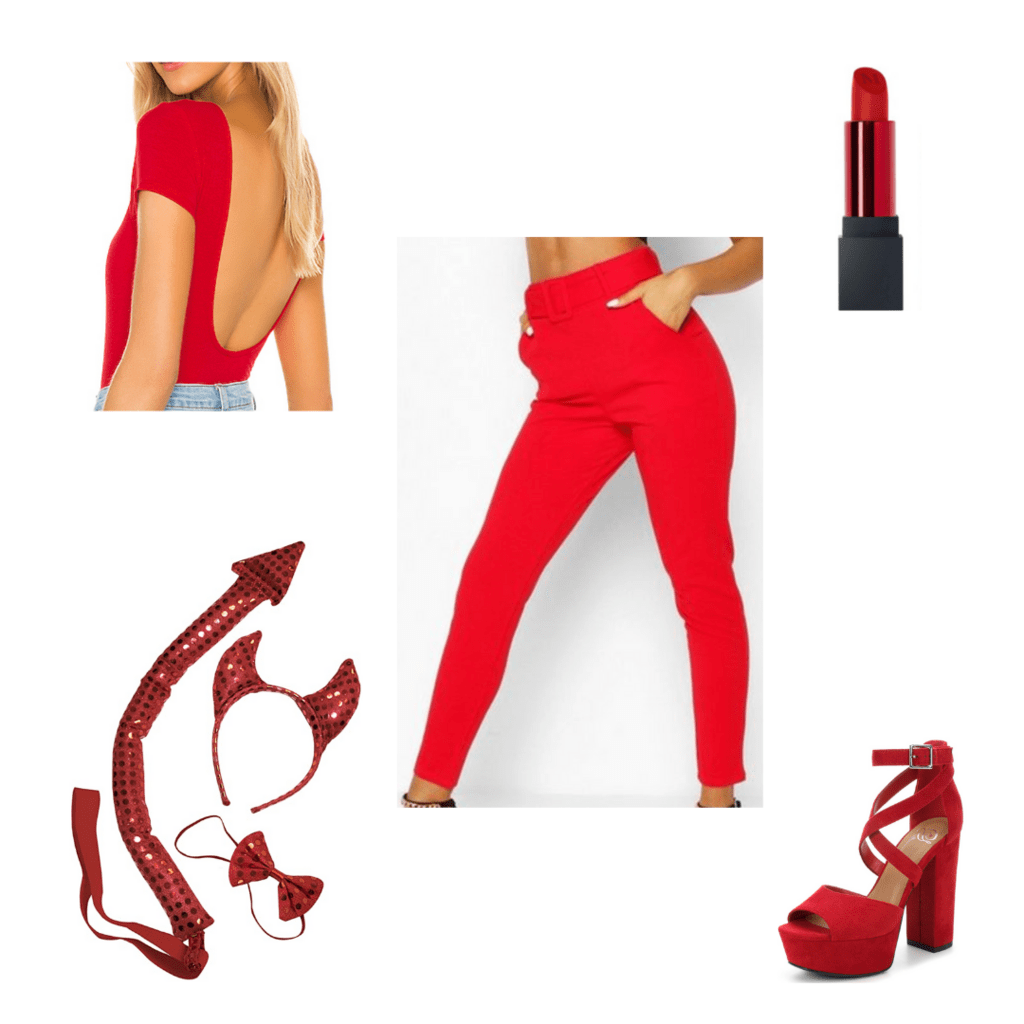 Products: Bodysuit, Pants, Shoes, Accessories, Lipstick
If you have ever been out on Halloween, you have definitely seen someone dressed as the devil.
This simple Halloween costume is super popular and is a fun idea for a costume that's guaranteed to make you stand out.
The devil costume is also easy to create using regular clothing because anything red will do the trick!
Here, I mixed a red low-back bodysuit with red pants and strappy red high heels. All of these items are easy to find if you don't have them already, or, again, you could go with a red dress to make it even easier.
Also, you can purchase a devil accessory kit to complete the costume, like this one, which comes with a sequin headband with devil horns and matching tail as well as a bow choker necklace.
You can also use some fun makeup products for this costume, such as this red lipstick, to make the outfit really come together!
Costume Idea #3 – Disney Princess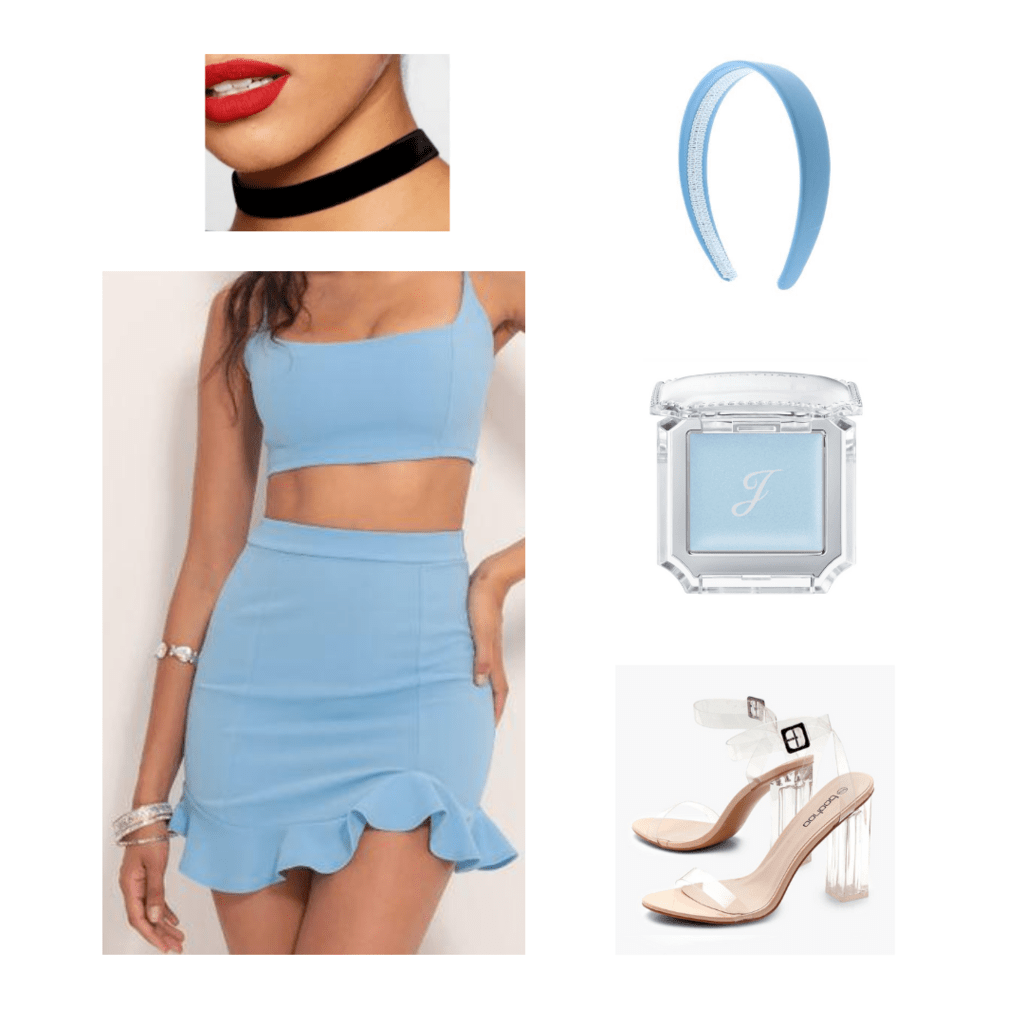 Products: Skirt Set, Shoes, Headband, Necklace, Eyeshadow
You most likely dressed up as a Disney princess when you were younger for Halloween, but this classic and simple Halloween costume can also be super cute to wear for Halloween while in college!
There are many different Disney princesses that you can choose from, so pick your favorite and get creative.
Each princess seems to have a specific color associated with them, so this makes it simple: Just find clothing items with that color and add some accessories to it, and you are good to go!
Cinderella is a very popular and adorable option for a Halloween costume that can be created using light blue clothing items.
This outfit includes a cute light blue crop top and skirt set similar to the color of Cinderella's dress. Also, this set is paired with clear heels to make you feel as though you are wearing glass slippers. (These are trendy, so keep them in your closet for parties later!)
The accessories add even more to the outfit — here I've added a matching light blue headband, similar to the hair accessory that Cinderella wore, as well as a black choker, just like her necklace.
If you want to also add to the look with makeup, you can use this pretty matching light blue eye shadow cream on your eyelids to spice up the costume even more.
Costume Idea #4 – Harley Quinn in Birds of Prey (or your favorite movie character)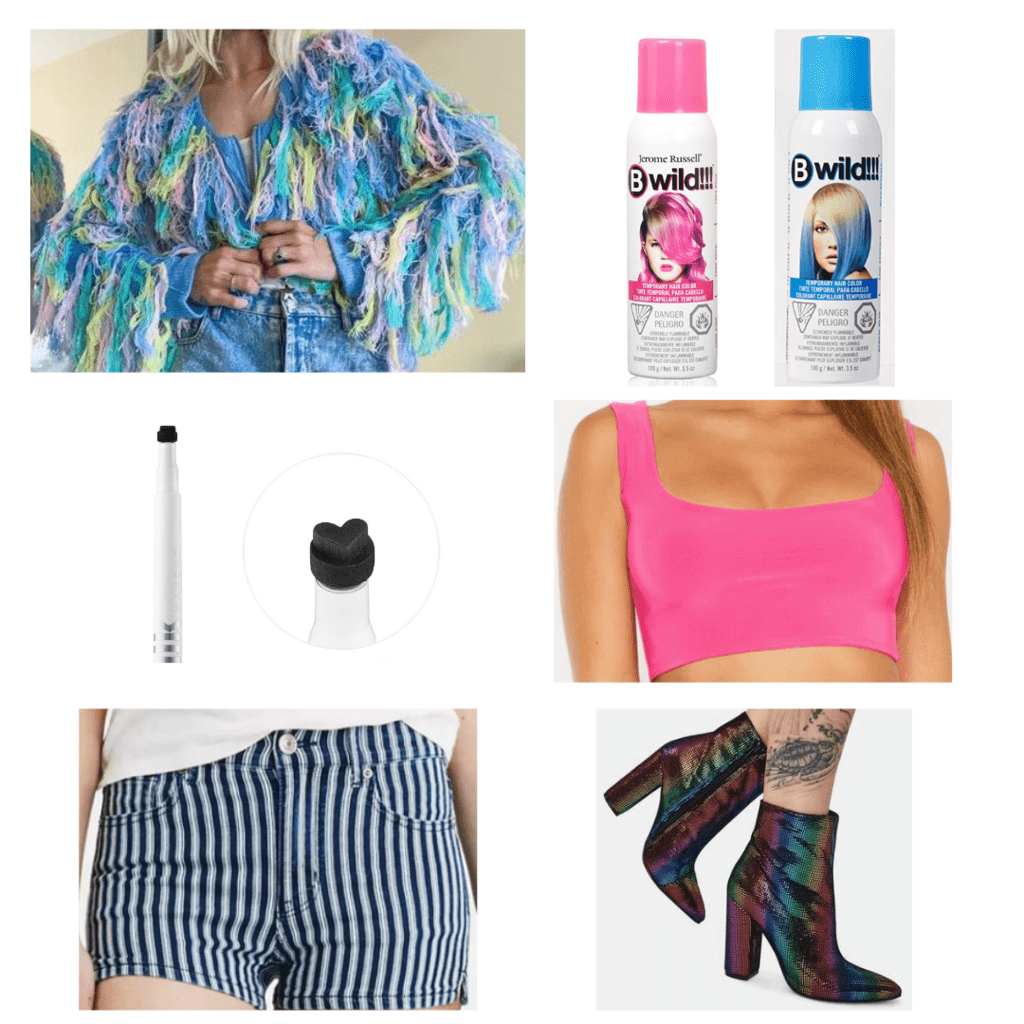 Products: Top, Shorts, Shoes, Jacket, Hair Dye, Heart Tattoo Stamp
Dressing up as a movie character for Halloween is also another really popular and simple Halloween costume and will be great to wear for Halloween while in college.
The Harley Quinn movie, Birds of Prey, came out in 2020, so I think it's a perfect choice for this year's Halloween.
Harley Quinn's outfits are always very colorful and over the top, especially in this movie, so mix a few items up and spray your hair to get the Harley look.
This outfit pairs a hot pink crop top with striped shorts and colorful boots, which resembles one of her main outfits from the movie. Also, it includes a colorful jacket very similar to the one she wore. The jacket is key to the look, so if you only want to buy one thing, make this it!
You can look even more like Harley Quinn by adding this pink and blue temporary colored hair spray to your hair and use the stamp to add a cute heart to your face like she always has in the movie.
Costume Idea #5 – Ariana Grande (or your favorite pop star)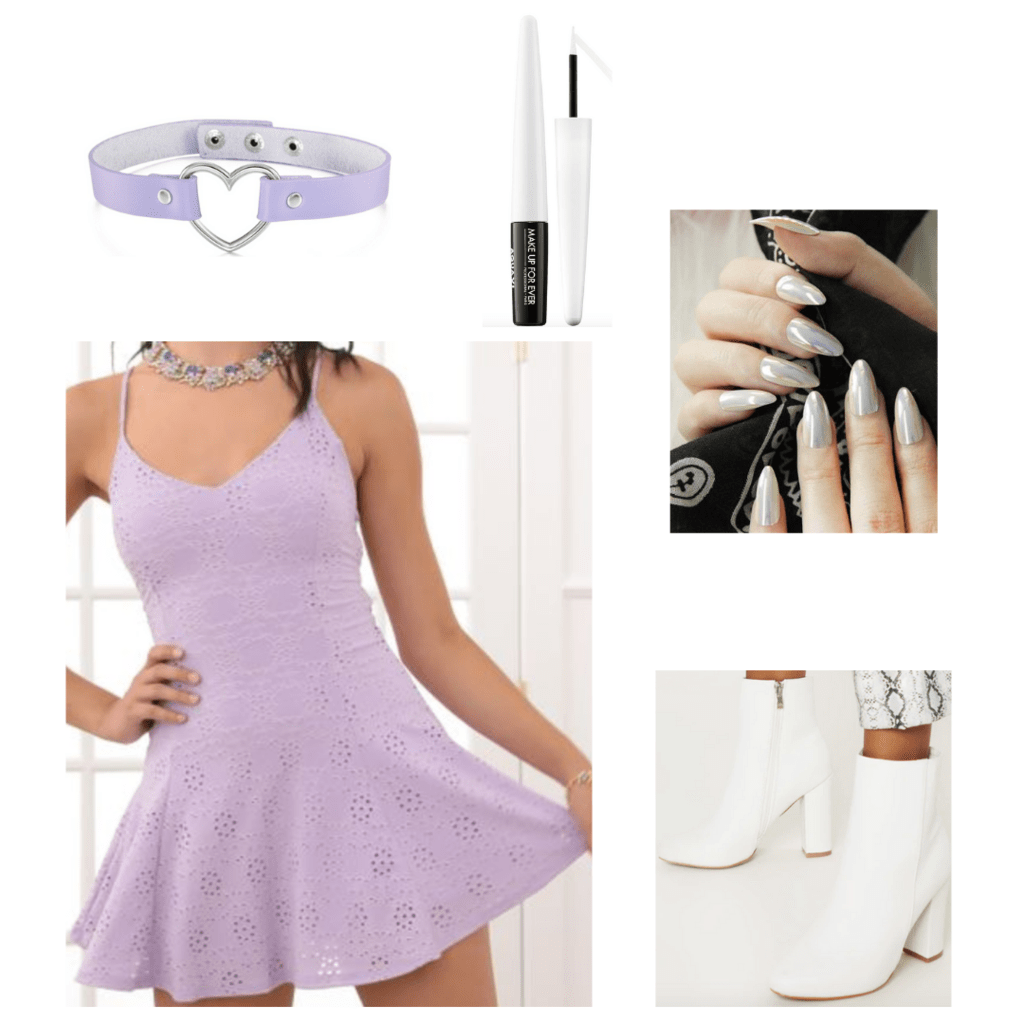 Products: Dress, Shoes, Necklace, Eyeliner, Nails
Another classic and simple Halloween costume that you most likely have seen before is a singer or pop star.
If you have a favorite singer, you can dress up as them for Halloween using regular clothes by trying to get one of their looks from their music videos, album covers, etc.
There have been several new music video releases this year making it very easy to come up with a costume to make for this Halloween.
Ariana Grande had an iconic outfit look in the music video for the song, Rain on Me, which you can replicate for Halloween with this outfit.
This costume pairs a cute lilac dress with white boots, similar to the outfit that Ariana wore in the music video. Also, she paired her outfit with a purple choker, so this outfit includes a cute purple choker as well to match the outfit.
Also, you can get even more creative by doing your makeup as she did for the music video with this white liquid eyeliner around your eyes. Lastly, she had long silver nails in the music video, so you can add these silver fake nails to complete your costume.
Costume Idea #6 – Blair Waldorf (or your favorite TV character)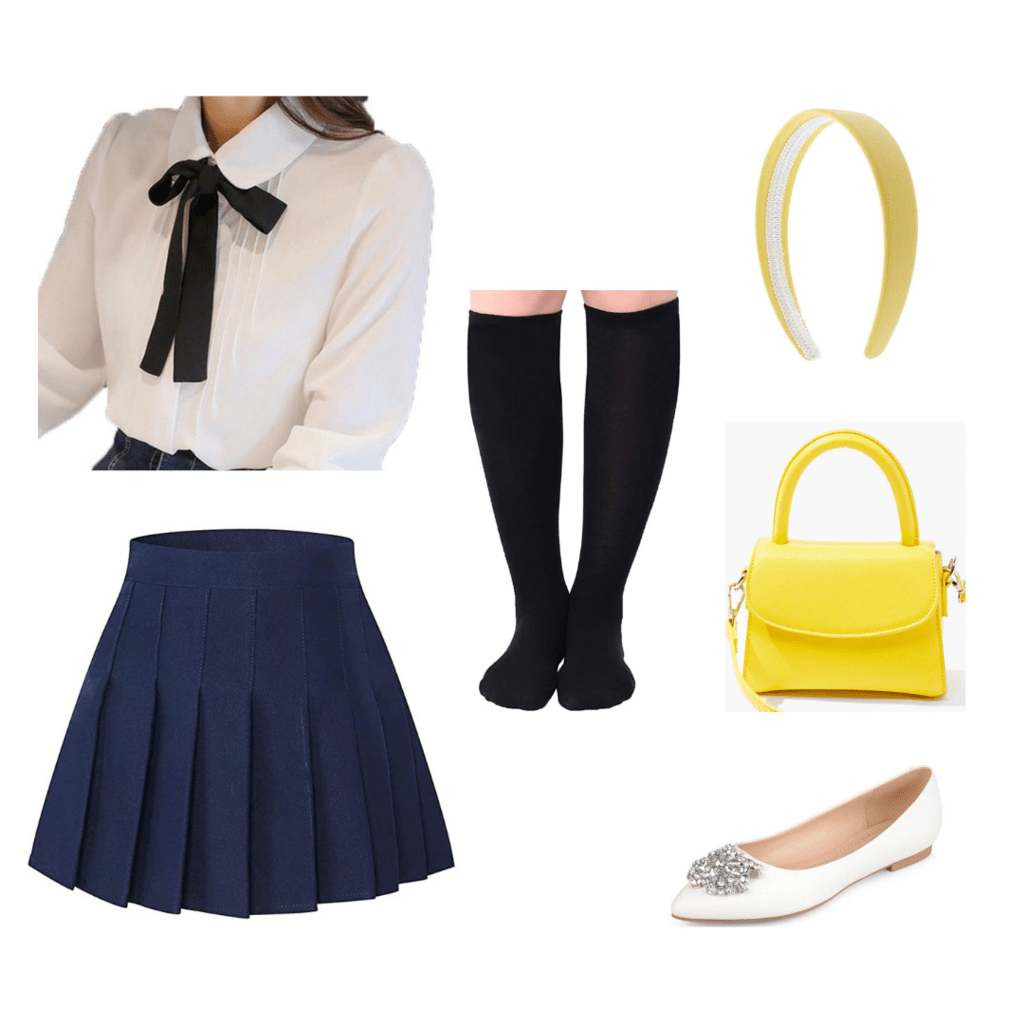 Products: Top, Skirt, Shoes, Socks, Headband, Purse
TV show character is another simple Halloween costume that gives you a fun way to show off your personality! (It's also a great conversation-starter.)
If you love fashion, you are probably familiar with the TV series Gossip Girl.There are many characters that you could dress up as from the show, but a common favorite is Blair Waldorf.
Therefore, if you would like to dress up as her for this Halloween, you can wear this outfit as your costume! It pairs a white blouse with a bow and a pleated skirt with white flats, which looks almost identical to one of her outfits she wore for the TV show.
Also, it includes high knee socks and a headband, which she wore often in the show.
Blair never forgot a cute bag to go with her outfits, so the costume also includes a yellow purse that matches the headband, so you really will look like Blair Waldorf for this Halloween!
Which of these simple Halloween costume ideas are you going to try?
Which one is your favorite? Which products are you going to purchase to make your costume? Do you already own some of these items? Where are you going to wear these looks on Halloween?