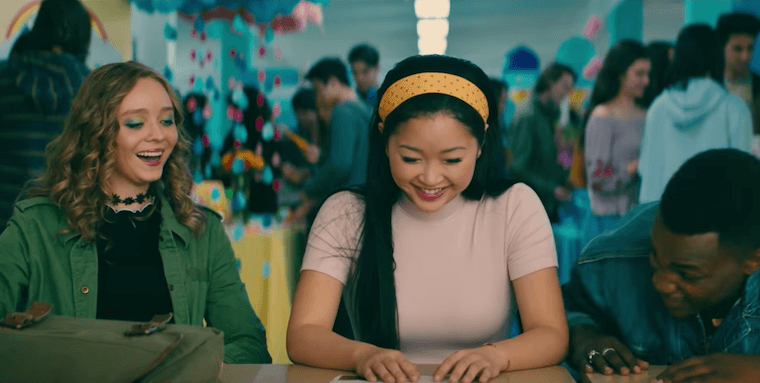 If you've seen or read To All The Boys I've Loved Before, you already know how iconic Lara Jean's outfits are. The film's sequel, P.S. I Still Love You, (out on Netflix right now), has even more fashion inspo for fans.
Actually, if you ask me, the outfits in the sequel are even better than those in the original.
In the book, Lara Jean's style is described as "granny meets little-girl chic" and "Lolita went to library school." The films stay true to this, in a modern, cool way.
It's my current life goal to channel Lara Jean's style and honor her as the fashion icon she is. So, I thought I'd put together some get-the looks for our fave Lara Jean outfits in PS I Still Love You.
1. Bingo Outift
This is definitely one of my favorite looks from the film. I am in love with that bomber jacket!
LJ always looks put-together even while wearing simple pieces. She wore this ensemble while volunteering to help with bingo at Belleview. Somehow even at a retirement home she still looks ready for a photoshoot.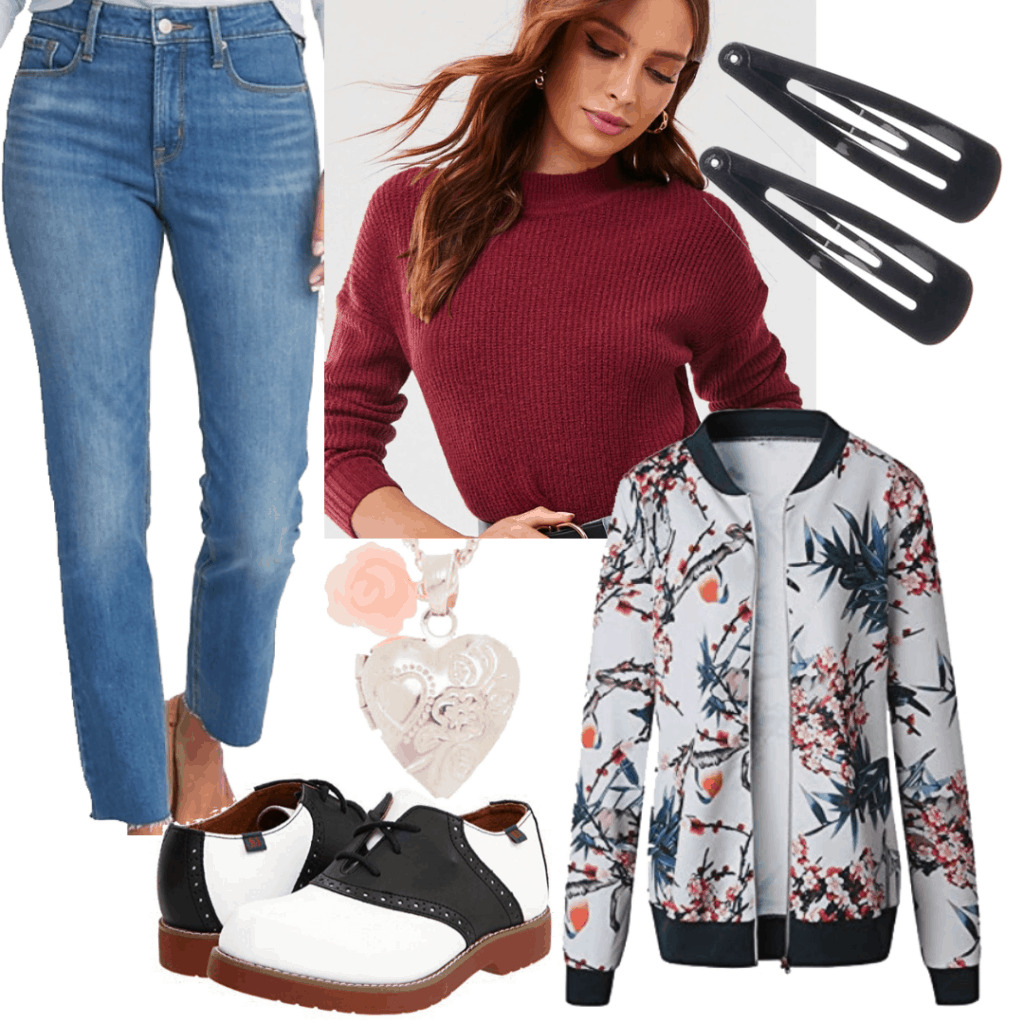 Products: Red Sweater – Forever 21, Jeans – Old Navy, Bomber Jacket – Amazon, Locket – Icing, Black and White Oxfords – Zappos, Clips – Icing
Sadly the bomber jacket used in the movie is no longer available, although I did find a pretty close dupe for it on Amazon. In the outfit above, I used another Amazon bomber jacket in a different color for a similar vibe.
This is one of my favorite outfits, ever. I am so tempted to go buy these oxfords and the bomber jacket right this second. so I can wear this combo at least once a week.
2. Jung Outfit
This outfit marks a pretty important moment in the movie. (Of course, it's super stylish, even though it's a lazy day look!)
One of my favorite things about this second film is that it focuses more on Lara Jean and her growth throughout instead of just her relationship with Peter. I don't want to give away any spoilers but this was a key growth moment for Lara Jean.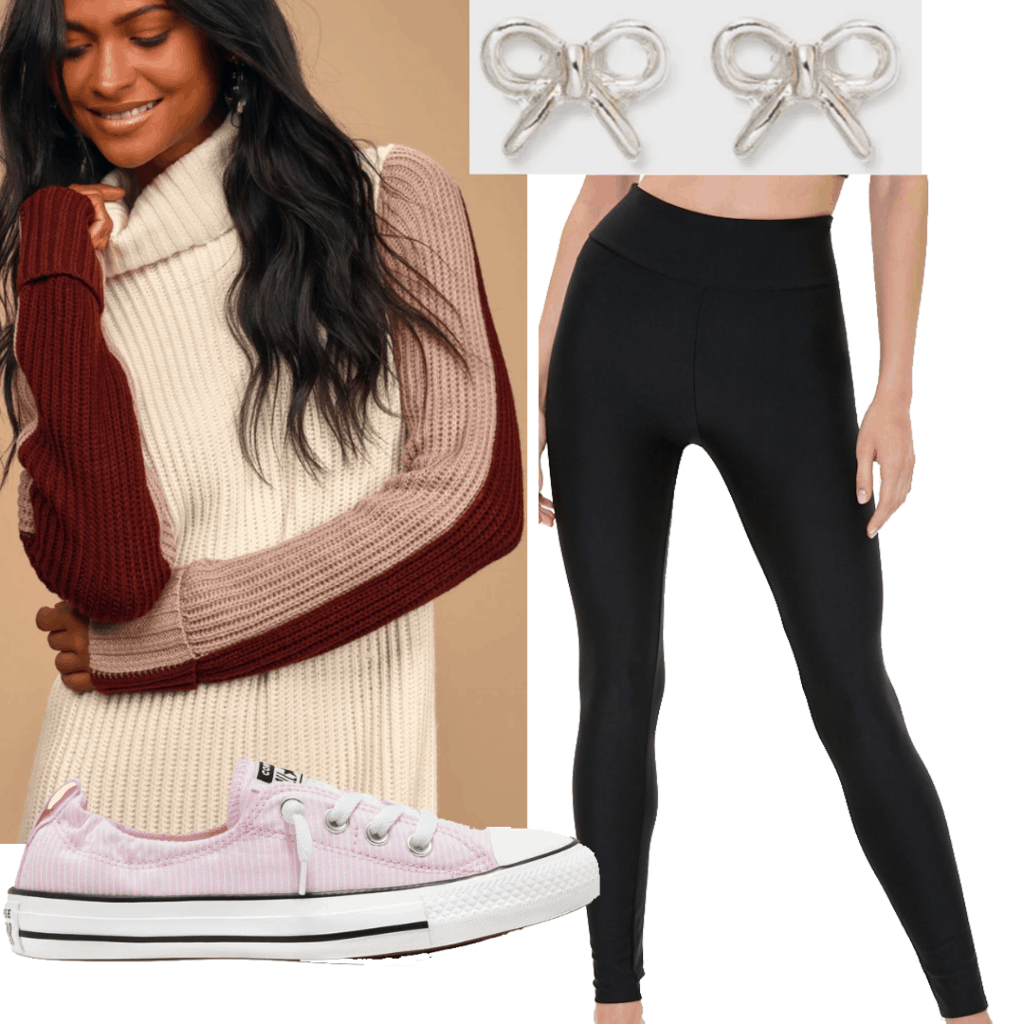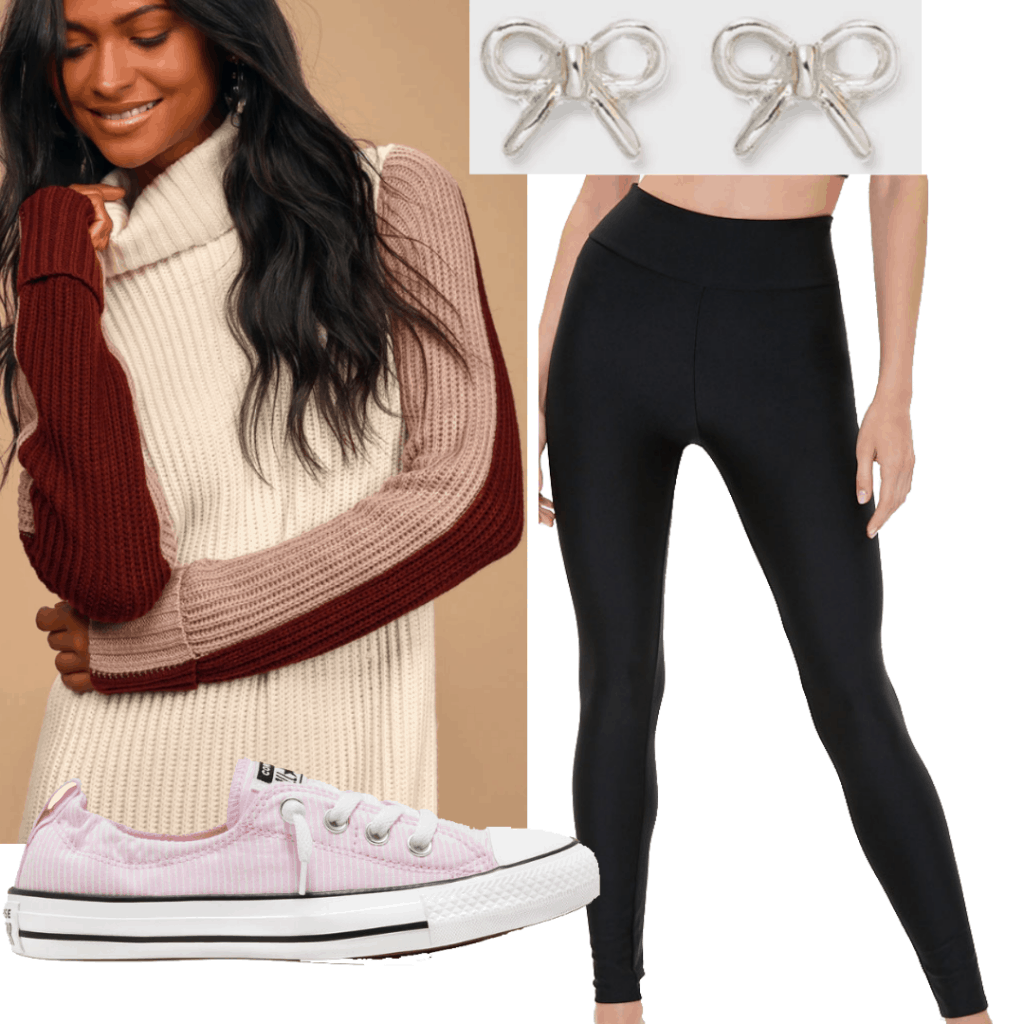 Products: Color-block Sweater Dress – Lulu's, Pink Sneakers – Converse, Black Leggings – Forever 21, Bow Earrings – Target
This outfit is making me want to curl up on my couch with a good book. It looks so comfy, not to mention I'm a sucker for a sweater dress.
There are only a few pieces in this outfit but it still works so well! I also feel like those bow earrings could go with basically everything.
3. Valentine's Day Outfit
After seeing this heart print dress I'm already missing Valentine's day. This was a really cute scene in the movie and it had a cute outfit to match Lara Jean's sweet V-Day moment with Peter.
In the video below, the costume designer for the film, Lorraine Carson; along with Lana Condor, who plays Lara Jean; and the author of the series, Jenny Han; talk about the importance of this dress for maintaining Lara Jean's style in the series.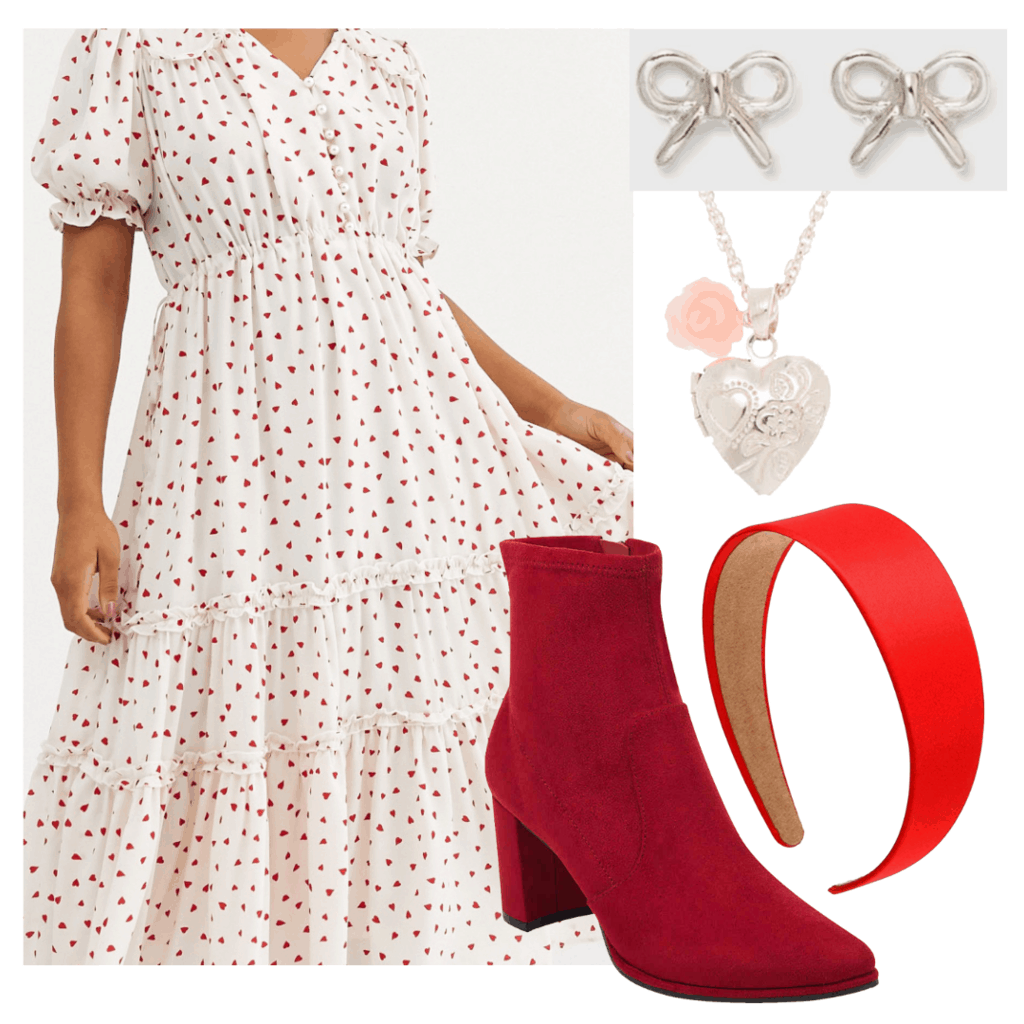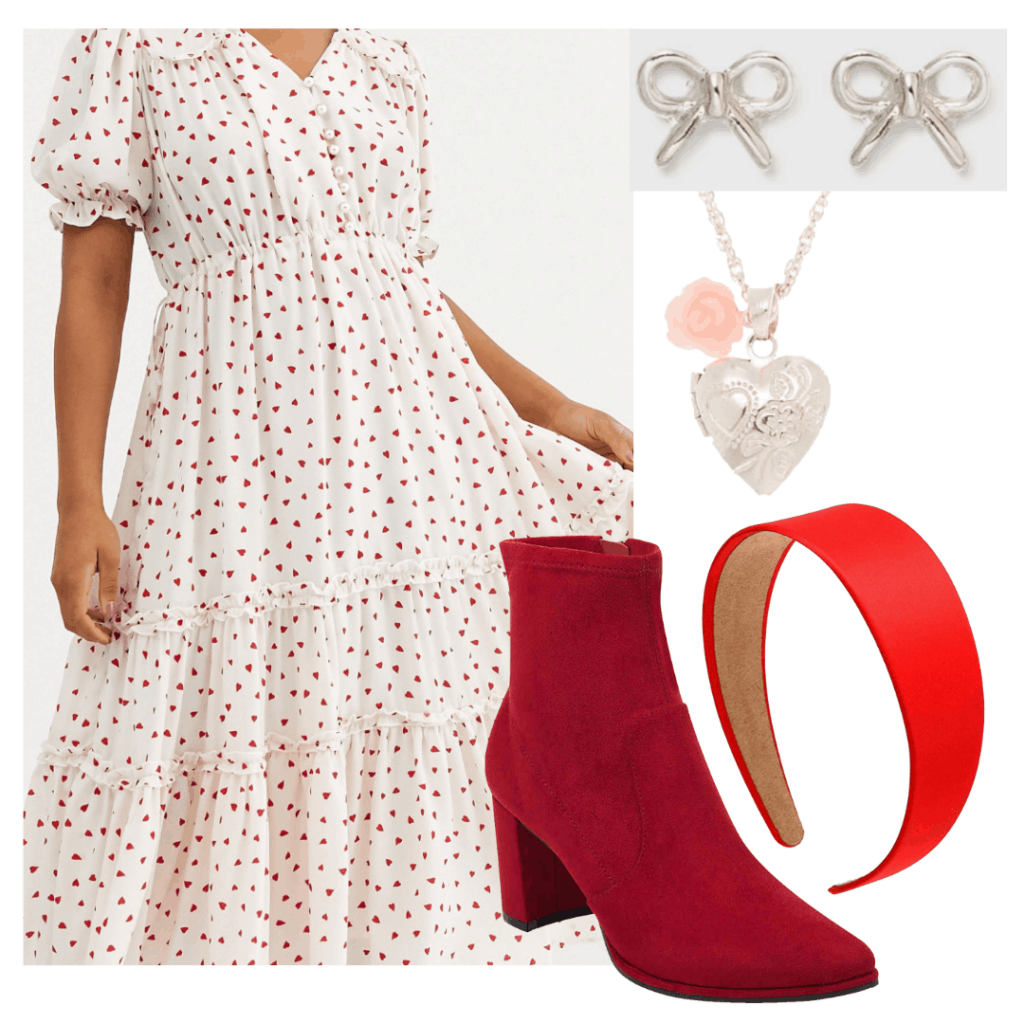 Products: Heart dress – ASOS, Red boots – Designer Shoe Warehouse, Red headband – Amazon, Locket – Icing, Bow Earrings – Target
The original dress used in the film is expensive and sold out, but this dupe from ASOS is just as cute and a little more versatile. I also really like the red boots and the red headband. I think they bring the whole outfit together.
Of course, this wouldn't be a complete Lara Jean look without the girly accessories, like the locket and earrings.
4. Star Ball Outfit
It seems only fitting for the last outfit set to be based on the last outfit in the movie, and one of the most gorgeous looks in any recent film period.
In the film, Lara Jean wears this iconic aqua blue J. Mendel dress. She accessorizes with star themed clips befitting the Star Ball. Altogether this outfit is classy, elegant, and timeless; just like Lara Jean.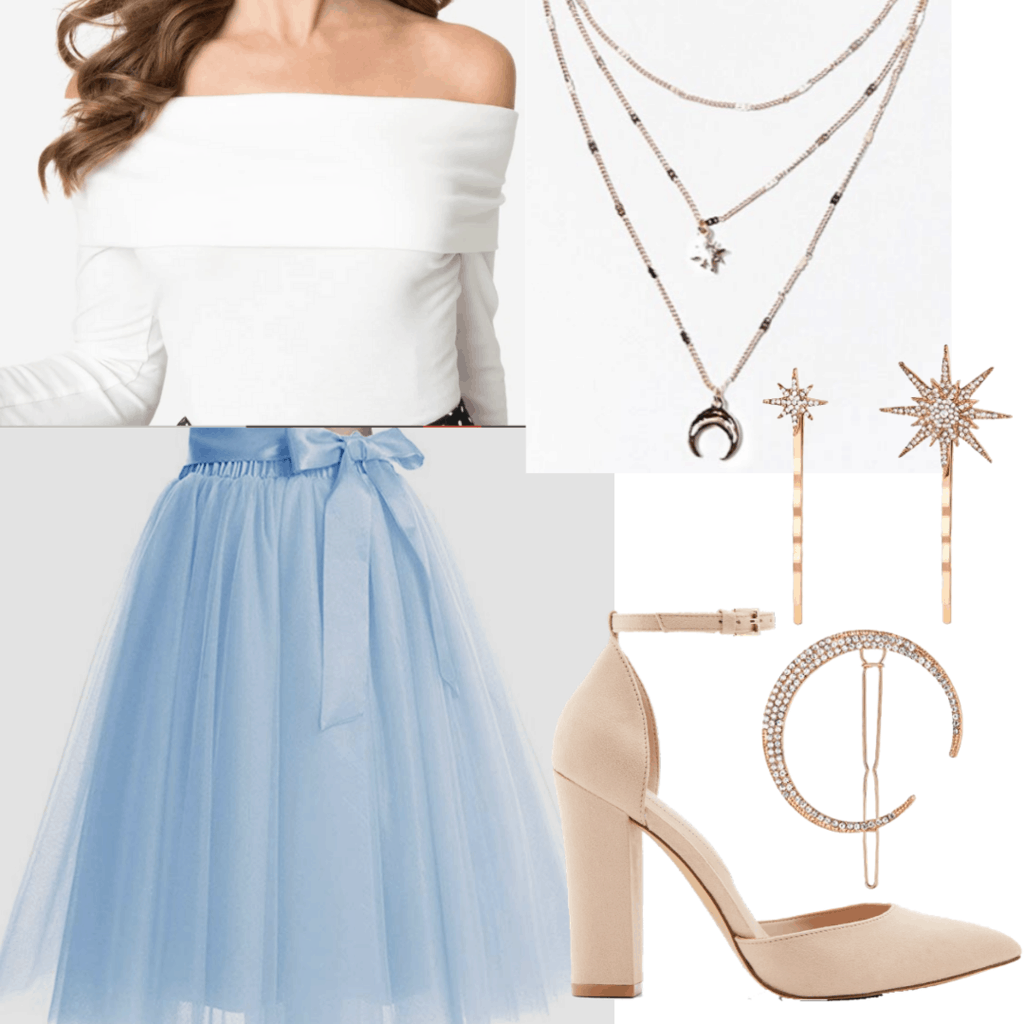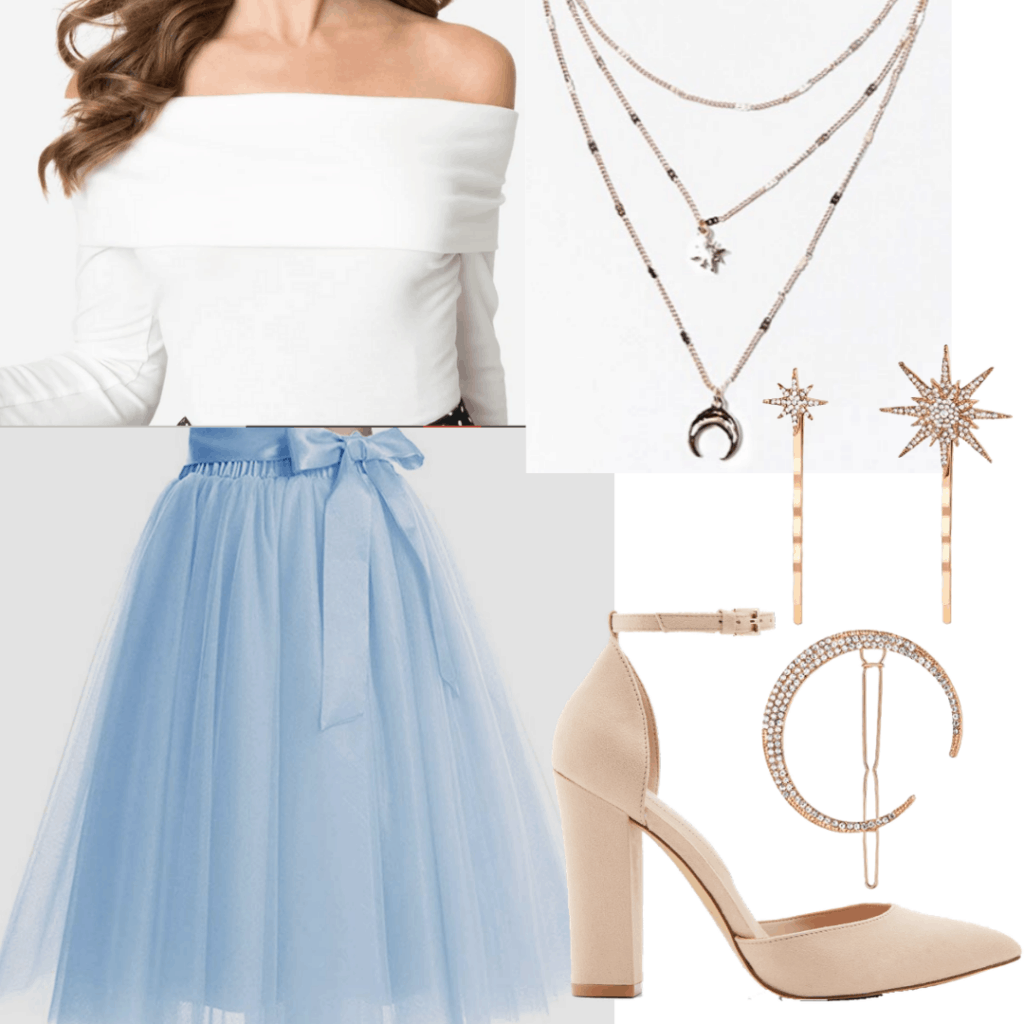 Products: White Off-shoulder Top – Unique Vintage, Blue Tulle Skirt – Amazon, Beige Heels – Aldo, Star Necklace – Forever 21, Star Hair Clips – Amazon
For our Star Ball outfit, I wanted to do a look that still had glam and vintage elements, as seen in the film, but was slightly less formal.
This light-blue ballerina skirt is incredibly romantic. To round it out, I paired it with the same shoes used in the film and found a few star accessories to tie in the star ball theme.
If I ever have the chance to attend a formal dance, even if it's just at a local retirement home, I'm definitely going in this outfit.
What do you think of Lara Jean's outfits from P.S. I Still Love You?
What's your favorite Lara Jean outfit from PS I Still Love You? Are you team Peter or team John? What did you think of P.S. I Still Love You? Tell me everything in the comments section down below.