This post may contain affiliate links, which means we may receive a commission if you purchase through our links. Please
read our full disclosure here
.
Chloe Sevigny, Mischa Barton, Vanessa Hudgens, and even Lil' Wayne are in on the trend.
True life: I'm one of those extreme leopard print gals. Belts, shoes, coats, underwear, dresses, you name it — if it comes in leopard print, I own it. So that's why I was excited about the return of a particular fashion trend… leopard pants.
This isn't the first time the world has seen leopard print pants. I wasn't around for their mid-eighties hair band heyday, but I was around to pick up a velvet pair of leopard bellbottoms from Limited Too at the tender age of 10. I LOVED those things — as in, I'd wear them to elementary school at least three times a week. (I'm sure my mother was mortified.) I would seriously roam the playground in leopard pants, with a leopard Lisa Frank trapper keeper, a leopard scrunchie, and one of those awful fuzzy pink sleeveless mock turtlenecks. So fly.
Eventually (and thankfully) I grew out of that pair — but to my delight, leopard jeans are one of this season's wildest trends to try! A favorite with street style blogs and celebrities, even LMFAO gives a shout-out to these babies in their latest hit, "Sexy and I Know It".
But as with any new trend, getting a feel for how to style these pants can be a little tricky. Don't worry, fair readers, we're here to help.
Tips and Tricks for Rocking Leopard Print Pants
Remember that leopard print is aneutral. Leopard pants will look great with any solid colored top you might have!
Because these pants are neutral, don't be afraid to mix prints with these babies! Stick with simpler prints (like stripes) to be safe, but don't be afraid to rock plaid or polka dots if you're feeling really bold!
Skinny jeans are probably the easiest way to rock this trend, but I've seen some cool looking leopard-print harem pants and trousers too.
Consider the print itself. I bought this pair from Forever 21 because the leopard spots and background are similar shades, which tones down the look of the pant. If you crave a bolder look, check out styles with larger leopard spots or a lighter background.
Dress them up with heels, a chic top, and chandelier earrings!
These pants are perfect for casual wear as well, especially if you go for a more toned-down pair. Dress them down with a chunky sweater, Converse All-Stars, and a beanie!
Try leopard pants out with a graphic tee for a playful, rocker chic look.
This is obvious, but don't wear these pants with other leopard pieces or another animal print unless you're feeling really bold — pairing these prints can look too costume-esque.
Wear with confidence! I LOVE wearing these pants out because almost everyone comments on them — guys think they're hilarious and adorable, and girls congratulate me for having enough guts to wear them.
Outfit Inspiration
Campus Casual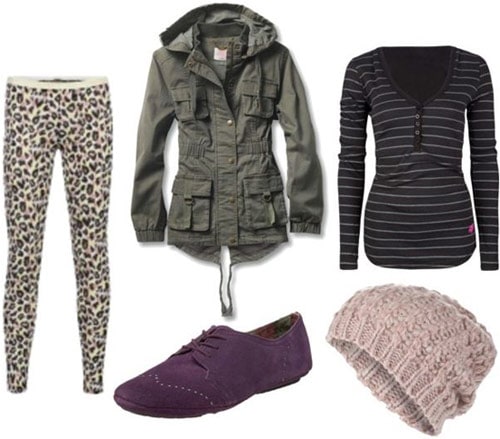 Pants, Jacket, Henley, Shoes, Beanie
An outfit like this is perfect for strolling across campus and stomping through leaf piles! Stripes and leopard print are a bold pairing, but tone the look down with a trusty military parka. Finish with basic shoes and a warm beanie!
Out on the Town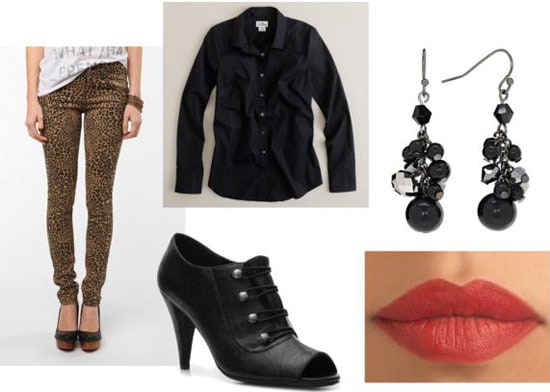 If you're still a bit unsure on this trend, try pairing leopard jeans with a simple black top for a night out. Add a kick-ass pair of heels, glamorous earrings, and red lips to dress the look up!
A Little Bit Rock and Roll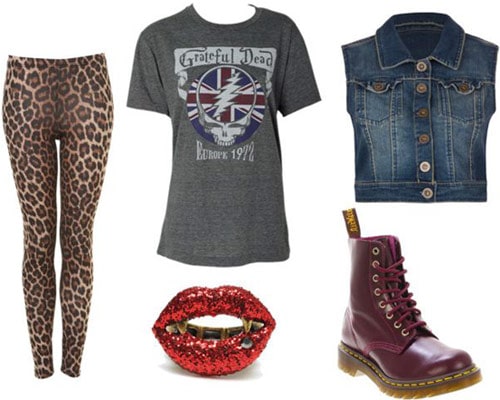 Leggings, T-shirt, Vest, Ring, Combat Boots
Warning: an outfit like this is NOT for the faint of heart, which makes it perfect for daring CF readers! Its '80s aesthetic is sure to garner plenty of attention, so the trick is to rock the look with confidence. Throw on an oversized concert tee with a pair of leopard leggings or pants, and top with a denim vest. Finish the ensemble with a pair of combat boots and some tough-looking jewelry.
Street Style Chic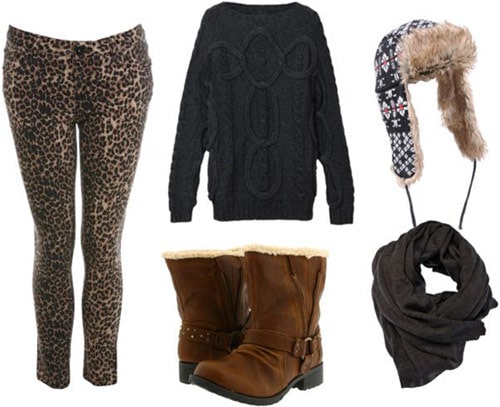 Pants, Boots, Sweater, Hat, Scarf
An oversized sweater or boyfriend sweater is another great piece to pair with leopard pants. Tall boots might be too much with printed pants, but mid-calf boots strike the perfect balance. Finish the look with a warm scarf and fun trapper hat.
What Do You Think?
Do you feel more comfortable with this trend after reading this post? Do you have a pair of leopard pants, or are you going to skip this trend? What other trends are you having trouble with? Leave a comment and tell us what you're thinking!