This post will show you how to style summer dresses, with 11 outfit ideas and the best summer dresses under $100.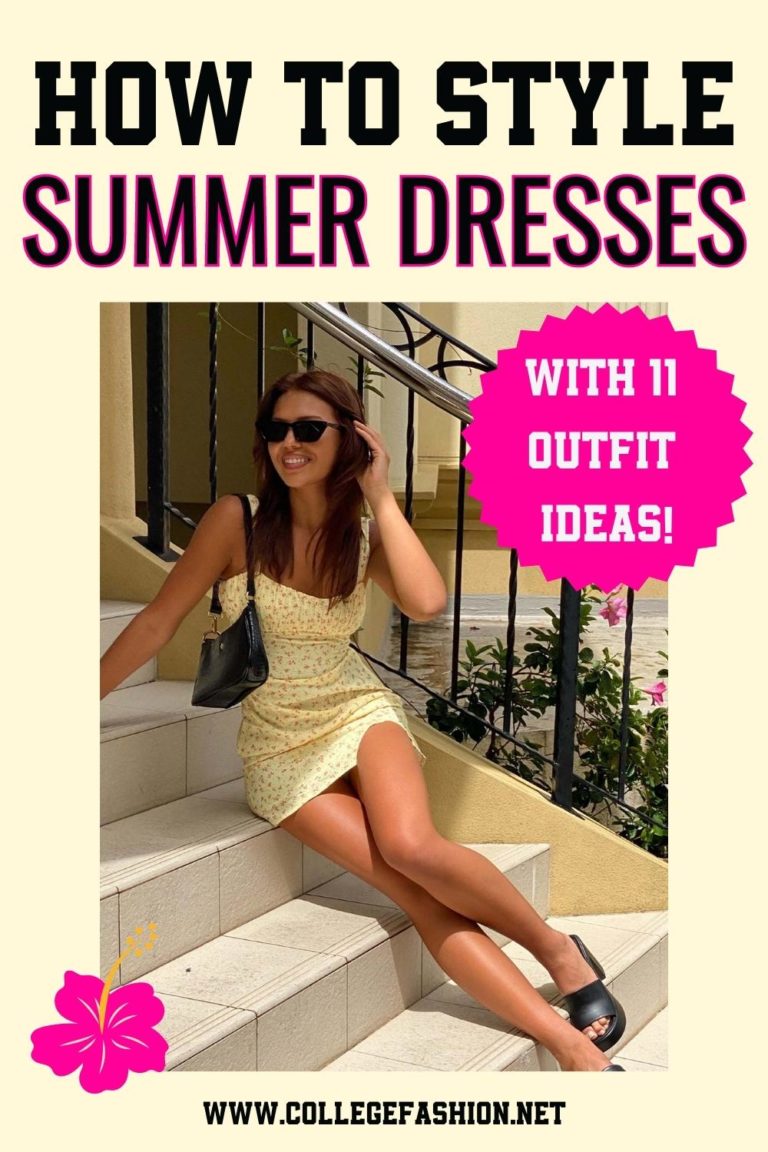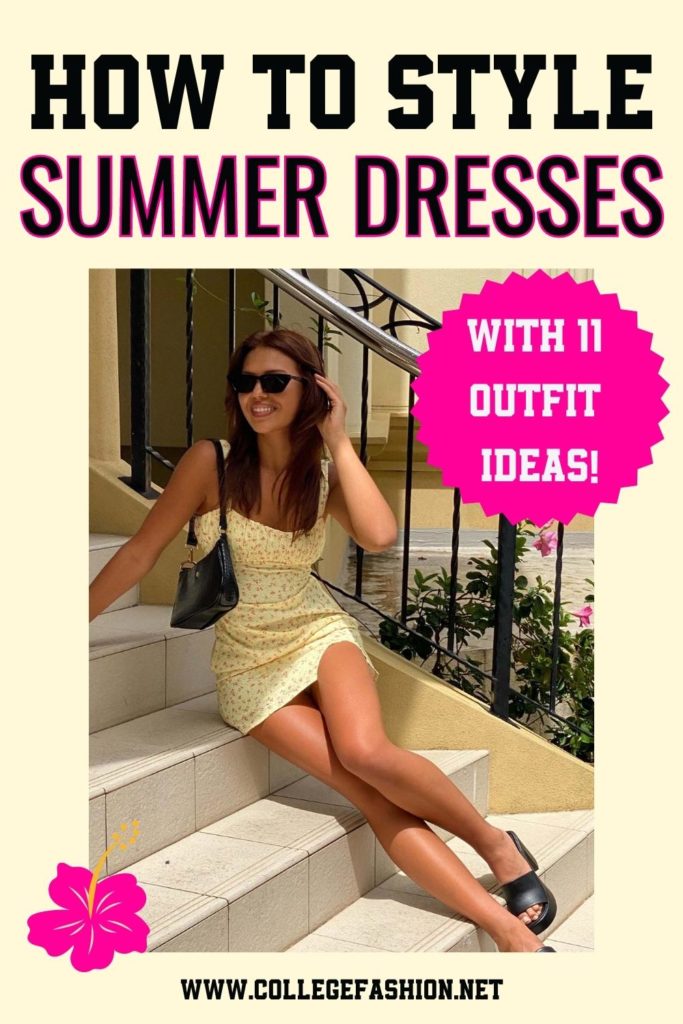 As soon as the summertime hits, out come the summer dresses. And for good reason!
I love summer dresses because they make getting dressed so easy—instead of worrying about what top matches with what bottoms, just throw a dress on, and you're all set. Plus, even the most casual of dresses still make you look put-together (especially compared to shorts).
And let's face it: the less time you need to spend on your outfit, the more time you can spend doing all the fun summer activities you've been waiting for all year! So to make things easy for you, I've rounded up some of the cutest summer dresses under $100 and will be showing you how to style them, with 11 outfit ideas you can wear all season long.
How to Style a Floral Print Dress for Summer
What could be more summery than a floral print mini dress? Now is the time to pull out your printed, colorful frocks and wear them as often as you like. That's the great thing about summer dresses: you can wear them from day to night, whether you're brunching, shopping, hanging out with friends, or going out at night.
This floral print mini dress features feminine details like a gathered bust and small slit, and its cheery yellow hue is perfect for the summer. You can wear it with flat or heeled sandals, but can also style it more casually with some low-profile sneakers, which are ideal if you're going to be doing a lot of walking.
Accessorize the look with summer-ready accessories like a straw baguette bag and a beaded pearl necklace.
How to Style a Color-Block Dress for Summer
In addition to playful prints, summer fashion is all about bright colors, and opting for a color-blocked dress will give you maximum impact.
Color-blocking, which involves mixing two or more contrasting colors in one design, is a stylish way to stand out from the crowd this summer. This color-blocked bodycon dress comes in a bunch of fun color combinations and features a front cut-out for extra trend appeal.
Wear it casually with flat sandals, or dress it up for dinner and drinks with heeled mule sandals and a matching handbag. Because the dress is so bold, you won't have to worry about too many accessories; a pair of twisted gold hoop earrings are the perfect complement to the ensemble.
How to Style a Tube Dress for Summer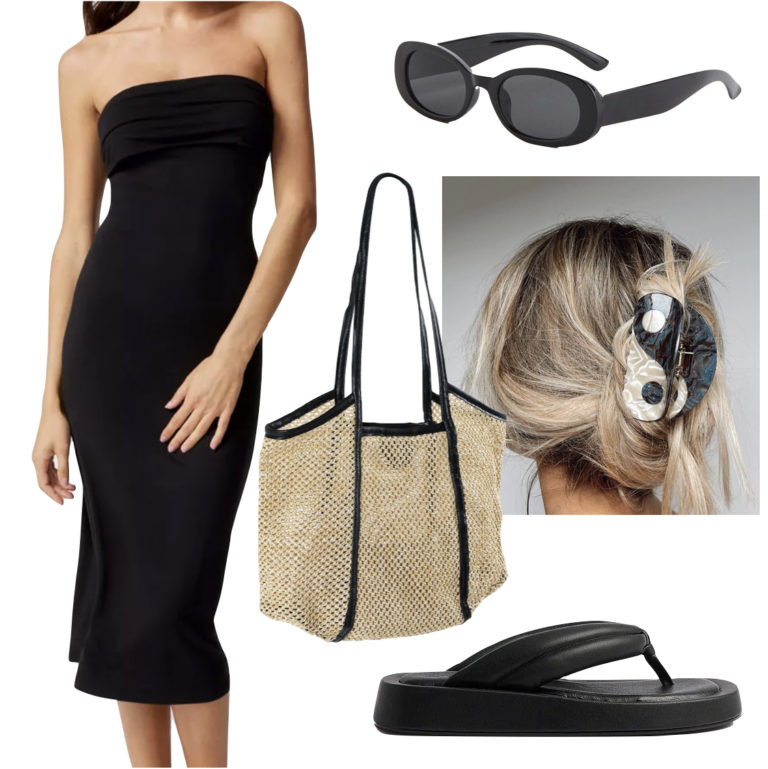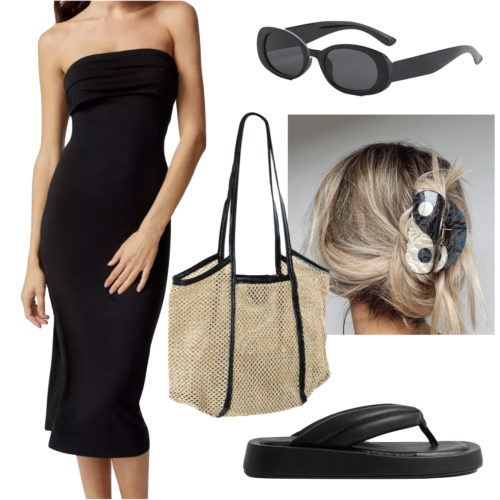 Products: Dress, Sunglasses, Bag, Hair Clip, Sandals
Strapless or "tube" dresses are a big trend this summer, and I love how effortless they are. This stretchy convertible dress is multi-functional and can also be worn as a maxi skirt, making it a worthy wardrobe investment.
For a chic, effortless look, style it with some faux leather quilted thong sandals and a pair of classic oval sunglasses (these are giving me total Sofia Richie Grainge vibes).
A woven tote bag makes for the perfect summer accessory, and this one features contrasting faux leather straps for a polished look. If you're heading out on a hot summer day, throw your hair up in a cute hair claw, like this Yin Yang clip.
How to Style a Crochet Dress for Summer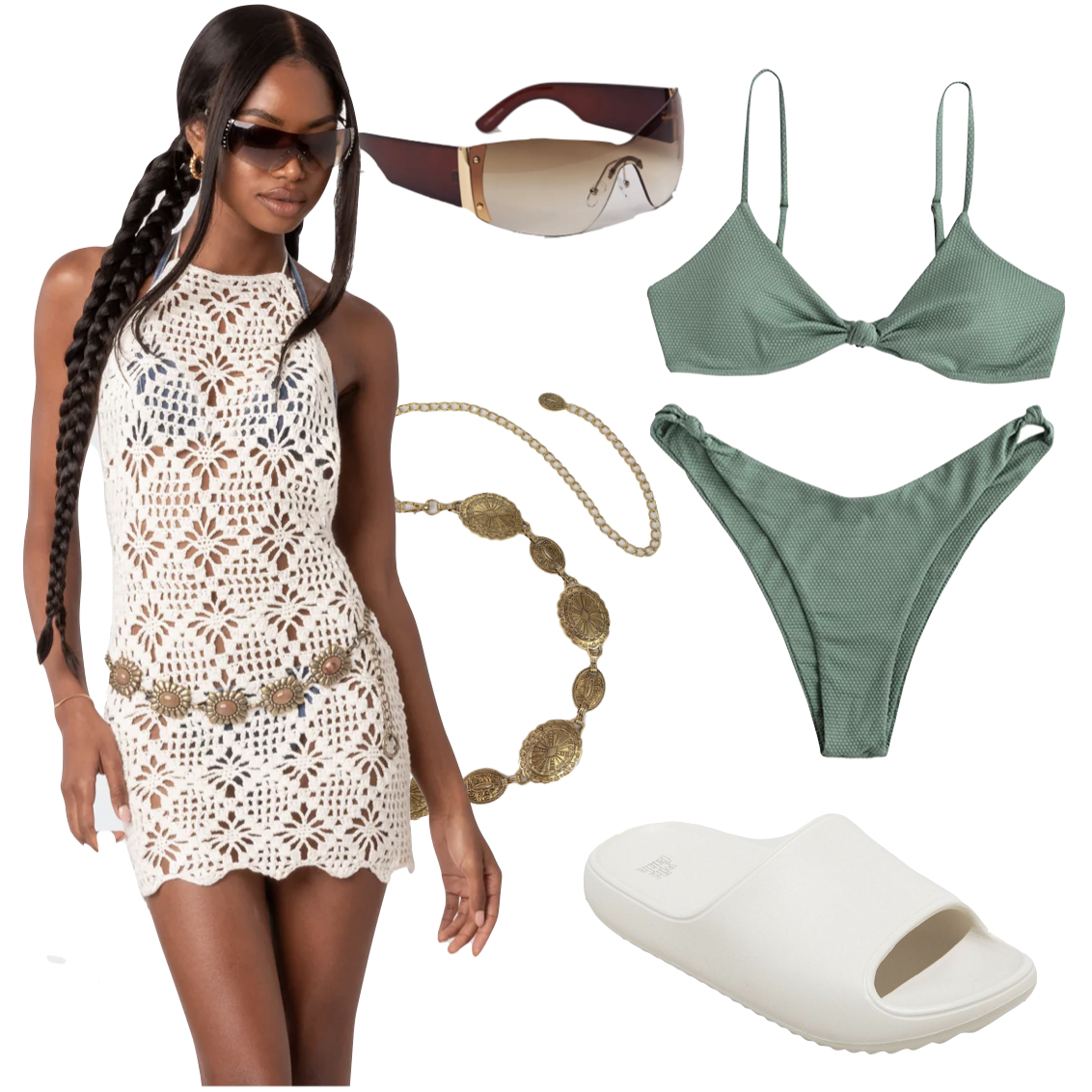 Products: Dress, Belt, Sunglasses, Bikini Set, Sandals
Crochet is arguably one of the best materials to wear as a swim cover-up, and luckily, it also happens to be a massive trend this season.
Embrace this summery fashion trend by wearing a crochet halter dress with an open back as your cover-up over your swimsuit, like this high-leg bikini set that comes in over 20 different colors.
Go the extra style mile with Y2K-inspired accessories like a pair of rimless shield sunglasses and a metal pendant belt, plus some plastic slide sandals that are water-resistant, making them a must-have for the beach or pool.
How to Style a Going Out Dress for Summer
If you want to have a Hot Girl Summer, you're going to need a Hot Girl Dress, like this cut-out bodycon mini dress with a trendy rose appliqué.
The cut-out detail is perfect for showing off your tan, while the 3-D floral detail is very on-trend this season. Give the dress a '90s feel by wearing it with some thong mule sandals with kitten heels; this pair has moto-inspired silver buckled straps for added flair.
Since the outfit is mostly black, give it a pop of color with a fun, pink sequin baguette bag, along with some chunky silver teardrop earrings (which are a dupe for the ultra-popular Bottega Veneta earrings).
How to Style an Athletic Dress for Summer
Not all dresses have to be girly, fancy, or reserved for dressy occasions: athletic dresses are perfect for everyday wear in the summer, even if you're just running errands rather than hitting the gym or trail.
This active mini dress has built-in shorts with a hidden cellphone pocket that is majorly convenient. Keep with its sporty vibe by styling it with athletic sneakers and a belt bag worn crossbody-style. (Lululemon's "Everywhere" belt bag is a great option.)
Not only is a cute baseball hat going to bring the look together (and save you from any bad hair day), but it's going to shield your face from the sun if you're taking a Hot Girl Walk, and we all know how crucial that is (in addition to SPF, of course).
How to Style a Dress for Summer Vacation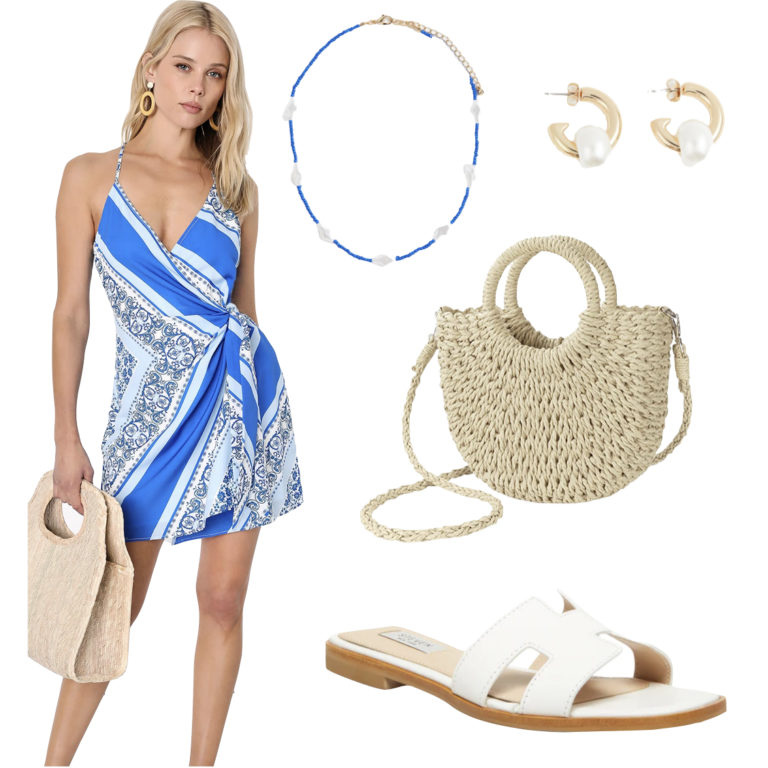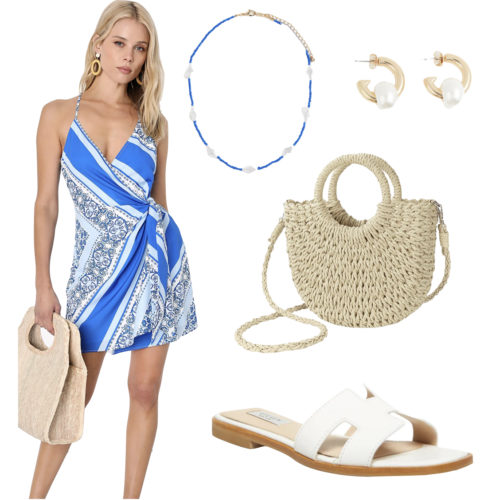 Products: Dress, Necklace, Earrings, Bag, Sandals
Got summer vacation plans? If you're heading somewhere beachy, lightweight dresses will be your BFF. They're easy to pack and will hardly add any weight to your luggage, plus they can be dressed up or down, making them ultra-versatile.
Thanks to its wrap-style silhouette, vibrant scarf print, and lightweight woven fabric, this mini dress was practically made for summer vacation.
If you're sightseeing during the day, pair it with some white low-top sneakers. For the evening, swap your sneakers out for some flat white slide sandals that will match plenty of other outfits in your suitcase, and accessorize with a beaded necklace and some cute earrings.
A straw crossbody bag is going to add to the summery vibe while also being functional.
How to Style a Coastal Cowgirl Dress for Summer
The hottest aesthetic of Summer 2023? Coastal Cowgirl, which blends the beachy Coastal Grandmother aesthetic with western-inspired pieces.
Get in on the trend with a white eyelet mini dress that has a fitted bodice and a swingy, tiered mini skirt.
While this dress would look adorable with sandals, go the Coastal Cowgirl route with some western boots and a straw cowboy hat. Accentuate the dress's feminine sweetheart neckline with a rope necklace featuring an oversized heart pendant.
P.S. — this outfit would be perfect for a summer concert!
How to Style a Summer Wedding Guest Dress
Heading to a wedding this summer? You'll want to pick a pretty yet lightweight dress to beat the heat! Consider a silky or satin dress, like this floral print satin midi dress. Its floral print gives it a summery look (and most importantly, it's not white).
Style it with some neutral-colored platform sandals—a platform heel is usually more comfortable than a stiletto, which is key if you're hitting the dance floor.
Add in some round gold hammered statement earrings and a chic, structured clutch bag with a marbled finish and a faux stone shoulder strap that will make you the best-dressed wedding guest.
How to Style a Maxi Dress for Summer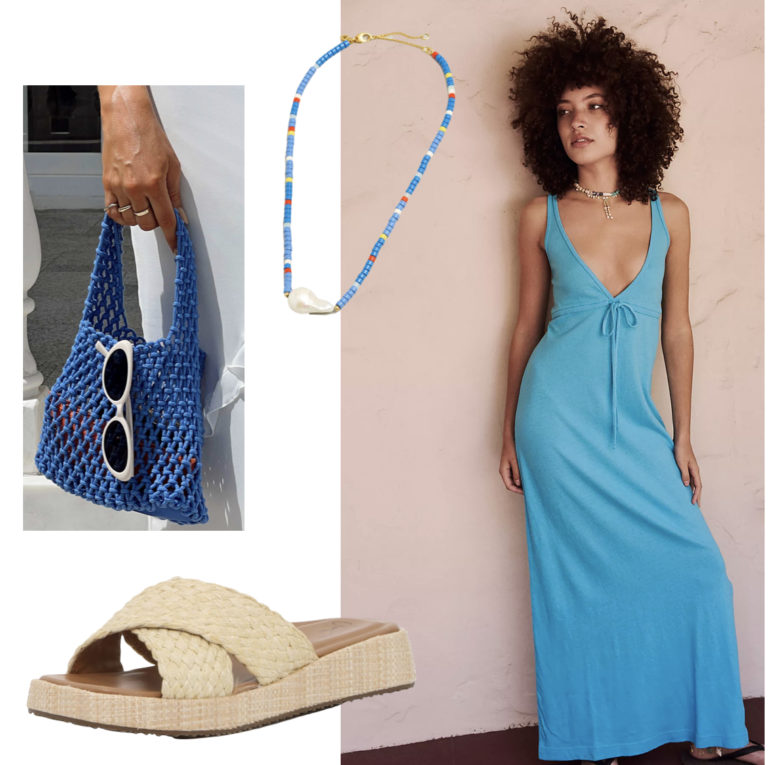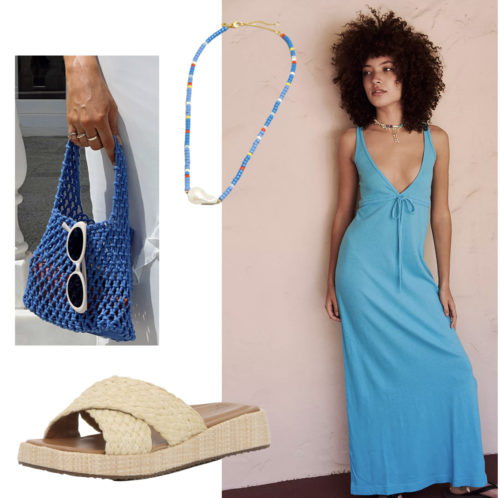 Products: Dress, Necklace, Bag, Sandals
You can't go wrong with a maxi dress in the summertime—especially a cotton tank maxi dress, which makes for easy wear.
It can be dressed up or down and is a staple for beach vacations. For a relaxed yet fashion-forward look, style this bright maxi dress with some raffia slide sandals that feature a short platform heel and a crochet or knit handbag for added interest.
Since this maxi dress features a deep V-neckline, you'll want to accessorize with an eye-catching necklace, like this colorful beaded necklace with a beachy freshwater pearl detail.
How to Style a Denim Dress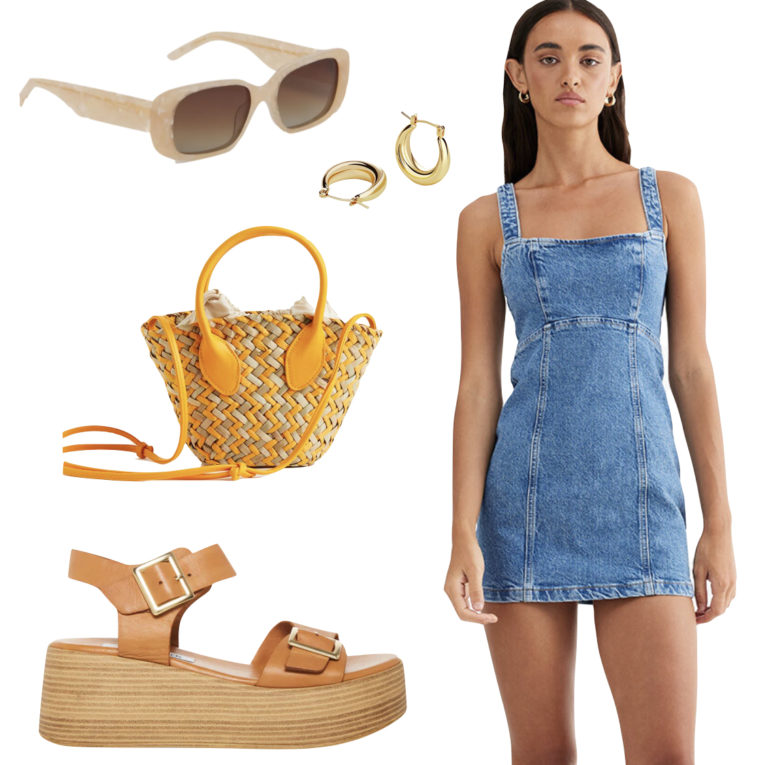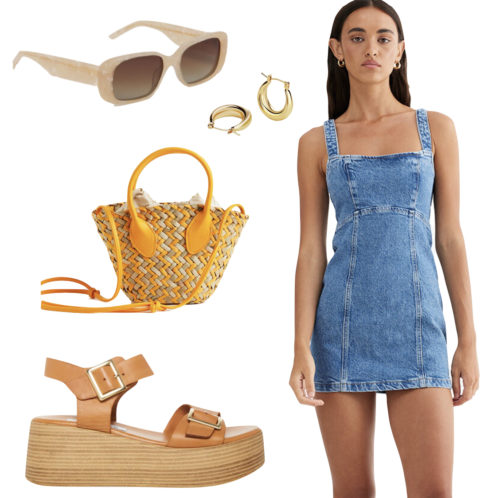 Products: Dress, Sunglasses, Earrings, Bag, Sandals
An unexpected trend this summer? Denim dresses, which have been making waves in the fashion world this season.
Get in on the trend yourself with this cute denim mini dress that has a partially open, lace-up back. It works for daytime or nighttime wear (depending on where you're headed) and is a girly alternative to denim shorts or overalls.
You can go the casual route by wearing it with laid-back sneakers or dress it up a bit with some platform buckle strap sandals, gold hoop earrings, and a braided paper straw crossbody bag that adds a pop of color. If it's a sunny day, don't forget a pair of cool sunglasses to complete your look.
What do you think of our summer dress styling guide?
Which outfit is your favorite? What kind of dresses will you be wearing this summer? Leave a comment and let us know!