This post will show you tons of cute leather skirt outfit ideas.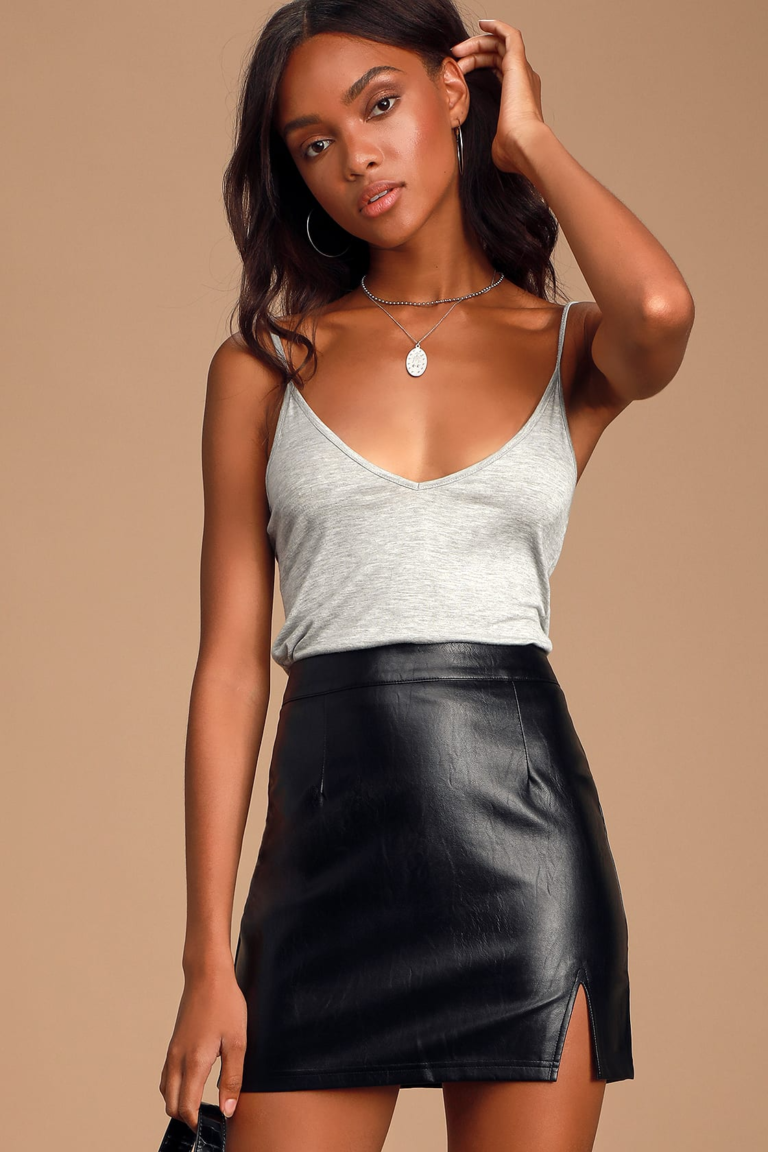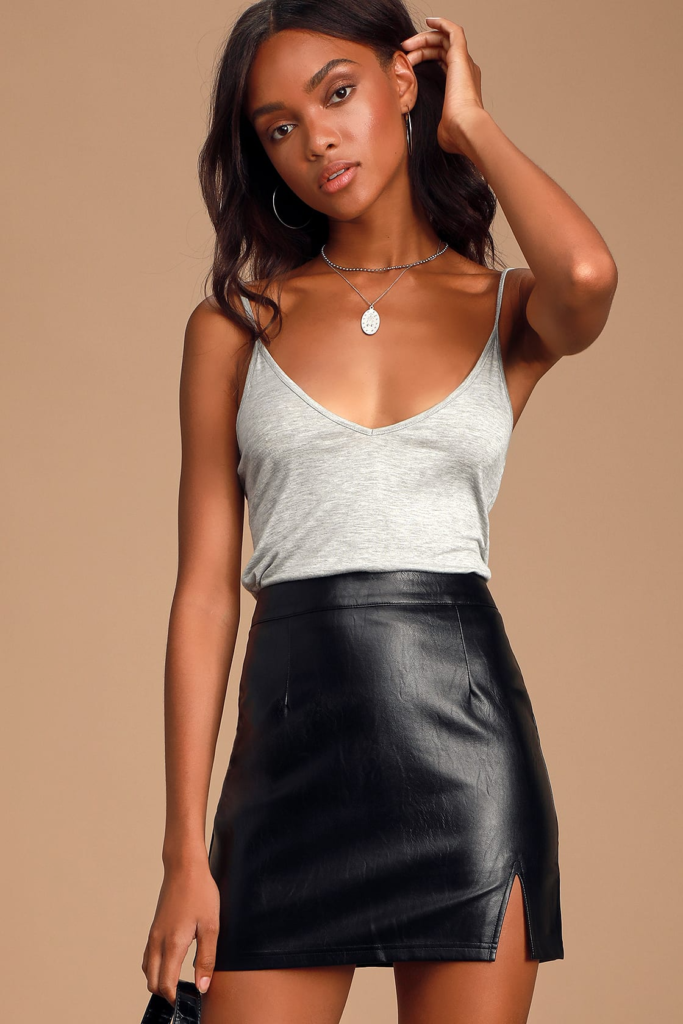 Leather skirts are among the edgiest, coolest items in all of fashion. The style is often associated with the 1980s, but the material has been trendy throughout American fashion history. Leather skirts can add edge to an outfit, spice up a casual look, or bring spring and summer pieces to fall and winter.
My leather skirt is one of my favorite pieces in my closet. It pairs well with so many items and can help me create a look for anything, whether it is for going out, going to work, or creating outfits inspired by my favorite movies, such as Top Gun, The Batman, and The Matrix. It is an article of clothing that is always there for you, no matter what you need it for.
Today, I'll teach you how to wear a leather skirt and share tons of cute leather skirt outfit ideas. Read on for all of my styling tricks!
Related reading: How to Wear Leather Pants and Leggings (+ Outfit Ideas!)
How to Wear a Leather Skirt
A leather skirt can be many things in an outfit. It can be the star of the show, especially if it is a colorful or textured skirt. It may be the middleman in an all-leather outfit or a piece to keep you warm during the winter months.
Leather skirt styling heavily depends on the shirt and shoes worn with it, as I'll show you below.
Tops to Wear with a Leather Skirt
Blazer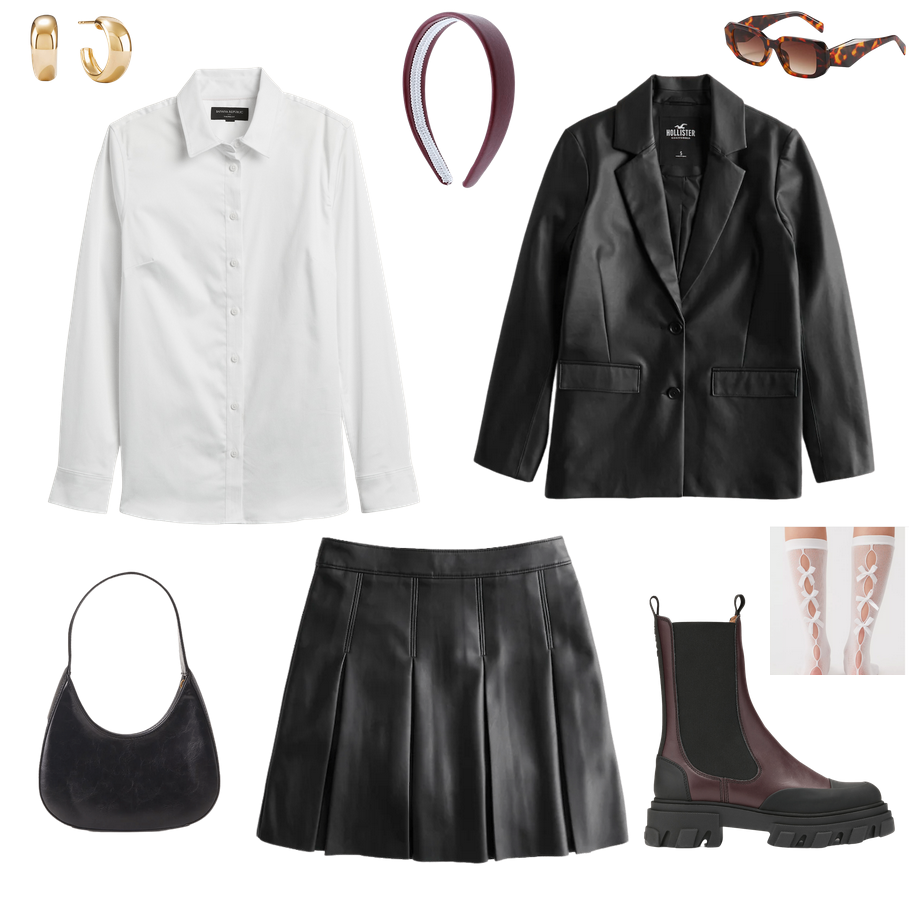 A blazer is a great way to make a leather skirt more formal.
This outfit combines preppy and edgy to create a trendy Fall/Winter look straight out of the closets of Jenny Humphrey and Blair Waldorf from Gossip Girl.
The pleated leather skirt helps is both preppy and edgy, while the black blazer and button-down help to formalize the outfit. I included a burgundy Chelsea boot, as well as bow socks, to represent both the current season and trends. Finally, I added a pair of Prada-inspired sunglasses and chunky gold hoop earrings.
Sweater
A sweater is a great item to wear with a leather skirt. I find sweaters pair best with slim-fitting skirts since sweaters are often oversized.
For this outfit, I took inspiration from the 1980s with a coated leather skirt, leg warmers, and bright colors. Then I combined it with some trends of today, including balletcore, headbands, and a Coach bag.
Crop Top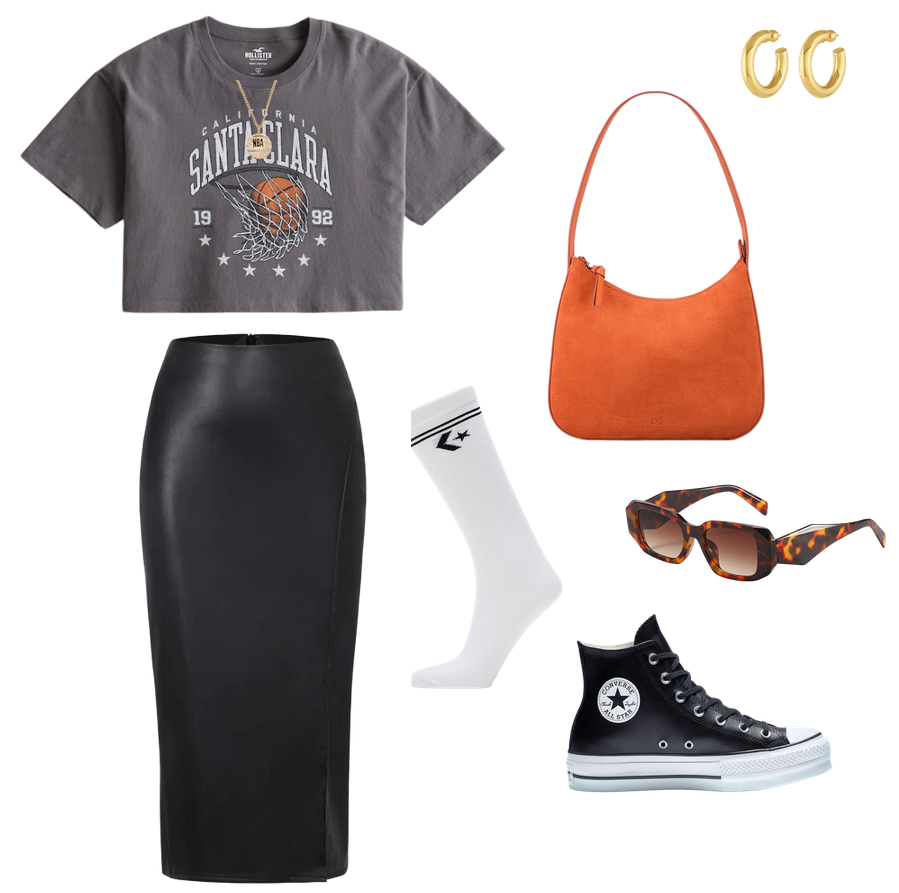 A crop top is a great way to make a leather skirt more casual and modern. I love a cropped graphic tee with a bodycon midi leather skirt for a polished, sporty look.
I also brought a hint of orange to this look, paying homage to the skirt's original iconic decade. Finally, I chose the leather Converse because I wanted to match the finish on the sneakers to the skirt.
Turtleneck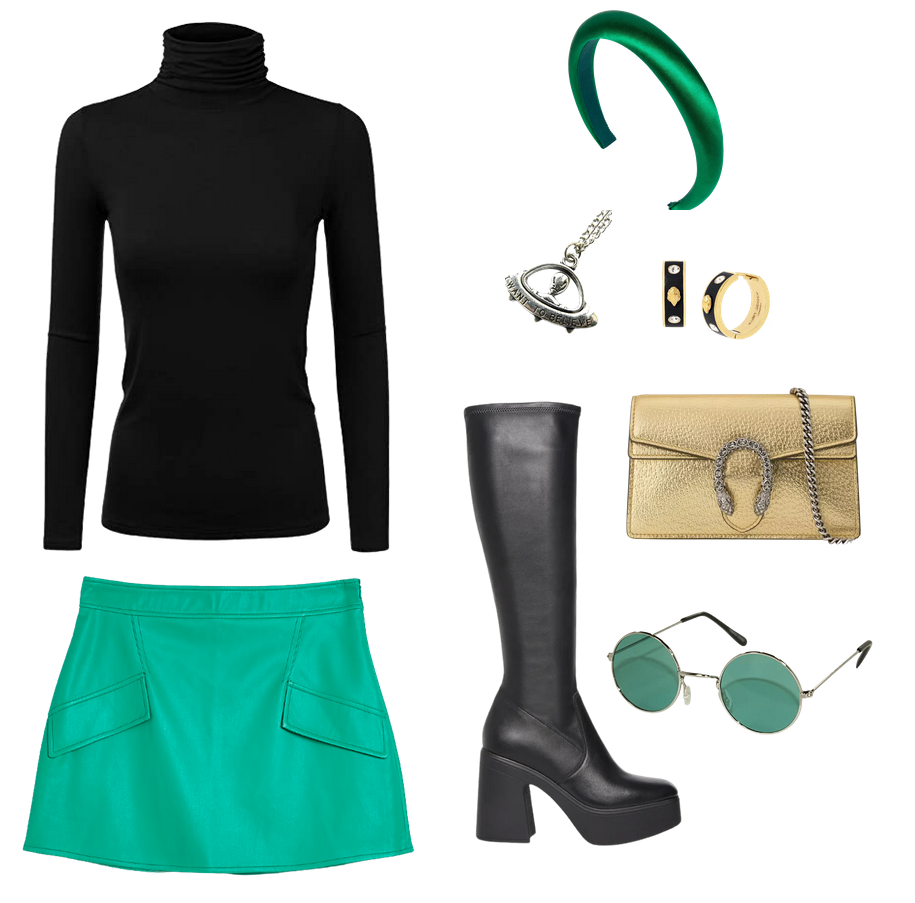 A turtleneck and skirt combo is reminiscent of the 1960s, so it felt wrong not to create a perfect holiday look inspired by such.
I used a mini skirt and gogo boots to capture the silhouette made famous by Andre Courreges. As a nod to retrofuturism, I included a UFO necklace and a Gucci metallic leather bag. Round green sunglasses and vintage-looking Kurt Geiger earrings accent the mod shape of the outfit.
I finished it off with a satin green headband because, after all, this is a look perfect for a holiday party.
Button Down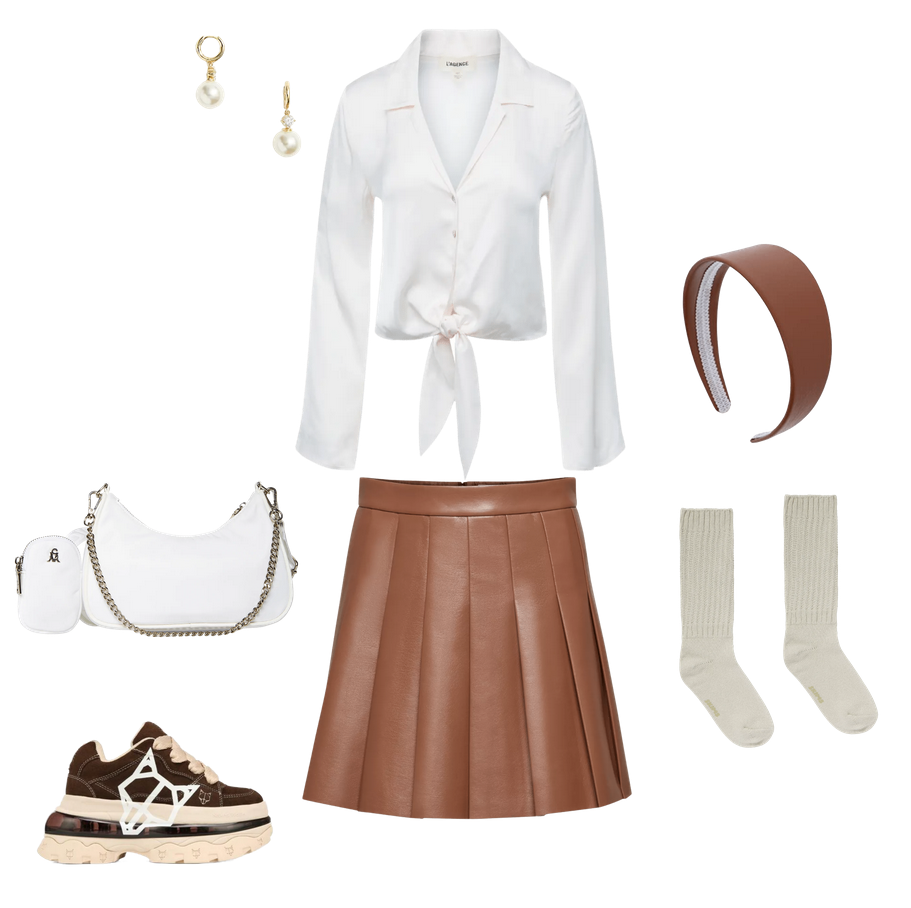 There is no better way to style a button-down shirt with leather than by tying the front of it and pairing it with a brown pleated skirt. This is a great way to make beautiful pieces in your closet a little bit more casual — perfect for things like holiday shopping or getting lunch with friends.
I also love to combine edgy and preppy components in outfits. Hence, this features a typical preppy silhouette, a headband, pearls, and a white bag, but offsets it with heavier textures and super cool platform sneakers.
White T-Shirt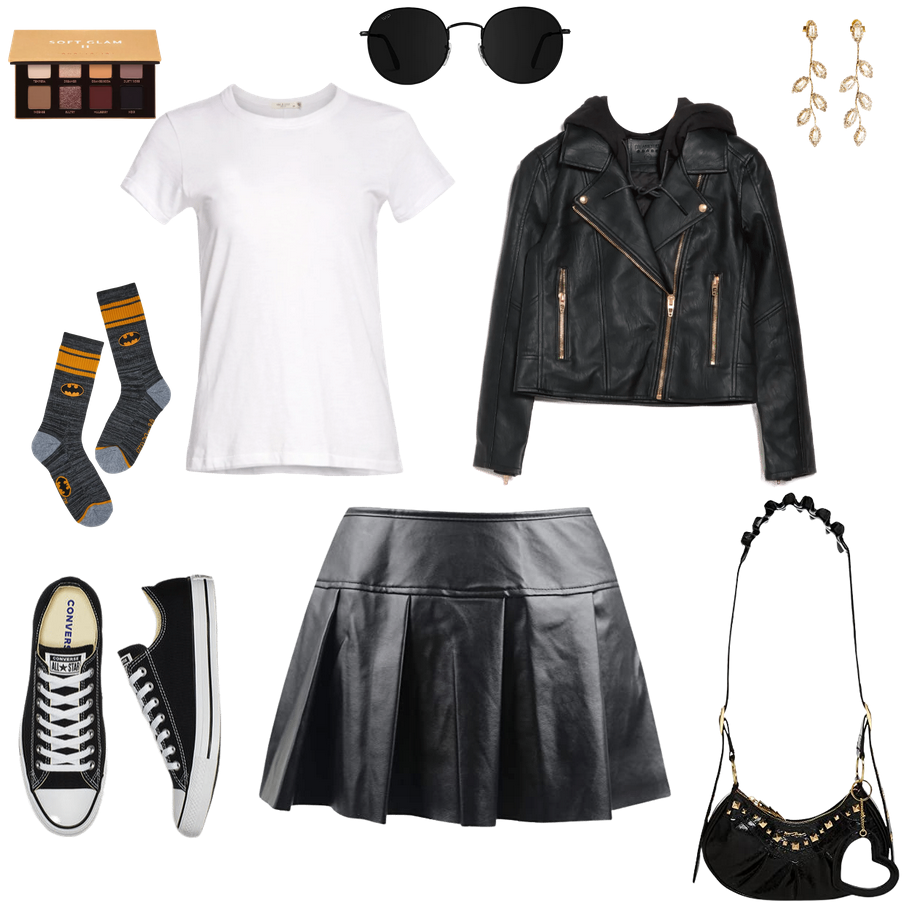 With indie sleaze making a comeback, in the nicer term of 'rock star girlfriend aesthetic,' a white shirt, leather, a smokey eye, and a city-inspired bag are going to be major must-haves.
I also added a gold boho-style earring and batman socks since that motif was big on Tumblr in indie sleaze's prime. You are sure to be ahead of the trend curve with this look!
Graphic T-Shirt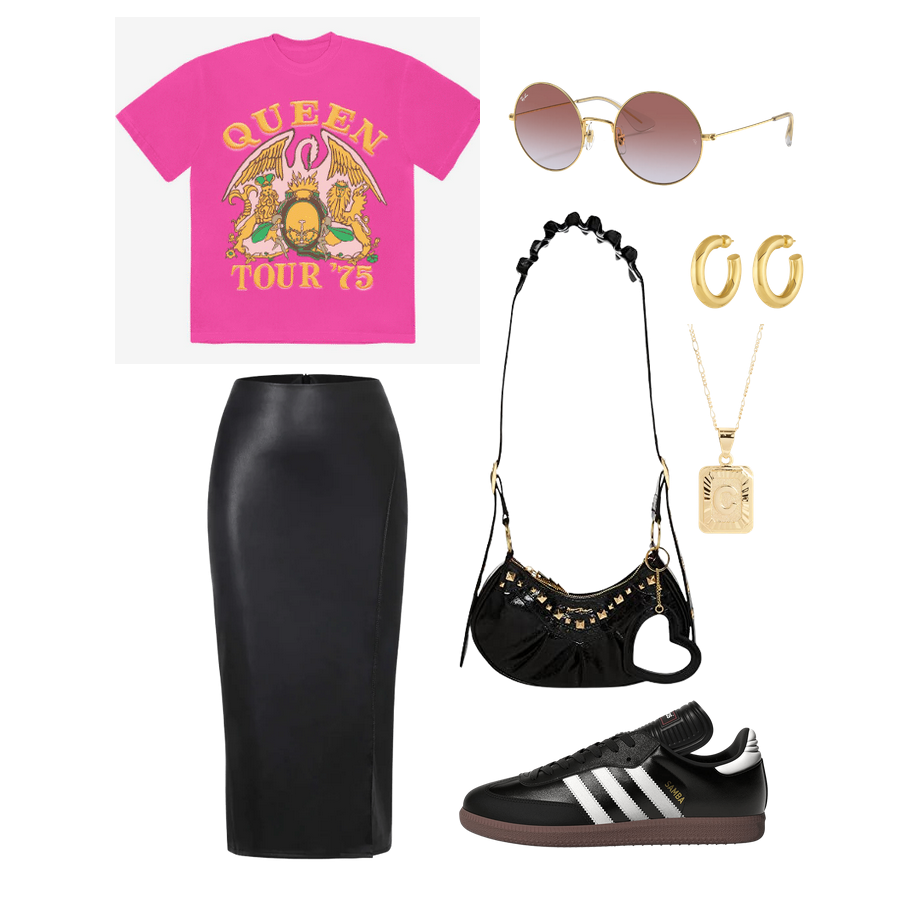 The best graphic t-shirt to pair with a leather skirt is, of course, a band t-shirt. I am obsessed with this Queen baby-tee from Hot Topic. I paired it with the same leather midi skirt from the crop top outfit to create a similar shape.
To reference the decades of the band's success in the outfit, I chose an oversized, round pair of sunglasses and Adidas Sambas, combining old and new. To modernize the outfit, I included gold jewelry and the Betsey Johnson Mirror Mirror bag.
Bralette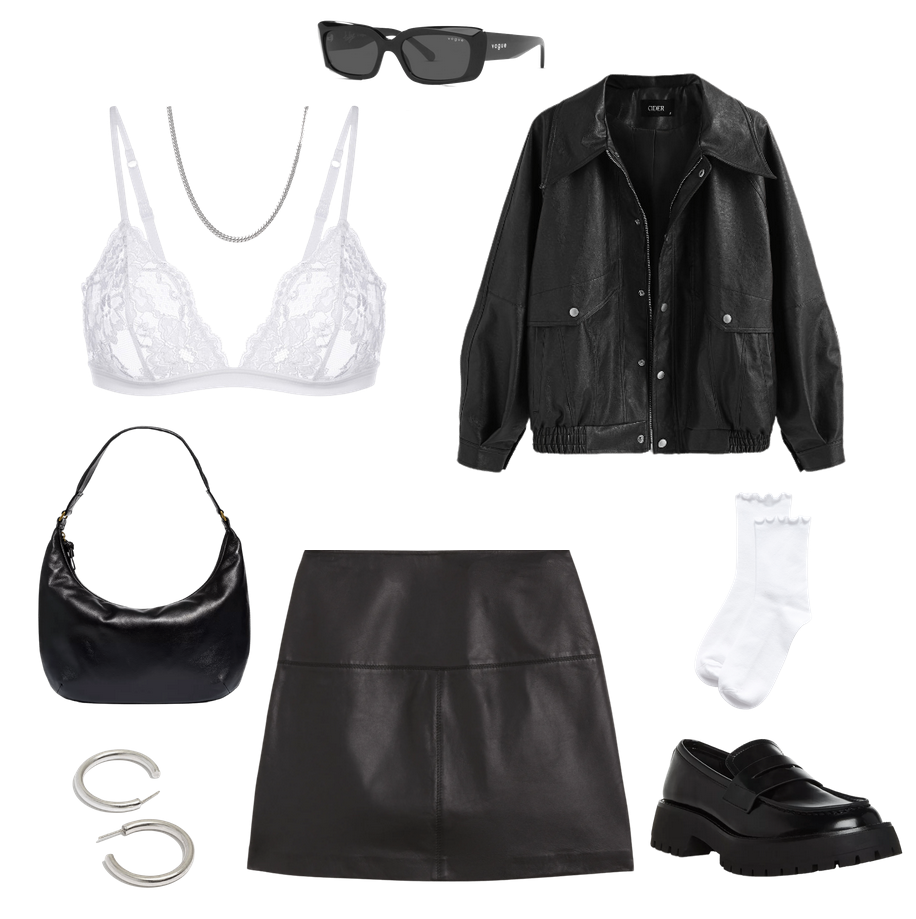 This is one of my favorite leather skirt outfit ideas of the bunch. With this outfit, I wanted to channel celebrity street style — think Hailey Bieber and the Hadids.
This outfit contrasts black and white and features all silver jewelry tones. It combines both sexy and professional for a look you'll want to wear on repeat.
Denim Jacket
A denim jacket is a great item to pair with a leather skirt to keep wearing it through the spring and summer.
I included a lot of red in this look to emulate summer vibes and current trends. I picked a heart bag to match the shoes and a super cute bow bandana headband to bring it all together.
Coat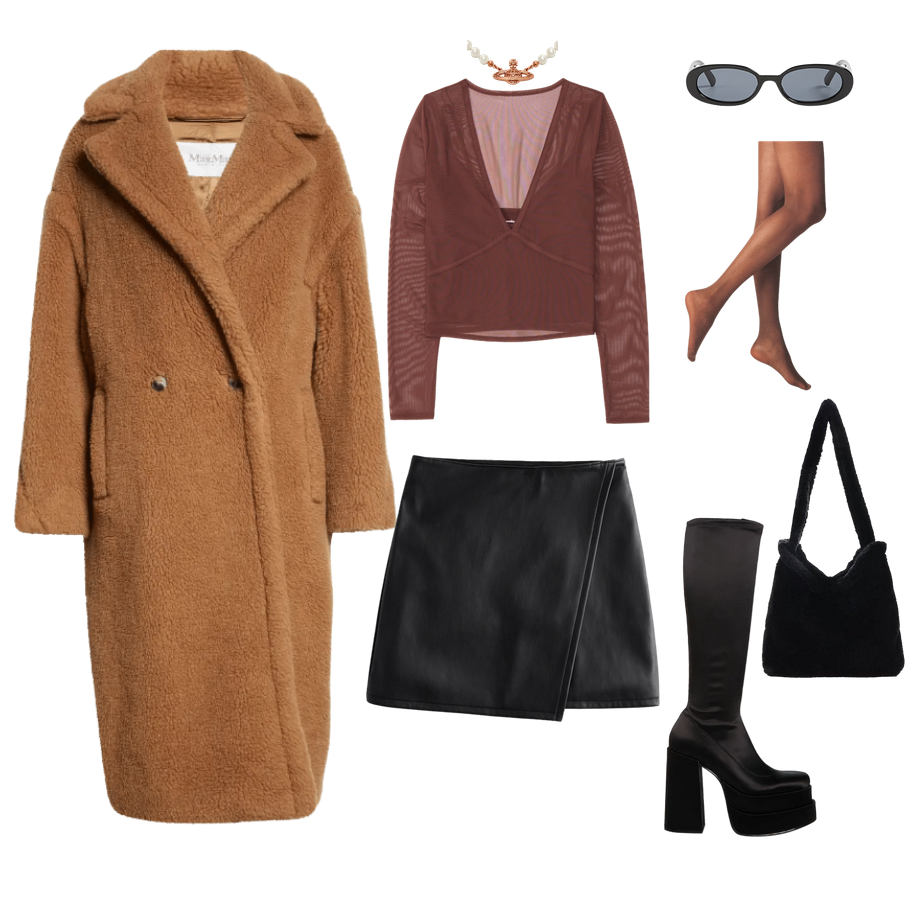 Winter is the perfect time to mess around with textures combined with a leather skirt. For this outfit, I chose my favorite coat of the winter '22 season, which is the Teddy Bear coat from MaxMara. I know it has a very high price tag, but it is so soft and pairs amazingly with so many outfits. Also, there are, unfortunately, no good dupes just quite yet.
I wanted to mix neutral tones and textures and give this outfit a '90s feel, so I chose brown mesh and matching tights, a fuzzy black bag to match the fabulous coat, small oval sunglasses, and satin platform boots. This is a perfect fancier and ultra-stylish outfit for the coming cold months.
Cardigan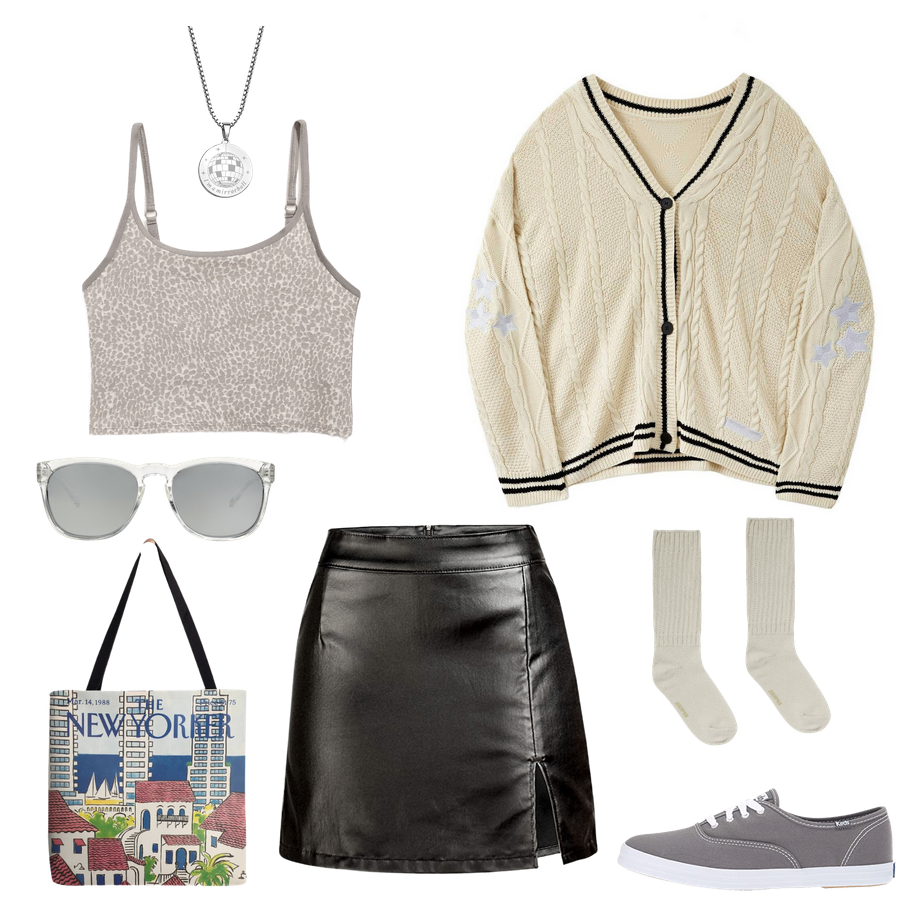 When you see the types of cardigans trending right now, it is impossible not to make a Taylor Swift/folklore-inspired outfit.
This casual leather skirt outfit idea puts our skirt on the set of folklore with gray tones, a reference to New York, a star-studded cardigan, a mirrorball necklace, and Taylor Swift's shoe of choice — Keds.
Statement Top
A shimmering statement top outfit like this is perfect for a cold-weather birthday or New Year's Eve.
I chose a patent leather skirt for this to help match the shine of the sequin top and complement the simple envelope bag. White platforms create contrast and offset the outfit.
I accessorized it with adorable bow hair clips for a small amount of added sparkle without taking away from the statement. I finished with a pair of sparkling sunglasses.
Shoes to Wear with a Leather Skirt
Knee High Boots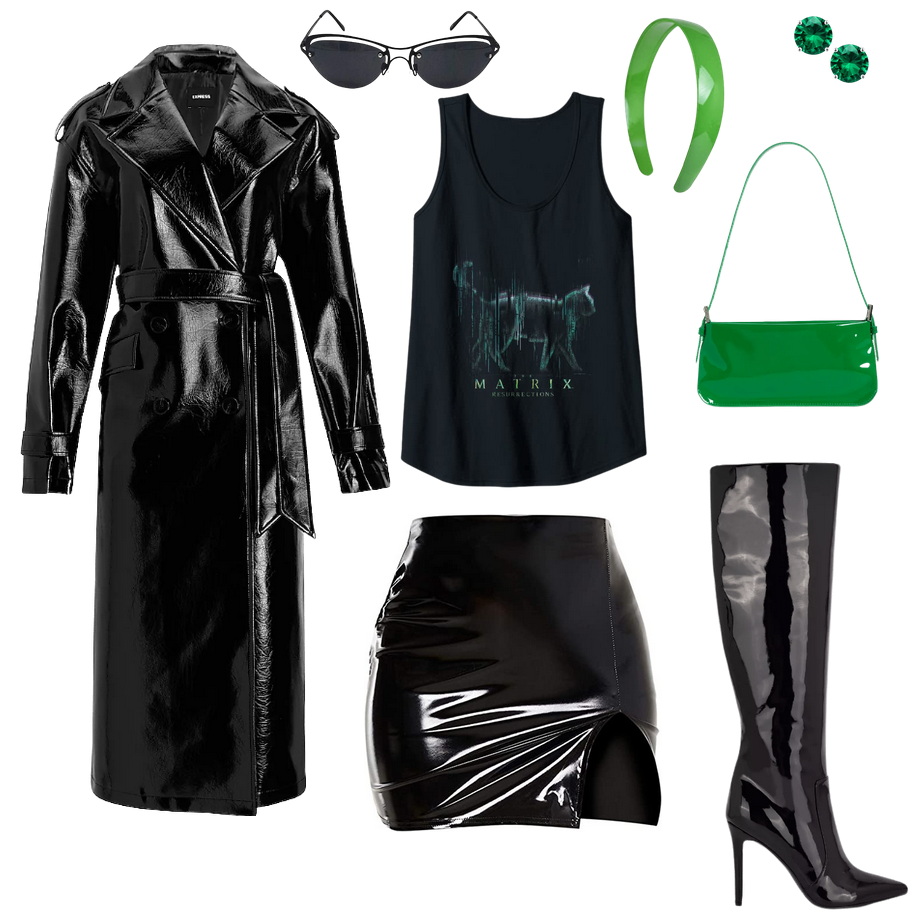 The combo of knee-high boots and a leather skirt screams Trinity from the Matrix meets Bella Hadid's street style. With that vibe in mind, I present to you this outfit.
I used a stiletto heel boot and trench coat to recreate the overall vibe of Trinity's character. I even added official Matrix sunglasses and accented the look with licensed merch and '90s green patent accessories.
Ankle Boots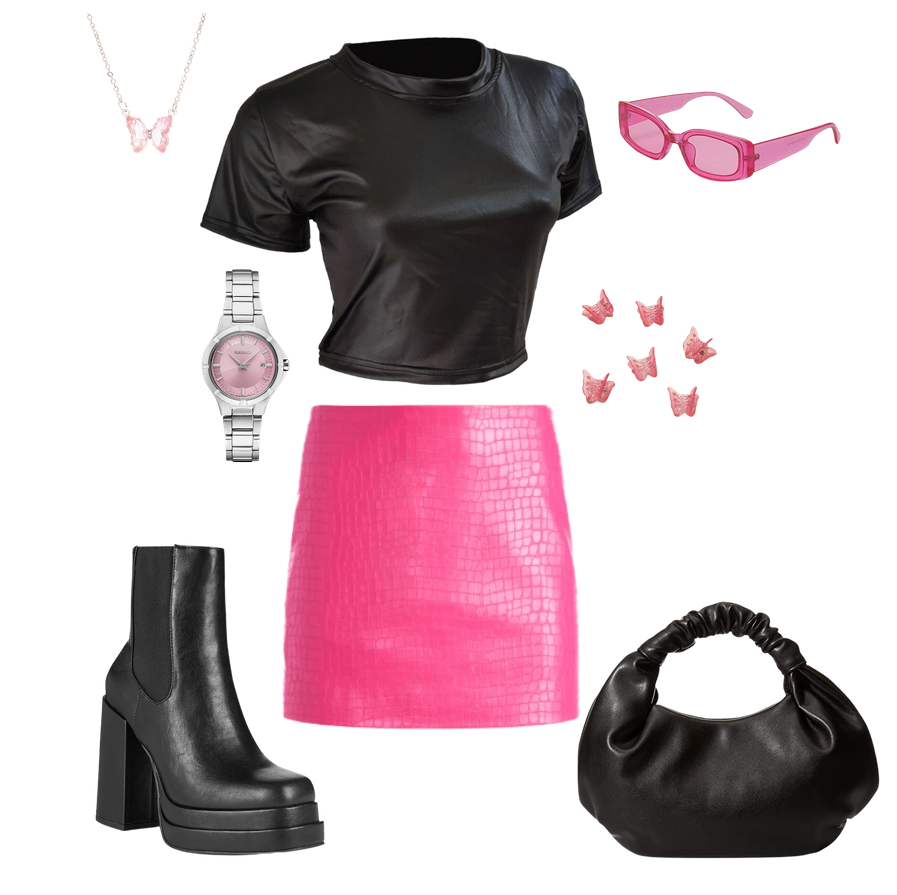 In this look, I wanted to reference several decades while including modern trends, featuring a platform Chelsea ankle boot and embossed pink leather skirt.
I paired the combo with a wet-look/leather-look crop top, bright sunglasses, and a pink quartz watch to reference the 80s. The sunglasses are small, and I included butterflies in the outfit to reference the Y2K revival trend. I then tied everything together with The Drop's Bottega Veneta-inspired handbag.
This outfit is perfect for the holiday season and works under so many aesthetics, from barbiecore to Y2K revival to the 1980s.
Sandals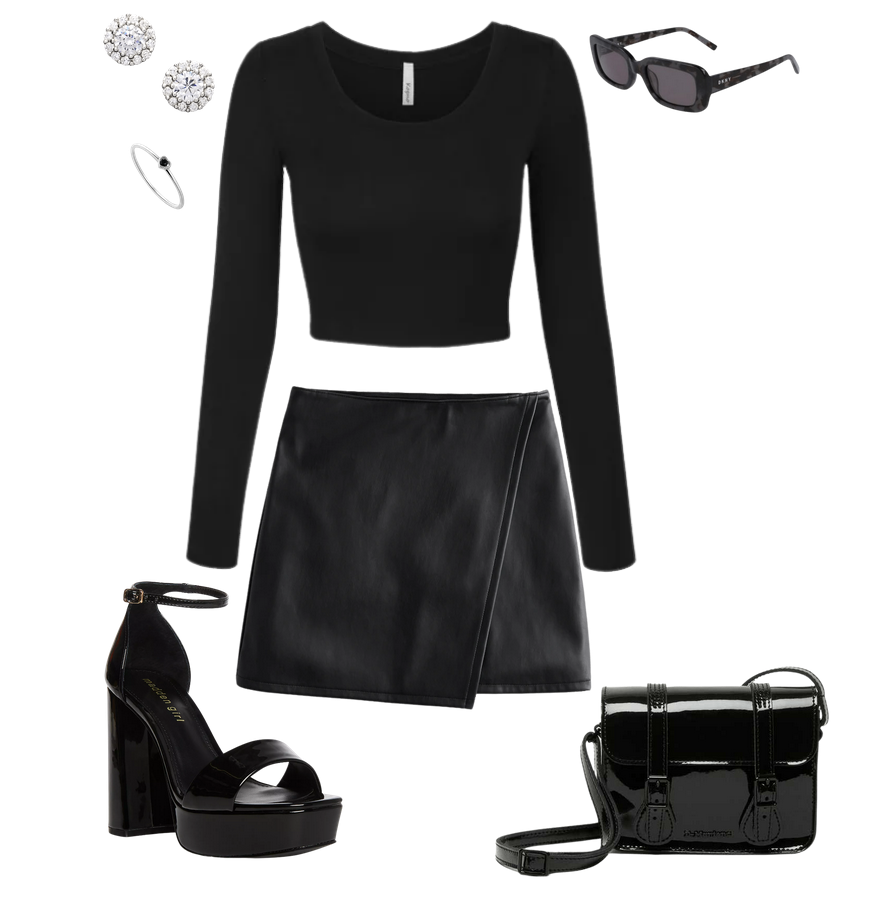 Another great way to transition leather skirts into warmer weather is to create edgy looks using sandals. Of all the leather skirt outfit ideas in this post, this is a dream look for former-emo kids and Wednesday Addams fans alike.
I dressed the outfit up a bit using a platform sandal similar to the Valentino ones and added sparkling cubic zirconia earrings. This look also plays with texture featuring both vegan leather and patent.
Sneakers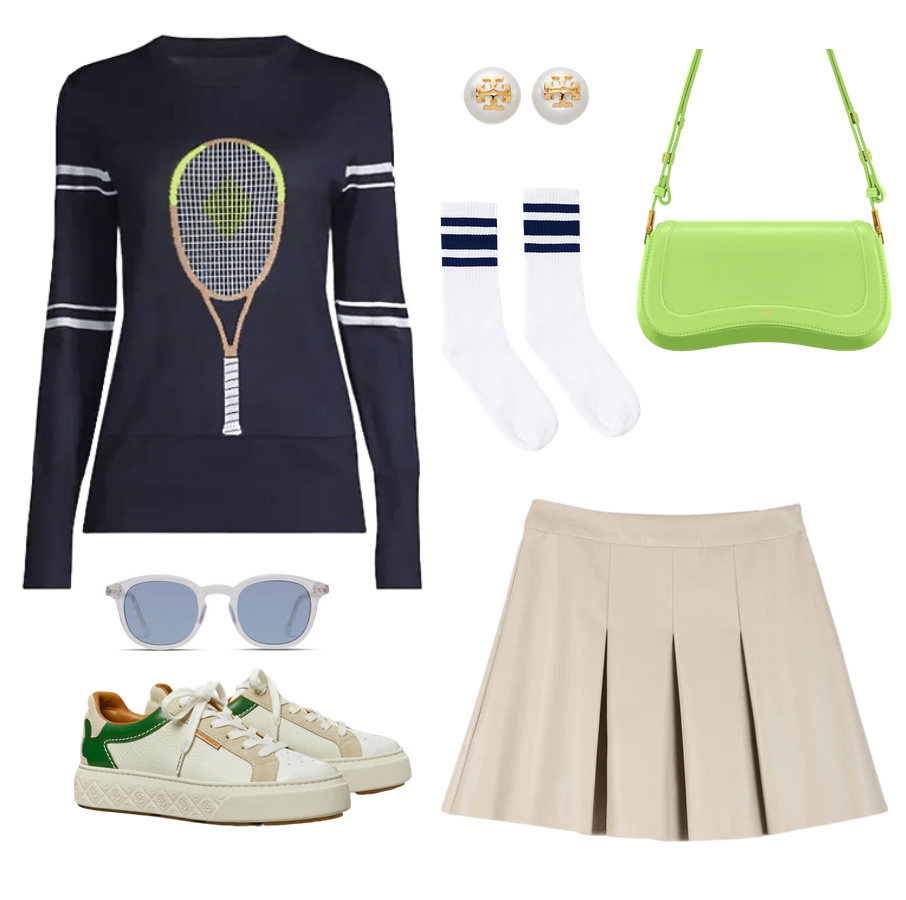 Last but not least, and on an opposite note, sneakers and leather skirts are a great way to take preppy, old-money country club summer looks into the fall and winter.
This outfit takes a simple and preppy khaki skirt but makes the skirt leather and uses a warm sweater paired with Tory Burch shoes and earrings to carry it over.
What do you think of our leather skirt outfit ideas?
Which outfit is your favorite? Are there any types of tops and shoes we should add to this list? Let us know in the comments below!