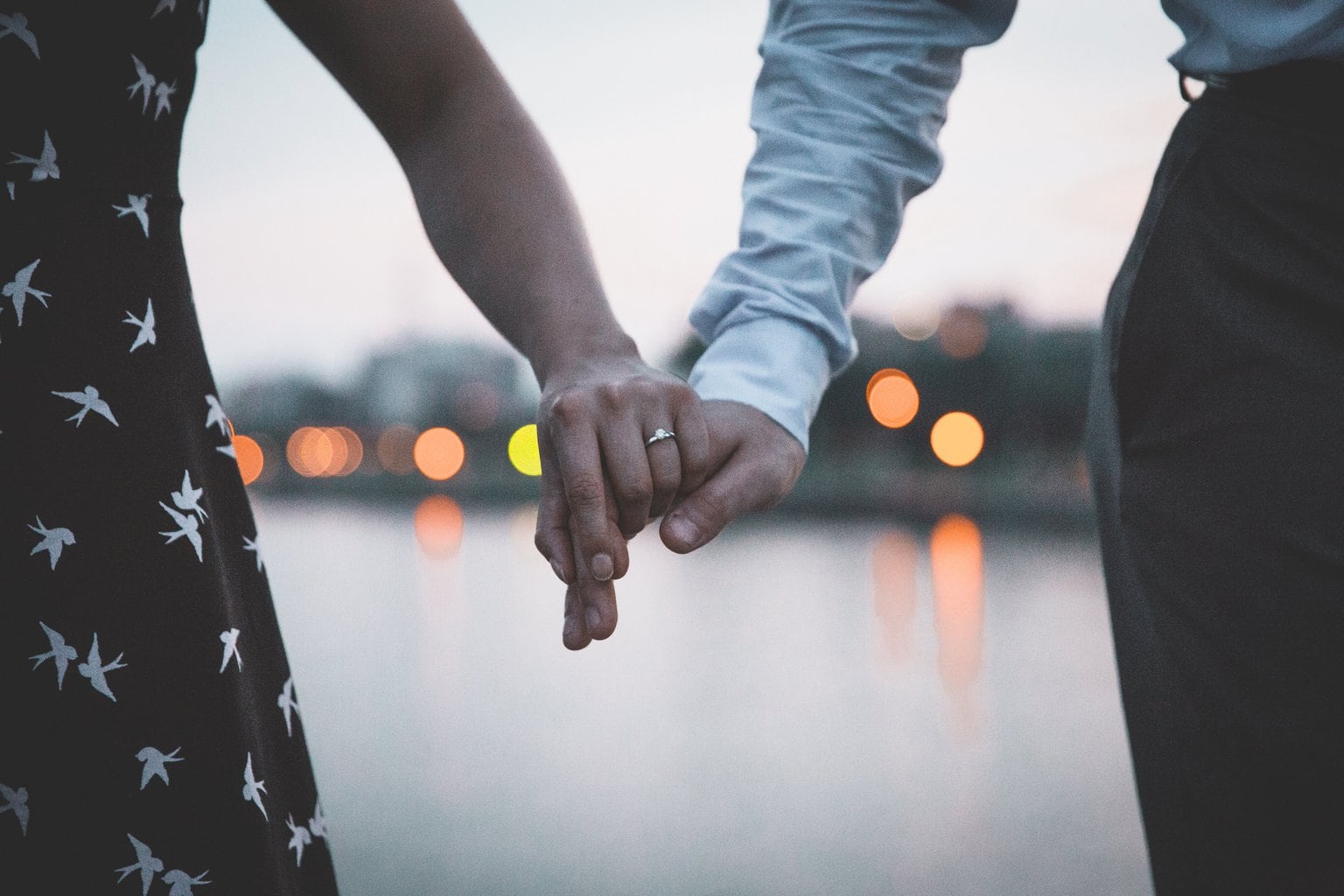 "Girls do not dress for boys. They dress for themselves, and of course, each other. If girls dressed for boys, they'd just walk around naked at all times." —Betsey Johnson
Picking an outfit for a date is always so stressful! You never know what to wear or whether it is too fancy or too casual. So here are a few outfit formulas to relieve that stress and help you pick out an outfit for dinner and a movie (everyone's favorite date of choice).
Related reading: 6 Perfect Outfit Ideas for Your Next Date Night
Dinner and a Movie Date Outfit Ideas:
1. Jeans + Booties + a Cute Top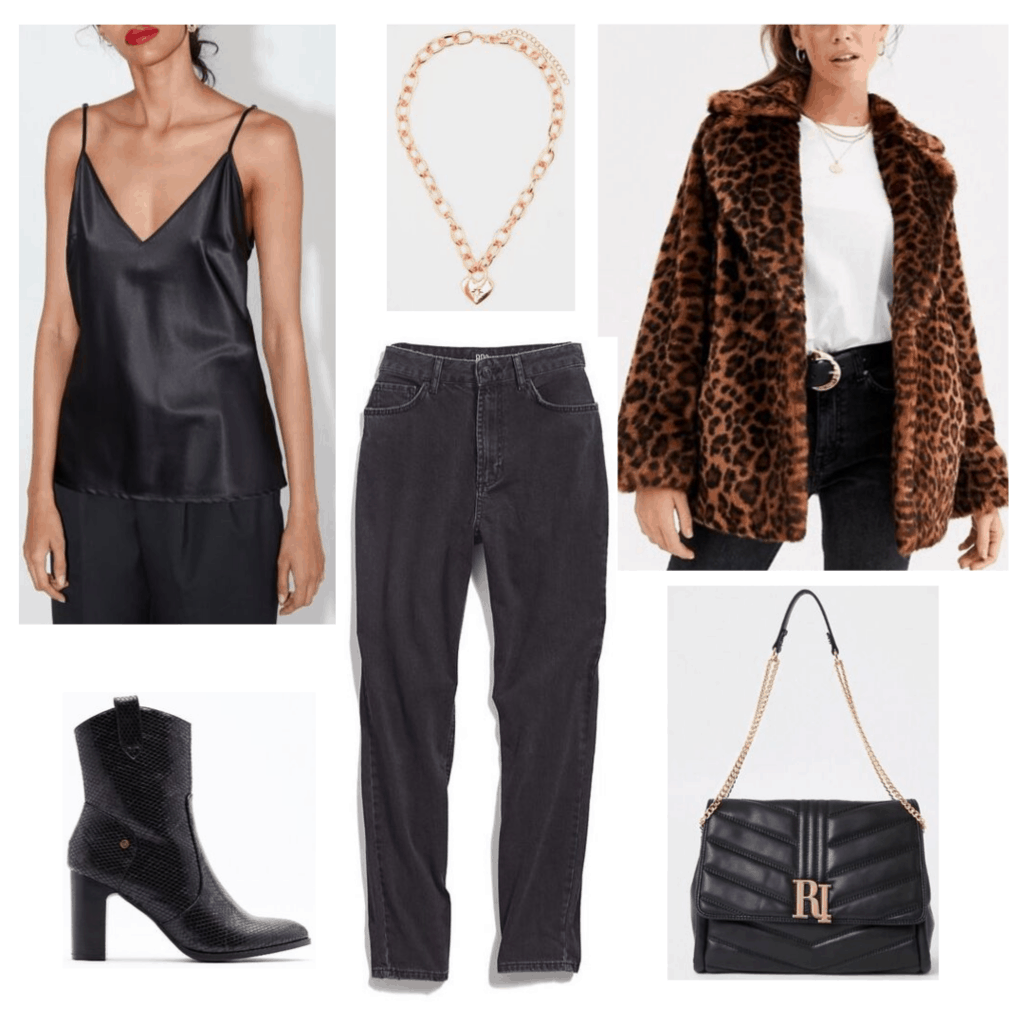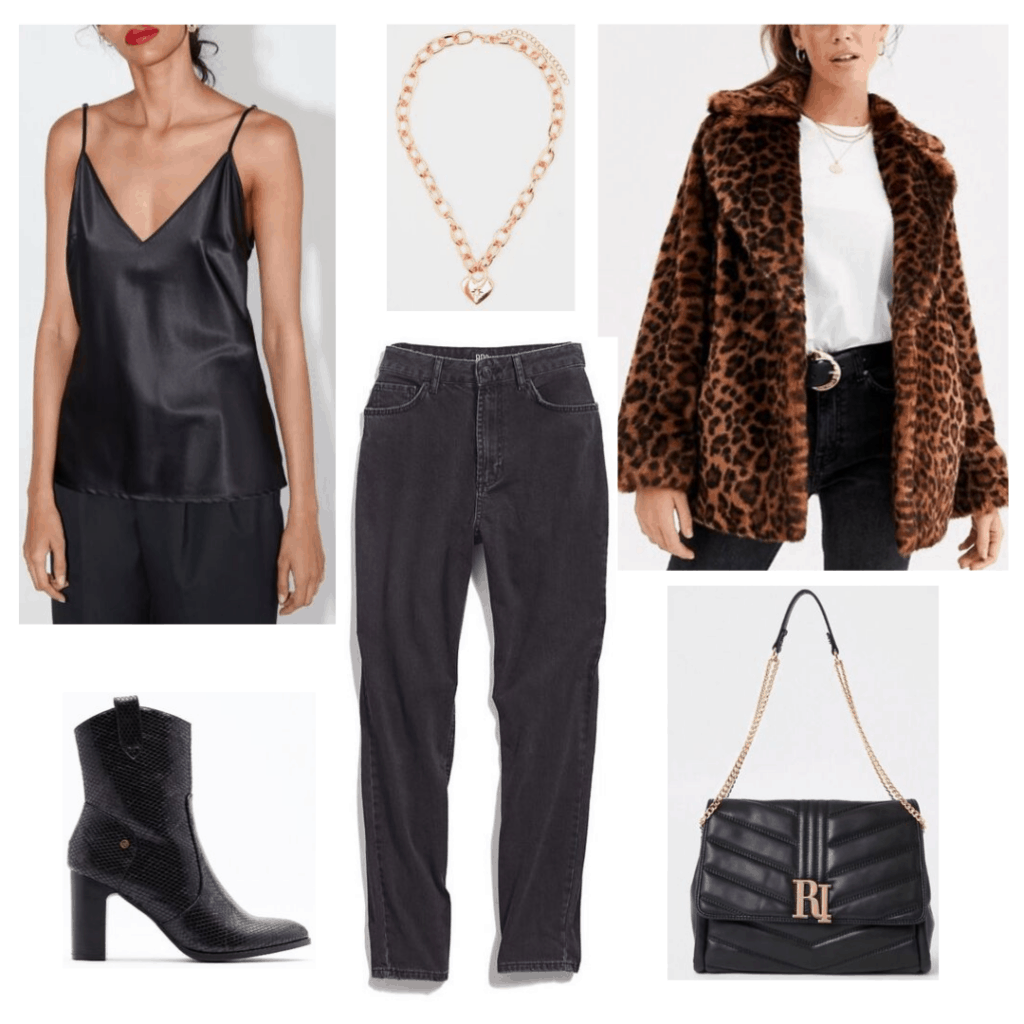 Products: Top – Zara, Necklace – Bershka, Coat – ASOS Design, Bag – River Island, Jeans – Urban Outfitters, Boots – Nasty Gal.
When going on a dinner and movie date you want to look cute for the restaurant but also be comfortable when sitting in the movie theater for hours. There is a no better way to be comfortable than by wearing your favorite pair of jeans.
As you probably know, jeans can be styled in a million different ways. For your date, I suggest wearing them with booties and a stylish top. This combines the comfort of the jeans and a stylish yet easy-to-wear shoe. Here I included straight leg jeans, which are fine for all but the fanciest restaurants.
Because we're getting into the winter months, I've paired this jeans-and-a-nice-top look with a lush faux fur coat. This gorgeous leopard print number will keep you toasty warm both inside and outside, particularly if the A/C is cranking in the movie theater.
Related reading: Cute Girlfriend Outfits: What to Wear on Dates in Every Season
2. Skater Dress + Sneakers + Jean Jacket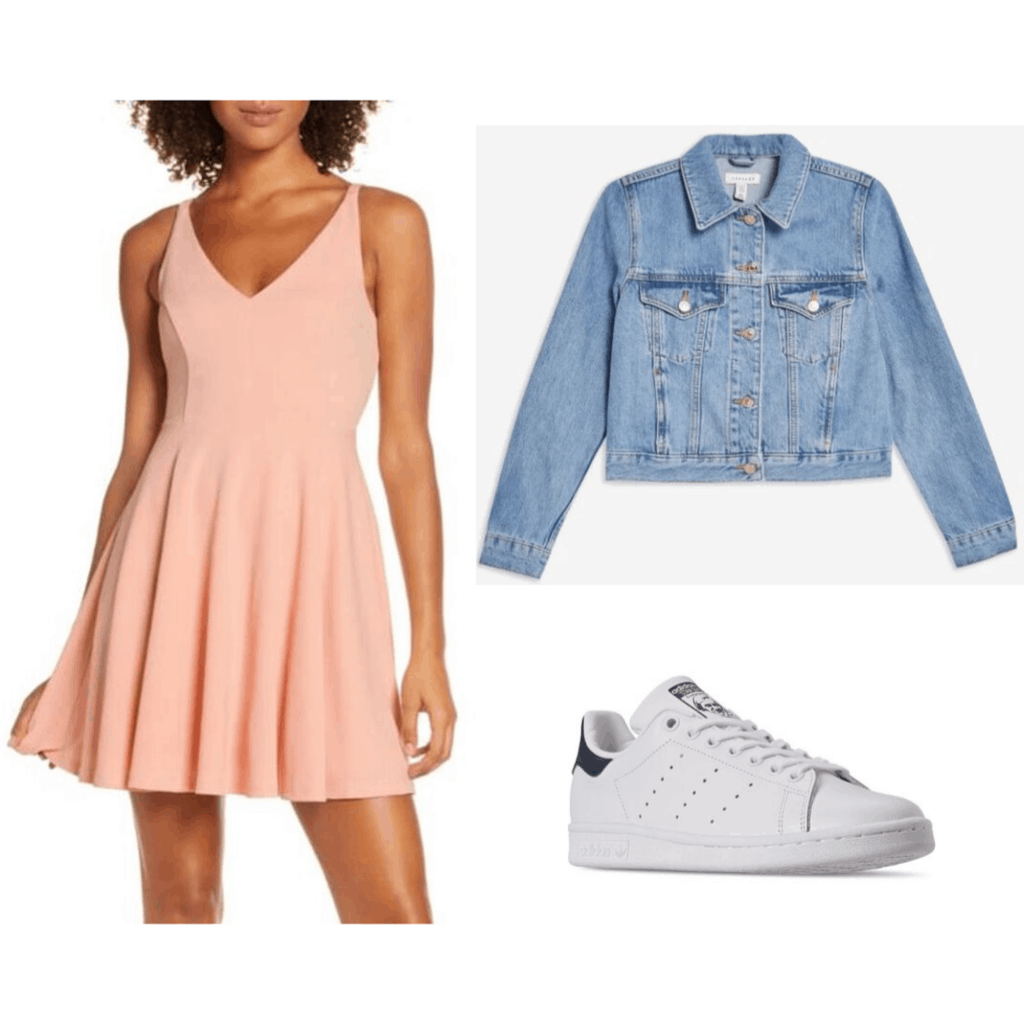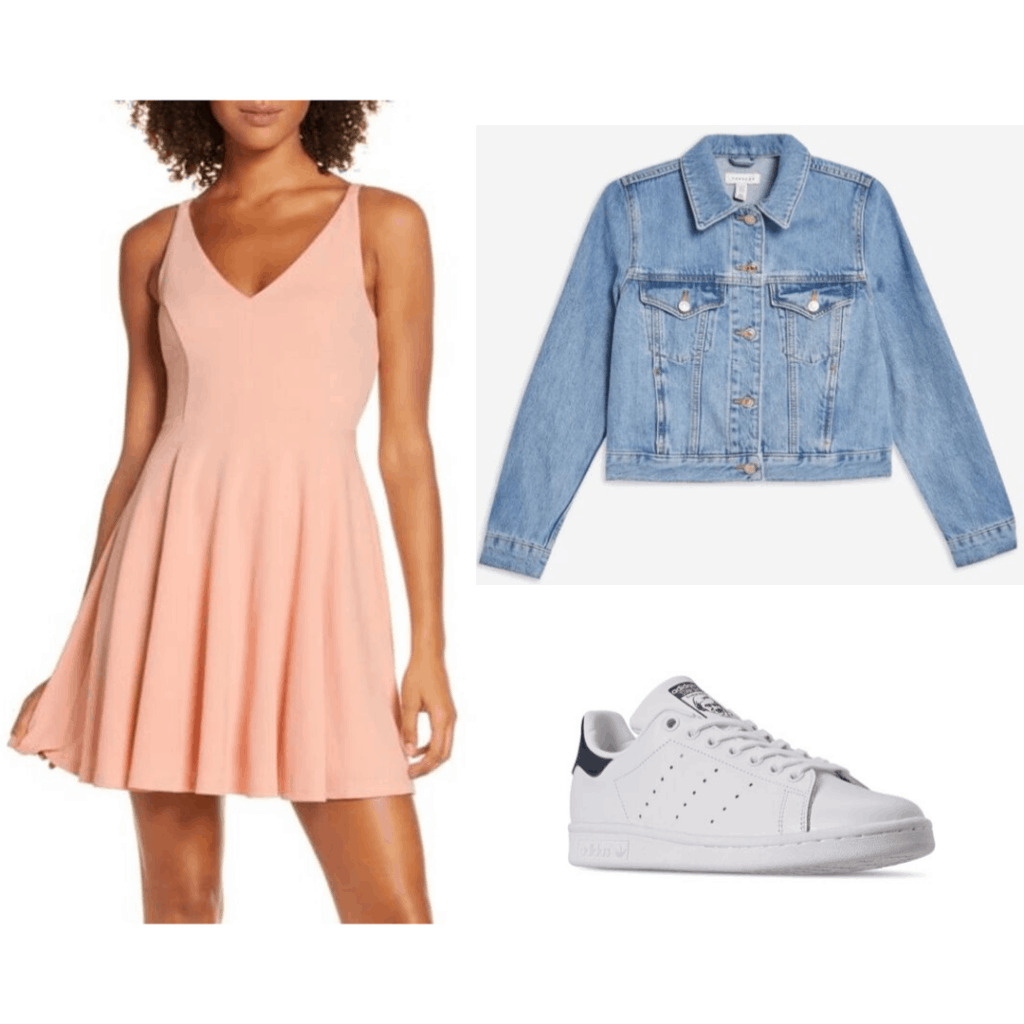 Products: Dress – Nordstrom, Jacket – Topshop, Sneakers – Macy's.
A dress is a classic for a dinner and a movie date. You don't have to wear a bodycon dress — I love a simple skater dress that is fashionable and comfortable. You can pair this dress with sneakers for a low-key feel, or with heeled sandals for a dressier date.
If you want another casual layer to add to the mix, I love a denim jacket for the summer months.
To get the most use out of your summer dresses, why not add a turtleneck underneath for the winter months? This dress would look so cute with a cream turtleneck, neutral trench and matching booties coming into the fall.
Related post: The 38 Cutest Date Night Dresses We Love This Season
3. Midi Skirt + Crop Top + Booties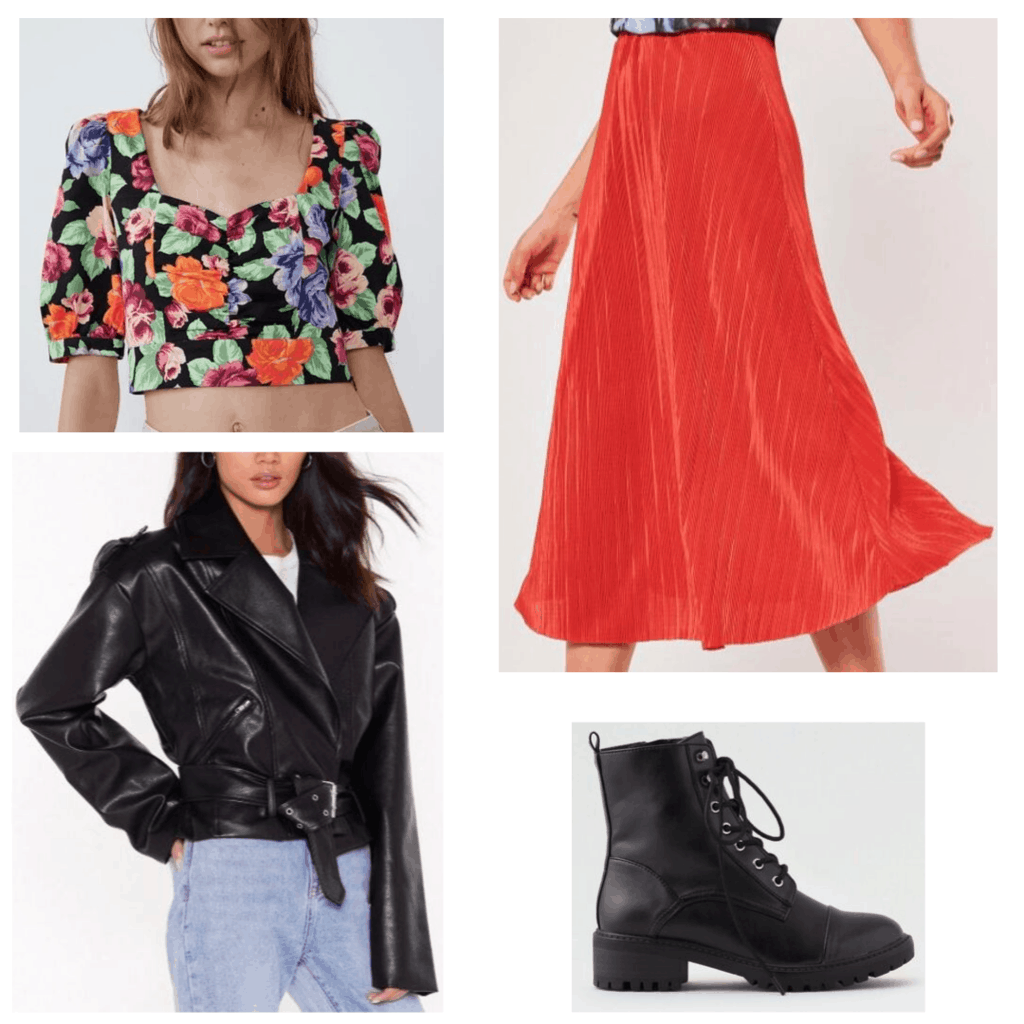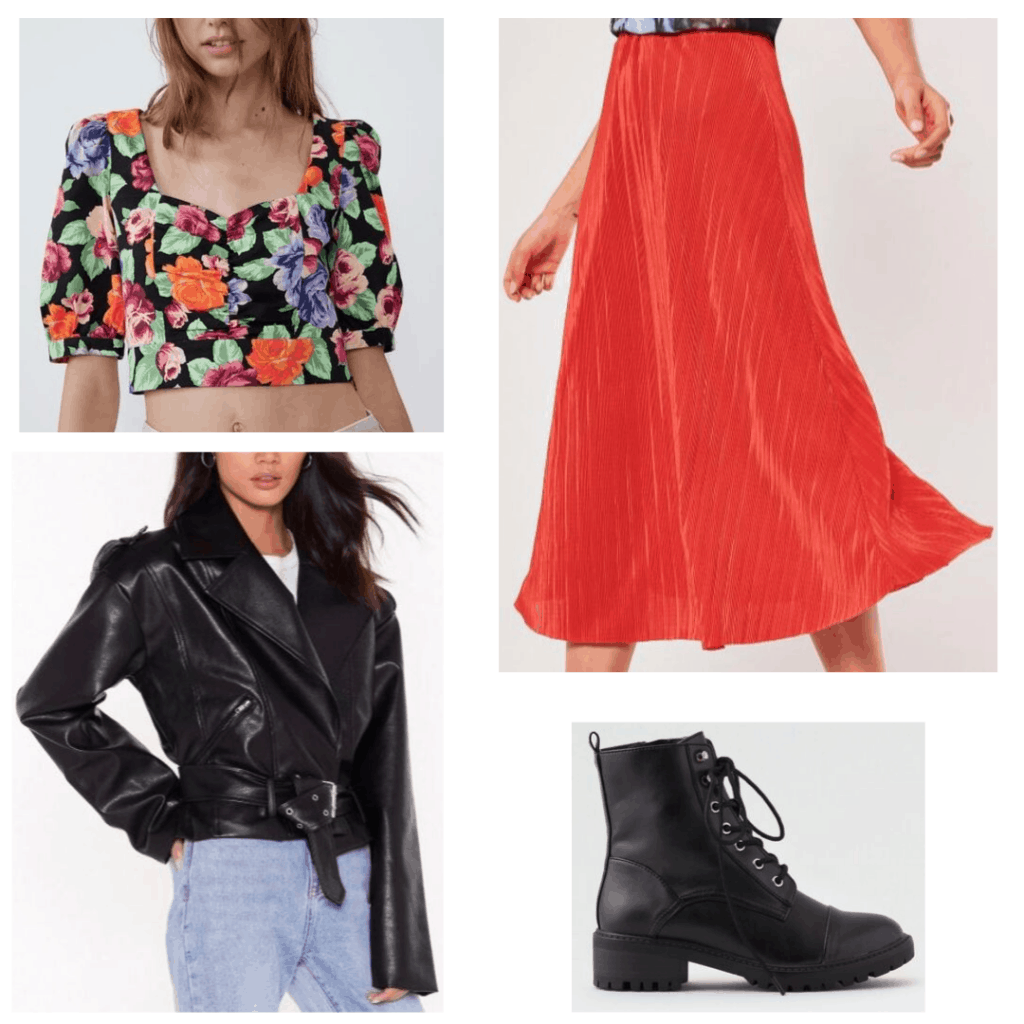 Products: Top – Zara, Jacket – Nasty Gal, Skirt – Missguided, Boots – American Eagle.
Another option besides a dress is a cute, on-trend midi skirt. Skirts are the easiest clothing item to style, no matter what type of date you're going on.
You can pair this fun orange skirt with a pretty crop top to dress it up for evening-wear. And of course, you can never go wrong with a cool pair of low booties to amp up the outfit and add some edge. (If you wanted to go more formal, you could do a sleeker heeled ankle bootie or a pump instead.)
To add interest to your date-night looks, don't be afraid to play with proportion! As you can see in the look above, I've paired the crop top with a skirt that hits at the midriff, then combined them both with a funky jacket that sits on the hips. This use of proportion adds dimension to even the most basic of outfits, so start experimenting!
4. Jumpsuit or Romper + Sandals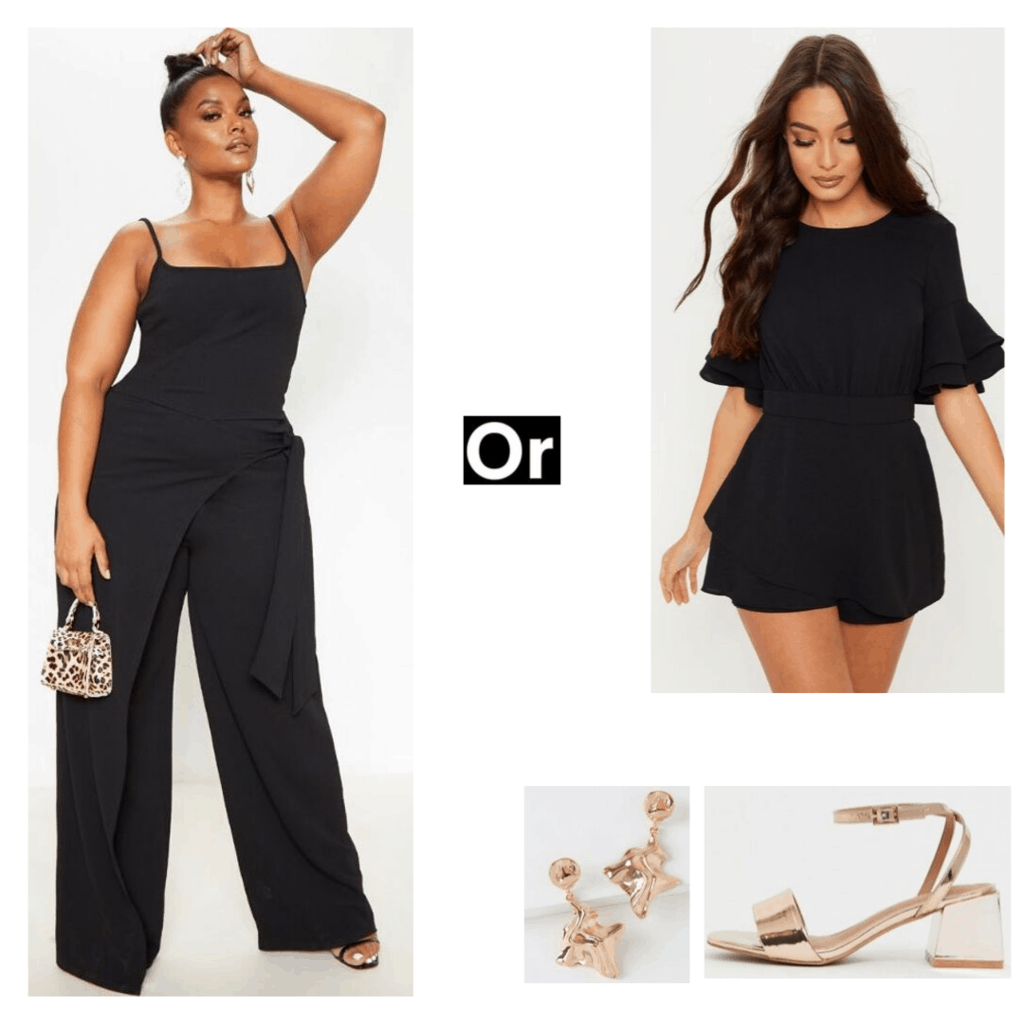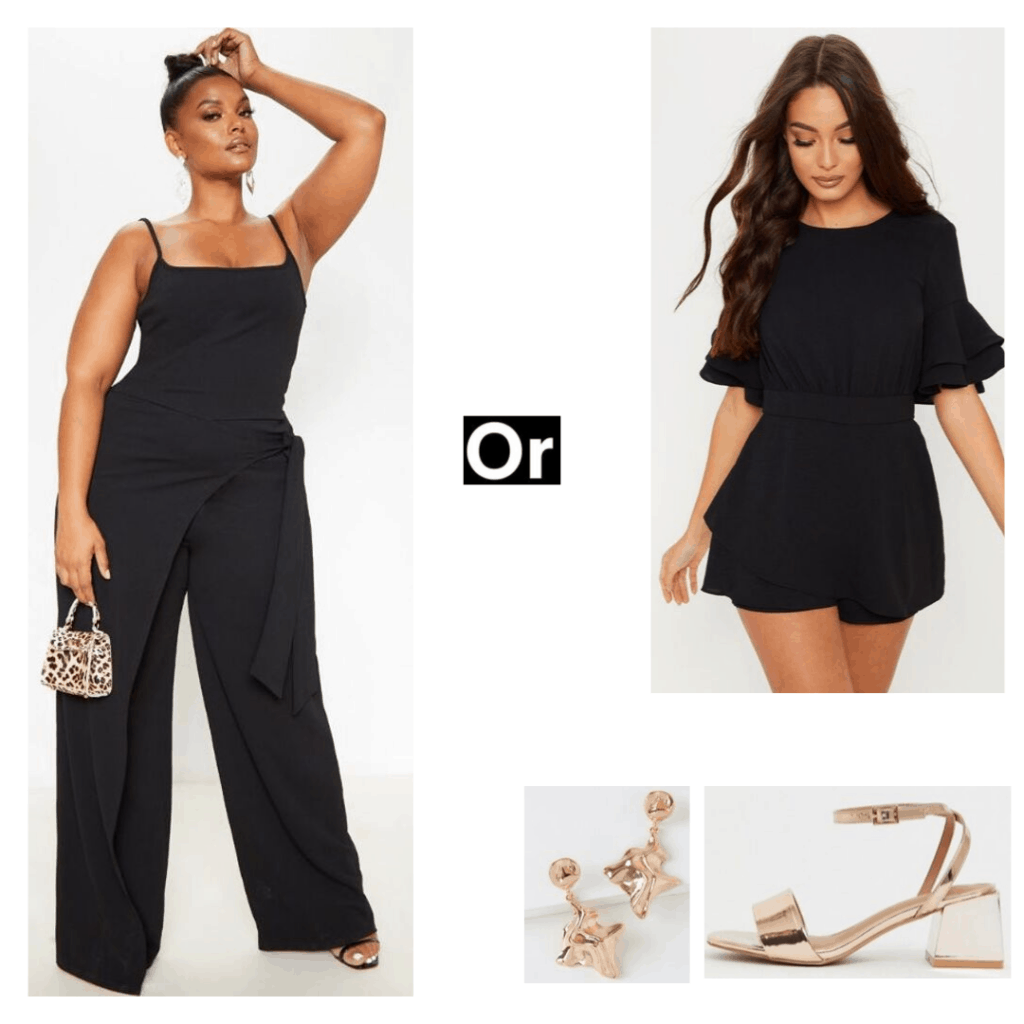 Products: Romper – PLT, Jumpsuit – PLT, Earrings – Lulu's, Sandals – ASOS Design.
If you're having a hard time deciding between multiple pieces of clothing for your dinner and a movie date outfit, there is a simple solution: A jumpsuit or romper!
Jumpsuits and rompers are the best go-to pieces for most occasions: They're comfortable, easy to wear, and eliminate the amount of choices you need to make.
All you need to do is put on your jumpsuit and pick out a pair of shoes. Black jumpsuits are a particularly good investment item and an interesting alternative to an LBD. For this look, I've included a metallic block sandal for some height and a dressy feel.
5. Dressy Shorts + Blouse + Loafers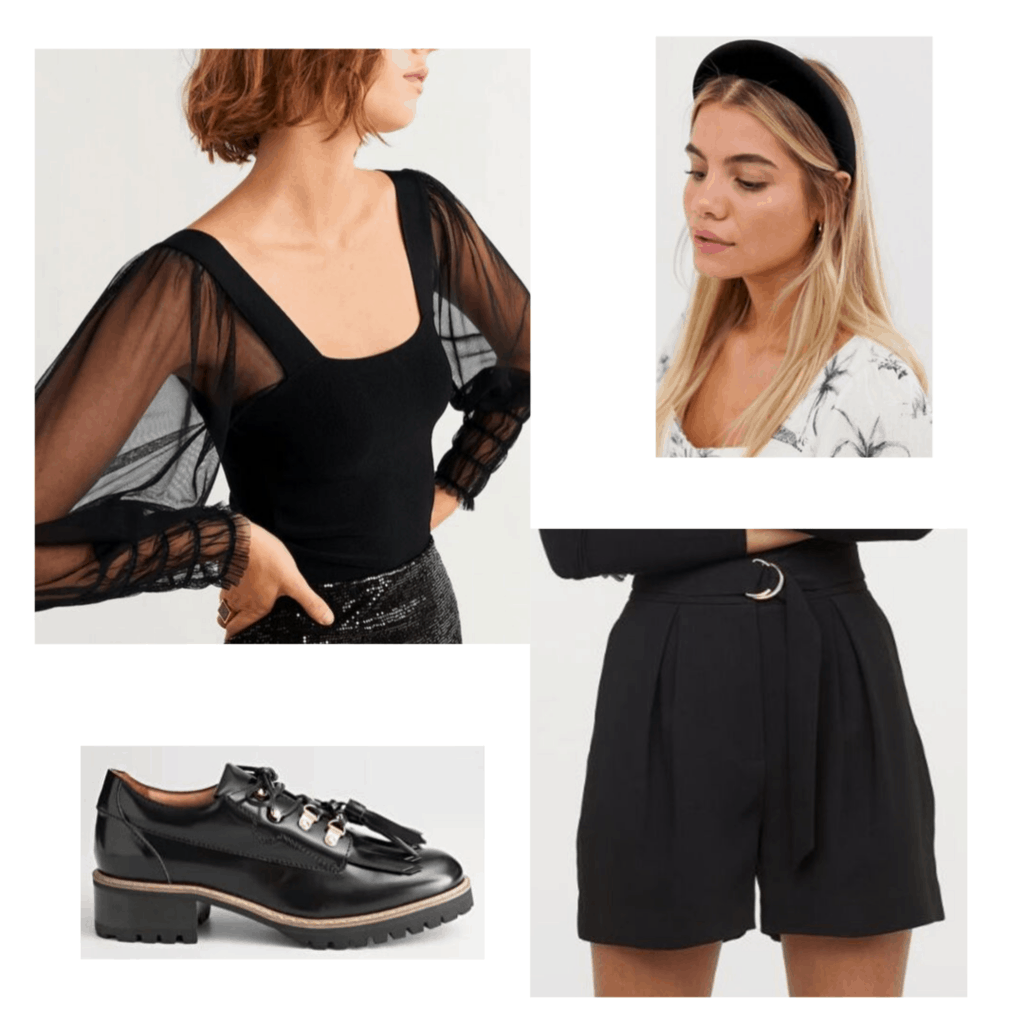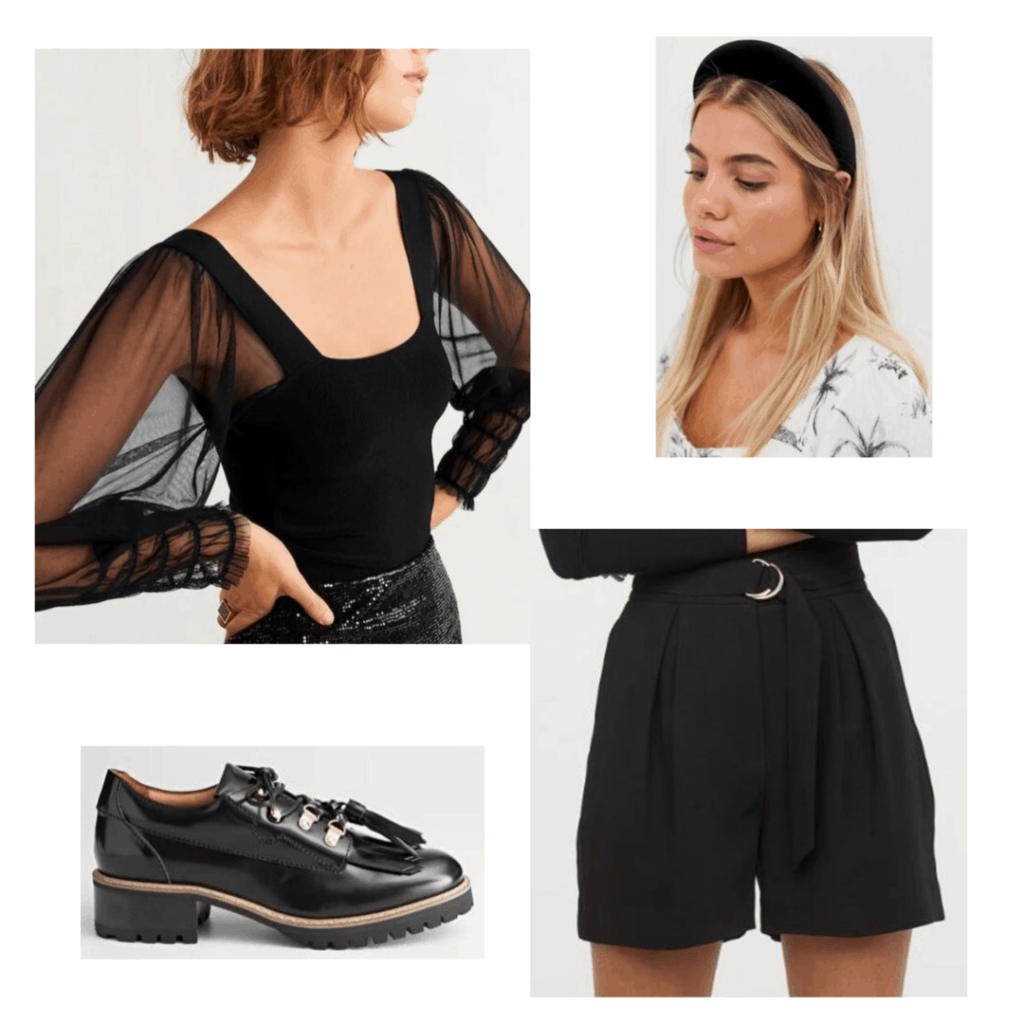 Products: Headband – ASOS Design, Blouse – Mango, Shorts – H&M, Loafers – & Other Stories.
My final dinner and movie date outfit suggestion is a shorts + blouse + loafers combo. After all, you can make many pairs of shorts work for evening by adding a dressy top and a cool shoe. (Just keep your denim shorts at home if you're going to a restaurant!)
This look is what I imagine Blair Waldorf would wear on date night in 2019. The preppy shorts and shoes, organza-detail blouse and on-trend headgear tick all of her sartorial boxes. (I'm living for this year's headband revival!) This combination is elegant but still suitable for a casual dinner, and is easy to relax in while watching your movie.
What are your favorite dinner and movie date outfit ideas?
For more date night outfit ideas, be sure to see our guide to The 20 Best Fall Date Outfits of All Time.
Dates are meant to be fun and a chance to explore romance with your partner rather than spending an hour worrying about an outfit. Wear clothes that you enjoy wearing because it shows your personality. Hopefully, these ideas help give you ideas for your next date night with your significant other. Happy shopping!
Editor's note: This post was originally published in 2018; it was completely updated and revamped in 2019 with new photos and information.