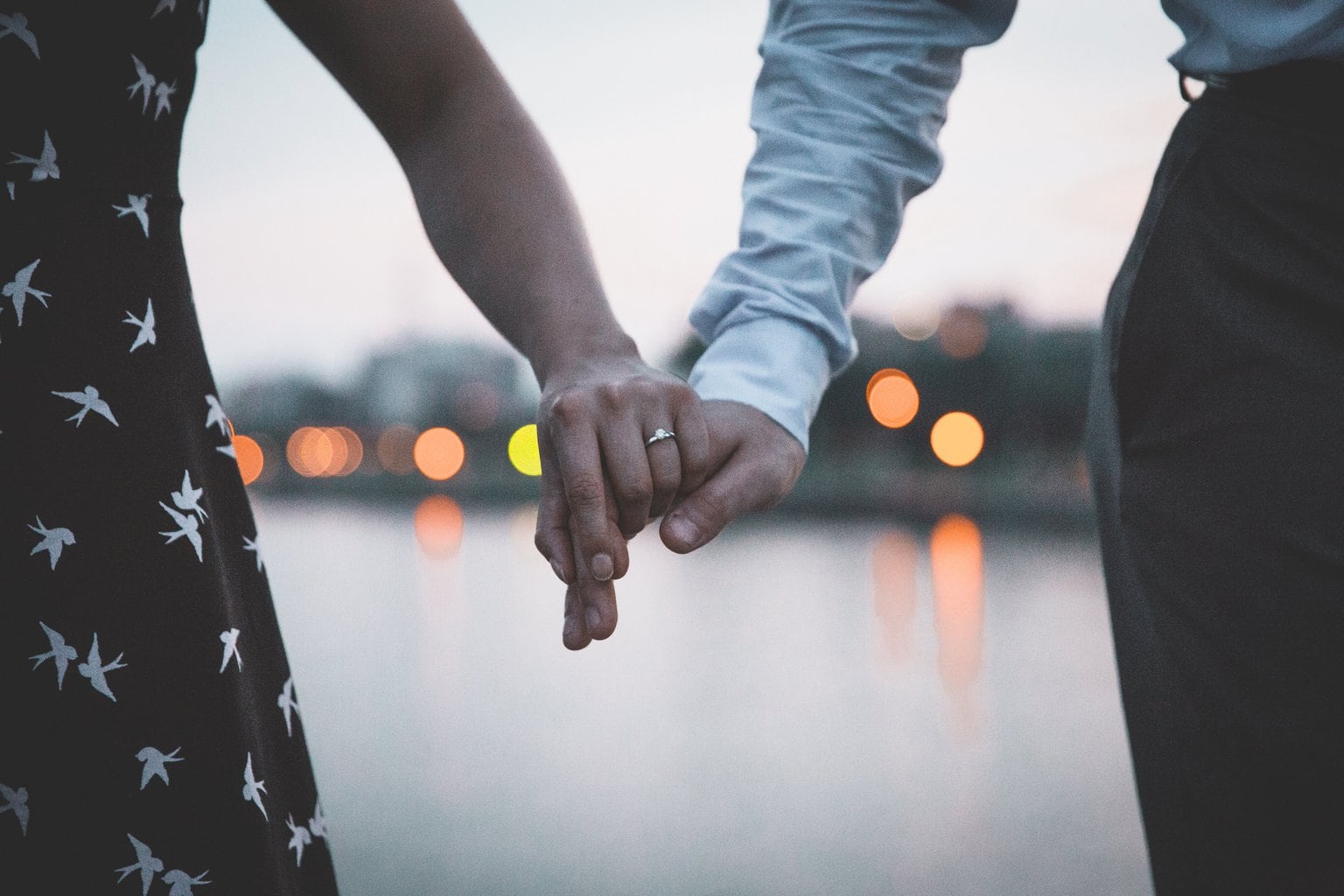 Welcome to the latest edition of Ask CF! Every two weeks, we select a reader fashion question and answer it here on the site. Do you have a specific fashion question for us? Scroll to the bottom of this post to learn how to send it our way!
Ask CF Question
Hi CF!
My question is as follows:
As the cherry trees on campus blossom, so too does new romance. The first "day-date" outfit is a tricky one. I don't want to overdo it with an outfit that's too dressy, but I would like to wear something nicer than what I usually wear to class. Something that's fun, flirty, fit for spending a sunny spring afternoon at a park or out on a cafe patio – while still keeping things low key (it is a first date after all). Wondering what outfit recommendations you have? 🙂
– Dani
Our Response
Dear Dani,
First-date dressing can be hard, particularly because ideally, you're looking to strike the right balance between "I spent five hours getting ready" and "I just threw this on because it was the first thing I saw when I opened my closet."
However, it is doable; all that is required is a bit of patience and a few handy outfit formulas at the ready.
So, with that in mind, keep scrolling to see the outfits that I have put together for you.
Outfit #1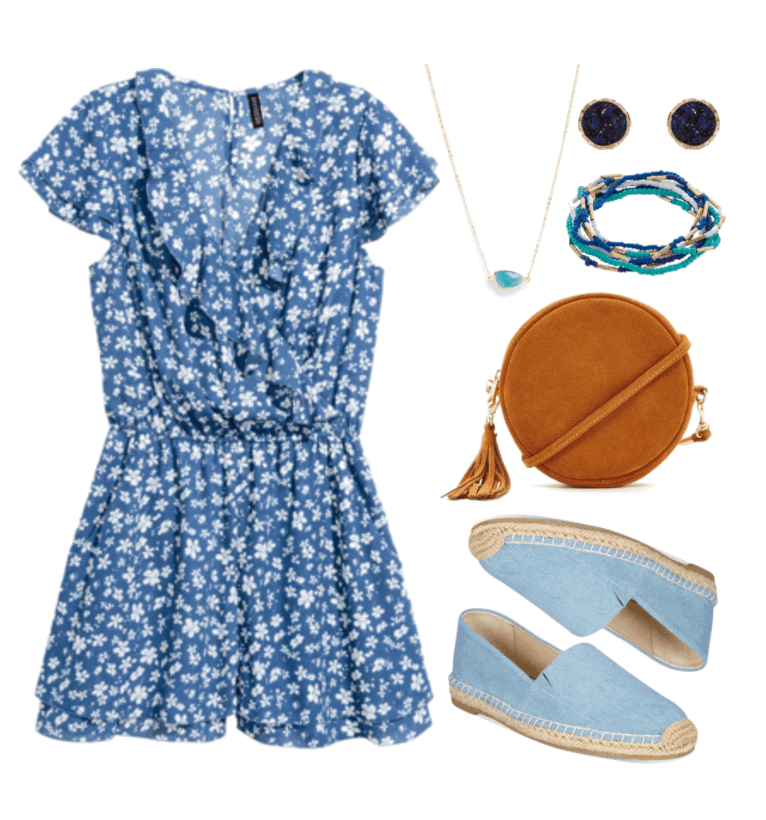 Products: Romper – H&M, Necklace – South Moon Under, Earrings – Humble Chic, Bracelet Set – Kohl's, Cross-Body Bag – Forever 21, Espadrilles – Macy's
In your letter, you mention looking for something "fun" and "flirty," and I think that this outfit fits the bill perfectly: The floral pattern and ruffles on this lovely blue romper are lighthearted and feminine details that add some romance to your look, while tonal blue jewelry ensures that your outfit has the right hint of sparkle.
These espadrilles are cute but comfortable shoes for a date if you know that you are going to be doing some walking. (You mention the possibility of going to the park.)
Lastly, a boho round cross-body bag is the perfect way to carry your essentials, while also providing a subtle pop against the mostly-blue outfit.
Outfit #2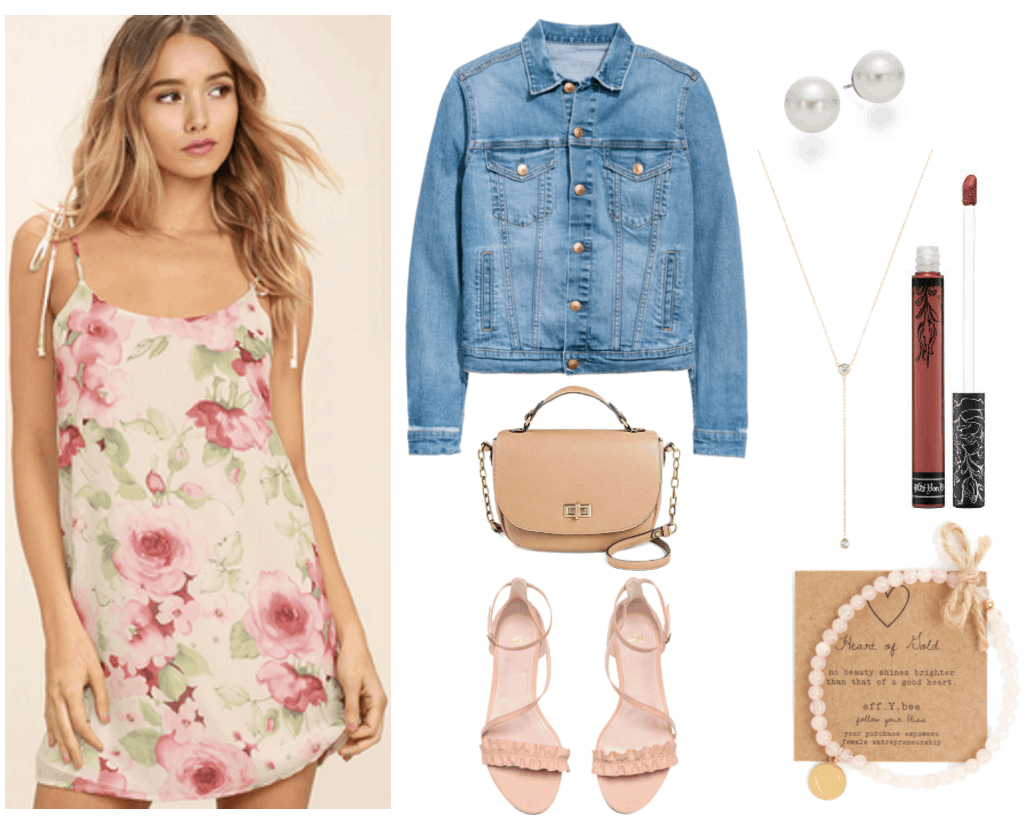 Products: Dress – Lulu's, Denim Jacket – H&M, Bag – Target, Sandals – H&M, Earrings – Saks Off 5th, Necklace – Revolve, Liquid Lipstick – Sephora, Bracelet – South Moon Under
Sweet, classy, and just plain pretty, this dress is definitely the fanciest piece of all the clothing featured in this article. However, don't let that deter you from wearing it on a more laid-back date; when layered with a denim jacket, the dress is brought back down to earth. Moreover, it has just the right amount of femininity to catch your date's eye (in a good way!).
Some pale pink ruffled strappy sandals are the perfect sweet addition to the outfit, while a beige satchel adds some more structure to the look.
To take things to the next level, add some subtle jewelry to the mix, such as these classic pearl earrings, this cute lariat necklace, and this beautiful beaded charm bracelet.
Lastly, if you choose to wear makeup, a matte liquid lipstick in a neutral rosy shade will complement your outfit perfectly.
Outfit #3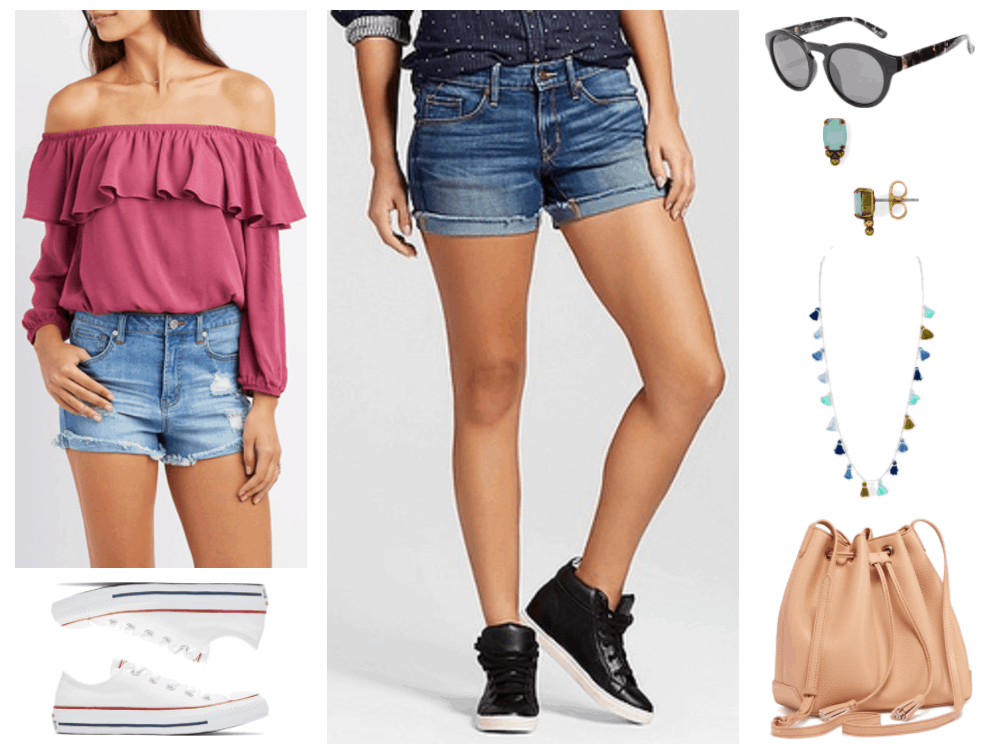 Products: Top – Charlotte Russe, Sneakers – SSENSE, Shorts – Target, Sunglasses – Old Navy, Earrings – Bloomingdale's, Necklace – Bloomingdale's, Bag – Old Navy
If you are looking for something sportier, this outfit is sure to do the trick, as it's basically an updated version of the standard t-shirt-cutoffs-and-sneakers uniform.
Start off by pairing a trendy ruffled off-the-shoulder top with some distressed denim shorts (you can leave the top out or tuck it in — it's up to you). Note: If it's cooler outside, you can always substitute the shorts for your favorite pair of skinny jeans.
Next, put on some laid-back canvas sneakers, and pick up an unfussy bucket bag.
Finish off the look by accessorizing with some antique-style stud earrings and a fashion-forward long tassel necklace for an interesting juxtaposition of old and new.
Finally, if it's sunny out, you can't go wrong with a flattering pair of round sunglasses to top off this casual and cool ensemble
Outfit #4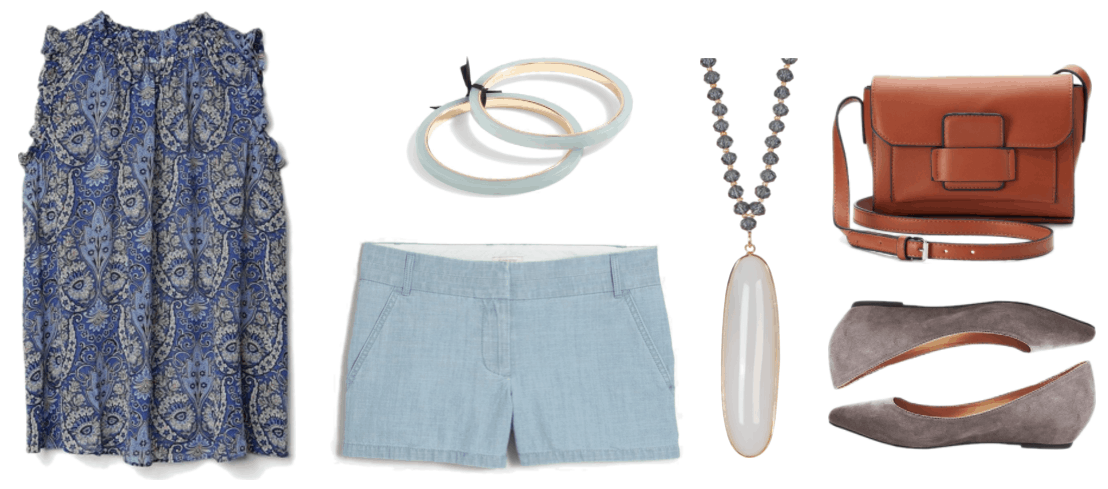 Products: Blouse – Gap, Bangles – J.Crew, Shorts – J.Crew Factory, Necklace – Nordstrom Rack, Cross-Body Bag – Kohl's, Flats – Target
This look strikes just the right balance between boho and feminine, and is the perfect thing to wear out on a low-key coffee date.
This ruffled blouse is one of those surprisingly versatile pieces that looks perfect when worn with a pair of chic chambray shorts, as shown here.
Add a set of classy bangles to give your look some elegant charm. A unique long necklace adds another bohemian touch.
A timeless cognac-brown cross-body bag gives your look a sophisticated feeling, and you can't go wrong with some go-with-everything pointed-toe flats to finish the look.
Have fun on your date(s) this Spring, and let these looks inspire you to mix and match pieces from your wardrobe to get the perfect laid-back looks! Thanks for your question!
Do you have a fashion question? Send it to us!
Is there something in your closet that you want to wear but have no idea how to style? Do you need advice on what to wear to an upcoming event? Do you have a specific fashion conundrum?
If you have a fashion-related question that you would like to see answered in this column, simply email it to [email protected], and one day you might see your question answered right here on the site!
What do you think?
What are your favorite first-date looks? Which items in your closet do you feel most comfortable in on first dates? Do you have any foolproof first-date activities for Spring? Let me know in the comments!