This post will show you six summer intern outfit ideas, with tips for dressing for a summer internship.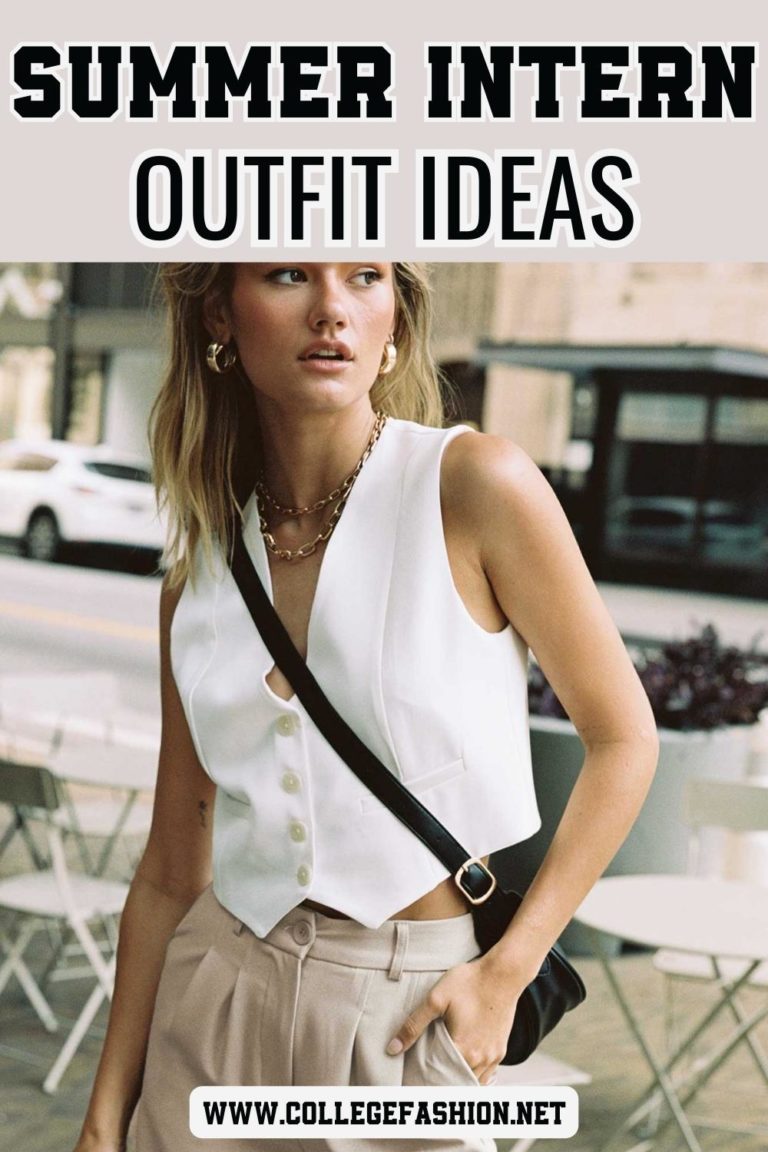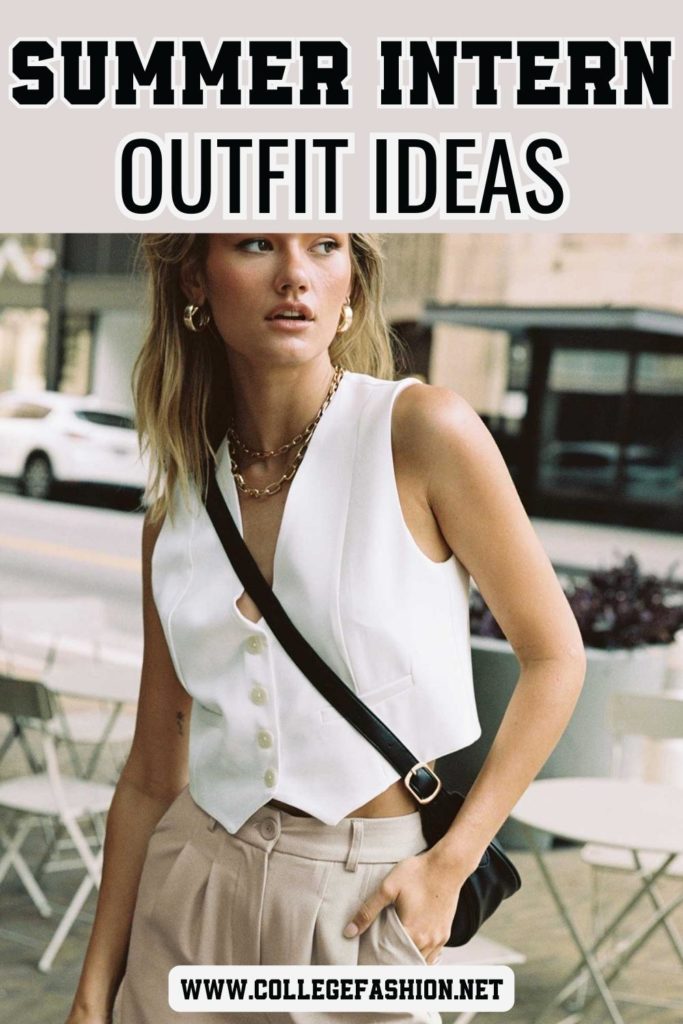 So you landed a summer internship—congrats!
Now comes the hard part: figuring out what to wear every day. Just kidding! But it can feel a bit daunting to put together professional outfits that still showcase your style, especially when you're probably used to dressing casually for school.
Plus, dealing with summertime weather is a whole other factor to consider. (I hope you never have to ride on a crowded subway car with a broken air conditioner in 95° heat like I have…traumatizing, to say the least.)
This guide will give you all the tips you'll need for dressing for your summer internship, along with work wardrobe must-haves and summer intern outfit ideas.
It's no secret that the way you present yourself can have an impact on how you're perceived—and even how you perform—which is why we are helping you dress for success with this summer intern fashion guide.
Tips to Help You Dress for a Summer Internship
Favor breathability: Think breathable fabrics – satin, silk, linen, cotton – and silhouettes – flowy, draped, loose.
Warm neutrals with bright colors: The workplace is generally not a place to wear your favorite neon dress, but that doesn't mean you can't incorporate some color. Mix warm neutrals like beige and chocolate with a pop of blue or yellow accessories – heels, belt, bag. Prints are another way to bring in some color and personality, with options like florals, stripes, and polka dots.
Conference room blazer: While when you don't need to be wearing a blazer when you're just sitting at your desk, it's good to always take one with you and have it on hand in case of a conference room meeting. Those meetings tend to be more formal, and you may be expected to wear a blazer—also, they usually have A/C, so don't worry. For more casual business settings, a knit cardigan works, too.
Balance when it comes to showing skin: While I believe you should wear what makes you feel comfortable, unfortunately, there's an undeniable power dynamic at play. You're a young professional who would most likely like to get hired full-time or receive a good recommendation, so it's better to stay on everyone's good side and play it safe with higher necklines and longer skirt and dress lengths.
Finding the right comfortable shoes is a necessity to keep your sanity through long hours and/or if you'll be walking during your commute. Flats and certain low-top sneakers are top choices to keep you comfortable. Sandals that look polished (read: not flip flops) are acceptable in certain offices, but double-check the dress code to be sure. If you are required to wear something higher for work, go for heels with a low block heel (which are comfier than stilettos). You can also try wearing heel inserts or padding, and maybe keep some flats in your bag for once you clock out.
Keep your workplace's dress code in mind. Nowadays, many offices lean more casual (a.k.a. business casual), while others still require business professional attire that is more "buttoned-up." This will determine what kind of outfits will ultimately be considered appropriate for your internship; always use your best judgment and be sure to refer to the intern or employee onboarding info you're given.
Bottom line: it is always better to be slightly overdressed than underdressed in a professional setting. Dressing professionally shows that you take your internship and responsibilities seriously and respect the people you are working with or meeting. This will help you put your best foot forward and make a good impression!
Wardrobe Essentials for Summer Interns
These are the five must-have pieces to add to your wardrobe for a summer internship that will make getting dressed a breeze and elevate your look.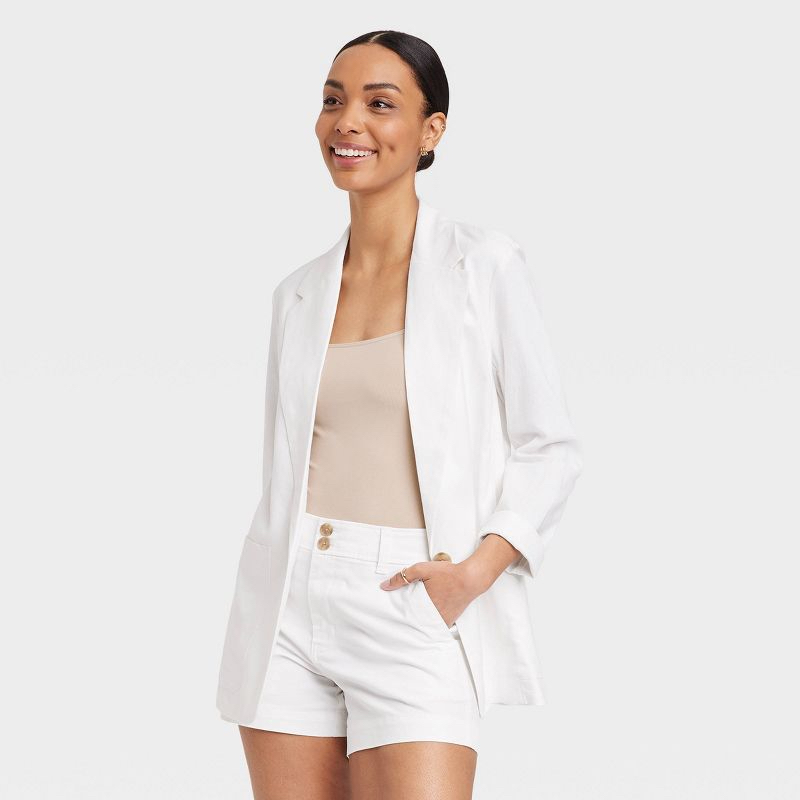 When you think about office attire, a blazer is probably the first thing that comes to mind. This polished piece is a workwear must-have, and there are so many different styles to choose from. Since we are talking about summer internships here, I'd suggest picking up a neutral-colored linen blazer, which is going to be lightweight and has a seasonal look.
You'll be able to layer your linen blazer with many different internship outfits throughout the summer, and it's an ideal item to wear if your workplace has the A.C. blasting (as many offices do during the summertime) or if you'll be attending an important meeting.
2. A Flowy Dress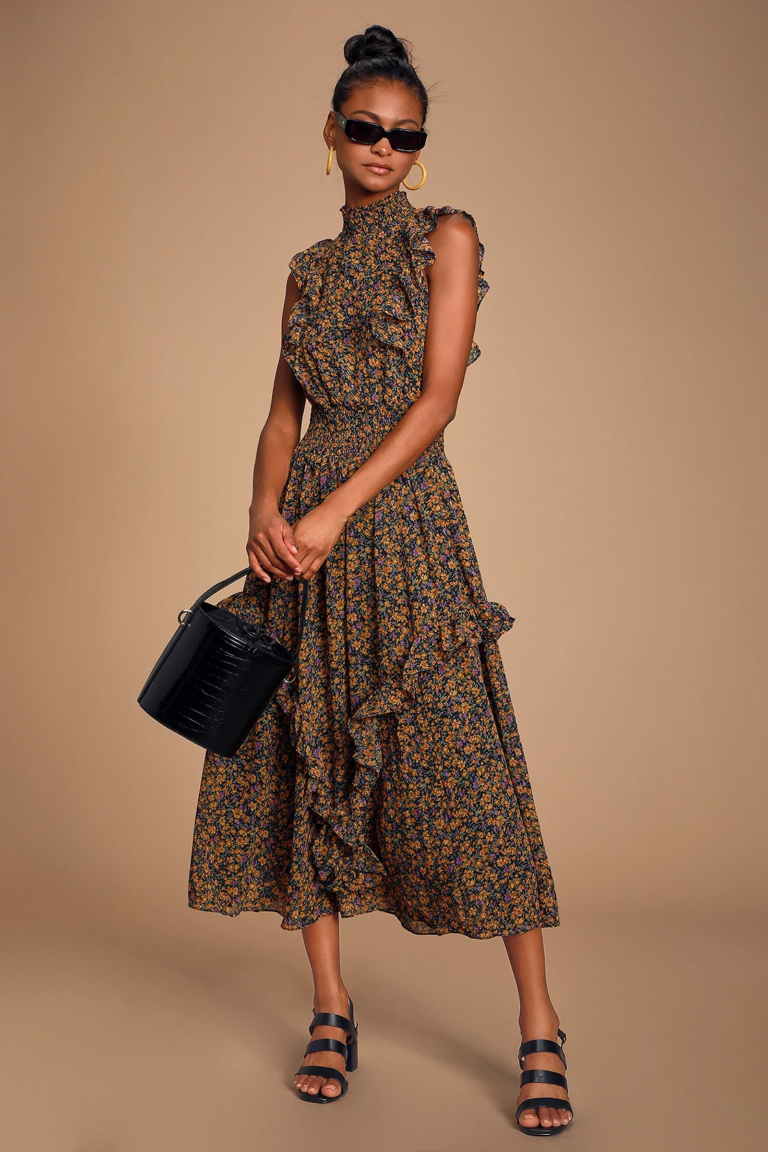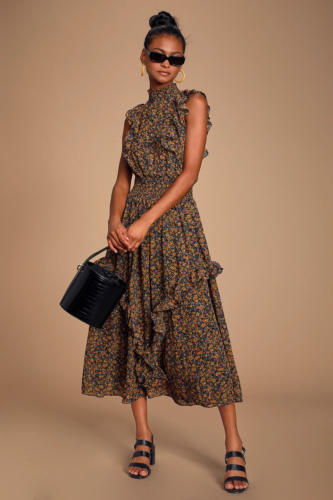 Dresses make for some of the easiest, quickest, and best summer internship outfits you can wear: throw one on, and you're basically ready to head out the door. Plus, they are ideal for beating the summertime heat on those scorching hot days when you want to avoid wearing pants.
Not all dresses are going to be internship-appropriate, though. Opt for dresses with short sleeves or wide straps (some workplaces advise against thin, spaghetti straps, for example) that are not too short (no shorter than an inch or two above your knees is generally a good rule of thumb) or too form-fitting.
It's all about looking polished and professional, so save anything super short or tight for the weekend rather than the workplace.
A midi-length dress is a safe choice that looks chic and pairs well with heels, sneakers, and sandals.
Mini-sized handbags may be the trend, but when it comes to work and internships, you're most likely going to need a roomy bag for everyday use.
A structured tote bag is a classic choice that will elevate your outfits while being able to hold all your belongings, including your laptop, water bottle, snacks, wallet, and more. (You could also use a backpack, but I'd recommend one that has a polished vibe rather than a casual look like the one you may be using on campus).
You don't have to break the bank for a chic bag, either; this classy-looking bag is under $50 and is large enough to fit your laptop. Plus, it's waterproof and scratch-resistant! It also features adjustable shoulder straps for comfortable carrying and multiple sections for organization (including a padded laptop compartment).
This bag is available in over ten different colors, but I'd recommend going for classic black or a neutral hue to match most of your clothing.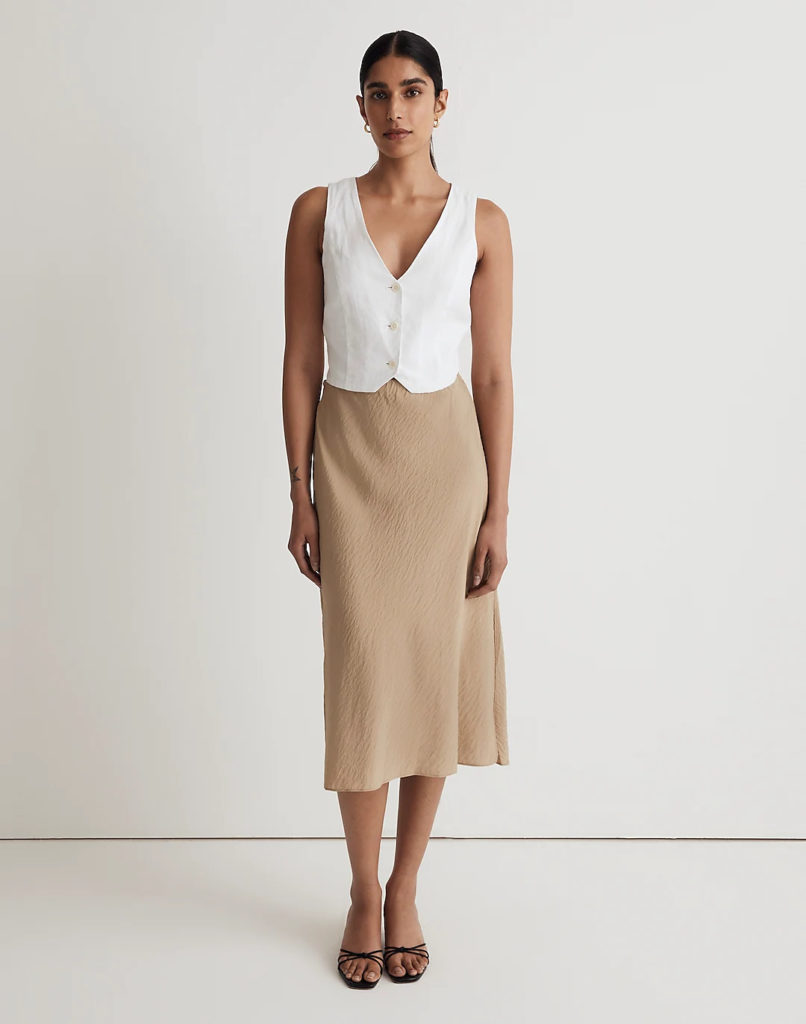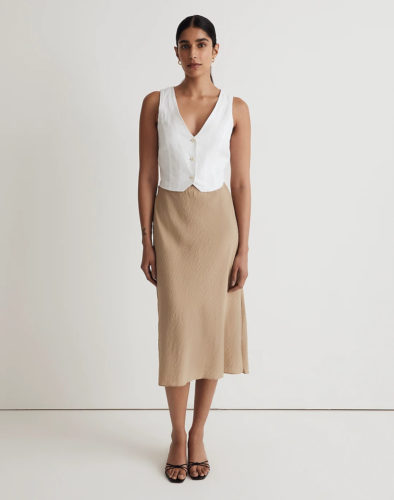 It's all about lightweight fabrics and flowy silhouettes when it comes to keeping cool during a summertime internship. After all, crop tops and jean shorts aren't going to make the cut!
A flowy midi skirt in a lightweight fabric is an excellent piece to invest in since you can wear it with different tops and shoes throughout your internship. This midi slip skirt has a flowy design and is made with a light, textured fabric that won't weigh you down on hot days. Its neutral beige color makes it super versatile—more so than a skirt with a print, though those are cute, too—and you can style it with flats, heels, and low-top sneakers, alike.
P.S.—I'm a big fan of how this skirt looks paired with a vest top (as shown above). Vests are a major fashion trend this season and can be made office-appropriate when styled with other polished pieces.
5. White Low-Top Sneakers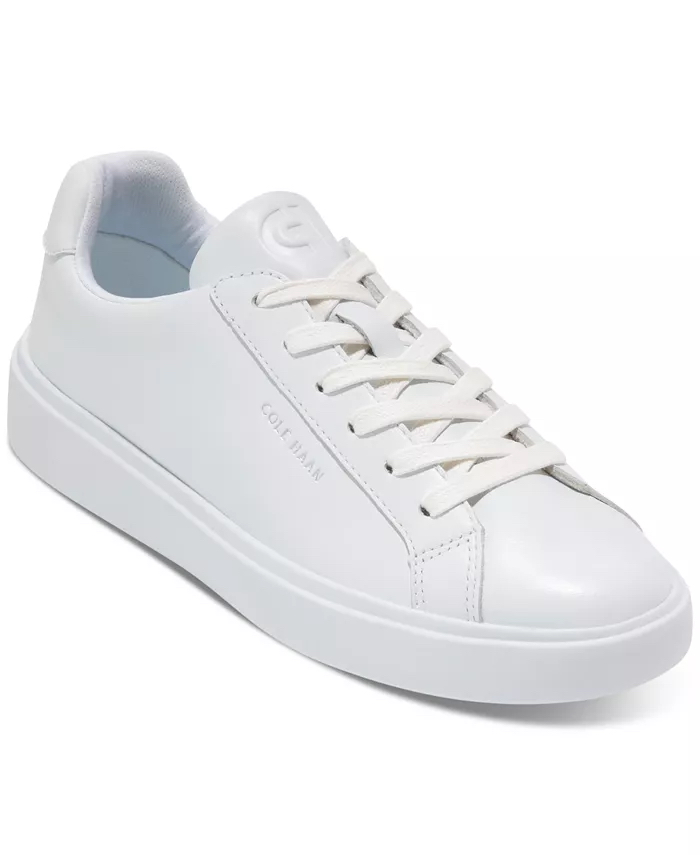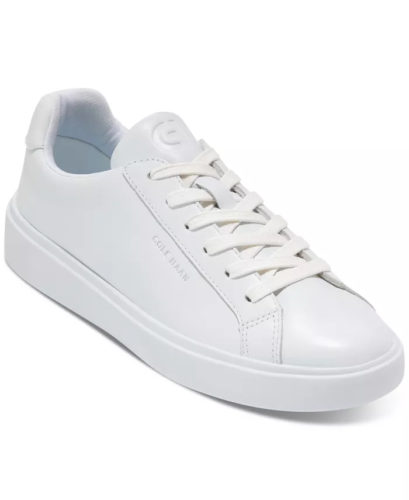 White low-top sneakers are a wardrobe staple even beyond the workplace—they are one of the most versatile shoes that go with almost any outfit, including (some) professional ones. Obviously, it will depend on your internship's office culture (use your best judgment here), but wearing a low-profile pair of sneakers to many workplaces is perfectly acceptable. The key is opting for a pair that is simple, neutral, and clean.
The best part? They are arguably the most comfortable footwear option, especially if you're going to be on your feet for long hours or if your commute involves walking!
If sneakers are a no-go, comfortable flats are your next-best option.
Summer Intern Outfit Inspiration: Affordable Outfits Under $100
Now that we've covered the essentials, let's get to the outfits! Here are six affordable outfit ideas for a summer internship, with styling ideas and all items under $100.
Summer Internship Outfit with Trousers
Wide-leg trouser pants will instantly make you look chic and are just as cute for an office as they will be during your downtime. For the summer, opt for a pair made with lightweight fabric, like this pleated beige linen pair with a high waist.
You'll be able to pair these neutral trousers with a ton of different tops, but I love the idea of wearing them with a vest top for a fresh, fashion-forward take on a classically professional piece. (Or substitute it with a blouse for a dressier look).
Give your standard loafers a summertime makeover with these straw mules. Their woven material and slip-on design (along with their chic gold horse bit detail) make them perfect for the season.
Complete the look with small, structured earrings like this gold waterdrop-shaped pair which are a dupe for the viral Bottega Veneta ones.
Classic Summer Internship Outfit
It doesn't get more classic than a black shift dress. And while I know that black may not be the most *summery* color, if your dress is made with a lightweight material (this one is a cotton and linen blend), you should be just fine.
The other bonus? This dress is so versatile that you can wear it outside of your internship since its classic A-line silhouette won't ever go out of style.
It looks great worn with blazers and cardigans, too. If you're going to invest in some new pieces for your internship wardrobe, let them be versatile ones like this frock!
For a chic look, wear it with some cute cap-toe flats, like this nude and black slingback pair with a low block heel. A gold chain strap accents this large shoulder bag for a luxe look, and a pair of gold earrings will add just the right amount of interest without overdoing it.
Summer Internship Outfit with a Bodysuit
I know you're thinking bodysuits are reserved for weekend wear, but think again! A bodysuit in a neutral color with a high neckline, short sleeves, and a seamless design can look polished when paired with a skirt or some wide-leg pants, laying smoothly underneath.
Consider adding a pop of color to your ensemble with some blue linen wide-leg pants—these have a tailored silhouette, but the vibrant color keeps them looking stylish and youthful. (Of course, neutrals are always going to be the safest choice, especially if you're interning at a more traditional workplace, so use your best judgment).
Since the pants are so eye-catching, keep the rest of the look toned down with a structured, neutral-colored tote bag, simple pendant necklace, and loafer flats that match the bodysuit—this pair is made with recycled materials and have a flexible construction for comfort.
Trendy Summer Internship Outfit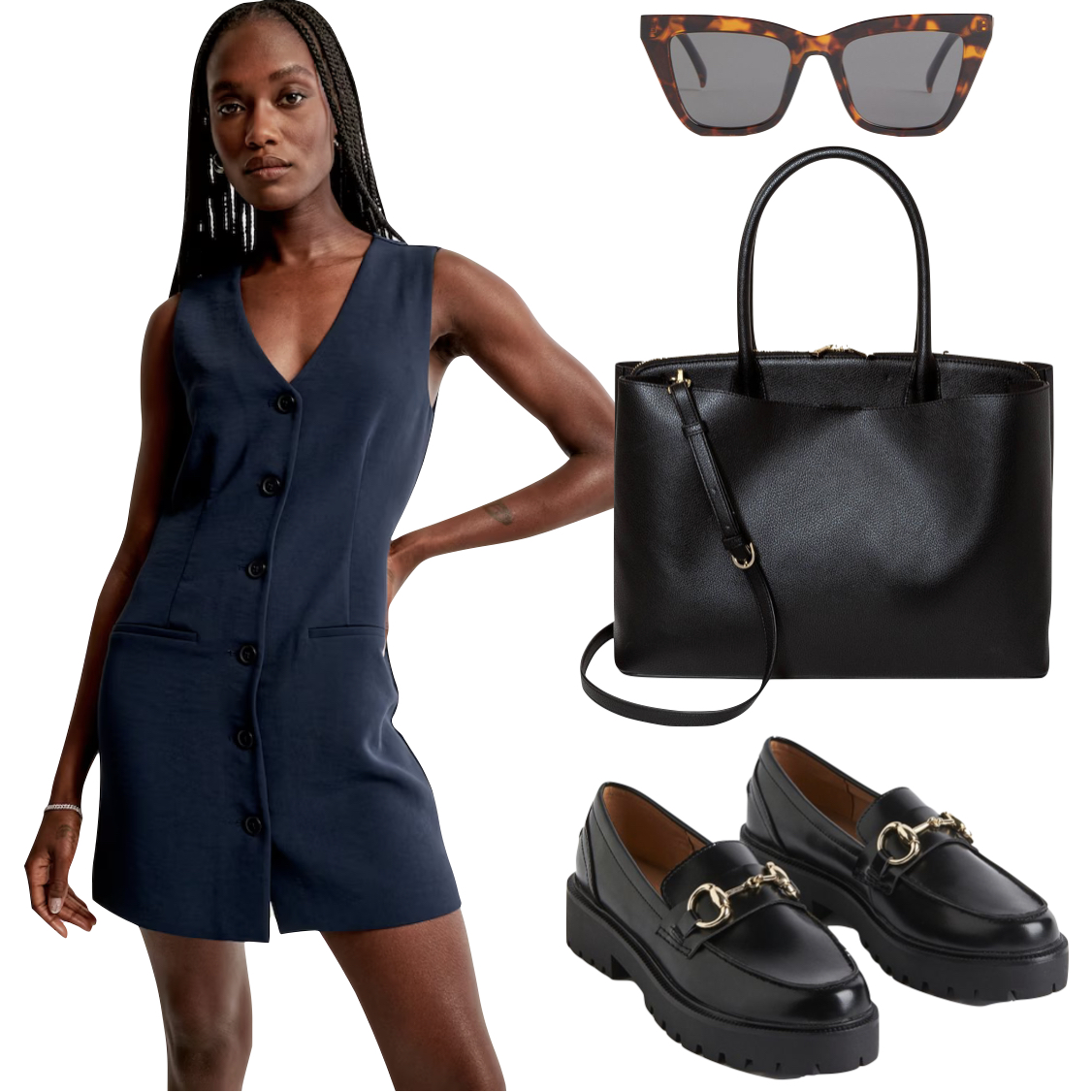 Products: Dress, Sunglasses, Bag, Loafers
Dressing for the office doesn't necessarily mean you have to sacrifice your personal style. Take this season's vest trend, for example; tailored vest tops and dresses have a sleek, professional look that is based on classic suiting and menswear but also happens to be ultra-stylish at the moment.
Try this navy blue vest dress with contrasting black buttons down the front for an on-trend internship outfit. It may not be appropriate for every type of workplace, but if you're interning somewhere with a modern or fashion-oriented office culture, it's a total slay.
Style it with some chunky loafers (which you'll be able to wear on campus in the fall) and some cool cat-eye sunglasses for your commute and/or lunch break. This spacious black faux leather tote bag has a bunch of interior pockets and a removable shoulder strap for added functionality, making it ideal for daily use.
Casual Summer Internship Outfit
Searching for a more casual internship outfit that still looks polished? Go for an all-neutral look with some sand-colored wide-leg pants and a slim-fitting top tucked in. (Depending on your office culture, jeans may also work here.) This sleeveless top's ribbed knit material and ottoman stitching give it an elevated vibe compared to a regular t-shirt or tank top, making it a better choice for the workplace.
Accessorize with dainty gold jewelry, a large tote bag, and some sandals or beige ballet flats for a fashion-forward footwear option.
Summer Internship Outfit with a Skirt
A flowy midi skirt is a must during hot summer months—it's lightweight and breezy while also being office-friendly, thanks to the midi length and flowy silhouette. This skirt features a cute black and white print which will allow you to pair it with a bunch of different tops and gives it some personality.
A white button-down short sleeve shirt will look nice when tucked into the skirt, as will other blouses and sleeveless tops.
For a more casual internship look, wear a sleek pair of white sneakers; for a dressier look, try heels or flats instead.
What do you think of our summer intern outfits guide?
Would you wear these summer intern outfits? Were these tips helpful? Leave a comment and let us know!