This post may contain affiliate links, which means we may receive a commission if you purchase through our links. Please
read our full disclosure here
.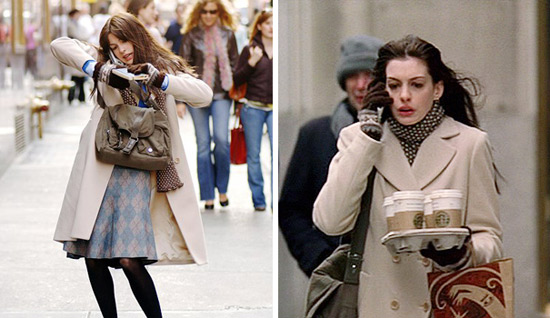 Now that school has started back up, most of us are probably already feeling the detrimental effects of late nights (you know, at the library), early mornings and the seemingly never-ending cycle of assignments and exams. With so many different commitments, and stress levels at a permanent high, who really wants to spend all that time in the morning getting ready when you could be getting an extra fifteen minutes of sleep instead?!
Luckily, there are tons of time-saving beauty products and tips that will keep you looking fab and fresh-faced while still allowing you to hit that snooze button for the third time:
1. Concealer/Highlighter Pen
Splurge: Yves Saint Laurent Touche Eclat; Save: Maybelline Instant Age Rewind Double Face Perfector
Didn't get enough sleep? No worries; a few swipes of an eye brightening pink-based highlighter pen will make your eye bags a thing of the past.
Use it on your cheekbones, tip of your nose, around your lips and under eyebrows to really brighten your face. You can also use this as a cover up under your foundation. Since it's small, you shouldn't have any problem fitting it in your bag, easily allowing for touch ups throughout the day as needed.
2. Dry Shampoo: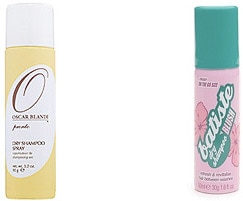 Splurge: Oscar Blandi; Save: Batiste
For me, dry shampoo is one of those beauty items that really is an essential. Save a ton of time in the morning and opt out of washing your hair; instead, spray dry shampoo on your roots and tousle to get refreshed, cleaner-feeling hair in seconds. This is especially great if your hair is like mine – long, thick and dry – since washing/drying takes forever and constant washing and use of heat products will make your hair even drier. (Plus, I swear dry shampoo makes my second-day hair look even better than it does freshly washed.)
Check out this post on the best dry shampoos for a more in-depth look at dry shampoo and some of your different brand options. (If you happen to live near a store like TJ Maxx or Marshall's, you might want to check their beauty section for some huge savings – the TJ Maxx in my hometown usually has a ton of Oscar Blandi in stock for 50% off!)
3. White Eyeliner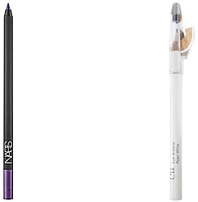 Splurge: NARS Larger than Life Long-Wear Eyeliner; Save: E.L.F. Essential Eye Widener
Instantly awaken your tired eyes by using white eyeliner along the inner corners of your eyes. This will widen and brighten your eyes, making it look like you're well-rested and alert, even if you really aren't!
4. Brow Kit: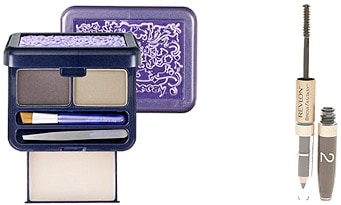 Splurge: Urban Decay Brow Box; Save: Revlon Brow Fantasy Pencil & Gel
Okay, so the first few times you attempt to do your brows, it probably won't be a "time saver," but it gets much easier and quicker – promise! Well-shaped brows will seriously transform your face and make you look more alert and put together – you might even find that structured brows eliminate the need for a lot of the eye makeup you're used to wearing.
Even if you don't want – or need – to spend any extra time filling in your brows with a powder or pencil, a gel or wax is still a super convenient product to have at your disposal, just in case your brows are being particularly unruly!
5. Tinted Moisturizer: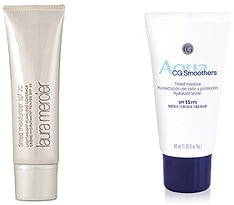 Splurge: Laura Mercier Tinted Moisturizer SPF 20; Save: CoverGirl CG Smoothers SPF 15
Try switching your foundation for a tinted moisturizer with SPF: you'll moisturize, even out your skin tone, protect yourself from sun damage and cover imperfections, all with one product!
Tinted moisturizers are generally easier and faster to apply and blend than are most heavier foundations, and if you usually wear moisturizer and sunscreen under your foundation anyway, you'll be able to skip some steps. (Alternatively, you can try pre-mixing a bit of your moisturizer with your liquid foundation to get a similar effect.) Tinted moisturizers look natural and feel like you aren't wearing any makeup at all, so they're perfect for days when you don't want to walk around feeling like you've got a face full of product.
6. All-in-one Makeup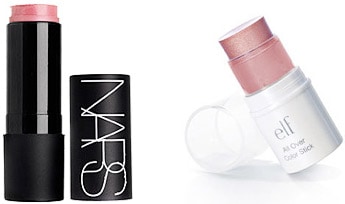 Splurge: NARS The Multiple; Save: E.L.F. Essentials All Over Color Stick
Applying blush, and lip product, and eye product can be a huge time waster. If you're dead set on wearing it all, try investing in an all-in-one product that can be used many different ways and save yourself a little time. These sticks should be applied with your fingers and used over foundation as a blush, eyeshadow, eyeshadow base, highlighter/bronzer (depending on which color you choose) and even as a lip color.
7. Makeup Remover Towelettes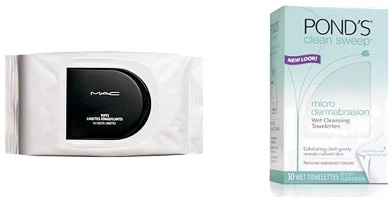 Splurge: MAC Wipes; Save: Pond's Exfoliating Clean-Sweep Towelettes
You should never be going to bed with your makeup still on – but hey, we all know that some nights you'd rather just fall into bed and not have to bother with your normal face cleansing routine. Makeup remover towelettes are super easy to use and will save you tons of time and energy at the end of an especially long and stressful day. Some towelettes also act as exfoliators, which will cut out even more time from your beauty routine.
Anything to add?
What are your favorite time-saving beauty products and tips? Anything we missed? Any other suggestions as to how to fake looking totally refreshed and well-rested? We want to hear from you in the comments section!