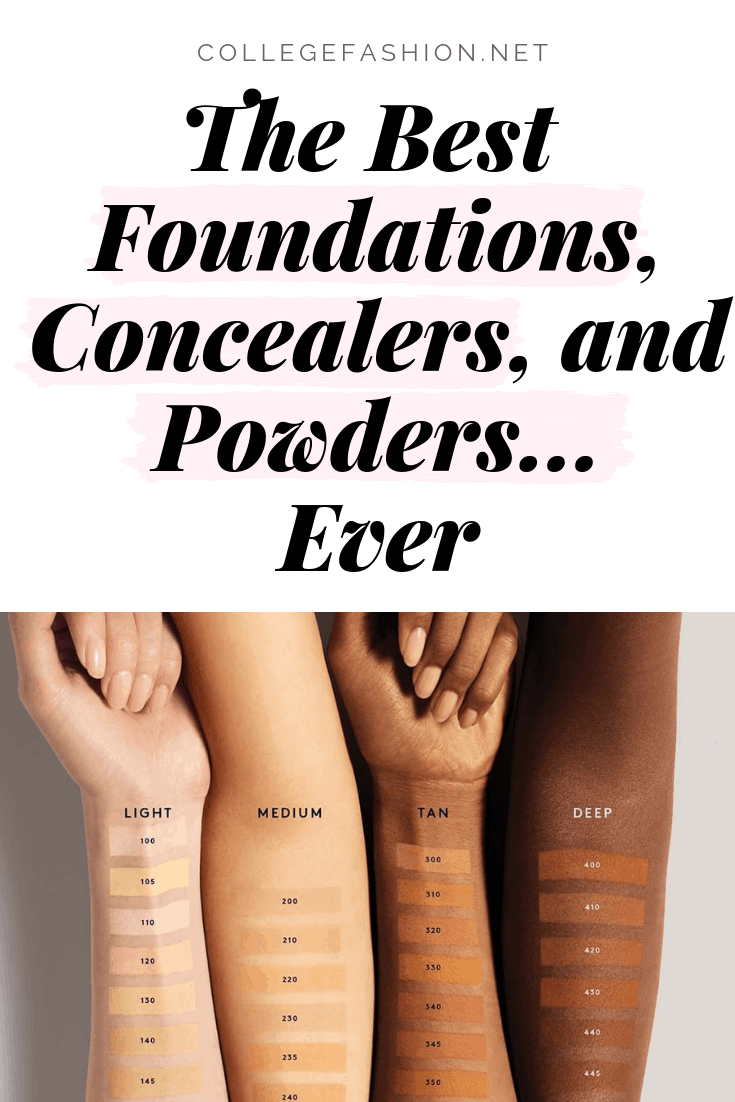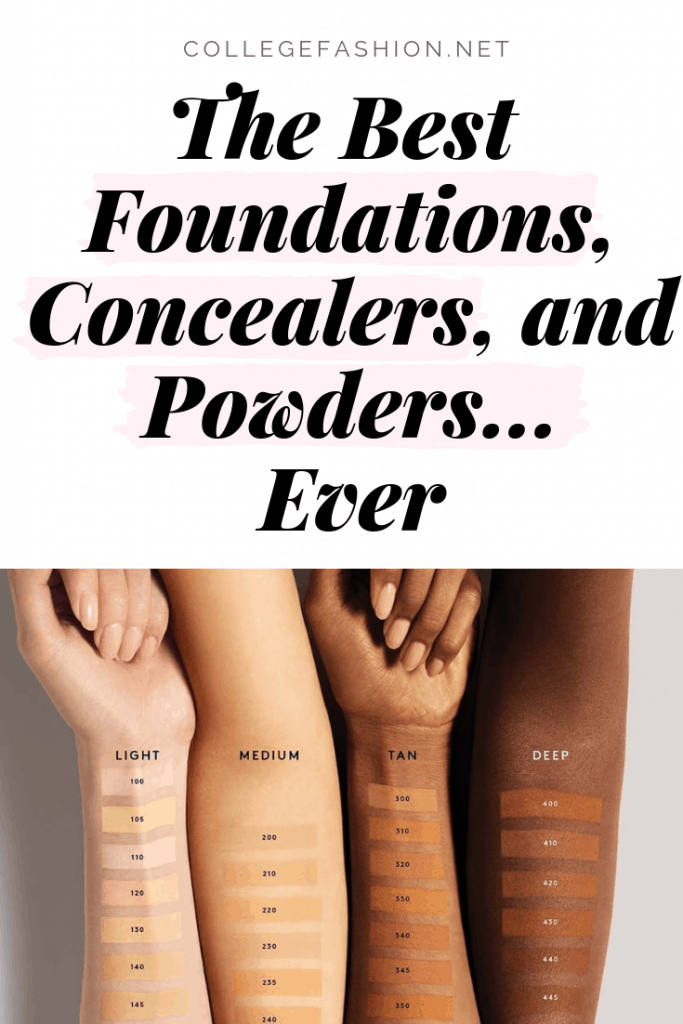 Building a makeup collection is a difficult and expensive process. You never know which formula is best for you or which products are best to spend a little bit more money on.
In the past, we've written a full guide to the makeup essentials every woman needs. Today, I'm going into depth on base makeup, which forms the basis of your look.
Below, I'll show you how to shop for base makeup and share my picks for the best foundations, concealers, and powders… ever.
First Things First:
Before applying any makeup, it's important that you start with a solid skincare routine! By adhering to a good skincare routine you will have a better surface to apply your makeup onto and you will be able to wear less product.
If you don't have a skincare routine in place, start by reading our guide to a basic skincare routine. After that, customize your basic routine with our recommendations for dry skin, oily skin, combination skin, and body care.
Now onto the makeup!
Foundation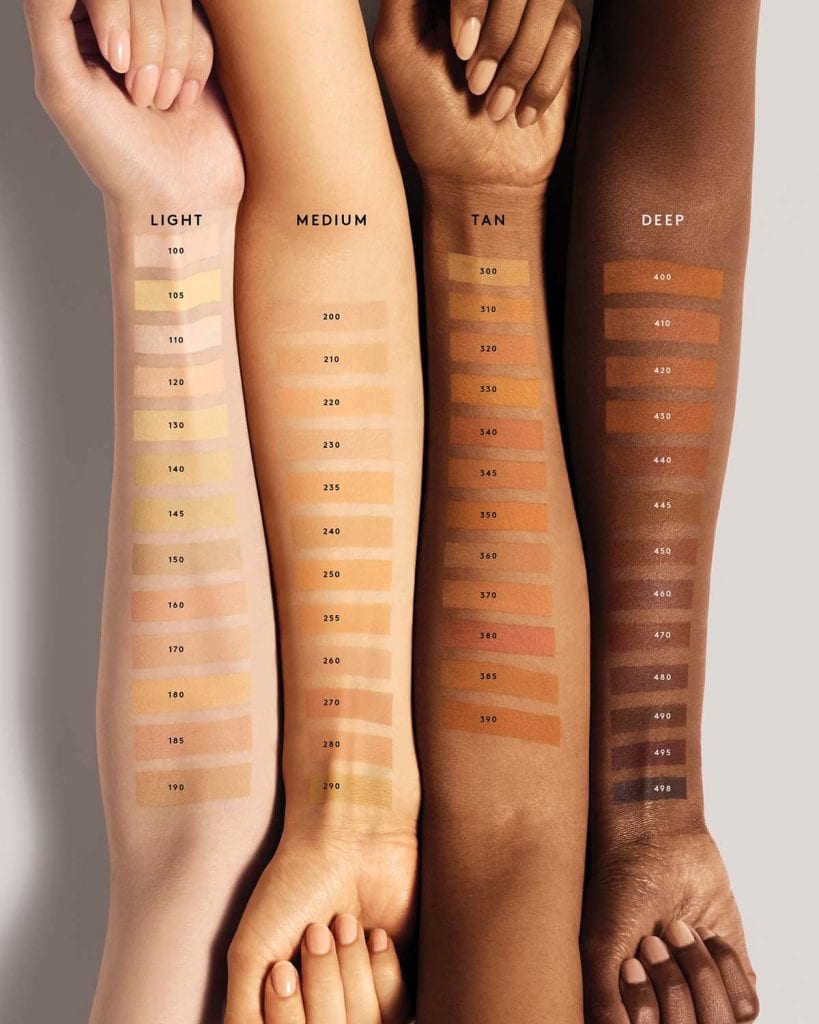 Foundation is great for smoothing and evening the look of your skin and it comes in a few different forms. You can get foundations in liquid, cream, stick, and powder forms. Deciding which one is best for you depends on your preferences. I'll outline each one below.
Best Liquid Foundations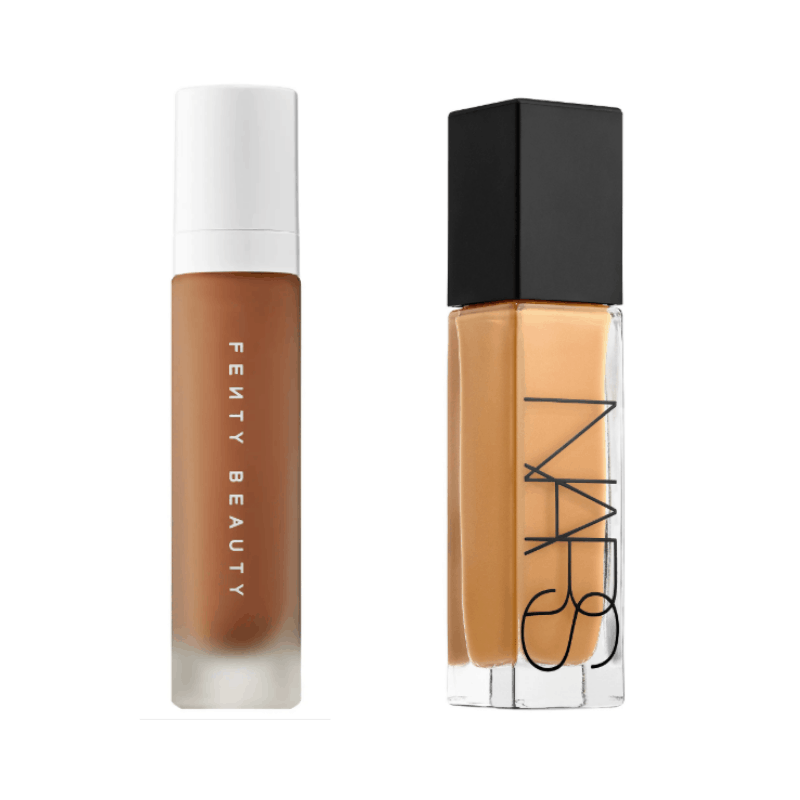 Liquid foundation is easy to find and comes in all finishes: You can get a great matte look or something more dewy — it's all up to you.
One of the best liquid foundations out there is the Fenty Beauty Pro Filt'r Foundation which has a soft matte finish and an extensive shade range. (See our Fenty Pro Filt'r Foundation review for more on this amazing product.)
Or if you are looking for a radiant finish instead, the Nars Natural Radiant Longwear Foundation is another foundation that you can build to full coverage and will last you all day.
Best Cream Foundations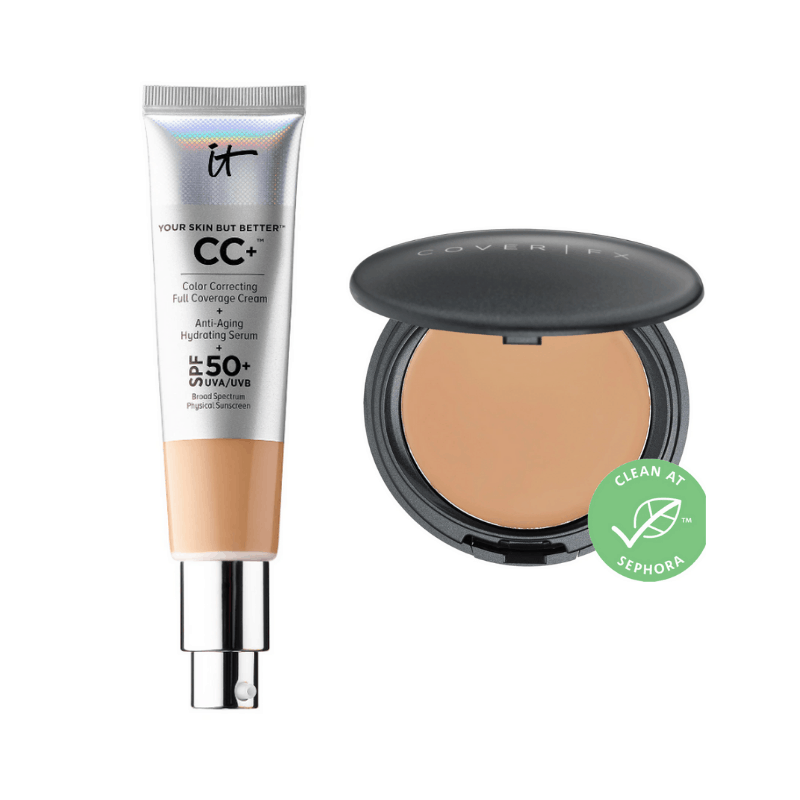 Cream foundations also come in all finishes but are often have thicker formulas so they tend to be packaged in a pot or squeeze tube instead of a pump and can be easier to travel with.
A BB cream is a great option for light coverage that also has some skincare benefits. A great BB cream foundation is the It Cosmetics Your Skin But Better CC+ Cream, this is a color correcting foundation that also has an SPF of 50+.
For a more full coverage cream option the Cover FX Total Cover Cream Foundation is foundation in a compact that is great for travel and will provide you with a full coverage, radiant finish.
Best Stick Foundations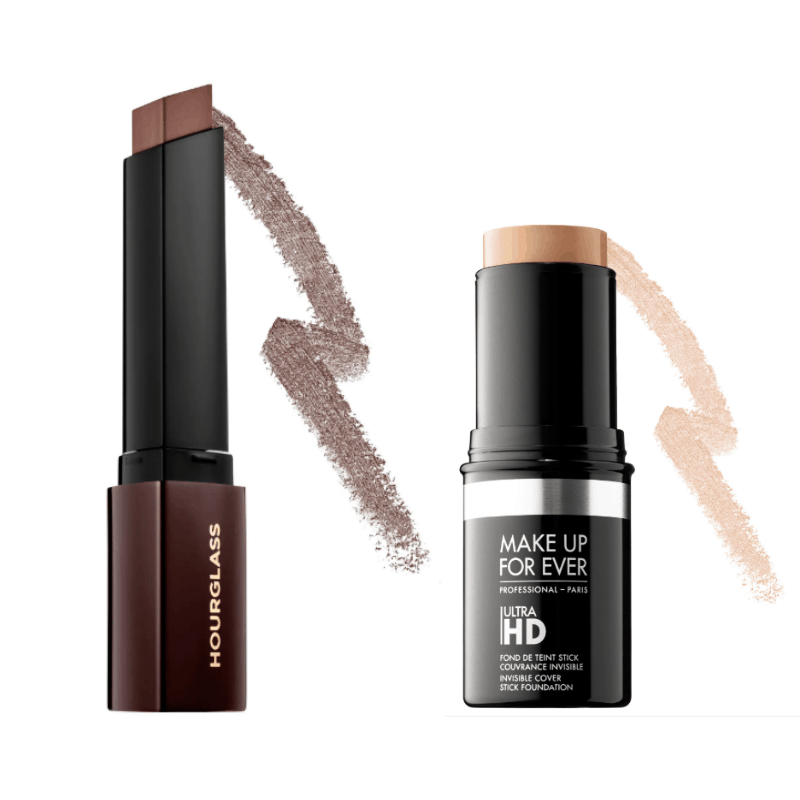 Stick foundations are the ultimate travel product, they are super easy to use and are compact.
A great option with thousands of rave reviews is the Hourglass Vanish Seamless Finish Foundation Stick which can be used by all skin types. Yes, it's pricey at $46, but it's a cult favorite for a reason — it looks completely flawless on the skin.
The Makeup For Ever Ultra HD Invisible Cover Stick Foundation is my personal favorite, it is very hydrating and is super easy to blend. This stick is great for all skin types, and even though it is a hydrating foundation it still works for oily skin as well.
Best Powder Foundations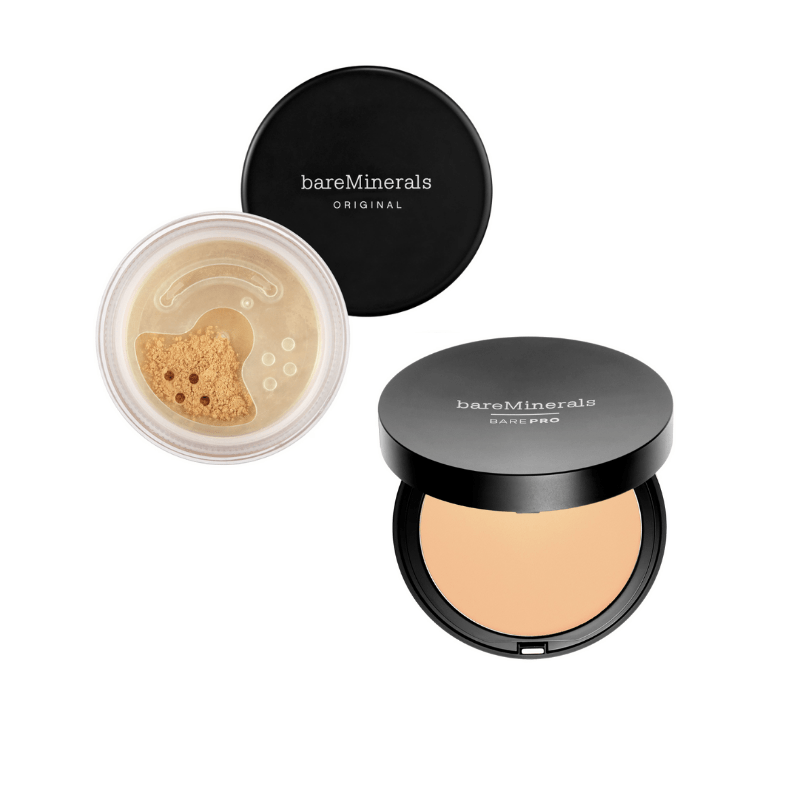 Powder foundations are great to help mattify and give light coverage. They are also good travel options as long as the powder is hard enough to travel without breaking. Powders are also good for touching up throughout the day.
One of the best powder foundations at Sephora is the bareMinerals Original Powder Foundation which even has SPF 15.
And for a more travel friendly version, they also have their pressed powder BAREPRO Performance Wear Powder Foundation which is one of my personal favorite powder foundations of all time.
For a full list of our favorite powder foundations of all time, see our guide to the Top 5 Best Full-Coverage Powder Foundations.
Powder
Once you have applied your foundation (unless you have used powder foundation), it can move around quite a bit so it is important to set your foundation in place with a powder.
For this you can use a loose powder, a pressed powder, or even one of the powder foundations above if you want to add more coverage. Each of these work in the same way to keep your foundation in place. By setting the foundation with powder, your makeup will last much longer than with only your foundation. (Note: If you have dry skin, though, you may want to skip this step as powder can dry your skin.)
What is important to remember is that powder always goes over top of liquid and cream products, so if you are using a cream blush, for instance, you should apply it before powdering your face. If not the cream product may clump up when applied on top of powder.
Below, I'll share my recommendations for the best face powders for light and deep skin tones, as powder needs to match your skin.
Best Face Powders for Light Skin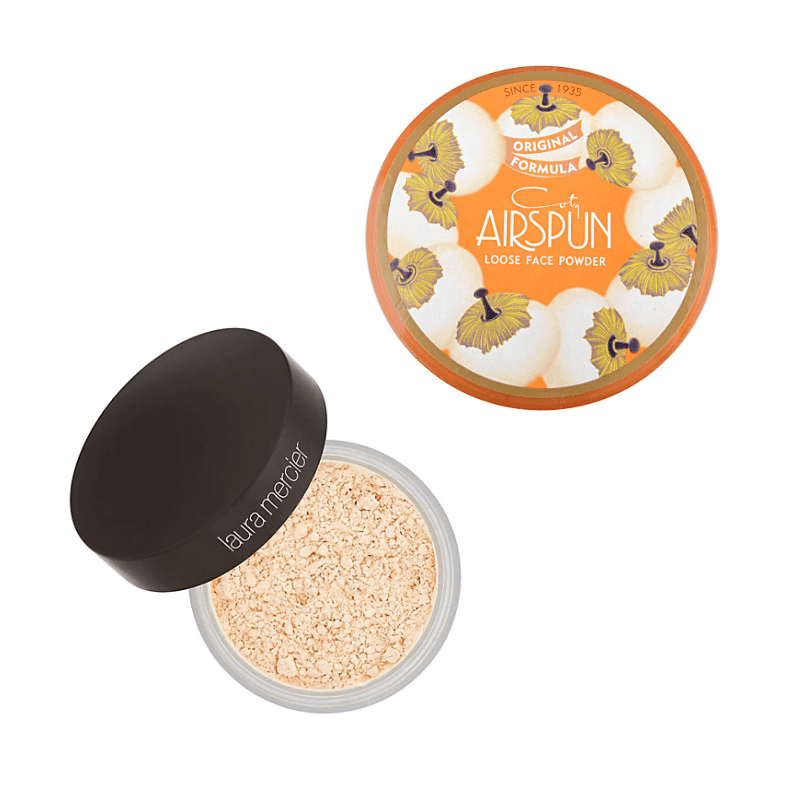 One of the most popular setting powders is the Laura Mercier Translucent Setting Powder. It gets thousands and thousands of five star reviews across the internet, and it's a favorite of YouTube beauty gurus and celebrities alike.
Again, though the Laura Mercier powder is a pricey product (it's $39 for the full size), one container will last you a long time. Editor's note: I personally use this every day and I only need to buy it twice a year!
If you don't want to shell out for the Laura Mercier, a great option from the drugstore is the Coty Airspun Loose Face Powder.
Best Face Powders for Deep Skin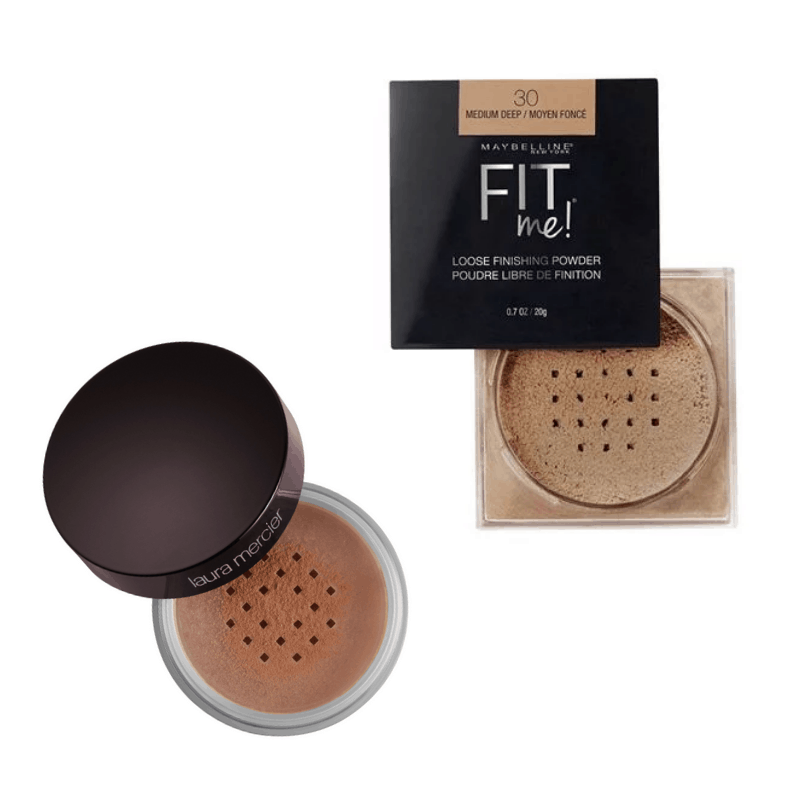 While translucent powders work for most skin tones, they may cause a white cast on darker skin tones. Luckily, makeup brands are finally addressing this with powders specifically for deep skin.
For darker skin, I suggest trying out the Medium Deep shade of the Laura Mercier Translucent Setting Powder. Or from the drugstore, try out the Maybelline Fit Me Loose Finishing Powder which comes in a variety of shades to fit most skin tones.
Concealer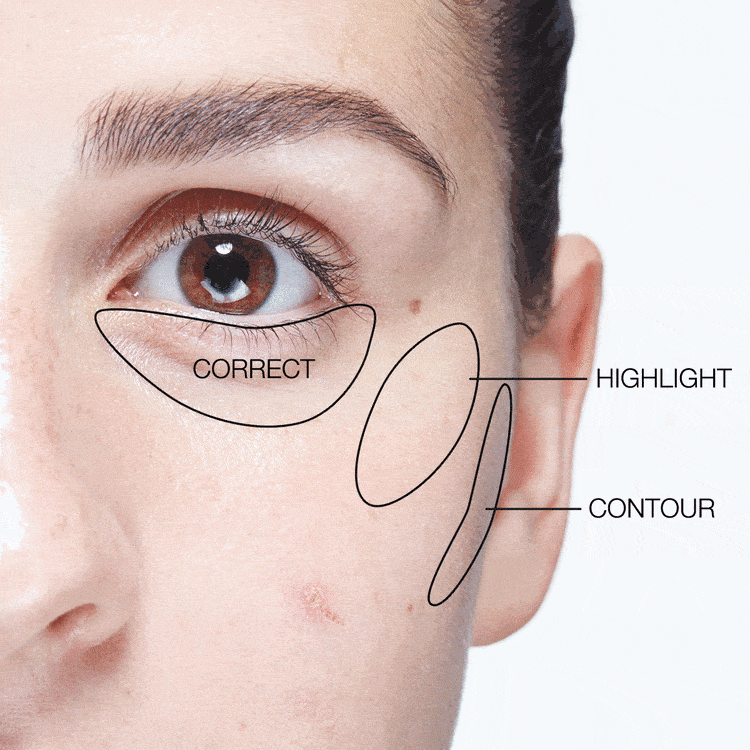 Concealer typically has three uses, covering up blemishes and imperfections, brightening, and shaping the face.
The most common use for concealer is to cover up, or conceal, whatever can still be seen through the foundation. This is the obvious use.
It is also quite common to use a shade that is about two times lighter than your skin tone to brighten your under eye area, which helps to cover dark circles and makes you look more awake.
On the other side, concealer about two shades darker then your skin tone can be used to contour your face, though it is more common for products to be marketed solely for contouring now rather than using concealer for the job.
Concealer is usually applied after foundation so that you can see which areas need more coverage, but when using a powder foundation, you want to apply concealer first since you cannot apply the liquid formula over top of the powder.
Best Concealers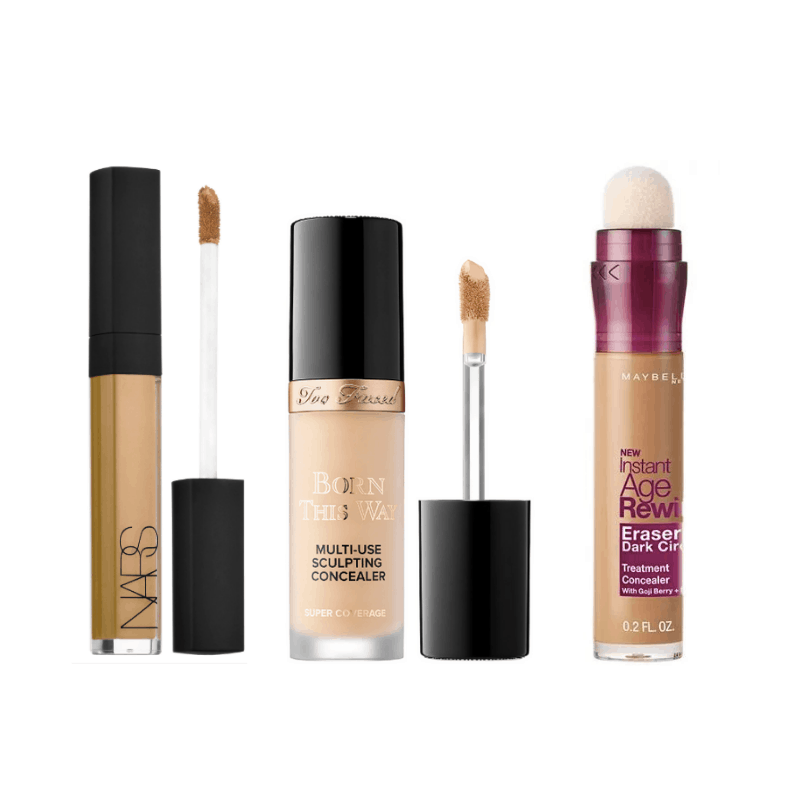 We've done a whole post on the best concealers ever, so be sure to check it out for in-depth recommendations. We still stand by those picks, but here are a few more:
If you are looking for a tried and true concealer that is great both for under-eyes and covering blemishes, the Nars Radiant Creamy Concealer (mentioned in our concealers post) is the way to go. It has a large shade range and is loved by many who have been using it for years and years.
Looking for something to cover up your dark circles after a few all nighters? Go for the Too Faced Born This Way Super Coverage Multi-Use Sculpting Concealer, this is a newer product on the market but is super full coverage and will hide anything you need it to.
And if you're looking to do a bit of under eye brightening, the Maybelline Instant Age Rewind Concealer is made just for that and is a great drugstore option.
Related reading: These Are the Best Concealers You Can Buy at Sephora
What are your favorite foundations, concealers, and powders?
Your base products are key to good makeup routine, they can make or break your look. And while they aren't the most exciting products to shop for, they provide the base for all of your other product to go onto. I hope this guide has helped you on the quest for your perfect base products!
When did you start wearing makeup? How did you find which products worked for you? Let me know in the comments below!