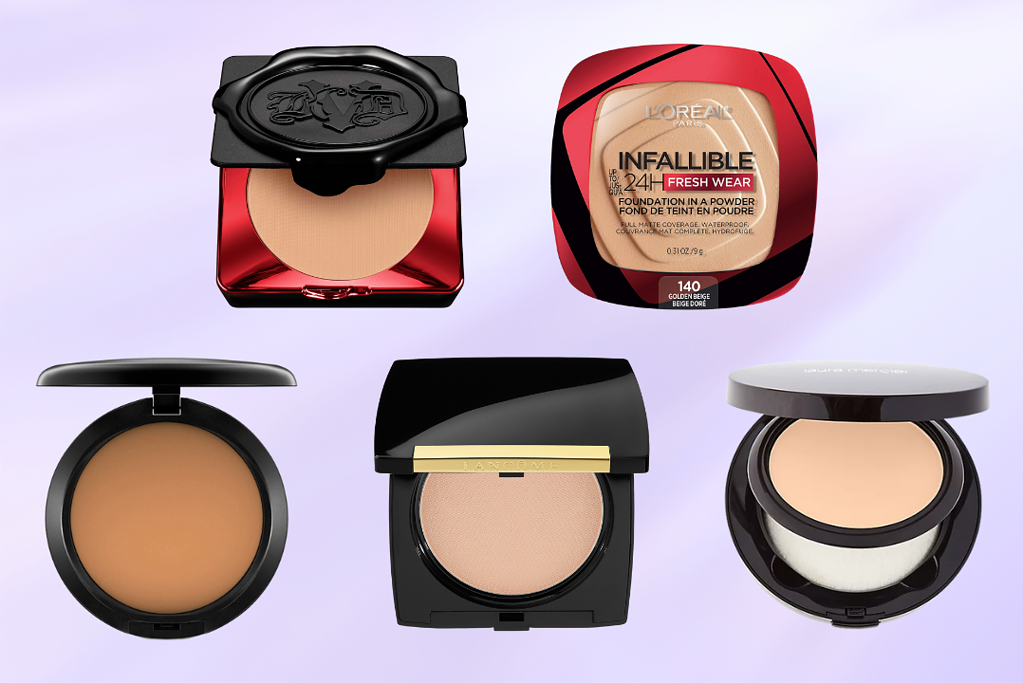 As much as I love no-makeup makeup, sometimes I just crave a full glam look. And for me, that starts with a flawless face of foundation.
As much as I love my skin tints (and I really do), there are days when I want that full-beat, poreless matte complexion. And when those days come, I always reach for a full-coverage powder foundation.
Great for oily or combination skin types, powder foundations give you the coverage of a liquid with the mattifying properties and easy application of a powder. You can use them all over your face for a flawless look, or just dust them on over your favorite liquid or cream for extra coverage.
Depending on the finish, ingredients, and shade you're looking for, you can absolutely find a powder foundation to fit your needs. Here are the best high-coverage powder foundations for a flawless face:
5 Best Full Coverage Powder Foundations
1. KVD Vegan Beauty Lock-It Powder Foundation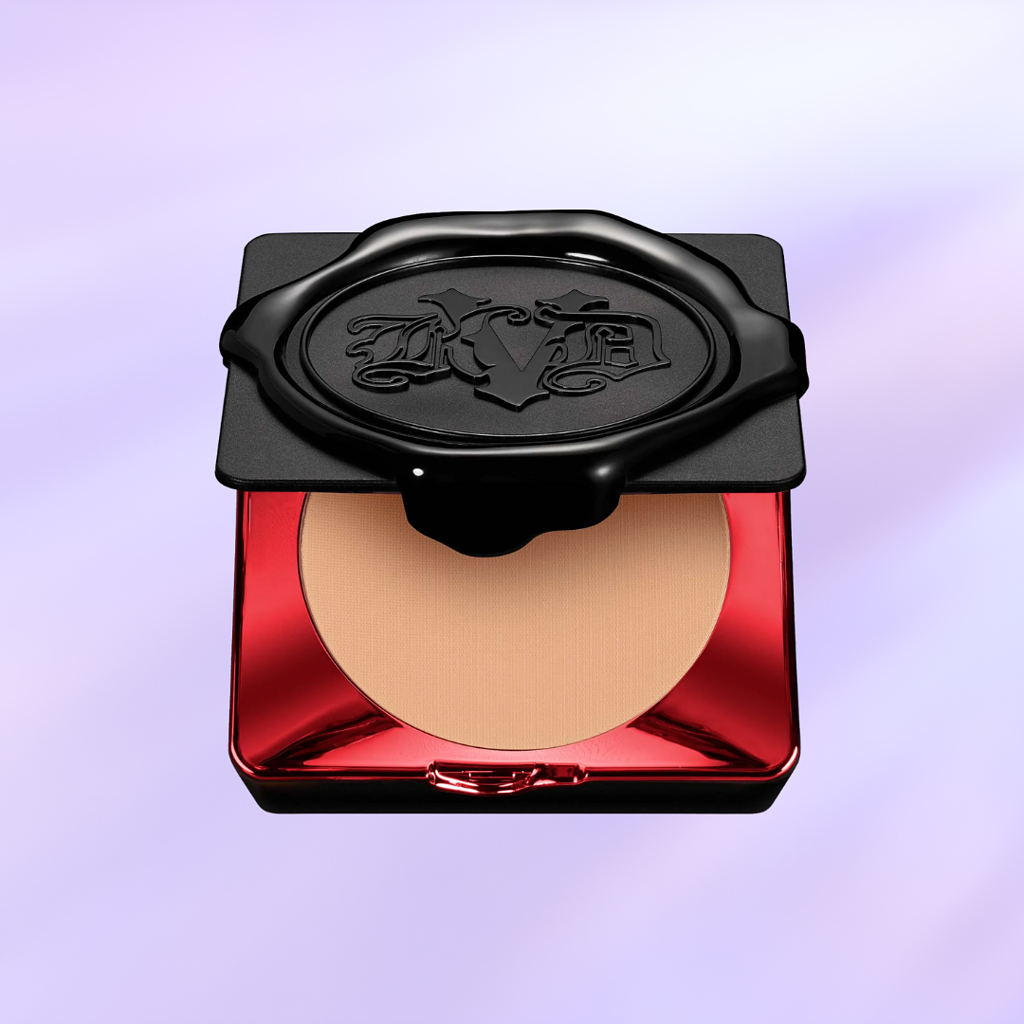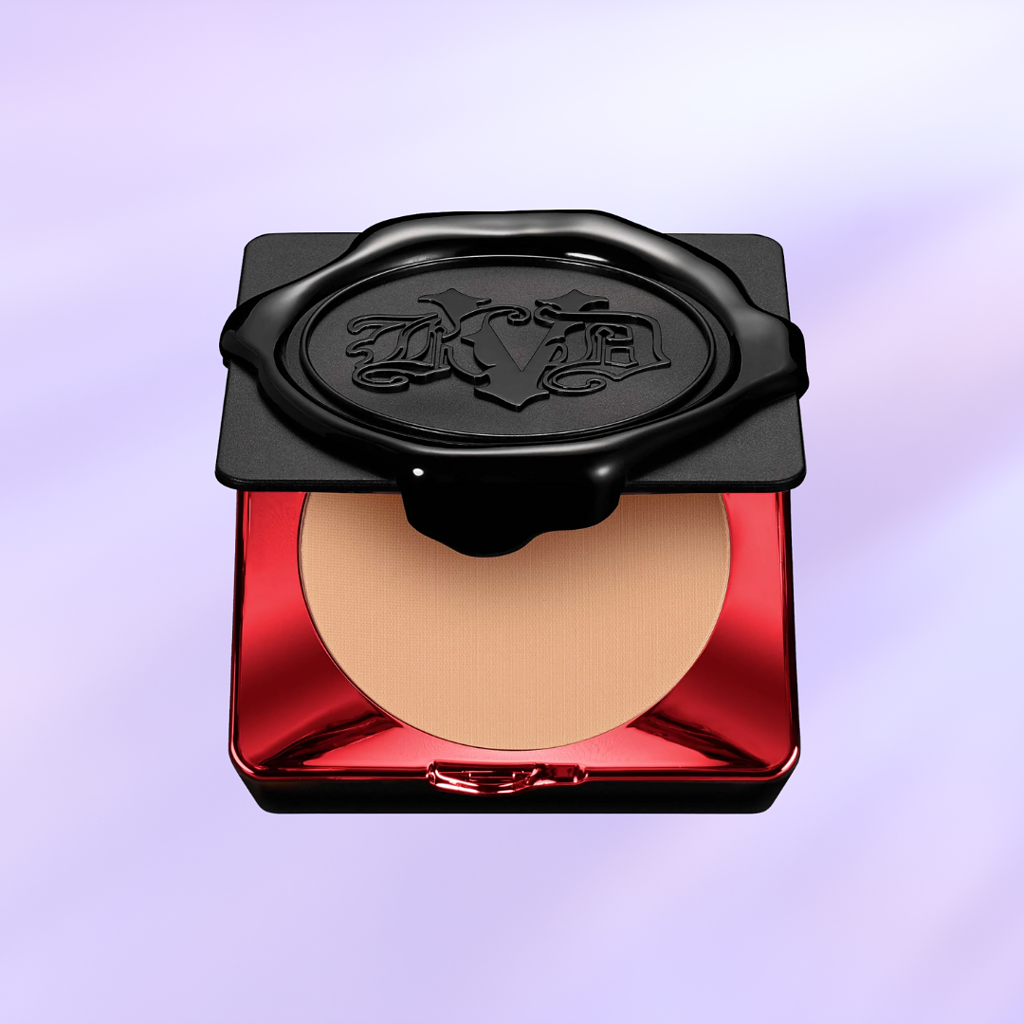 KVD has long been THE go-to brand for extremely high-coverage foundations and concealers. (One of their original concealers was designed to cover tattoos!) So it's no surprise that the brand's Lock-It Powder Foundation has amazing coverage.
This foundation has been around for years now and has quite the cult following for its crazy coverage and transfer-free finish. It's also super convenient to apply thanks to the built-in sponge applicator.
Skin Type: All skin types
Finish: Diffused matte finish
Formulation Details: 100% vegan and cruelty-free
Number of Shades: 14
Recommended For: If you want to try a powder foundation and want one that does exactly what it claims, this is the best overall pick of the bunch. It has truly incredible, buildable full coverage, a decent shade range (though not as good as the other brands on the list), and a fantastic finish that's matte yet blurred at the same time.
My favorite thing about this foundation is how long it lasts. When they say long wear, they mean long wear! Once set, this product doesn't transfer or rub off — it stays put all day. (This is unheard of for me since I have oily skin.)
One caveat of note: This foundation is a bit drying, which is great for oily and combination skin types. However, if your skin is on the drier side, you might want to skip this product in favor of another on this list.
Pros:
Does not rub off or transfer; truly long-wearing
Includes sponge applicator
Wide shade range
Refillable container is more sustainable and saves you money
Vegan and cruelty-free
Cons:
Smallest shade range of the foundations on this list (14)
Seems to sell out quickly and take a while to restock
Can be too drying for drier skin types
2. L'Oreal Paris Infallible Fresh Wear Foundation in a Powder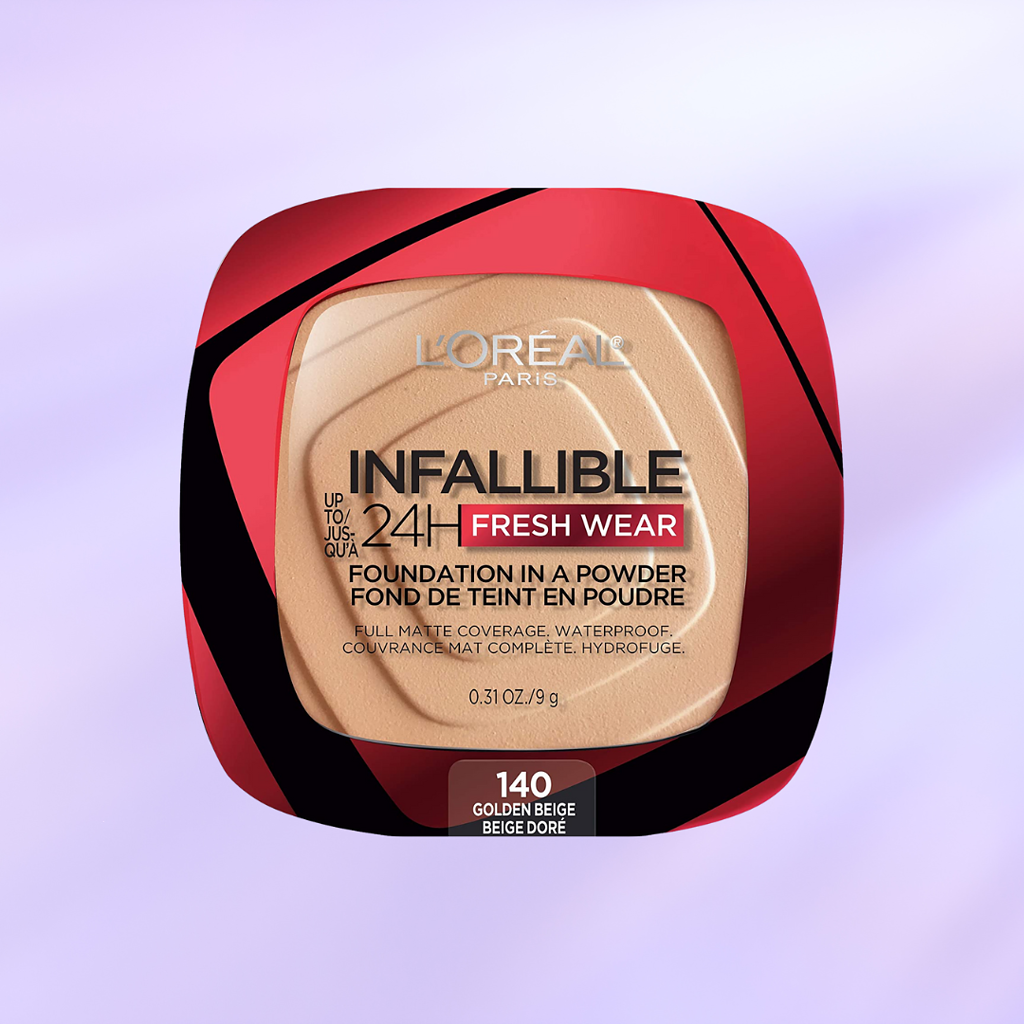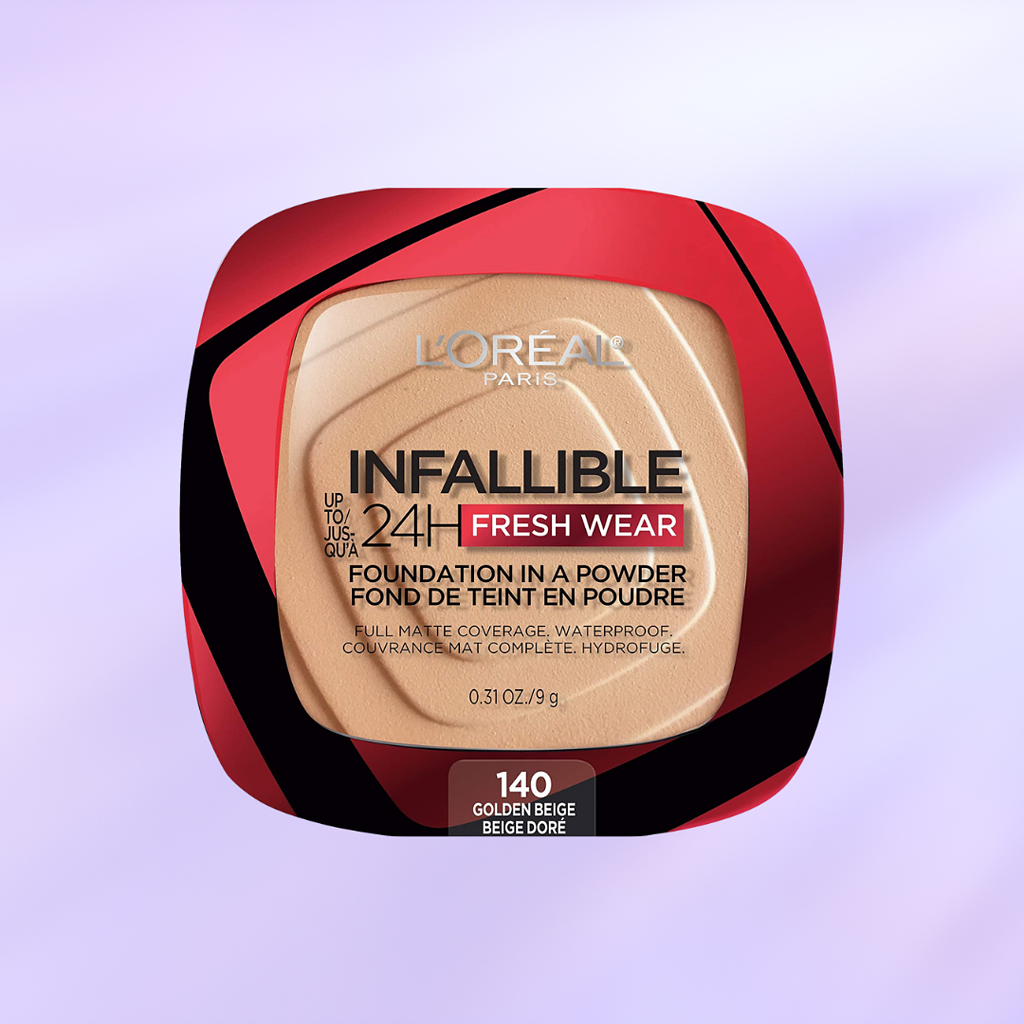 If you want an excellent powder foundation at an amazing price, you can't do better than L'Oreal Infallible 24H Fresh Wear Foundation in a Powder. In fact, I'd go as far as to say that this is the only drugstore powder foundation that's worth your money.
There's a lot to love about this foundation. It's easy and quick to apply, it covers everything you want it to cover, and it lasts for 24 hours. (It's even waterproof!)
Skin Type: All skin types
Finish: Matte
Formulation Details: Non-comedogenic and dermatologist-tested
Number of Shades: 16
Recommended For: If you want some serious bang for your buck, give this powder foundation a shot. Though its shade range isn't great (as is the case with most drugstore products), if you can find a match in their 16 shades, the product itself is fantastic.
Also, while other products on this list can be drying, this foundation actually works well on drier skin types. The key is to blend, blend, blend to avoid caking.
The only drawback to this product is that it's not cruelty-free, so I highly recommend the KVD instead if that's important to you.
Pros:
Super affordable at around $16 full price (and it's often on sale)
Super silky powder that's easy to blend
Excellent coverage
Waterproof finish
Works on drier skin types
Cons:
Not cruelty-free
May not be drying enough for oilier skin types
Not the best shade range
3. Lancôme Dual Finish Longwear Powder Foundation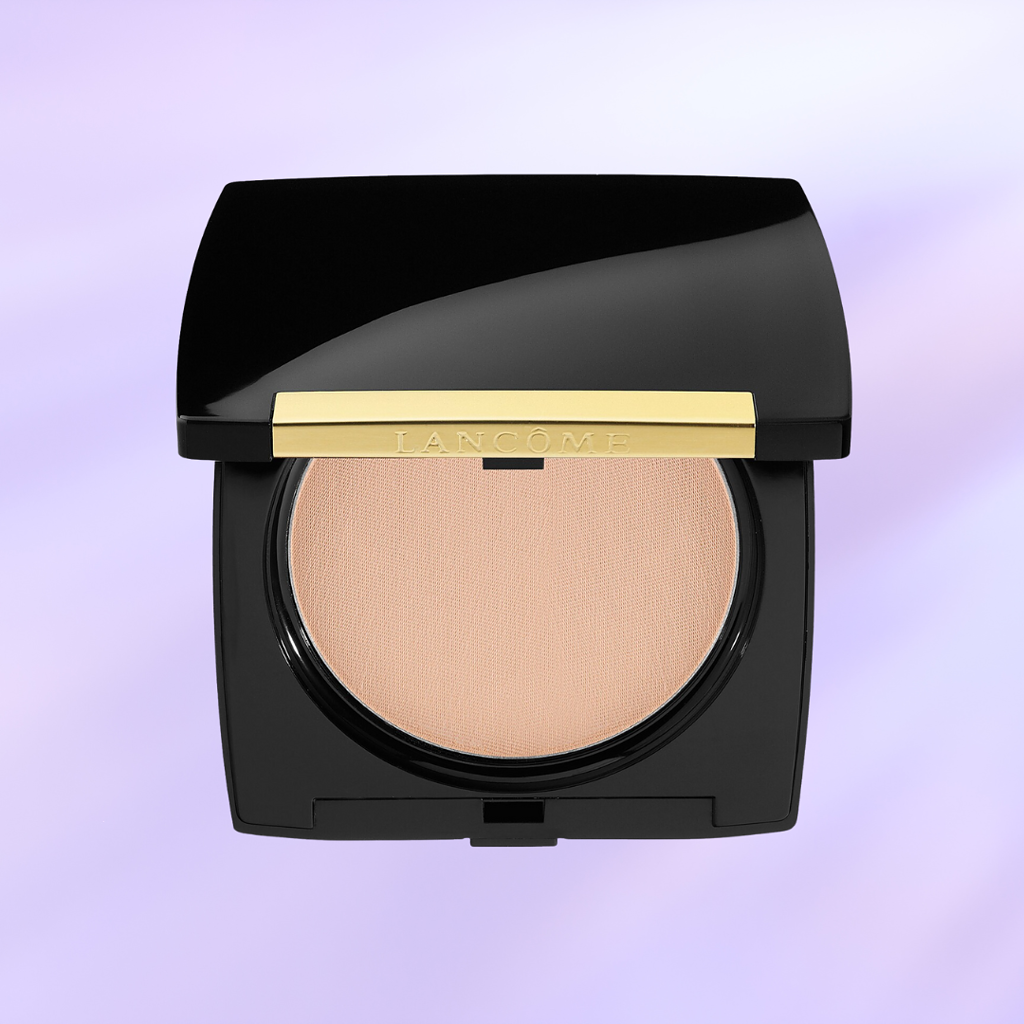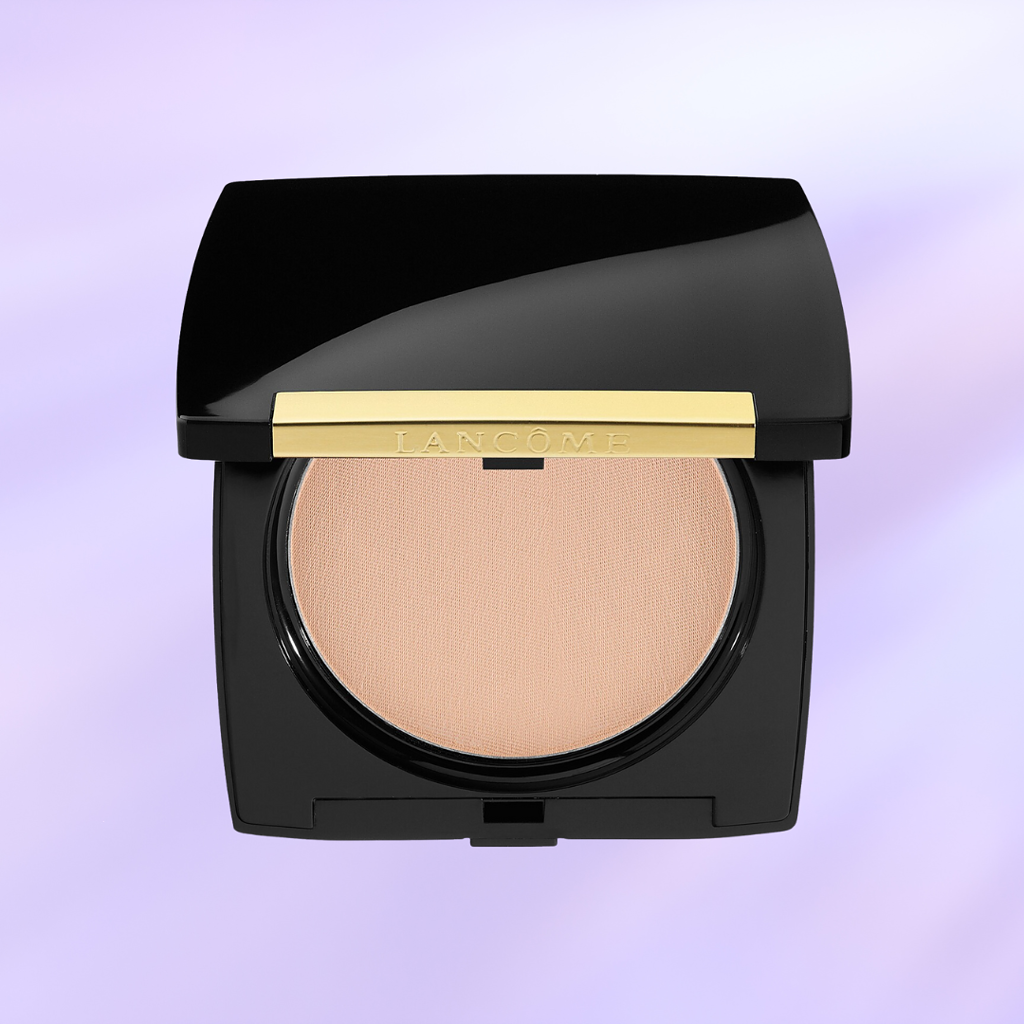 Lancome's Dual Finish Longwear Powder Foundation is a classic product that's been around for as long as I can remember. It was one of the early powder foundations on the market and it's still just as good after all these years.
This product is incredibly versatile and buildable. You can wear it sheer as a setting powder or build it up for a full-coverage look. It is definitely on the pricey side at $49, but if you want to splurge, this is an excellent powder foundation that does it all.
Skin Type: Normal, oily, or combination skin
Finish: Matte finish
Formulation Details: Buildable, long-wearing formula
Number of Shades: 21
Recommended For: If you want to treat yourself to something luxurious, this Lancome powder is an amazing splurge. It's tried and true and has been a favorite of many for years and years. The packaging is beautiful and the powder is silky smooth and blends in flawlessly.
One caveat to mention: This product does have a strong floral scent that's reminiscent of powders your mom or grandma might have used. It's not a bad smell by any means but it is noticeable. If you're sensitive to scents, don't buy this.
Also, there are rumors that this may be discontinued soon, so I would recommend trying it ASAP if you're interested — and then stocking up on your shade.
Pros:
Truly buildable from sheer to full coverage
Matte finish that absorbs excess oil
Silky powder is easy to blend and doesn't cake up
Cons:
Not cruelty-free
Fragrance is strong, kind of a classic "powder makeup" floral scent
Very expensive ($50)
4. MAC Cosmetics Studio Fix Powder Plus Foundation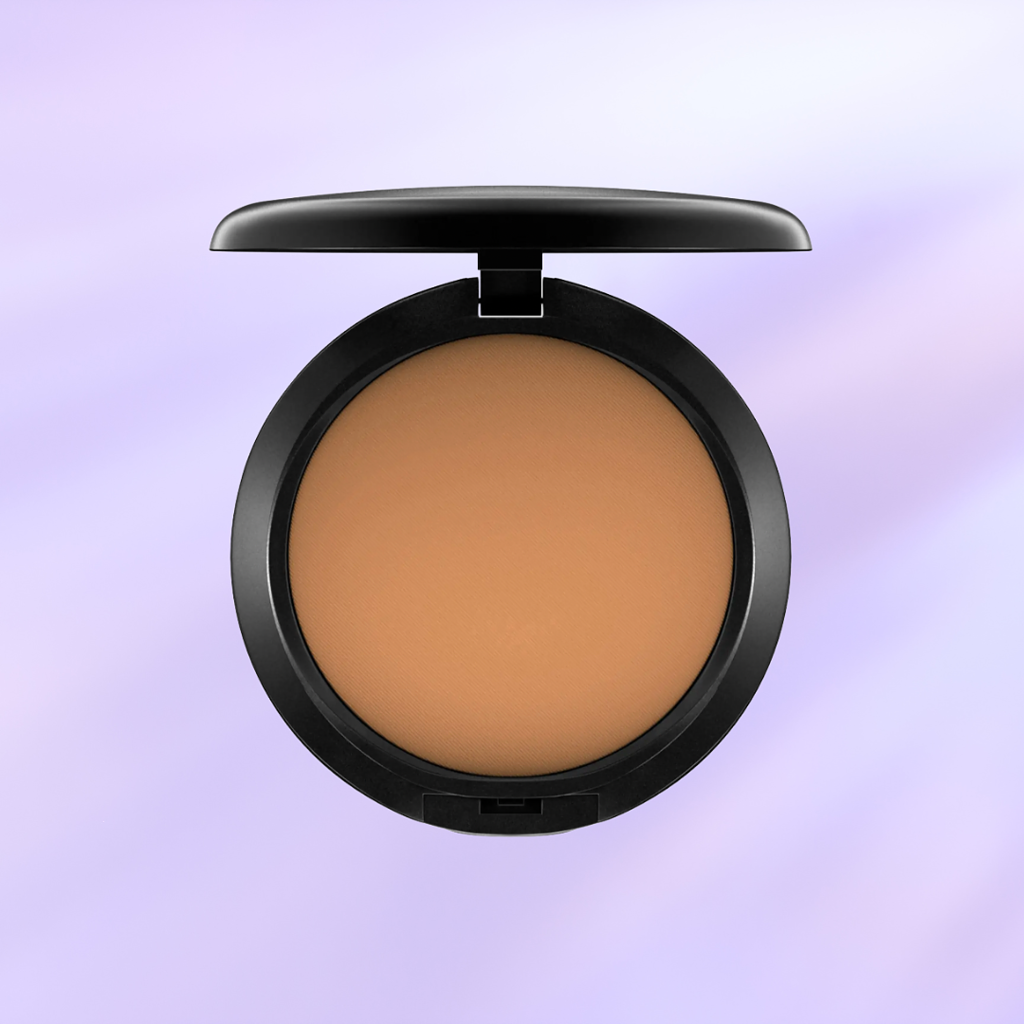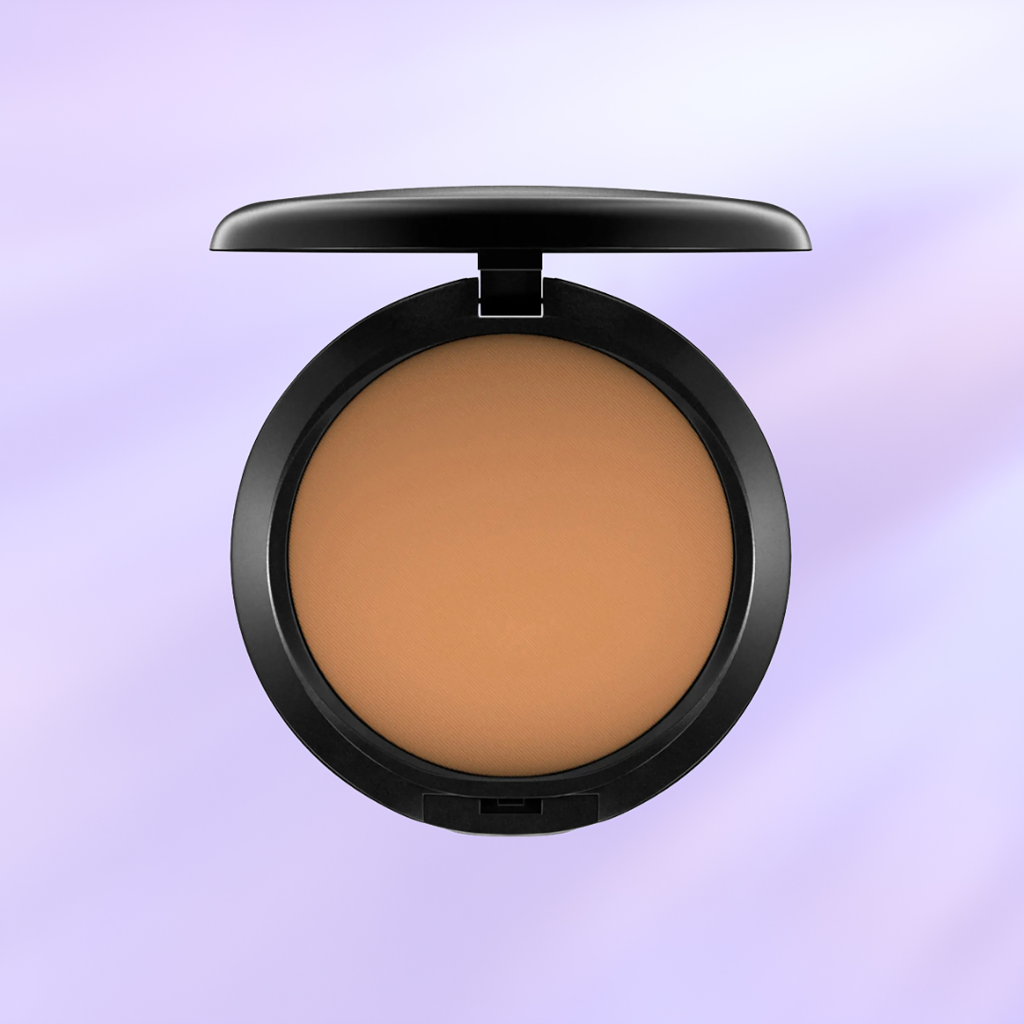 I couldn't write a post about powder foundations without mentioning the OG in this category, MAC Studio Fix Powder Plus Foundation. This product has been around FOREVER and is actually the first powder foundation I ever tried back in high school. I loved it then and I still love it now.
If you want pigmentation, this has it. Shade range? There are 52 to choose from. Mattifying properties? Yes indeed. Buildability? You got it. This powder will never let you down: It does everything it claims and it does it well.
Skin Type: All skin types
Finish: Matte
Formulation Details: Breathable formula, resistant to sweat and humidity
Number of Shades: 52
Recommended For: If you want amazing full coverage and an incredible shade range, this is the product for you. MAC does not mess around when it comes to coverage — it's a popular choice on film sets for a reason — and with 52 shades to choose from, you're sure to find one that works for you.
A note on skin types for this one: While this claims to work for all skin types, I have found that it can cling to dry patches on me, so I'd only recommend it for normal to oily skin.
Another caveat is that this product can get cakey if you apply too much or use it to touch up during the day. (I recommend using a translucent powder for touch-ups instead.) Also, MAC is not a cruelty-free brand, so skip this product if you are looking for cruelty-free options.
Pros:
Incredible shade range! (52 shades to choose from)
Comes with an applicator sponge
Beautiful airbrushed finish
Excellent pigmentation that can be built up to truly full coverage and lasts all day
Cons:
Not cruelty-free
Can be drying; may not be a good option for drier skin types
Fairly expensive at $39
5. Laura Mercier Smooth Finish Foundation Powder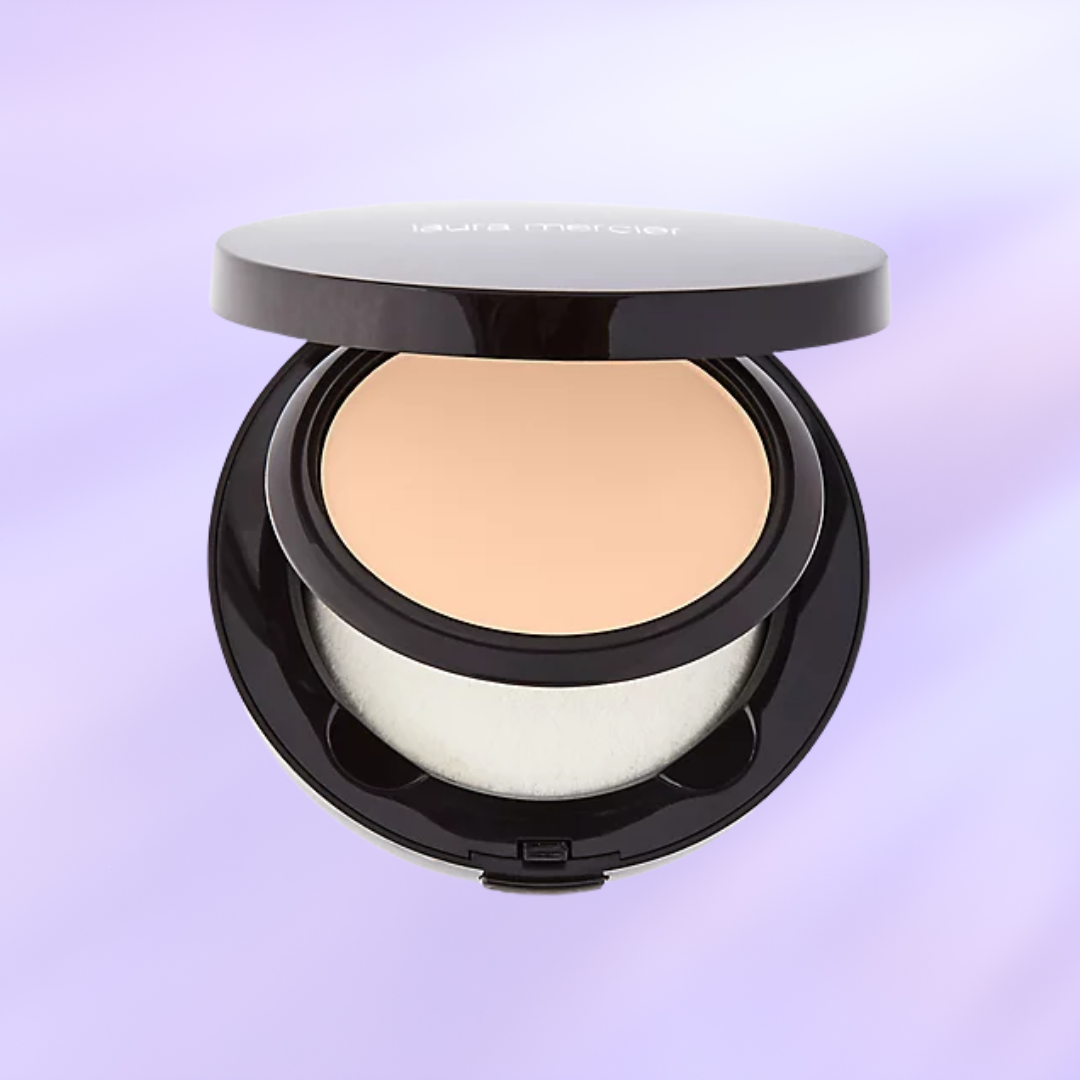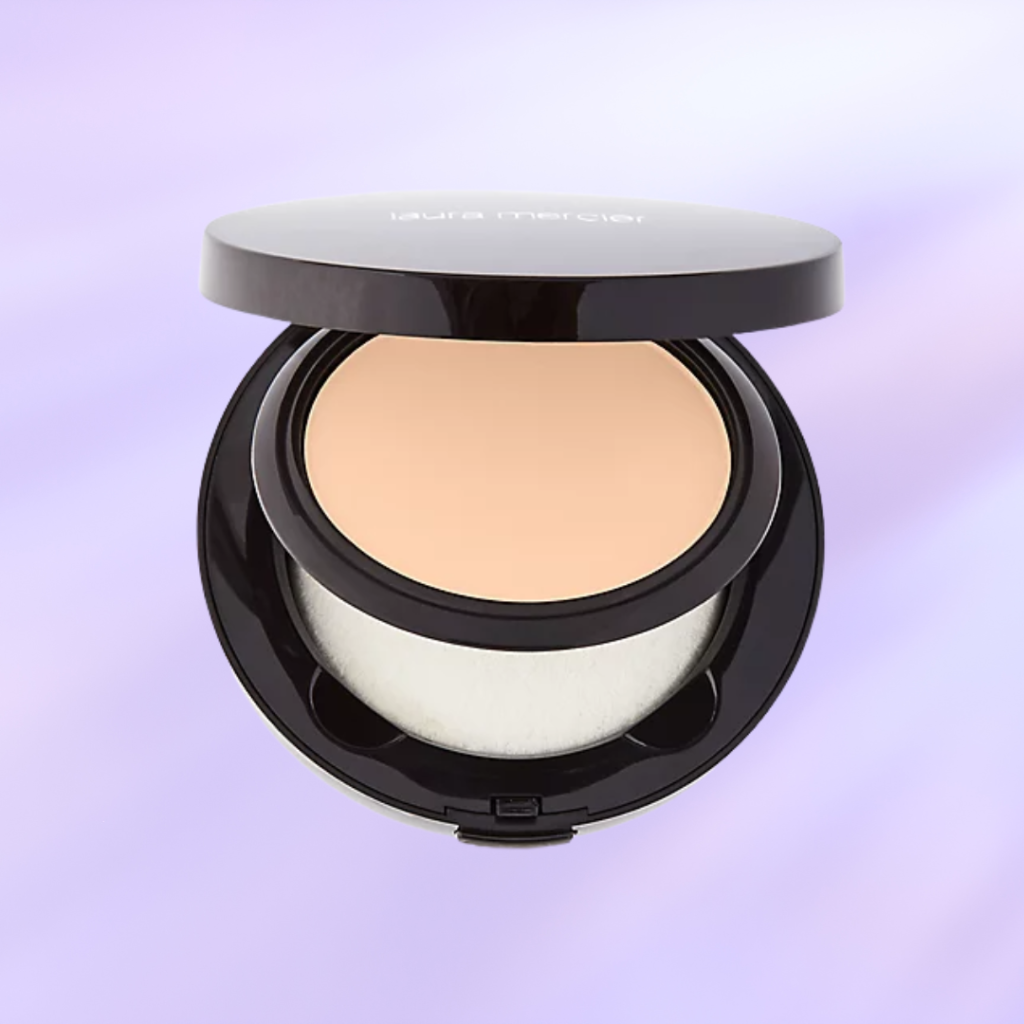 Laura Mercier is one of my all-time favorite luxury makeup brands, and their Smooth Finish Foundation Powder is worth its luxury price tag of $50.
What I love about this product is how customizable it is. You can use it dry for a matte finish or apply it with a wet sponge for a radiant finish. It's completely up to you and you can use it differently depending on how you're feeling that day.
Skin Type: All skin types
Finish: Matte or natural finish (depending on application type)
Formulation Details: Oil-free, fragrance-free, non-comedogenic, dermatologist-tested
Number of Shades: 20
Recommended For: If you want a product that does it all, Laura Mercier's powder is completely customizable to your needs. You can wear it sheer or full-coverage and choose from a matte or natural finish. It comes with its own applicator sponge, and is also oil-free and fragrance-free!
While the shade range here is not as good as MAC, this comes in 20 shades, so there's a decent range to fit into.
One drawback is the fact that the brand is not cruelty-free. This product is also extremely expensive at $50 a compact, so if you want bang for your buck, look elsewhere.
Pros:
Customizable based on application type: apply dry for matte or wet for natural finish
Buildable from sheer to full coverage
Fragrance-free
Decent shade range (20 shades)
Comes with applicator sponge
Cons:
Most expensive product on this list at $50
Not cruelty-free
What do you think of our picks for the best full-coverage powder foundations?
Have you tried a full-coverage powder foundation before? Do you prefer drugstore products or high-end foundations? Tell me what you think in the comments down below.