This post will show you the best drugstore color correctors in stores right now.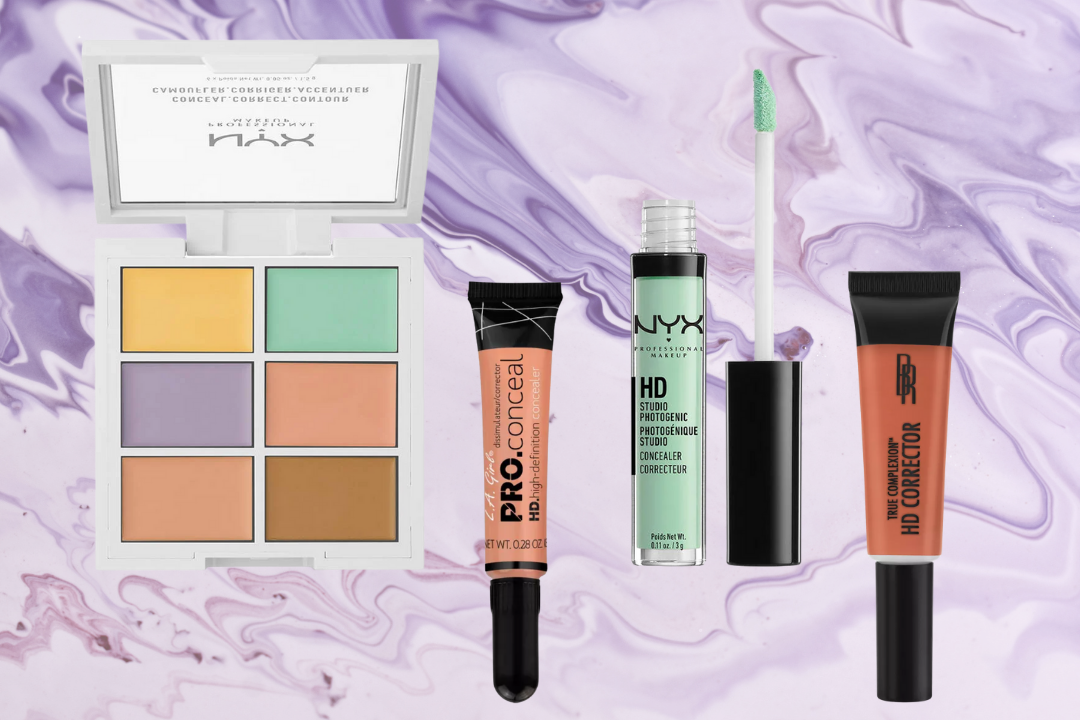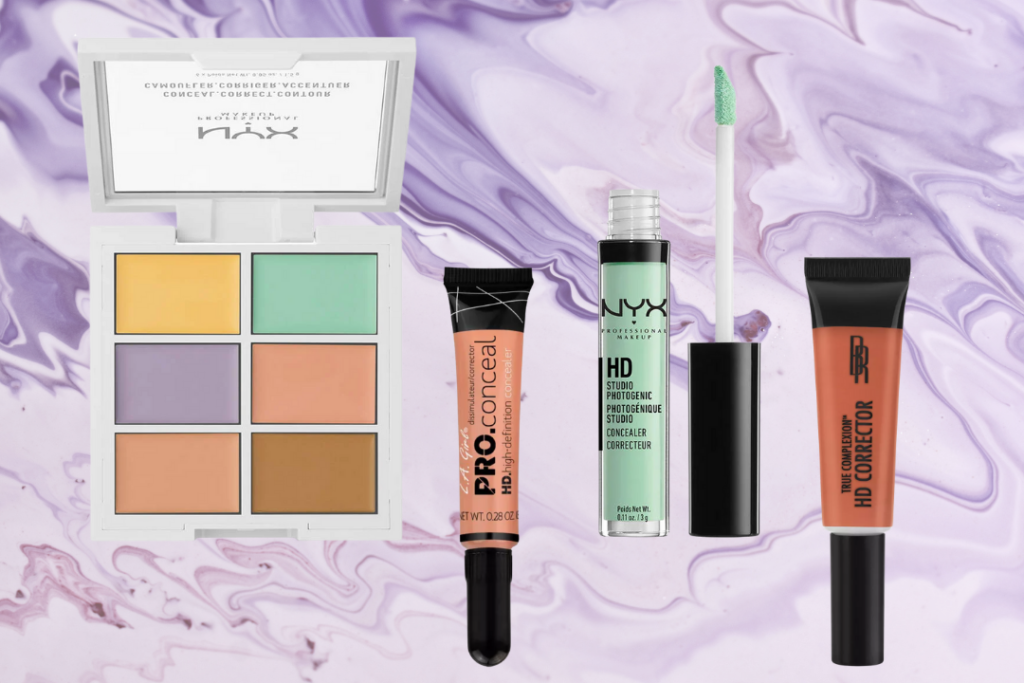 Whether you're new to makeup or a beauty guru in the making, if you want a flawless face, you should definitely familiarize yourself with color correctors. Color correction is the makeup artist's secret to an even, natural skin tone, especially if you have blemishes, dark spots, or under-eye circles.
The best part is, you don't have to spend a lot to get a flawless look with color correctors.
Want to learn more about color correction and how it can transform your makeup look? Keep on reading.
Below, I'll share the 10 best drugstore color correctors around, plus some tips on how to color correct like a makeup pro.
Related reading: 17 Makeup Bag Essentials Every Woman Should Own
What is a Color Correcting Concealer?
Before we get to the best drugstore color correctors, here's a quick primer on color correcting concealer and how it works.
Color correction is a makeup technique that removes unwanted colors from the face. This is done by applying makeup in a shade that is opposite from the original color on the color wheel. See chart below: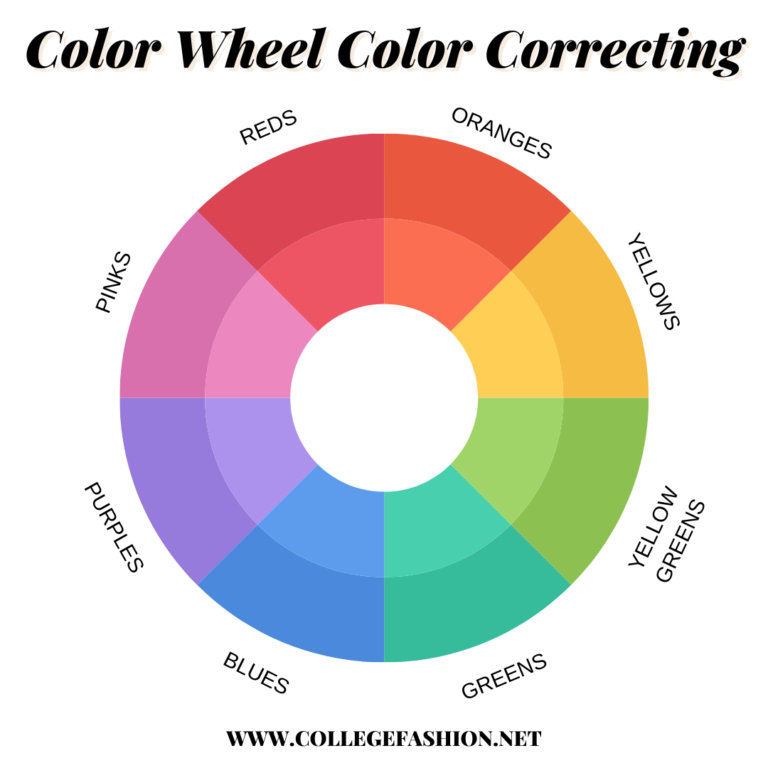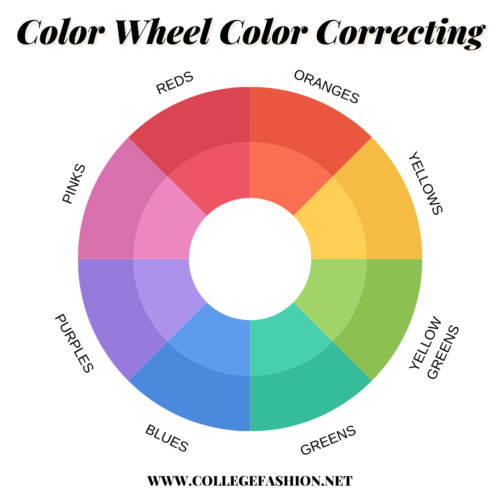 For example, redness is canceled out by green concealer, and blue or purple dark circles are neutralized by yellow, peach, or orange makeup. Opposing colors cancel each other out, creating a flawless, even look.
Related reading: These Are the Best Concealers You Can Buy at Sephora
Many times, foundation and concealer alone aren't enough to cover imperfections, and that's where color correction is most useful. It's also just fun to experiment with!
10 Best Drugstore Color Correctors
Now for the product recommendations! I've scoured the internet and read hundreds of reviews, and here are the best of the best drugstore color correctors:
NYX Color Correcting Palette
Best for: Correcting multiple issues at once
If you watch any Youtube videos on color correction, you'll see this drugstore color corrector palette show up again and again. It's an OG classic and a favorite of makeup gurus everywhere.
If you want to experiment with color correction without spending a lot, this is the palette to buy. It has so many shades and they're all pigmented and easy to blend.
This palette comes with six shades with different purposes: The yellow and peach shades neutralize dullness and dark circles, purple and pink brighten, green works on redness, and the light and medium shades are concealers you can combine to match your skin.
Maybelline Instant Age Rewind Concealer
Best for: Dark circles
If you have serious dark circles and haven't tried this drugstore concealer yet, run, don't walk! This under-eye concealer seems to be everyone's holy grail and at less than $5, it's a no-brainer!
This concealer brightens, color corrects, and blends like a dream. It also comes in more than 15 shades, with two special color correcting shades, "Neutralizer," and "Brightener," that can be worn alone or layered with the others.
LA Girl Pro Conceal Set
Best for: Bang for your buck
I am no snob when it comes to makeup. If a drugstore product can do the job, why would I spend 3x as much for a high-end brand? LA Girl is one of those drugstore brands I look to for great quality at an insanely low price.
If you like a lot of pigmentation, these little concealer tubes are a dream. They cover everything and won't crease. The best part is, they come in a pack of 3 for under $10!
In addition, these correctors are famous in the beauty world for working on a variety of skin tones. The orange in particular is a cult favorite among dark skinned beauty gurus, while the green is a favorite of lighter skinned women who want to conceal redness.
Black Radiance HD Corrector in Orange
Best for: Indian/Asian/Warm/Olive/Dark Skin
As we know, color correction is not one size fits all. Darker skinned women need deeper and more pigmented shades of color correctors, and that's where this recommendation comes in.
Gurus say this orange concealer from Black Radiance is the best product for removing gray and ashy tones from dark, olive, and warm skin. Apply with a brush to the under-eyes, sides of the nose, and around the mouth, then add your favorite foundation on top.
Best for: Pale skin
Many of the orange and yellow correctors on this list can be too bright for pale skin, but here's a product that's perfect for light skinned women.
If you've been doing your makeup for a while, you might not have thought to try a pink concealer, but trust me on this one.
This light pink color correcting pen works insanely well to brighten dark circles on pale skin! It illuminates and lifts the under-eye in an almost supernatural way — truly a must-try.
NYX Studio Perfect Primer
Best for: Allover redness and rosacea
Here's one of my personal favorite color correctors that combats my biggest skin issue — all-over redness. I have mild rosacea and I am always trying new products to reduce redness and even out my skin.
This color correcting primer from NYX is a definite winner. It's a drugstore dupe for the popular (and expensive) Smashbox green primer, and just like the Smashbox version, it works well to neutralize redness and keep your makeup on all day.
When it comes to all-over redness, I prefer this sheer primer to a thick cream corrector. It gives me just enough color correction while being natural looking and easy to apply in a hurry.
Best for: Acne
Green concealer is THE secret to neutralizing those bright red pimples that always seem to show through your regular concealer. It's also a godsend for hiding post-acne marks.
There are tons of green concealers on the market, but this NYX color corrector is nicely pigmented and blends over acne like a dream. You can spot apply it to a pimple, or blend it all over to neutralize redness on a larger area of the face (great for covering multiple acne marks).
Pro tip: Let this concealer dry for a few seconds before blending for the strongest acne coverage.
Best for: Customized looks
Concealer and color correction is not one size fits all, and your shades can even vary with the seasons. For instance, if your skin is several shades darker in the summer months, you probably need to buy new makeup in the winter.
This color correcting kit from Maybelline solves that problem. You can mix the six shades for a completely custom look.
The 6-shade kit comes in three varieties, "Light," "Medium," and "Deep," all of which include light and dark shades within that color range. (The "Light" palette also comes with a green corrector, while the "Deep" palette comes with a red-orange.)
There are so many options, you're sure to find your perfect match.
Best for: Oily skin, brightening
You've probably heard of banana powder before (if not, this post explains what it is), and this is one of the best drugstore banana powders around.
This color correcting powder isn't crazy pigmented, but it gives just enough color to subtly brighten your complexion as a final step to your makeup routine. In addition, it won't give you a white cast in pictures like most other powders will.
Best for: Travel, active lifestyle
If you want to take your color corrector on the go, this little palette from KIKO MILANO is ideal for travel! All of the shades are waterproof, so they're perfect for wearing all vacation long.
This palette packs a lot into a small package. It comes with five hypoallergenic, non-comedogenic shades: Green for redness, purple for brightening, shimmery beige to highlight, and two different shades of concealer for coverage. It's everything you need in one!
How to Apply Color Corrector
Color corrector should be applied before your foundation and concealer. (See the video above for tons of tips!)
I like to use a BeautyBlender or Real Techniques Sponge to apply my corrector, but makeup brushes work well, too. Then I apply my base products as usual.
Where to Apply Color Corrector, by Color:
Green corrector: Apply to blemishes, acne scars, red areas of the face
Pink corrector: Apply to dark circles (light skin)
Red/orange corrector: Apply to dark circles (medium or dark skin)
Yellow corrector: Apply to any purple areas of the face (dark circles, bruises, veins)
Purple corrector: Apply to yellow or dull areas of the face to brighten
One mistake a lot of people make when color correcting is using too much product. It's better to do light, thin layers and build up. This will give a flawless finish instead of a cakey, fake look.
What do you think of our drugstore color corrector guide?
Have you tried color correctors before? Are any of these products your holy grail? Any favorites we missed? Tell me everything in the comments down below.