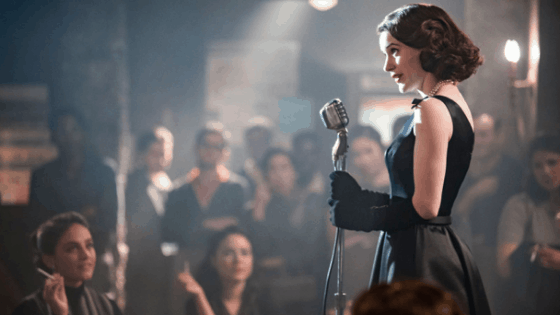 The Marvelous Mrs. Maisel has been a hit comedy series for the past three years, and there is no wonder why it is such a hit. It is full of witty dialogue, hilariously awkward moments, complex characters, and, most importantly for our purposes, astounding '50s style.
As far as I'm concerned, Mrs. Maisel is one of the most stylish women not only on the show but in TV history.
Midge Maisel's wardrobe is full-on '50s, but with quite a bit of variety. By day she is the ideal '50s housewife, wearing her head-to-toe matching patterned ensembles. But by night, she is a hilarious comedian who wears some of the greatest party dresses ever put on screen.
If you are intrigued by Midge's marvelous style, keep reading for our full Mrs. Maisel fashion guide. It's easier than you think to make her '50s look work for today!
Mrs. Maisel Fashion: The Housewife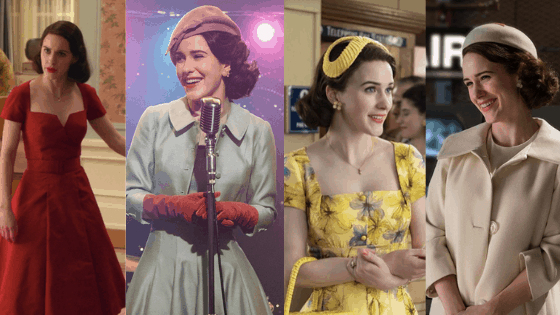 The Essentials: Swing dresses, OTT hats, small bags, & swing coats
Mrs. Maisel's fashion sense is quintessential wealthy 1950s housewife. Though she does leave her husband at the beginning of season 1, Midge keeps up her housewife persona through her lifestyle and her wardrobe.
She is often sporting the latest 1950s trends, and makes sure to be the most fashionable person in the room.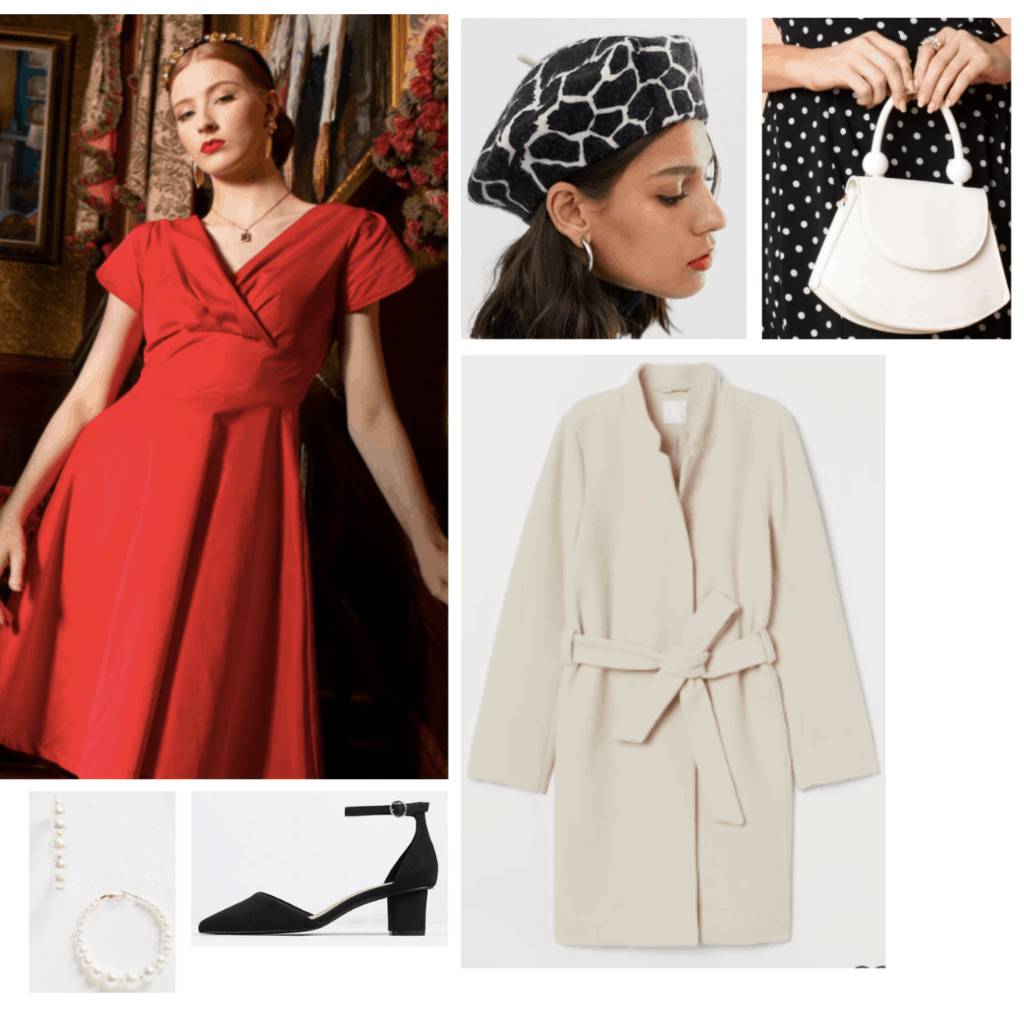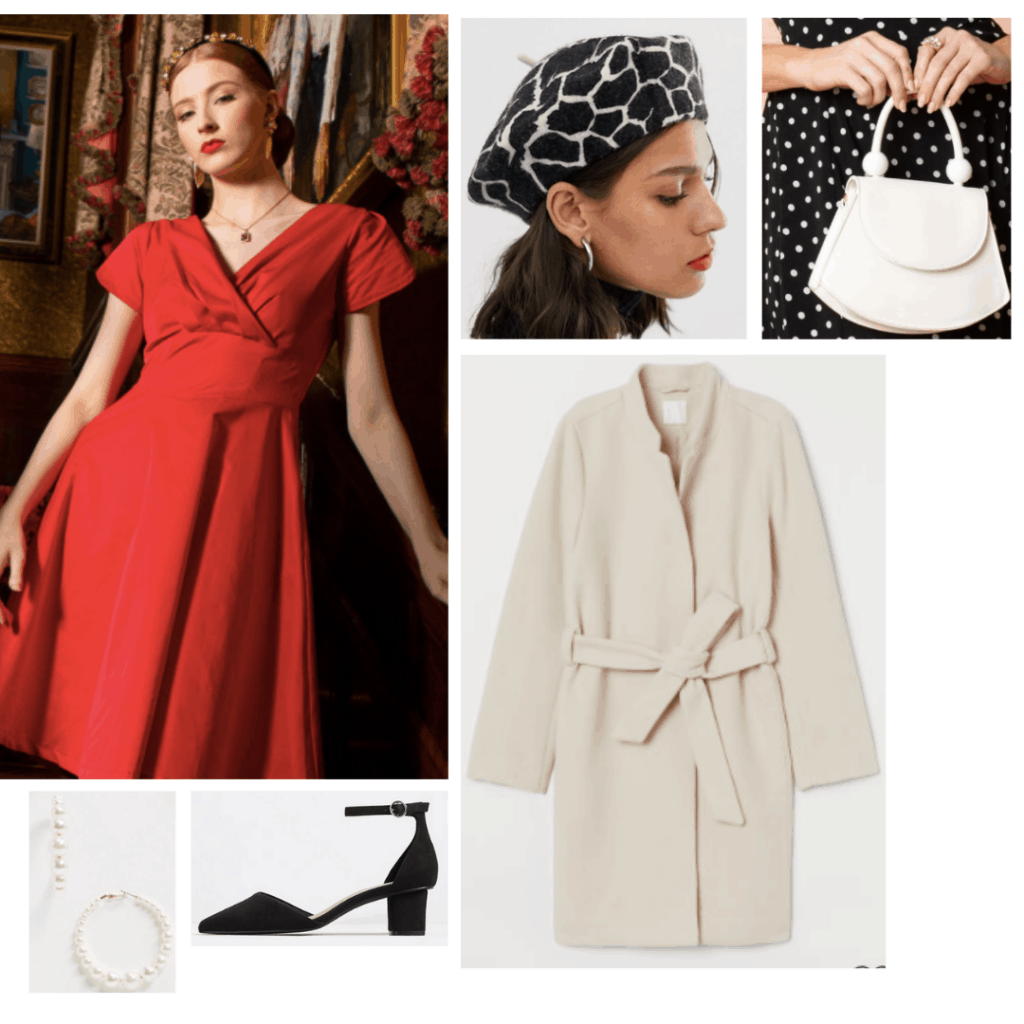 Products: Dress – Lindy Bop, Coat – H&M, Hat – ASOS, Bag – Unique Vintage, Heels – Modcloth, Earrings – ASOS
For this modern take on a '50s housewife look, I was inspired by Midge's season 1 all red ensemble.
To get it, grab an a-line silhouette dress in red and bring it into 2020 with some modern accessories. I choose a modern coat that has vintage elements to it, and a patterned beret that makes a serious statement. Add a little more '50s style with a small bag and simple heels.
Mrs. Maisel Fashion: The Performer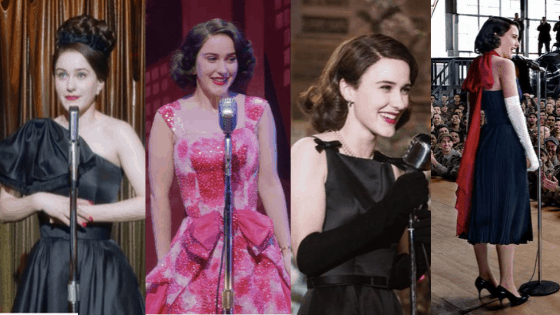 The Essentials: Little Black Dress, kitten heels, bows, gloves, sequins, & a pop of color
On stage, Mrs. Maisel prefers classic black dresses with fun, quirky features, such as bows, fringe, or ruffle detailing. One notable exception is her now-iconic pink glitter dress from the season 3 finale.
Midge's performance style allows her to command the audience's attention and make a fashion statement. The great thing about all of these dresses is that they can easily be translated into sophisticated 2020 party looks.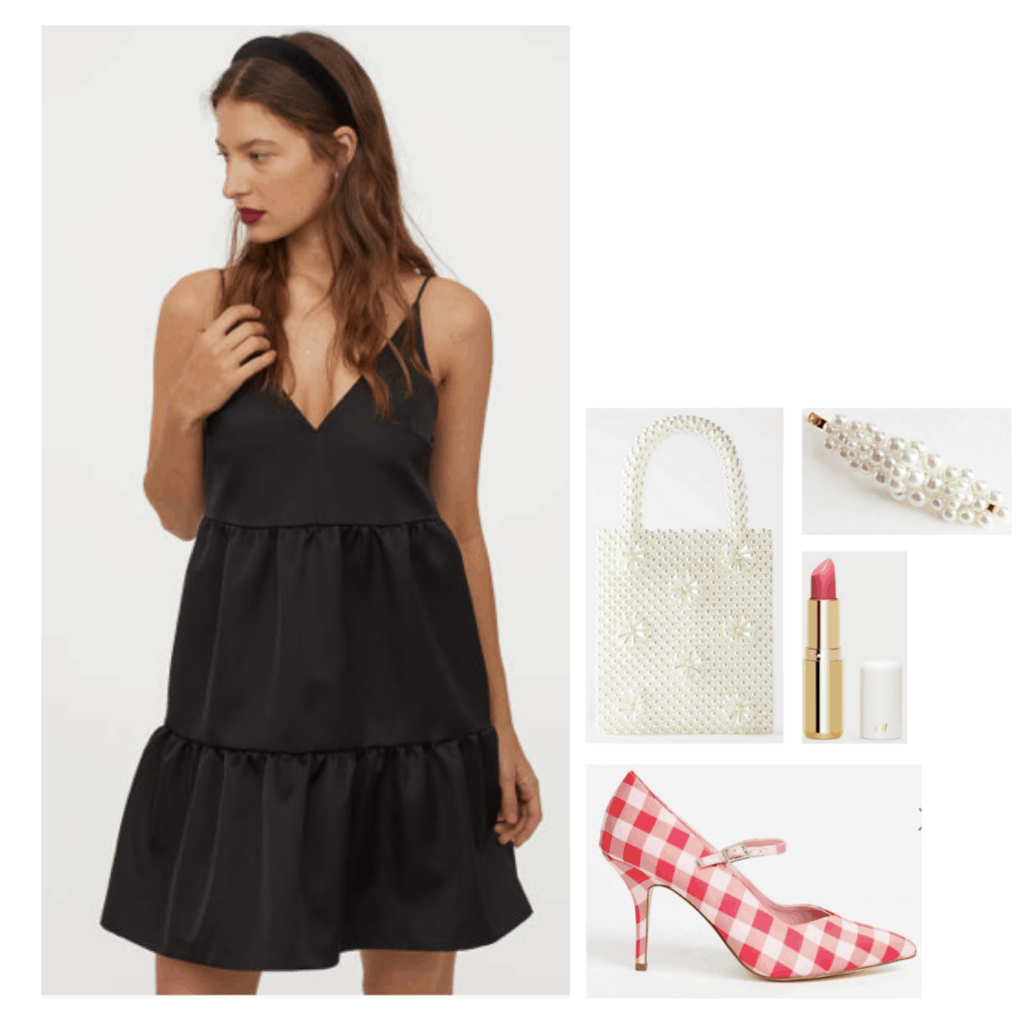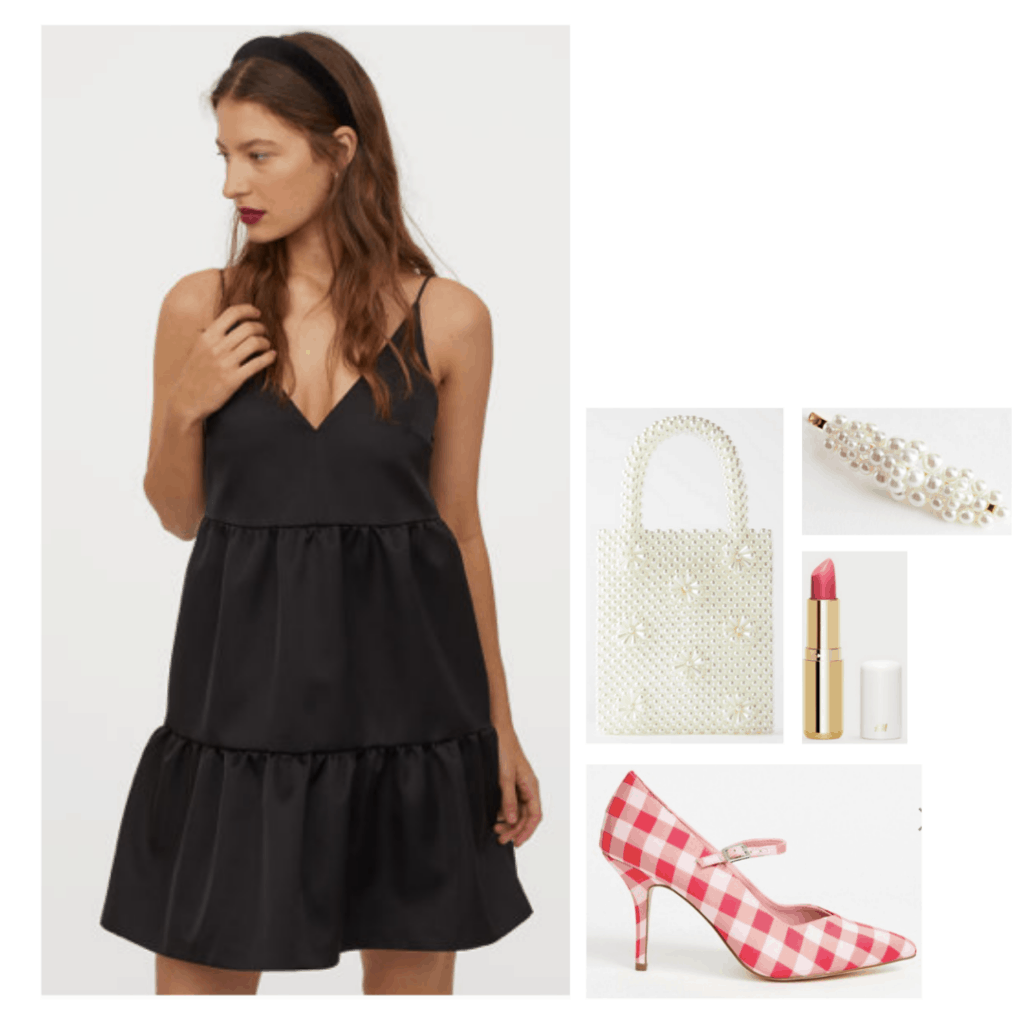 Products: Shoes – ASOS, Dress – H&M, Hair Clip – & Other Stories, Bag – ZARA, Lipstick – H&M
This LBD-centric look is inspired by Mrs. Maisel's performance fashion choices.
To get it, start with a black dress that is both classic and perfectly suited for 2020. Next, add a pair of standout heels (gingham is so '50s but is still trending today!) and a pearl hair clip (another '50s inspired piece that's hot right now).
In this cute look, you'll be ready to stun at any party.
Casual Midge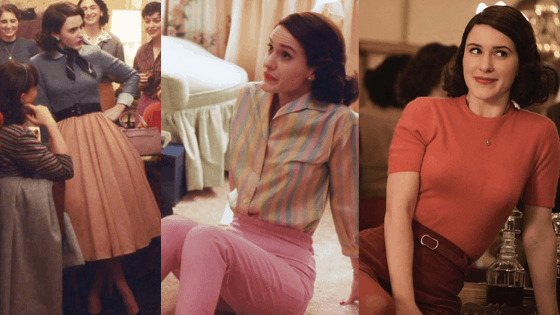 The Essentials: Knit sweaters, swing skirts, cigarette trousers, blouses, & ballet flats
Though Mrs. Maisel is not known for subtle wardrobe choices, she does happen to pull off some great off-duty looks throughout the series.
Her casual look consists of wearable fashion staples that you could easily throw on today. From knit sweaters to high waisted pants to ballet flats, these '50s pieces all still work today.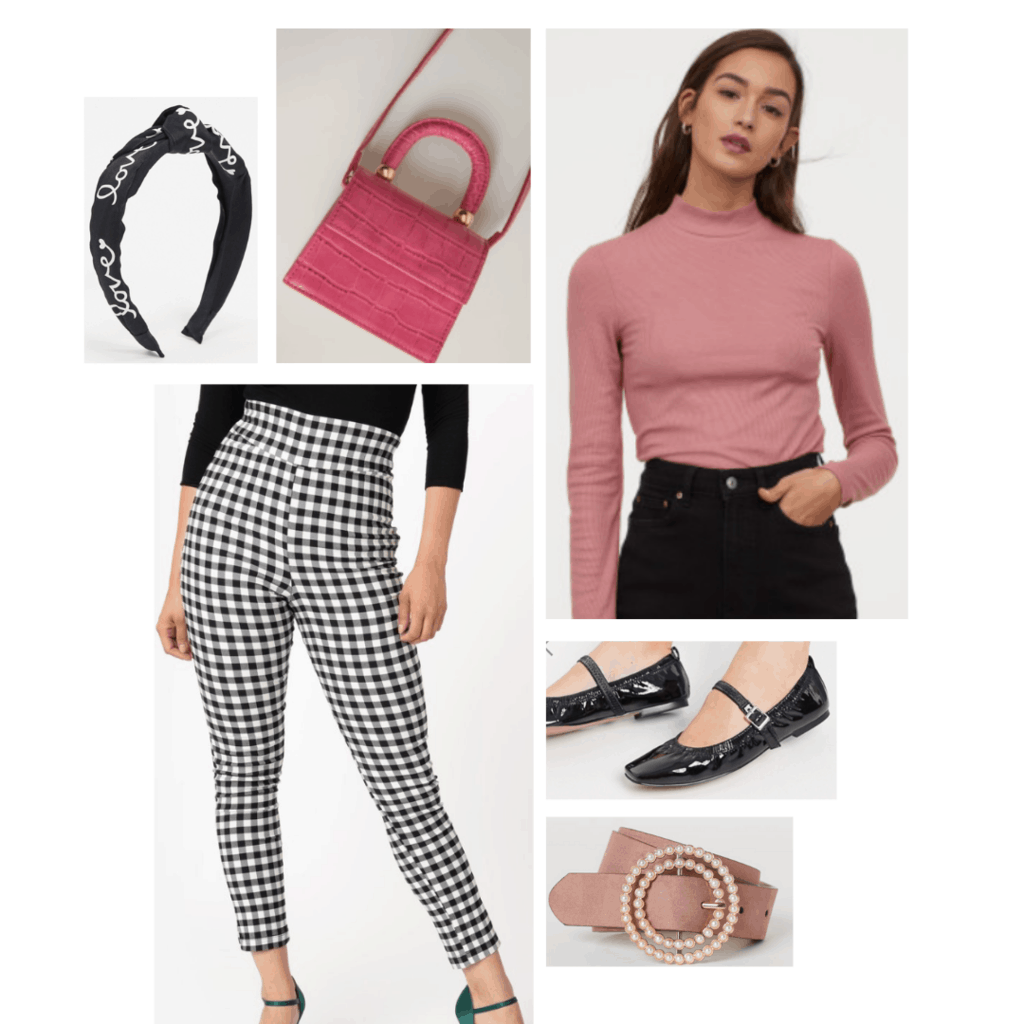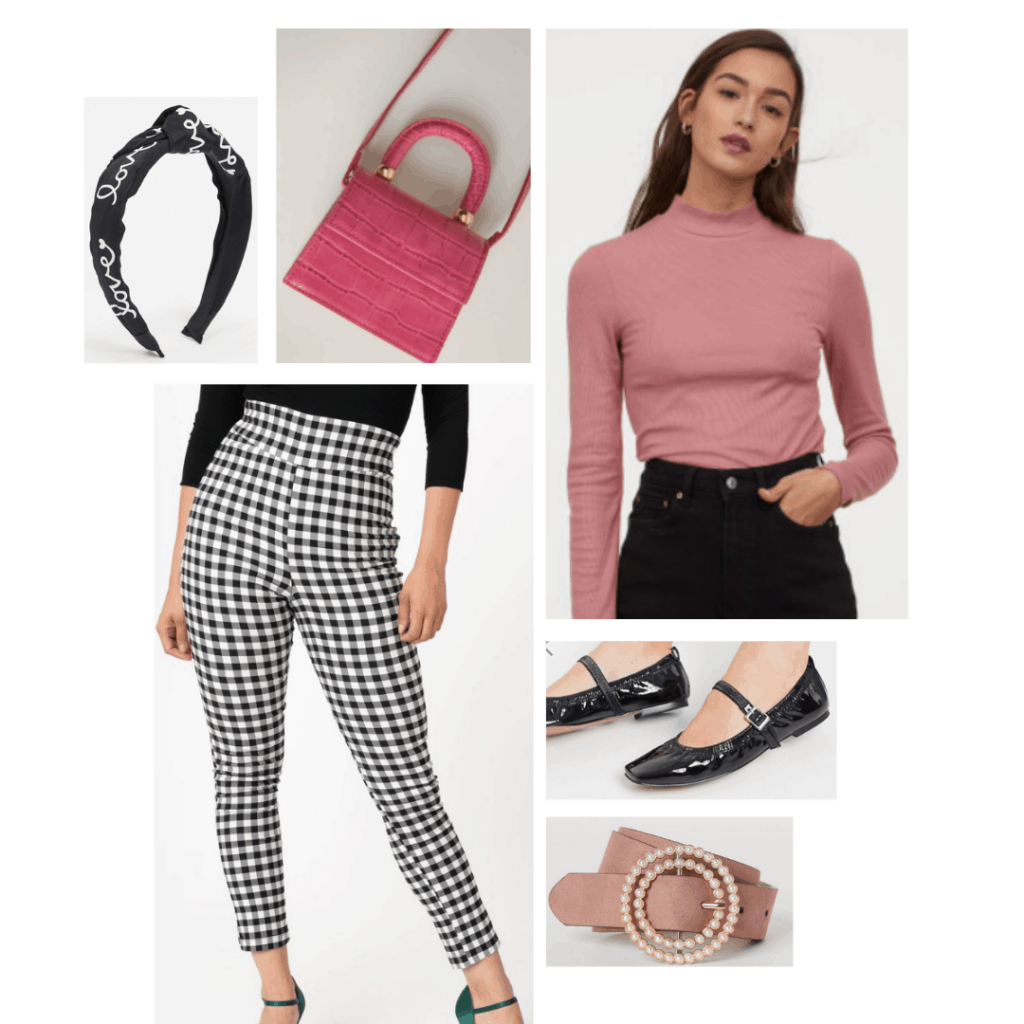 Products: Pants – Unique Vintage, Top – H&M, Shoes – ASOS, Belt – H&M, Bag – Mango, Headband – ASOS
This '50s inspired look could be dressed up or down, depending on your plans for the day.
Start with some statement gingham cigarette pants that look like they stepped out of the '50s. Add a sleek pink sweater and black flats to make the look more casual. For accessories, have fun with a pink purse, a pearl belt, and a retro headband.
If you wanted to dress this up, you could certainly add a modern boyfriend blazer and a pair of heels for nighttime!
Vacation Time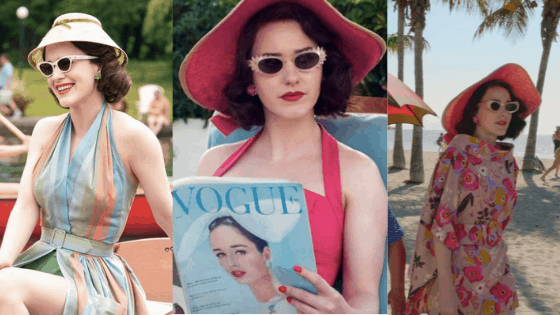 The Essentials: High waisted shorts, cat-eye sunglasses, straw hats, & vibrant colors.
In the show we see Midge sport many vacay looks while away in the Catskills and while touring America with Shy Baldwin. And, I must admit, the vacation episodes are some of my favorites, simply because of the fashion.
If you ask me, the vacation looks on the Marvelous Mrs. Maisel are some of the most draw-dropping looks put on television. The pastel colors and '50s swimwear are to die for, and the cat-eye sunglasses are simply awe-inspiring. All of these styles are the perfect inspiration for your upcoming Spring vacations.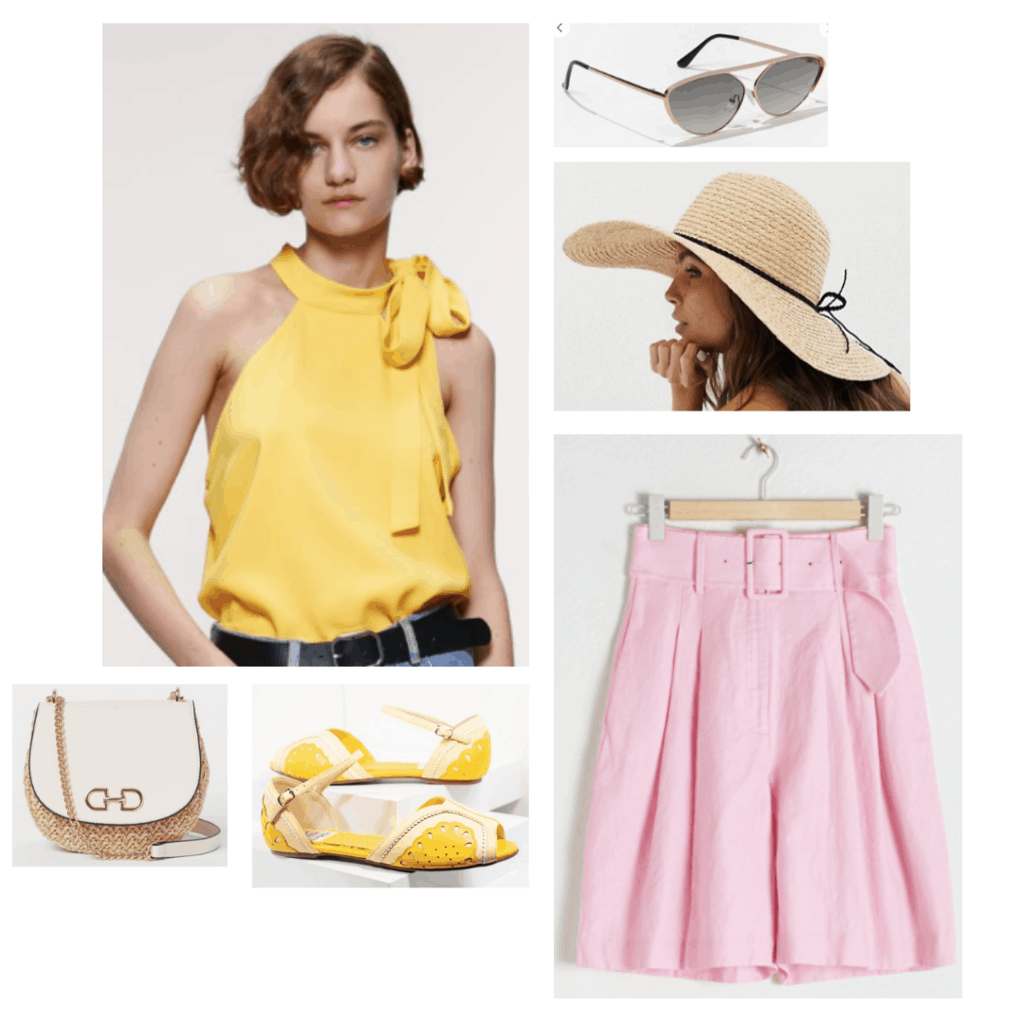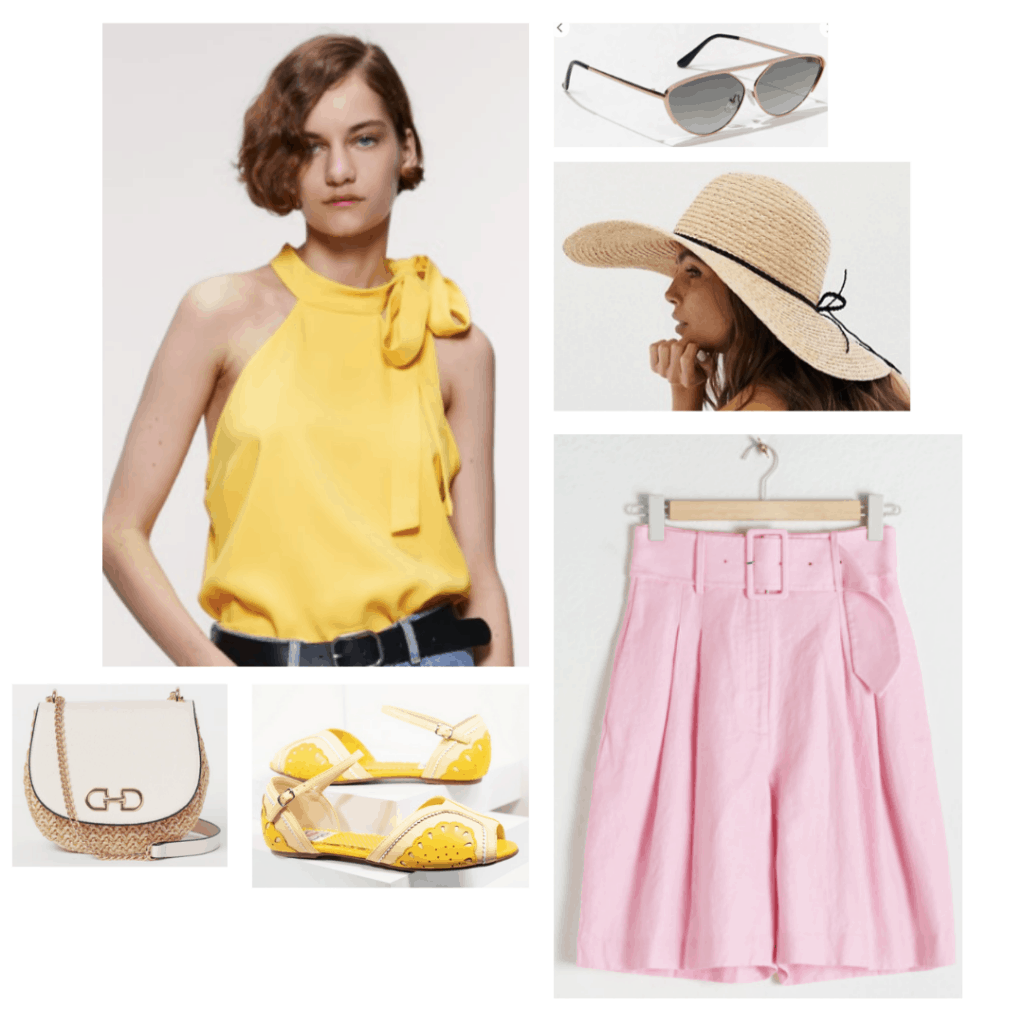 Products: Shorts – & Other Stories, Hat – ASOS, Top – Zara, Sandals – Unique Vintage, Bag – H&M, Sunglasses – Forever 21
For this vacation look, I wanted to go for bright colors and spring essentials to make the look spring break-appropriate while still having a '50s vibe.
To get it, rock a bright yellow halter top along with pastel pink high waisted shorts. To accessorize, add a straw hat, a wicker bag, and a pair of sandals. Finish the ensemble with cat-eye sunglasses that make the look suited for 2020.
What do you think of our Mrs. Maisel fashion guide?
Are you inspired to incorporate the 1950s into your style? How would you style Mrs. Maisel's looks? Comment below and let us know!