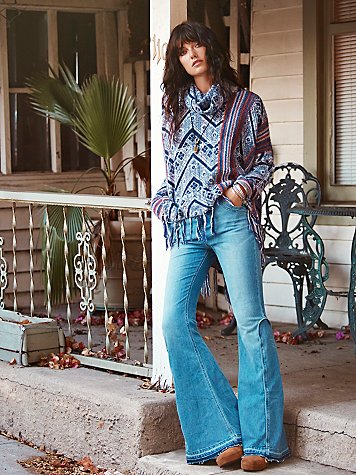 This summer, 1970s fashion was everywhere. I know I jumped on the '70s train in my summer suedes, platform sandals, and button-front skirts. That's why I'm excited that the '70s trend is still going strong this winter.
You might think that the '70s trend is better suited to the warm months, but that's not the case. To wear the '70s trend in winter, keep your accessories (and get another season out of the suede hat your mom thought you'd never actually wear), but switch out the white, gauzy, off-the-shoulder tops from this summer for a darker palette and eclectic accessories, textures, and layers.
Scroll down to see how you can add some '70s flair to your winter wardrobe with these three outfits:
Texturized and Winterized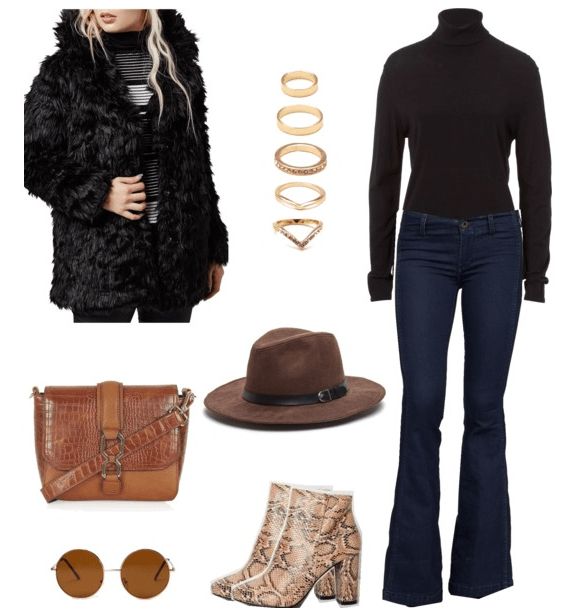 Products: Coat, Rings, Turtleneck, Jeans, Boots, Hat, Bag, Sunglasses
This outfit incorporates many of the cool and eclectic textures of the '70s into one winter look. Start with a basic black knit turtleneck and dark wash flare jeans (more seasonally appropriate than your light-wash summer pair) and add a Mongolian fur coat on top, à la Penny Lane. Brown accessories in (faux) snakeskin, croc, and suede add interest and dimension to your look. Round sunnies complete the '70s vibe.
Polar Patchwork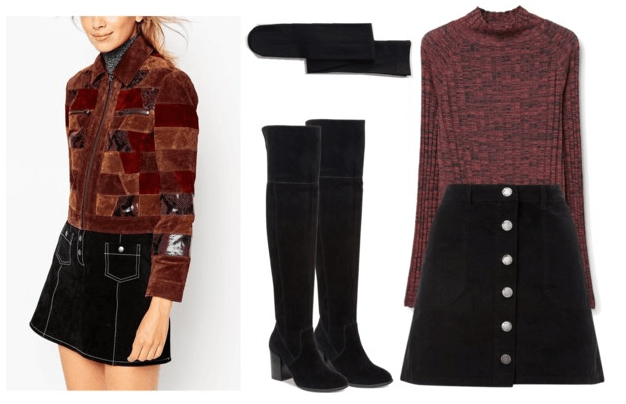 Products: Coat, Tights, Boots, Sweater, Skirt
Bring your button-front skirt into colder temperatures with a burgundy sweater worn under your new style statement, the patchwork jacket. Over-the-knee boots paired with microfiber tights will keep you both snug and stylish. The dark red palette keeps these summer and fall pieces looking winter-ready. Just a warning: this jacket and these boots are a little pricey! But both are statement pieces that can make a look and thus, in my opinion, justify the price.
Seventies (Sleigh) Bells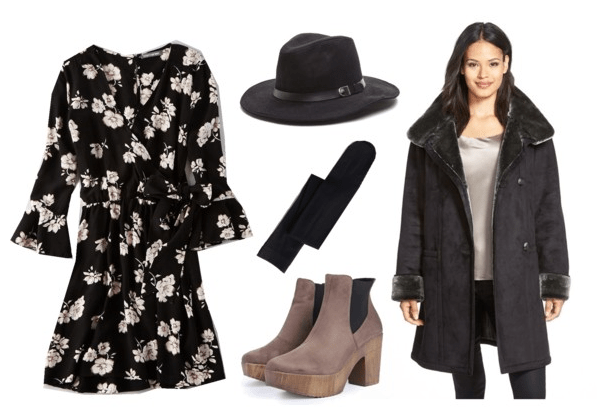 Products: Dress, Hat, Tights, Boots, Coat
All-over florals, a wrap front, and bell sleeves make this dress the perfect ode to the '70s. Add tights and long black shearling coat to keep you warm. Platform boots picking up the lighter colors of the dress and a wide-brim hat in black add the perfect amount of eclectic '70s chic to your look.
What do you think?
Do you love the 70s trend as much as I do? How do you incorporate this trend into your winter wardrobe? Any other trends you'd like to see covered? Leave a comment and let us know!