This post will show you how to wear Uggs in 2022.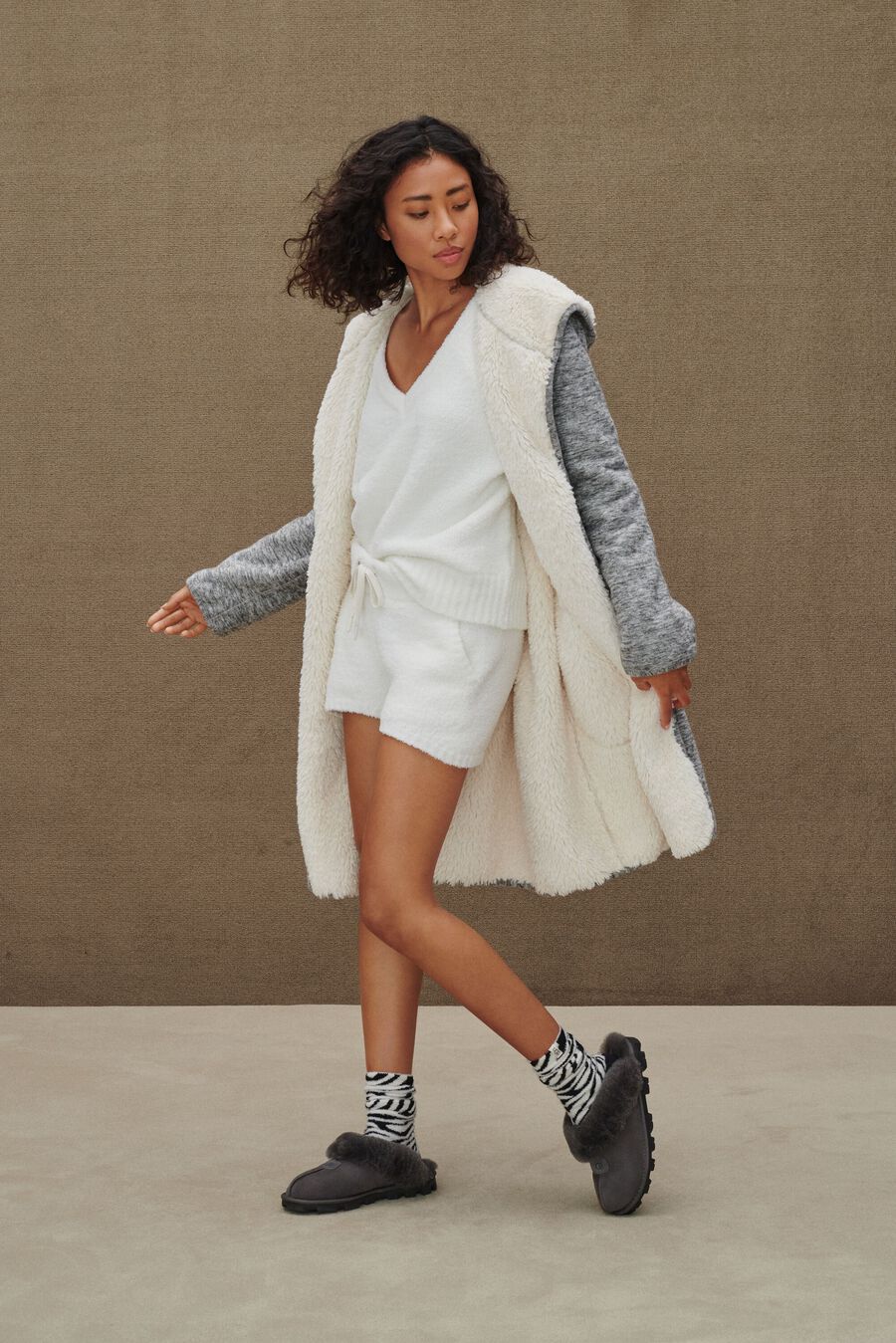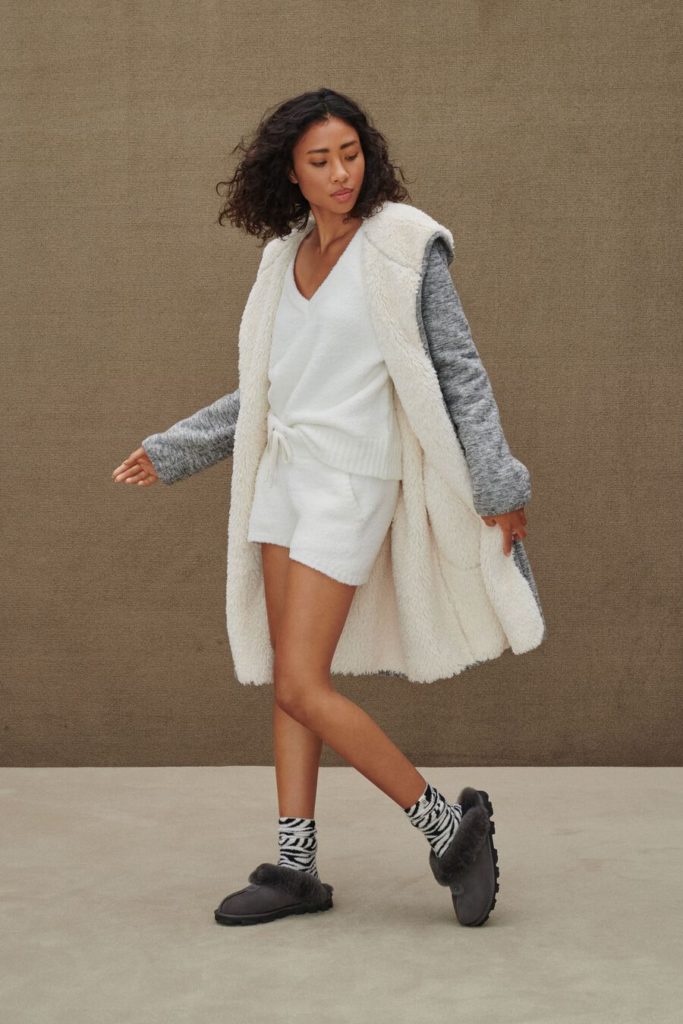 For a few years in the 2010s, Uggs were considered the epitome of basic. At the time, most highbrow fashion experts dubbed them the ugliest shoes to ever exist and deemed them "out," permanently.
All of that has changed. Uggs are extremely hot again — and what a turnaround it's been.
The image of a girl in leggings, a hoodie and Uggs has long been looked down upon as lazy fashion. But the trend wasn't always associated with negative stereotypes. After all, the Ugg has been a go-to shoe choice since the early 2000s, and a staple in every woman's wardrobe.
And what's not to love about Uggs, after all? They're comfortable, they go with everything, and they're easy to just slip on. At one time I owned six different pairs.
But when they suddenly became the symbol of tackiness, my Uggs were moved to the shame corner of my room. Only to be taken out on ski trips as an après ski necessity.
2020, however, changed all of this. We communally decided to be comfortable at home, and what better shoe to be comfortable in than Uggs? All types of cozy slippers and pull-on boots have made a comeback during quarantine.
Hence, Uggs made a triumphant return, taking center stage in shoe trends. Not to mention, they came back better than ever, in a much shorter style, that removed much of the heaviness and chunkiness of the boots.
From Kaia Gerber, to Kendall Jenner and Joan Smalls, Uggs are the new show of choice for all models off duty. And this year we're basically all models off duty, so it's no wonder Uggs are picking up steam. Not to mention Andre Leon Talley's iconic Vogue shoot wearing Uggs that took the entire world by surprise.
But how do we wear Uggs in a non basic way? Even, dare I say, a fashion-forward way? In a 2022 way?
Well, with plenty of celebrity inspiration, here are a few outfits to wear with your Uggs in 2022. All you need now is to dig up those shoes you have secretly kept for many years and finally give them the love they deserve.
Related reading: Boots Similar to Uggs: 11 Cute Ugg Alternatives We Love This Year
Boho Chic Style
Like Uggs, boho chic also experienced a return during the pandemic.
As people wanted to connect more with nature, since we were all stuck inside on Zoom, boho made its comeback also steering clear of its previous stereotypes of Coachella basic.
Natural fibers, natural dyes, flowy clothes and comfort are at the center of the new boho chic trend.
And while Uggs and boho may not seem like the likeliest of matches, they now seem like a love forged in heaven. Style a flowy dress with some also on trend knitwear, a classic fedora (the chic in boho chic) and some Ugg boots for a down to earth casual look, perfect for 2022.
Athleisure style
Kaia Gerber has redefined the basic Ugg girl look. And she's done it with very few extra accessories that are flying off the shelves. Nothing was more 2020 than the 90s shoulder bags and some high white socks.
So when you're chilling at home in your leggings and cute sweater, and realize you've eaten everything in your fridge, you trip to Trader Joe's just needs a '90s bag and of course a pair of Uggs.
The look is also seeming like my new favorite go-to class outfit for when we hopefully and finally are able to return to in person classes. (If we don't, I might start putting my feet on my desk so everyone can see my Uggs!)
Dressed up and casual style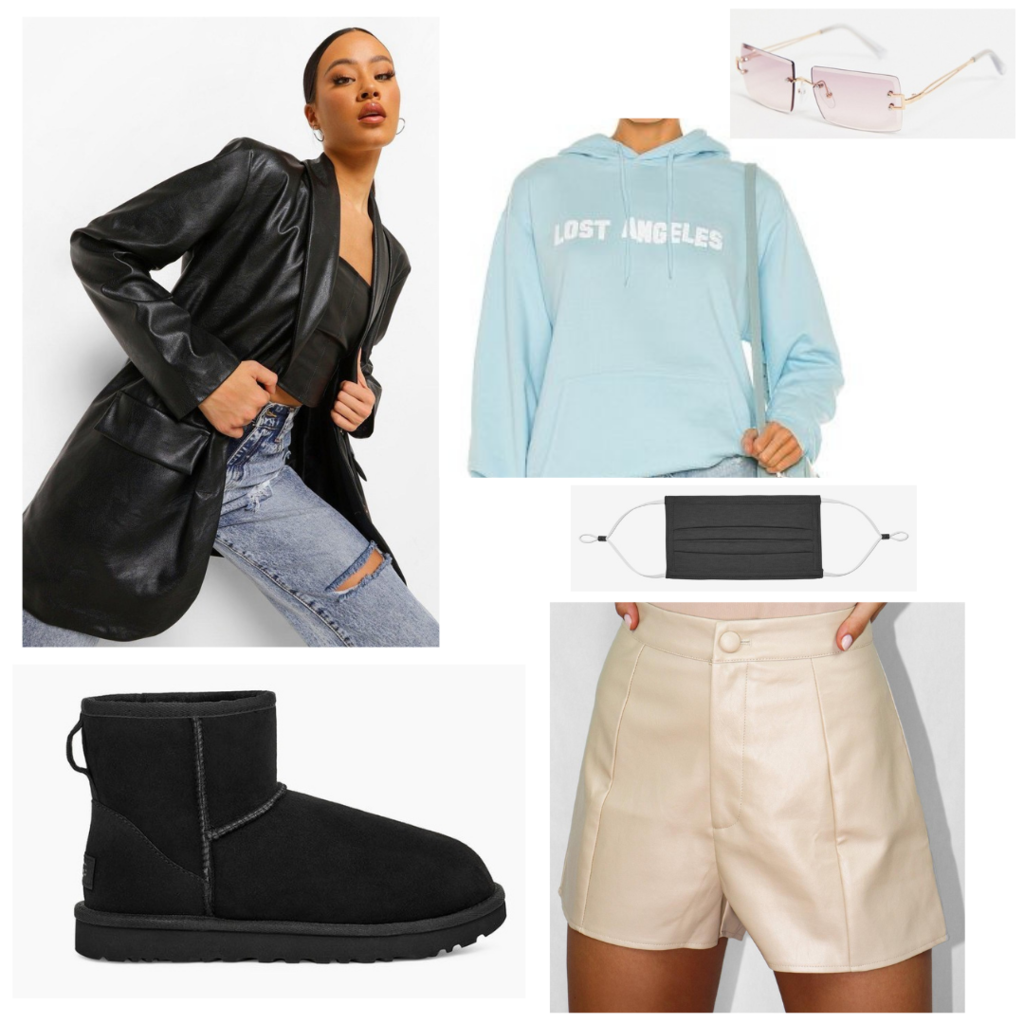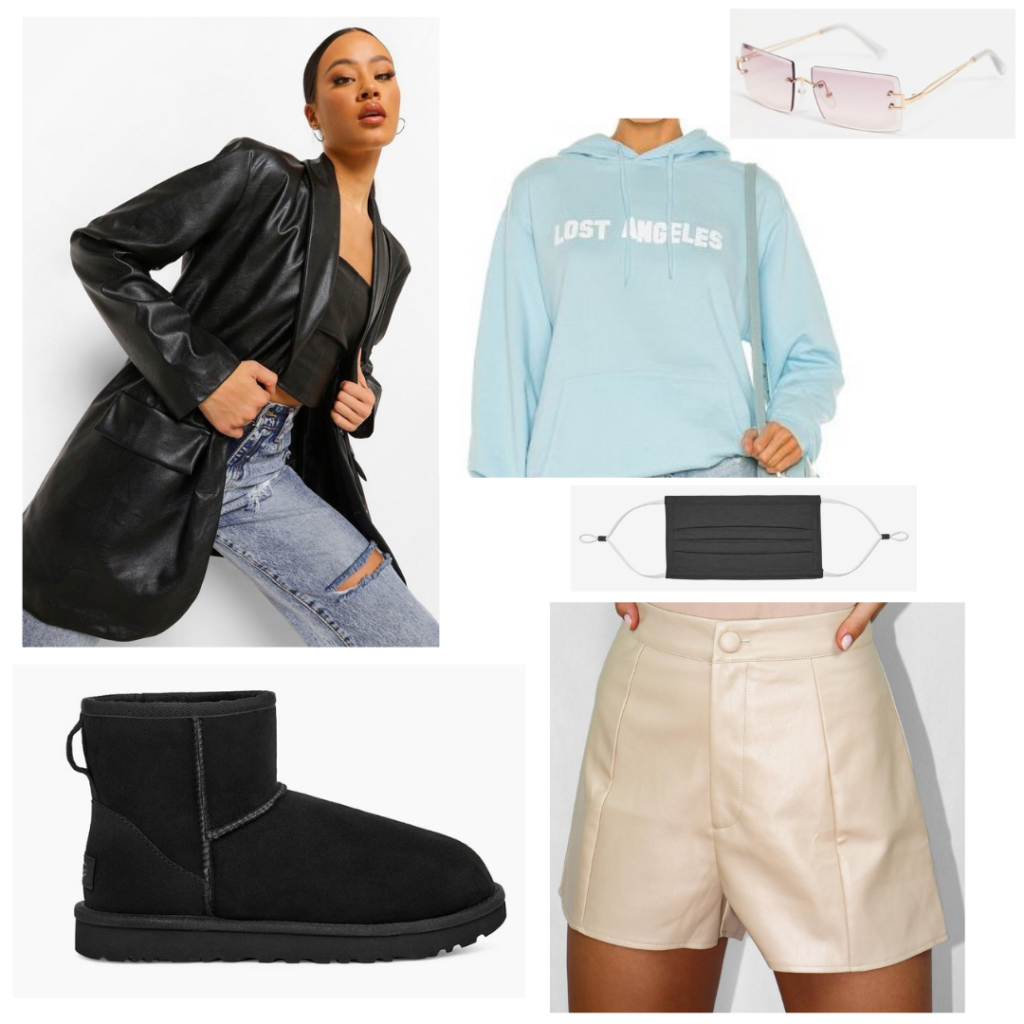 Products: Blazer, Hoodie, Sunglasses (similar), Mask, Boots, Shorts
Mixing up casual pieces with dressy pieces is classic 2020. The skill to do so has been perfected over quarantine as pretty much every Zoom dress code is somewhere along those lines.
And I'll be honest, I don't think anyone is doing it as well as Jimmy Fallon, wearing a hoodie under his blazer for The Tonight Show Starring Jimmy Fallon.
So how can you do it to? Well, if, like me, your hoodie collection has expanded beyond the capabilities of your closet, you'll have plenty to choose from to match with a 90s oversized leather blazer.
While no one has pulled the leather blazer off quite like Brad Pitt in Fight Club, it's probably my most loved '90s style comeback, and that's saying a lot because 2022 is basically 1999, fashion-wise. 
Pair it with some colorful sunglasses, leather shorts, a mask, and of course your Uggs.
Lazy girl style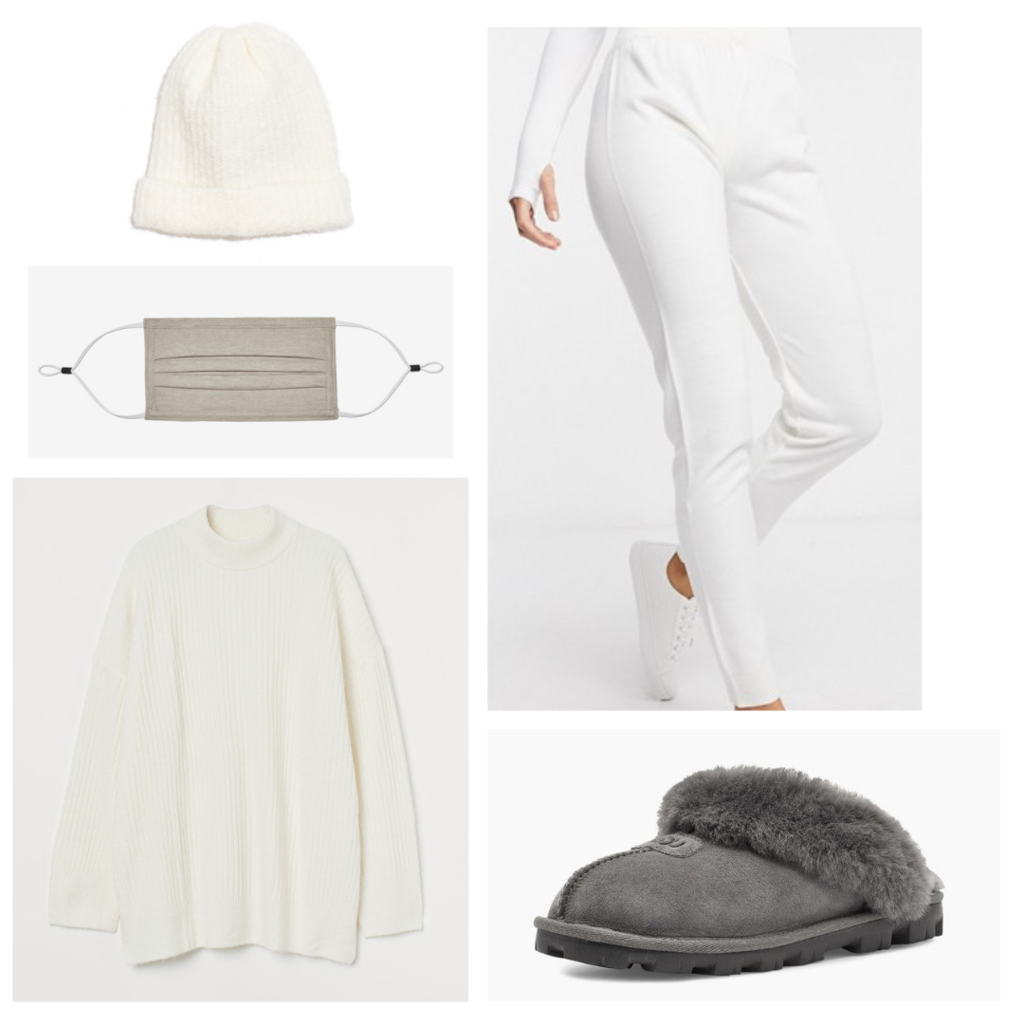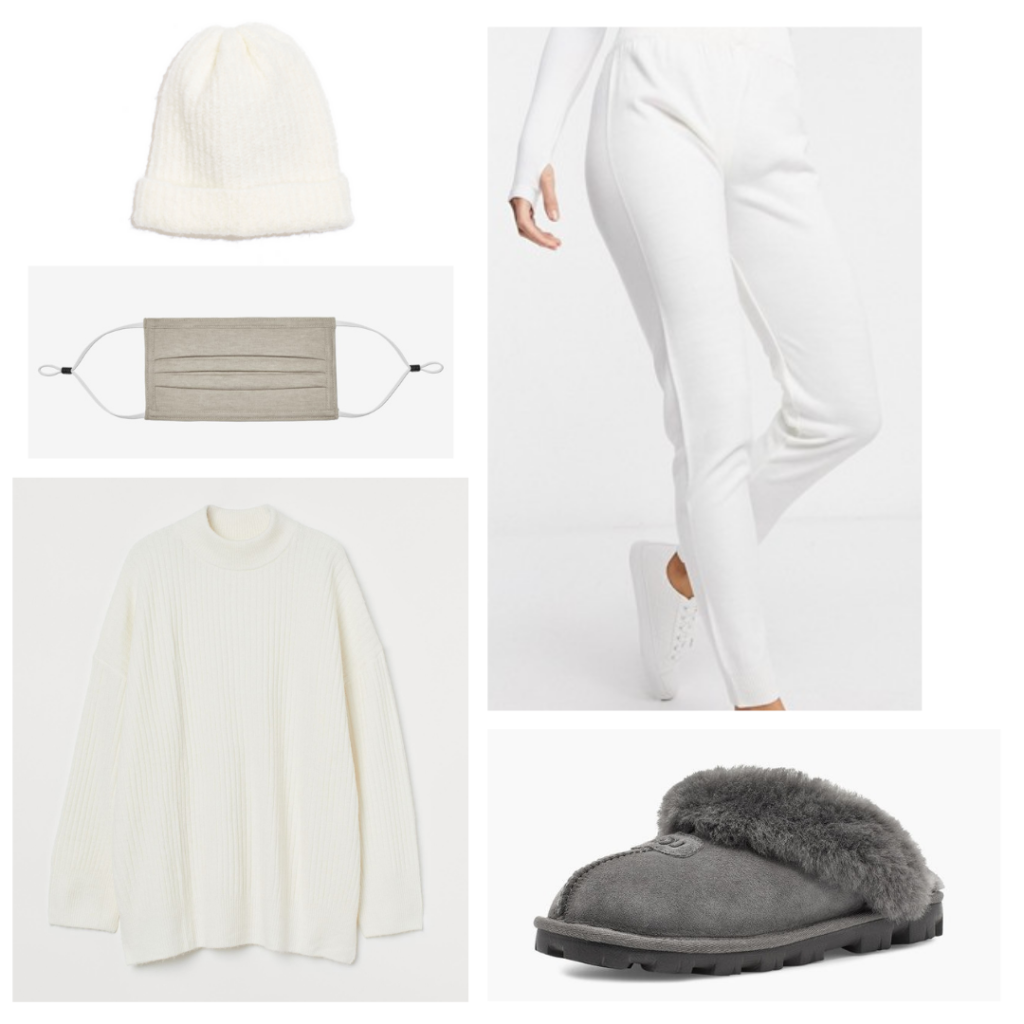 Products: Beanie, Sweatpants (similar), Mask, Sweater (similar), Slippers
There is no way I wouldn't create an outfit set for my favorite style.
I basically live in sweatpants and for those that say wearing sweatpants means you've given up on life, all I have to say: what life? Aren't we all staying home?
So for your morning walk, just keep wearing your favorite sweatsuit co-ord (I'm currently obsessed with this rib knit pair) and throw on a beanie, your favorite mask, and your Ugg slippers for a casual and yet cute, even Insta-worthy, outfit.
The return of Uggs to fashion's good graces has brought unimaginable joy to the life of someone who may have lied about the number of Uggs she had previously in the article.
I'm not going to say it's in the double digits, but I'm also not going to say it's not.
And I'll be honest, I never truly stopped wearing Uggs, because they're comfortable, they're cute, and we should always be able to wear what we love.
Basic or not, Uggs are back, so slip them back on and walk around your house.
How are you wearing your Uggs in 2022?
How many Uggs do you own? Be honest. Let us know!