This post will show you how to wear and style your Uggs in 2023.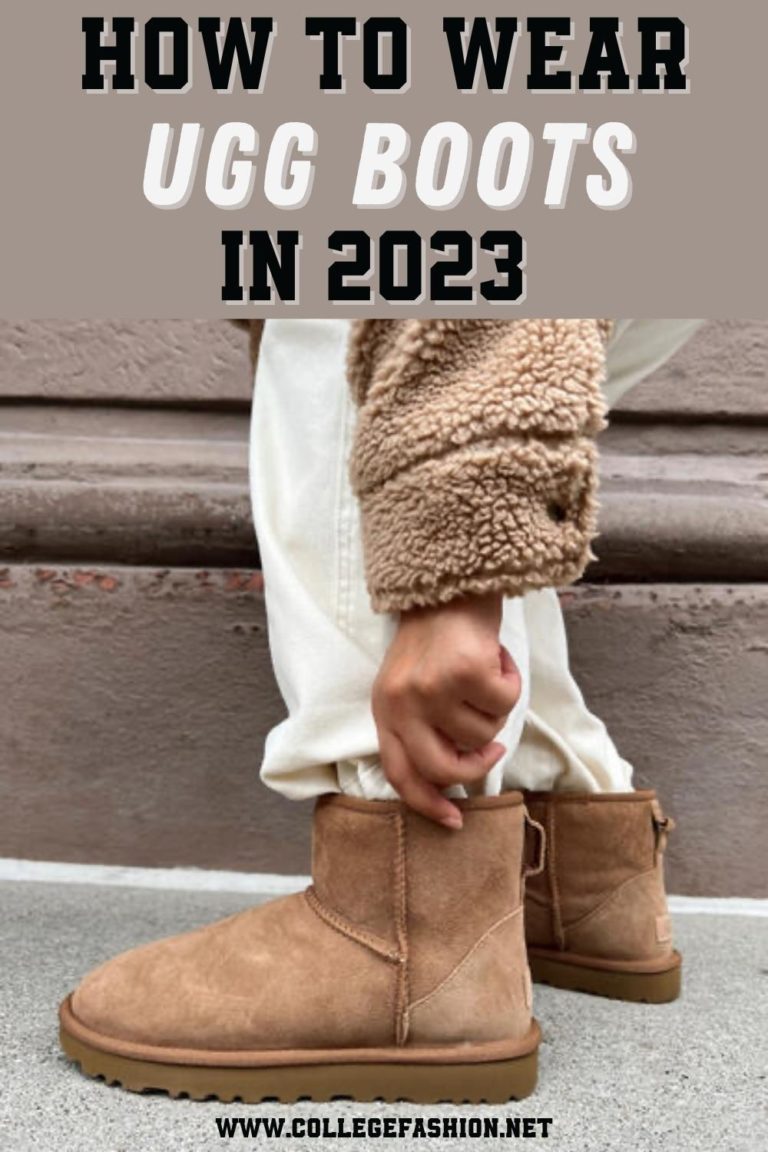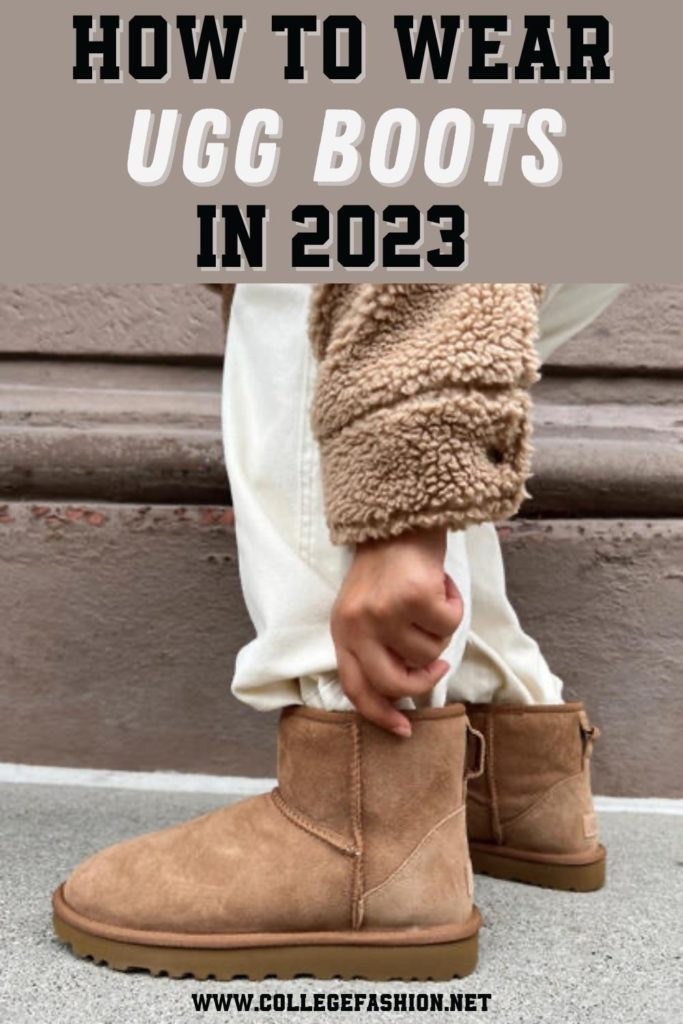 ICYMI, Uggs are back — big time.
The shearling boots that had taken a backseat to edgier boot styles have made a massive comeback in recent years (read: quarantine in 2020 when comfy styles took center stage in our lives). But even when we all started venturing outside again, Uggs continued to be a staple in our wardrobes — because why should we give up these undeniably cozy shoes just because we aren't stuck at home anymore?
Fashionistas, influencers, and celebrities like Elsa Hosk, Keke Palmer, Kendall Jenner, and Kaia Gerber (among many others) have been spotted rocking their Ugg boots and slippers with seriously stylish outfits, proving that you can balance comfort with style.
And it's impossible not to scroll on TikTok without coming across a "that girl" video featuring the Ugg Tazz or the Classic Ultra Mini Uggs during the fall and winter! They are a staple shoe perfect for running errands, school, hanging out with friends, and everything in between — including taking trendy #OOTD pics.
But I probably don't have to convince you why Uggs are a modern-day must-have. Instead, I'm going to give you 10+ fashionable outfit ideas with Uggs so that you have plenty of fresh styling inspo for your Uggs in 2023.
These outfits incorporate the season's top Ugg styles, including the Classic Ultra Mini Boots, the Classic Ultra Mini Platform Boots, and the Tazz slippers, so you'll be covered with whatever style(s) you own.
So without further ado, read on to learn how to wear Uggs in 2023, and get ready to feel ultra-cozy while looking super stylish.
Trendy Outfit with Ugg Tazz Platform Slippers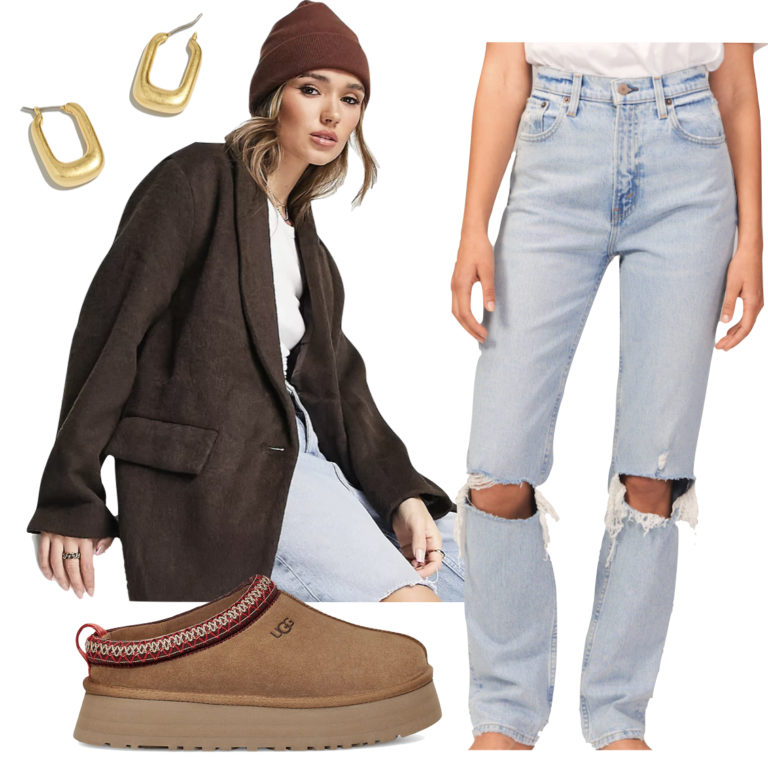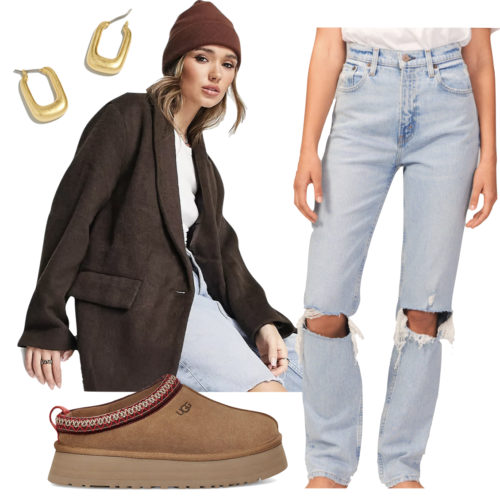 Products: Blazer, Jeans, Earrings, Ugg Slippers
Arguably the hottest Uggs of 2023? The Ugg Tazz Platform Slippers, which are highly sought-after and often hard to find in stock — they're almost always sold out!
These days, it's only acceptable to wear slippers out and about, but they actually look so cool.
So, rather than relegate your Ugg slippers to your home or dorm room only, wear them out for an ultra-trendy and model-approved look.
The contrast of a structured, oversized blazer with the casual slippers, along with some '90s style loose-fitting jeans, creates a fashion-forward effect. This combo can be worn with a plain t-shirt, graphic print t-shirt, or slouchy sweater — whatever you'd like. Just be sure to add some sleek jewelry, like a pair of gold carabiner hoop earrings, to bring it all together.
Cute Outfit with Ugg Classic Ultra Mini Boots
You can't get more classic than the aptly named Ugg Classic Ultra Mini Boots, which have been highly sought-after these past few years. If you own a pair, you know that the ultra-short shaft height makes them ideal for wearing with jeans, especially baggy and straight-leg styles.
For a cute, put-together look, wear your Ugg Classic Ultra Mini Boots with some mid-rise straight-leg jeans and a slouchy knit. Sweaters with zip-up funnel necks are a major trend right now, and this cream quarter-zip sweater is both cozy and stylish.
A pair of small, chunky hoop earrings can instantly elevate any outfit and make it look that much more put-together; since the sweater's zipper is silver, I opted for a silver pair of hoops (is anyone else weirdly particular about matching their metals like I am?) to match.
Athleisure Outfit with Ugg Classic Ultra Mini Boots
One of the cutest and comfiest ways to wear your Uggs is with athleisure looks. Can you name a better combo than leggings and Uggs?! It's forever been the go-to.
If you want to step it up a notch for 2023 and look super on-trend, swap out your leggings for a onesie. This sleeveless jumpsuit is basically like wearing full-body leggings and makes getting dressed a no-brainer since you won't have to worry about picking out a top. It's truly a one-and-done!
Since it is winter, you can wear a sweatshirt, bolero, or sherpa pullover on top to keep warm. I love the black and white print on this fuzzy sherpa pullover with a stylish half-zip design — it looks as warm and cozy as the Ugg Classic Ultra Mini Boots.
The key to nailing the athleisure vibe with Uggs is to wear a pair of crew socks that comes up above your Uggs and over your leggings or onesie. This white pair of ribbed crew socks will help you achieve the look loved by models off-duty like Kendall Jenner and Kaia Gerber, who often style their Uggs this way.
Don't forget to wear a hair claw clip, which is as practical as it is cute.
School Outfit with Ugg Classic Ultra Mini Boots
Uggs are one of the best footwear options for school, especially when you are running late for your 8 a.m. class and need to get out the door as quickly as possible!
Obviously, you could wear any of these outfit ideas to class, but this look, in particular, would be perfect for school (8 a.m. class or not).
Cargo pants are a major trend currently, and these twill cargo pants with a relaxed fit would look adorable with some Ugg Classic Ultra Mini Boots for a laid-back vibe.
Match the gray Uggs to this rib knit gray button-front cardigan that can be worn alone or over another top. This cardigan's shorter length works well with the high rise of the cargo pants.
Carry your books and school necessities in an eye-catching graphic print tote bag; this tote promotes "Good Vibes" and fits with the outfit's neutral color scheme.
A dainty layered gold necklace will make you look extra put-together and adds the perfect amount of shine to the look.
Casual Chic with Ugg Classic Ultra Mini Boots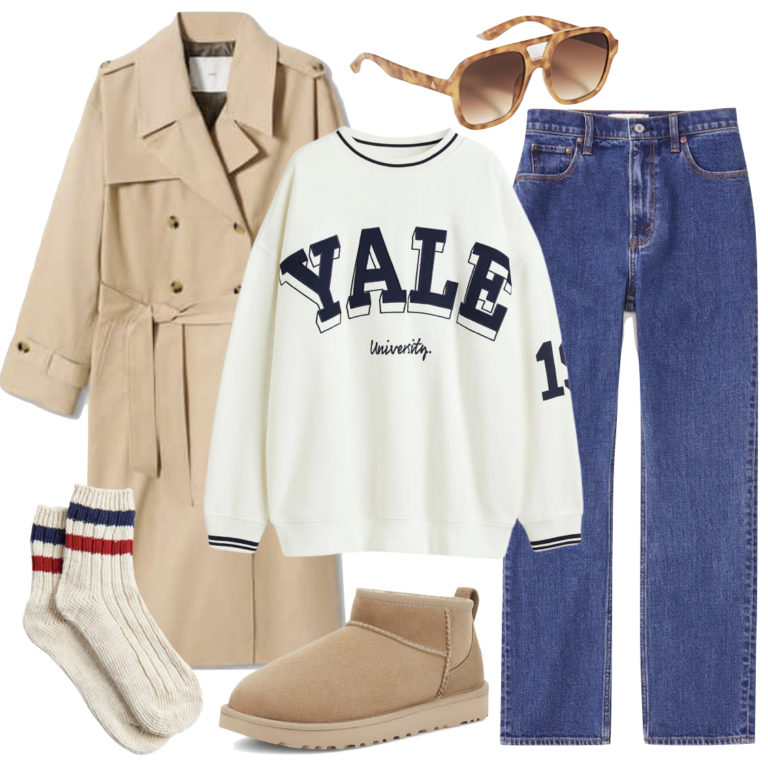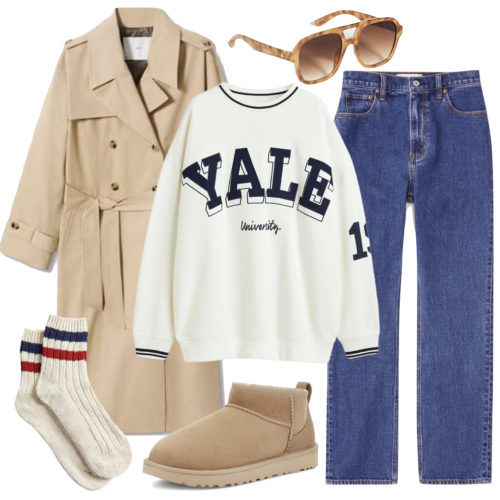 Products: Trench Coat, Sweatshirt (similar), Jeans, Sunglasses, Socks (similar), Ugg Boots
Channel your inner fashion influencer by styling your Ugg Classic Ultra Mini Boots with a classically chic trench coat. This unexpected combination looks super fashion-forward for 2023 and perfectly balances comfort with style.
This outfit is also a great way to wear your college gear in a non-basic way. Suddenly, your printed college sweatshirt looks elevated when styled with a classic trench coat and some dark wash straight-leg ankle jeans. Since the jeans cut off at the ankle, you can either wear your Ultra Mini Uggs alone or throw on some collegiate striped chunky knit socks for added flair (and warmth).
Complete the ensemble with some brown tortoise aviator sunglasses for a vintage vibe that looks amazing with the trench.
Cute Outfit with Ugg Classic Ultra Mini Platform Boots
One of the other must-have Ugg styles for 2023 is the Ugg Classic Ultra Mini Platform Boot. The platform (slash flatform) heel makes these boots stand out and gives them a retro feel, and they've been spotted on the likes of Keke Palmer, Gigi Hadid, and Bella Hadid, in case you needed more proof of the shoes' trend appeal.
Take a page from Bella's style book by styling your platform Uggs with high, slouchy ribbed crew socks, similar to leg warmers.
These work especially well with a preppy-inspired look featuring a plaid box pleat mini skirt with a modern asymmetric waistband and a slouchy, oversized wool-blend crewneck sweater.
Layer on some cool jewelry, and you'll be ready to join the cast of HBO Max's Gossip Girl — this outfit will have you fit right in on the Met steps.
Comfy Outfit with Ugg Classic Mini II Boots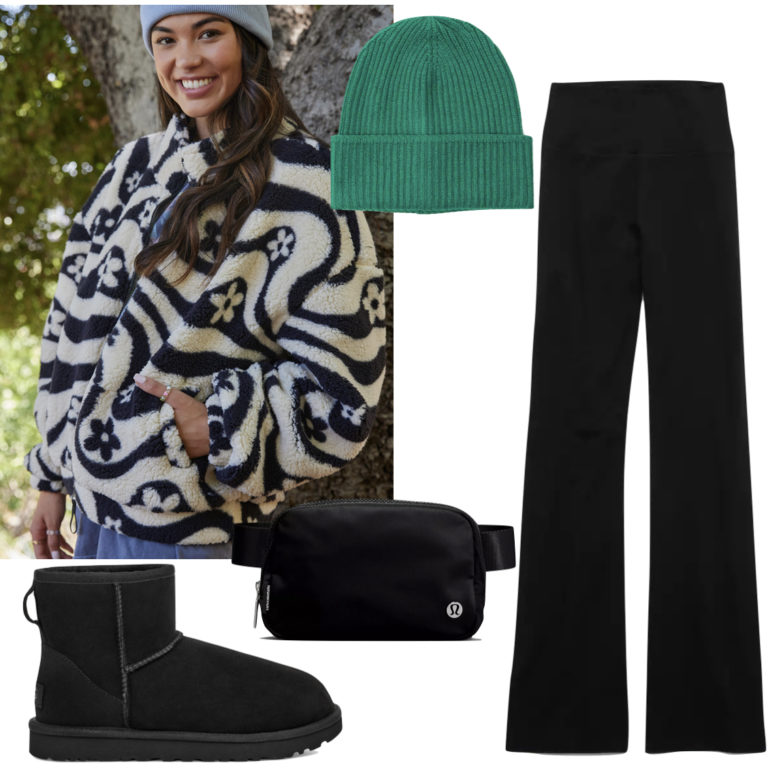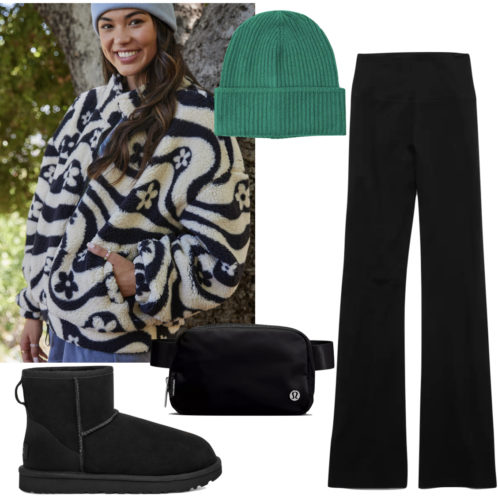 Products: Sherpa Jacket (similar), Hat, Flared Leggings, Belt Bag, Ugg Boots
Before the Ugg Ultra Minis, there were the Ugg Minis. This classic short boot is still a fabulous option, and honestly, these will keep your ankles warmer than the Ultra Minis will.
Flared leggings have had a similar comeback to Uggs, and they pair perfectly together for the ultimate cozy vibe.
Wear a fun, printed sherpa zip-up jacket, which adds personality to the outfit while helping to keep you warm. Since this sherpa is black and white, add a pop of color with a bright beanie hat, like this green ribbed knit beanie.
A belt bag like Lululemon's "Everywhere" bag fits the relaxed feel of this outfit while also being super convenient when you're on the go (it's a Hot Girl Walk essential).
Loungewear Outfit with Ugg Classic Mini II Boots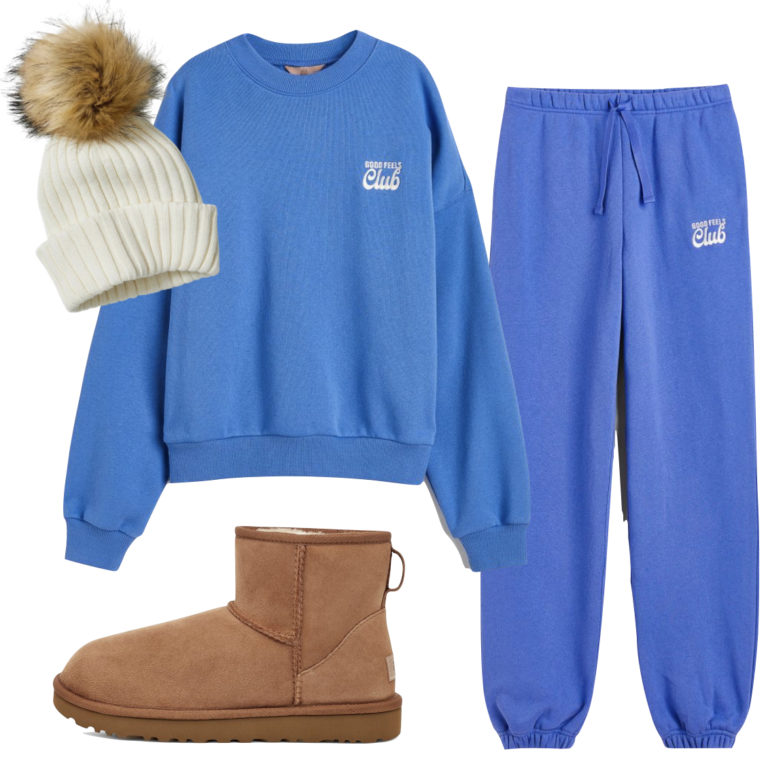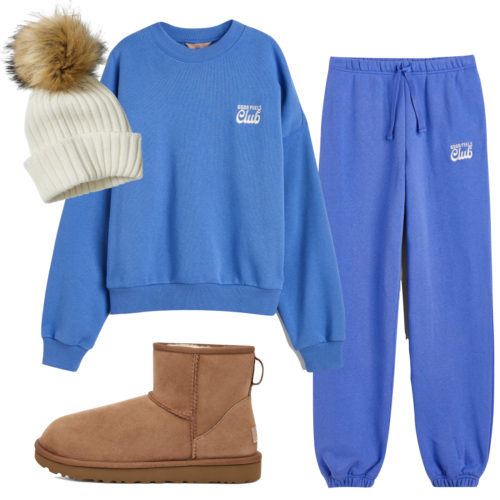 Products: Sweatshirt (similar), Sweatpants (similar), Hat, Ugg Boots
Wearing loungewear with your Ugg boots is an obvious choice, but there's no reason you still can't look cute and put-together in your sweats!
Opt for a matching sweat set featuring a sweatshirt and coordinating sweatpants to wear with your Ugg Classic Mini II Boots. I adore the bright blue hue that this "Good Feels Club" embroidered crewneck and joggers have, which is a total mood booster (even in the dreary wintertime). This set, paired with your Uggs, will keep you comfy and cozy.
Don't forget a knit beanie hat for extra warmth (and cuteness), like this ribbed faux fur pom beanie hat to complete the outfit.
Snow Outfit with Ugg Sunburst Mini Boots
Looking for a cute outfit to wear when it is snowing outside? I would recommend Ugg's Adirondack III Boots (which are waterproof) or, for lighter winter weather conditions, the Sunburst Mini Boots. While they aren't waterproof, these are much sturdier than your regular Ugg boots, with a thicker rubber outsole that provides more traction.
Keep warm in some fleece-lined leggings and a trendy puffer jacket like this, which features high-shine fabric and a short length. It is wind- and water-resistant, and it even has fleece-lined pockets to keep your hands warm if you've forgotten your gloves.
Though these boots are lined with sheepskin, you can keep your feet extra toasty with a pair of insulating wool-tech crew socks. Plus, these socks will add extra trend appeal to the outfit since wearing high socks with Uggs is totally the move in 2023.
For a final trendy touch, wear some faux fur earmuffs that will keep your ears warm while also looking adorable.
Winter Outfit with Ugg Highland Hi Heritage Lace-Up Boots
Another great Ugg option for wintertime is the Highland Hi Heritage Sneaker, which looks similar to a lace-up hiker boot but with a lightweight sole and a sporty, winterized feel.
Bundle up in a high-pile fleece puffer jacket that looks similar to Ugg's signature sheepskin for a cohesive look that is seriously on-trend, too. Shearling and sherpa detailing are key trends this season you'll want to incorporate into your winter outfits for a stylish vibe.
Bring the ensemble together with dark wash straight-leg jeans and a playful beanie hat; this olive green beanie features embroidery with a cute smiley face.
More Ugg Outfit Ideas
Need some more outfit inspo for how to style your Ugg boots? Check out some of our favorite looks from fashion influencers for more ways on how to wear your Uggs in 2023.
With a Moto Jacket
Give your Ugg Ultra Mini Boots an edgy vibe by styling them with a moto jacket like @pheebslfashion did.
She transformed her basic black leggings and gray zip-up hoodie into a full *lewk* by adding a boxy faux leather moto jacket and Ultra Mini Uggs with high crew socks. Pheobe also added stylish accessories like trendy sunglasses and a designer purse to elevate her laid-back outfit.
With a Vest
Go for a cozy cool look by wearing a moto-style sherpa vest with your Uggs. Molly-Mae Hague styled her Ugg Tazz slippers with an oversized sherpa moto vest, cream-colored hoodie, and relaxed-fitting jeans with slits at the hems — perfect for showing off her platform slippers, of course! Suddenly, jeans and a sweatshirt look more stylish than ever.
With A Shearling Jacket
Aviator jackets — leather or suede jackets with shearling or sherpa lining and moto details — are a significant trend this season, and they pair perfectly with Uggs.
Take a cue from @victoriaquitzau, who wore her Uggs with rigid straight-leg jeans, a brown aviator jacket, and a knit beanie hat for a cozy-meets-chic look.
With Camouflage Pants
Camouflage pants were one of 2022's most unexpected fashion trends, and they're still a major player for 2023 — especially when paired with Ugg boots.
Influencer @eliannaarvizu wore her classic Ugg boots with some oversized camo pants, a simple white t-shirt, and an oversized leather jacket for a cool street style-aesthetic look that was absolutely worth documenting for the 'gram. Her layered necklaces and dark sunglasses also added to her trendy outfit.
With Flared Jeans
Yes, flared jeans look great with heels and ankle booties, but what shoes do you wear them with for the daytime?
Enter: Ugg's platform boots.
With their pumped-up platform heel, they'll give you the boost you need to wear your flares during the daytime minus "real" heels (since other shoe options like sneakers are too flat and will have your flares dragging on the ground).
Influencer @emeliefeola took advantage of her platform Uggs' heel, styling them with loose-fitting flared jeans, a basic white crop top, and a faux sherpa aviator jacket (plus Apple AirPods Max, which are a fashion accessory in themselves).
With Baggy Jeans and Layers
I love baggy jeans with every type of shoe these days, but they look particularly cute with the Ugg Tazz. Fashion girl @summerjadestyle rocks the viral Mustard Seed color slippers with her baggy jeans, adding a little crop top and some cute layers for a cute-meets-comfy vibe.
My favorite part of the outfit is the accessory choice — the Uggs match perfectly with her cream purse and beige baseball cap for a balanced look.
With Leg Warmers
Street style extraordinaire @_olhirst_ rocked her platform Uggs with knit leg warmers, which are primed to be a trend for 2023.
She showed off this cool combination with a leggy look featuring a pleated mini skirt, a Carhartt zip-up jacket, and a crochet crossbody bag for a super unique vibe.
What do you think of our Uggs outfit guide for 2023?
Do you wear Uggs? Which outfit idea with Uggs is your favorite? Leave a comment and let us know!