We've been breaking down our list of 16 classic fashion icons everyone should know. Last week, we covered pin-up model Bettie Page — a gorgeous woman who became a symbol of classic American beauty in the 1950s.
This week, it's all about Cher.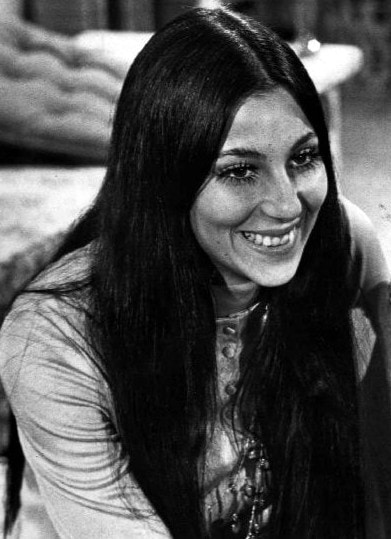 Cher's pop culture title is "the Goddess of Pop," a fitting moniker, since her bohemian, Aphrodite-like beauty has been pined after for decades. She's still pushing the fashion and music boundaries today.
Known for her wide-ranging talents, daring approach to fashion, and sassy personality (seriously, check out Cher's tweets for some of the best sass of all time), Cher is one of the biggest names in film, TV, and music.
Keep reading to find out about Cher's early life, lifetime career, accomplishments, and how you can channel her (always changing) style.
All About Cher
Turning Back Time
In 1946, Cher was born Cherilyn Sarkisian in California. Her father, a gambling- and drug-addicted criminal, was largely absent from her life. Her mother worked on and off as an actress, introducing Cher to the business, but they struggled financially.
She is part Armenian and part Native American, heritage she has been outspoken about.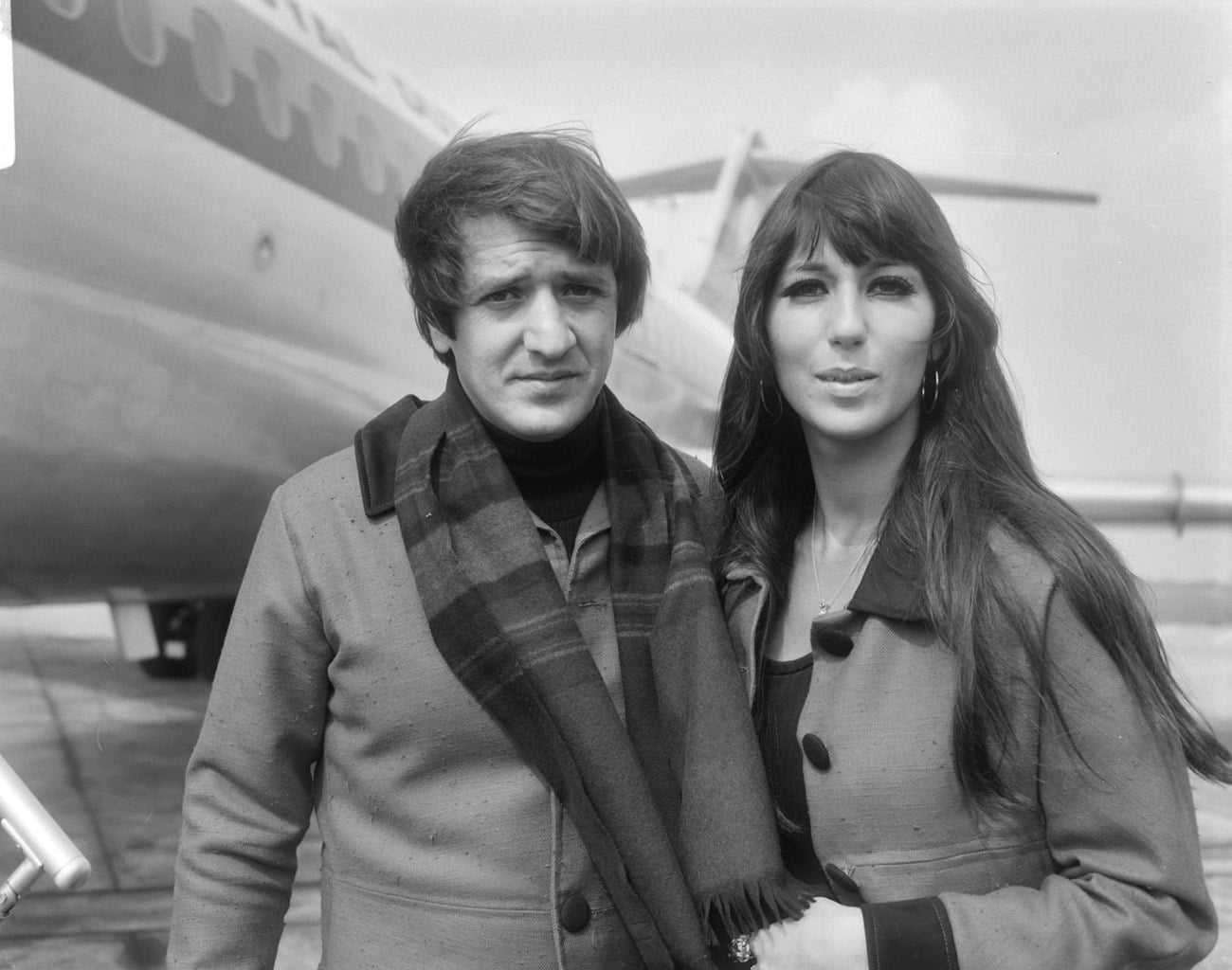 Cher is dyslexic and hated school because of it. She dropped out at 16 and moved out on her own to pursue her dreams. Shortly after, she met Sonny Bono, who she later married.
Sonny and Cher started off as friends. Sonny let Cher stay at his place when she had nowhere to go, and she helped out by doing housework.
Not one to just stay around the house, Cher worked her way up in the music business, beginning as a back-up singer for Phil Spector and playing small gigs with Sonny.
Sonny and Cher… and Stardom
Sonny and Cher Comedy Hour
Sonny and Cher found massive success with hit singles and a TV show, The Sonny and Cher Comedy Hour.
Viewers loved them as a couple. Cher was quick-witted and dry, and Sonny was her sweet and goofy counterpart.
"Men should be like Kleenex, soft, strong and disposable." – Cher
But Cher would later describe her marriage to Sonny as traumatic. He was controlling and gave her no influence over her own career. Though she's frequently referred to that time as a terrible, suicidal period in her life, she still admires Sonny as a mentor.
An Eternal Star is Born
When their breakup first happened, Sonny threatened Cher, saying her career would be over without him, but after they divorced, Cher's popularity grew. Sonny, on the other hand, disappeared from the limelight.
Over the years, Cher has made a killing in the music industry. Hits like "Believe" and "If I Could Turn Back Time" have made Cher one of the best-selling artists of all time. She's sold over 100 million records. With "Believe," she became the oldest female solo act to top the Billboard Top 100 at 52.
Funny enough, Cher isn't a fan of a lot of her music. She prefers rock n roll and says she wanted to sound like the Eagles.
"Women have to harness their power—its absolutely true. It's just learning not to take the first no. And if you can't go straight ahead, you go around the corner." – Cher
Cher is also a successful actress. Her performance in Moonstruck won her an Oscar. She also has three Golden Globes and an Emmy. (So she just needs a Tony for that EGOT!)
We Haven't Seen the Last of Her
Cher is known for re-inventing herself, but one thing always remains: she loves pushing boundaries.
People are still shocked today to see her outrageous costumes on stage. But Cher now thinks of her age and costumes as camp and funny.
"I can't get on radio because they're not playing women who are almost 100." – Cher to USA Today
She believes her lasting success is because "I just don't stop."
Cher is also outspoken about LGBT issues and is a devoted philanthropist. She's humble about her successes, once stating "Icon is a stupid word" (oops!) and speaks openly about her failures. She also advocates for those who cannot speak for themselves:
"If you're not worrying about how to put food on your table, you [should be] worrying about why other people don't have food on their table." – Cher to Vanity Fair
Later this year, Cher will go on her "Here We Go Again" tour in Australia and New Zealand at age 72.
Fashion Inspired by Cher
Cher's style can be summed up in one word: spectacular. She's the ultimate entertainer, and she always looks ready to put on a show.
There's no way to channel Cher's looks without being a little glam. If you're into subtle, understated makeup and effortless fashion, Cher is probably not the icon to copy. But everyone can have a little show-stopping fun once in while, and I encourage you to give Cher's vibe a shot.
Here's how to get Cher's style:
'60s Cher
'60s Cher was adorable. She showcased her love for matching colors and bold accessories, like these big hoop earrings. Her outfits were interesting without looking overdone.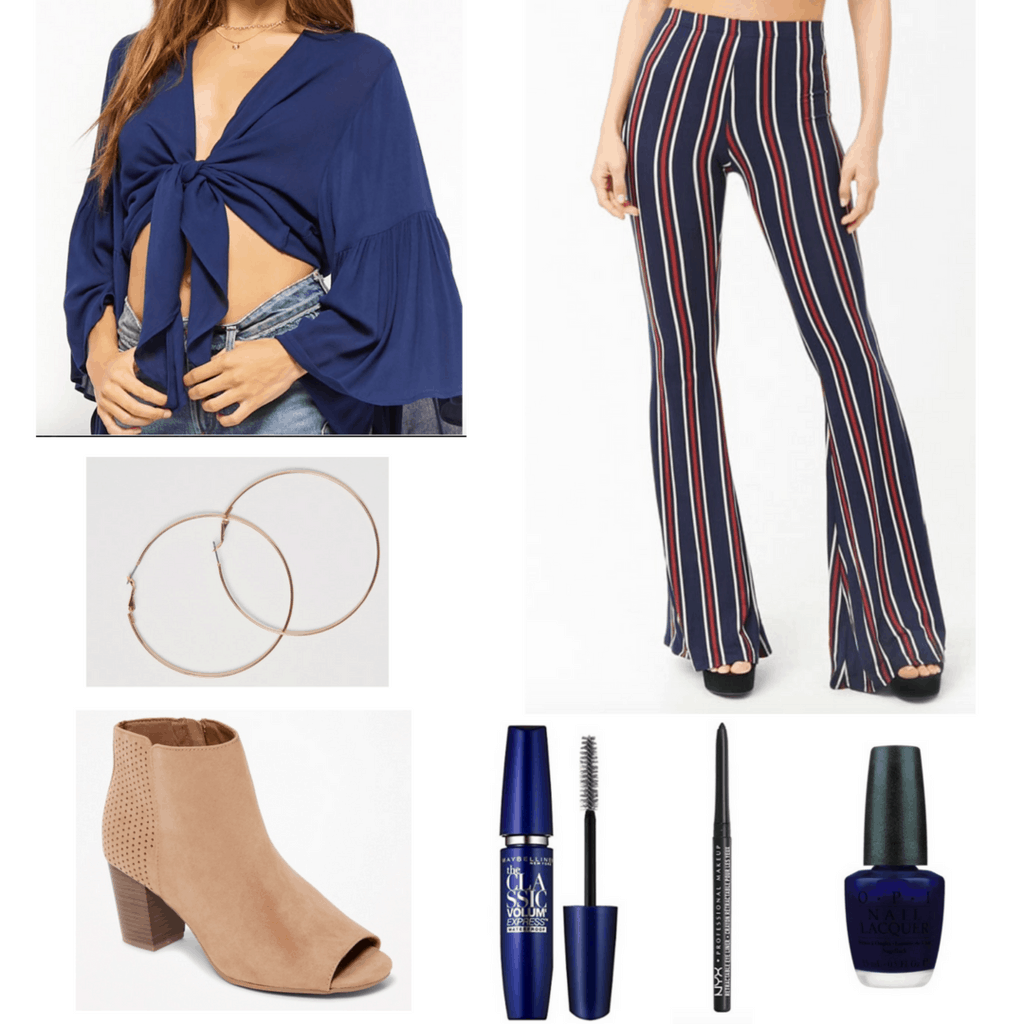 Products: Top – Forever 21, Bottoms – Forever 21, Earrings – H&M, Boots – Old Navy, Mascara – Walmart, Eyeliner – Ulta, Nail Polish – Walmart
Here, I've copied Cher's taste for bold bell-bottom pants and used a flowy top to capture her Bohemian flare in a modern way. Wear with bold eyeliner and lashes for that true '60s vibe.
Sonny and Cher
On her TV show, Cher wore the most amazing cross-front jumpsuits. She also donned matching two-piece sets quite often and carried on displaying her love for crop tops and cut-outs.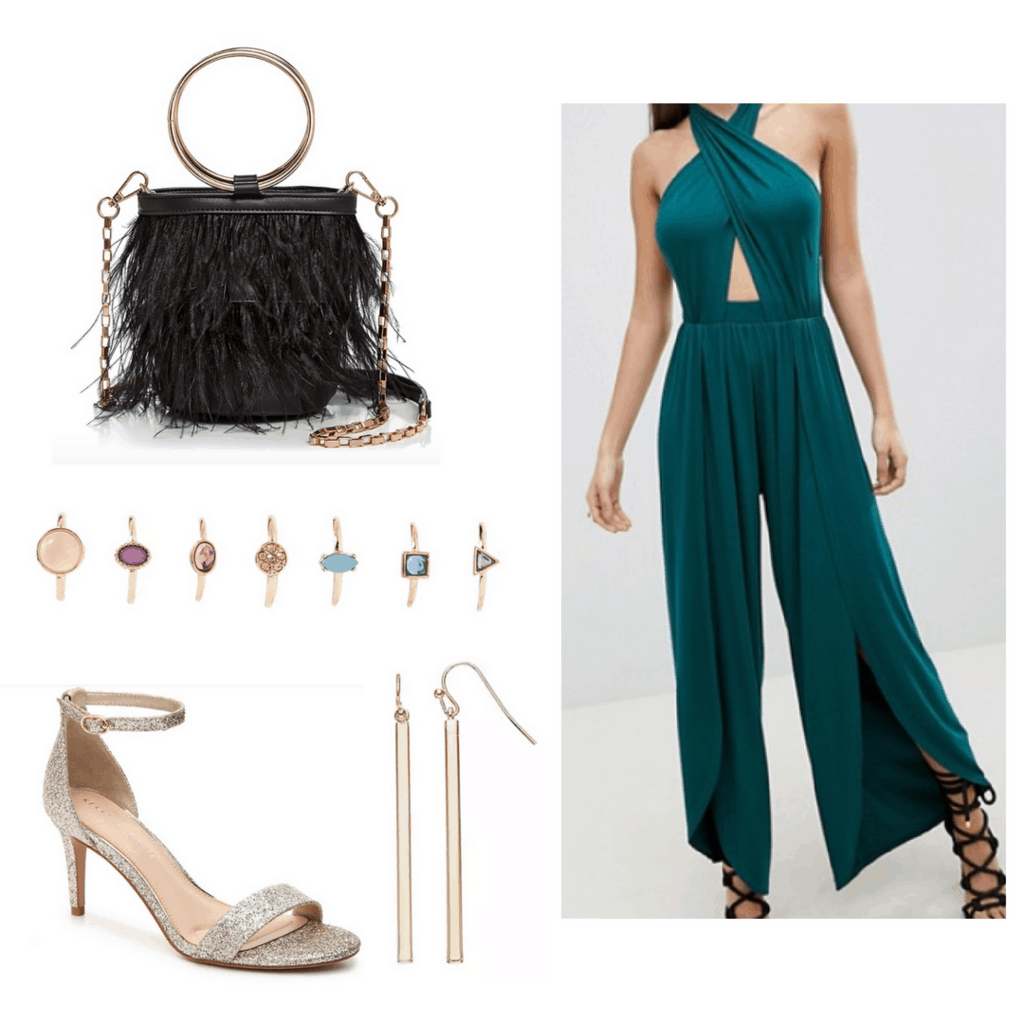 Products: Bag – Bloomingdale's, Rings – Forever 21, Shoes – DSW, Earrings – Kohl's, Jumpsuit – ASOS
The best way to pay tribute to '70s Cher in your style is with a cross-front jumpsuit like this one. This rich color throws back to the fun colors Cher wore on The Sonny and Cher Comedy Hour. To add an extra something to the look, go for bold accessories that have a timeless yet trendy aesthetic.
The Goddess of Pop
Cher is dedicated to putting on a good show, and that means costumes! She needs loud, sparkly fabrics to catch the stage lights when she performs. It makes her more visible to audiences far back; plus, they're more fun to watch. (Fun fact: Cher's last residency at Caesar's Palace earned her 60 million dollars! Girl is doing something right.)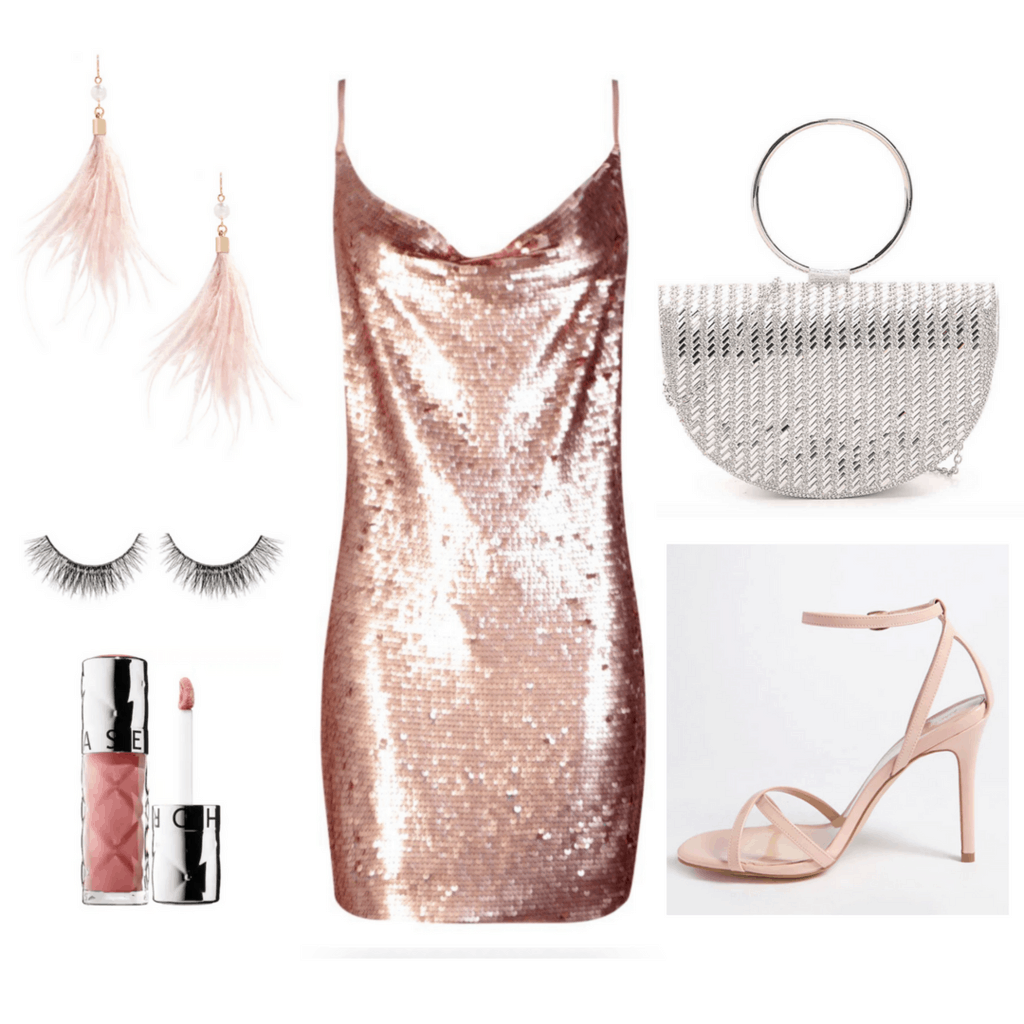 Products: Earrings – Forever 21, Lashes – Sephora, Lipgloss – Sephora, Dress – Boohoo, Bag – DSW, Shoes – Forever 21
When it comes to channeling performance-Cher, she's a little bit showgirl, a little bit party-girl, and a little bit beauty queen.
I went for on-stage glam in this going-out look by mixing lots of of sparkle with different shapes and textures. You'll most likely see Cher in a full headdress or shimmery leotard when performing, but accent pieces like these feather earrings are a fun, subdued way to feel like Cher without being in costume.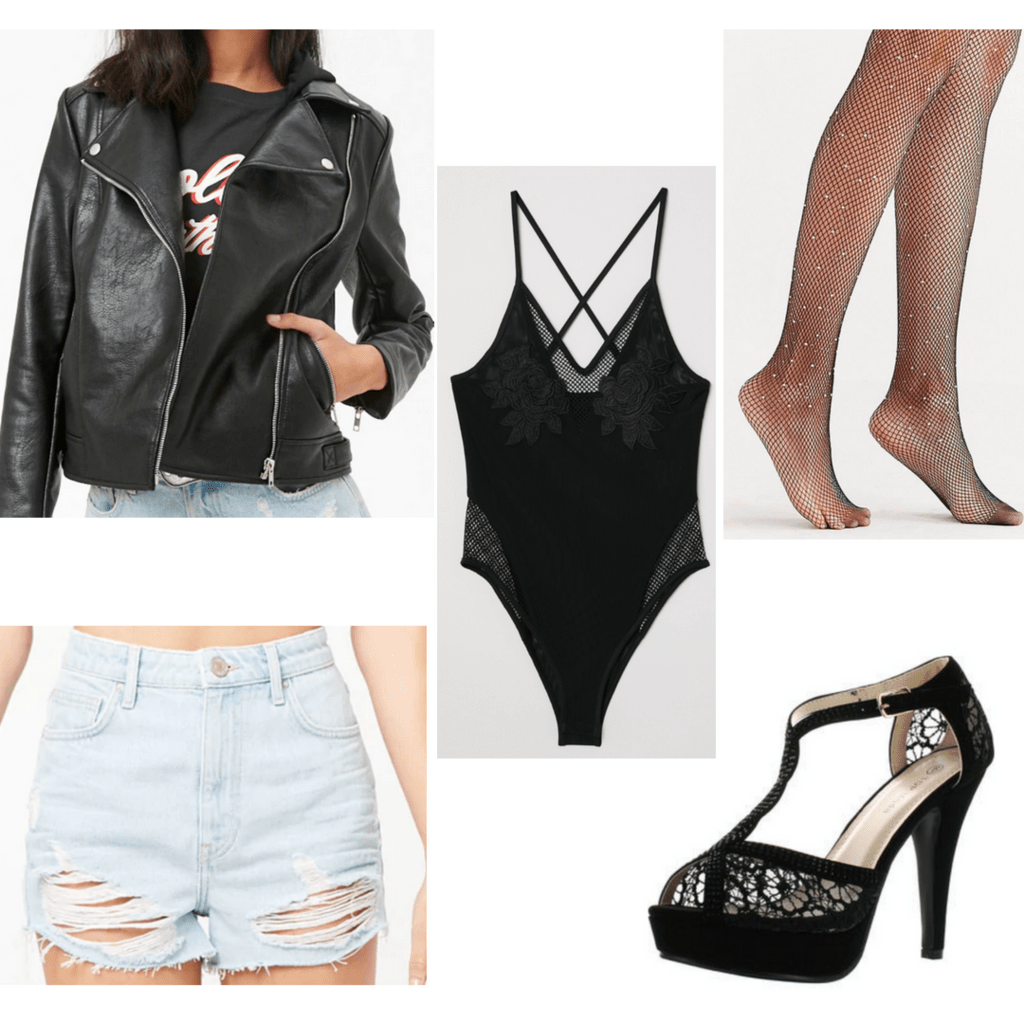 Products: Jacket – Forever 21, Bodysuit – H&M, Leggings – Urban Outfitters, Shorts – Forever 21, Shoes – Sears
But remember that Cher wanted to be a rock star. Glittery black one-pieces, fish nets, and leather jackets also make up for a large portion of her costume changes, when she opts for something with a little more edge. You can totally rock these things yourself for your next fun girls night out.
Will you be channeling your inner Cher?
Cher's lasting fame is the result of working tirelessly, accepting failure, and believing in herself. The key to getting that Cher glow is by taking risks and not caring what anyone else thinks. She once said, "I am who I am; it doesn't make any difference what I'm supposed to be."
Do you like her trendy and fashionable matching outfits? Will you give her glamorous costumes a shot with something more showy? However you choose to tribute Cher, let us know what you think in the comments!
For more information Cher, check out these great sources: