Last week, we published our list of 16 classic fashion icons every woman should know. In the weeks ahead, we'll go into detail about each of these women, teaching you about her unique style and how to channel it in your wardrobe today.
First up is Bettie Page.
When we talk about classic fashion icons, one can't help but think of pin-up girls. And if there's one pin-up girl who comes to mind, it should be Bettie, known as the "Queen of Pin-Up."
Bettie Page was one of the most famous pin-up models of the 1950s, a stylish sex-symbol of the era who succeeded against all odds.
You've seen her style imitated by everyone from Beyonce in the "Why Don't You Love Me" video, to Katy Perry in her "Californa Gurls"/"Teenage Dream" era. Even Kathy Griffin and Madonna have posed as Bettie.
Keep reading to find out more about Bettie's early life, career, influence, and how you can channel her look today.
All About Bettie
Bettie's Beginnings
Born in Nashville in 1923, Bettie had a brutal start in life. (*Potential trigger warning.*) She was a victim of sexual assault by her father, and she then spent time in an orphanage when her mother struggled to care for her.
But Bettie was hard working and educated. She didn't let her circumstances keep her down. She graduated high school as salutatorian and went on to graduate from Peabody College.
She wanted to be a teacher, a goal which she later achieved.
Queen of Pin-Up
Bettie moved from Nashville to NYC in 1949 to pursue acting. Her thick southern accent wasn't quite fit for the pictures, but she made it modeling.
Surprisingly, her modeling career spanned only seven years, and she didn't start until she was 27.
She was a talented artist and designed her own lingerie and swimwear for shoots.
Bettie's dark hair, light eyes, and girl-next-door appearance made her perfect for pin-up. The "U" shaped bangs quickly became her trademark.
Bettie 2.0
In the latter part of her career, she appeared in many BDSM and fetish photo shoots by photographer Irving Klaw. (Keep in mind, this was the '50s: Bikinis had just been invented. Bettie's shoots were ultra-scandalous back then.) But Bettie didn't see nudity or sexuality as something to be ashamed of. She was way ahead of her time.
Given the scandalous nature of his shoots, Klaw was investigated for obscenity in 1957 and had to close his business. Shortly after, Bettie retired from modeling and became a born-again Christian.
"I don't really disapprove of it; I think you can do your own thing as long as you're not hurting anybody else." ­– Bettie Page on bondage
Life after fame was hard. Bettie struggled with financial issues and was diagnosed with acute schizophrenia after a violent breakdown.
In the 1980s, a series of artwork and comic books featuring Bettie appeared and recaptured public interest. People were once again obsessed with Bettie's risqué photos.
Towards the end of Bettie's life, Hugh Hefner helped the former Playboy centerfold star find a manager and make money off royalties. But Bettie never returned to the spotlight. She refused to be seen in interviews, wanting fans to remember her in her youth. She died in 2008 at age 85.
Fashion Inspired by Bettie
Bettie Page found empowerment and identity in her style. Her biggest style influence? Always being unapologetically herself.
Bettie's ultra-revealing looks, though relatively tame by today's standards, may not be for everyone. But Bettie wasn't afraid to be smart, sexy, and confident in an era that told women to shy away from all of those qualities, which is exactly what makes her an icon.
If you're inspired by Bettie Page, check out some of these ways to channel her style:
The Pin-Up Queen
Products: Top – Forever 21, Shorts – Charlotte Russe, Shoes – JCPenney, Glasses – Target, Bag – Forever 21
This look draws inspiration from one of my favorite Bettie photo shoots. Though most of Bettie's pics showed her modeling lingerie or swimwear she did sometimes rock cute of-the-moment clothes.
And even if you are inspired by Bettie's swim looks, you can still mimic the shapes, cuts, and patterns she loved in everyday clothes, like this cute crop top and girly pair of high-waisted shorts.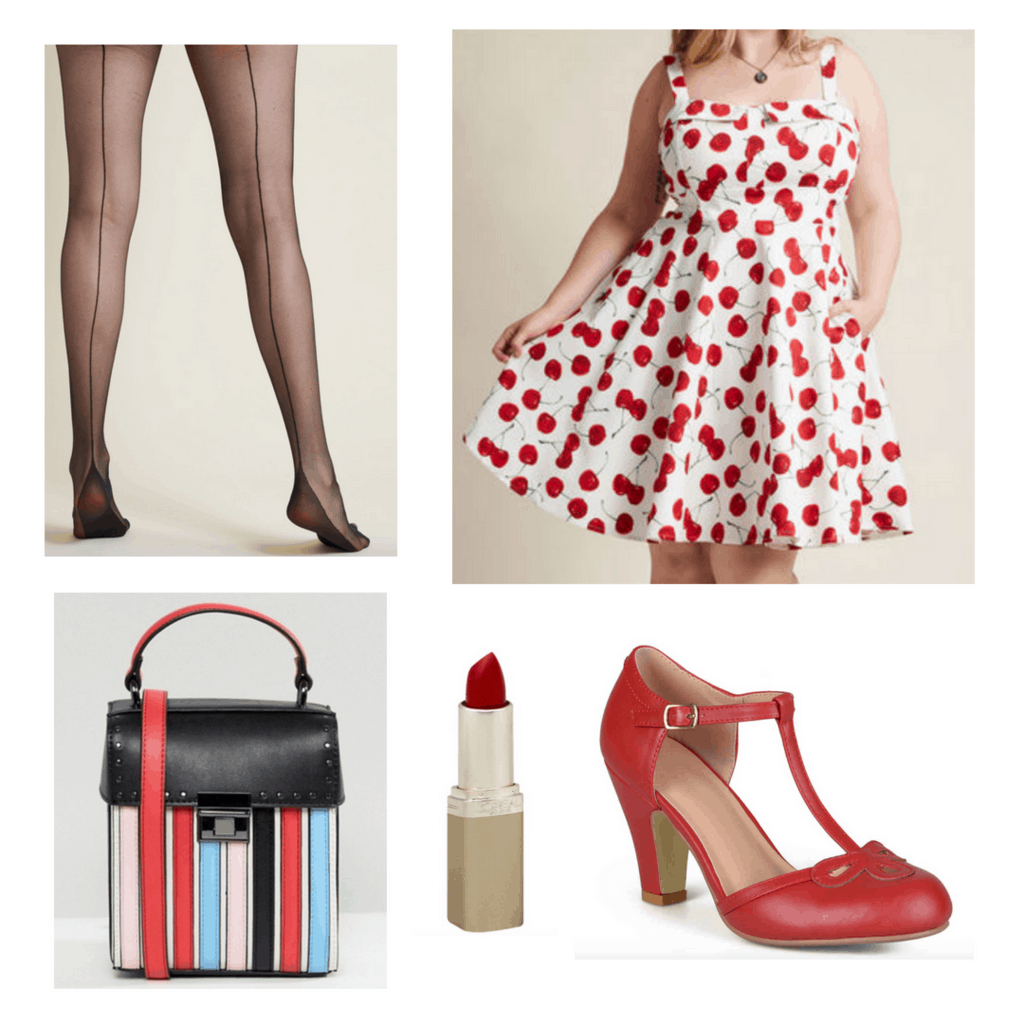 Products: Dress – Modcloth, Tights – Modcloth, Bag – ASOS, Lipstick – Target, Shoes – DSW
Alternatively, you can go all out with total '50s glam à la this look. The key to pin-up style is in the contradictions — think a mix of sweet and sultry. Try adding some seamed tights (a burlesque Bettie staple) to a cutesy dress to get a modern pinup feel.
Prints! Prints! Prints!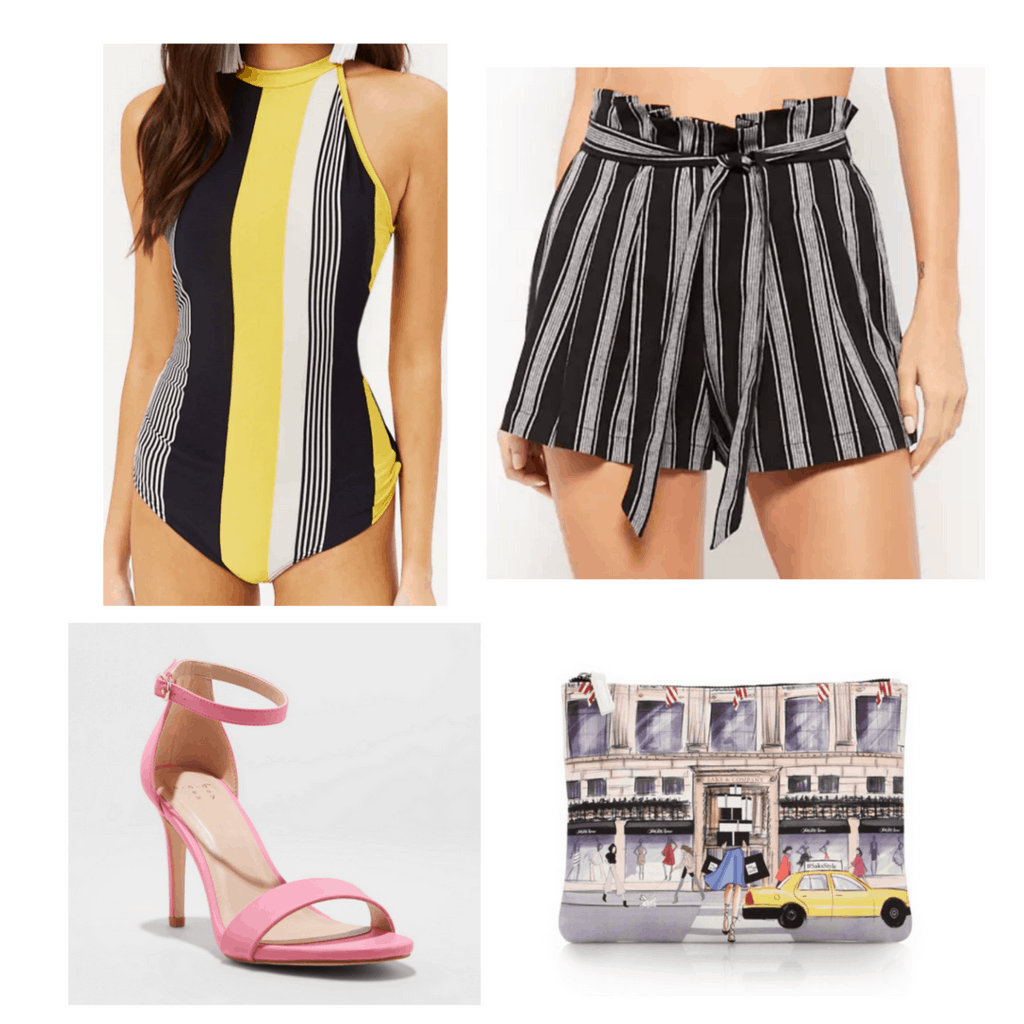 Products: Bodysuit – Forever 21, Shorts – Forever 21, Shoes – Target, Bag – Saks Fifth Avenue
Bettie could famously rock an animal print or a bold stripe like no one else. Her look was anything but subtle, so use bright colors and patterns to get her vibe.
Bettie would probably love bodysuits since they're basically the swimwear/lingerie shape. Pairing one with pants or high-waisted shorts, for example, draws attention to your figure in a classy way. Bettie knew how to tease!
The Legacy of Bettie Page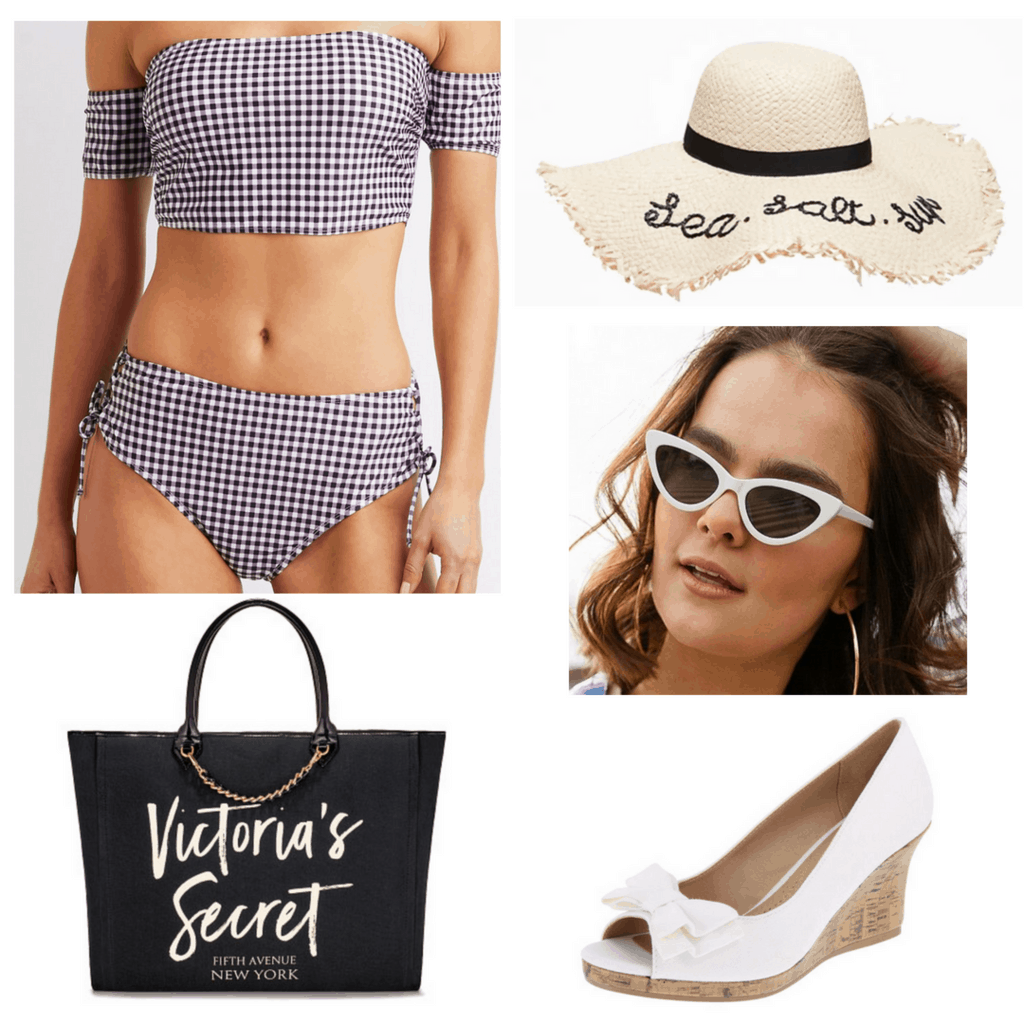 Products: Bikini Top – Charlotte Russe, Bikini Bottom – Charlotte Russe, Hat – Old Navy, Shoes – Payless, Glasses – Urban Outfitters
We couldn't not have a swim look in a post about Bettie Page's style. And if we're going to do swimwear inspired by Bettie, it needs to be gingham, her print of choice.
Off-the-shoulder tops and high-waisted bottoms are great options for copying pin-up attire. Accessorize with '50s-inspired pieces for a complete look.
Are you going to try Bettie's style for yourself?
Above all else, when you're channeling Bettie, just have fun. Bettie was known for being intimidating because she was so confident in herself. We say, intimidate away! The best way to copy Bettie's beauty is with confidence.
Whether you like her cute and flirty side, her sexy and dangerous side, or a bit of it all, there's something about Bettie Page's style that everyone can appreciate.
Will you be channeling Bettie Page sometime? Are you on your way to the hairdresser right now to get some Bettie Bangs? Let us know in the comments!
And for more information on the life of Ms. Page, check out these sources: