This post may contain affiliate links, which means we may receive a commission if you purchase through our links. Please
read our full disclosure here
.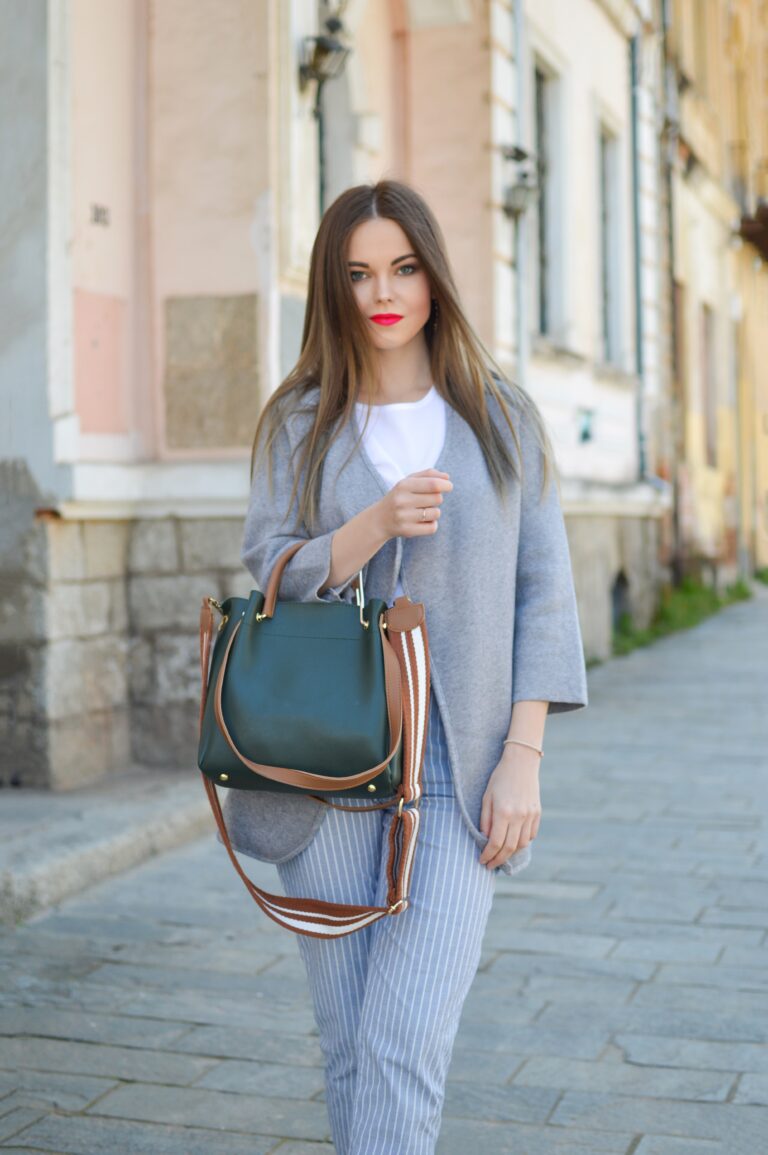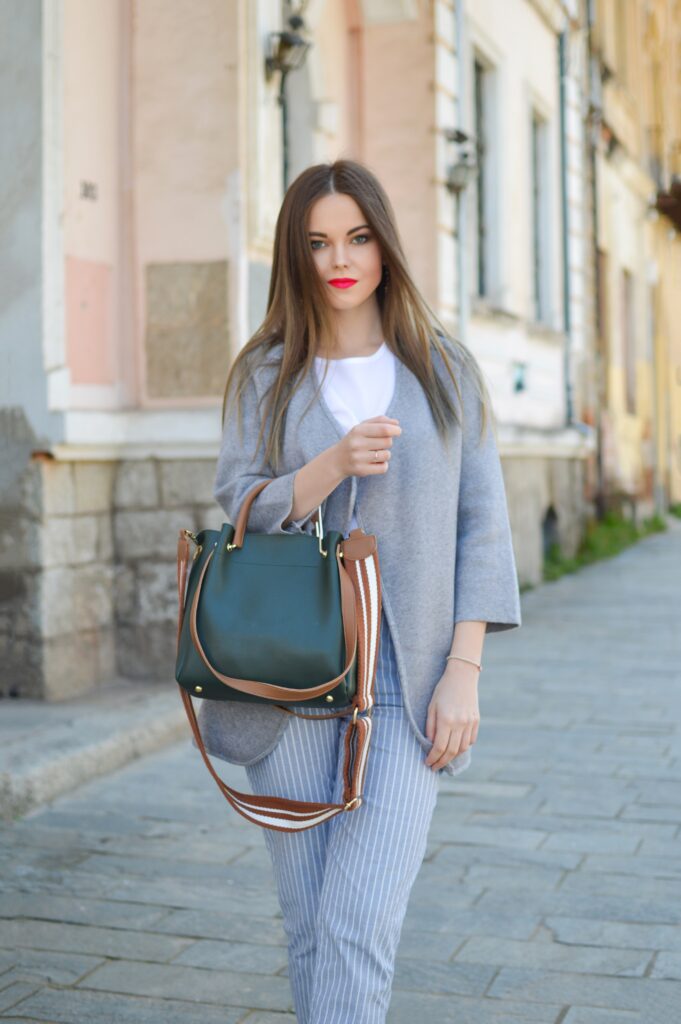 Though it might seem hard to believe, Fall is just around the corner, making now the perfect time to think about how to tackle tricky transitional dressing. After all, we all know that uncomfortable feeling of being either over or underdressed on those in-between days when the weather is too hot for full-on fall outfits, but also too cold for summer ensembles.
So, that's why today I put together three fashion-forward looks that are perfect for the last days of Summer/the first days of Fall.
Simply keep scrolling to view our fall transition outfits, and get ready to say goodbye to all of your Summer-to-Fall dressing woes!
Fall Transition Outfit #1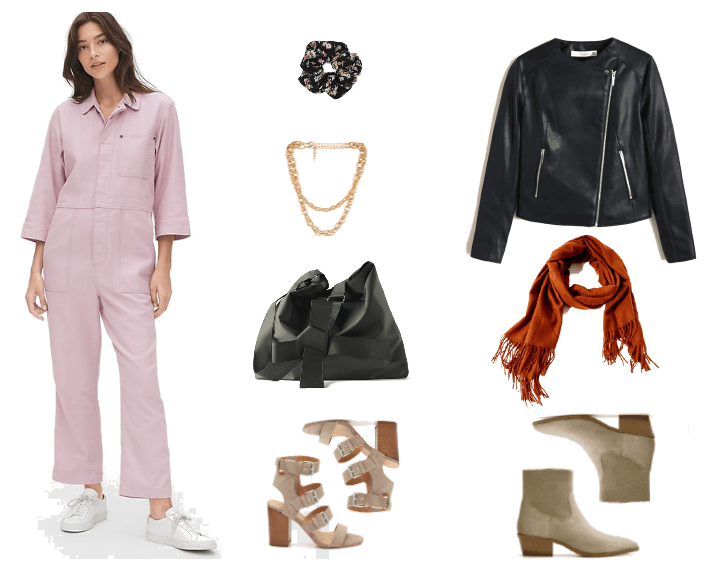 Products: Jumpsuit – Gap, Scrunchie – Forever 21, Necklace – Revolve, Bag – Zara, Sandals – DSW, Jacket – Mango, Scarf – Urban Outfitters, Ankle Boots – Mango
For this look, I put together something versatile that could be styled in multiple ways in accordance with your preferences and/or the weather.
To start, throw on an of-the-moment utility jumpsuit; I love the lilac color of this one! Next, put on a pair of strappy heeled sandals if it's warm out, or Western-inspired ankle boots if it's cooler.
The bow on this otherwise-simple oversized bag offers the look a feminine touch, as does a cute floral print scrunchie.
Add a double-layer gold chain necklace to dress up the outfit a little more. And, finally, if it's cold enough, complete the ensemble with a (faux) leather motorcycle jacket and a lightweight scarf.
Outfit #2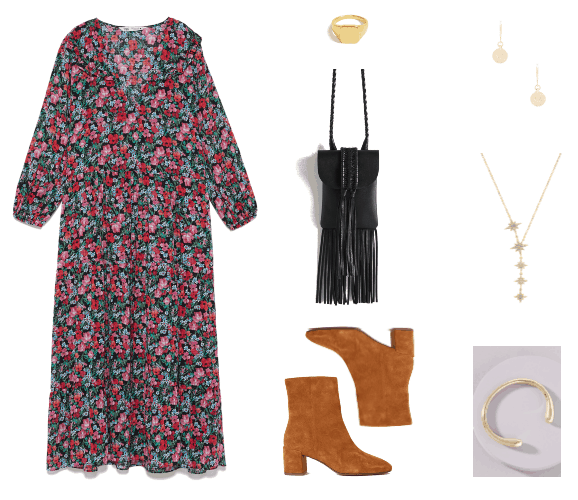 Products: Dress – Zara, Ring – Mango, Bag – Mango, Ankle Boots – H&M, Earrings – Revolve, Necklace – Revolve, Bracelet – Anthropologie
This outfit is perfect for anyone who wants to channel their inner boho girl! Not to mention, it's super easy to put together! Here's how to do it:
Begin by putting on a flowy midi dress with three-quarter sleeves and a muted floral pattern. (Note: In general, the more muted/darker the colors of the print, the more of a cold-weather vibe it gives off; lighter/brighter prints give off a warm-weather vibe.)
After that, slip on a pair of suede heeled ankle boots. (If it's really starting to get cold out, feel free to add some cozy socks and/or leggings and/or tights.)
When it comes to jewelry, a signet pinky ring, small coin hoop earrings, a twinkling starburst lariat necklace, and a simple gold cuff bracelet add just the right amount of polish.
Lastly, pick up a fringed cross-body bag — the perfect complement to the outfit's chic, easy-going aesthetic.
Outfit #3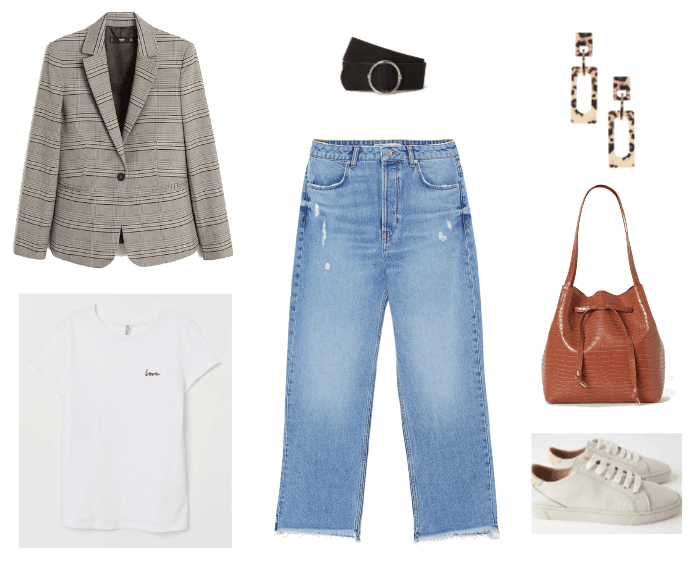 Products: Blazer – Mango, T-Shirt – H&M, Belt – H&M, Jeans – Zara, Earrings – Revolve, Bag – H&M, Sneakers – Zara
For the third and final look, I wanted to put together an outfit that was trendy, but still super-wearable. That's why I chose these pieces, which, when styled together, give off the perfect dressed-up casual vibe.
The first step in achieving this look is styling a pair of slightly distressed straight-leg jeans with a white tee. (For colder days, make it long-sleeved.) This one has the word "love" embroidered at the chest, making it ideal for wearing either on its own or underneath the blazer shown here.
Speaking of which, the next steps for this ensemble are to layer on a blazer, like this classic plaid one from Mango, and then to belt it at the waist using a medium-to-wide belt for a trendy, runway-ready effect. (Note: Be sure to choose a blazer that isn't too fitted for this look; otherwise the proportions might look off.)
After that, grab a croc-print bucket bag, throw on some white sneakers, and, to finish off the outfit, put on a pair of geometric faux-tortoise statement earrings.
What do you think of these fall transition outfits?
Do you have any tricks and tips for dressing for transitional summer-to-fall weather? What's your go-to transitional look? Which of the outfits featured here is most your style?
Let me know in the comments!