Winter has always been my favorite season because you get to pull out so many more items. Scarves, turtlenecks, boots, coats, gloves, tights — fashion just gets a lot more fun when you have to wear more clothes. (Although, being Brazilian, winter for me is anything below 68 degrees.)
This year, there might not be that many occasions to go out, not too many events where you will need to be dressed up for. Plus, winter can be extra depressing when you aren't doing the usual social activities. So why not bring some summer vibes to the colder months and style your summer clothes for winter?
From all your cute dresses to your favorite beach accessories, they can all be repurposed with some basic winter items for the cold. So don't start putting away your summer clothes just yet. Take a page out of Harry Styles' book, and rock a summer dress in winter. (And no, I'm still not over how amazing his Vogue cover shoot is.)
Here are some outfit inspirations to perfectly transition your summer wardrobe to winter.
6 Reasons Why You Should Wear Your Summer Clothes in Winter
It's eco-friendly. Get more wear out of the pieces you already own instead of buying new all the time. It's better to have fewer, nicer pieces, rather than more low-quality items. (More on why this is important here.)
It forces you to be creative with your style. Instead of rocking the same tried and true looks you always wear, branch out and play with styling tricks to make unconventional pieces work.
You'll have light layers you can take off if the heat is cranking — no more being stuck in a sweater dress all day when it's 80 degrees inside.
You'll stand out. In a sea of black leggings and puffer coats, stand out in a slip dress and tights or cutoffs and a faux fur coat. You'll turn heads and become known for the fashionista you are.
You'll bring the vibrance of summer to the winter months. Summer clothes are bold, beautiful and bright — why not bring some of these good vibes to the winter?
One less box to put away. Instead of putting away your summer clothes and swapping them out for winter ones, keep everything out and you'll have a full wardrobe of possibilities to experiment with. (Plus one less chore to do!)
How to Wear a Slip Dress in Winter: Outfit Idea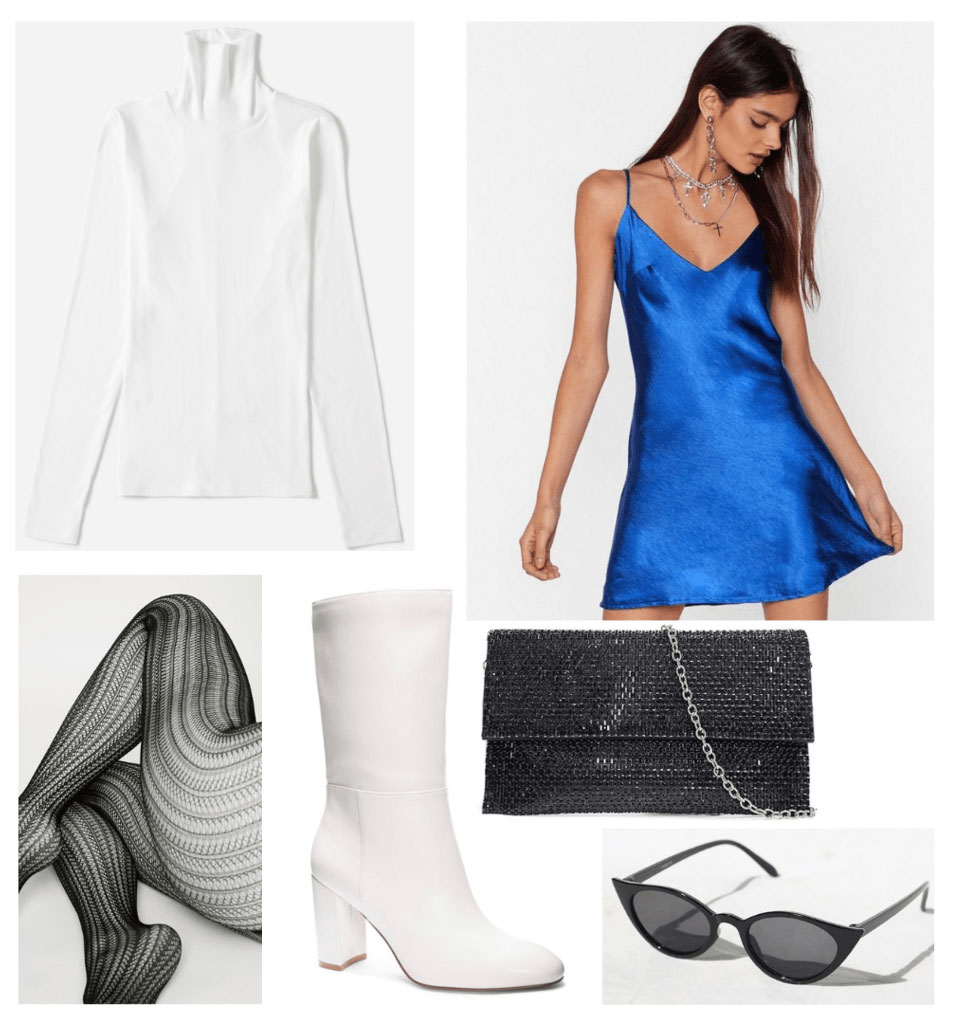 Products: Shirt, Dress, Stockings, Boots, Bag, Sunglasses
Slip dresses have been everywhere this summer. I mean, they have movement, they're vibrant, and they are very cooling. They're the perfect elegant summer dress. AND the perfect elegant winter dress.
Bring a winter aesthetic to your slip dress with black and white accessories. In particular, black patterned tights are a must for 2020. Add on some white go-go boots and retro cat eye sunglasses that you can also wear year round.
Don't forget to put a long sleeve shirt underneath, cause it isn't summer anymore. We love layering long sleeves under slip dresses for a '90s throwback vibe.
Related reading: The Cutest Summer Outfits for Women to Wear on Repeat
How to Wear Ripped Jeans and Beach Accessories in the Winter: Outfit Idea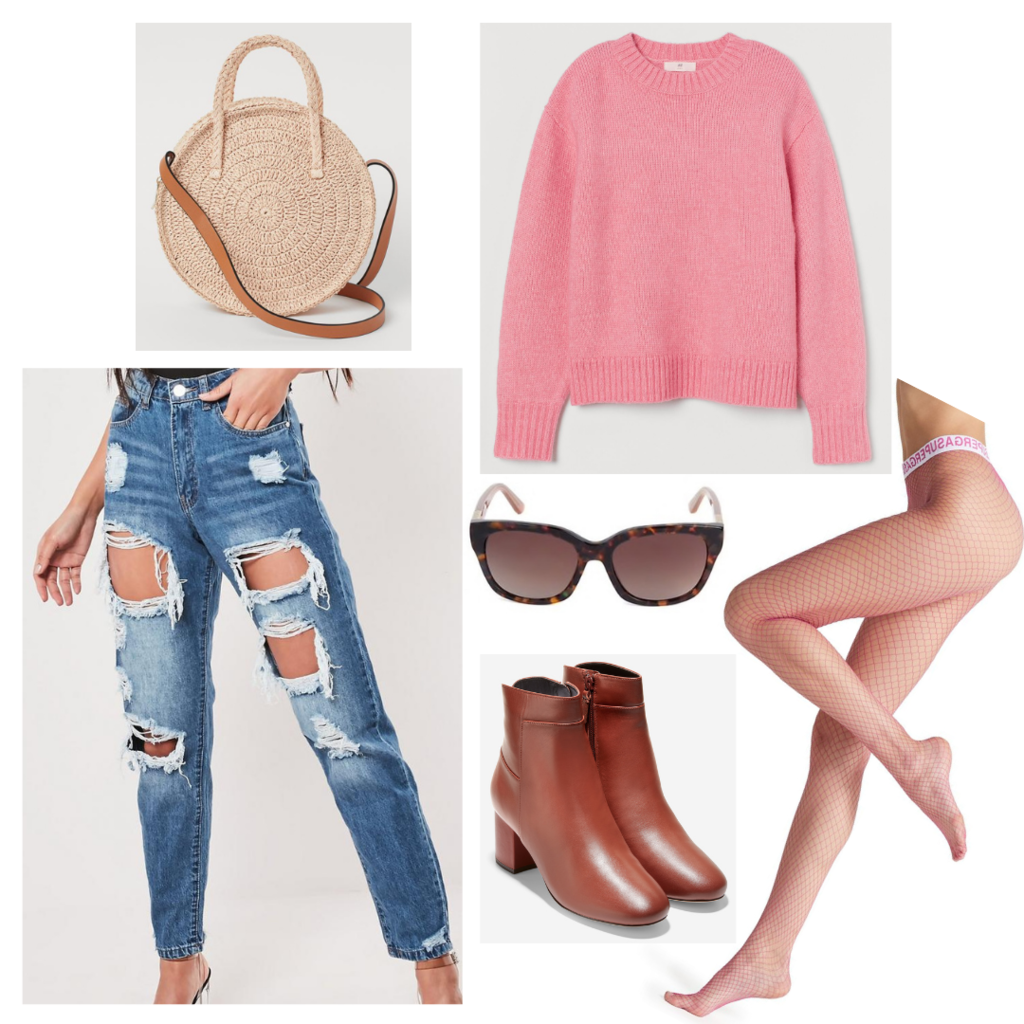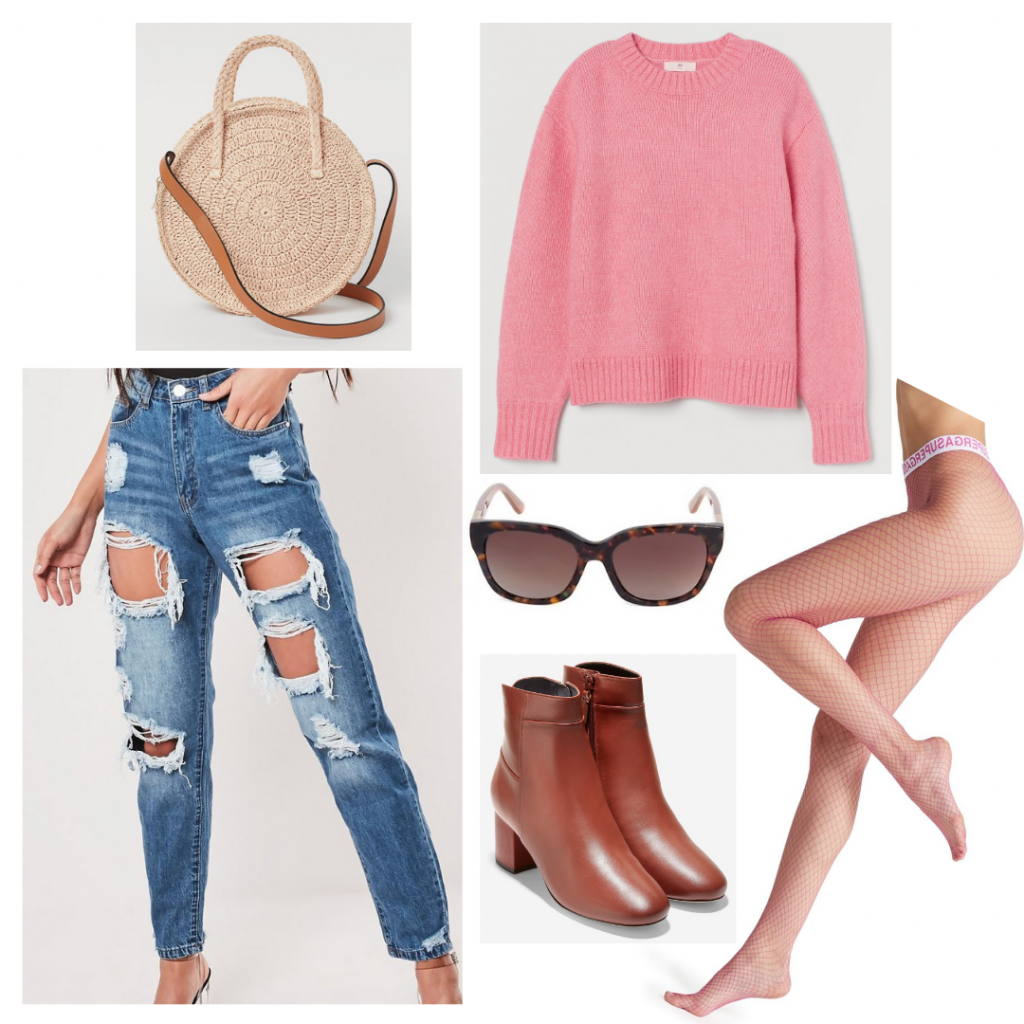 Products: Bag, Sweater, Jeans, Sunglasses, Tights, Boots
Jeans have become a high fashion staple in the past few years. So there is no reason you shouldn't be able to wear your ripped jeans during winter as well. Just wear colorful tights underneath for an edgy look.
I personally love the look of fishnet tights, as seen above, but you could also do opaque tights if you wanted more coverage — it's up to you. (See: How to Wear Colorful Tights The Fashion Girl Way.)
Match your tights with a cute sweater of the same color and throw on some classic ankle leather boots. As a finishing touch, grab your straw beach bag for an exciting twist on a sweater outfit.
How to Wear a Summer Dress in Winter: Outfit Idea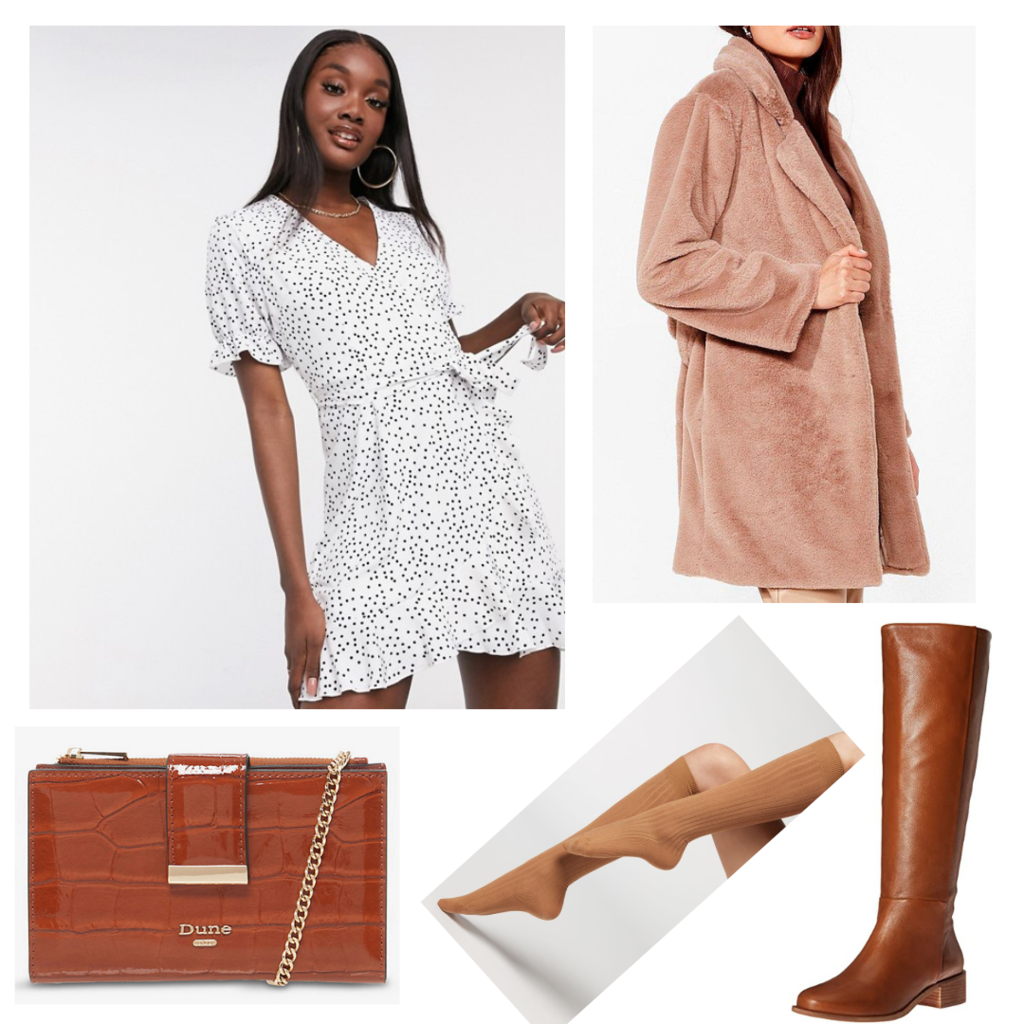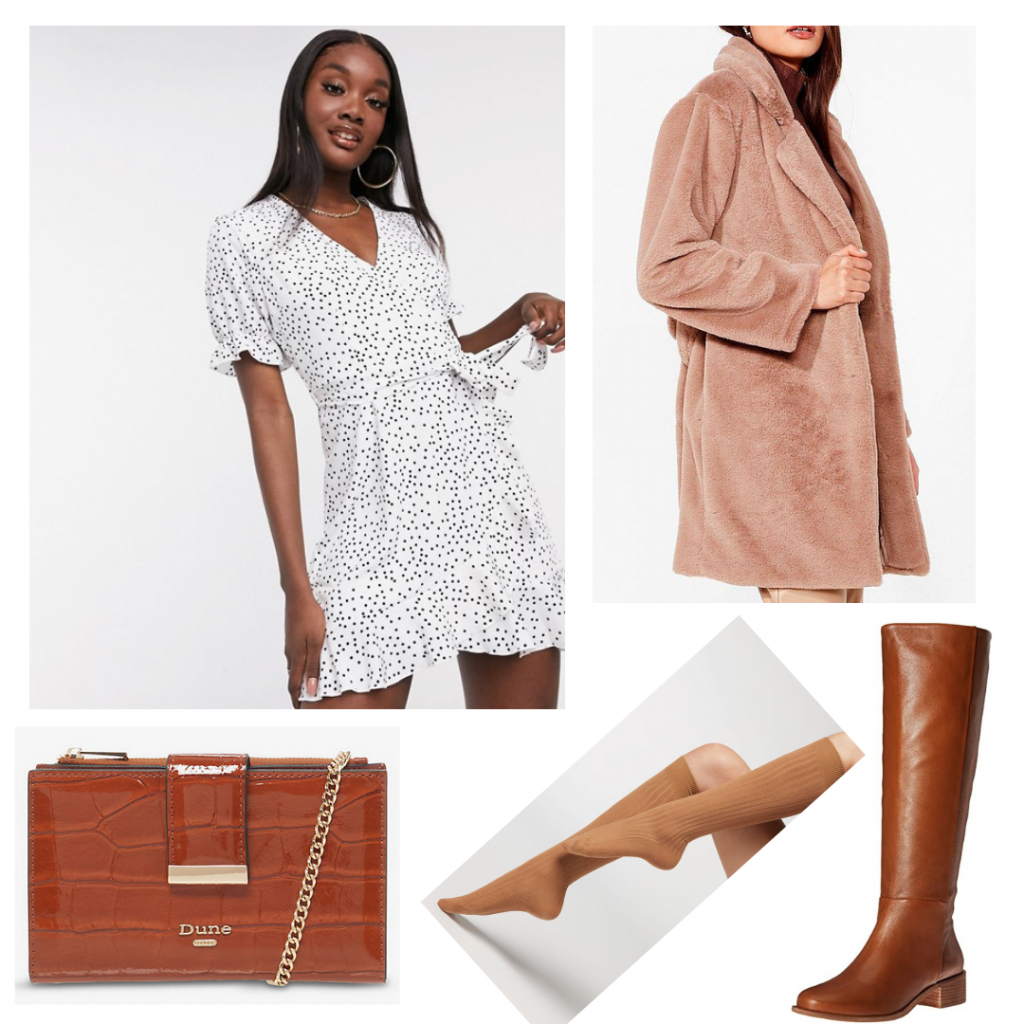 Products: Dress, Coat, Bag, Socks, Boots
Summer means making an outfit entirely off of a dress, and we can all agree it's very convenient. But when winter comes, don't put those summer dresses away — you can accessorize that same dress to brave the cold.
Monochrome is a huge trend so far in 2020, so keep it going by accessorizing with all tan items, including a cute fuzzy coat that will keep you insanely warm. I also love this camel chain-strap mini bag. It's so pretty and looks much more expensive than it is.
Pair your dress with knee high riding books and some comfy socks to get an equestrian look.
Related reading: Snow Outfits for Women: What to Wear When It's Freezing Outside
How to Wear a Denim Skirt and Band T-shirt in Winter: Outfit Idea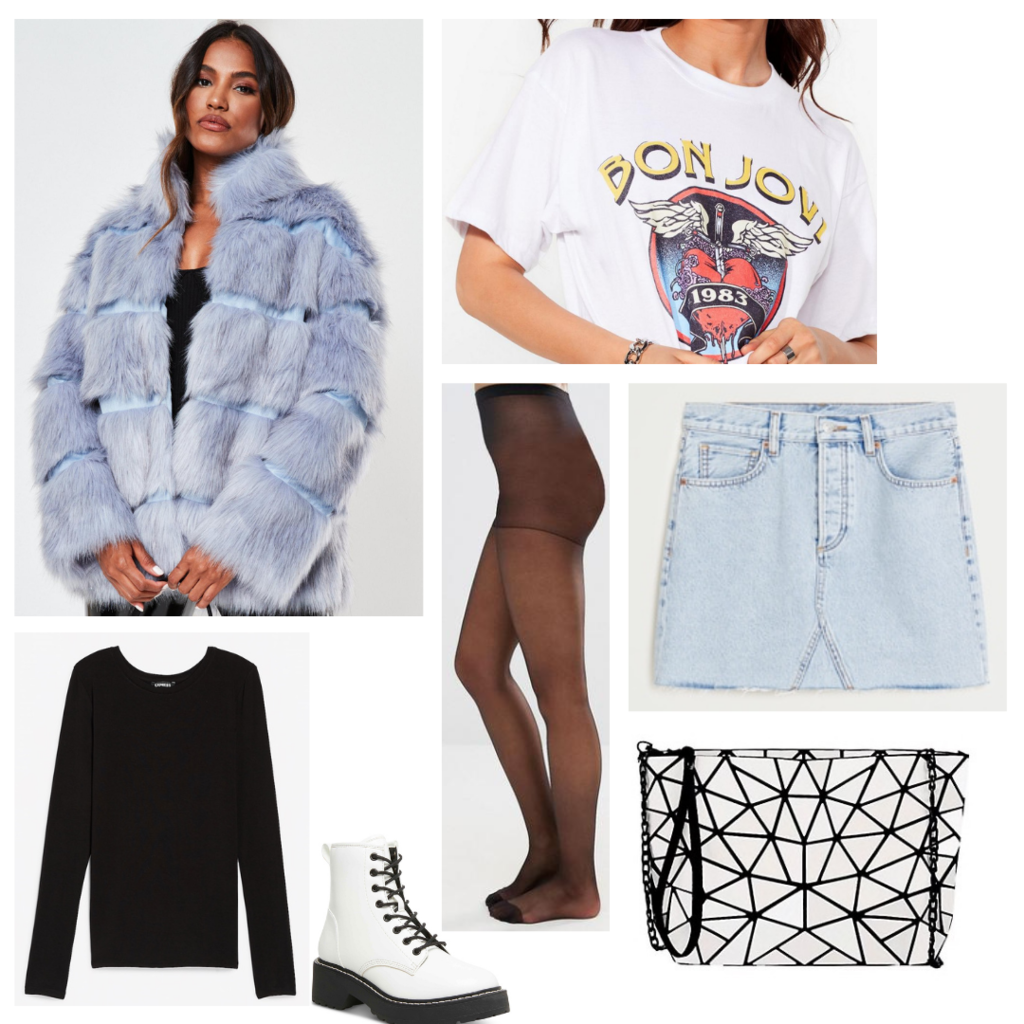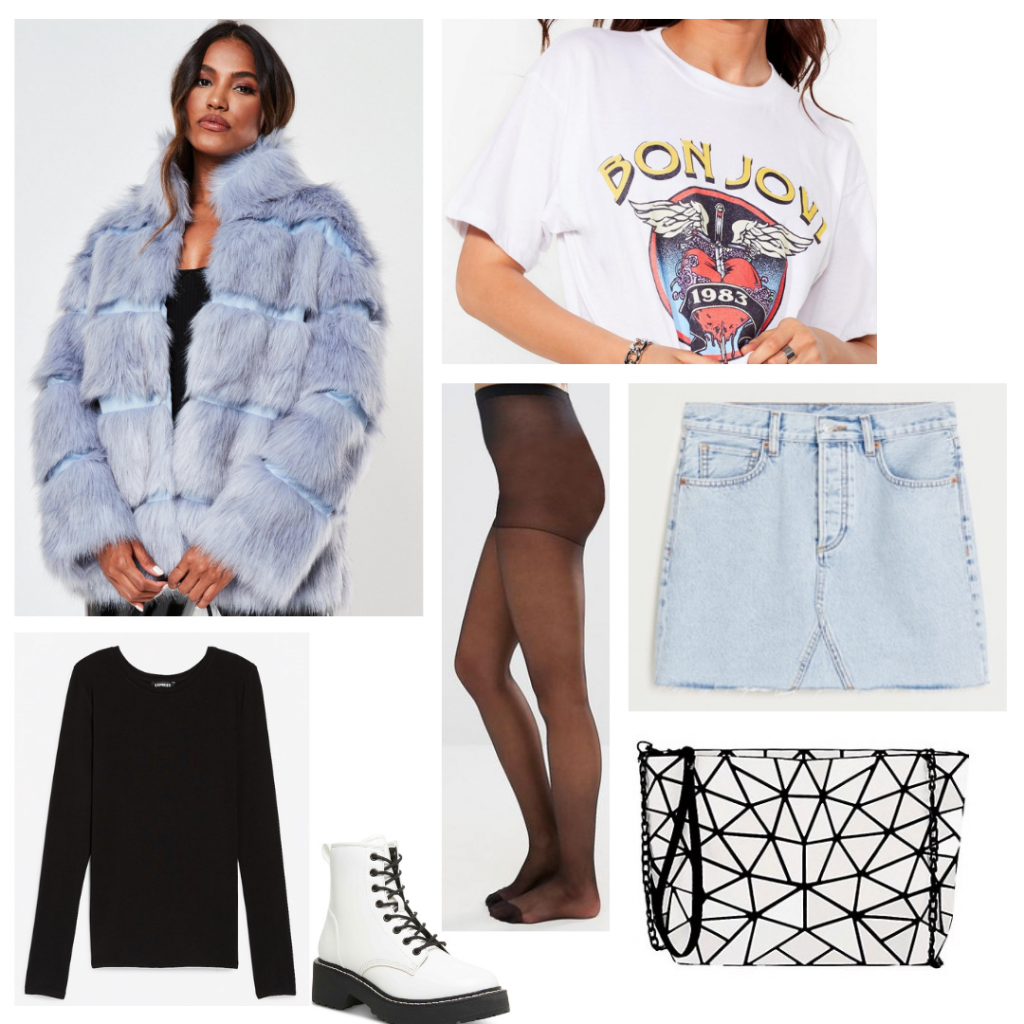 Products: Coat, T-Shirt, Tights, Skirt, Shirt, Boots, Bag
The mini skirt is perhaps my favorite fashion development of all time. So I make it a point to wear it year long. Here's how I style a mini skirt in winter.
First, grab one of the many band t-shirts you bought this year (I mean, they really made a comeback), and throw on a long sleeve shirt and tights underneath to keep you warm.
Don't forget one to throw on a colorful faux fur coat to create an iconic statement outfit. Finish off your look with some fashion favorites: combat boots, and Bao Bao inspired bag.
Which is your favorite summer to winter outfit?
Winter is a fashion girl's dream. So many more clothes to wear, so why not use your summer clothes as you layer? That way, you'll bring the colorful vibrance of summer into what are often gloomy winters.
With such few occasions to go out this winter, make them count by standing out in these cute outfits.
Also, be sure to take some time to go through your summer clothes before you put them away and style them with all the winter clothes you're bringing out.
What are your favorite ways to wear summer clothes in winter? What other items do you wear year round? What summer outfit are you not ready to let go of just yet? Let us know!