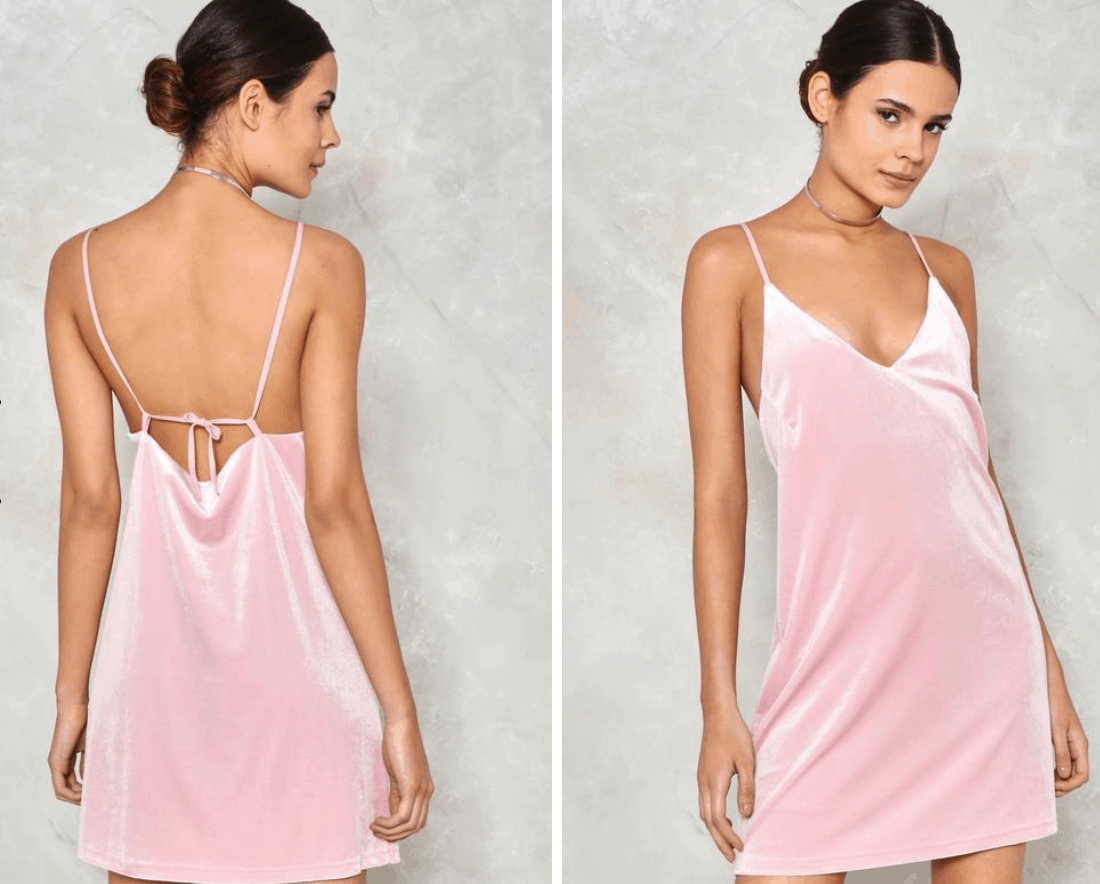 The "Fabulous Find of the Week" column brings you a new style steal weekly that will both keep some cash in your wallet and keep you looking, well, fabulous.
Hiiiii ladies, we're back with another Fabulous Find! You know the drill: Each week I present a smokin' new piece for our ever-growing wardrobes, and then I hit ya with the über low price — in this case, 22 buckaroos.
As I peruse the odds and ends of the fashion scene, I always come back to the looks on the runways, and what the hottest stars are wearing. Stylists' jobs are to dress their clients in the best of the best designers, trends, and haute couture, so we would all do well to imitate them.
I also try to keep the piece seasonal, so, in our case, wintery. The runway shows may already be in Spring Resort 2018, but Milwaukee, WI is -5 degrees, so that's what I'm focusin' on.
What is this $22 piece I keep raving about? I'm happy you asked: ladies, take a look at this amazing baby pink velvet shift dress from Nasty Gal (one of our fave stores).
With a v-neckline, thin cami straps, and a fancy-shmancy back tie closure, this dress can't be beat. A perfect dress to party in, it's thin, easy to slide on, and gracefully slips over the angles of any body type.
But, Maria, how do I wear this seemingly lightly lined dress in the wintertime? I know, I know, I hear you. That's the thing about velvet — it's not meant for warm weather! The fabric in it of itself creates warmth, so it's perfect for colder times. However, since this dress is thin, I wouldn't recommend snow shoeing or snow angels — hot toddies + fireplaces are more like it.
Channel your inner J.Law or Kendall and rock this piece on your next night out. Need some inspo? Check out my 3 velvet slip dress outfit ideas below. And, when in doubt, remember . . .
"Fashion is what you're offered four times a year by designers. And style is what you choose." — Lauren Hutton
Velvet Dress Outfit 1: Animal Prints + Roses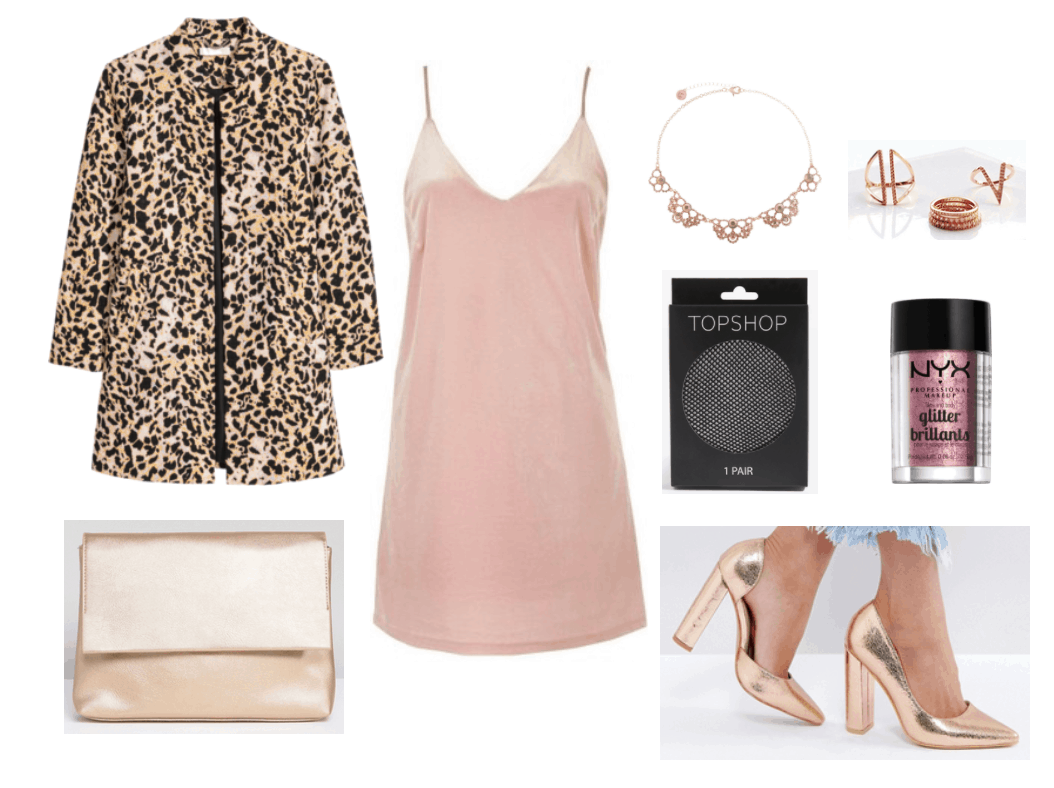 Products: Dress – Nasty Gal, Coat – H&M, Tights – Topshop, Pumps – ASOS, Bag – ASOS, Rings – Etsy, Necklace – JC Penney, Face & Body Glitter – Target
. . . Or rose gold accents. For our first look using this beautiful pink shift dress, we're going for more of a I'm-Miranda-Priestly-and-I'm-fabulous kind of vibe. SO, make sure when you take off your fancy leopard print coat, throw it on your assistant's desk with plenty of sass.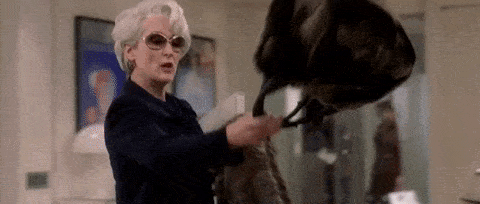 Just kidding, but do channel her #GIRLBOSS, I don't need no man, feminist vibe when you're rockin' this look.
Throw on a pair of black fishnet tights for an edgy contrast and then add a pair of luxe rose gold block heels for sheen + shine. These will match flawlessly with an equally fashionable rose gold envelope clutch.
Slip on a floral collar necklace for a soft feminine touch, and a cutting-edge rose gold ring set for sass (seriously, these rings could cut . . . they look sharp!). For a fun finishing touch, sprinkle your cheekbones and collarbone with a light dusting of pink face + body glitter. What is that saying again? Oh yeah, when in doubt, just add glitter.
Velvet Dress Outfit 2: Is That a Robe?! (Brown Accents)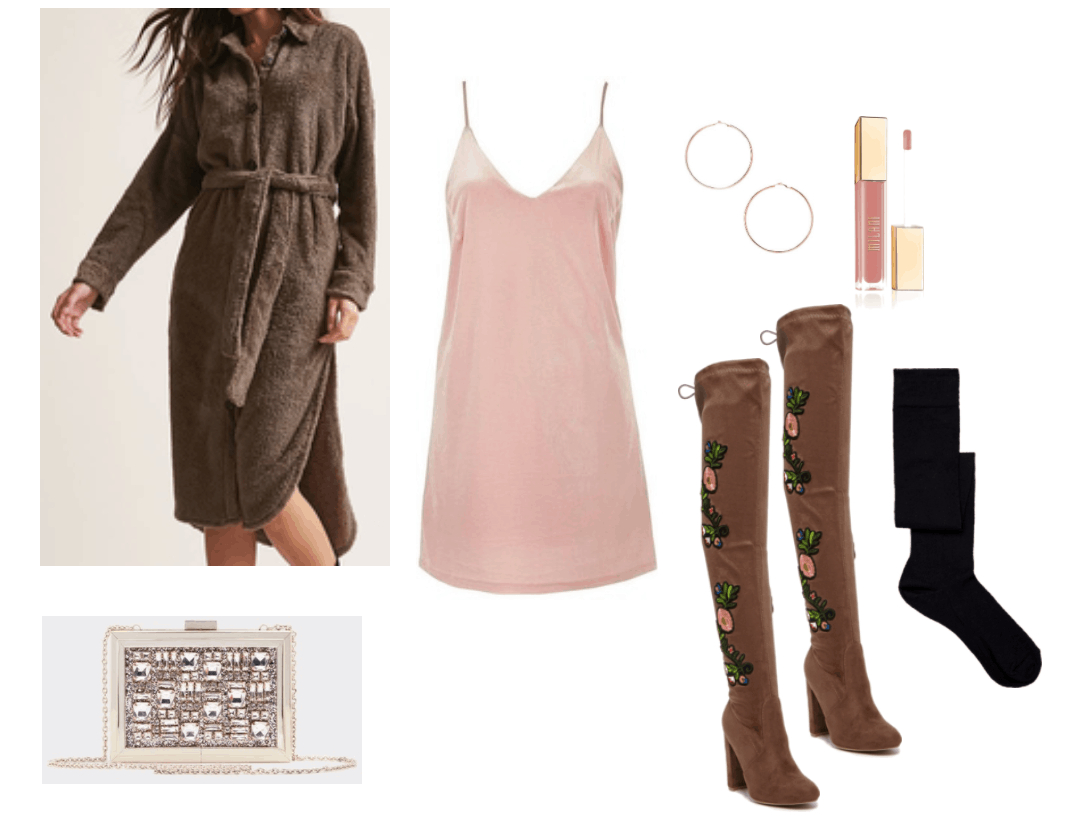 Products: Dress – Nasty Gal, Jacket – Forever 21, Boots – Nordstrom Rack, Socks – ASOS, Bag – ALDO, Earrings – Nasty Gal, Lip Crème – Milani Cosmetics
Seriously, I bet all y'all are wondering what I am honestly thinking including a robe in this look. Fear not . . . it's not a robe! Though it's as comfy and warm as one.
To fight off the bitter cold winds, slip into this long, chocolate brown furry jacket that may feel like a robe but looks like a chic, out-of-the-box fashion statement. To keep your lower half as cozy as your upper, slide on a pair of thigh-high black socks and some saucy + sophisticated brown floral over-the-knee boots (LOVE those pink flowers).
To accessorize, grab a glam gold and pink sparkly gem box clutch, and lovely hoop earrings. Swipe on a lip crème, like this light pink one from Milani Cosmetics, and you are ready to shine (and make a wicked statement).
Velvet Dress Outfit 3: I Look Good, I Study Well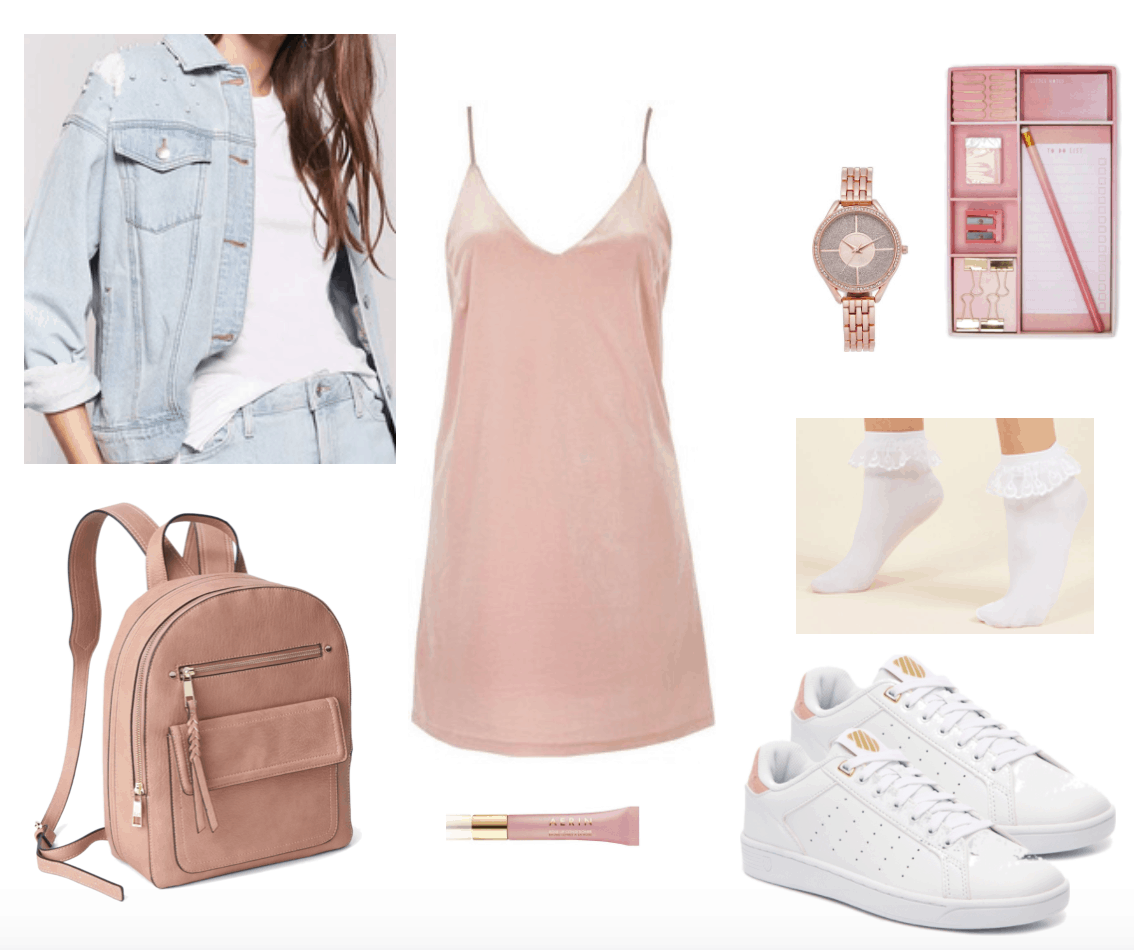 Products: Dress – Nasty Gal, Jacket – Forever 21, Sneakers – DSW, Socks – Modcloth, Backpack – Gap, Watch – Macy's, Stationary Set – Forever 21, Lip Balm – Harrods
For our third and final look today, here is more of a casual, on-my-way-to-the-first-day-of-class kind of style. Yep — even this fancy dress can tone it down for class.
The most classic piece to make you look like you are relaxed and ready to buckle down is a jean jacket — props if it has modish pearl accents like this one does! White frilly socks give you a girl next door vibe, so pair those with a pair of white sneaks with pink accents. Match made in heaven.
Slip on a chic rose gold and pink watch for glamour and glitz, and treat yoself with a cool set of school supplies to kick off the new semester. Stuff these into a pink faux leather backpack with fringe accents (all the rage rn). Finish off with a swipe of your favorite lip balm, and you are ready to take on the world (and/or your first day of class).
Tell me your thoughts!
How do you feel about this week's Fab Find? Are you bold enough to wear a velvet shift dress this winter? What are some of your favorite trends you're excited to debut in 2018? Start the convo below!