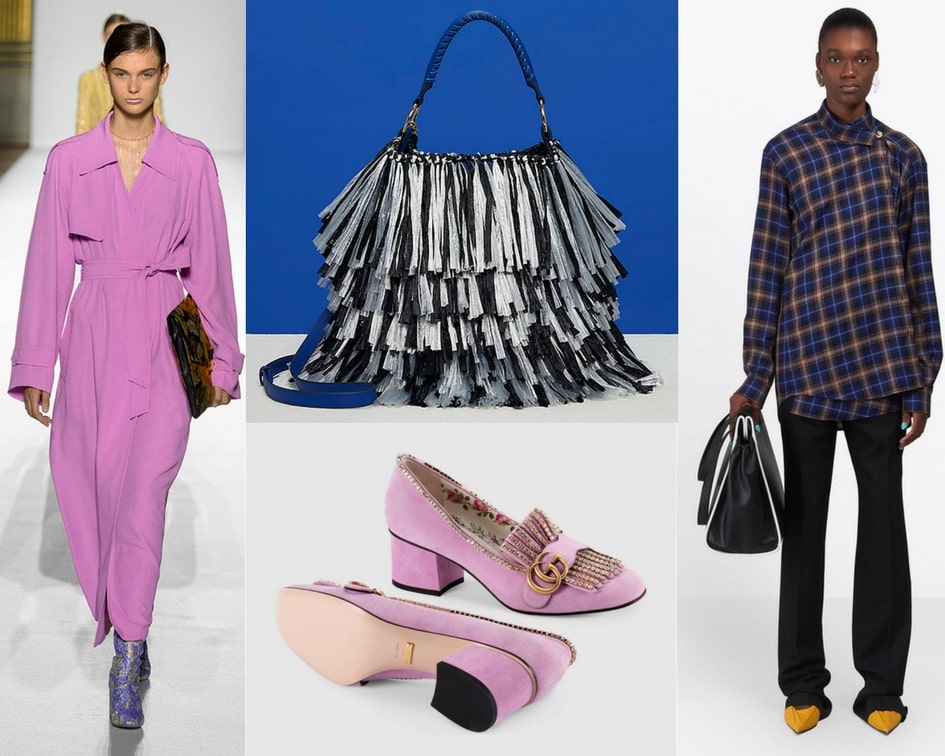 Lavender Coat, Fringe Bag, Fringe Pumps, Plaid Top
Goodness gracious, it's almost 2018! How the heck did this happen?!
I feel like just last week I was starting my second semester of freshman year, happy and excited for the big 2017. How time flies when you've got your head in the books.
Here at CF, we love trends. We eagerly watch runway shows, scrutinize magazines, and wade through the racks and racks of new merch every time we head to the mall. We're fashionaholics/fashionistas, depending on the audience.
So, as we finish off 2017 [hopefully with a rockin' NYE party], and begin mustering up New Year's resolutions, re-finagling our budgets, and getting back into the school grind, let us take a minute and see what's coming up in the new year. New seasons bring new trends, new models, new designers, and new opportunities to shop, which we can all appreciate. Thankfully, Fashionista did a superb article on the up-and-coming trends we can all expect to see in our favorite stores next year.
Today, I present to you three 2018 fashion trends and some pieces we can stock up on to exhibit them well. Get ready to shop, ladies.
Fringe + Pom Poms Galore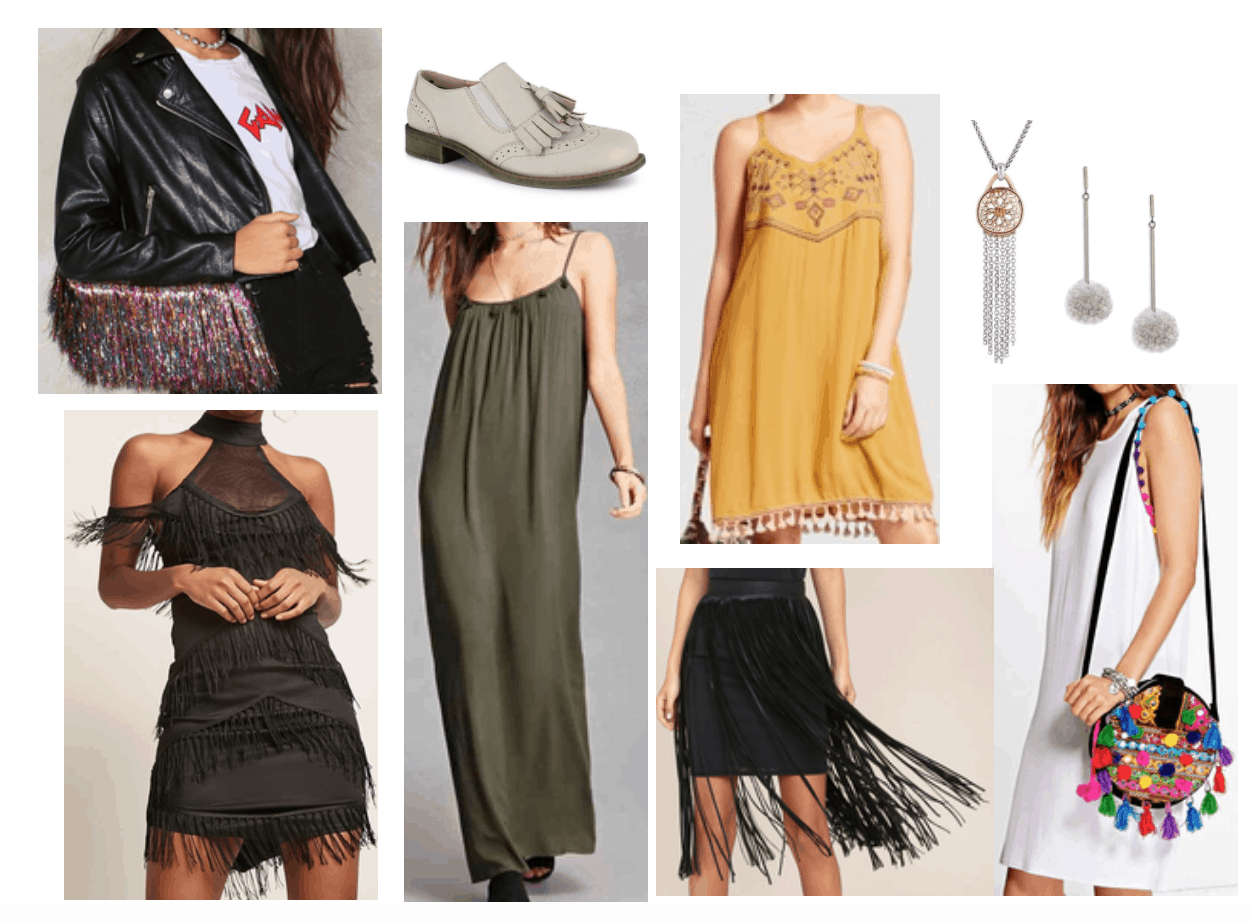 Products: Moto Jacket – Nasty Gal, Black Fringe Dress – Forever 21, Off White Oxfords – DSW, Olive Maxi Dress – Forever 21, Embroidered Tank Dress – Target, Fringe Belt – Lulu's, Pendant Necklace – Lord + Taylor, Drop Earrings – Saks OFF 5th, White Pom Pom T-Shirt Dress – Boohoo
Calvin Klein, Céline, and Loewe are blazing the way in fancy fringe for 2018.
Fringe is the perfect upgrade to any otherwise drab garment. Take this shiny moto jacket from Nasty Gal, for example. Simple black (vegan) leather jackets are awesome and all, but add some gorgeous (and unexpected) multi-colored fringe? You are sure to stand out from the crowd.
If you'd like to take it back to the '20s, Forever 21's got a high neck, black fringe dress that'll make you want to spin and spin. Perhaps you're looking for a fringe belt to up the ante of a dull black (or colored) skirt? Or for a more muted take on the trend, grab a pair of fringe earrings, a long necklace, or even some oxfords for a unique accessory.
As for the pom-poms, these were a bit of my own addition, a trend I predict will continue going strong from this year. A maxi dress, tank dress, or t-shirt dress can be layered over long-sleeves or under cardigans now and worn alone in summertime. It will give you a little something extra that doesn't remind you of what your great-great-grandmother used to wear.
Lavender Lovin'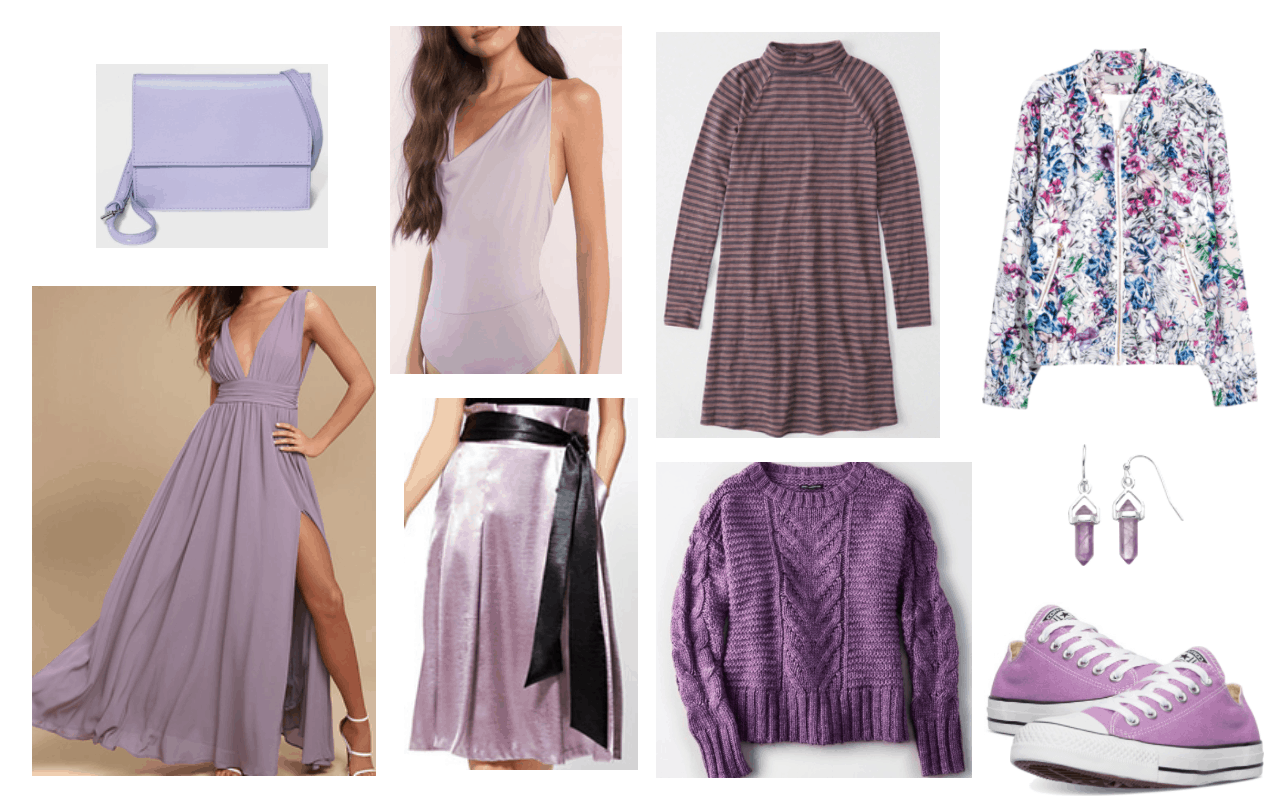 Products: Crossbody – Target, Maxi Dress – Lulu's, Bodysuit – Tobi, Skirt – New York & Company, Swing Dress – Abercrombie, Sweater – American Eagle, Jacket – H&M, Earrings – Kohl's, Sneakers – Macy's
Follow in Dries Van Noten, Valentino, and Michael Kors' footsteps this year with this year's answer to millennial pink: lavender. This pastel hue is the most gorgeous color, reminding me of sunsets and soothing scents. Another springy trend that will transport you to warmer times. Another hot pick? Ultra violet, Pantone's 2018 color of the year.
If you're on your way to a wedding or black-tie event, Lulu's has a lovely long dress for you to get swept off your feet in. Sweaters and swing dresses will keep you warm this winter, and Chucks on your feet will keep you grounded. If you're feelin' extra fancy this holiday season, grab a tie-waist satin skirt (how gorgeous is that!) or a scoop neck bodysuit. A floral bomber jacket is the perfect substitute if you're not looking for a full-on lavender look just yet.
If you're an accessories girl, a lavender envelope crossbody brightens any look you're wearing, and drop earrings made of "healing stones" give a mystical vibe to your outfit.
Plaid on Plaid on Plaid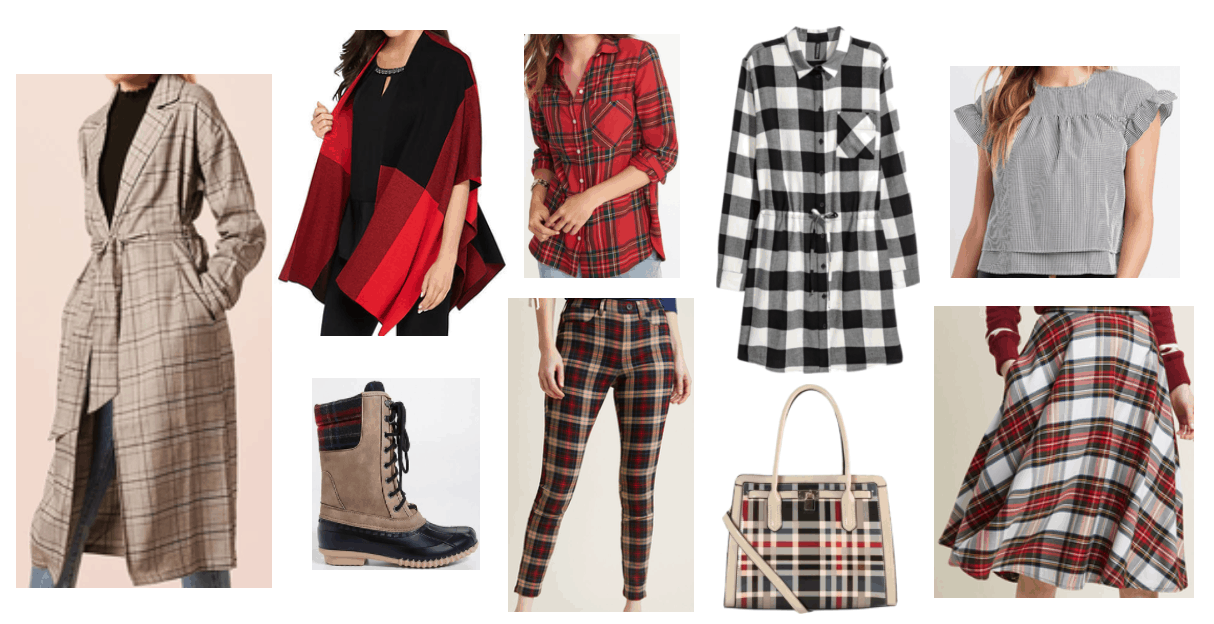 Products: Blazer – Forever 21, Poncho – The Limited, Boots – Maurices, Flannel – Old Navy, Pants – Modcloth, Shirt Dress – H&M, Tote – Overstock, Top – Charlotte Russe, Skirt – Modcloth
For our third and final trend to watch for, check out Balenciaga, Loewe, and Christopher Kane's adaptations on the classic plaid/gingham/tartan prints. Every schoolgirl's favorite look is coming to the runways and to stores near you in a big way.
Besides the classic plaid skirt (which everyone knows and loves), we're talkin' long blazer-like coats, capes, and even plaid pants will be entering the scene.
However, if you aren't looking for something so plaid it's crazy, try the trend in a basic way with a simple plaid flannel shirt. A shirt dress or gingham top will add a bit of this print to an otherwise uncomplicated outfit. A pair of boots from Maurices have the teeniest bit of plaid to give some color to your look. And, if you want the cutest accessory you ever did see, snag this beige and red plaid tote to carry all of your belongings (and look super chic while you're at it).
We love new trends! Do you?
How do you feel about 2018's new trends? Will you incorporate them into your daily looks? What trend do you want to see get big this next year? Let me know below.