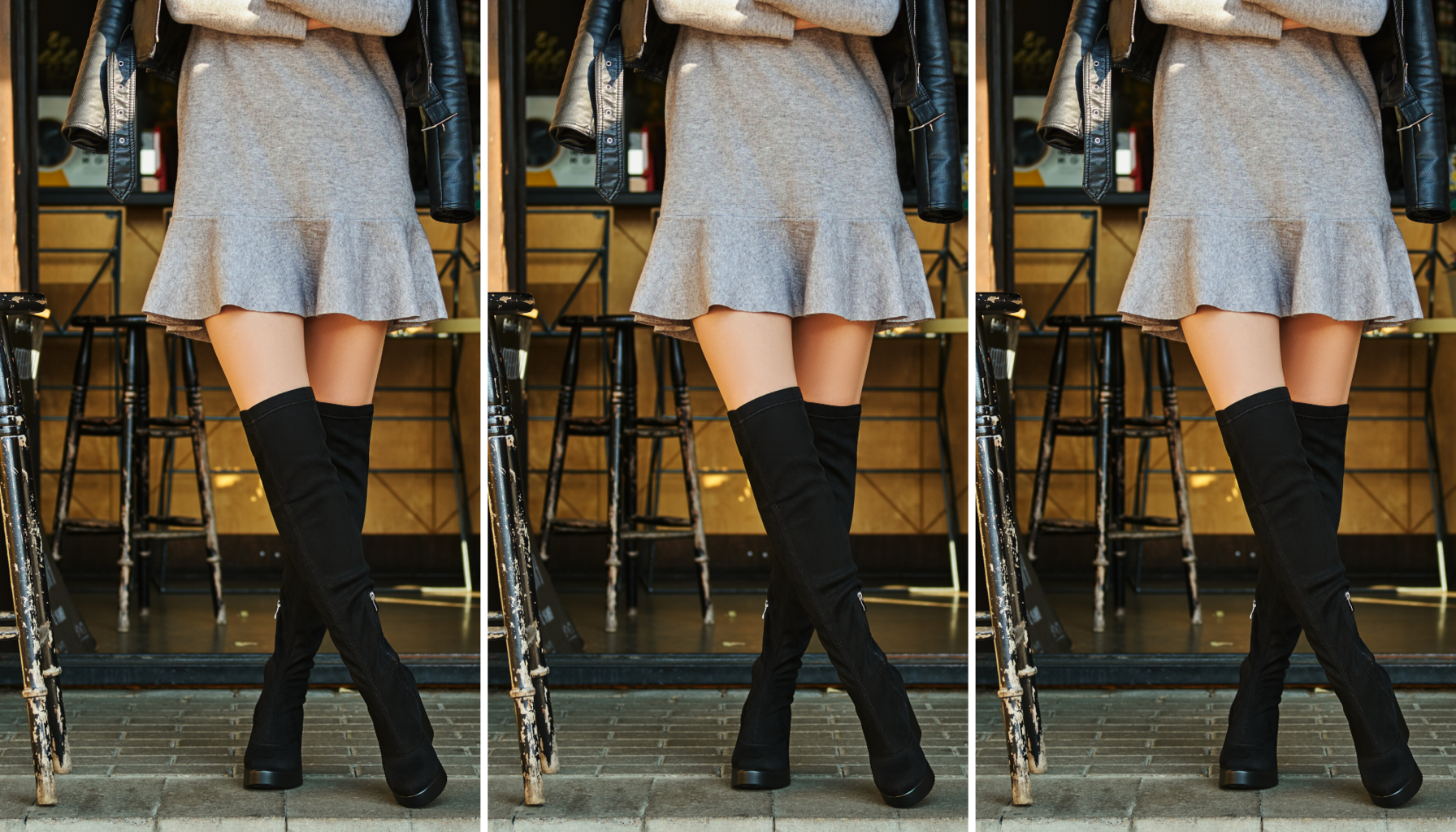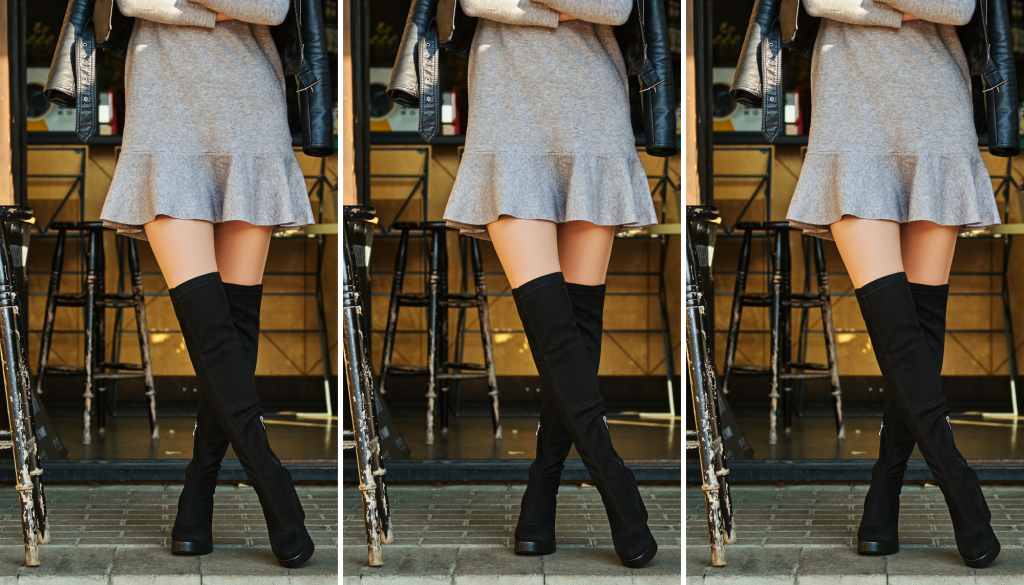 As you all know, we like to focus our Fashion Challenges on creatively combining pieces you already have in your closet. Finding new ways to wear things you already own is a fashion win-win — not only are you getting more from your existing wardrobe, but it forces you to think outside the box and develop a knack for creating new outfits. This week, our challenge for you is to take your favorite summer dress and make it work during the winter.
Dreary winter months can leave you feeling "blah," especially in a sea of muted colors typically associated with chilly weather. A splash of color sometimes is all you need to brighten up your day. So dust off your box of summer clothes and find a dress you love — then read on for a guide on how to take this week's challenge!
Tips and Tricks for Making a Summery Dress Work for Winter
When selecting a dress for this challenge, look for bold colored frocks – they'll make the biggest impact in winter.
Pastel colored dresses can work, too — pair one with dark accents to make it feel more wintery!
Wear a summer dress with tights or leggings. It'll keep your legs warm and make the dress look more seasonally appropriate.
Consider the print of the fabric. Plaids and stripes will work nicely. Floral prints will work most of the time, but stay away from Hawaiian prints unless you're sartorially fearless.
Try a summer dress on with a pair of boots to keep your feet warm and toughen up the look.
Throw on a jacket or cardigan on top of a dress for warmth and a touch of layering chic.
Another way to add warmth and change up the look of a dress is by layering a long sleeved top or turtleneck underneath a strapless dress.
One more way to update a dress is by pulling a sweater on top of it, transforming a dress into a skirt.
Accessories are probably the easiest way to transform a summer dress into a winter one. Add a beanie, knee or thigh high socks, or a scarf.
Outfit Inspiration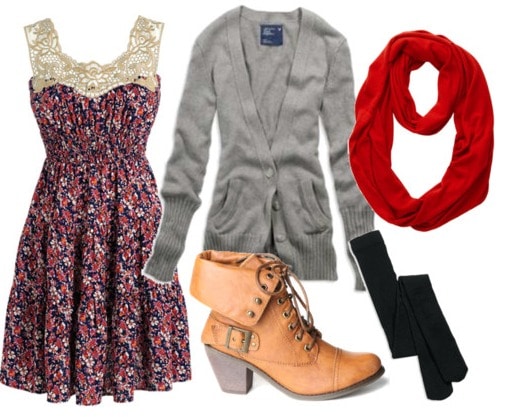 Dress, Cardigan, Boots, Tights, Scarf
The deeper tones of this floral dress make it work for all four seasons of the year! Add interest by layering a cardigan on top and leggings beneath. This outfit will look great with a pair of lace up boots and an infinity scarf!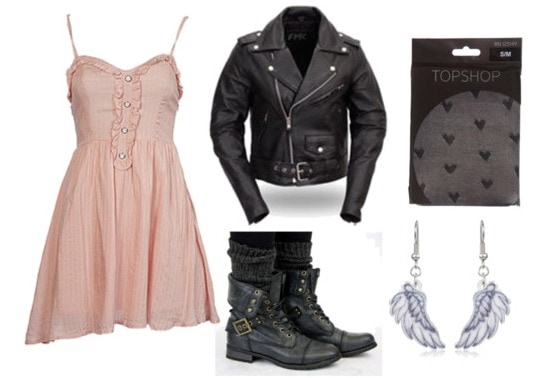 Dress, Boots, Jacket, Tights, Earrings
A pastel dress can work in the winter as long as it's paired with wintery elements. I love the contrast of a girly pink dress paired with a tough a leather biker jacket. Patterned tights and combat boots give this outfit a punky British fashion feel. Finish with chic earrings.
CF Reader Looks
Here are challenge outfits sent in by CF readers like you. If you want to see your look featured here, too, read the instructions below for sending in your outfit photos!
Kyrstin – York University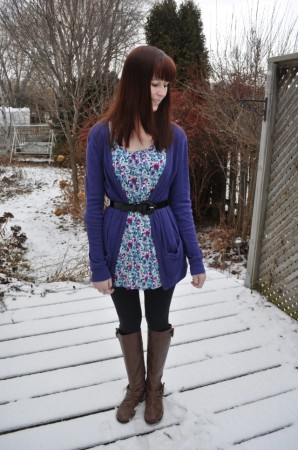 I'm wearing my favourite summer dress here, despite the fact that it is January. It's a bit short, so I opted for leggings over tights. I belted a cardigan to accent my waist, and added my favourite tall boots to keep warm! I love wearing bright colours in the winter – it's a change from the usual all-black uniform!
For more of Kyrstin's fierce style, check out her blog here!
Laura – Elon University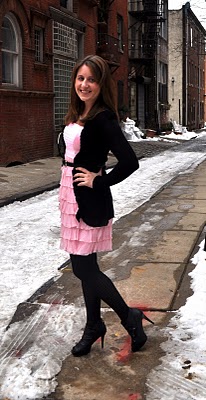 This is one my favorite dresses I've ever worn. All the girly elements, the pink, the ruffles, the tulle, just called my name and I feel incredibly feminine while wearing it. I love it so much that I can't just let it hang idly in my closet through all the cold months. Thank goodness for the invention of the cardigan- a dress lover's best friend. Belting this cardigan keeps my waist defined and the heels add a little edge to an otherwise over-the-top girly ensemble. Tights were a must to battle the winds of Philadelphia and I kept the jewelry simple so that the focus of the outfit remains on the dress.
For more of Laura's chic style, check out her blog here!
Took the Challenge? Send Us Your Look!
Did you dust off your favorite summer dress and make it work for the cold time of year? Before you change, take a couple pictures and send them to fashionchallenge AT collegefashion.net along with your name, school, a description of what you're wearing, and your blog URL if you have one. We'll feature your pictures here to inspire other CF readers (see examples here and here).
We can't wait to see your outfits!
Thought?
What are you favorite dresses to wear year-round? What other summer pieces do you like to wear in the winter? What future fashion challenges would you like to see? Leave a comment and tell us what you think!