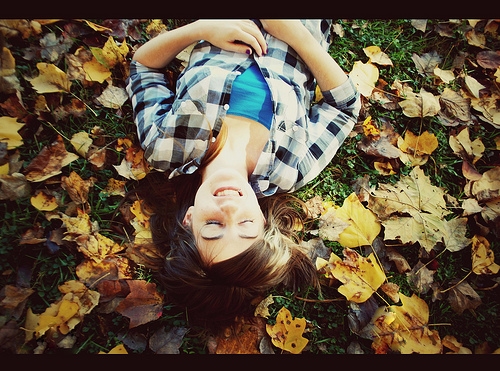 Versatility is everything when it comes to fashion on a budget; when shopping for new clothes in summer, I always look for pieces that will work in hot weather and easily transition into fall.
With the spirit of transitional dressing in mind, I found 3 pieces that are perfect for the warm summer months, but can easily be worn into fall and winter. For each piece, I'll show you how to wear it "now" (in summer), and "later" (in fall/winter), to help you get some wardrobe bang for your buck.
1. A Floral Dress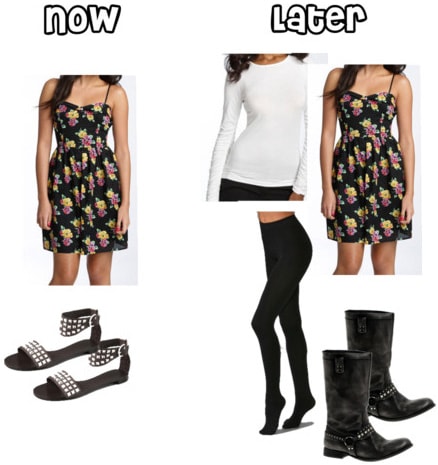 Dress, Sandals, Long-Sleeve Tee, Tights, Boots
Florals are a perpetual summer trend, but this floral dress is a perfect transition piece because of its black hue. To wear it now, keep your outfit simple by pairing it with a some studded sandals. Once the weather starts to cool, layer a long sleeve tee underneath, throw on some tights and add a pair of tough biker boots for a great fall outfit. If you need a jacket, a motorcycle style is the perfect finishing touch.
2. Jean Cutoffs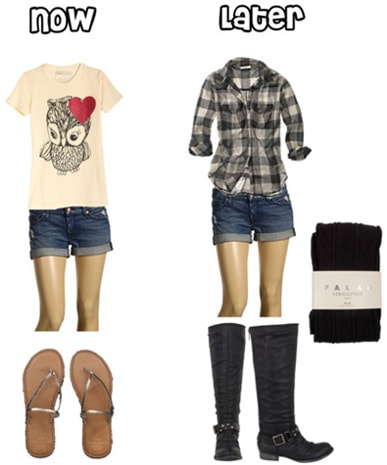 Shorts, Tee, Sandals, Button-Up, Tights, Boots
Jean cutoffs are a summer staple; you can pair them with everything from a tee for a casual look to a nice oxford shirt for a more dressy ensemble. To wear these shorts now, pair them with an adorable tee and pair of sandals for a comfy day look. Transition these shorts into winter by wearing a pair of tights underneath to keep your legs warm a la Alexa Chung. Next, add a cute plaid shirt and some black boots for a look that's both casual and chic – perfect for wearing to class in the fall!
3. A Cream Blazer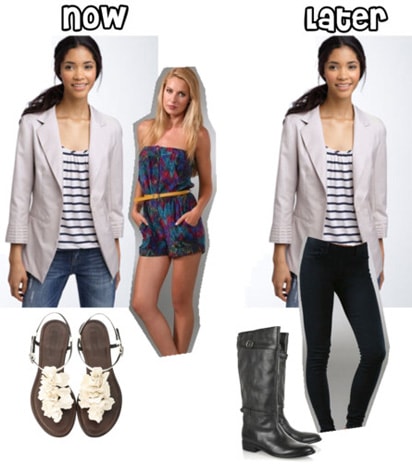 Blazer, Sandals, Romper, Boots, Jeans
Blazers are so hot this season, and this cream-colored option is a great alternative to the typical black that most girls are sporting. To make the blazer wearable for summer, throw it over a cute romper and slide on some adorable flats. For fall and winter, pair the blazer with skinny jeans tucked into some knee-high boots. For those colder days, you could add a colorful scarf and beret for extra warmth.
What do you think?
Do you wear your summer clothes in fall and winter? Are you planning to invest in any pieces that will give you lots of wardrobe mileage? If so, what? Let me know with a comment!