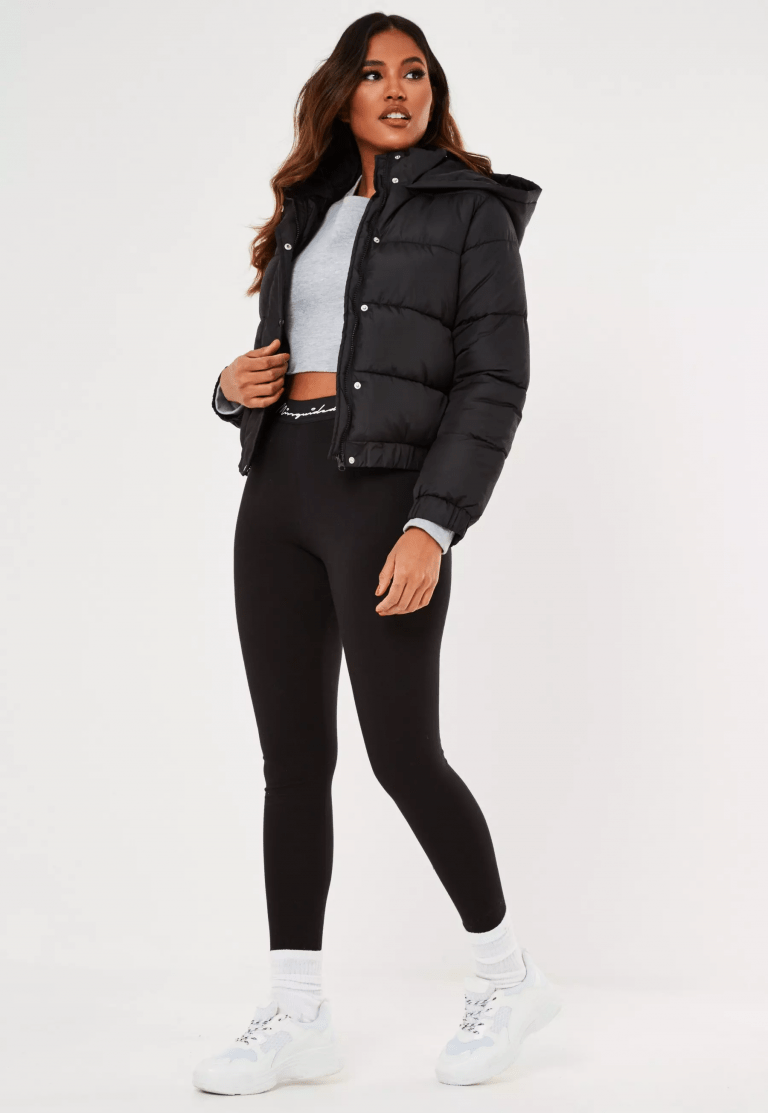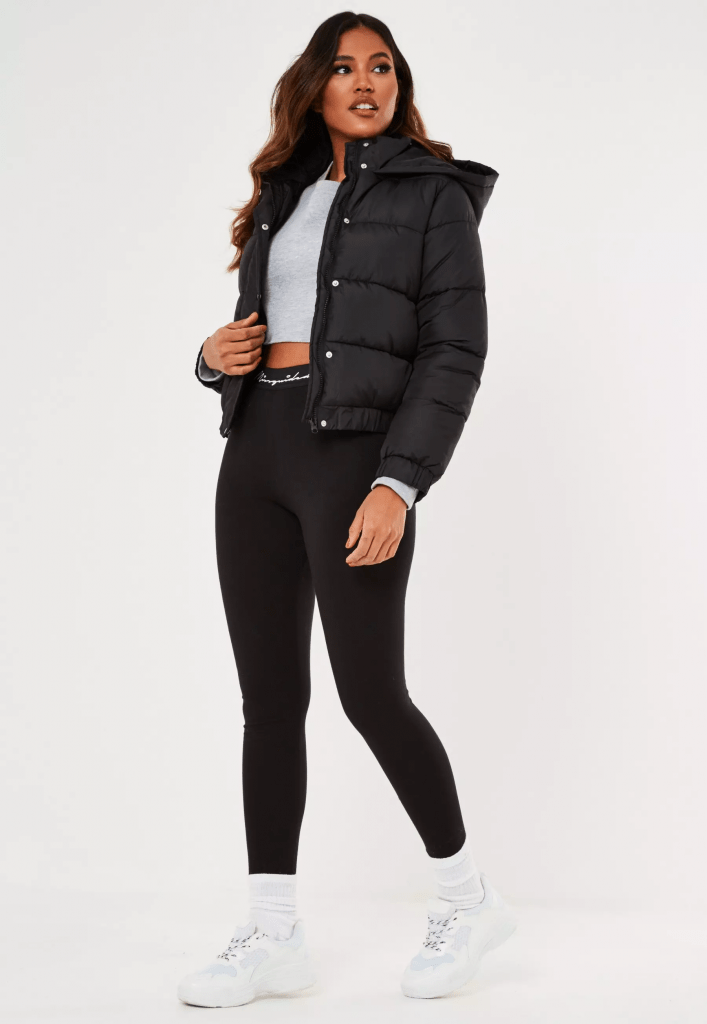 Today I'm sharing some cute fall outfits for 2020 to get your fall wardrobe inspiration going.
Fall is almost here, which means you need to start getting your fall outfits put together!
Right now, I'm loving the throwback 2000s aesthetic popularized by fashion icons like Bella Hadid, so I've been coming up with fall outfits that include crop tops, flares, scrunchies, and joggers.
It can be tough to rock your favorite fall trends while also dressing for the changing weather conditions, though. Clothes that are meant to keep you warm sometimes can be bulky or you might be struggling to style your summer crop tops without freezing.
Don't worry, though, because I've done the hard work for you.
This post will show you 6 trendy and cute fall outfits for 2020, so you will look cute on campus and off this semester.
Outfit #1 – Puffer Jacket Outfit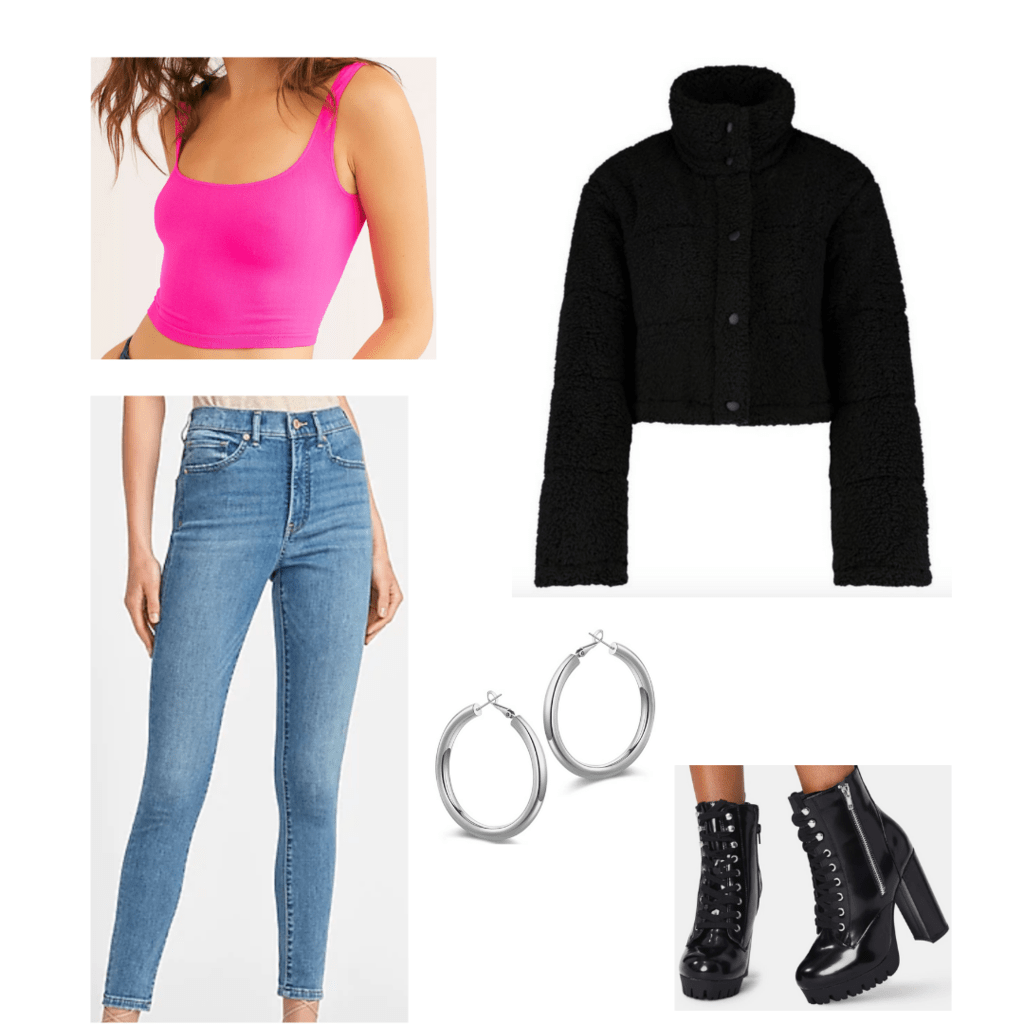 Products: Top, Bottoms, Shoes, Jacket, Earrings
This cute fall outfit is perfect for going out, whether that's to a socially distanced get together with friends or just window shopping in town. It's trendy and cute but will also keep you warm (and you can easily remove the top layer if it heats up outside).
This outfit pairs high-waisted jeans with a pink crop top, recreating one of my go-to going out outfits.
Also, to keep you warm, this look includes a black cropped fleece puffer jacket, which is becoming very trendy (Ariana Grande in particular has been rocking this look on repeat).
For accessories, add medium-sized silver hoop earrings and chunky heeled lace-up boots to give the look some extra interest.
Outfit #2 – Statement Pants Outfit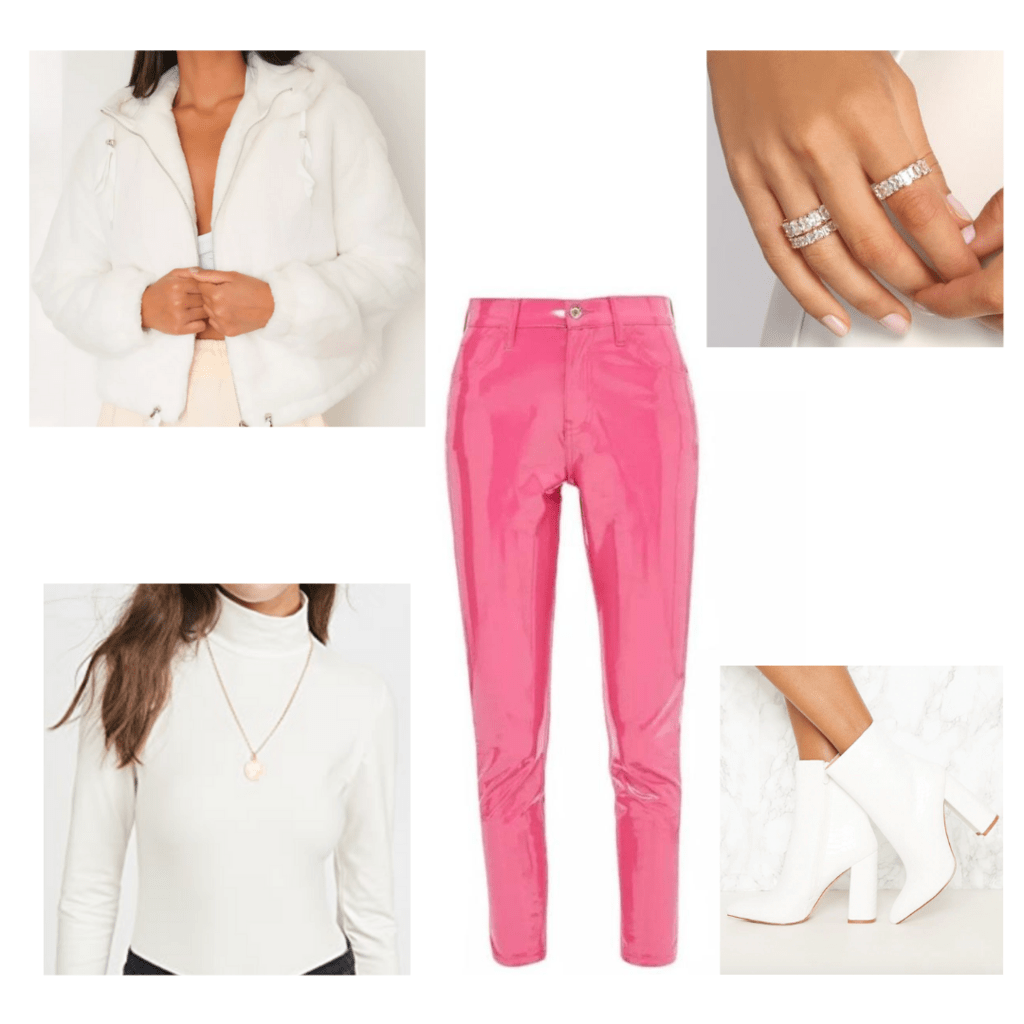 Products: Top, Bottoms, Shoes, Jacket, Rings
This is a bold and fun fall 2020 outfit that is trendy and will keep you warm. I could see this for dinner outside with girlfriends in the fall.
If you are looking for a way to add color to your fall outfits, this is the perfect example to try! It incorporates trendy bright pink vinyl pants to make you stand out. (These have been all over Instagram lately — in particular, I feel like Chiara Ferragni would totally wear these pink ones!)
This cute fall outfit also includes a white long-sleeve bodysuit and high-heeled boots to offset the bold pants. To stay warm on chilly days, grab this adorable fluffy white jacket (another fun trend for the fall).
Lastly, this outfit has super cute rhinestone rings to add some sparkle.
Outfit #3 – 2000s Flared Pants Outfit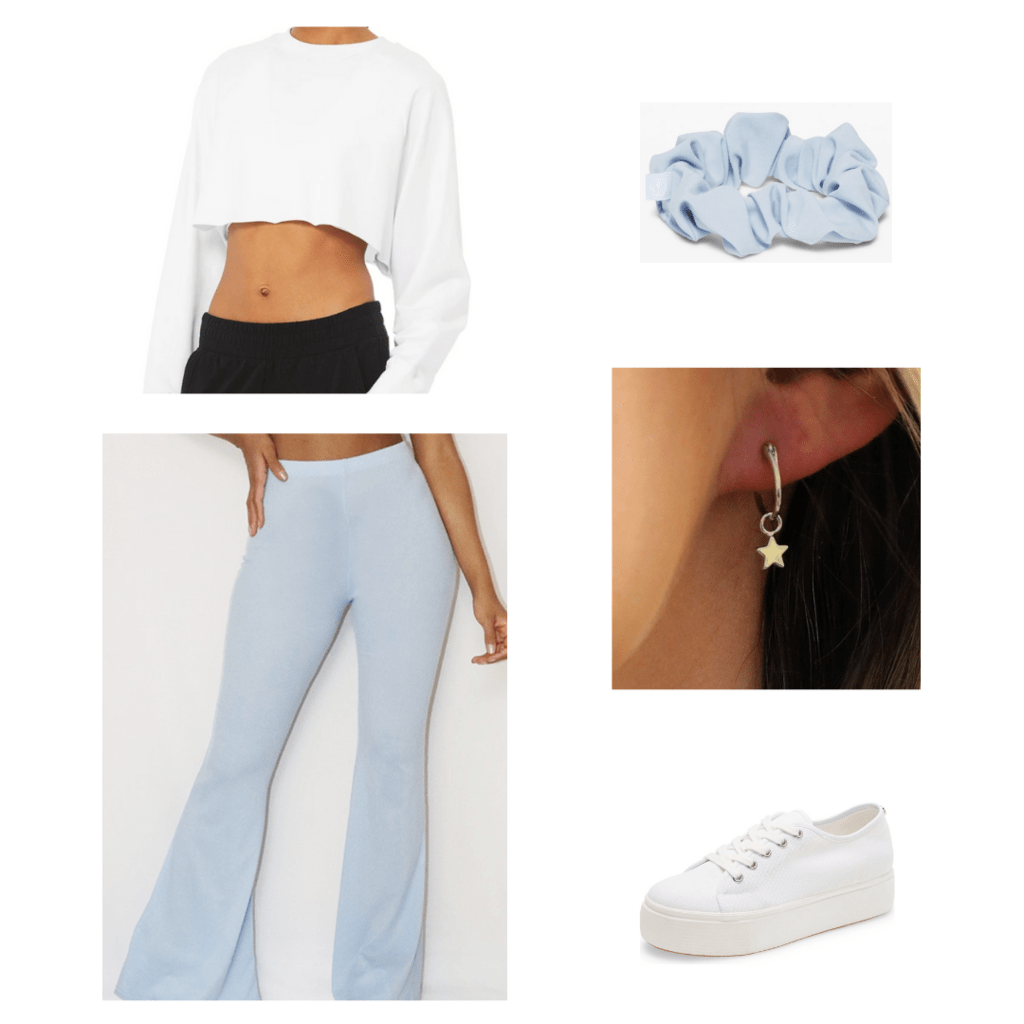 Products: Top, Bottoms, Shoes, Scrunchie, Earrings
Flared pants used to be super popular in fashion a few years ago until skinny jeans took over. Now that Y2K fashion is officially back, flared pants are back, too.
I absolutely love flared pants for fall because they are cute and can keep you warm. Plus, these fabric ones are as comfy as sweats while being a bit more interesting than classic joggers.
To style these trendy pants into a cute fall outfit, pair them with a white cropped pullover top and matching white sneakers.
Add some cute accessories to spice up the look. Here, I added a matching light blue scrunchie for your hair and silver star earrings (so 2000s).
Outfit #4 – Blazer Outfit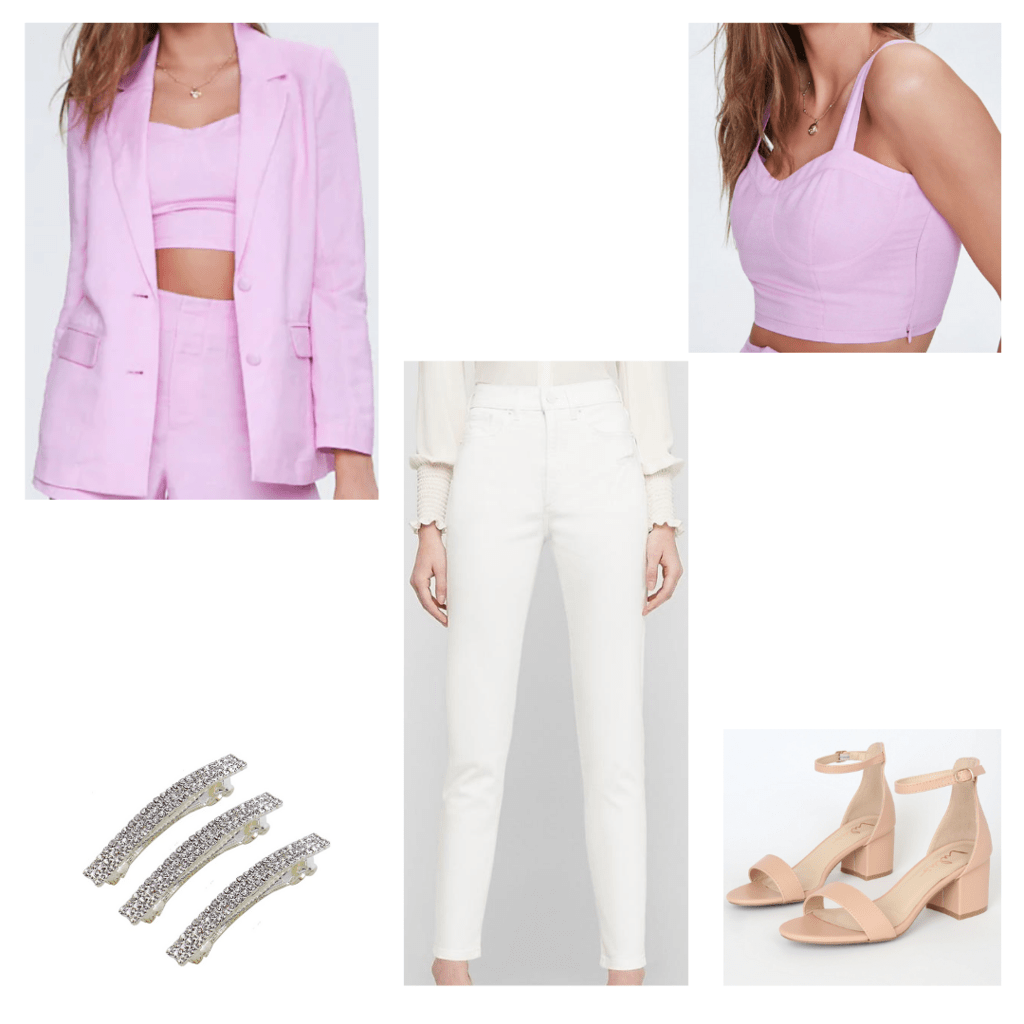 Products: Top, Bottoms, Shoes, Blazer, Barrettes
You will also need an outfit for the fall that is a bit fancier, but also keeps you warm, just in case you need to go to an event or maybe to a nice restaurant for dinner.
If you need a fancier outfit like that for fall, this one will do the trick! It pairs classic white pants with a pink crop top and matching pink blazer.
You may think that blazers are only to be worn as professional clothes, but blazers are actually trending in a huge way for fall. If you don't have at least one in your closet, pick one up ASAP.
Keep shoes simple with this look — I love simple beige heels to style the outfit without distracting from the bold pink pieces.
Finally, if you want to do something with your hair, you can add in these cute rhinestone barrettes, which are another fun throwback item. Clip them all on one side of your head to make a statement.
Outfit #5 – Joggers Outfit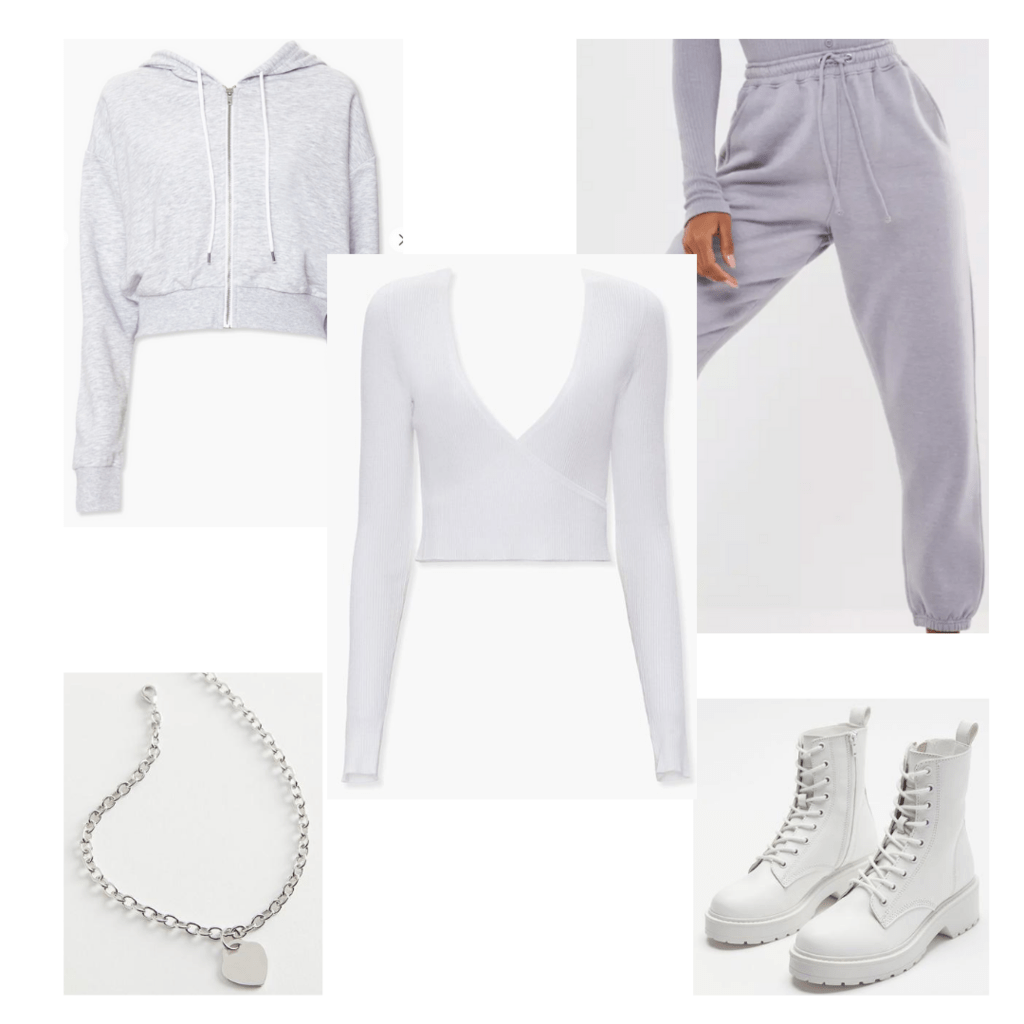 Products: Top, Bottoms, Shoes, Jacket, Necklace
If you want a comfy fall outfit for study sessions and class, this one is perfect.
Start with some lavender joggers, a huge trend right now, and style them up with white extras, namely a white long-sleeve top and matching white combat boots.
Then, to add an additional warm layer, throw on this grey cropped hoodie. As a bonus, this wardrobe staple would look great with any workout outfit in your closet.
If you want some accessories, you can also add this adorable Y2k-style heart necklace to complete the look.
Outfit #6 – Sweater Outfit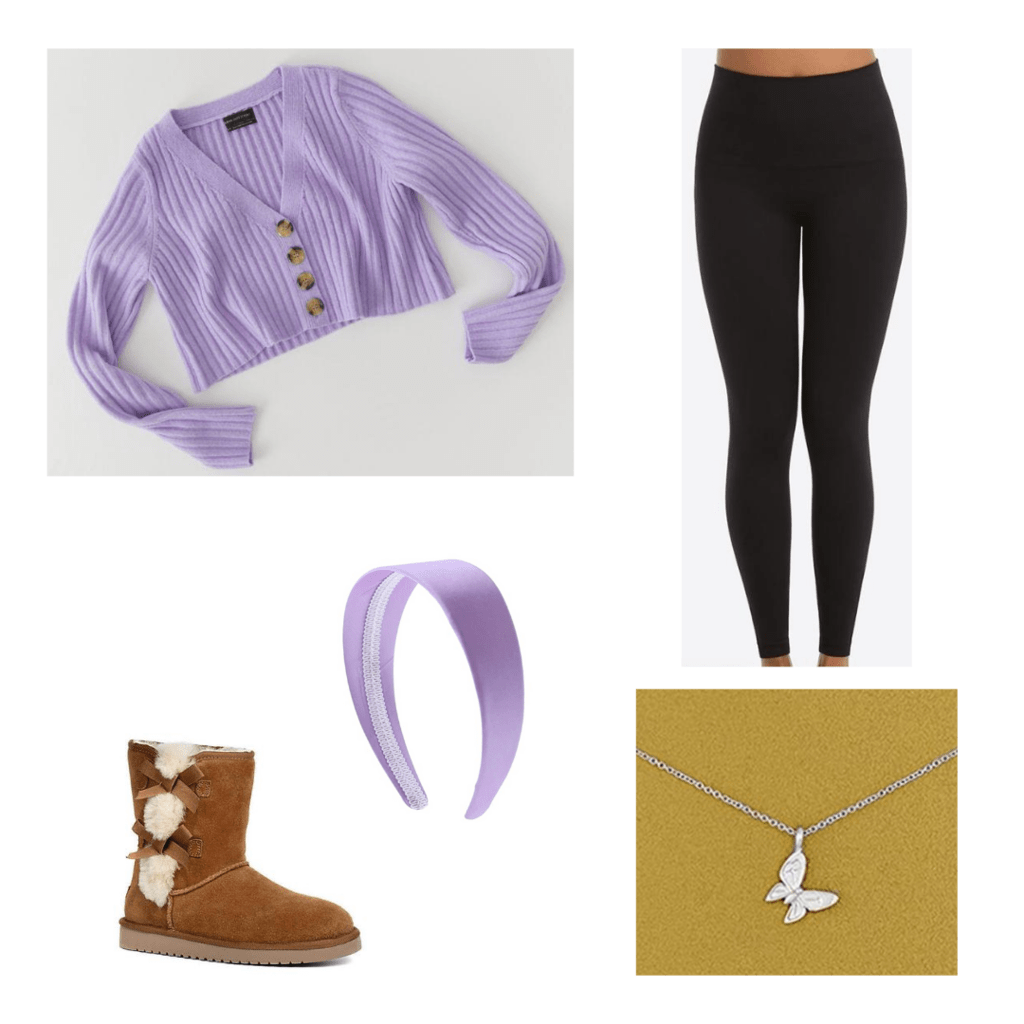 Products: Top, Bottoms, Shoes, Necklace, Headband
If you are looking for a more everyday fall look, you should choose this outfit!
Sweaters are always a fall staple and this year it's all about cute little cropped cardigans, buttoned all the way up and used as tops.
This outfit has a super cute purple button-up sweater that you can pair with this matching purple headband for a throwback-style look that Blair Waldorf would love.
Add black leggings for comfort and a silver butterfly necklace for a hint of sparkle. Finish with your favorite comfy boots — whether they're Uggs or platform combat boots, anything goes with this cozy look.
What outfits do you have planned for fall?
Are you loving the 2000s throwback trends? Which cute fall outfit idea is your favorite? What do you need to buy to make the outfit? What clothing items do you already have?