This post may contain affiliate links, which means we may receive a commission if you purchase through our links. Please
read our full disclosure here
.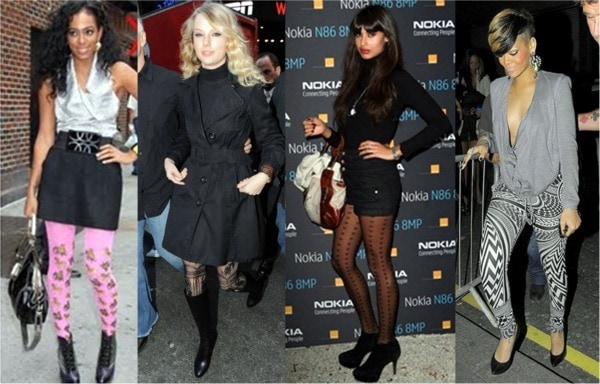 Here at CF, a popular discussion topic is fashion vs function. Lately, many readers have been asking for ways to look stylish and put-together when it is FREEZING outside. (See our guide to layering for some tips!) Along these lines, one fun way to dress up a skirt, dress, or tunic in winter is with fun tights or leggings. The patterned tights and leggings trend is an unexpected way to add interest to any look, and has emerged as a popular choice among celebrities and fashion magazines.
Some of you might be hesitant to try this out, but trust me: There are ways to rock this trend, stay warm, and look great all at the same time. I've done a bit of research and put together a guide to wearing these.
Ready to rock the challenge? Read on to see some tips on how to wear patterned tights or leggings – then submit your OWN looks!
Tips and Tricks for Wearing Patterned Tights or Leggings
For the most flattering look, it's often best to choose patterns with small graphics such as tiny polka dots or little flowers. They'll keep your gams looking slender.
Be wary of horizontal stripes — they tend to be a bit harder to pull off.
Patterned tights or leggings are interesting enough as is, so remember to keep the rest of your outfit simple.
Graphic tights or leggings look great tucked into boots. Try them with pumps, too, if you're daring!
If you're self conscious about your legs, try letting patterned tights peek out just between your boots and a skirt. The little sliver of skin will look super sexy without being over-the-top!
Outfit Inspiration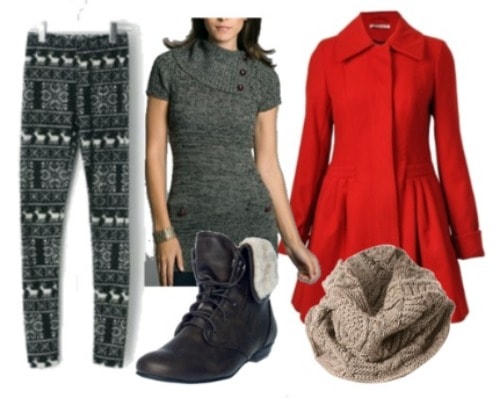 Leggings, Sweater Tunic, Boots, Scarf, Coat
Patterned leggings like these will keep you warm, cozy, and stylish through the cooler months. Pair them with a comfortable sweater dress and add a scarf for even more warmth. Tuck your leggings into cute ankle boots, and finish off the outfit with a brightly-colored jacket.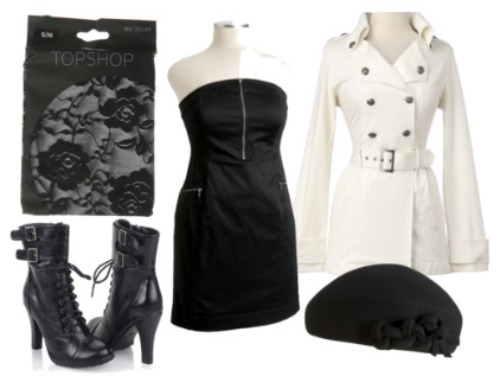 Boots, Tights, Dress, Beret, Coat
An outfit like this is perfect for a night on the town — it's fun, chic, and will still keep you toasty warm! Deck out your little black dress with lacy patterned tights and a badass pair of lace-up boots. Finish the outfit off with a warm coat and wool beret.
CF Reader Looks
Here are challenge outfits sent in by CF readers like you. If you want to see your look featured here, too, read the instructions below for sending in your outfit photos!
Brittany Nicole- University of New Orleans
I wore this outfit for a Girl Talk concert this week. Paired American Eagle mini jean shorts with a pair of diamond patterned black tights, Chinese laundry flat knee-high boots which I folded down to show more leg, an off the shoulder grey top from Forever21 and gold accessories.
Is it just me, or does Brittany look faboosh??
Theresa Cortes- Orange Coast College
Out for a trip to this wonderful cafe in SoCal called the Gypsy Den, I decide on this flowy cream, blouse (which I coined as my "Florence blouse") to soften the look, and a simple black mini to let the focus be on everything else, especially my favorite patterned tights. I'm not quite sure how to even describe the pattern though, but I adore them! And of course, wedge booties are a must!
For more of Theresa's fierce style, check out her blog here!
Rocked the Challenge? Send in your Photos!
Did you wear a pair of patterned leggings or tights this week? Before you change clothes, whip out your camera and take some photos! Send them to fashionchallenge AT collegefashion.net along with your name, school, a description of what you're wearing, and the URL of your blog if you have one. (See an example here!) We'll post your photos here to inspire other CF readers.
Can't wait to see your submissions!
Tell Us What You Think!
Do you own a pair of patterned leggings or tights? What do you like do wear them with? Do you plan on trying out this challenge? How do you stay warm in the winter months when you want to wear a skirt? What other trends do you have trouble styling? Let us know your thoughts by leaving a comment!