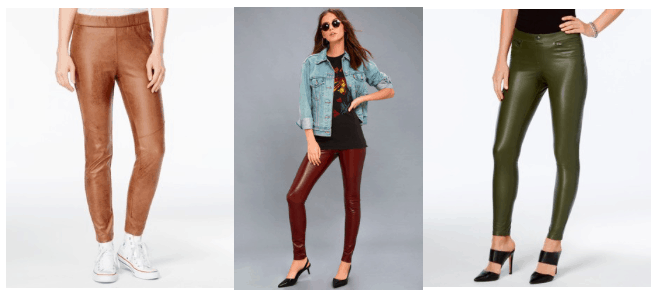 Leather leggings always seem to work their way back into our closets. Even when it seems like they've gone out of style, once fall rolls back around, they always seem to return.
While it may be tempting to go cheap with this item, you'll get the most bang for your buck if you invest in a higher quality pair of faux leather leggings (see our guide to affordable faux leather pieces here for some high quality leggings!). This is one style that can flake, crack, or fade easily if you go too cheap.
Also, for the most lasting style, choose black faux leather leggings, like the ones we're styling below:
Related reading: How to Wear Faux Leather Pants & Leggings (+10 Outfit Ideas)
Leather Leggings Outfit for Class: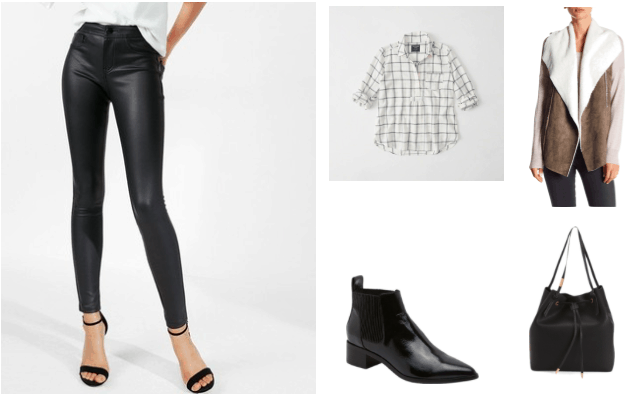 Products: Leggings – Express, Top – Abercrombie, Bag – TJ Maxx, Jacket – Nordstram Rack, Shoes – Amazon
While at first it might seem like leather leggings are just for night, they're completely wearable for daytime too. To create a leather leggings outfit for class, you definitely want to surround your leggings with more relaxed pieces. You can do this by throwing on one of your favorite flannel shirts, and pairing the look with chelsea boots.
On top, rock a shearling vest — I don't know about you but I've been waiting all season to pull mine out of the closet!
Leather Leggings Outfit for a Night Out: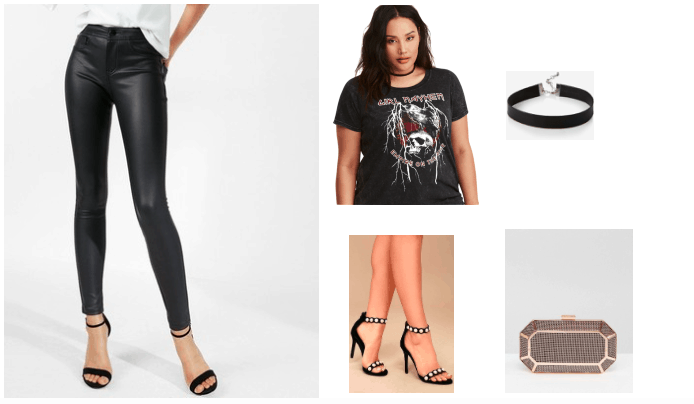 Products: Leggings – Express, Top – Torrid, Heels – Lulu's, Clutch – Asos, Choker – Express
The night is young and we're going to take this trend back to its roots: Rocker chic is the vibe for our night out look. Pair your leather leggings with your favorite band tee, then add sleek black heels. These pearl-embellished heels are perfect for giving this rocker look a chic element.
For accessories, you can never go wrong with a black choker, and to hold all of the important things, try a box clutch. You can also switch it up with a skull clutch if you want to take it to another level, but this one from Asos does the job.
Related reading: What Shoes to Wear with Leather Pants: The Ultimate Guide
What do you think?
Are you wearing leather leggings these days? Do you have a favorite pair you've had for years? If so, where did you buy them? Tell us in the comments.