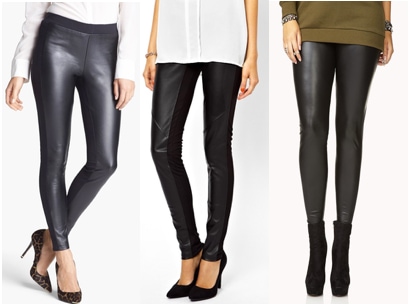 Leggings: Nordstrom, ASOS, Forever 21
Do you struggle with transforming your outfits from day to night? Don't worry, CF is here to help turn that daily annoyance into a fun challenge. Class to Night Out focuses on one piece per week, and aims to help you take your look from study sessions in the library to dancing the night away.
It's basically a fact of college life at this point: leggings are the new skinny jeans. And while not all of us are sold on the "leggings are pants!" debate, it's pretty safe to say they're here to stay, whether you're lounging in the dorms or getting ready for karaoke night. Personally, I love the idea of wearing leggings on a night out — what can I say, I've gotta be comfy!
This week, I'll be showing you how to style a very nighttime appropriate piece, leather-look leggings, for both day and night. If you're looking for some wardrobe inspiration, read on:
Leather Look Leggings: Class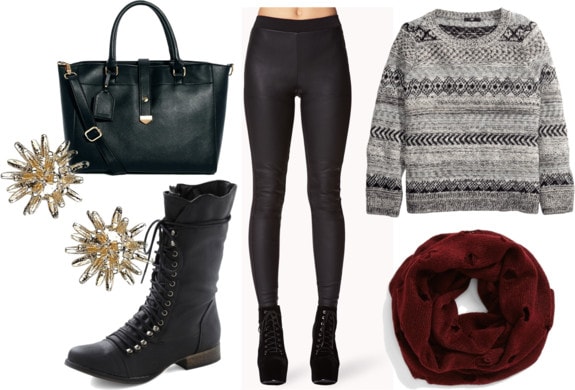 Class to Night Out: Leather Look Leggings by collegefashion featuring army boots
Leggings, Sweater, Scarf, Bag, Boots, Earrings
For a cozy daytime look, pair your leggings with a warm, Fair Isle sweater for instant comfort. The baggier the better, in this case! (Of course, you can opt for a longer tunic sweater if you prefer even more coverage.) Layer up with a rich red textured infinity scarf and a pair of killer black combat boots. Grab a classic black shoulder bag and complete the ensemble with spiky gold studs for an edgy look that's still super cute.
Leather Look Leggings: Night Out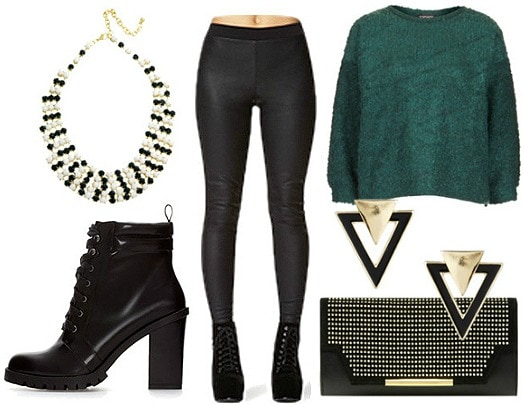 Leggings, Sweater, Clutch, Boots, Necklace, Earrings
Keep the comfy theme going by pairing your leggings with a nighttime-appropriate fuzzy emerald green cropped sweater. Add sparkle with a black-and-white statement necklace and a studded clutch. Go rocker chic with a pair of edgy triangle-shaped earrings, then grab some glammed-up hiking boots to complete the look.
Your thoughts?
Would you wear leather look leggings? How would you style this pair? Be sure to let me know what you think of the outfits in the comments, and what other pieces you'd like to see featured on Class to Night Out!