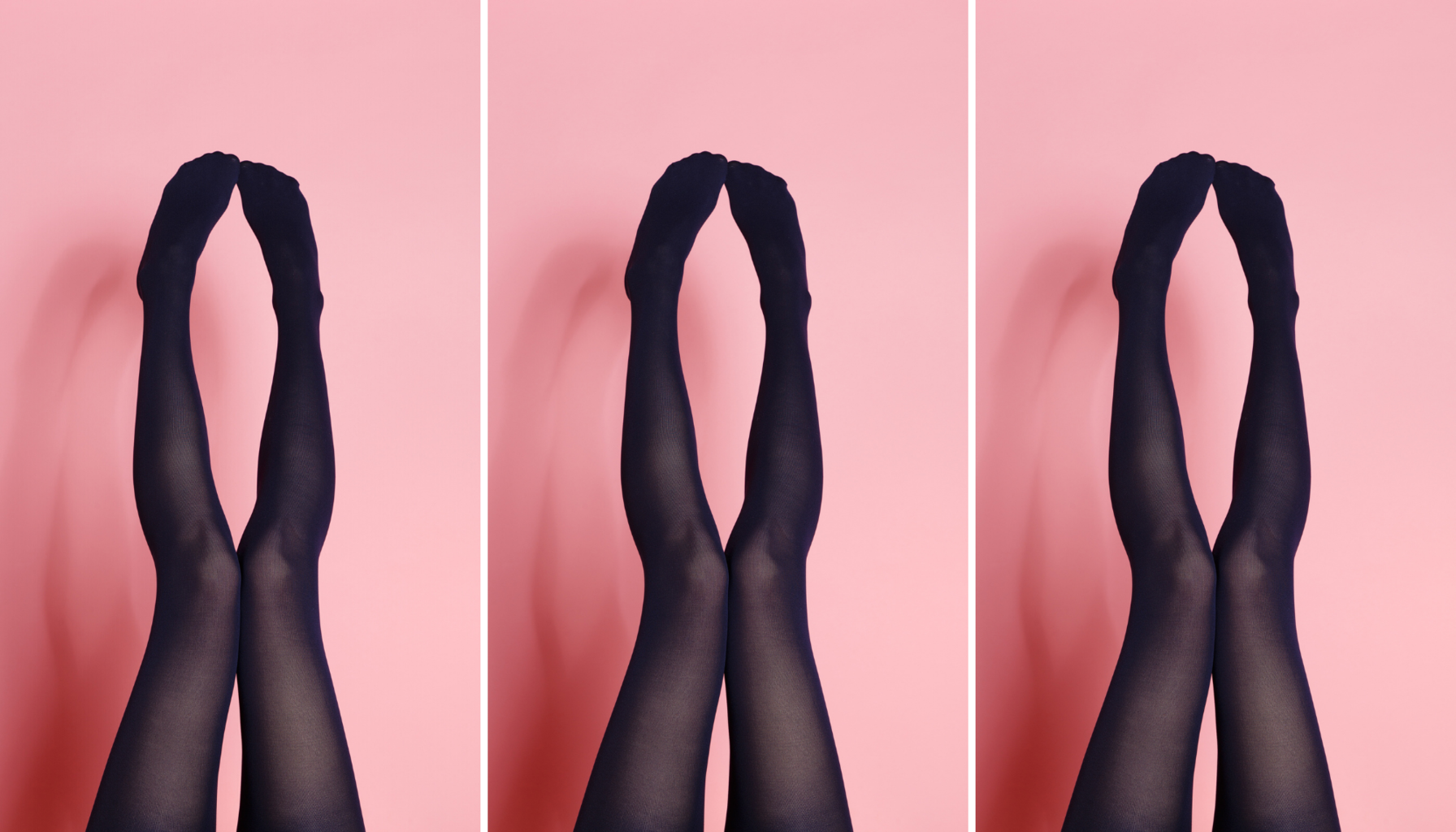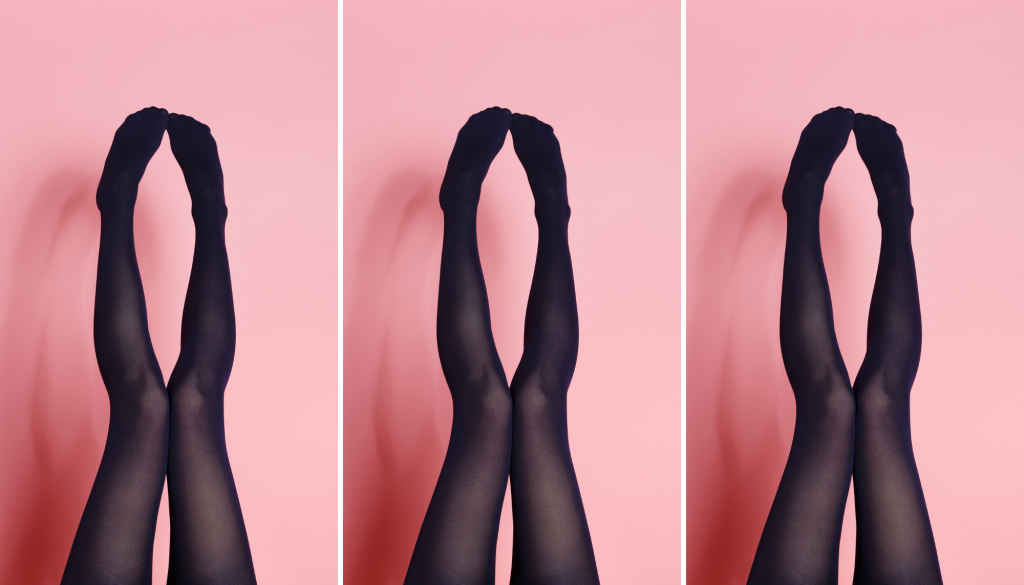 We all know that black goes with everything. It's slimming, flattering, chic, and easy on the eye. Many fashion experts say that women should have something black in their closets. The little black dress obviously counts.
At CF, we've done posts on how to wear black clothing items such as the little black dress, black jeans, black heels, etc. We even covered how to make an all-black work outfit interesting. But what about black tights? It's fall, so it's the perfect time for us to give you tips on how you can wear black tights.
Related Post: The Cutest Outfits with Tights, Ever
Black tights are like socks for your legs. They're classic, sophisticated, stylish, and versatile, plus they make your legs look miles long and keep them toasty.
Black opaque tights are the most classic and versatile pair of tights, but you can find black tights in so many textures, prints, and patterns. You can even wear leggings as tights.
Because of this, opaque black tights are not the only tights you will see in the outfits. You will find lace tights, sheer tights, polka dot tights, and more. Before we get to the looks, here are a few pointers for wearing black tights:
Tips and Tricks for Wearing Black Tights
You can wear black opaque tights with anything. We all know that black is a neutral color and can be paired with anything. I have said that opaque black tights are the most classic and versatile; you can wear them with anything from a brightly colored outfit to a bohemian one.
Black tights look great with black shoes. Wearing black tights with black shoes makes your legs look miles long.
Black tights can be used to tone down a bold look. They're a great basic piece for keeping bright outfits from being too busy. Black tights also keep statement pieces the focus of an outfit.
Don't forget that black leggings can be worn as tights. Many college girls wear black leggings as pants. Leggings are versatile like tights, so why not turn leggings into tights by pairing them with boots, shorts, skirts, dresses, and even rompers?
Black tights are not just limited to shorts, skirts, dresses, and rompers. Don't forget that you can wear tights with pants, especially ripped ones. If you wear pants with tights and shoes that show your feet, the tights are disguised as socks.
How to Wear Black Tights
1. Grunge Vibes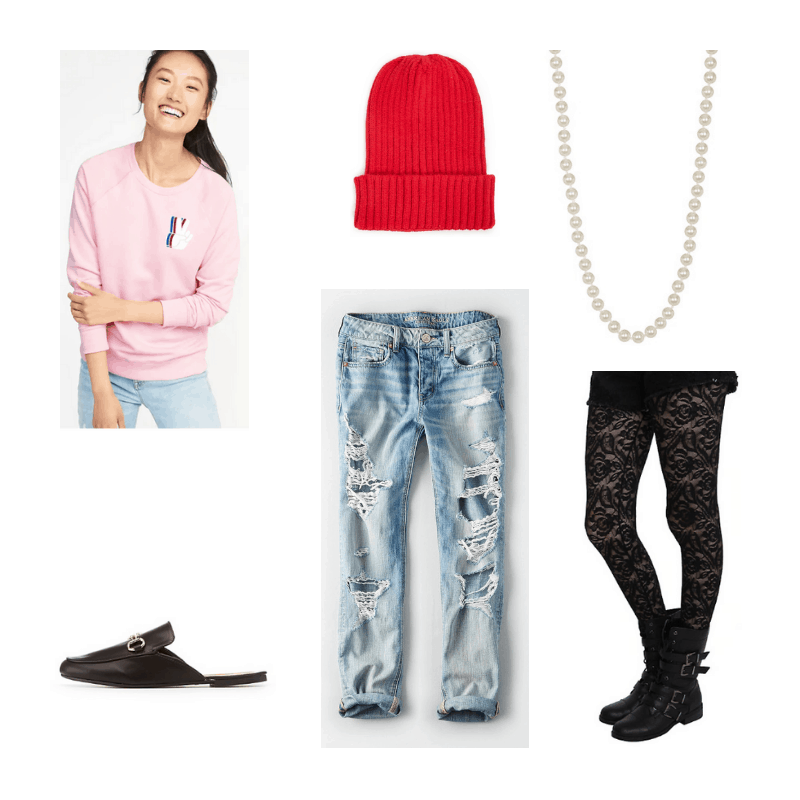 Products:
This black tights outfit has a modern grunge vibe. It combines grunge-y and girly elements. It also shows that you can wear tights with jeans. Jeans with big rips provide the perfect opportunity to wear your favorite tights. The sophisticated black floral tights contrast with the baggy, ripped jeans. It's like goth and grunge mixed together.
A graphic sweatshirt and boyfriend jeans look chic together. The pink peace sign gesture sweatshirt complements the jeans and tights nicely. Add on black mules with a metal accent.
A red beanie adds an on-trend pop of color, while a pearl necklace is a girly, classic touch.
2. Quirky Ladylike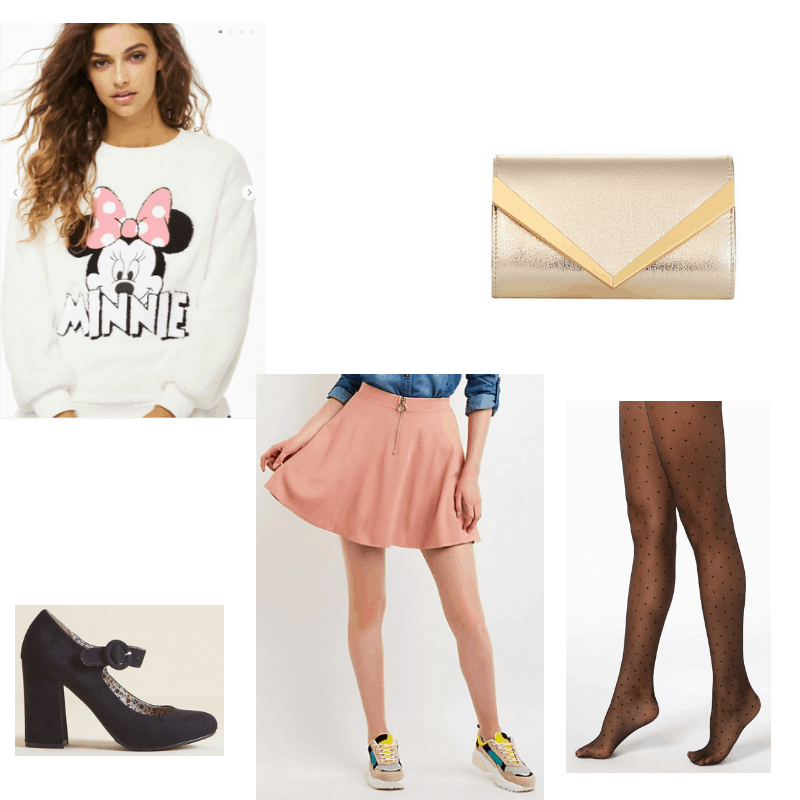 Products:
See? Quirky and ladylike styles can mix together. This black tights look is great if you want to shake up the ladylike vibe and/or if you like both quirky and ladylike vibes mixed together.
Now, I know a sweatshirt with a cartoon character on it may seem childish, but this Minnie Mouse sweatshirt is a faux fur one from Forever 21. Faux fur is very trendy right now and makes any outfit classy and sophisticated. The faux fur on the sweatshirt makes it age-appropriate for college girls.
Make it wearable with a pink-ish skater skirt and polka dot tights. Mary-Jane shoes with a block heel make the shoes very comfortable to walk and are a very trendy touch to the outfit. Finish off the look with a gold envelope clutch.
3. Sultry Vixen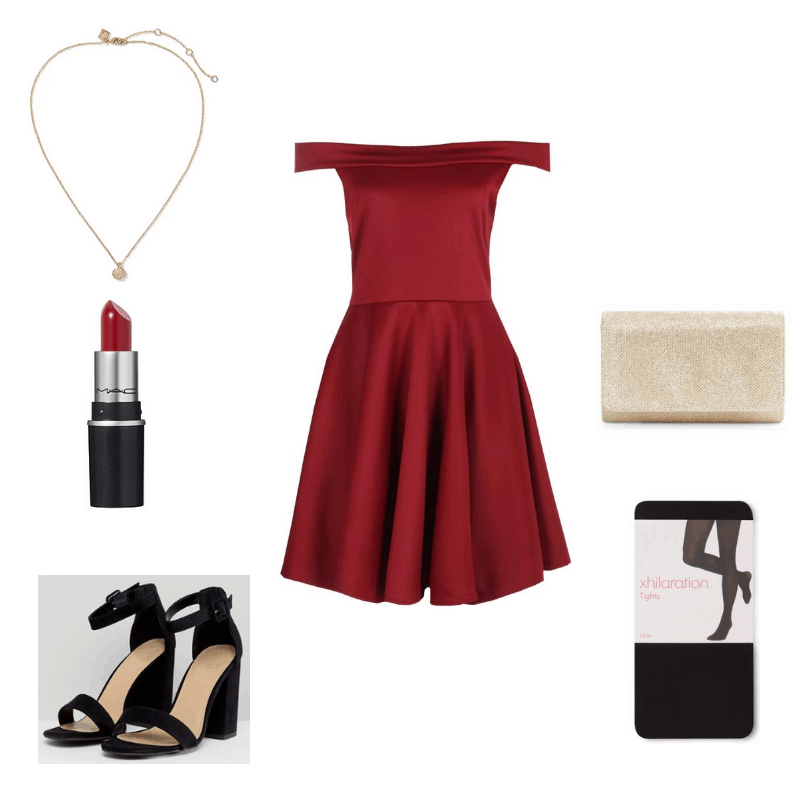 Products:
Red and black is a very classy color combo and it also looks chic when paired with gold. This outfit above would be a classy date night outfit.
Start off with a trendy off-the-shoulder dress in red and add black semi-opaque tights. Elongate your legs with block-heeled sandals in the same color. Wearing tights with sandals of the same color is a chic way to wear socks with sandals.
Add a simple gold pendant necklace for a glam dimension. Red lipstick is classy for going on dates. A sparkly gold clutch completes this Old Hollywood Glamour-esque ensemble.
4. Flair of Blair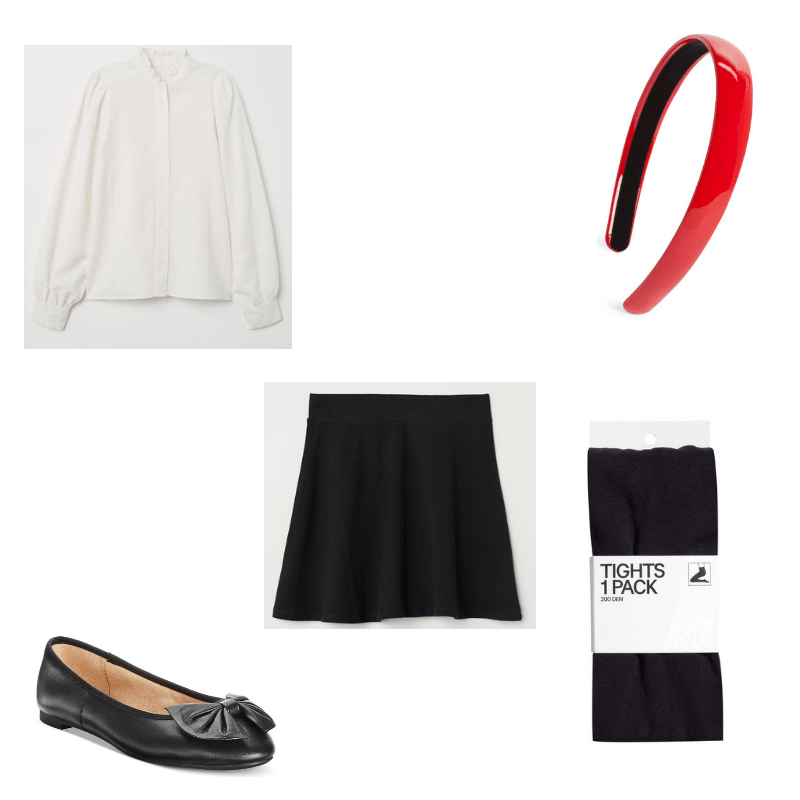 Products:
We at CF are huge fans of Blair Waldorf's style and I'm sure you are too. She always looks impeccable and is a great source of style inspiration for all of us. She wears tights pretty often, so I thought an outfit inspired by her incorporating black tights was a great idea.
Black and white are always classic and Blair would approve of this combo as long as she adds a pop of color. Pair a ruffled blouse with a black circle skirt. If Blair isn't wearing colored tights, then she'd probably wear opaque black tights.
Match ballet flats with bows to the tights. Now you can add a pop of color à la Blair with a red headband, which helps as red is one of the trendiest colors for Fall 2018.
5. Mysterious Maven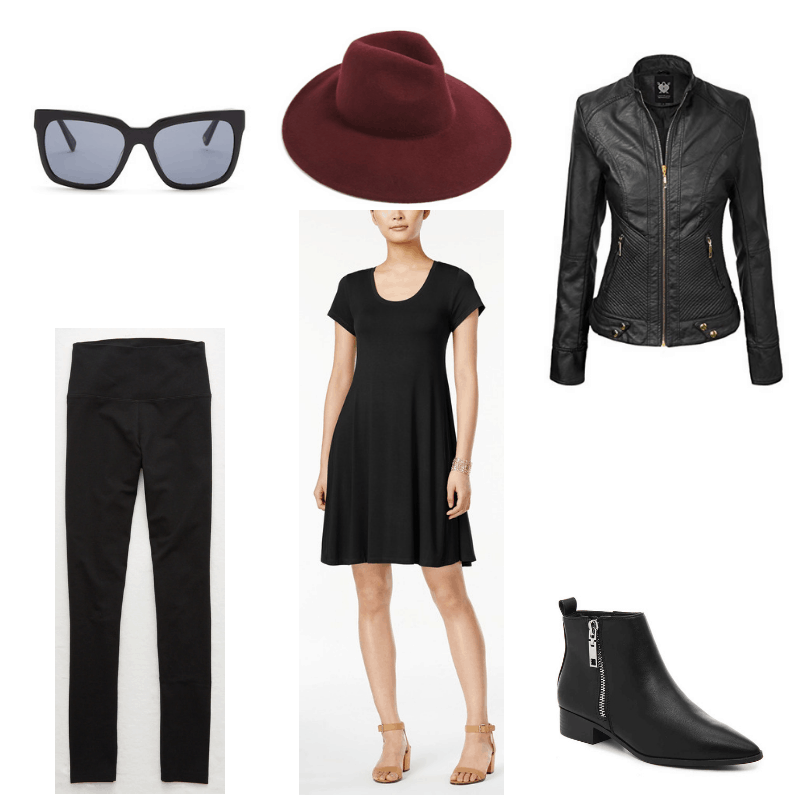 Products:
You already wear leggings as pants, but did you know that you can also wear them as tights? One rule of thumb is that if the leggings hit the ankle, you can add any boot of your choice, but if your leggings are a little shorter, calf-length boots or other boots high than calf-length will help. This outfit has basics that you may already have in your closet.
Turn the leggings into tights by adding booties and a little black dress. Slip into a quilted leather jacket for warmth and added dimension. This outfit is great for mysterious vibes, so add on some oversized sunglasses and a pop of color with a burgundy fedora.
6. Shorts and Tights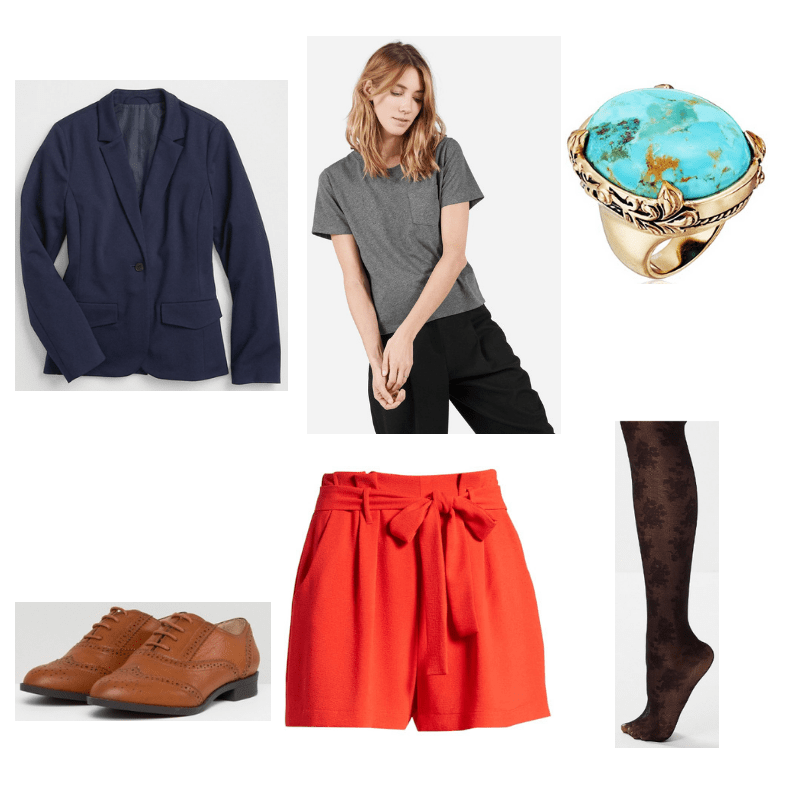 Products:
I know that skirts and dresses are often worn with tights, but shorts with tights look just as chic. This outfit is perfectly preppy for class when you make a gray tee look chic with a navy blazer and brown brogues.
Red bow shorts add a pop of color, while lace tights are a fun addition to the look. Add some sparkle with a big turquoise ring.
7. Black and Gold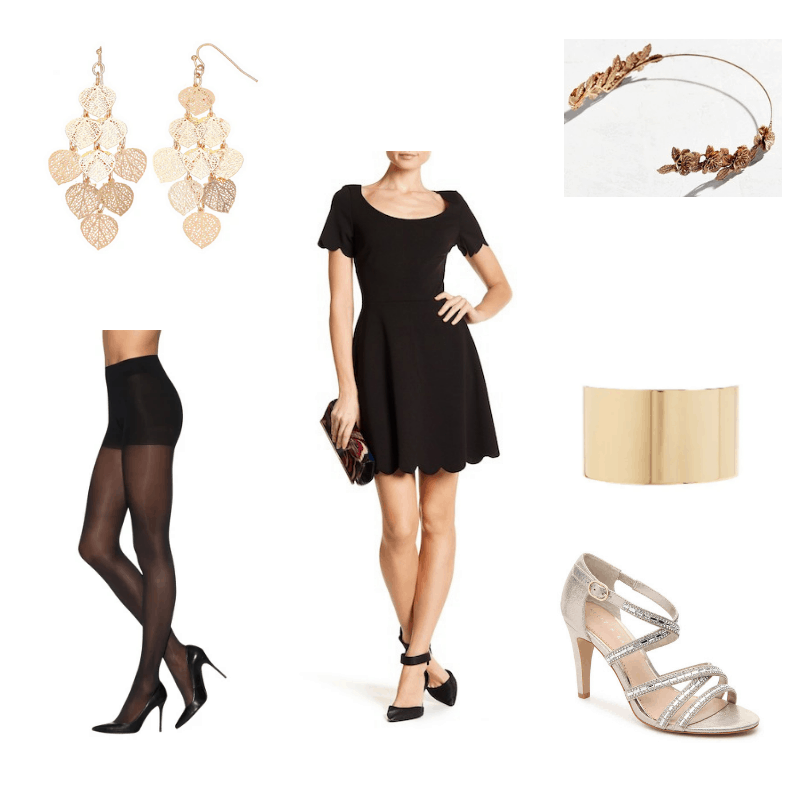 Products:
Black goes with everything and when paired with gold, it makes a classy color combo. Black and gold would work great for a date, a dinner party, or any sophisticated evening. Start off with a fun little black dress and sheer tights.
Wearing heeled sandals with tights is a chic take on the socks-with-sandals trend. Dangly gold earrings attract attention to your face. A gold flower headband is great for keeping your hair out of your face and a gold cuff brings out the black in the look.
8. Classy and Sassy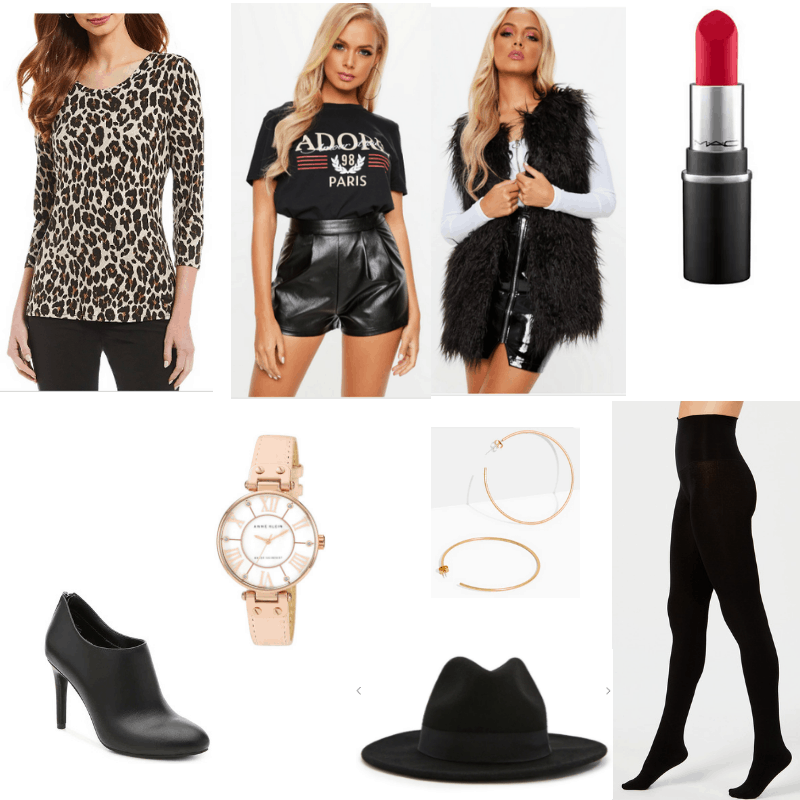 Products:
Leopard print, faux fur, and red are trending right now, but they're also classic. The outfit above is both a classic outfit and a trendy outfit with a dash of Old Hollywood glamour and a bit of urban sassiness.
Have fun mixing textures and prints by wearing a leopard print tee with a black faux fur vest and faux leather shorts. Opaque tights and black-heeled booties lengthen your legs and can even make you look taller.
Throw in some sassiness with a black fedora and hoop earrings, then add in a sophisticated watch. Red lipstick provides a pop of color. This outfit would be great for an evening out on the town.
9. Punk Princess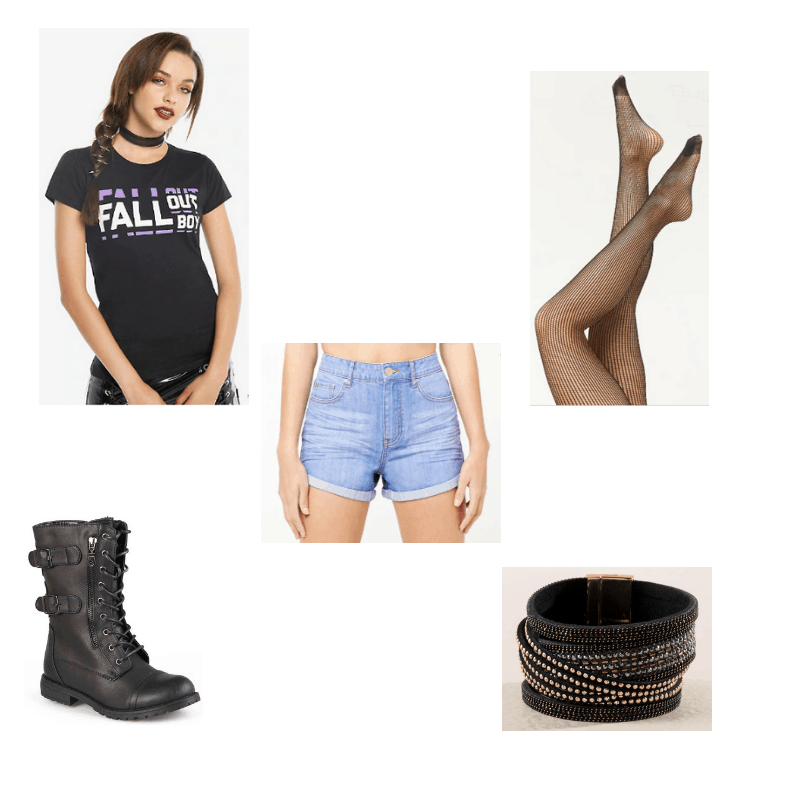 Products:
You can style black tights in so many ways — even in a punk rock-inspired outfit. Pair your favorite band tee with denim shorts. Edge up the combo with combat boots, sheer fishnet tights, and a studded wrap bracelet.
10. Fall Fantasy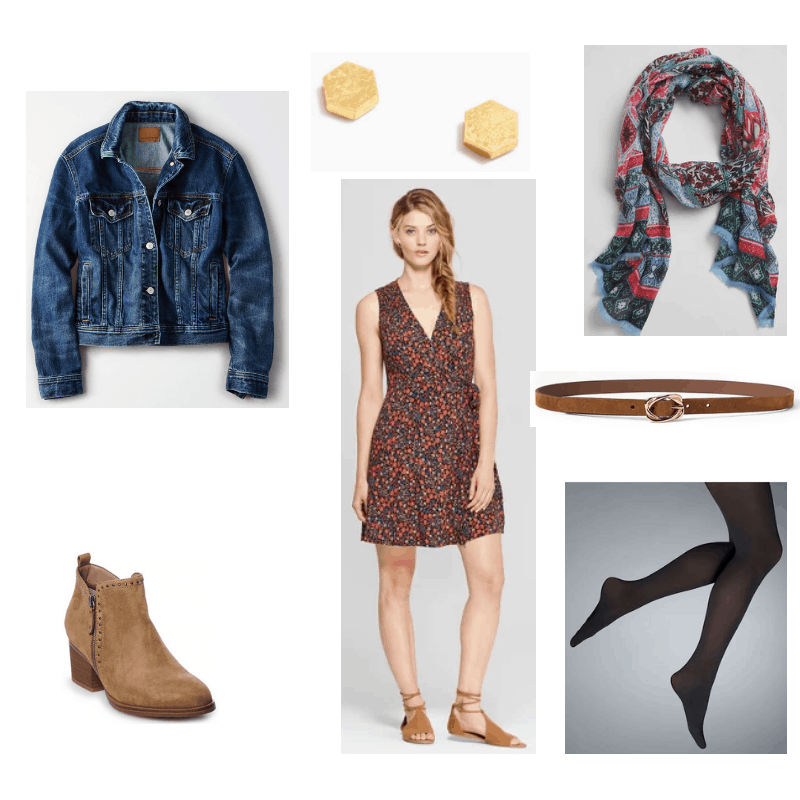 Products:
This outfit will not only show you how you can wear black tights in the fall, but it will also help with the summer-to-fall transition. Take your favorite sundress from summer to fall with the addition of a denim jacket, semi-opaque tights, a cognac skinny belt to give your waist definition, a printed scarf, and ankle boots.
Denim jackets look great with floral sundresses. Complete the ensemble with a pair of on-trend geometric earrings.
11. Ladylike Cool Girl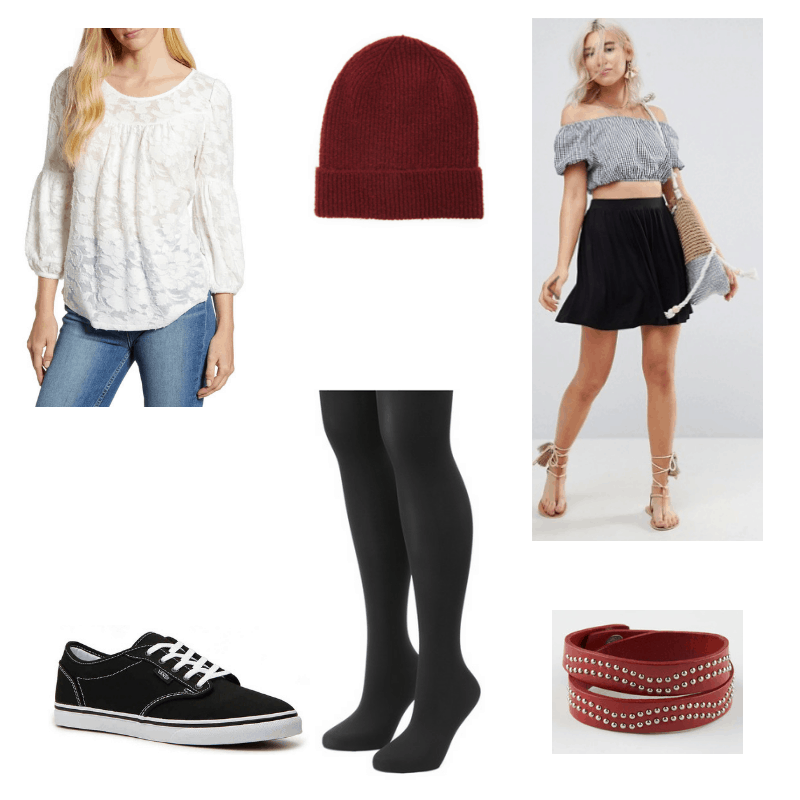 Products:
Who says a ladylike style and skater-girl vibes can't be mixed together? I understand that ladylike vibes are more sophisticated than the skater-girl style, but this outfit above proves you can mix the two. Some items in the outfit are great for the casual style, but a lot of the colors are great for sophisticated outfits.
Start off with a pretty white lace peasant blouse, a black skater skirt, and black tights. This outfit has only black and white, which makes it very versatile. You can style it in many different ways.
You can add Mary Janes and pearls to make it more feminine, layered necklaces and fringe boots to make it bohemian, or you can add sneakers and a beanie to make this outfit casual.
In this case, we're going to make the top-skirt-and-tights combo casual. Vans are comfy and go with everything while a burgundy beanie and studded bracelets add a pop of color and skater-girl vibes to the look.
12. Winter Wonder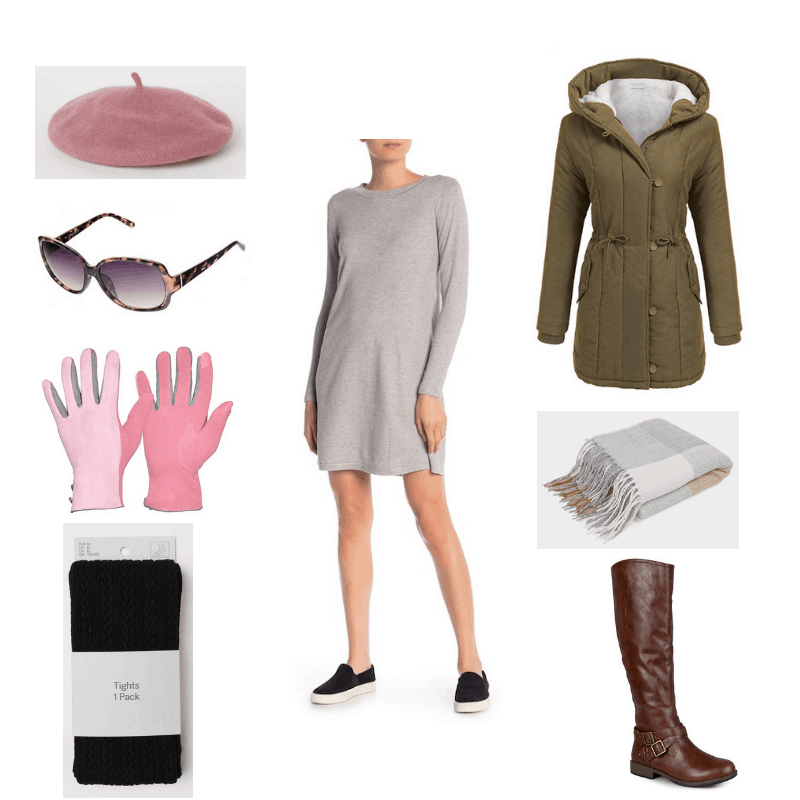 Products:
This black tights outfit is ideal for colder weather. It's also great for winters if you live up north or somewhere that snows. This outfit will ensure you'll stay warm and stylish. It has all the winter essentials to help you stay warm and protected.
Start off with a sweater dress, textured, tights, and riding boots. This green parka is a bit of an investment, but it's versatile and will ensure you stay warm. It also has faux fur lined inside, which is beneficial.
A plaid scarf adds a pop of pattern and keeps you cozy. Pink gloves and a dusty rose beret add pops of color to the look. There's nothing wrong with wearing pastels in the winter. Even though it might be cold and snowy, the sun might still shine, so protect your eyes with chic sunglasses.
13. Trendy Minimalist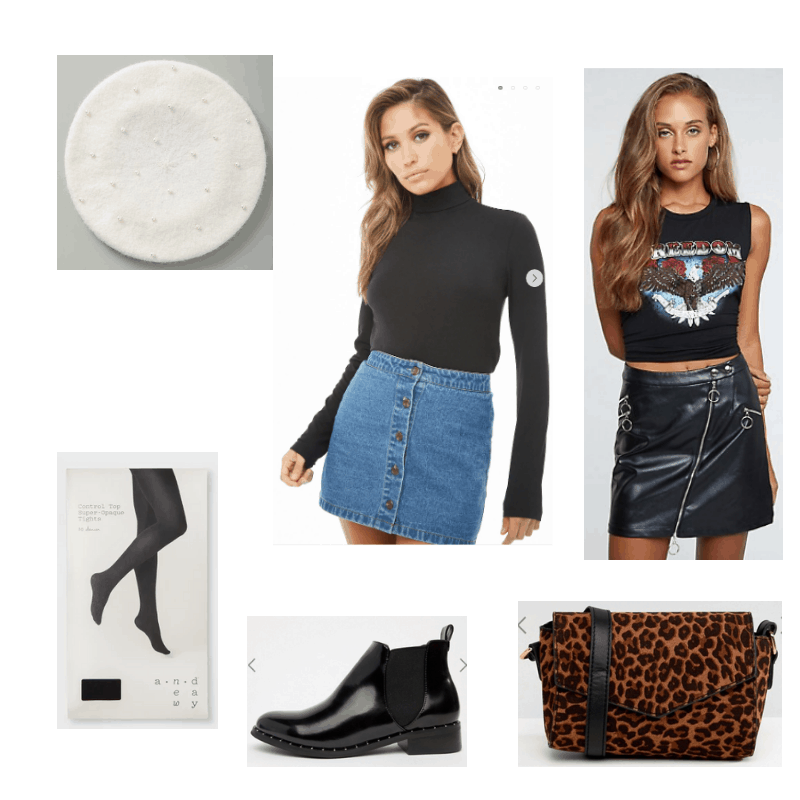 Products:
This outfit with black tights is minimalistic with a trendy edge. Black is a common color in minimalism, so start off with a black turtleneck, a black zipper skirt, and black tights. Add some black ankle boots.
A white beret breaks up the all-black ensemble while a trendy leopard crossbody bag adds a pop of print. Leopard print would work great for minimalism because it's a printed neutral.
14. Girly Girl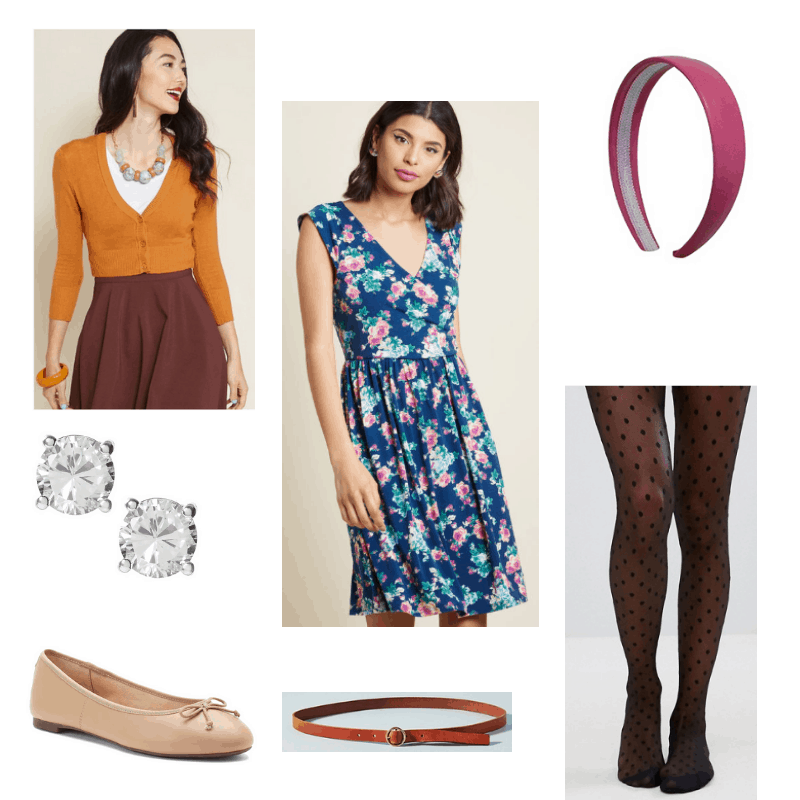 Products:
This black tights outfit is a dream fall outfit for the ladylike girly girl, as it combines a floral dress with a cardigan and ballet flats. Plus, it includes polka dots on the tights so you get to mix prints. Orange and navy complement each other, so a cropped orange cardigan goes great with a navy A-line dress. 
Brown, black, and navy can be worn together and look chic, see? A brown skinny belt gives your waist definition and adds dimension to the dress. Nude ballet flats with bows make your legs long, even if you're wearing tights. Add some more girliness with a pink headband and diamond-like stud earrings.
15. Parisian Chic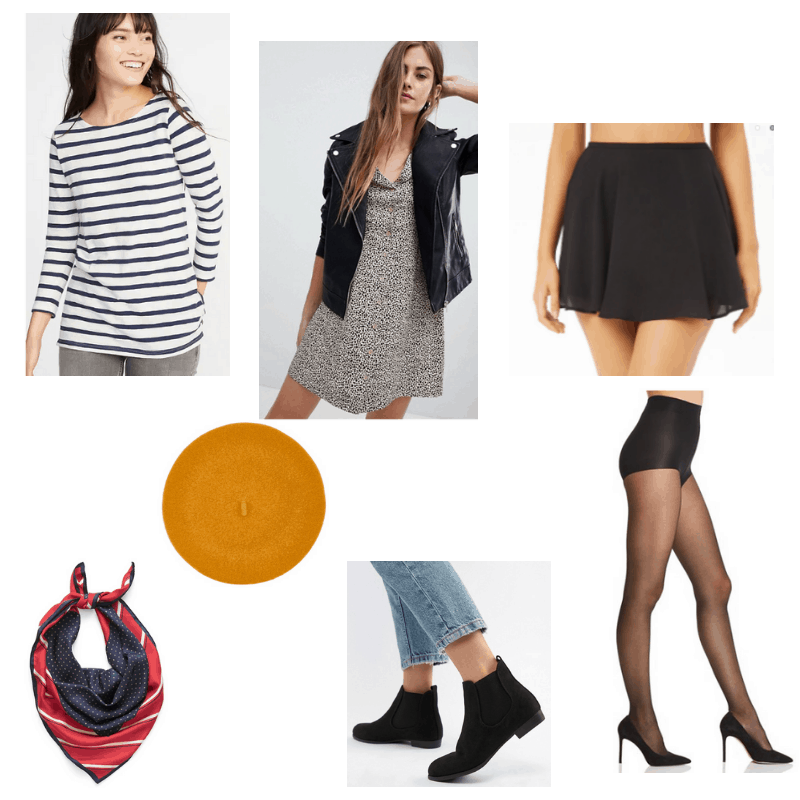 Products:
Parisian girls have envious style; they stick to basics, choose quality over quantity, add accessories (especially scarves), wear well-fitting pieces, and are confident in what they wear. One can think of the Parisian style as having a minimalist vibe.
A striped tee is a big staple in the Parisian wardrobe. Black is classy and goes with everything so let's go with a chiffon mini-skirt. See, we can add texture and print. If there's a jacket a Parisian girl would wear, it would be a leather jacket. Sheer tights and black booties will keep you warm in slightly chilly weather.
This outfit has a lot of neutral basics in it, so it's perfect for adding the quintessential beret (in mustard for a pop of color) and a silk scarf. Scarves are the number one accessory of Parisian women. This scarf has dots and stripes, but it's okay because you get to mix prints.
16. Romper and Tights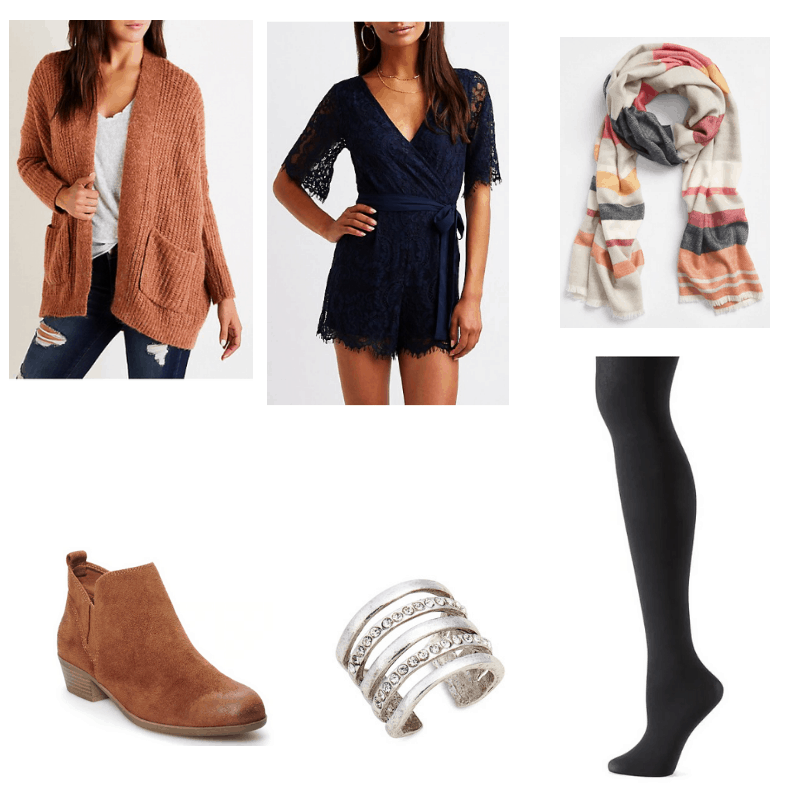 Products:
You can wear black tights with anything, especially rompers. You can also absolutely wear your summer staples in the fall.
Here's an outfit that transitions a navy lace romper right into autumn. Ankle boots, black tights, a striped scarf, and a cozy knit cardigan will do the trick. Add some sparkle with a ring.
17. Pink Outfit
Adding a pair of black tights to a pink outfit is an easy way to create an eye-catching look. A classic mini skirt, or even a maxi dress, can be paired with black tights and a pair of chic ankle boots for the perfect night out ensemble.
If you're feeling daring, try adding some colorful accessories like patterned handbags, bold jewelry, or a statement hat to really make your pink outfit stand out. For a more subtle look, try wearing a pale pink blazer over a white shirt and black trousers for office chic. With the right pieces, black tights can add an extra layer of style to any pink ensemble.
18. College Girl Look
The college girl's look is all about being fashionable and comfortable. A great way to accomplish this is to style outfits that feature black tights. This versatile accessory can be paired with oversized sweaters, printed skirts, or even a dress for an effortlessly chic look.
Black tights are also ideal for layering during cooler months, as they provide extra warmth and look great with boots. There are endless possibilities when it comes to creating outfits with black tights, so don't be afraid to experiment and have fun with your style! With a few pieces and the right accessories, you can easily create outfits that will help you stand out from the crowd.
19. Professional Look for Work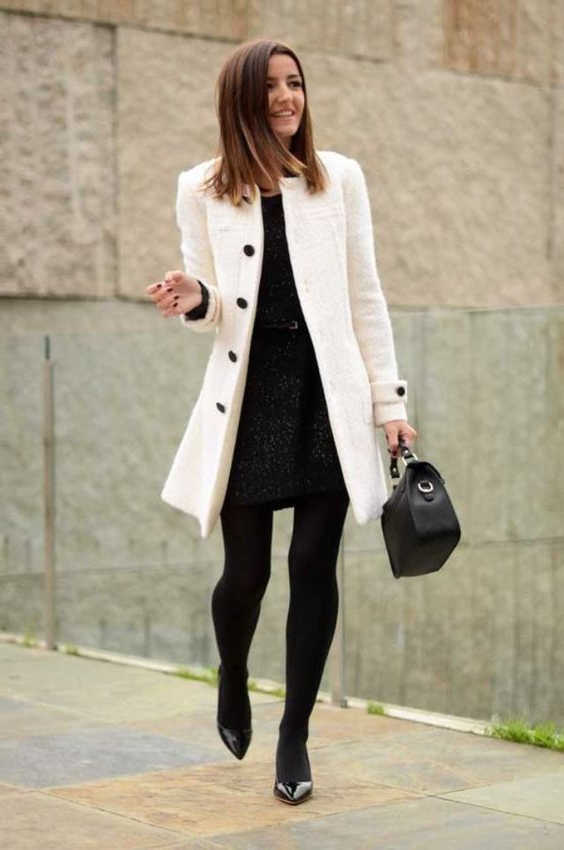 Black tights are a great way to have a professional look for work. Not only do they provide an extra layer of warmth, but they also can help create an overall polished look. Black tights can be worn with skirts, dresses, and pants to create outfits that are appropriate for the office.
Whether you opt for opaque or sheer tights, they can be dressed up or down to create outfits that are appropriate for any occasion. For a more formal look, try pairing black tights with a pencil skirt and blouse.
Add a pair of flats or pumps to complete the outfit. For a more casual look, try wearing black tights with a sweater dress and ankle boots for an effortless and comfortable look.
20. All Black Outfit – Celebrity Style
For a classic, timeless look, outfits with black tights are always in style. Celebrities often rock this trend on the red carpet and at events, putting their own unique spin on it. From sophisticated to edgy outfits, outfits featuring black tights can be seen on all your favorite celebrities.
Take Selena, for example–she frequently pairs black tights with bright outfits to create a look that is bold and eye-catching. On the other hand, some stars have been spotted wearing outfits featuring black tights more subtly.
Gigi Hadid has often incorporated the trend into her outfits by teaming black tights with a dress and boots for an effortlessly chic ensemble. Whether it's making a statement or playing it cool, outfits with black tights are the perfect way to add a touch of sophistication and style to any look.

Did You Enjoy it?
Do any of these outfits appeal to you? Would you wear them? Do you have black tights? Do you wear black tights? How would you style them? Hearing your feedback is lots of fun.
If these Ideas & Styling Tips inspire you more on how to wear your outfits with black tights, you might want to consider the related posts below –