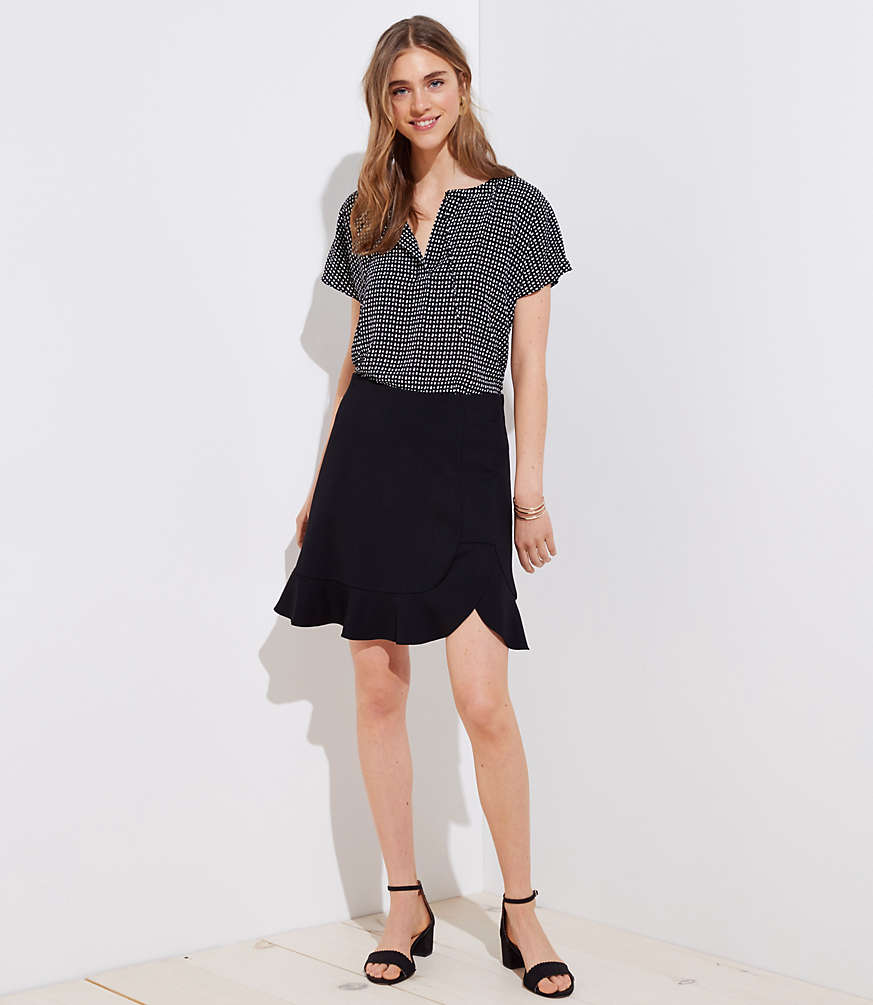 Welcome to the latest edition of Ask CF! Every two weeks, we select a reader fashion question and answer it here on the site. Do you have a specific fashion question for us? Scroll to the bottom of this post to learn how to send it our way!
Ask CF Question
Dear CF
I just got a new job in high end retail and I'm required to look professional. They encourage me to wear as much black as possible but how can I do this without getting bored?
Sincerely,
Moving on Up
Our Response
Dear Moving on Up,
First off, congrats on the new job! While a uniform of all-black clothing might seem dull and boring, the fact is that it can actually be quite liberating in many ways; for example, you no longer have to worry about things like matching colors/prints, since more or less everything in your work wardrobe will go well together (at least from a color standpoint).
However, it is totally understandable that you might feel a twinge of fashion-girl sadness at the prospect of only being allowed to wear one color, since, let's face it, looking into a sea of black clothes can make it seem like you only have a few options when it comes to switching things up.
On the bright (or should I say dark?) side, though, working with only one color can be a great opportunity for you to get extra creative when it comes to things that we often don't think about as much, such as cut, texture, and fabric, so that your outfit stands out in a subtler, but still chic, way.
With that in mind, keep scrolling to see three classy and professional all-black work outfits, along with tips on how to style an all-black outfit without getting bored.
Related reading: 19 All-Black Outfit Ideas You Can Wear Everywhere
All Black Work Outfit #1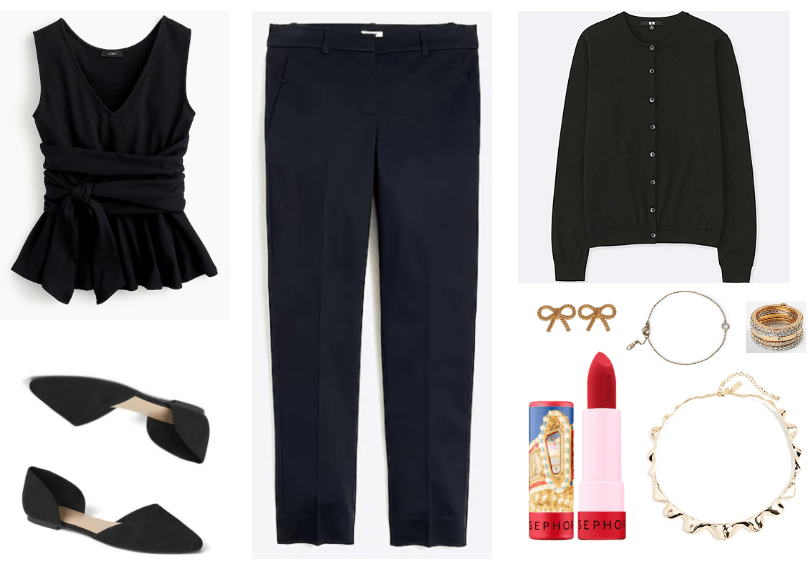 Products: Top – J.Crew, Flats – Gap, Pants – J.Crew Factory, Cardigan – Uniqlo, Earrings – Bloomingdale's, Lipstick – Sephora, Bracelet – Bloomingdale's, Ring Set – Ann Taylor, Necklace – Shopbop
For the first look, I decided to go with an all black work outfit that is classic, but certainly not boring, due to its interesting silhouettes and fun jewelry.
To get it, begin by putting on a lovely peplum top; this tie-waist style happens to be made of soft cotton, making it both a professional and comfortable option. If your workplace has a rule against bare arms, and/or if it's too cold to wear a sleeveless top by itself, add a simple black cardigan. A pair of slim black pants, whose versatile silhouette allows you to pair them with any style of top that you choose. These are always a good choice, so it's a good idea to invest in a pair if you haven't already done so.
D'orsay flats are a great way to dress up your look a little bit while also ensuring that your feet remain ache-free after standing for hours.
As for jewelry, mix classic pieces — such as this solitaire bracelet and stacking rings — with more youthful ones, like this frilled necklace and bow stud earrings.
Finally, (assuming that your workplace isn't super-strict about make-up,) add a pop of color with a bright red lip.
All Black Work Outfit #2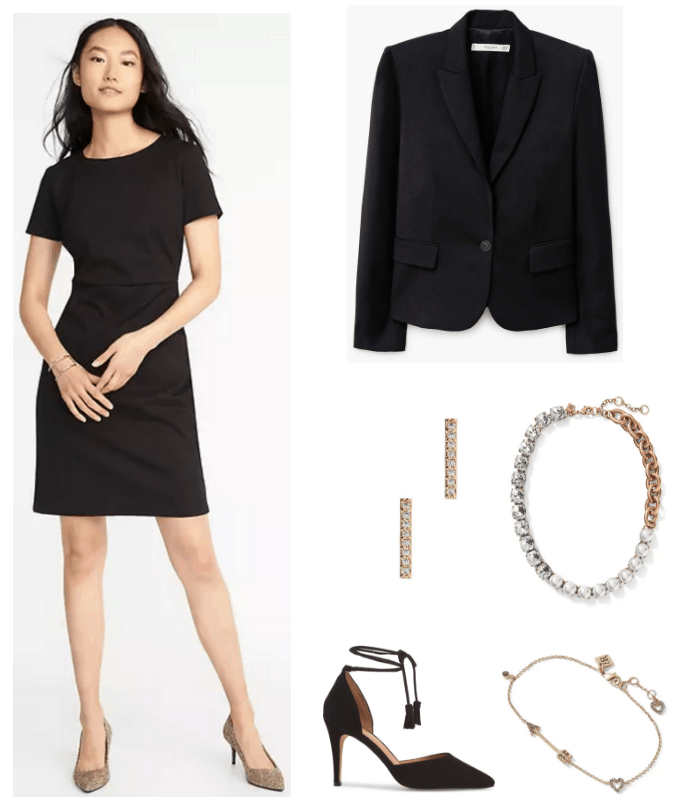 Products: Dress – Old Navy, Blazer – Mango, Earrings – Banana Republic, Necklace – Banana Republic, Bracelet – Banana Republic, Heels – Nordstrom
This time, I decided to put together something a bit more formal, should you decide to get a bit more dressed up for work.
However, despite its more traditional style, this all black work outfit is definitely not stuffy. It's also surprisingly easy to put together: Simply slip on a short-sleeved sheath dress, and add a blazer on top should you wish to step up the fancy factor even more.
Next, put some sleek and sophisticated heels with fun fringed ankle ties.
Lastly, to spice things up a little, add a sparkly statement necklace, along with a dainty pair of pavé bar stud earrings, and a cute heart and arrow bracelet.
All Black Work Outfit #3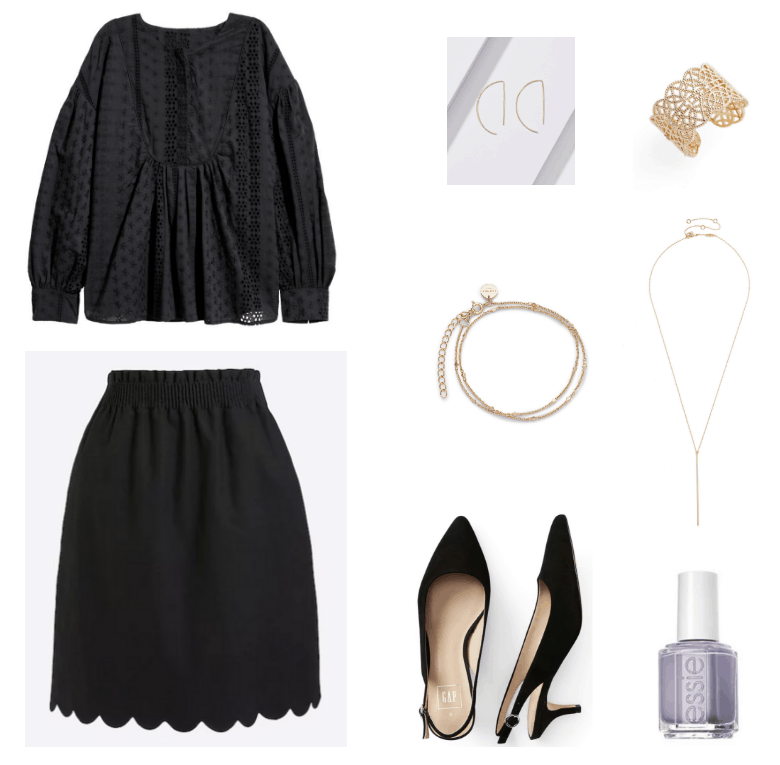 Products: Blouse – H&M, Skirt – J.Crew Factory, Earrings – Loft, Bracelet – Bloomingdale's, Heels – Gap, Ring – Nordstrom, Necklace – Nordstrom, Nail Polish – Essie
The final look is a good balance between laid-back and formal, and also is a great way to experiment with layering different textures — not to mention that its lightweight fabrics make it the perfect option for when the weather starts to warm up!
Begin by putting on an airy eyelet blouse.  Next, tuck it into a pretty linen high-waisted scalloped-hem skirt.
For jewelry, I was inspired by the lightweight nature of the fabrics in the outfit to choose modern, minimal pieces, like these simple-yet-stunning pull-through hoop earrings, delicate double-layer bracelet, feminine lace-inspired ring, and barely-there lariat necklace.
To pull the look together, put on a pair of trendy slingback kitten heels; finally, if you're allowed to wear colored nail polish, paint your nails using this subtly sweet lavender shade.
I hope that these outfits have inspired you to get creative with your work looks, and that they have shown you that wearing all-black doesn't have to be boring!  Thanks for your question! 
Do you have a fashion question? Send it to us!
Is there something in your closet that you want to wear but have no idea how to style? Do you need advice on what to wear to an upcoming event? Do you have a specific fashion conundrum?
If you have a fashion-related question that you would like to see answered in this column, simply email it to askcf @ collegefashion.net, and one day you might see your question answered right here on the site!
What do you think?
Have you ever worked a job that had an all-black clothing requirement?  If so, how did you deal?  What are some of your favorite all-black outfits?
Let me know in the comments!