Black jeans are one of my favorite items. They can function in a similar way to black leggings (aka, they go with everything) but they give you a more polished look. They can be dressed up, dressed down, worn with heels or worn with sneakers. That's why black jeans are this week's investment piece. (In case you missed the other parts of this series, see Fashion Investment Pieces: Bandage Skirt, and Statement Scarf!)
Here are some fabulous black jeans plus four different outfit ideas to show you how to wear them for many occasions.
The Investment Piece: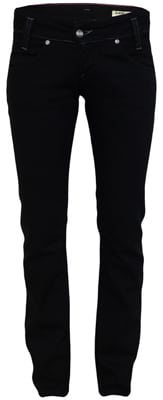 LEE Leola Straight Black Denim Jean – Coggles – $137
Outfit #1: Going Out at Night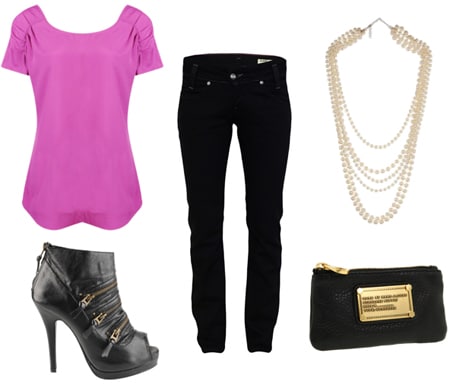 String Back Top – Forever21, Shoes – Forever21, Pearls – Miss Selfridge, Clutch – Zappos
I love this outfit simply because it's classy, girly and trendy all at the same time. Black skinny jeans tend to have a little bit of a rocker vibe, but the pop of pink in the silky shirt along with the pearls and bag give it a feminine touch. So often you see girls dressing very seductively (and not necessarily in a femme fatale way) to go to bars and clubs. Why not go classy instead? This outfit is totally put together, but adding the pumps still gives it a sexy vibe.
Outfit #2: Casual (and Fashionable) Friday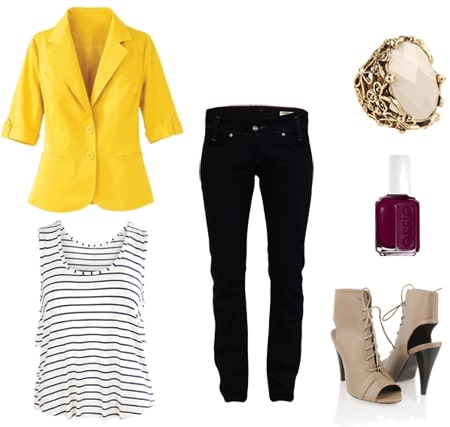 Blazer – Spiegel, Striped Top – Republic, Ring – Forever21, Essie Nailpolish in Bordeaux – Amazon, Cut-Out Booties – Forever21
This outfit is perfect for a Casual Friday at work. (Depending on your work environment, this look may also be appropriate for the regular work week!) Nude toned shoes are one of my favorite trends right now, so these booties are definitely hot. The cocktail ring incorporates the nude color as well. The yellow blazer is outrageous and adds a huge burst of color to this outfit – it'll brighten up a wintery day or make a spring day even happier. The striped shirt is a great, simple trend that spices up every outfit, and the Essie nail polish adds sophistication and fun.
Outfit #3: Model Off-Duty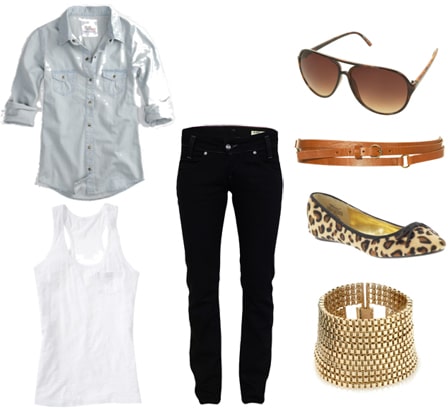 Boyfriend Button Up – Pacsun, Tank Top – Old Navy, Aviators – Topshop, Belt – Topshop, Leopard Flats – Piperlime, Chain Bangle – Monsoon
To me, this outfit screams "street wear" and reminds me of something you'd see a model off-duty wearing on the streets of New York. It incorporates so many great trends: the boyfriend button up, leopard flats, and chain-inspired jewelry. It's a bit grungy and relaxed (boyfriend button up and tank) yet still put together (black jeans and flats). I would definitely throw this on for class any day.
Outfit #4: Rainy Day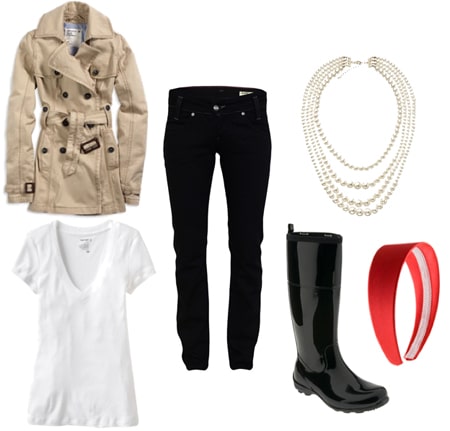 Trench Coat – American Eagle, V-Neck Shirt – Old Navy, Pearls – Monsoon, Rain Boots – Nordstrom, Headband – Fashion Headbands
Does this outfit channel Audrey Hepburn in the final scene of "Breakfast at Tiffany's" and Blair Waldorf or what?
I love classic pieces such as trench coats and pearls. In my opinion, the coat, headband and pearls make this entire outfit on their own. The headband's burst of color against the neutral/classic palette is so Blair-esque in my opinion! I used pearls in many of my outfits for this installment because they add such a feminine touch to any outfit and can totally pull together any look.
Outfit #5: Romance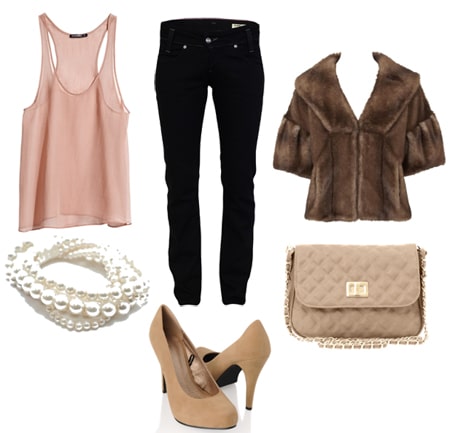 Tank Top – H&M, Faux Fur Jacket – Oasis, Shoes – Forever 21, Bag – Asos, Pearl Bracelet – Fantasy Jewelry Box
This outfit is so girly and romantic. The pinks, nudes and browns are so beautiful together, but the black jeans make the whole look very modern and sleek as well. Faux fur and nude tones (once again) are hot and classy trends that I think every girl should try at least once. This outfit is perfect for a romantic date with your boyfriend or just any night when you're feeling ultra girly and glamorous.
What do you think?
Are black jeans a good investment? Can you see yourself wearing these outfits and experimenting with the trends shown? Let us know in a comment!